Continued from PART I: Nature Cycling
PART II: Jungle/Evening Trek
After our nature cycling tour earlier in the day, we went on this three-hour guided trek into the rain forest behind the Berjaya Resort. Trips start either at 9 AM or 5 PM. With a chance to spot nocturnal animals like flying lemurs and squirrels, I naturally chose the latter. The tour costs RM140 for adults and RM90 for children ages 5-12. Since this was our second tour with Dev's, we were each entitled to a RM20 discount.
In a word, beautiful. A five-star resort, the Berjaya is simply gorgeous. We were kinda actually supposed to stay here, but when I kinda called, they said they were full. Kinda. 🙁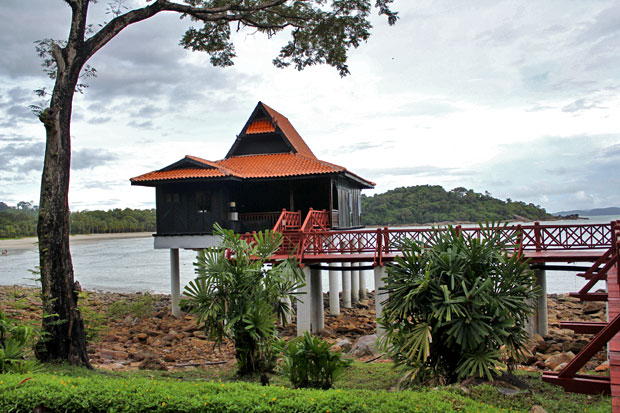 Spiky ass cactus as if to say, back off commoners, Berjaya guests only. 😆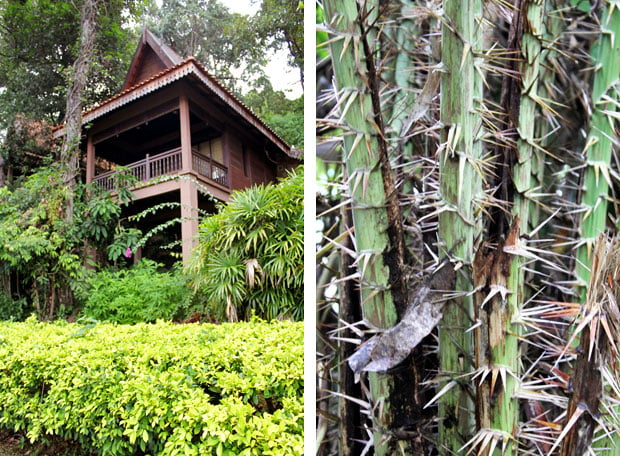 As Jerome puts it, accommodations for V.V.I.P.s. WOW. 😯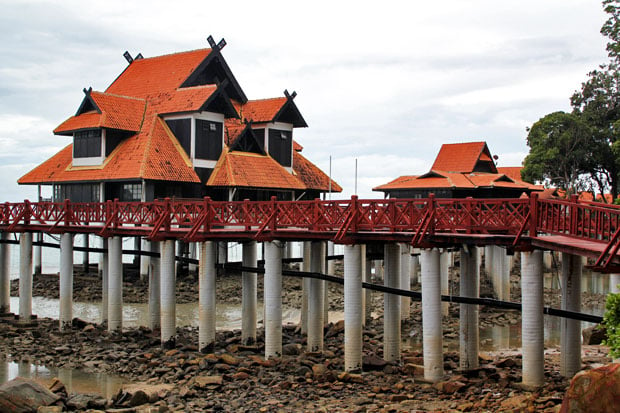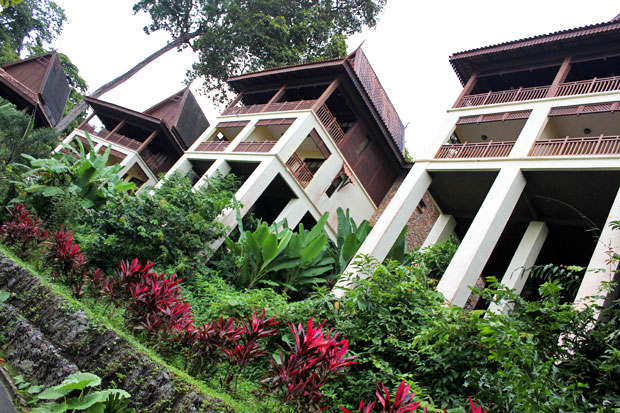 Fronds of the Bismarck Palm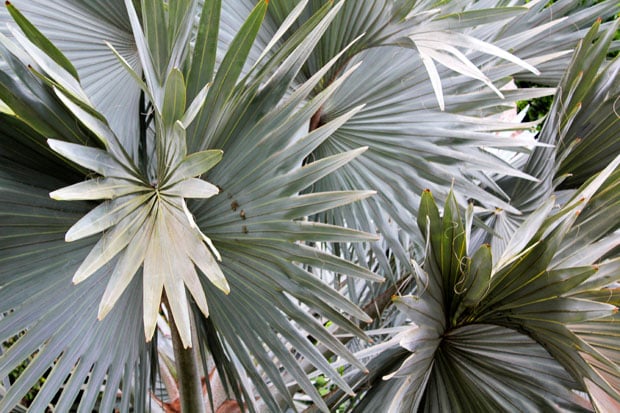 What is it? Is it a growth in the bark? A giant, furry nut?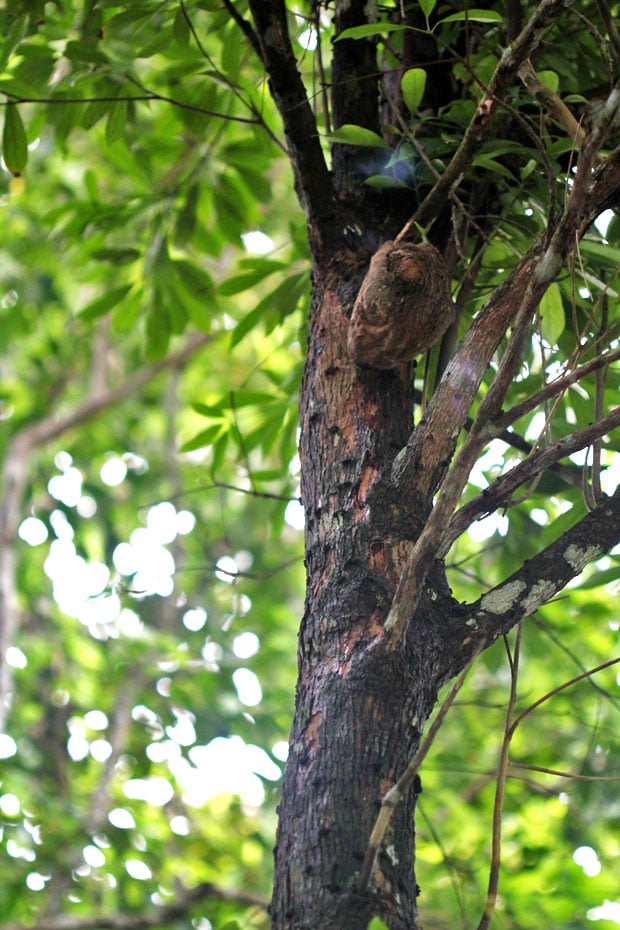 It's a lemur! Can you make it out? Excited as we were to see this little fella, it would sadly be the last mammal we'd spot on this trek, the reason for which I'll talk more about later. What a fun, nerve-wracking (mis)adventure! 😆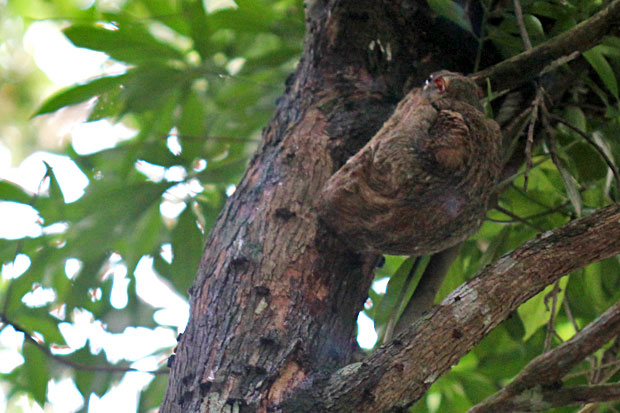 Elephant ear plants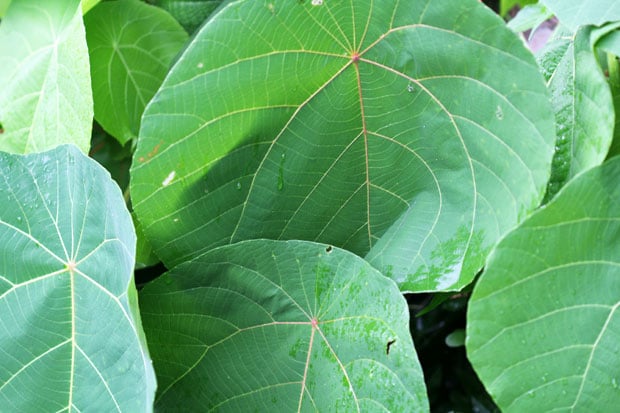 Long time no see Jerome! Here's our awesome guide again, briefing our group of nine before entering the jungle. Of course, I was so taken by the Berjaya that I was still happily snapping away, just half listening to him. From what I gathered, it wasn't all that important anyway, just some shit about stinging black termites, slippery jagged rocks, and mini-scimitars concealed on the underside of foliage.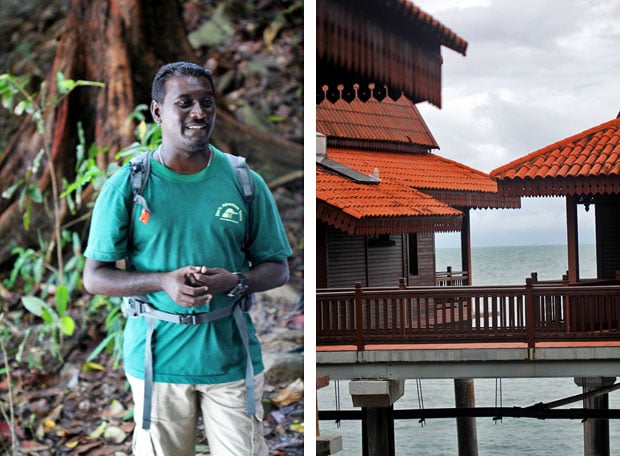 Lush, verdant rainforest. As breathtaking a landscape as this was, Ren barely noticed. In fact, she was hardly smiling at this point. Also known as "Clumsylicious", she was cursing me under her breath for putting her in a situation like this. Sweetheart, you don't know the half of it yet. Just wait. 😆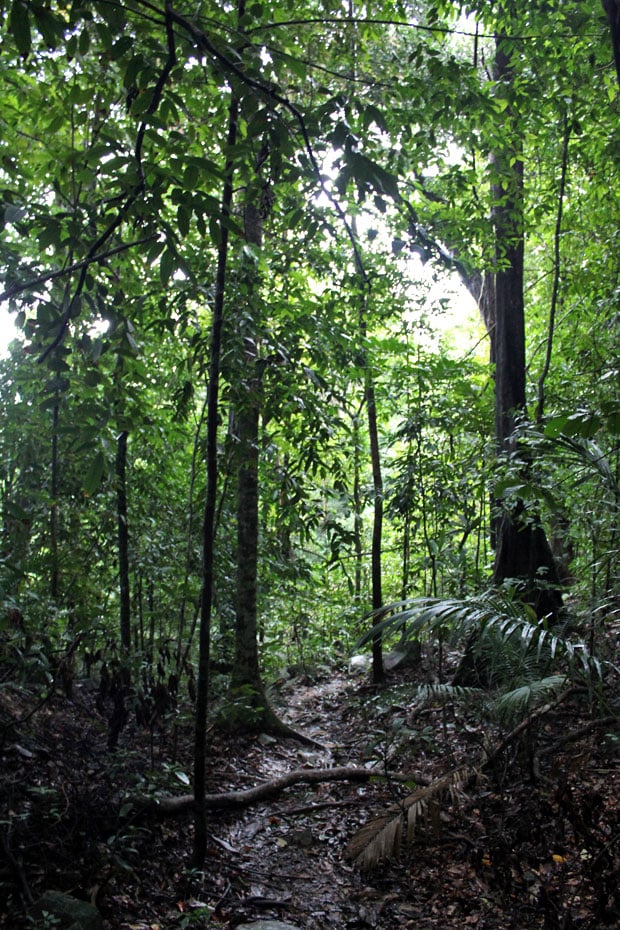 That thick, twisty vine is called a liana, pronounced in the same way as Rihanna, which in hindsight, was probably an omen, because we should have brought an ella ella, ay ay ay… 😯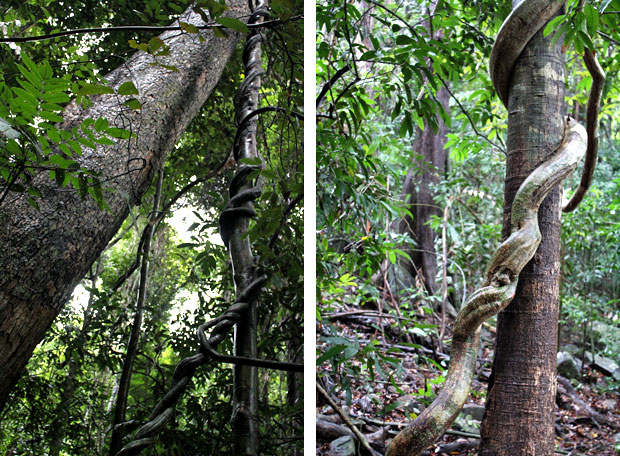 Spiraling into a jungle of awesomeness, and danger. Jerome told us a story about this pair of European tourists who ventured into this very same jungle unguided, wearing skimpy beach wear and carrying just a small bottle of mineral water. They entered the rainforest around the same time we did, climbing all the way to the top and snapping a few triumphant selfies before realizing that night had fallen. In the pitch blackness, down looked up, and up looked down. Inadvertently going around in circles, they became hopelessly lost and couldn't find their way out of the jungle.
Luckily, the contract for the motorbike they had rented was good for just 24 hours. When they failed to bring it back, the operator looked for the motorbike and discovered it at the base of the jungle, where the couple had left it. A search party was sent out into the rainforest, and they were finally found and rescued over 48 hours after their ordeal began. Weak and completely dehydrated, their exposed bodies were covered in leaches. Needless to say, I think that was the last time they ever went into a jungle unsupervised.
Moral of the story? ALWAYS respect nature, and stop taking those fucking selfies. You're not THAT good-looking. 😆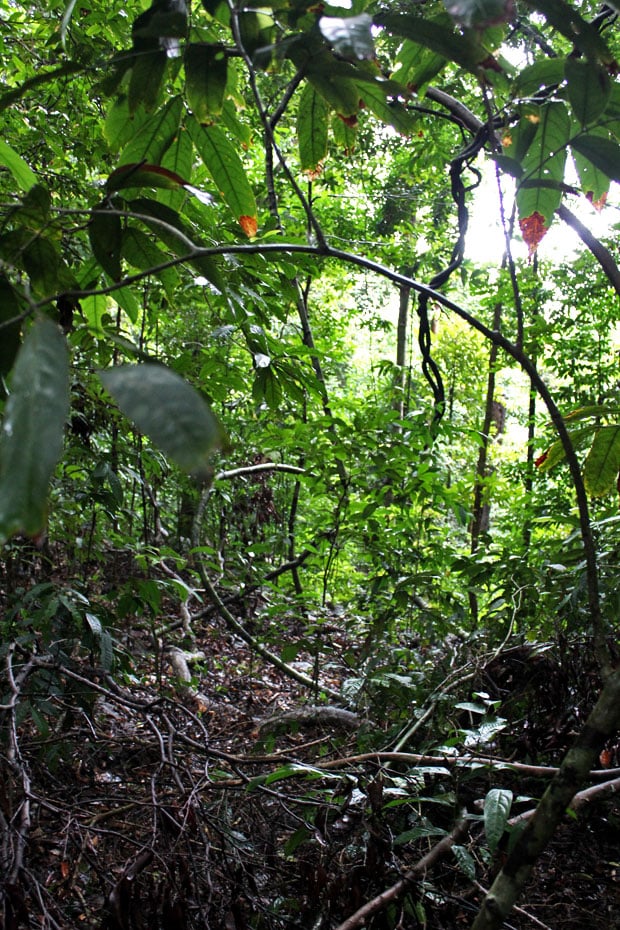 Around this point, the plot began to thicken for me, as the sole of my left sneaker came undone, dangling only by the front tip. Despite my increasing concern that the soft underbelly of my shoe wouldn't hold up to the rough terrain, all the Dutch tourist walking behind me could do was laugh. I would have done the same thing. 😆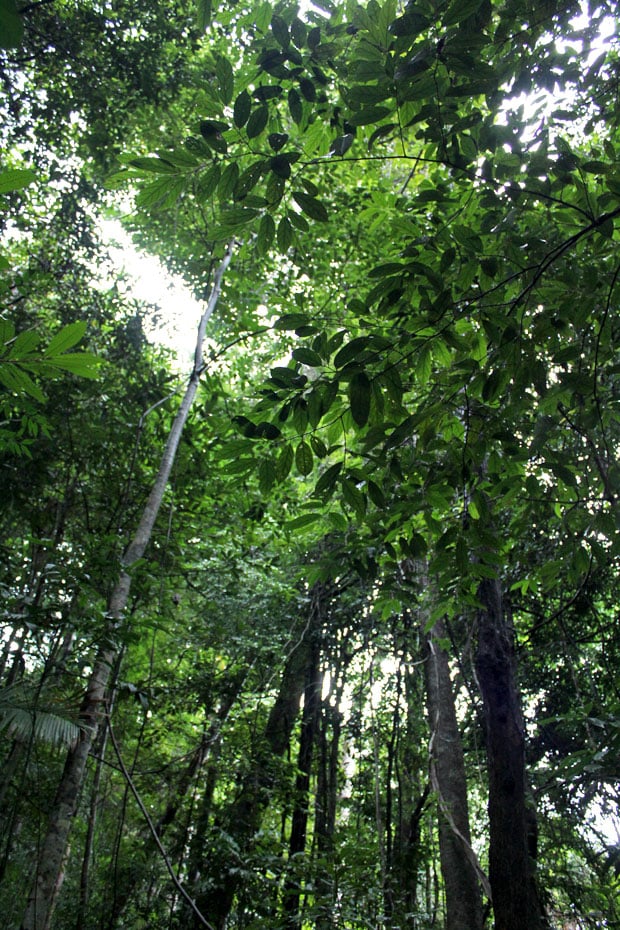 Massive trees. The one on the right is an Ironwood, the strongest tree in Langkawi.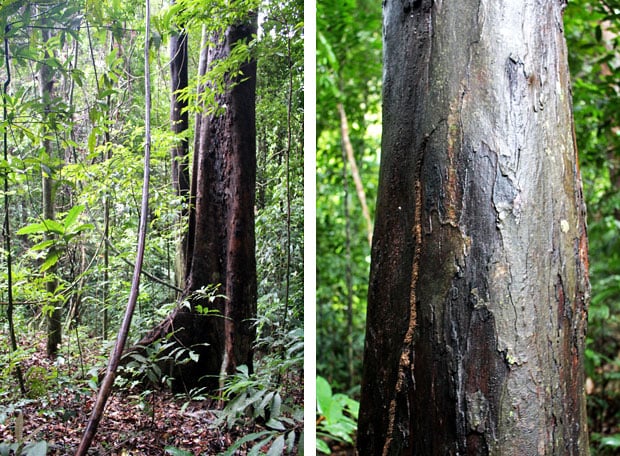 Though the trek was far from over, this was the last picture that I took. As you can probably guess by now, it started raining again. Heavily. Night had almost fallen so we started making our way back to the Berjaya, which was a long way from where we were. Though my Crumpler camera bag was water resistant, it wasn't waterproof. Waterproof was what I needed right now because it felt at times like we were standing underneath a waterfall. And this time, Jerome didn't have any emergency ponchos, so all I could do was pray that my USD 2,000+ in camera equipment would hold up. 😯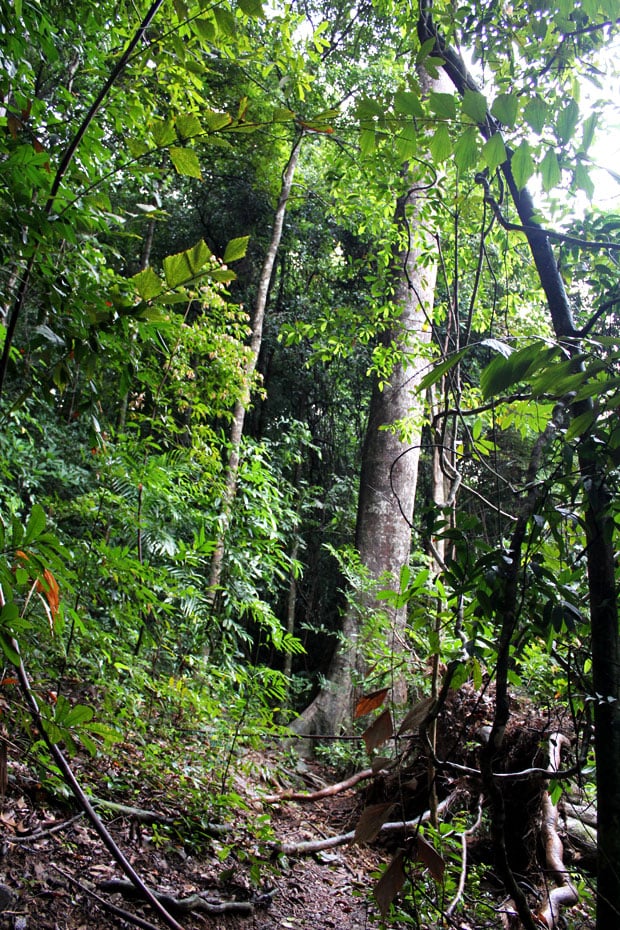 As mentioned above, the sole of my left shoe detached itself earlier in the trek. By this time, it had fallen off completely, leaving my left foot with no traction and barely any protection against the wet, jagged, slippery rocks that we were traversing at a much faster pace. As if things weren't stressful enough, it actually got worse, or funnier depending on how you look at it.
If I ever had doubts that God had a sense of humor (or an affection for symmetry), all were erased after the sole of my OTHER shoe came undone a few minutes later. You know, this could have happened while I was running to the store. It could have happened when I was walking up the 200+ steps to Telagah Tujuh. But no, with my dumb luck, my shoes decided to disintegrate at the worst possible time. At this point, looking at my bag soaking wet, and that ridiculous rubber sole dangling from the tip of my right shoe, all I could do was throw my hands up and laugh. Resigned that my equipment was already ruined, I tore the right sole completely off and just focused on keeping my balance whilst crossing over logs, under lianas, through ankle-deep pools of water steadily rising from the heavy rain.
Eventually, we found our way out of that jungle looking like wet t-shirt contestants, but unharmed. And much to my surprise and relief, my equipment didn't suffer any damage either. The inner lining of the bag was already wet, but the camera and lenses were still dry. Thank God! Had we been out for much longer though, there's no doubt in my mind that all my gear would have gotten drenched and likely ruined.
Moral of the story? Buy Crumpler, screw Adidas. 😆
Joking aside, though our trek was cut short by the rain, it turned out to be a night that we wouldn't soon forget. Worrisome at that moment but remembered with fondness the next, it's the kind of fodder that all epic vacations are made of. 😉
My shoes did not look like this when I first boarded that plane. They actually had soles. 😆 In Adidas' defense, these shoes were around four years old. I never wore them much either, which in my experience, contributes to a sneaker's quicker demise. #ileftmyartinsanfrancisco #ileftmysoleinlangkawi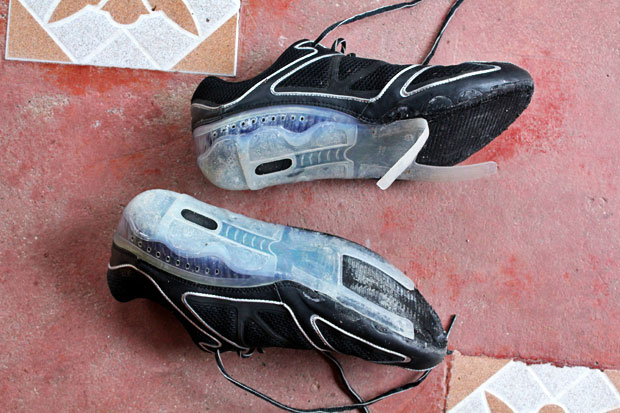 Continue reading: PART III: Mangrove Kayaking
More on Dev's Adventure Tours
PART I: Nature Cycling
PART III: Mangrove Kayaking
Dev's Adventure Tours, Langkawi, Malaysia
Rumah Kedai No. 1, Tingkat 3, Lot 1556, Tanjung Mali, Pantai Cenang, Langkawi, Kedah, Malaysia
Tel: +6019-494-9193
Fax: +604-955-4892
Email: [email protected]
Website: langkawi-nature.com
Facebook: DevsAdventureTours
For more Langkawi travel tips, check out our First-Timer's Travel Guide to Langkawi, Malaysia