My mom's 70th birthday was coming up so the family got together for a week-long trip to stunningly beautiful Coron, Palawan. With two of my siblings permanently residing on foreign shores, this was the first time ever that the entire family (with spouses) was actually complete.
Already in her twilight years, our mother has gotten everything material that she could possibly want out of life, so she couldn't have asked for a better birthday present than this now rare occasion of familial solidarity. Here are pictures from our week-long family adventure.
Our Cebu Pacific propeller plane touches down safely in Busuanga.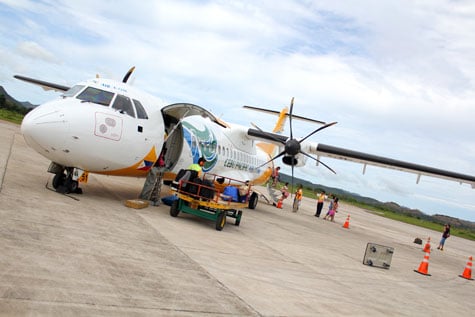 Around Town
Coron Village Lodge
Our home away from home for a week.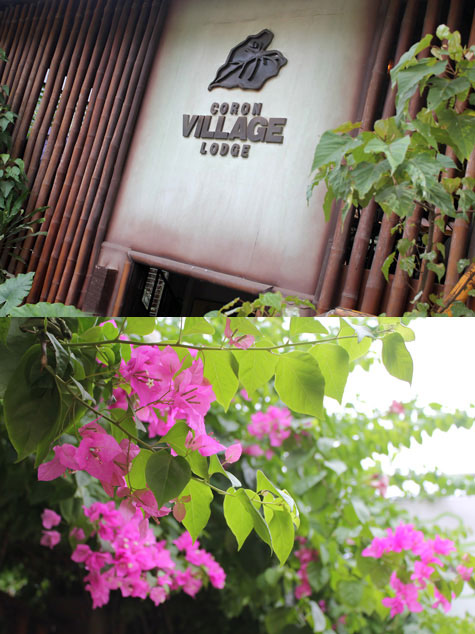 Unbeknownst to us, Coron is known primarily for its world-class diving spots. It doesn't have any real beaches to speak of, which is probably why there weren't any 5-star resorts around (at least as of this writing). Many of the hotels appeared to be geared mainly towards scuba divers.
We rented two apartments, each of which had two rooms housing six people each.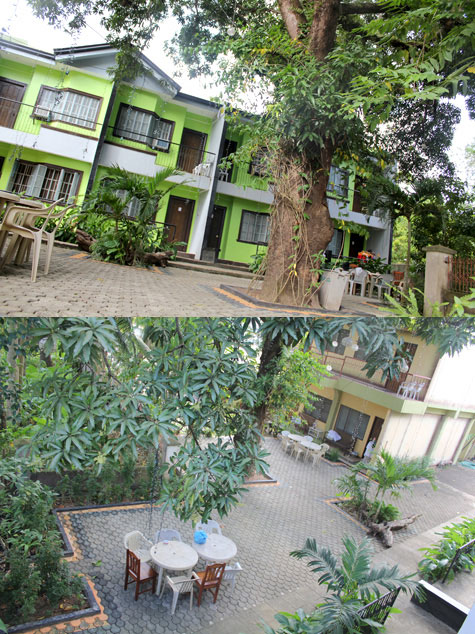 Ghetto-fabulous. Spacious but spartan with a small kitchenette, the hardest part was sharing one bathroom between six people. It was the kind of bathroom too where there was no formal division (nor curtain) between the shower and toilet.
Notice Ren's feigned optimism regarding the bathroom situation?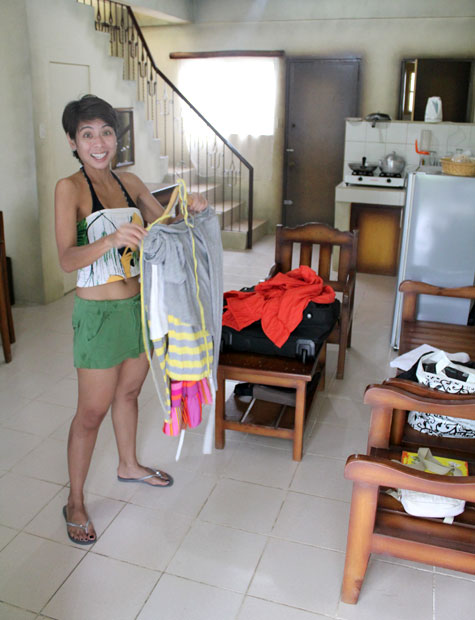 Despite the less than 5-star amenities, the rooms were clean and comfortable with good air-conditioning.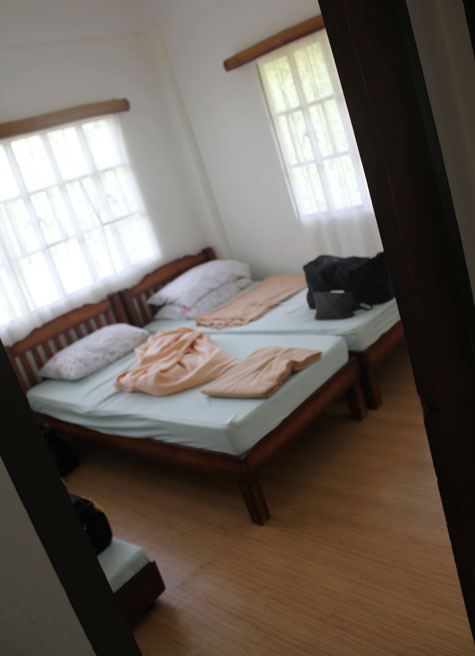 I've never seen annatto trees before so I thought these were pretty cool. The seeds from the fruit are used as a spice (achiote) to impart color and flavor to certain foods. Locally, it's often used as a cheaper alternative to saffron when making paella.

Our favorite part of the resort? The restaurant/bar where Ren and I spent many an afternoon and evening downing bucket after bucket of ice-cold SMLs. They had decent and inexpensive food as well, though they were out of many items most of the time.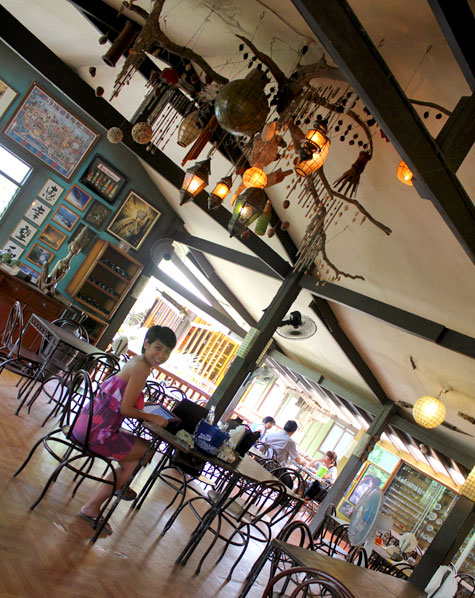 A very eclectic chandelier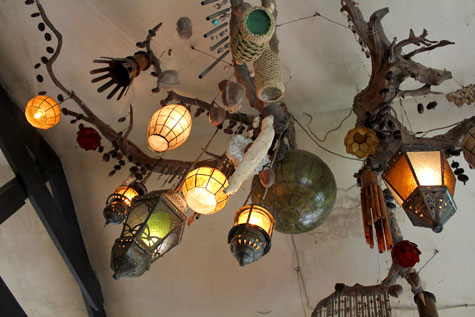 Mt. Tapyas
Mt. Tapyas is a low-lying mountain with 718 steps leading up to a large cross and a spectacular view of Coron Bay and the adjoining islands of Calamianes. Here's the base.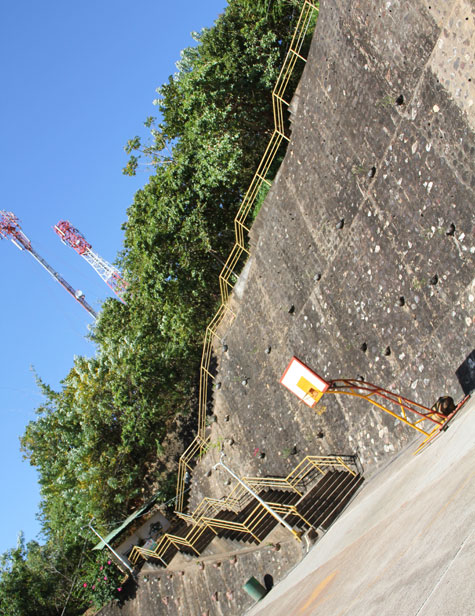 Off my fat ass goes. The things I do just to get a decent shot.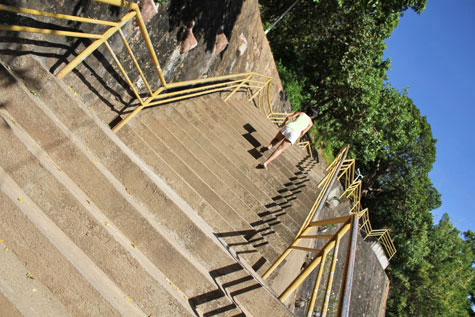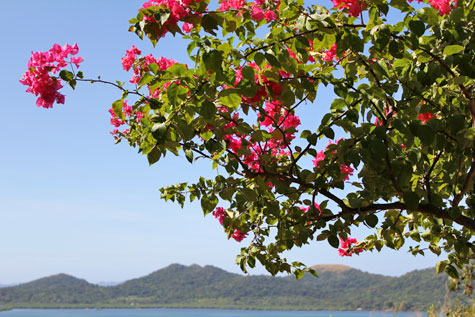 100 down, 618 to go. Notice Ren's shoulders starting to slump?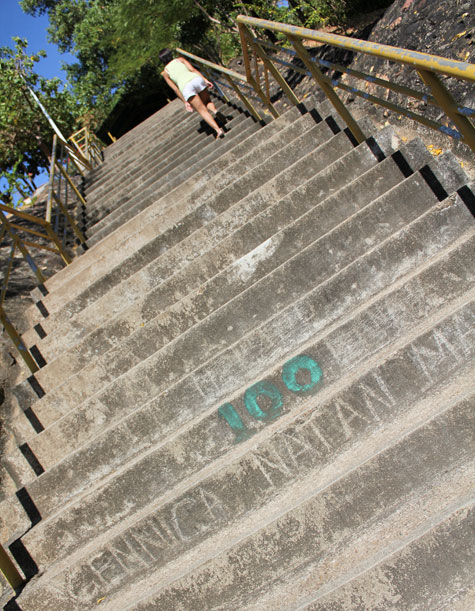 The view becomes more breathtaking the higher up you go.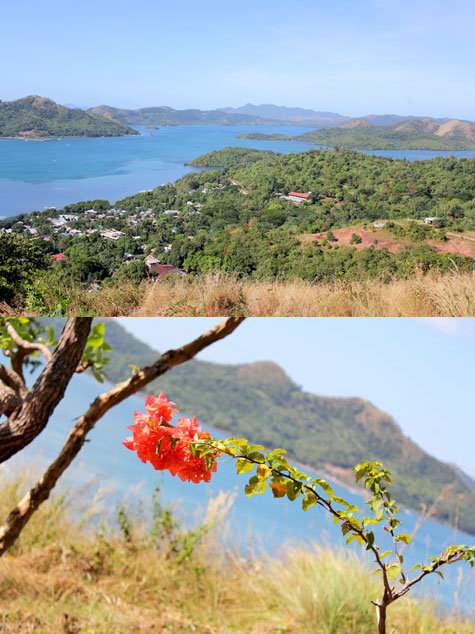 400 baby. Time to take a little breather.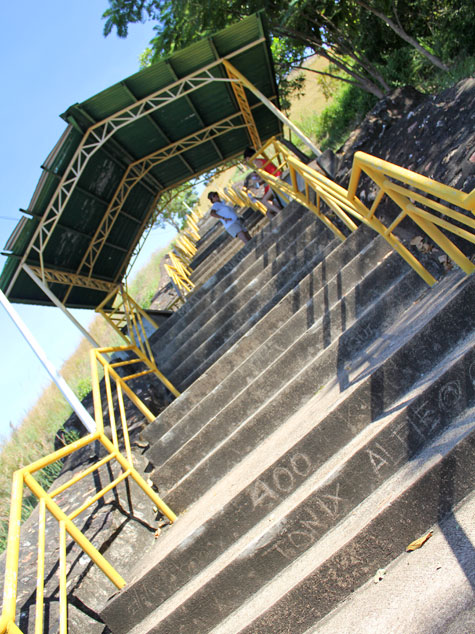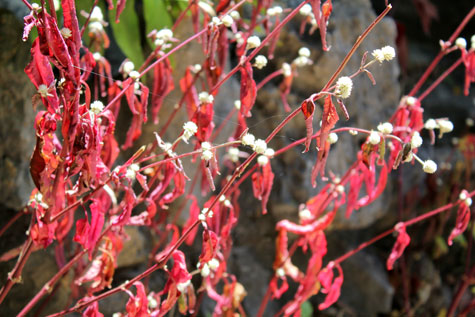 I see the end in sight.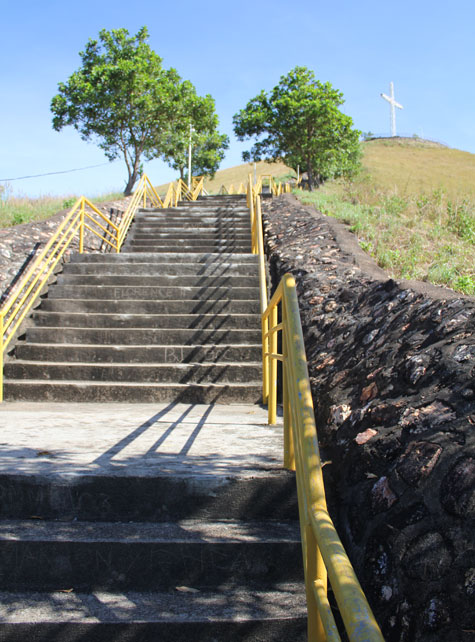 Welcome to the 700 Club.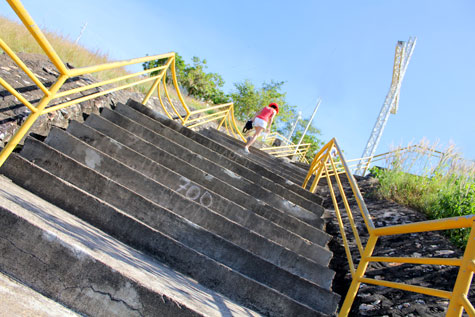 The summit! It's hella hot up here though, as evidenced by Jen seeking refuge at the base of the cross seconds after reaching the top.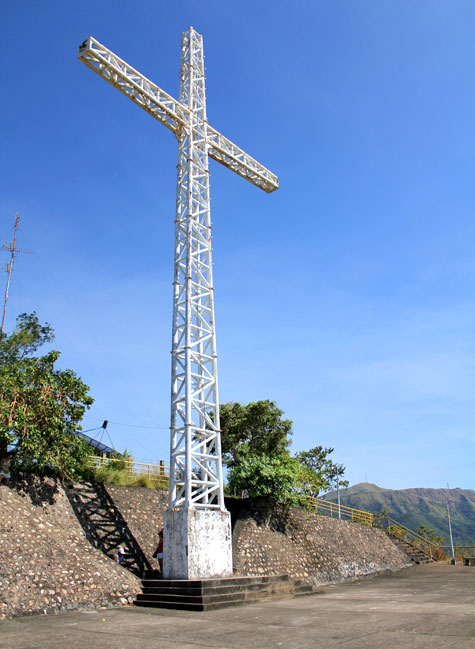 Spectacular views indeed.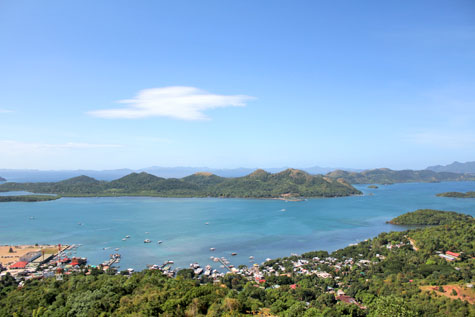 This flower looked like a purple vajayjay.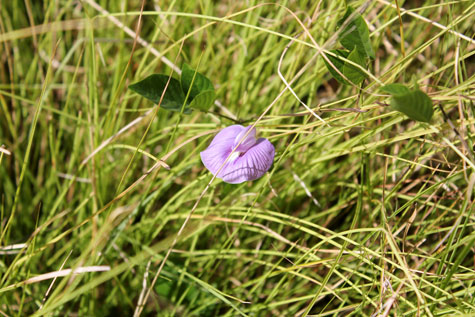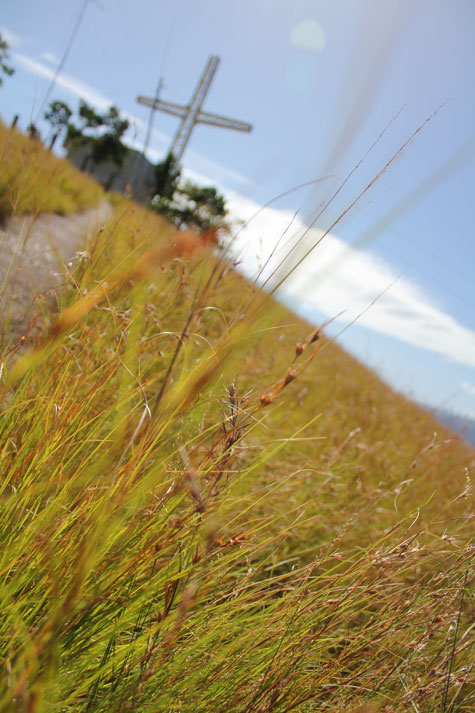 Touchdown!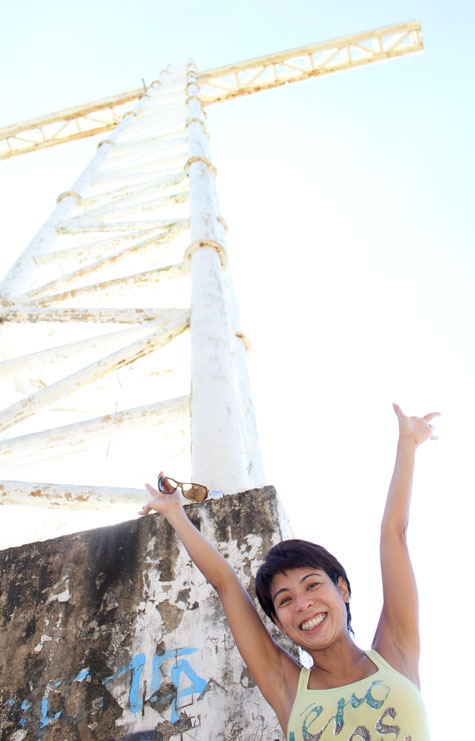 Coron Public Market
Located close to the loading docks, our mom bought fresh food from this market early in the morning each and every day. Cooking all the food directly on the boat, our boatmen prepared some fantastic and very memorable lunches for us.
You'll see pictures of our fabulous feasts towards the bottom of this post.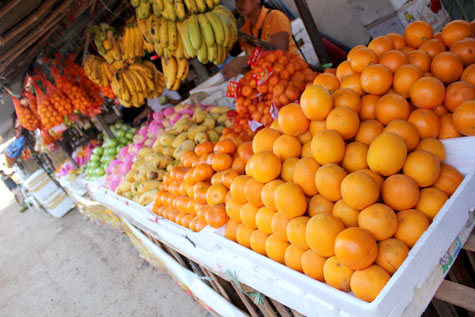 Dried versions of these long, elongated squid referred to locally as "ballpen" squid. Though we didn't get to taste them prepared this way, we did enjoy them adobo style cooked in their own ink.
Very interesting and just one of a few seafood dishes that I had the privilege of trying for the first time here in Coron.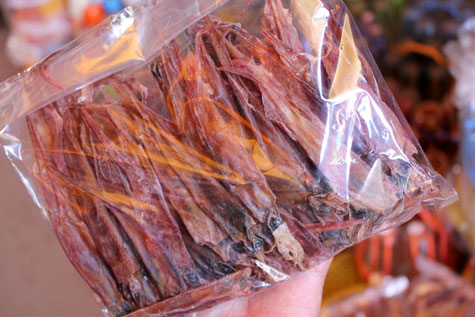 Dried fish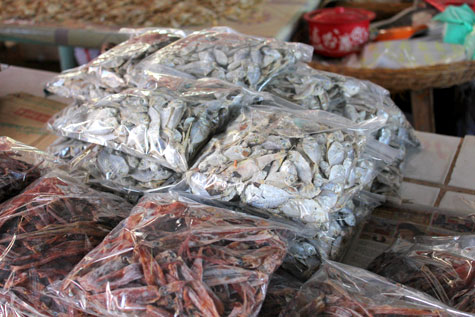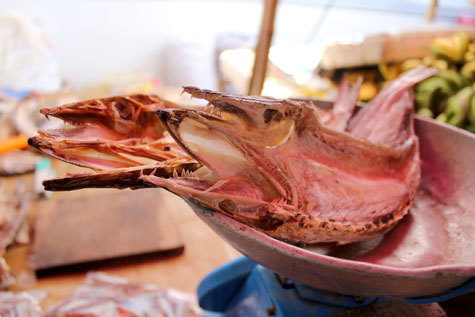 Everyone loves a good sausage. (That's what she said!)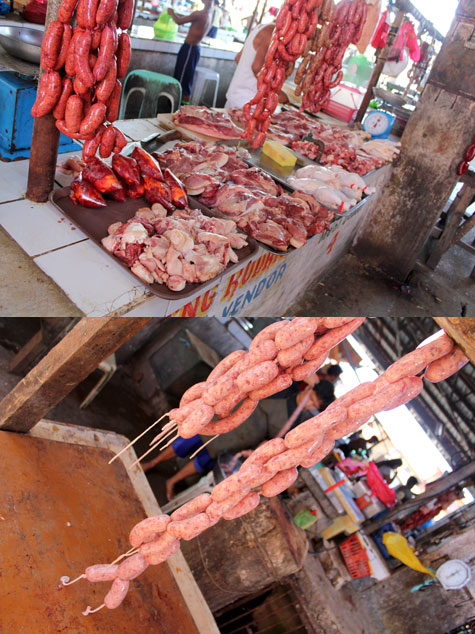 Freshly harvested lato or seaweed.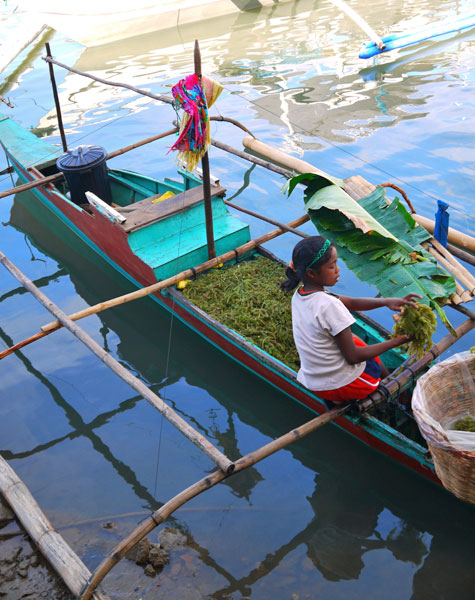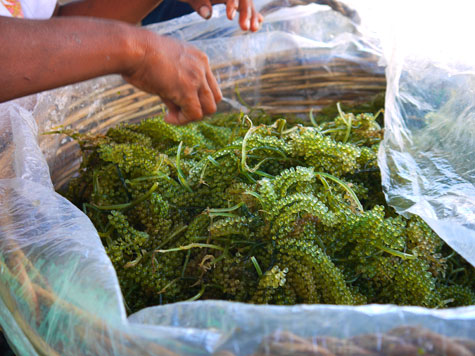 Seaweed salad with tomatoes and onions. If you've never had lato before, they're quite interesting in flavor and texture. Those little balls pop in your mouth and release a somewhat slimy liquid. When fresh like they are here, they taste of the sea without being fishy. Very nice.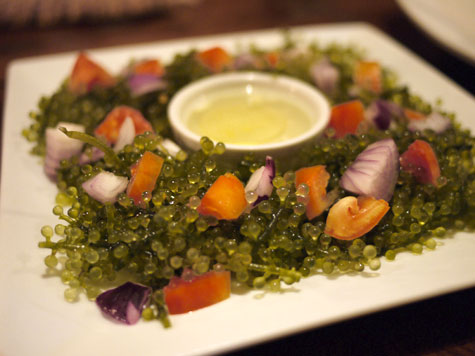 Loading Dock
Obviously, this was where we got on the boat at 8 am and got off at 5 pm every day.

Our boat looked like this, with a capacity of about 10 adults.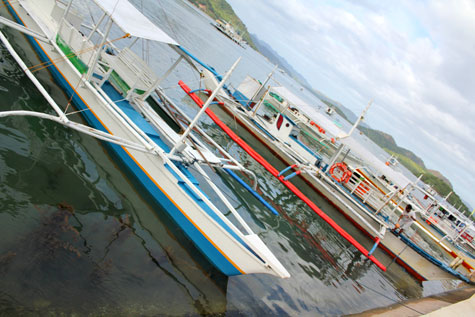 Ren excited to go snorkeling.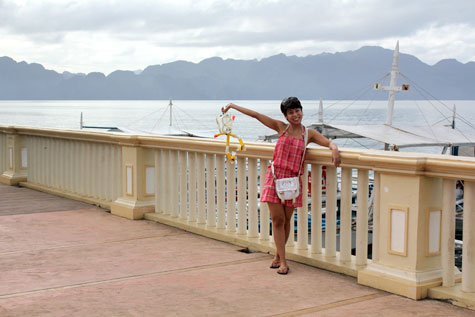 All aboard mate!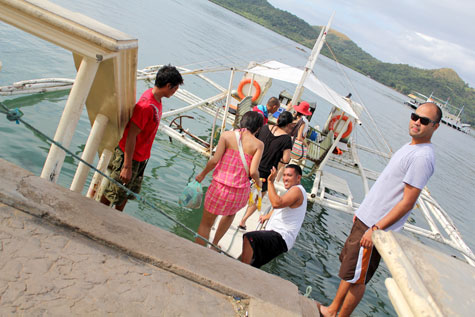 Island Hopping
My two handsome nephews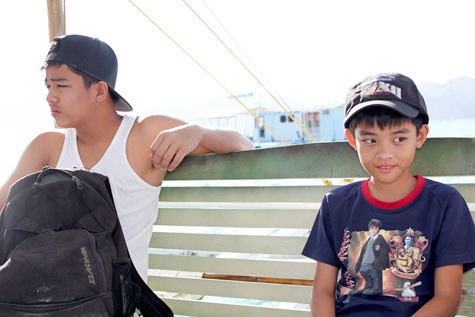 We frequently passed this island known locally as the "Sleeping Giant." Notice why?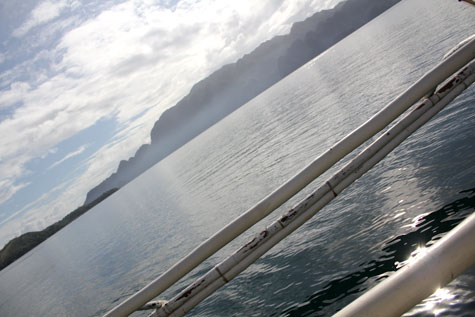 Cool picture of my sister BJ, my mom, and my sister-in-law Jen.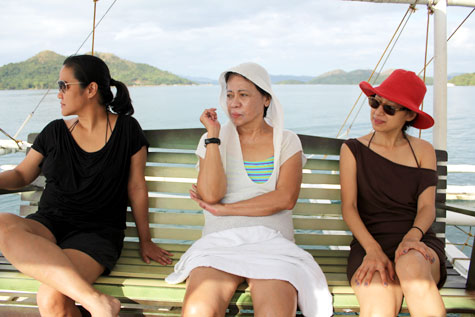 Kayangan Lake
Approaching these misty, limestone cliffs, I'm reminded of the opening scene from Jurassic Park. I wonder what secrets are kept by these beautiful, ancient formations?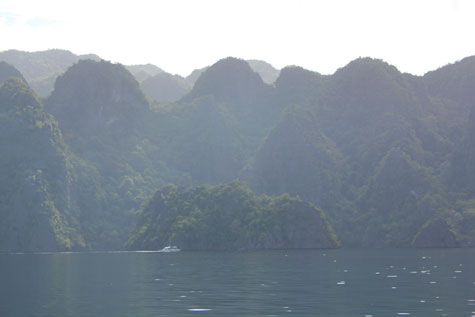 As we approach the island, the fog begins to lift.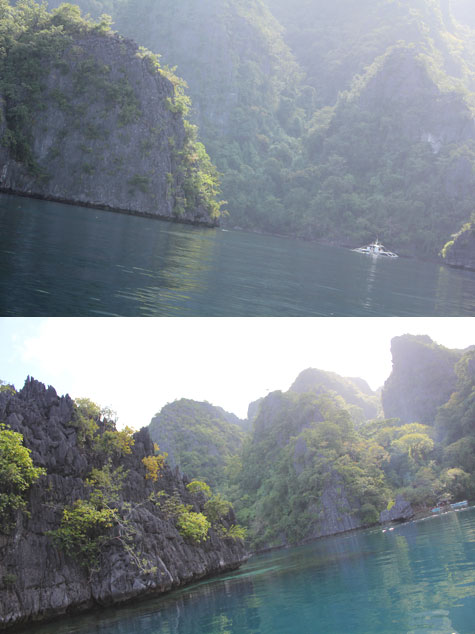 Quick family picture before getting off the boat to explore. My brother Francis and his family were yet to arrive.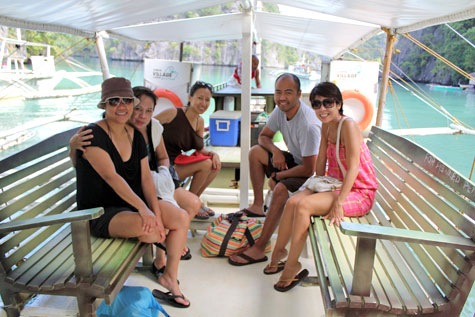 To reach Kayangan Lake, you have to do this 15-minute climb up the face of the mountain then walk down into the lake. Not too bad though the steps were uneven and a bit treacherous at parts.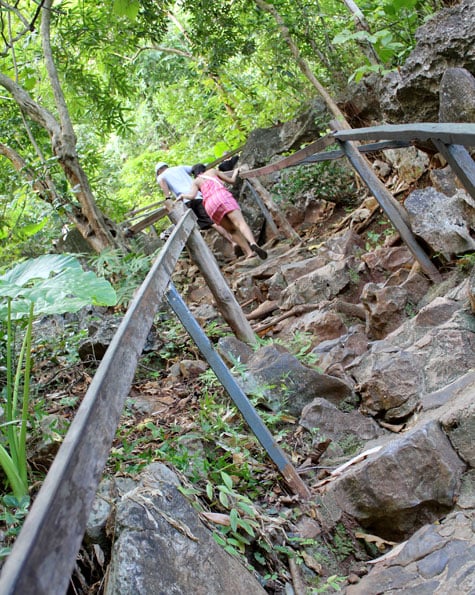 A magnificent view from the summit.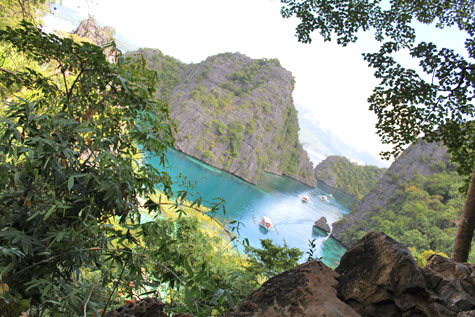 Uh oh, more boats coming means more people so we better get moving…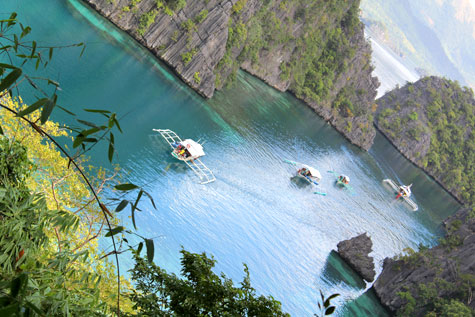 A colorful cave along the way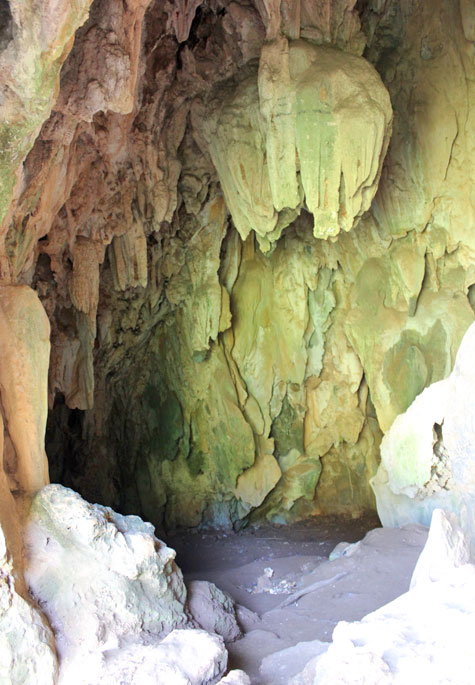 As if inviting you, the dense forest finally opens up, revealing this breathtaking, wondrous secret. Known also as the Blue Lagoon, Kayangan Lake is a sight to behold.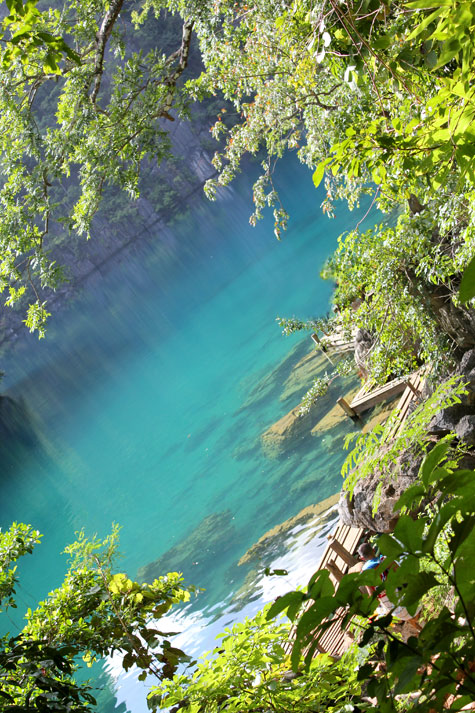 With brackish water (part salt/part fresh) that tasted mostly fresh, the water of Kayangan Lake is supposedly the cleanest and clearest in the Philippines. No arguments here.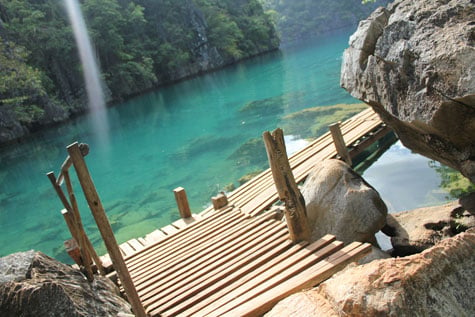 With nary a ripple in sight nor a sound in the air, places like this demand stillness. This is a sacred sight for the locals so please remember this when you visit.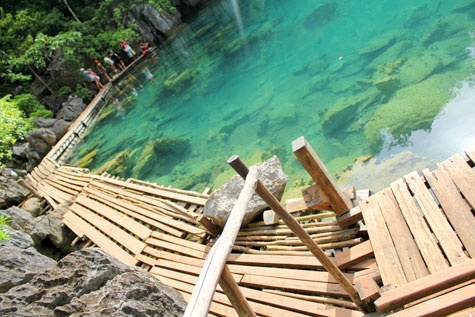 Even these planks were beautiful.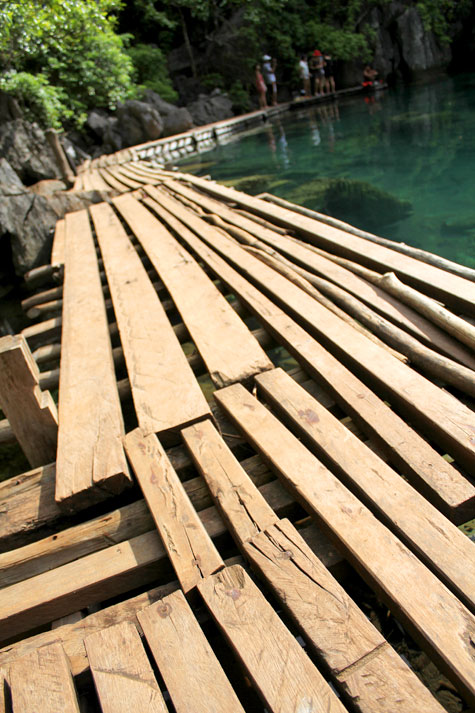 Ren striking a pose before getting in the crystal clear, blue-green water.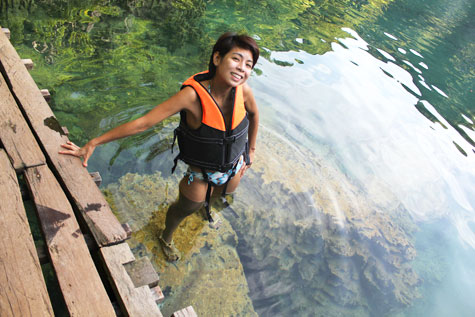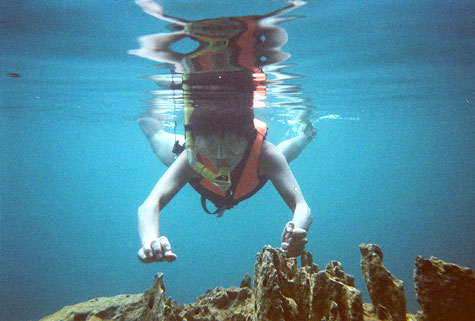 With mind-boggling stalagmites rising from the lake's floor, only the surrounding limestone cliffs really know how this mysterious lake came to be.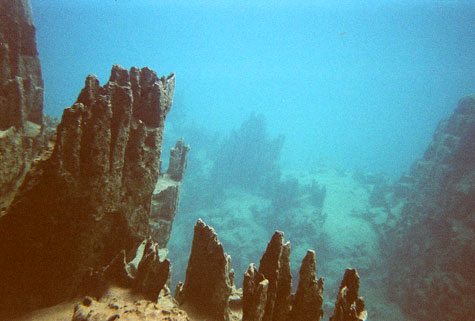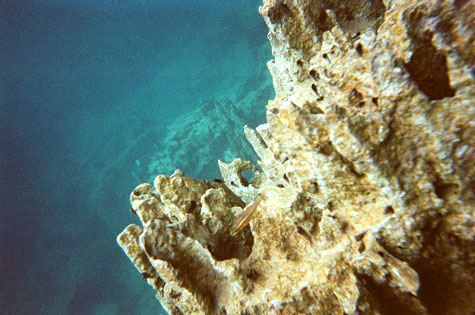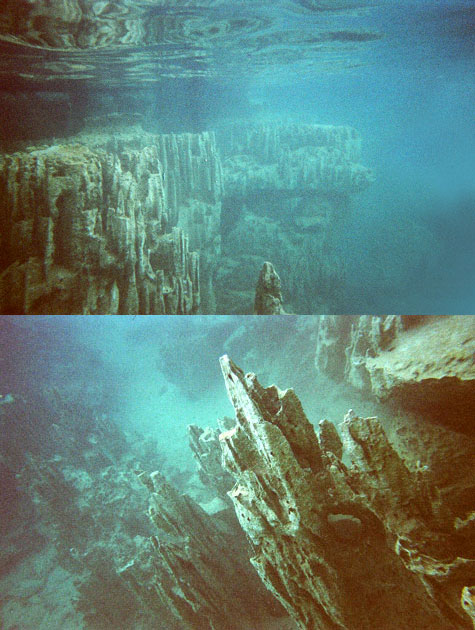 I couldn't really tell, but the lake must have been around 50-80 feet at its deepest parts. Even at those depths, I could still see the bottom, which is a testament to just how clean these waters were.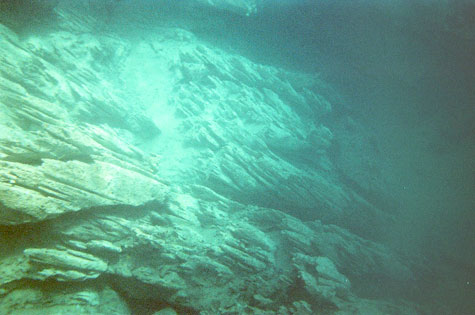 Primordial soup or the last reminders of an ancient, forgotten civilization?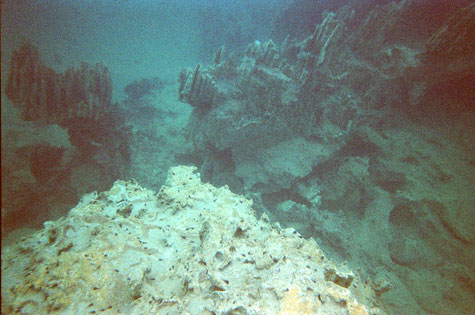 After the tiring hike back to the boat, Erwin and Jen catch some z's on this make-do hammock.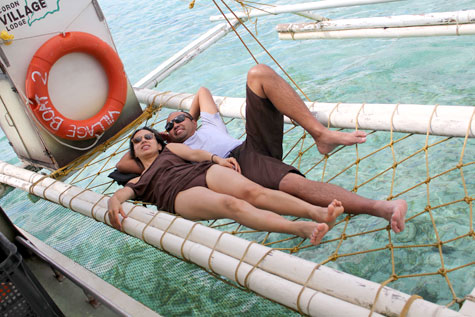 Limestone Cliffs
These magnificent, towering rock formations are reason enough to visit Palawan if you've never been.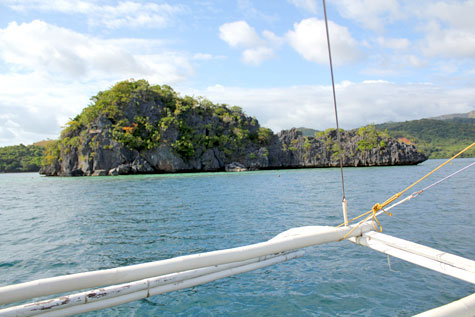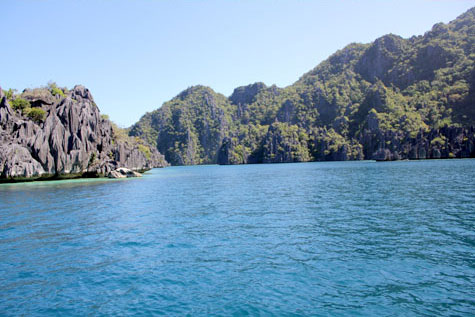 My two pretty nieces and nephew chilling out on the boat's bow with their uncle Erwin.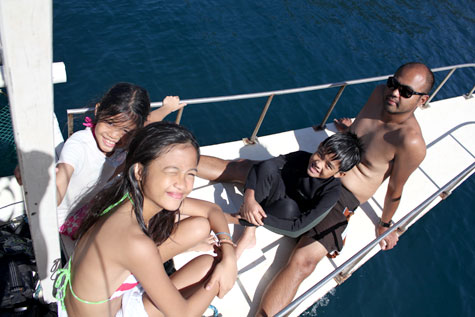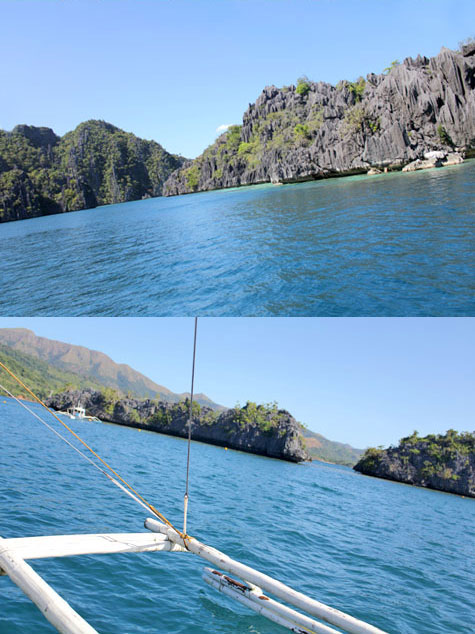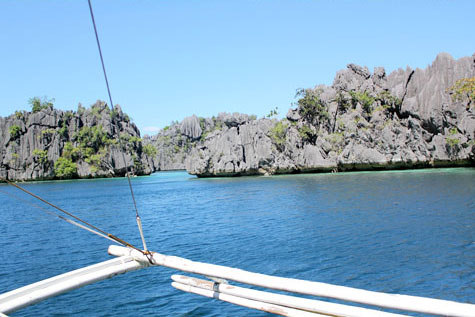 With a precipitous, near-vertical face, this cliff exemplifies sheer beauty.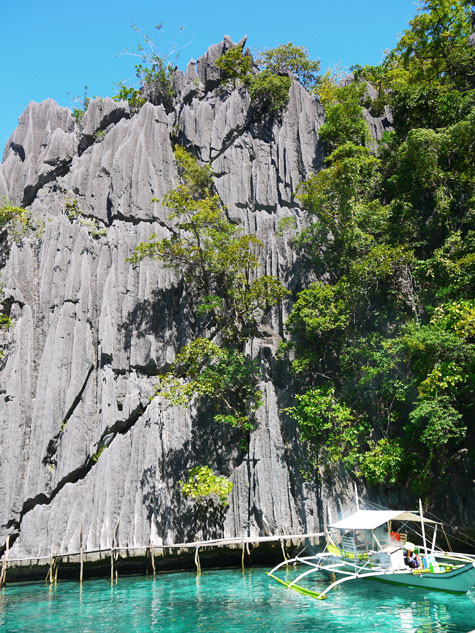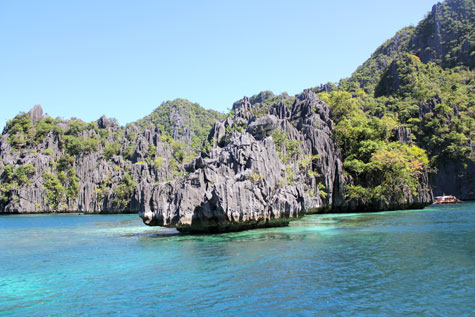 And of course, the most beautiful sight of them all, my lovely Renée swathed in an ocean of blue…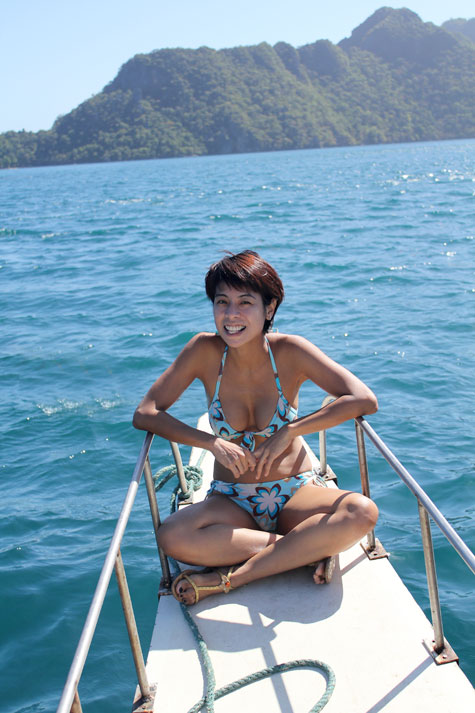 Snorkeling
Coron, and Palawan in general, is known for its superb snorkeling and dive sites. Torpedo-like Raffa can't wait to get in the drink.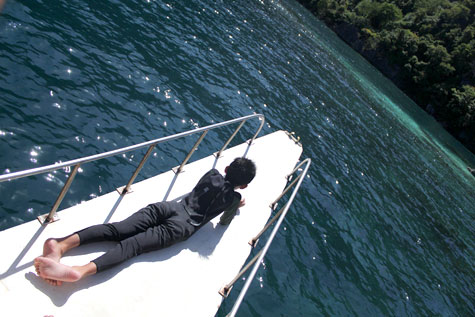 Apparently, neither can Ren.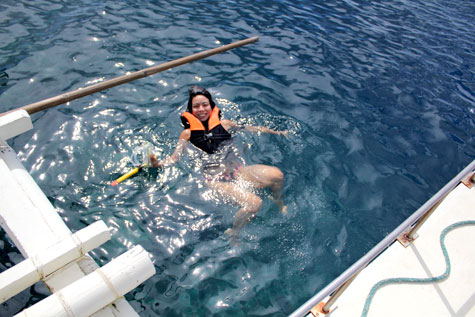 Stunningly beautiful coral gardens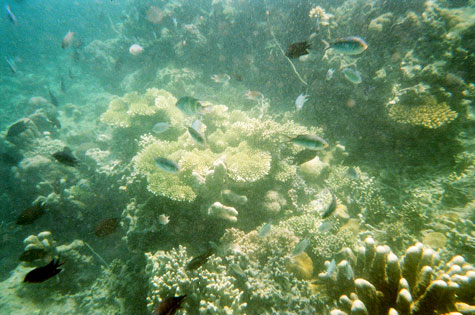 No shortage of fishes here!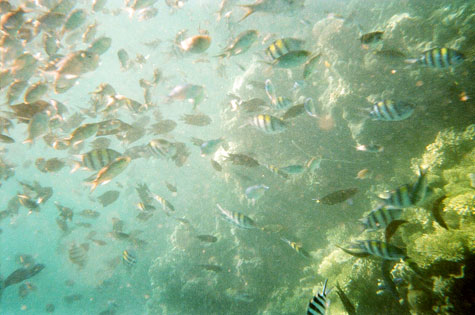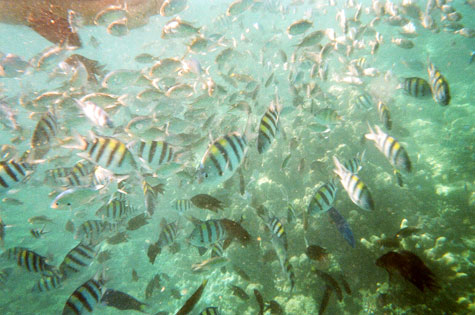 Miguel feeding the fishes a few pieces of bread.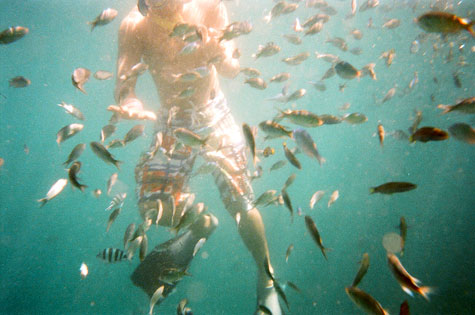 I even had them eating out of my hand!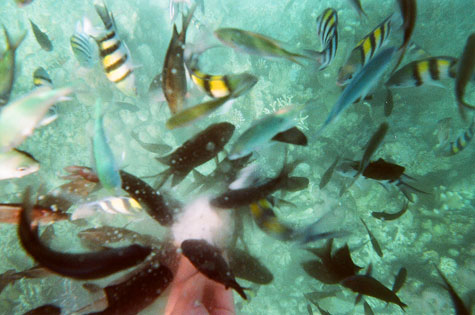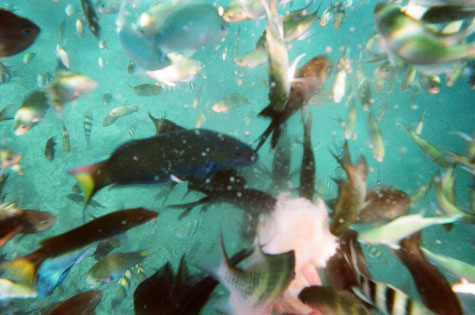 The spectrum of fishes here was simply amazing.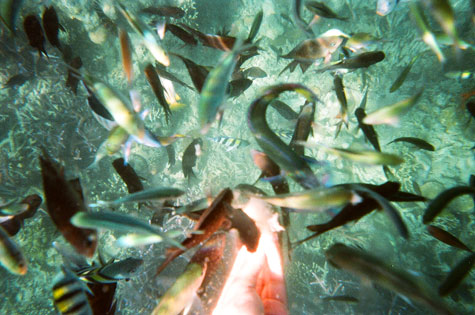 Even through his mask and snorkel, you could see Raffa's giddiness from a very satisfying session of fish feeding.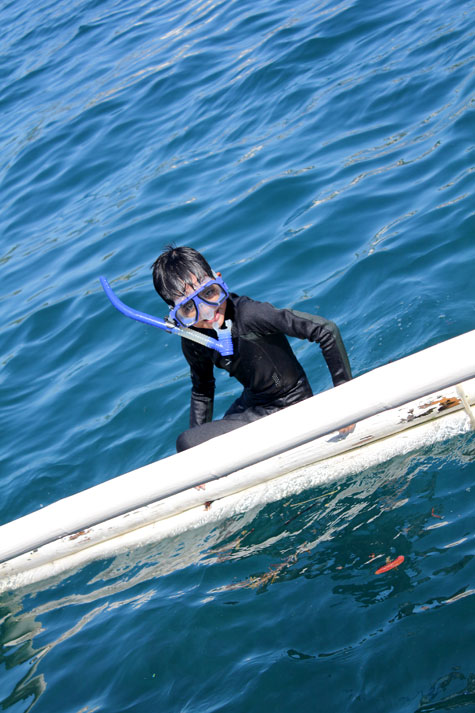 Twin Lagoons
An amazing site accessible only when the tides are low, you have to swim through this little crevice in the rock to get to the lagoons within.
What makes this site even more incredible are its thermoclines, which are different layers of abrupt temperature changes within the water, so swimming from one spot to the next would take you from icy cold to cozy warm in an instant. Amazing!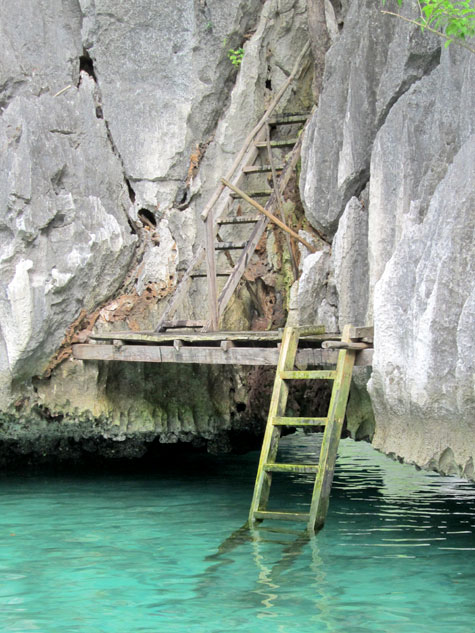 Here's Ren right before entering the crevice…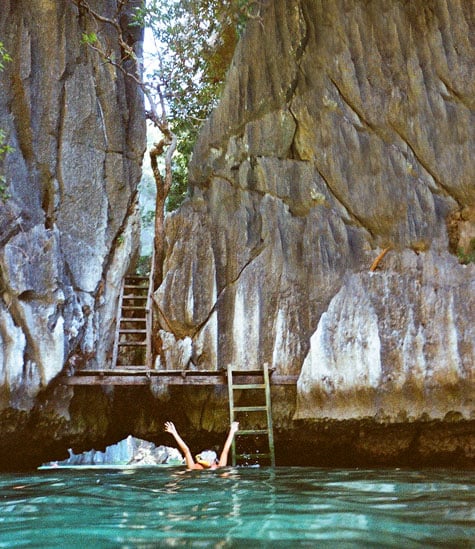 …and here she is again surfacing on the other side.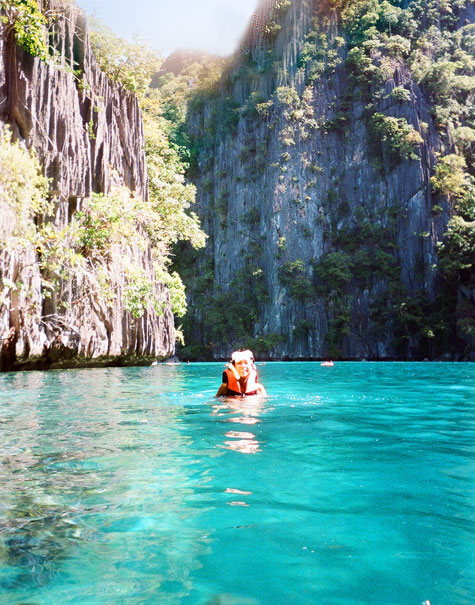 Because of the thermoclines, the water had an oily appearance, which you could kinda sorta see here. That's Ren flailing about.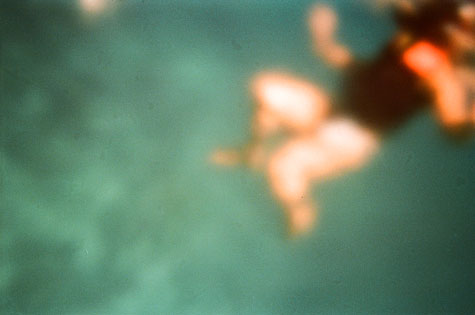 Around the Islands
Here's Erwin and Jen snorkeling at Coral Gardens.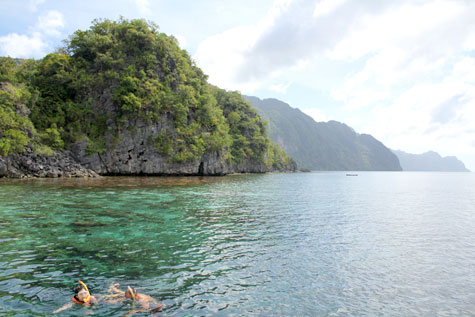 Mangrove forests, home to the Palawan mangrove snake and the elsuive tamilok.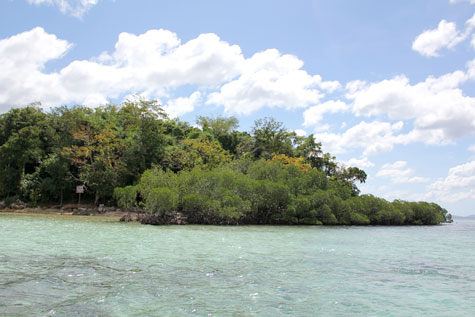 I know you're in there somewhere tamilok. You may have evaded me this time, but you won't be so lucky the next.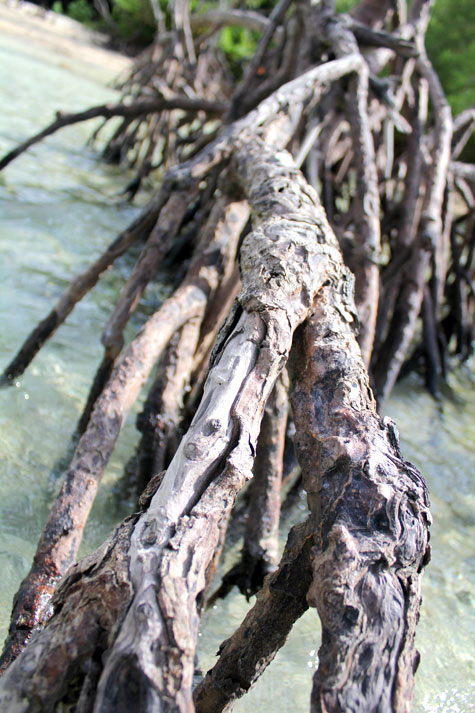 Crystal clear waters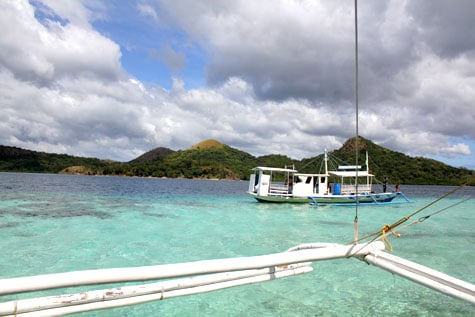 Now THAT'S a vision – my beautiful and sexy wife Ren getting down to Drake's Fireworks featuring Alicia Keys. Hamana hamana!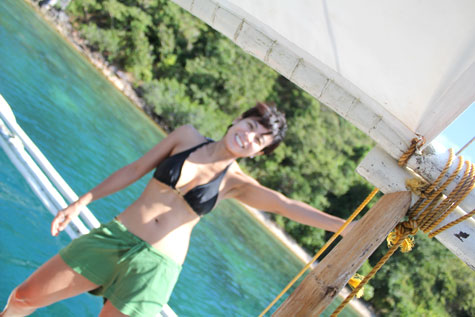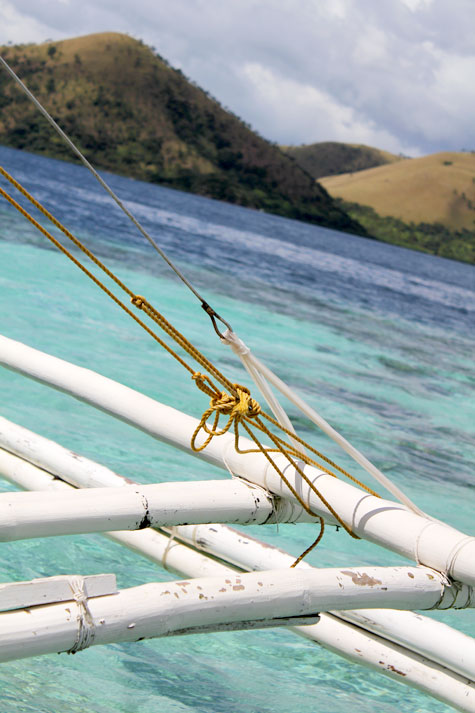 What the heck is Marianna up to…?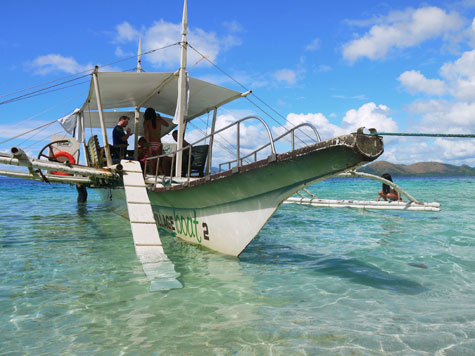 Oh I see. Banzaaiiii!…!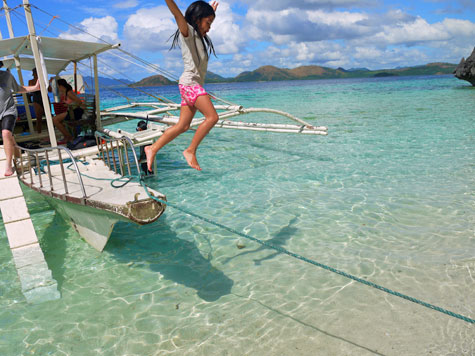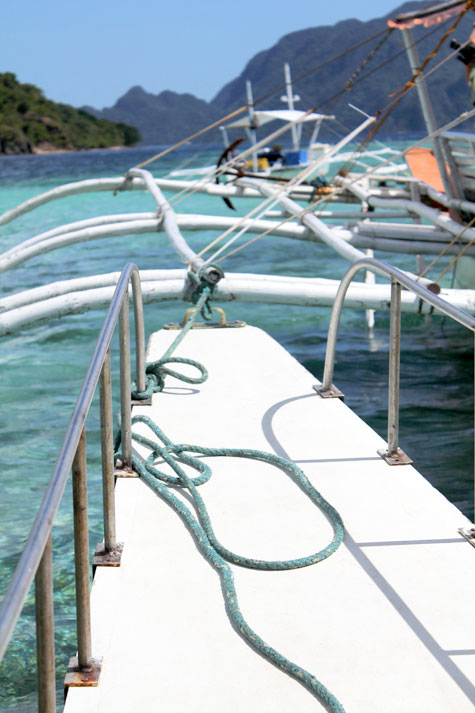 Here's crazy Marianna again pretending to eat a jellyfish. Don't try this at home folks.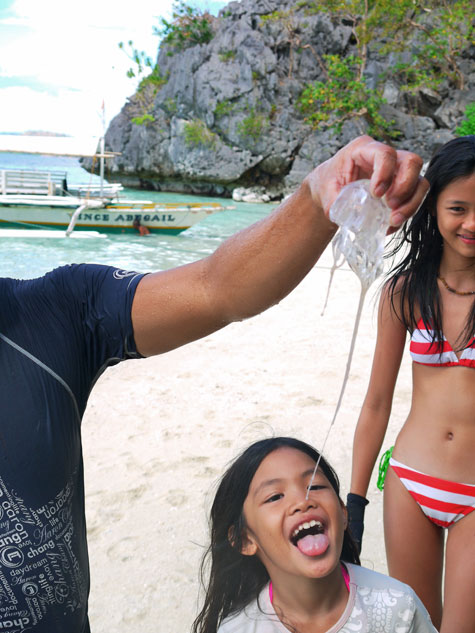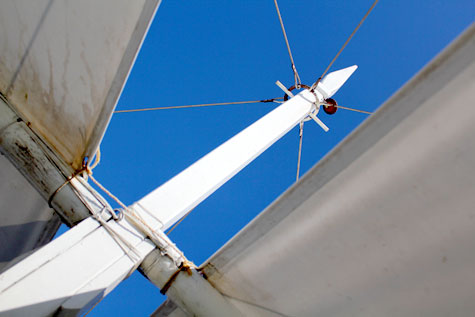 Man, it's a long boat ride…

Feels like EDSA during rush hour.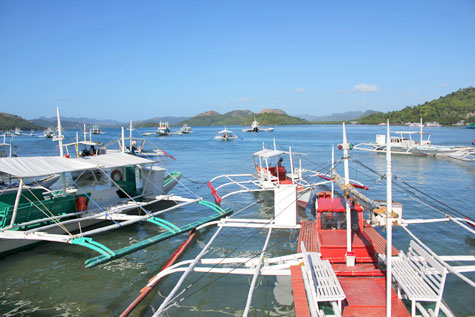 Gastronomic Adventures
Floating Feasts
Just because there weren't many interesting restaurants in Coron didn't mean that I'd come back with no gastronomic tales to tell. As previously mentioned, our mom bought fresh food at the market every morning which our boatmen painstakingly cooked for lunch onboard.
Here's the grill located towards the stern of the boat.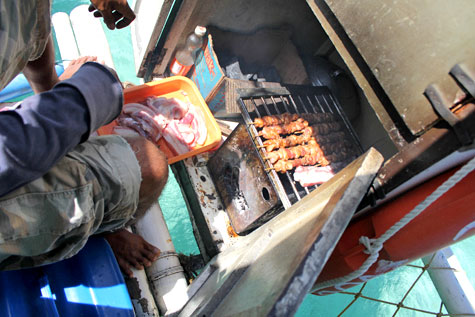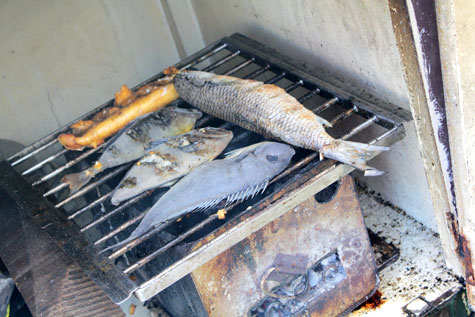 Known locally as surahan, these fish with the brightly colored orange rings on their tails were amazingly good. They were so succulent and tender that my brother went so far as saying that they reminded him of Chilean sea bass. Hey, at only PHP 10 per fish, sura-hand me another one dude!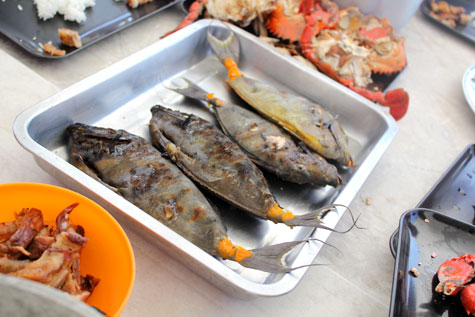 Roasted eggplants in paradise.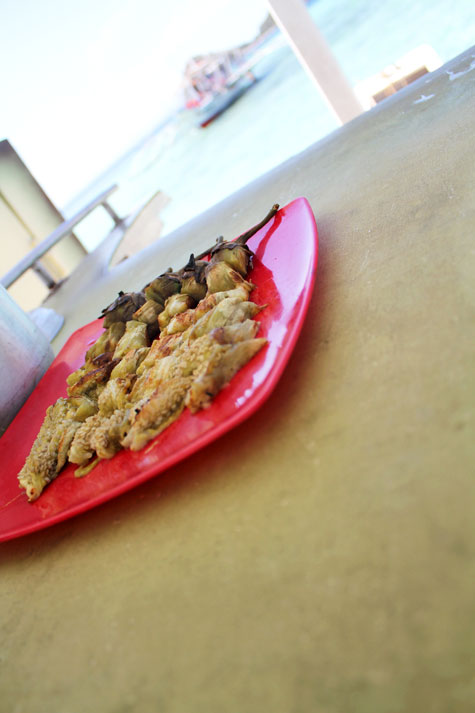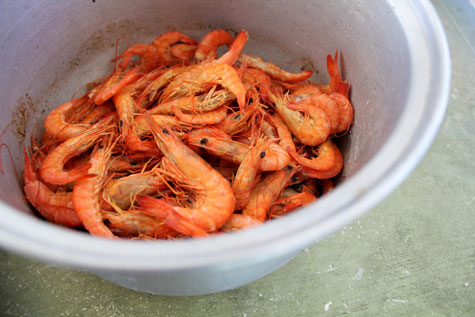 Succulent crabs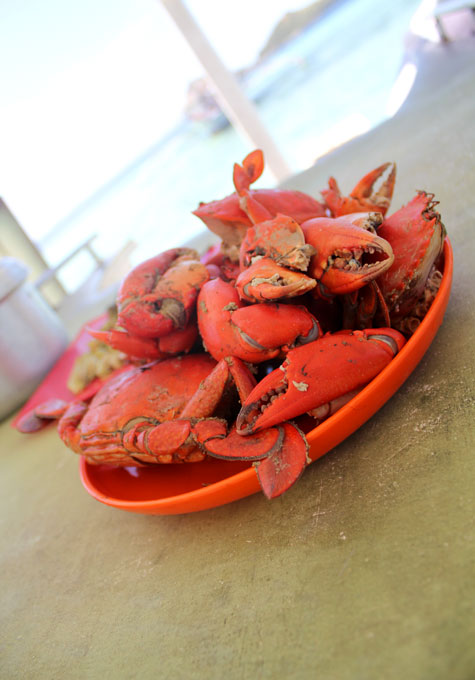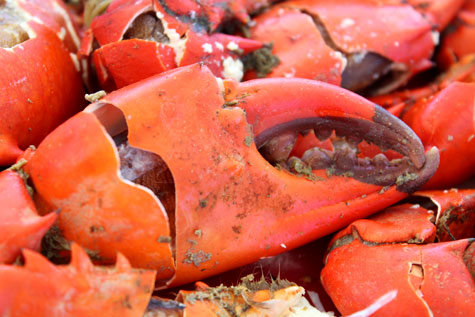 Here's the entire spread. If you're wondering what that tongue-looking thing at the bottom is, it's a cluster of fish eggs.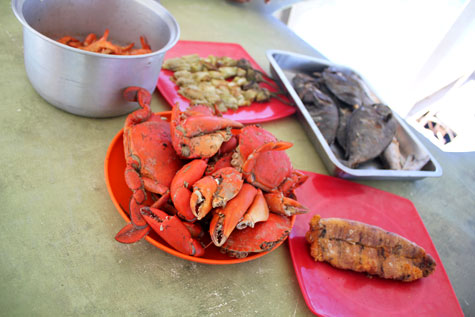 A feast fit for a king, or a matriarch.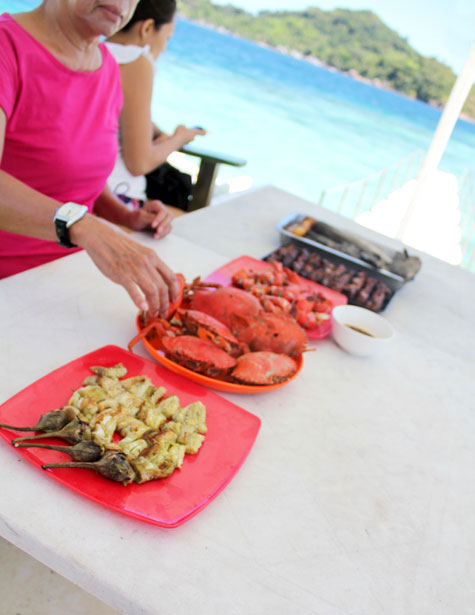 Special thanks go out to our hardworking and affable boatmen who made each meal (and excursion) that much more enjoyable and memorable. Here's Renante preparing the soy-calamansi dipping sauce for our liempo (pork belly).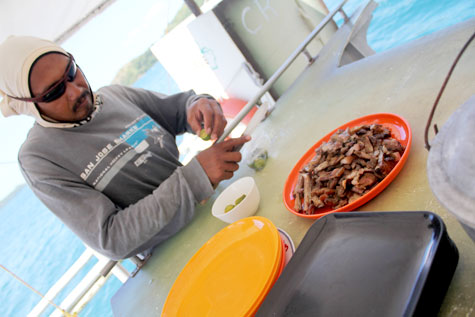 Here's hazel-eyed Loloy cutting up our eggplant.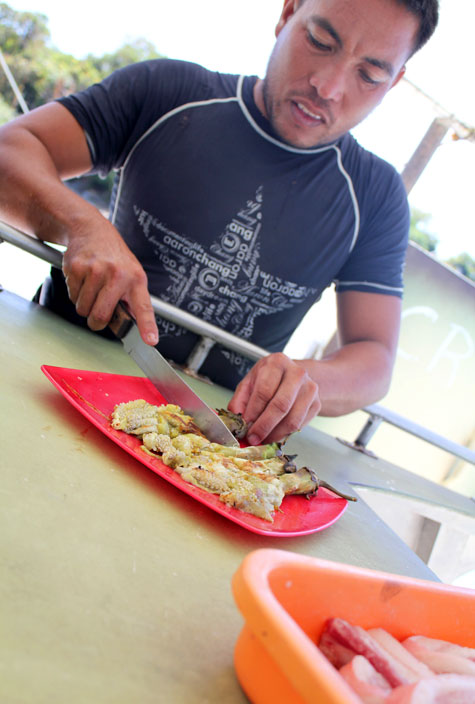 Santino's Grill
Among the few restaurants that we tried, Santino's Grill was the only one worth any ink. We wound up enjoying two meals here, including our farewell dinner.
Crispy kangkong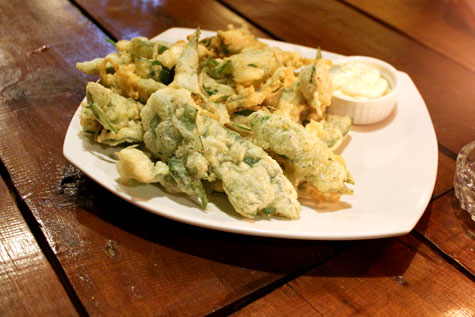 Steamed crabs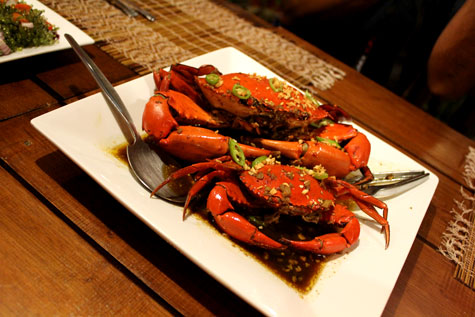 Seaweed salad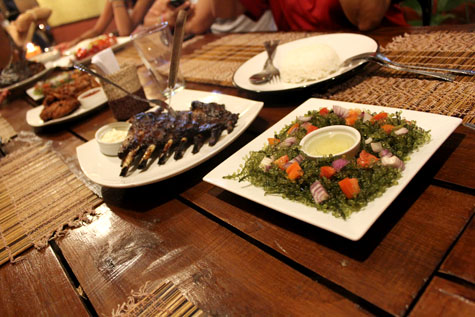 Their house specialty – baby back ribs. These were exceptionally good, prompting Ren to call them the best ribs she's ever had in the Philippines. Finger-lickingly dee-licious!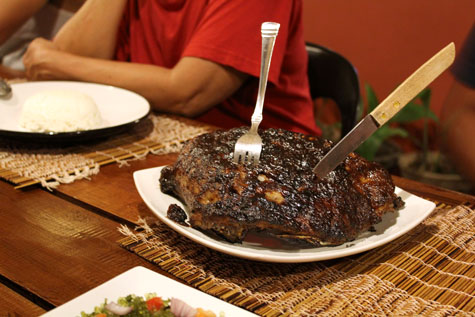 Scuba Diving
Almost everyone in my family scuba dives, including 10-year old Raffa, so a few of us went on a dive or two. I'm not really a fan of scuba diving so I sat this one out with Ren.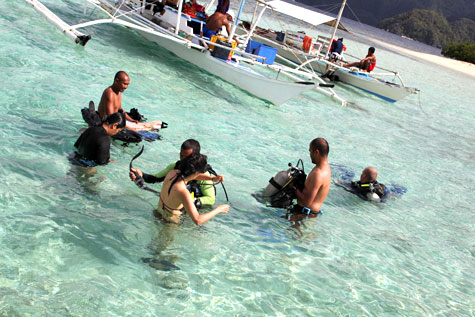 A-ok!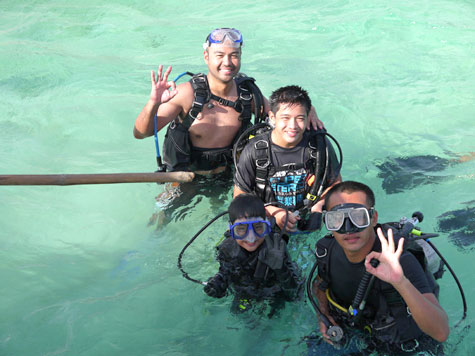 Fish feeding in the shallow area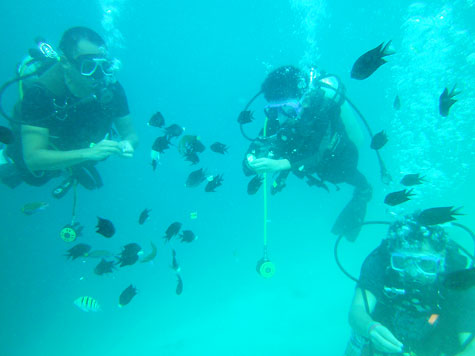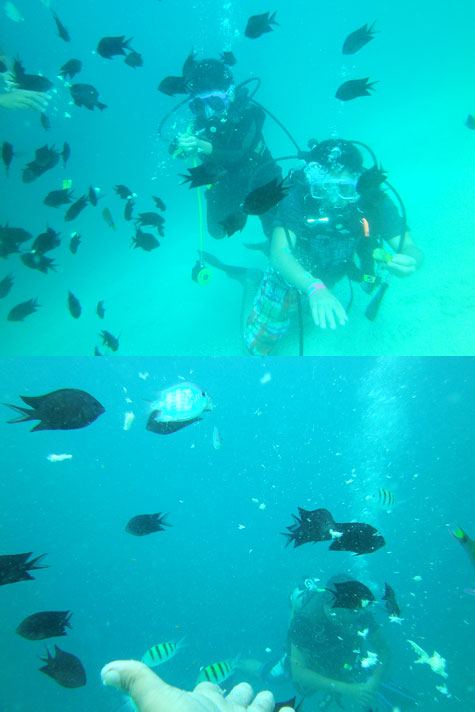 Fish schooling. Why they're schooling in this pattern only they know.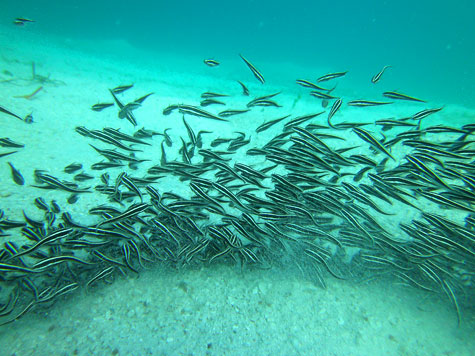 Enough with the kiddie shit, time to go to the deep end.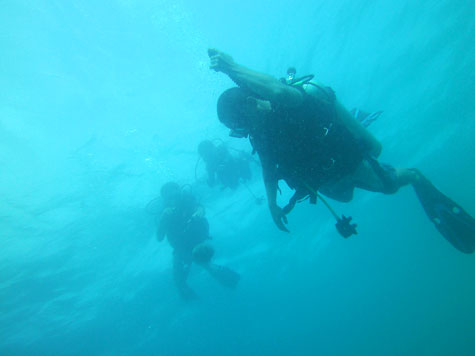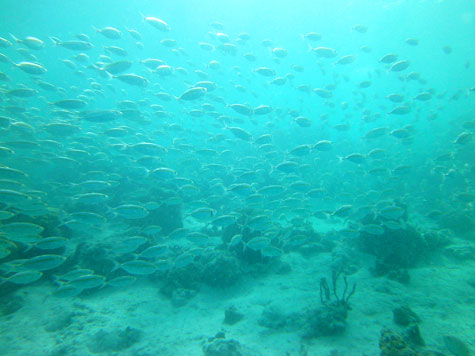 I have no idea what Erwin's counting…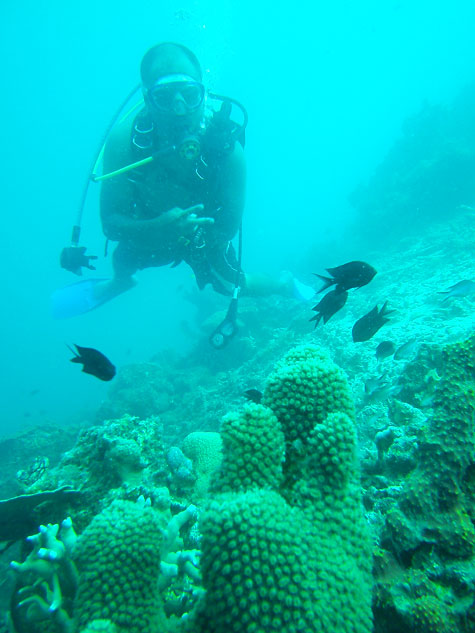 Pretty blue fishies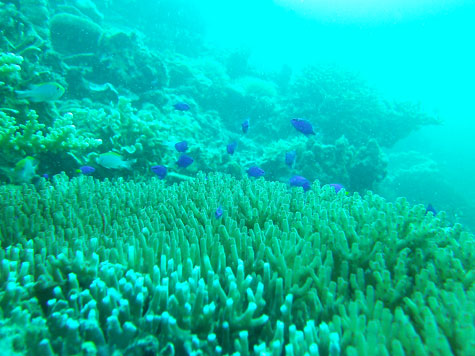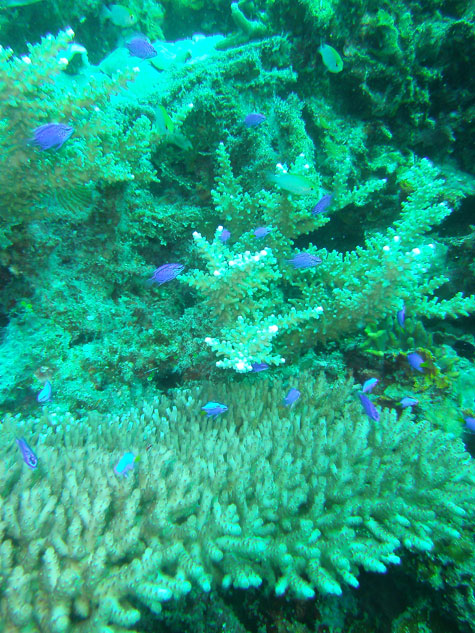 Alas, poor Yorick! I knew him, Horatio…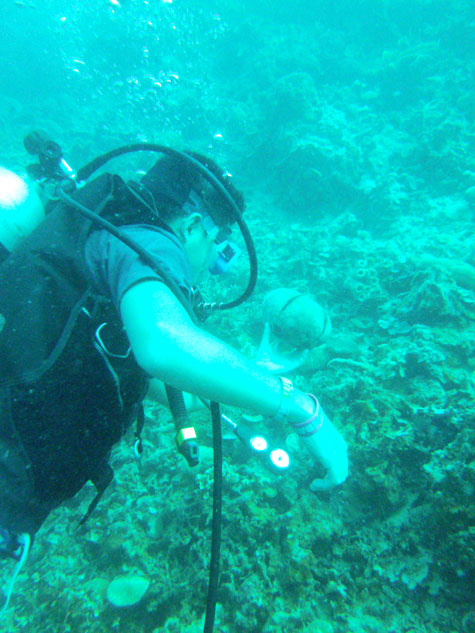 Who's Yorick?

They found Nemo…and Nemo, Jr…and Nemo the Third.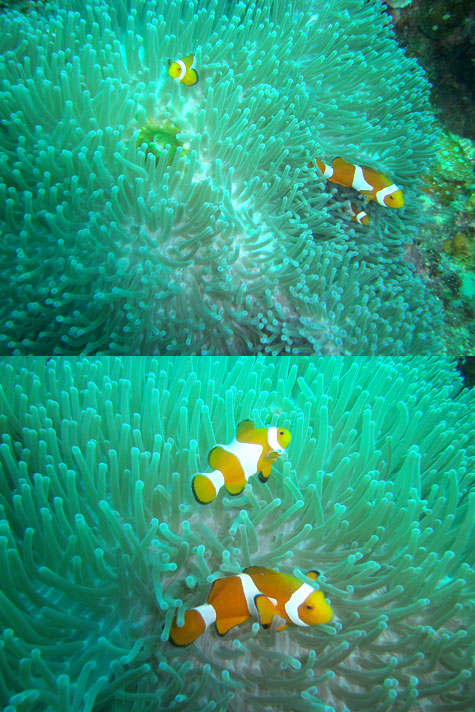 On fourth and long, Erwin and BJ channel Ochocinco and go deep for the Hail Mary…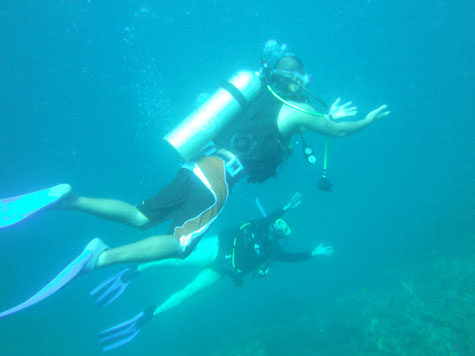 Beautiful but menacing lion fish. You can look, but don't touch!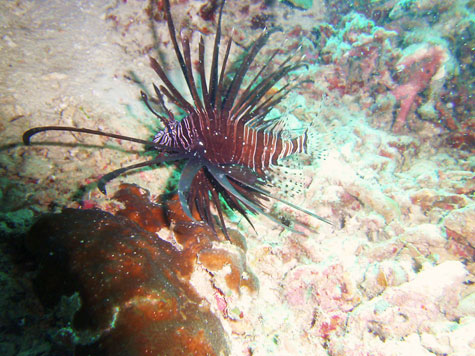 Three's Company?
In parting, I have to show you this all too bizarre love triangle.
On this one small island were these two cats and monkey that lived communally. They survived off the food that tourists gave them (which was a lot) and they rested together in the thicket pictured below. Can you see the cat through the clearing?
They appeared to live harmoniously as well, with the monkey even caressing one of the cats' faces at one point. Bizarre indeed!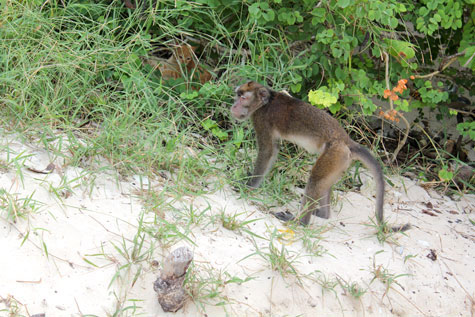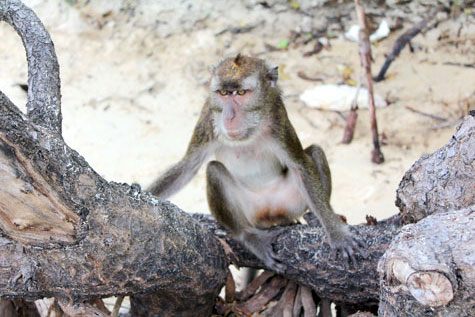 Here's a shot of all three of them together. It's tough to see the monkey since he's being obscured by the dark roots, but you can click on the image to see where he's sitting.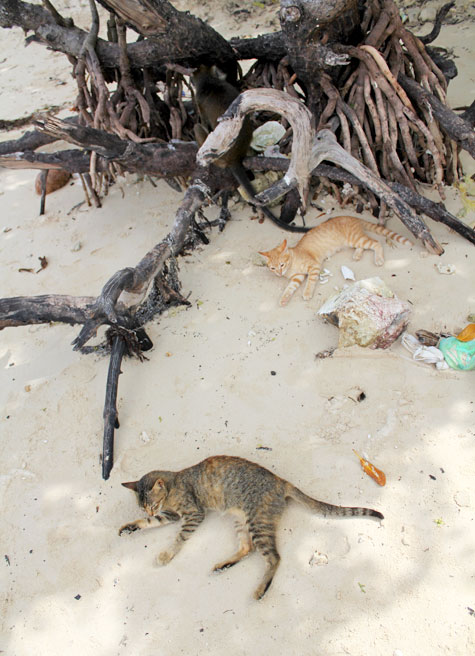 With a week's worth of snorkeling, sunshine and seafood under our belts, we complete the second leg of our mom's 70th birthday celebration and fly back to Manila for the final installment of this 3-post mini-series. Stay tuned.
More on Palawan
A New Natural Wonder in Puerto Princesa, Palawan
Underground River, Puerto Princesa, Palawan
Palawan Mangrove Forest
Sheridan Beach Resort and Spa
Tamilok, the World's Longest Oyster
The Edge of the World
Kayangan Lake, Coron, Palawan
Ay kay Layo ng Lamayo!