The Bahamas is famous for its white sand beaches and turquoise blue waters. This popular holiday destination in the Caribbean boasts some of the best scuba diving in the world and a nightlife that can often go from sunset till sunrise.
Beach, sun, and tropical cocktails like the Bahama Mama are foremost on people's minds when they think of the Bahamas, but as this Bahamian food guide will show you, one thing that definitely shouldn't be overlooked is the food.
BAHAMIAN FOOD QUICK LINKS
If you're planning a trip to the Bahamas and want to really dive into the cuisine, then you may be interested in joining a food tour.
TOURS
Save This on Pinterest!
No time to read this article on traditional Bahamian foods? Click on the save button and pin it for later!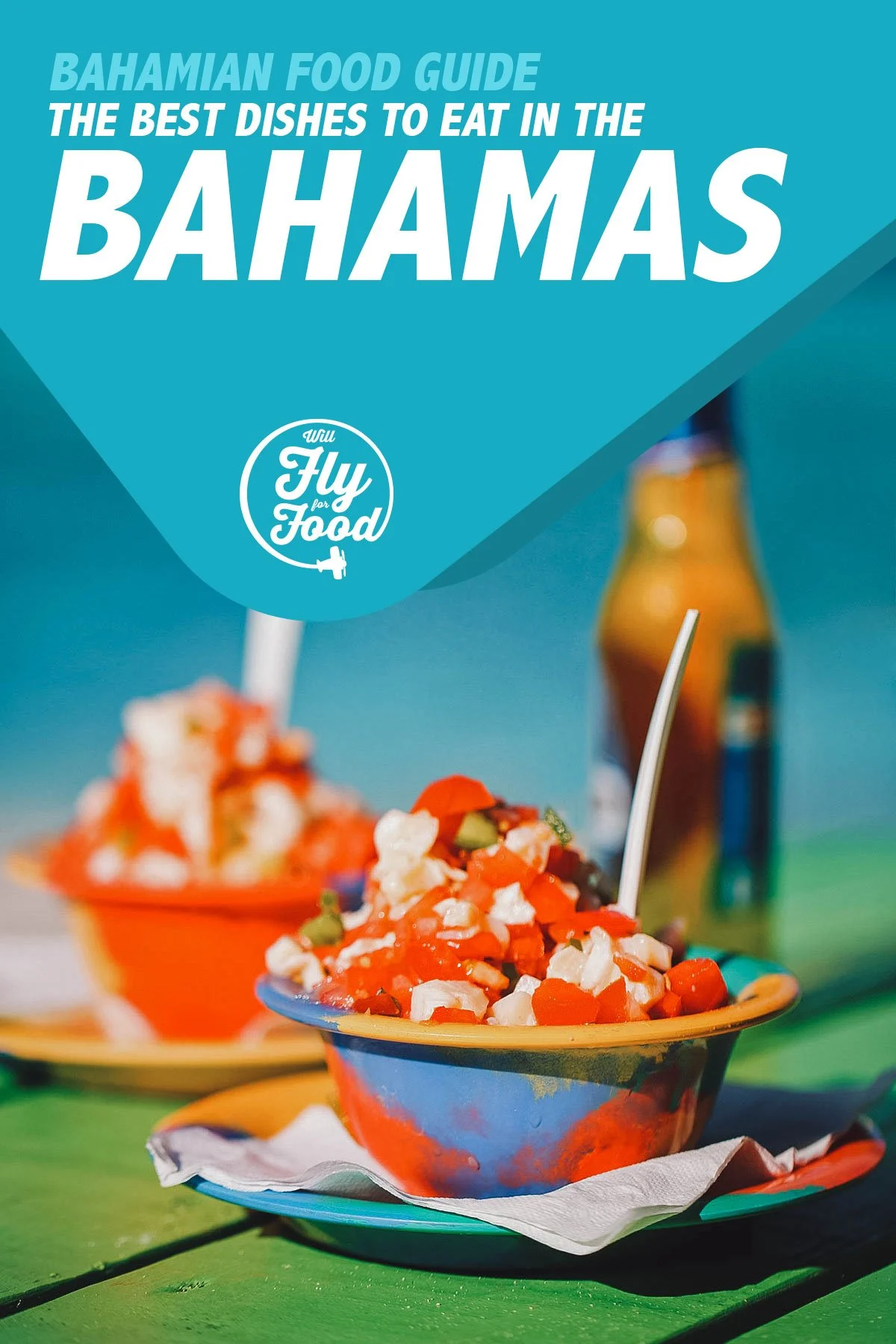 Photo by shalamov
WHAT DO LOCALS EAT IN THE BAHAMAS?
Bahamian food is a fusion of West African, European, American, and indigenous culinary traditions. It's comprised of about 700 islands and cays so it's unsurprising that seafood plays a prominent role in the Bahamian diet.
Seafood like fish, lobster, crab, and shellfish are staples in Bahamian cuisine but none are more beloved than conch, a large tropical mollusk or sea snail with firm, white flesh. It's widely regarded to be a Bahamian national dish. Conch meat can be prepared in a number of ways – it can be steamed, deep-fried, stewed, used in soups, and incorporated into salads.
Aside from seafood, other staples in Bahamian cuisine include rice, pigeon peas, pork, and tropical fruits. Common spices and seasonings used in Bahamian recipes include hot chili peppers, tomatoes, onions, garlic, lime, cinnamon, allspice, coconut, and rum.
THE BEST BAHAMIAN DISHES
1. Conch Salad
Conch salad refers to a famous Bahamian dish made with uncooked conch meat. You can think of it as a type of conch ceviche made with diced conch meat denatured in a mixture of key lime juice, bell peppers, tomatoes, onions, and orange juice from a freshly squeezed sour orange.
Conch salad is typically served as an appetizer or side dish and goes very well with Bahamian cocktails like the Yellow Bird.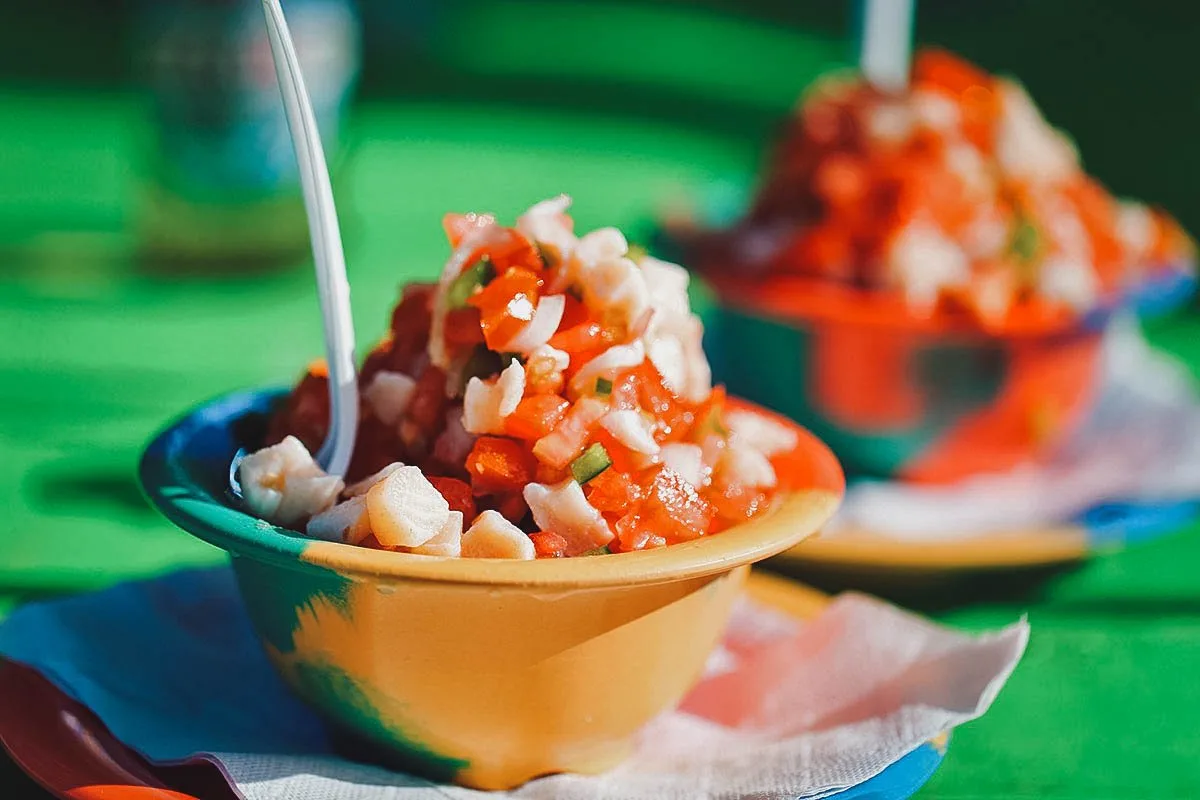 Photo by shalamov
2. Conch Fritters
Conch fritters are another popular conch dish in Bahamian cuisine. Typically served as an appetizer, snack, or side dish, these golden conch nuggets are made with a batter consisting of conch meat, bell peppers, onions, celery, and seasonings. The batter is deep-fried till golden brown and then served with a dipping sauce made with ketchup, mayonnaise, lemon juice, seasonings, and hot pepper sauce.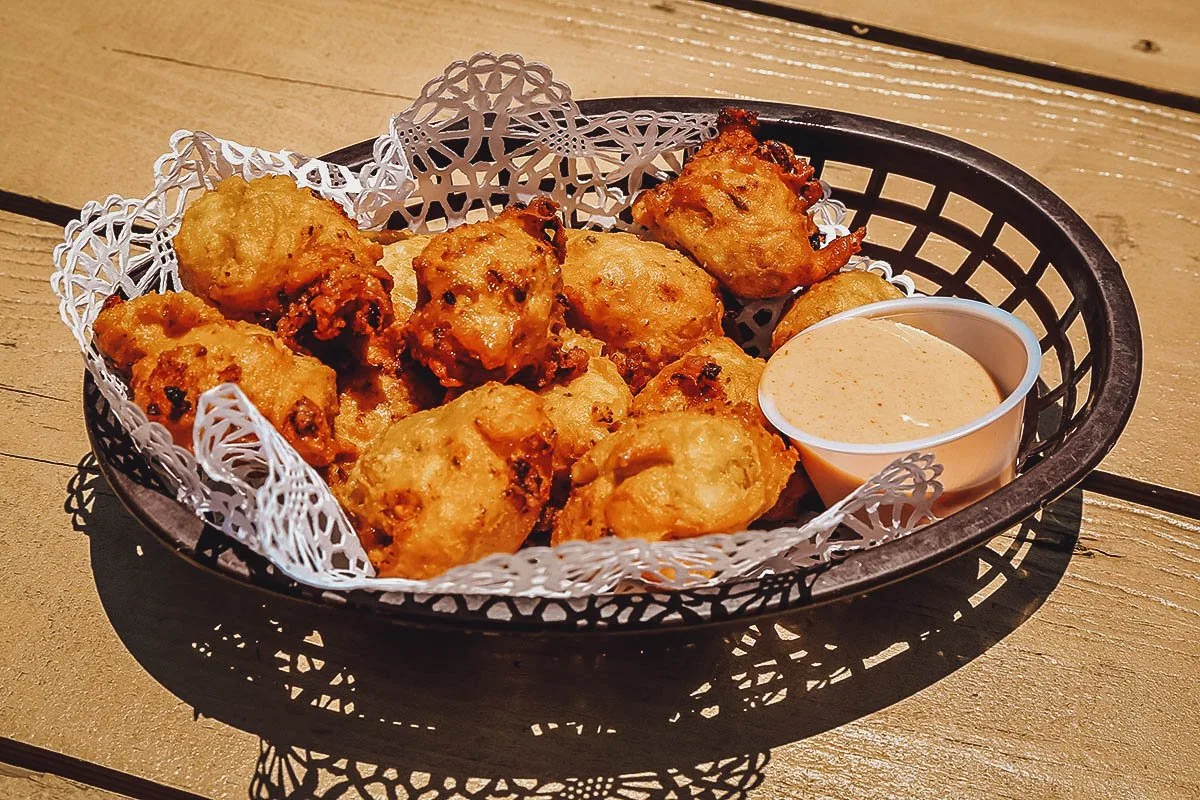 Photo by zhukovsky
3. Cracked Conch
Similar to fried clams or fried calamari, cracked conch is made with tenderized conch meat that's been coated in a seasoned batter and then deep-fried. Because of its naturally tough and sturdy texture, conch meat greatly benefits from being pounded or chopped up into small pieces before cooking.
Like conch fritters, cracked conch is typically enjoyed as a snack or side dish, usually with a spritz of fresh lime juice or a side of Creole sauce. In Bahamian cuisine, "cracked" simply refers to anything that's been coated in batter and deep-fried.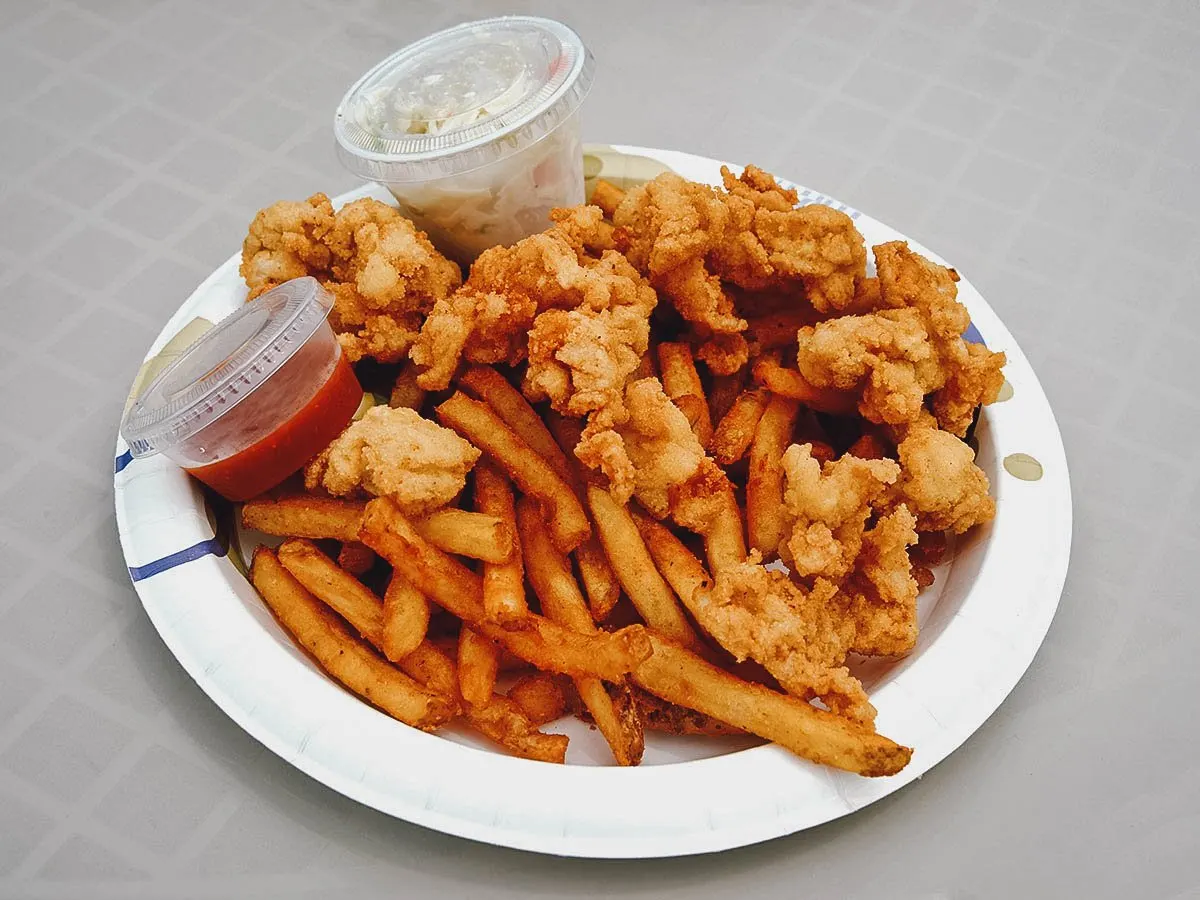 Photo by ftlaudgirl
4. Conch Chowder
Conch chowder refers to a hearty soup or Bahamian stew made with strips of tenderized conch meat cooked in a rich broth with tomato paste, onions, carrots, green peppers, potatoes, herbs, hot sauce, and seasonings. It's a popular dish in Bahamian cuisine that's typically consumed as a starter or as a light main course, often with white rice, grits, or johnny cakes.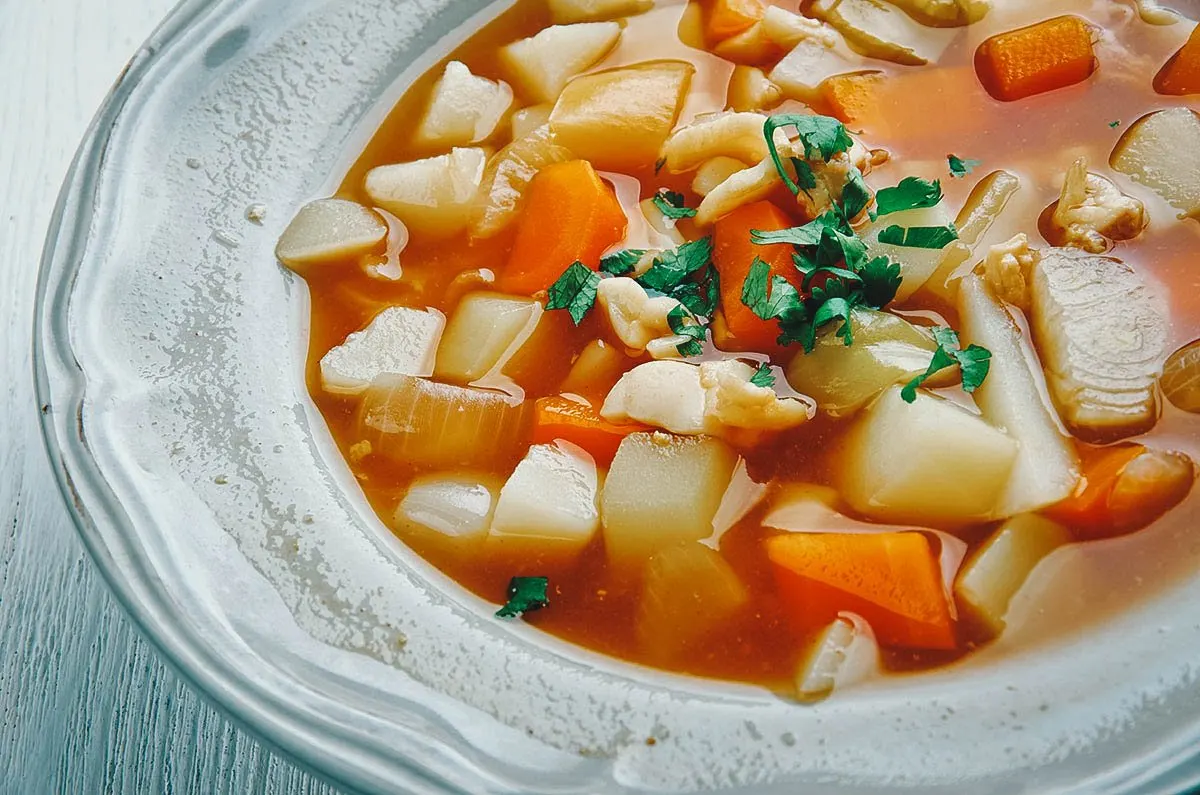 Photo by fanfon
5. Bahamian Fish Stew
If you're one of those people who thinks breakfast is the most important meal of the day, then you're probably wondering: "What do people eat for breakfast in the Bahamas? What is a typical Bahamian breakfast?" Well, you're looking at it.
A breakfast of fish stew may sound odd to westerners, but in the Bahamas, it's perfectly normal. Bahamians love breakfast and they enjoy filling themselves up with savory meals like Bahamian boiled fish, tuna and grits, and souse (Bahamian soup).
Bahamian fish stew (or Bahamian stew fish) is a Creole dish that was brought to the Bahamas by Creole immigrants from Haiti. Similar to New Orleans gumbo, it's made with grouper or snapper that's rubbed with salt and hot peppers before being marinated in a mixture of lime juice, allspice, and freshly squeezed sour orange juice.
The seasoned fish is then seared in thyme-infused oil before being simmered in a broth with roux, onions, potatoes, celery, carrots, herbs, spices, and seasonings. When cooked, the Bahamian stew fish is served with white rice, grits, or johnny bread.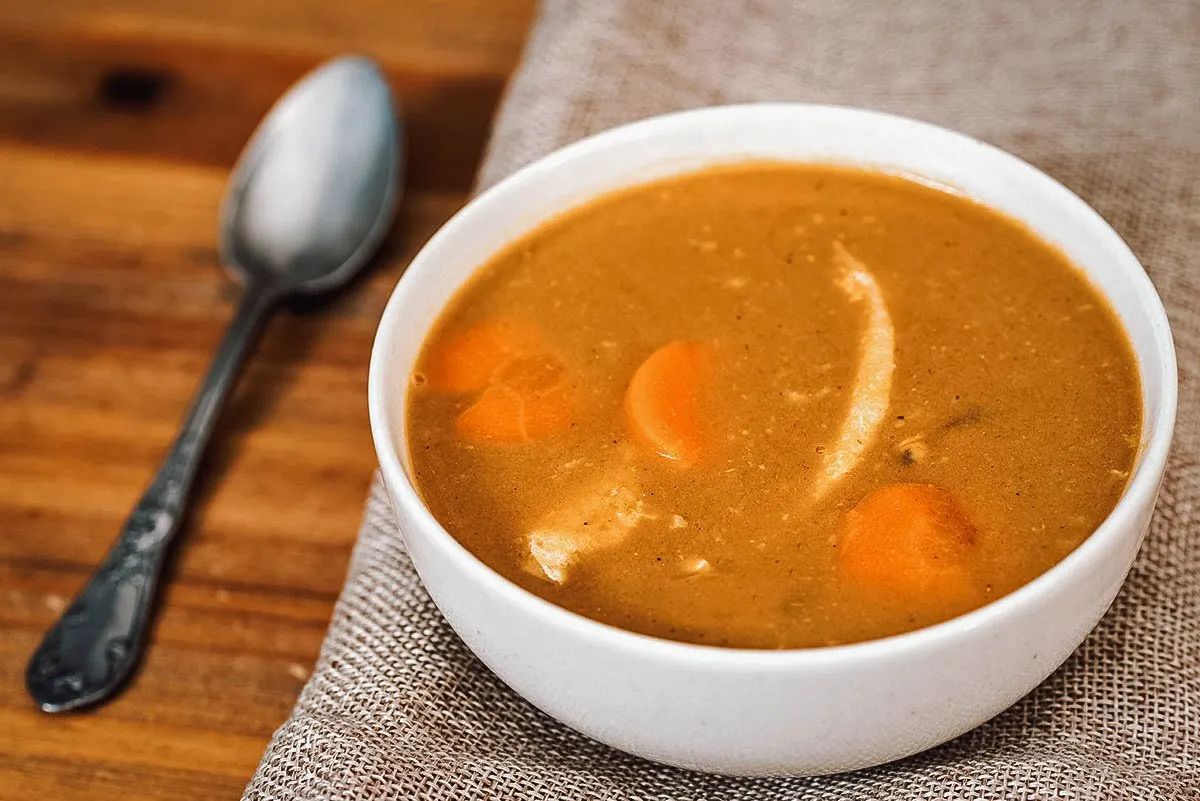 Photo by ilolab
6. Baked Crab
Baked crab refers to a delicious Bahamian dish made with stuffed crab shells. It's made with cooked crab meat mixed with various ingredients like bread crumbs, egg, onions, bell peppers, butter, and thyme. The mixture is stuffed back into the crab's shell and then baked to a light, golden brown.
Often enjoyed as an appetizer, Bahamian baked stuffed crab is drizzled with lemon juice and served with a side of steamed rice, vegetables, or baked potatoes.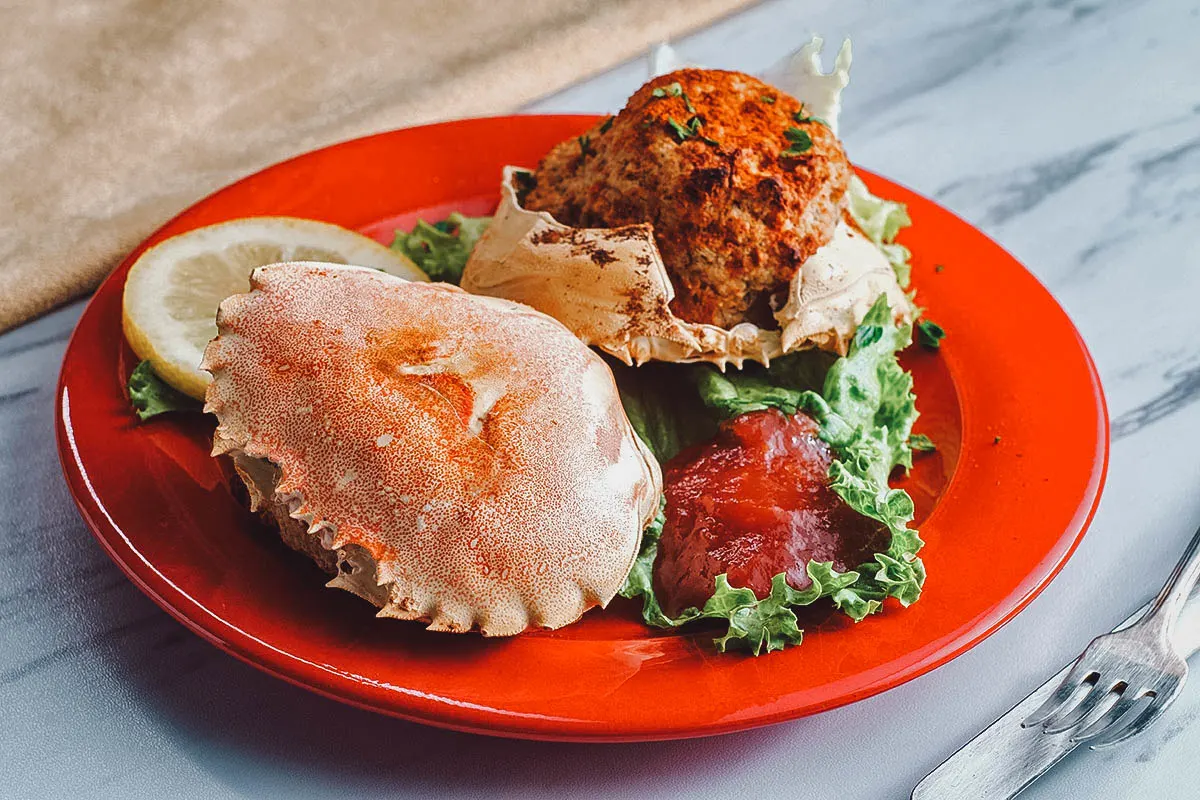 Photo by ezumeimages
7. Rock Lobster
Also known as spiny lobsters or crayfish, rock lobsters are among the most popular types of shellfish in the Bahamas. Millions of pounds of these clawless crustaceans are caught from the tropical waters of the Bahamas from around August till March every year.
Most are exported to foreign markets like the US and Europe but the ones that do wind up on your plate in the Bahamas are typically steamed or boiled or used as an ingredient in various Bahamian dishes.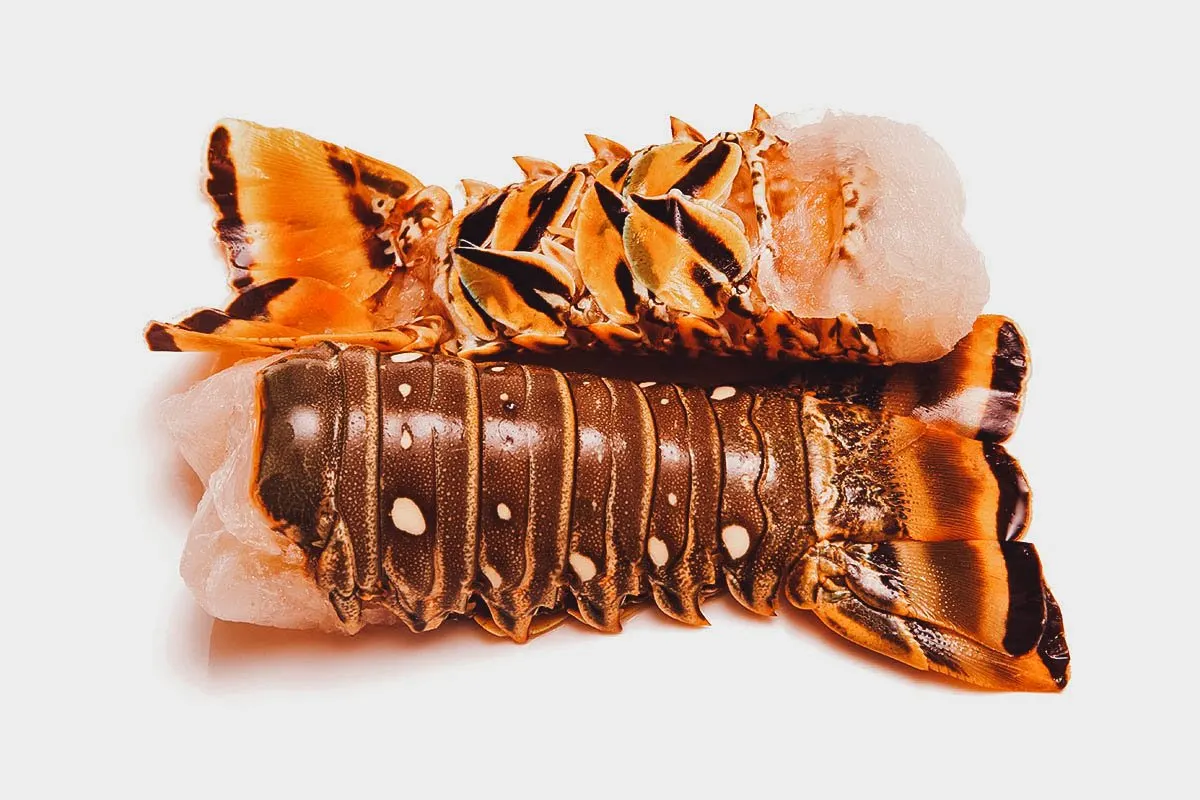 Photo by west1
8. Chicken Souse
Souse refers to a family of Bahamian clear broth soups. It can be made with different types of meat like pig's feet and sheep's tongue but the most popular version is made with chicken, limes, potatoes, chili peppers, and allspice.
Chicken souse is a popular breakfast dish in the Bahamas and touted as a powerful hangover cure. Its restorative properties are attributed mainly to the fresh lime juice and hot chili peppers used in the recipe.
To prepare, chicken wings (or other chicken parts) are boiled and drained before being boiled again to produce as clear a broth as possible. The chicken is then simmered with potatoes, goat peppers, onions, celery, and allspice to give the soup its signature flavor.
A quick spritz of lime juice is added before serving the soup with some johnny bread or a side of grits.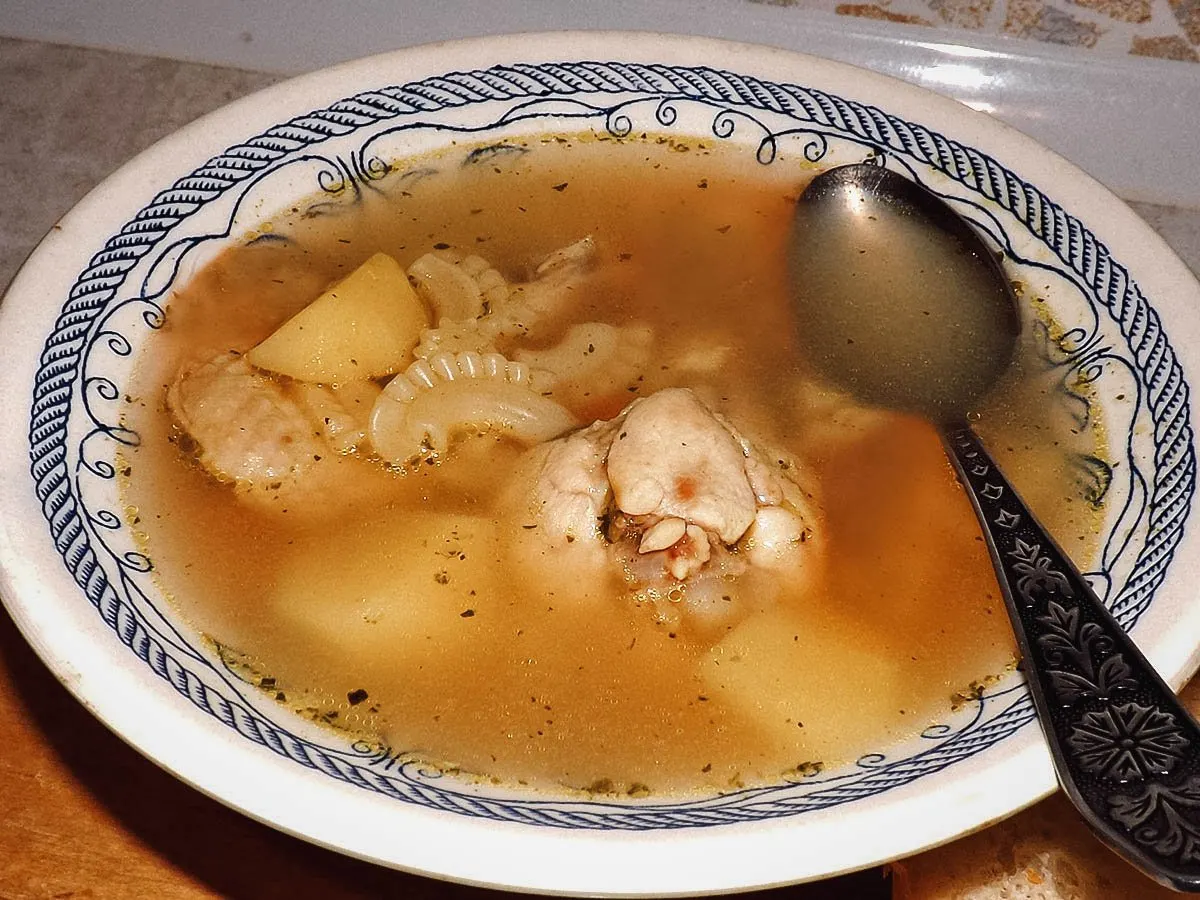 Photo by [email protected]
9. Baked Macaroni and Cheese
This next dish isn't something many foreigners would think to find in a traditional Bahamian food guide but baked macaroni and cheese is a popular side dish in the Bahamas. It's commonly prepared over the weekends and on holidays, often with pigeon peas and rice and fish or meat dishes.
Recipes for Bahamian baked macaroni and cheese can vary from cook to cook but it's typically made with elbow macaroni, cheddar cheese, bell peppers, onions, eggs, butter, evaporated milk, goat pepper sauce, paprika, and seasonings.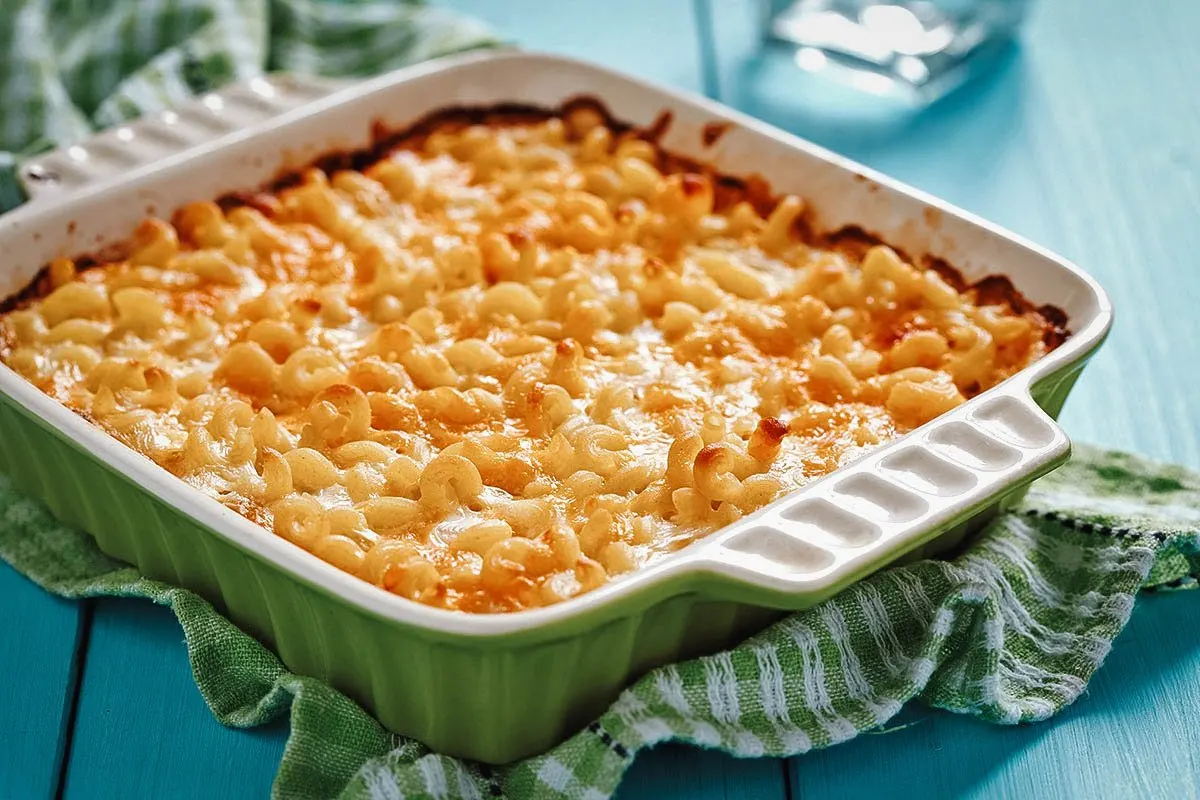 Photo by Odelinde
10. Pigeon Peas and Rice
Beans and rice is a staple dish in Caribbean and Creole cuisine. It exists in many forms throughout the Caribbean and Latin America and forms a major part of the local diet.
In the Bahamas, peas and rice (or peas n' rice) is a hugely popular dish consumed in every household. It refers to a Bahamian staple of pigeon peas and rice cooked with salted pork, bell peppers, onions, celery, tomato paste, coconut milk, thyme, and seasonings. It's a common side dish often served with larger Bahamian meals.
Like conch meat, canned pigeon peas are among the most widely used ingredients in Bahamian cuisine.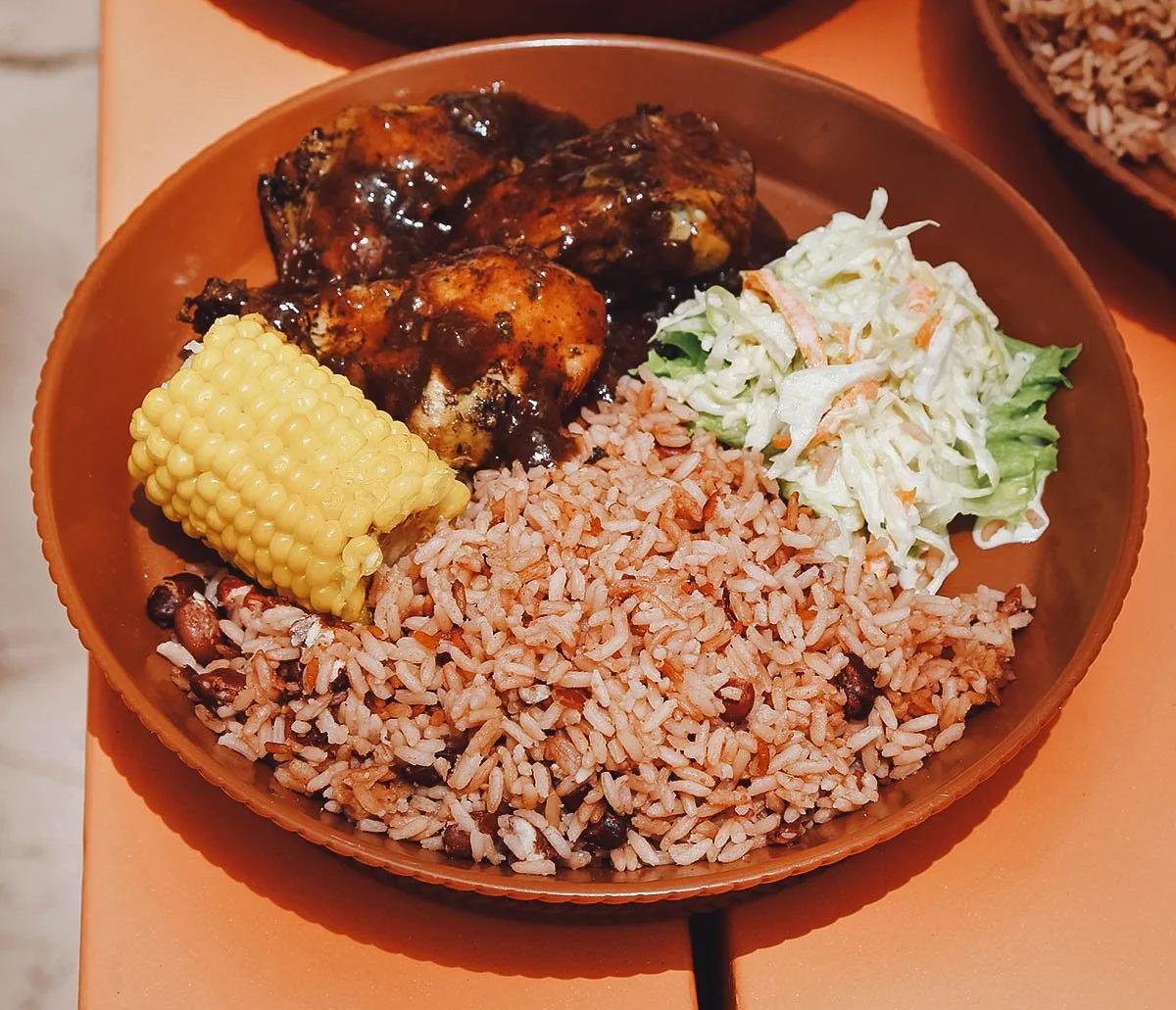 Photo by zhukovsky
11. Fire Engine
Like baked macaroni and cheese, corned beef may not be the first thing people think of when they think of traditional Bahamian food. But corned beef is in fact a common Bahamian breakfast food and the main ingredient in a popular Bahamian dish known as "fire engine".
Fire engine refers to a simple and comforting dish of steamed corned beef served over white rice or grits. It's commonly served for breakfast though it can be enjoyed at any time of the day. In the Bahamas, the word "steamed" is used to describe anything that's been cooked in tomato paste and herbs.
Fire engine is typically made with canned corned beef cooked with tomato paste, onions, bell peppers, potatoes, black pepper, and goat pepper sauce. No one really knows how the dish got its name, but some people believe that it may have something to do with the hot sauce or the redness imparted by the tomato paste.
When cooked, the steamed corned beef is served over white rice, often with a side of corn. If you'd like to try making this delicious and comforting dish yourself, then check out The Hobo Kitchen for the recipe.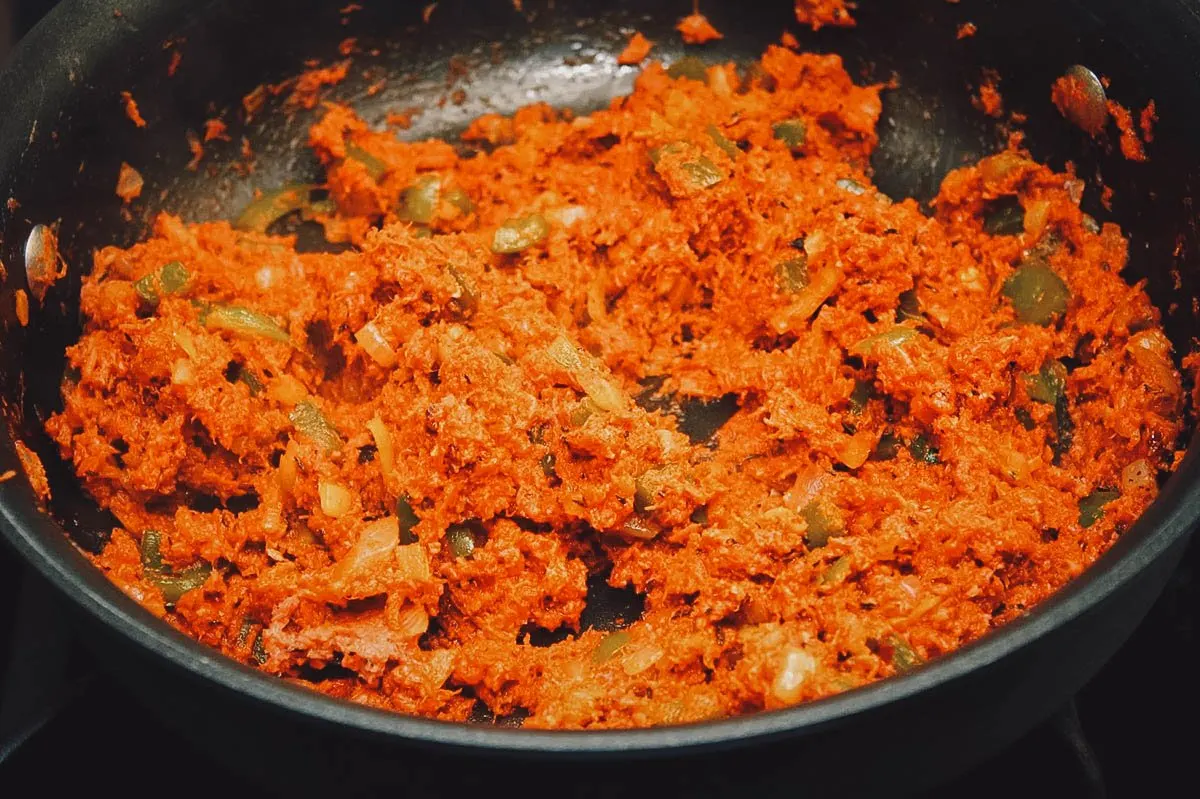 Photo used with permission from The Hobo Kitchen
12. Johnny Cake / Bread
Johnny cake or bread refers to an early staple food in the Americas traditionally made with cornmeal. It originated from the indigenous people of North America and is still consumed in some parts of the US and the Caribbean like the Bahamas, the Dominican Republic, and Jamaica.
Johnny cake exists in many forms depending on where it's from but in the Bahamas, it's typically made with a simple dough consisting of flour, butter, milk, and sugar. After being baked to a light golden brown, johnny cake has a soft texture that's somewhere between bread and cake, hence the interchangeable names.
Traditionally, Bahamian johnny cakes were made with both cornmeal and flour but cornmeal was omitted from recipes sometime in the 20th century. Johnny cakes are often enjoyed with butter or jam and served as an accompaniment to Bahamian dishes like stews and curries.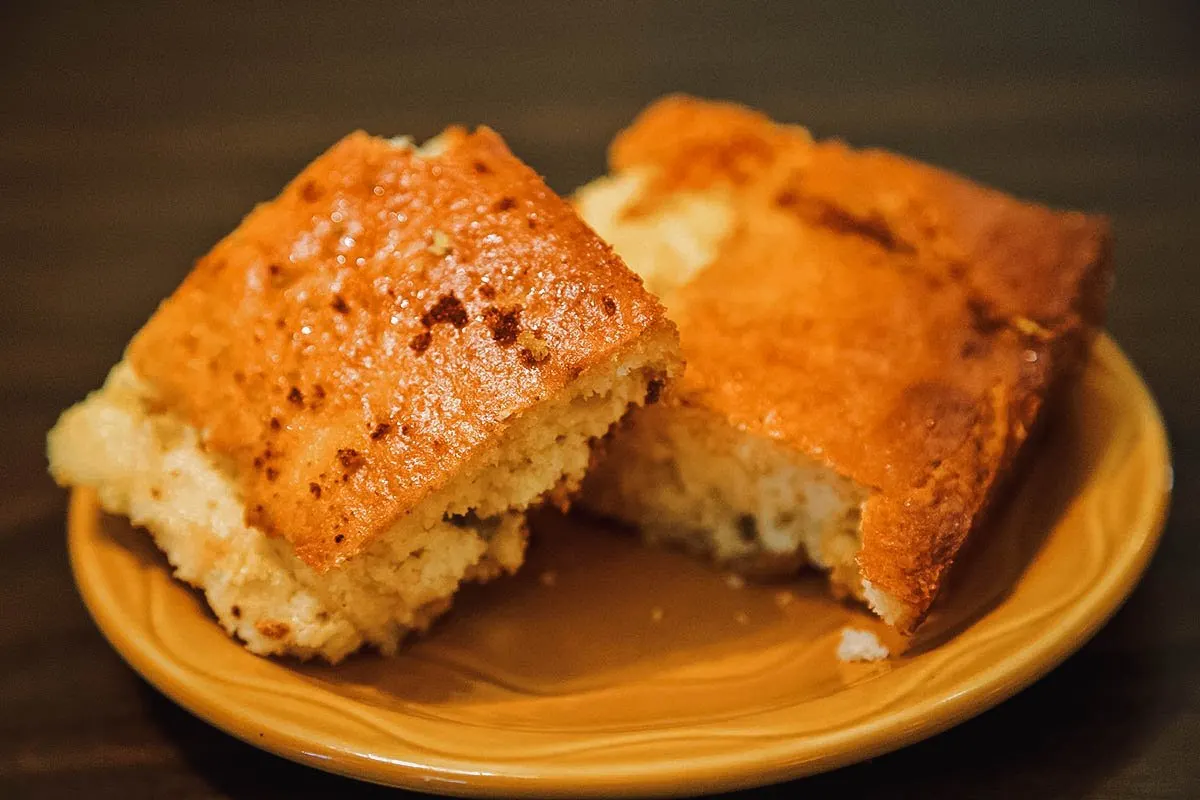 Photo by dbvirago
To illustrate how different johnny bread can look between countries, here's a bowl of johnny cakes from Jamaica. Unlike Bahamian johnny cake that's baked to a golden brown, the Jamaican version is typically fried in oil.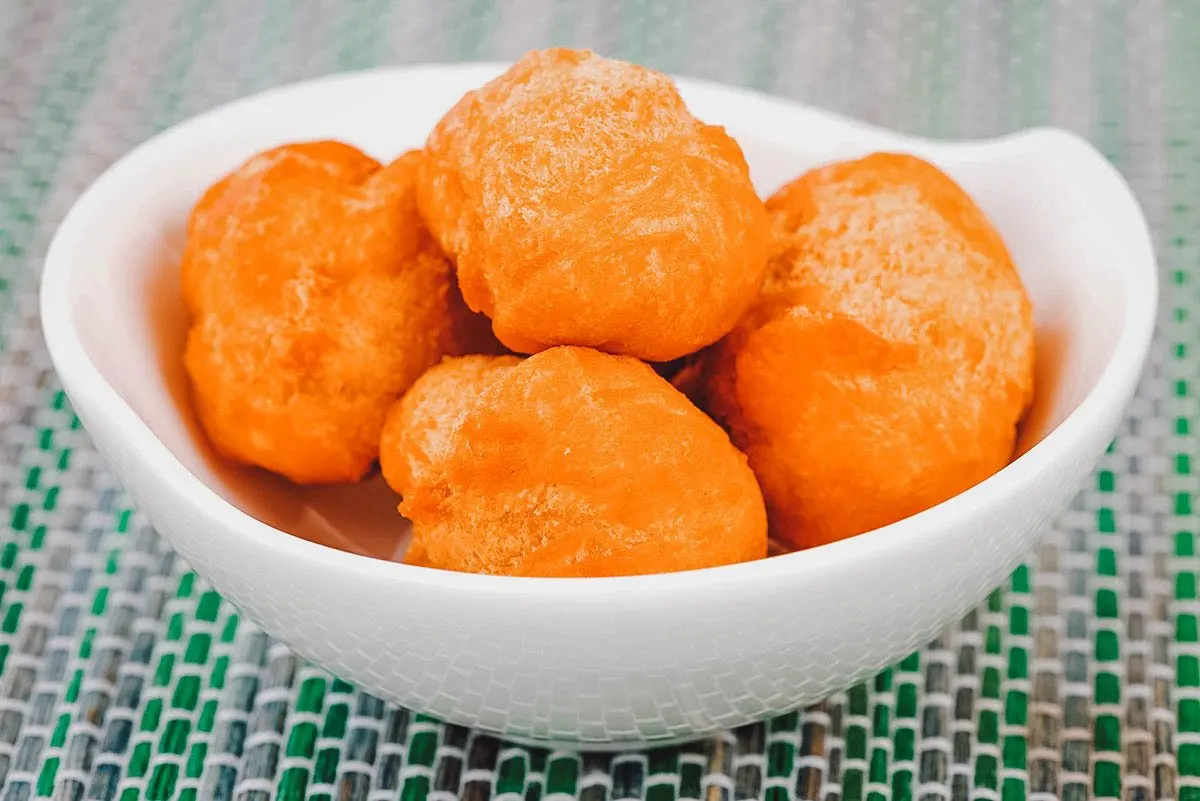 Photo by paulbrighton
13. Guava Duff
Guava duff refers to a delicious and hugely popular Bahamian dessert. It's basically a type of sweet roulade made with diced guava fruit topped with a rum custard sauce.
To make guava duff, guava is first simmered till soft before being diced and rolled in dough. It's wrapped in layers of cheesecloth or clean white cotton fabric and then boiled in water. The word "duff" in the dish's name refers to this unique method of boiling the dough. When set, it's topped with a sweet butter rum sauce enriched with guava paste and spices like cinnamon, nutmeg, and cloves.
The richness of the butter rum sauce with the smoothness of the duff is a delight to the taste buds. Considered by many to be a Bahamian national dessert, guava duff is one of the most well-known desserts in Bahamian cuisine and something you'll probably enjoy more than once.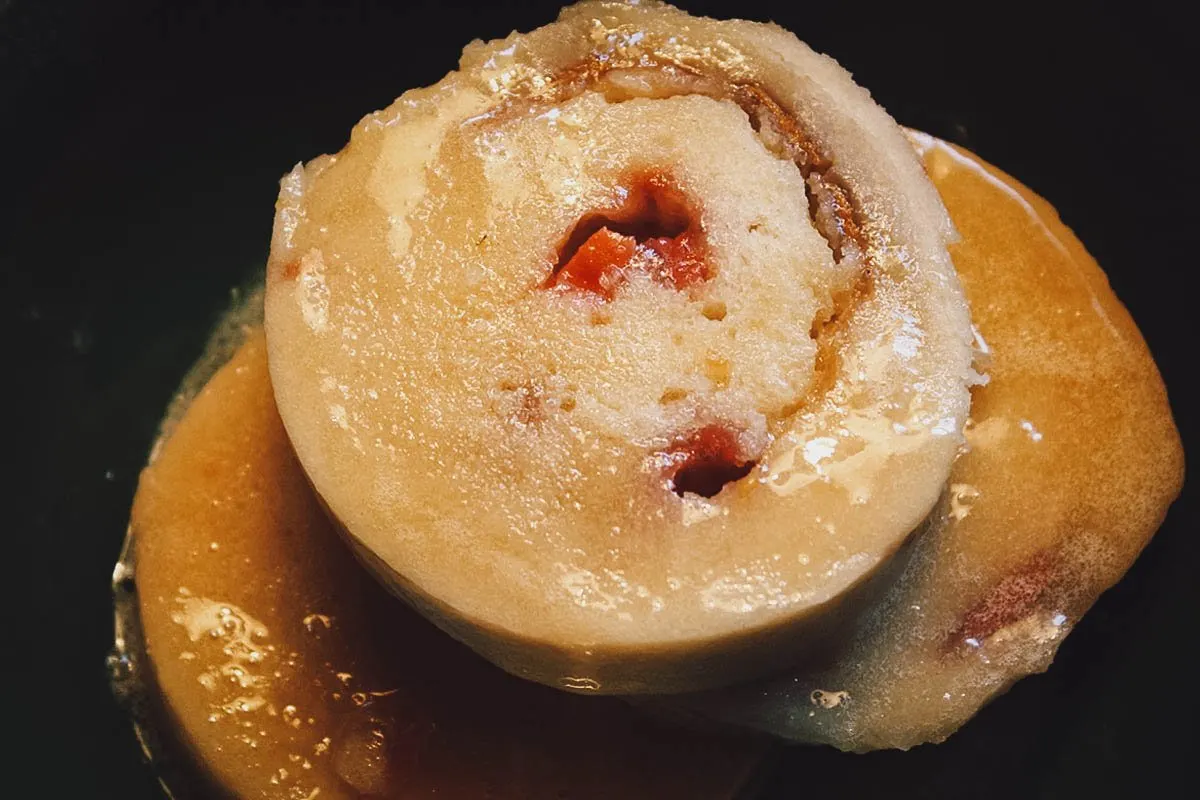 Photo used with permission from Hexastylis / Processed in Photoshop and Lightroom
14. Rum Cake
A rum cake is a delicious rum-infused cake popular throughout the Caribbean. It's a dense and buttery cake made with traditional baking ingredients cooked in a bundt pan. Once the bundt cake cools, a rich and sweet butter rum sauce is poured over the cake before serving.
Interestingly, this delicious Bahamian dessert may have been a product of the US prohibition. The proximity of the Bahamas to Florida made it an ideal port from which to smuggle spirits to the US. This brought large amounts of rum to the islands, some of which landed in the hands of locals who incorporated it into various Bahamian recipes like rum cake.
Today, rum cake is a popular dessert throughout the Caribbean and is traditionally baked to celebrate festive periods like Christmas and New Year.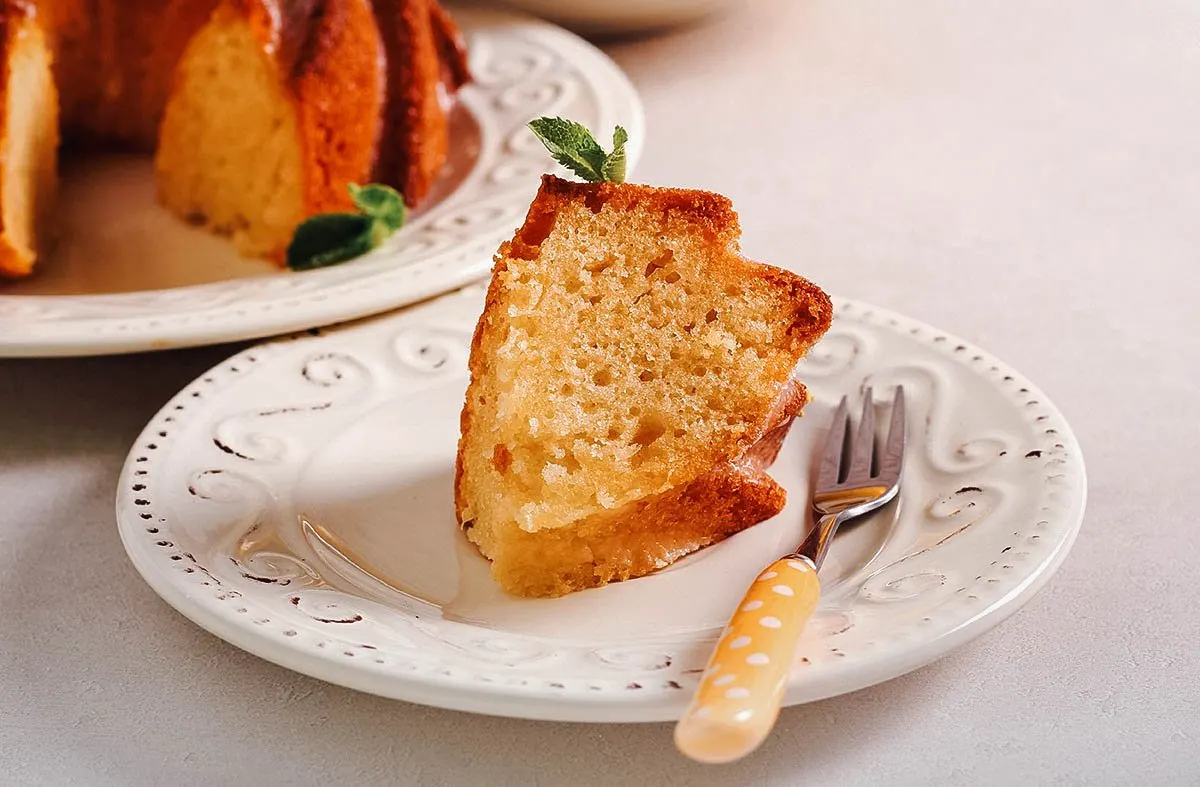 Photo by manyakotic
15. Yellow Bird
You're probably familiar with the Bahama Mama, but have you heard of the Yellow Bird? It's a refreshing cocktail made with light and dark rum (or coconut rum), Galliano (sweet herbal liqueur), and tropical fruits. It's originally a Jamaican cocktail that's become the national beverage of the Bahamas.
The Yellow Bird can be mixed in a variety of ways but it typically contains pineapple juice, orange juice, apple brandy, and banana liqueur. A popular summertime cocktail, it's often served with different garnishes like pineapple slices, cherries, or fresh mint.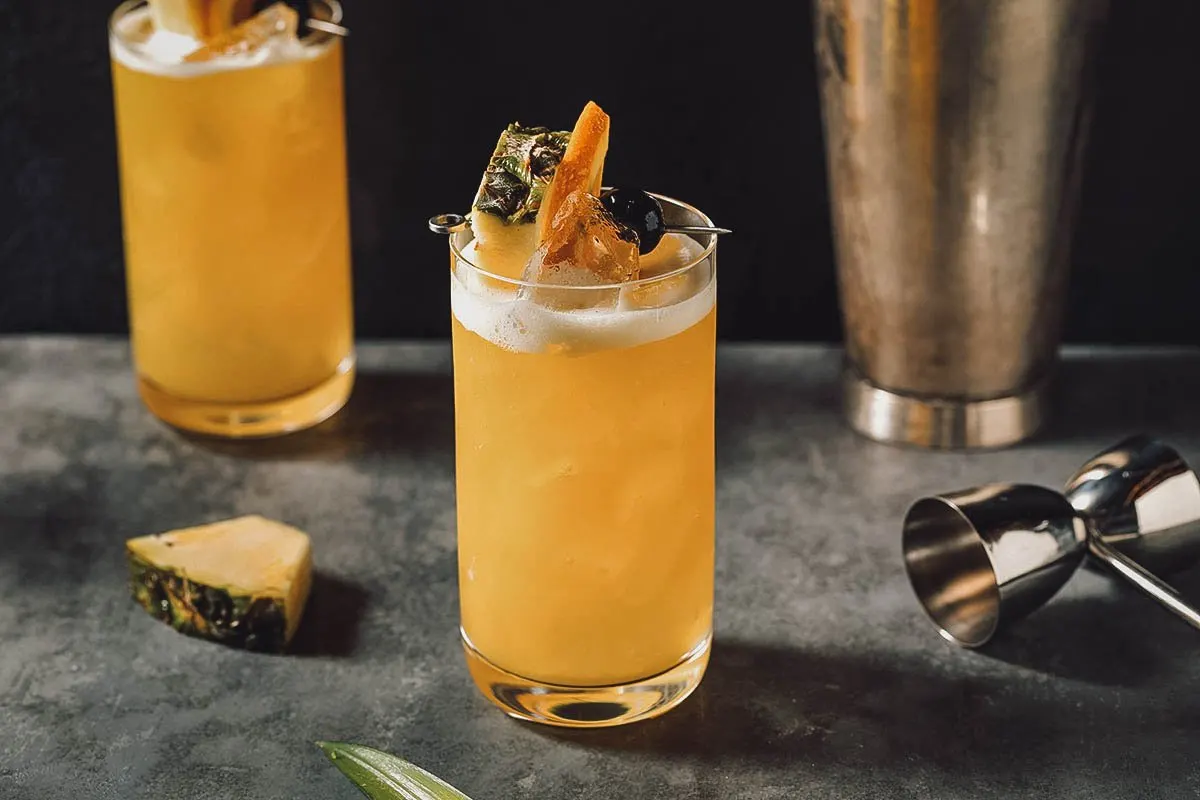 Photo by bhofack2
BAHAMIAN FOOD TOURS
Needless to say, no one knows Bahamian food better than a local, so what better way to experience the best of Bahamian cuisine than by going on a food tour? A food-obsessed guide will take you to the best restaurants, markets, and street food stalls so all you have to do is follow and eat. Check out Get Your Guide for a list of Bahamian food tours in Nassau and other parts of the Bahamas.
FINAL THOUGHTS ON BAHAMIAN CUISINE
Like any island destination, the Bahamas will captivate you with its idyllic beaches and miles of ocean and coastline. It's the type of place that invites you to disconnect and take in the views, hopefully with a bowl of conch ceviche and a cocktail next to you. As the late great Anthony Bourdain once said, food always tastes better with sand between your toes.
Sand and surf may be the main draws in the Bahamas but there are many reasons to fall in love with this island paradise, not least of which is the food!
Disclosure
Some of the links in this Bahamian food guide are affiliate links. If you make a booking or reservation, then we'll earn a small commission at no added cost to you. As always, we only recommend products and services that we use ourselves and firmly believe in. We really appreciate your support as it helps us make more of these free travel and food guides. Thank you!
Cover photo by shalamov. Stock images via Depositphotos.