Plan your Trip with Tripomatic!
UPDATE: 26 May 2016
Tripomatic has partnered with the Sygic family of GPS navigation apps and is now known as Sygic Travel. You can check out my new post — Sygic Travel: The Awesome Travel Planning App Formerly Known as Tripomatic — for more details.
* * * * *
I love this app.
I thought it was plenty useful when I first discovered it before our trip to Osaka and Kyoto in 2014. But now? I can't travel without it. It makes DIY traveling SO much easier.
Take our recent trip to Istanbul for example. With a lot of ground to cover, the challenge was to create an itinerary that really maximized our time. Although we could easily narrow down which spots to visit based on TripAdvisor reviews, what made it difficult was that we had absolutely no idea where and how far each of these attractions were from one another.
Sultanahmet, Galata Tower, Chora Church, Hagia Sophia, Durumzade, Ciya Sofrasi, Dolmabahce Palace…we wanted to visit all these places but we didn't know how and in what order! Not wanting to miss out on anything, we knew that we had to plan stragetically and figure out the best way to group them together if we had any hope of seeing them all.
A FREE website and mobile app, Tripomatic lets you plan your itinerary by plotting points of interest like hotels, attractions, and restaurants on a map. It shows you distances between points, ennabling you to wisely plan which attractions to visit on which days, and in what order.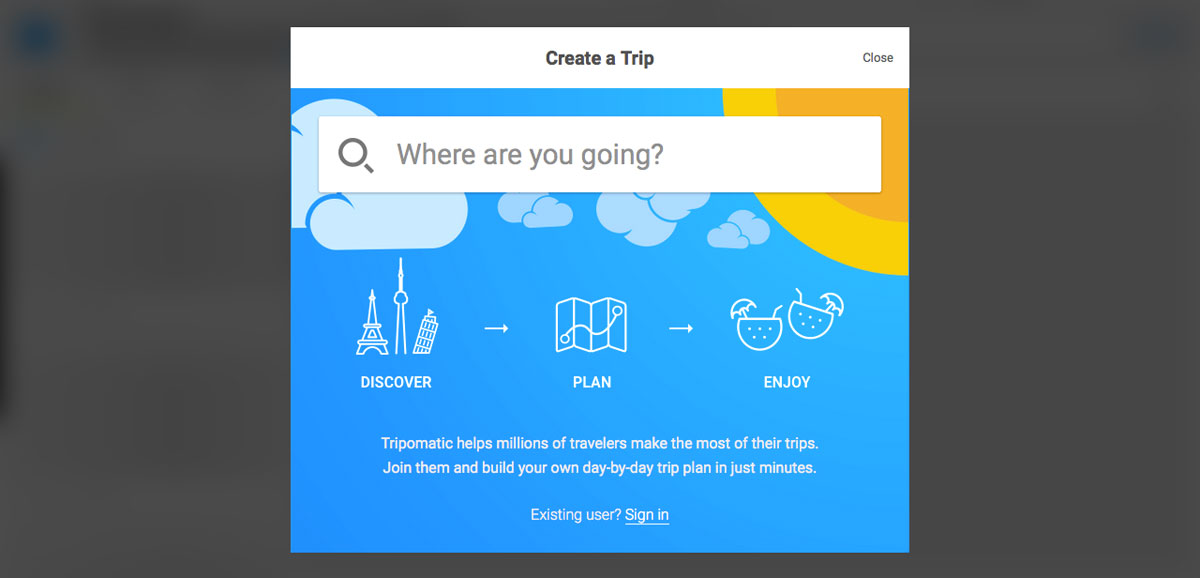 Here's a screenshot from day 3 of our Istanbul trip. Creating the itinerary from my laptop, I was able to strategically plan each day by grouping together attractions that were in close proximity to one another. If a location isn't already saved in the Tripomatic database, then you can easily add it as a custom point. This was particularly helpful for lesser known restaurants. I'd enter its address and find its exact location in Google maps then pin it as a custom point in Tripomatic.
As you can see below, it tells you the distance and approximate traveling time between each point. Neat right? But that's not all of it. If you think this is cool now, wait until you open up the itinerary on your smart phone or tablet.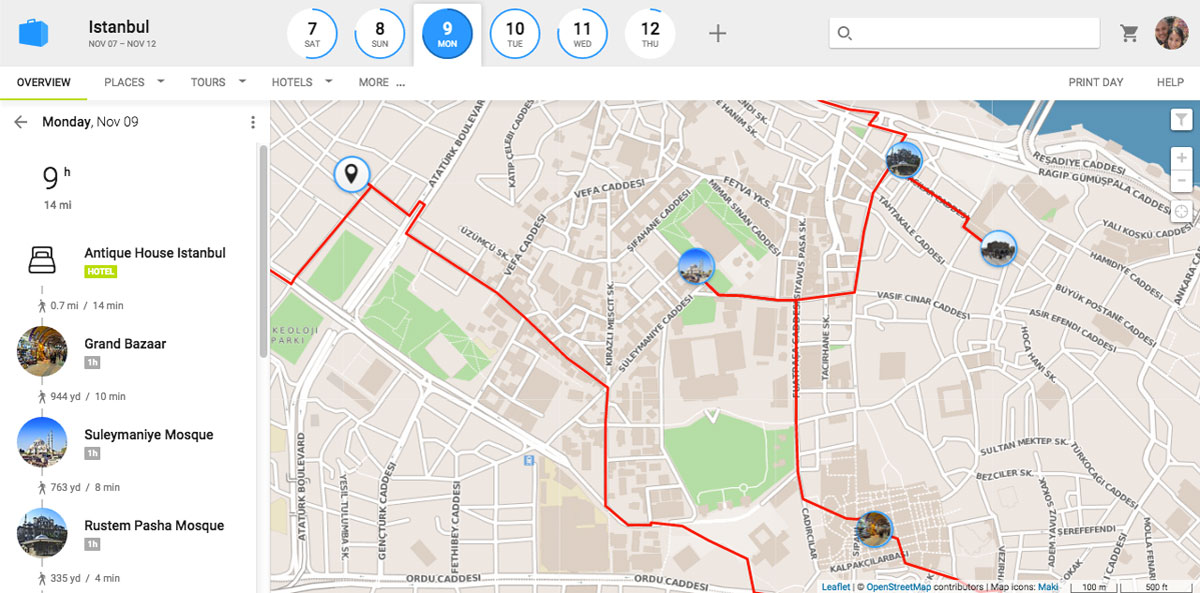 If you have pocket wifi and turn on Location Services for Tripomatic on your mobile device, your phone instantly becomes a GPS tracking tool. See that blue arrow at the lower left hand side of the screen? Just tap on that and a blue dot will appear on the map showing you exactly where you are in relation to your points of interest. Using this for the first time in Turkey, I almost never had to ask anyone for directions, which is a minor miracle since I have an awful sense of direction! So effing cool! 😆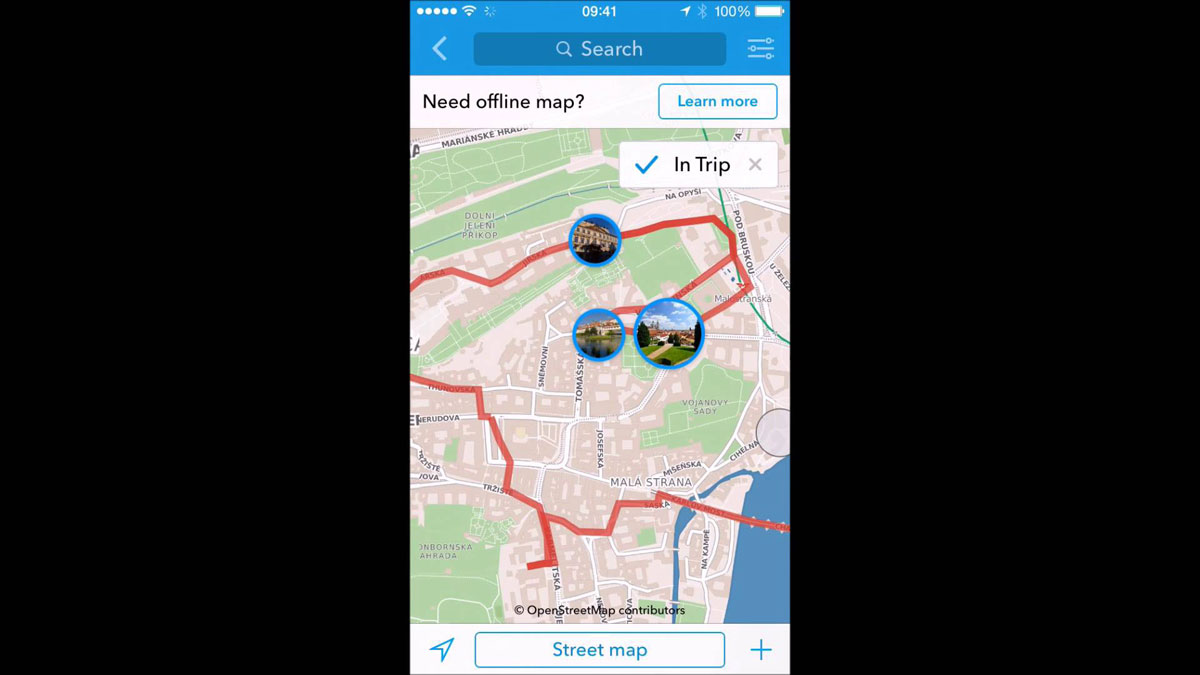 If you don't have a mobile device and/or pocket wifi, fret not because you have the option of downloading your itinerary in PDF format and printing it out before your trip. Even though you won't have the full benefits of Tripomatic with GPS, the printouts will come in handy when you're faced with a gibberish-speaking taxi driver who has no idea where you want to go. *pointing at map: "Here! You take me here! 😉
I always rent a pocket wifi device wherever we go so I don't need it, but it's important to note that you can purchase a premium edition of Tripomatic as well. Available for USD 18.99, it allows you to access your maps even when offline.
If you're a traveler who prefers doing your trips DIY, then you'll find that Tripomatic is a godsend. Download it today.
Tripomatic
Website: Tripomatic
Facebook: TripomaticCom
Disclosure
Some of the links in this post are affiliate links, meaning we'll get a small commission if you make a reservation at NO extra cost to you. We really appreciate your support as this helps us keep this website going. Thank you!
JB is one half of Will Fly for Food and its chief itinerary maker.  He's the one to blame for all the crappy photos and verbal diarrhea on this blog.  Don't listen to him.
Latest posts by JB Macatulad (see all)