EDITOR'S NOTE: Traveleater Charlie of World of Travel Photography shares excellent tips on how to improve your photographs when traveling. It's not about the camera!
Travel photography is great, you get to have fun exploring new places finding great images and creating a record of the things you've seen to take home and show your friends and family. It also encourages you to look at your surroundings in a different way and really take everything in.
Sometimes though it can be hard to make your work stand out from the crowd. You end up coming home with a bunch of photos of all the famous landmarks shot from the same angle. Something you could probably find 100 times over on Google images.
While it's great to get that shot of you holding up the Leaning Tower of Pisa, or with your finger on top of the Eiffel Tower, sometimes to really wow people you have to have a different take on things.
So with some luck, by the end of this post you will have a better idea of how you can become the next king or queen of Instagram during your next trip. So let's get to it!
Camera
Finding the right camera that best suits your needs is going to be one of the most important choices you will make when it comes to improving your travel photography. When I say "your needs" I really do mean YOUR needs. You don't need to get hung up on having the most megapixels or the fastest burst rate if you are just not going to need it. Most travel photographers are not going to be shooting fast paced sports or making huge 40×60" prints of their photos so you can quite confidently choose a quality, mid-range, camera.
I always suggest mirrorless cameras for travel photography over DSLRs because they are so much smaller, lighter and easier to carry around with you. The quality of today's mirrorless cameras makes is very hard to tell their images apart from images produced by a DSLR with similar features.
Top: A Mirrorless Camera, Bottom: A DSLR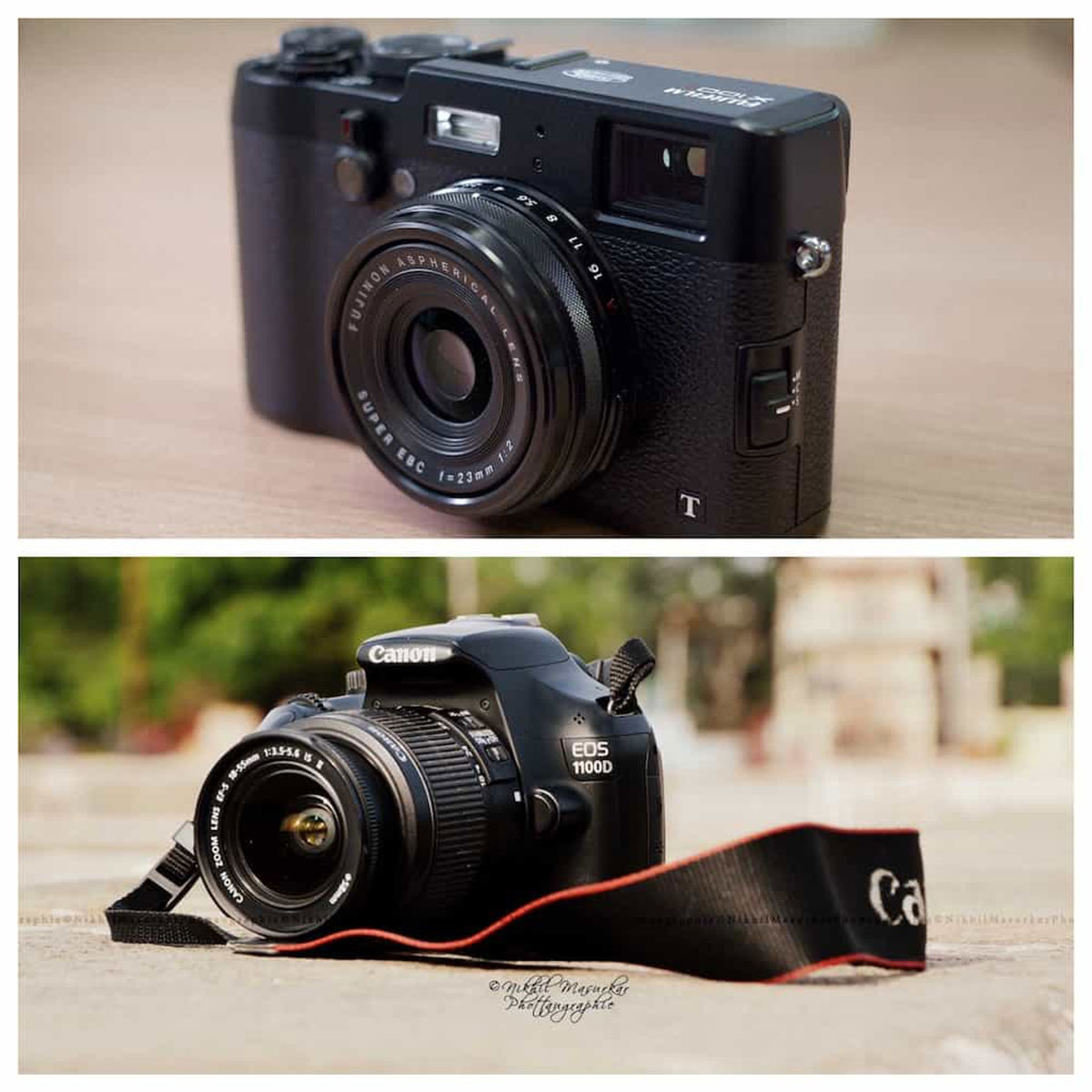 I'm part of the Fujifilm fan club when it comes to mirrorless. A great choice for any traveller is the Fujifilm X-T20. It's one of their latest mirrorless cameras and its size makes it perfect to just throw into a bag and take off. The fact that it features a 24.3 megapixel sensor and is also able to shoot video in 4K makes it a very powerful system in a small package.
Also, for you foodies out there, a mirrorless camera won't make you look like you've gone completely overkill when photographing that exotic dish you just ordered in a restaurant!
For anyone who does still wants a higher spec camera however, the Sony a7R Mark 2 is another great choice. 42.4 megapixels and a long list of other features make this one of the top mirrorless cameras currently on the market. Like anything in life though, you get what you pay for. It's pretty pricey.
Planning and Preparation
This step is especially important if you are going to a place that you have never been to before. If you don't do some research on the areas you expect to visit, and also visualise the images you want to get before you arrive, then you are only making things hard for yourself.
Read some travel guides or Google your destination, Google Maps with its street view feature is your friend here! Once you know more or less what you want to photograph then you can actually enjoy your surroundings and not spend the entire time just hunting for photos.
Consider what lenses would be best to take with you, whether you will need a tripod (for taking photos at night for example) and what images you would like to come away with at the end.
Proper planning will stop you wandering around taking photos of everything you see hoping one or two of them will turn out well. Come away with a handful of great photos, not lots of average ones without much meaning behind them.
Composition and Story Telling
A great photo tells a story. That story doesn't have to be something really complex, it can be something as simple as "this is what most people don't get to see by not waking up super early to watch the sunrise on the beach". I took the photo below in Marbella, Spain before the crowds showed up for a day at the beach. The reaction I get from others? "Oh I didn't realise Marbella could be so tranquil!".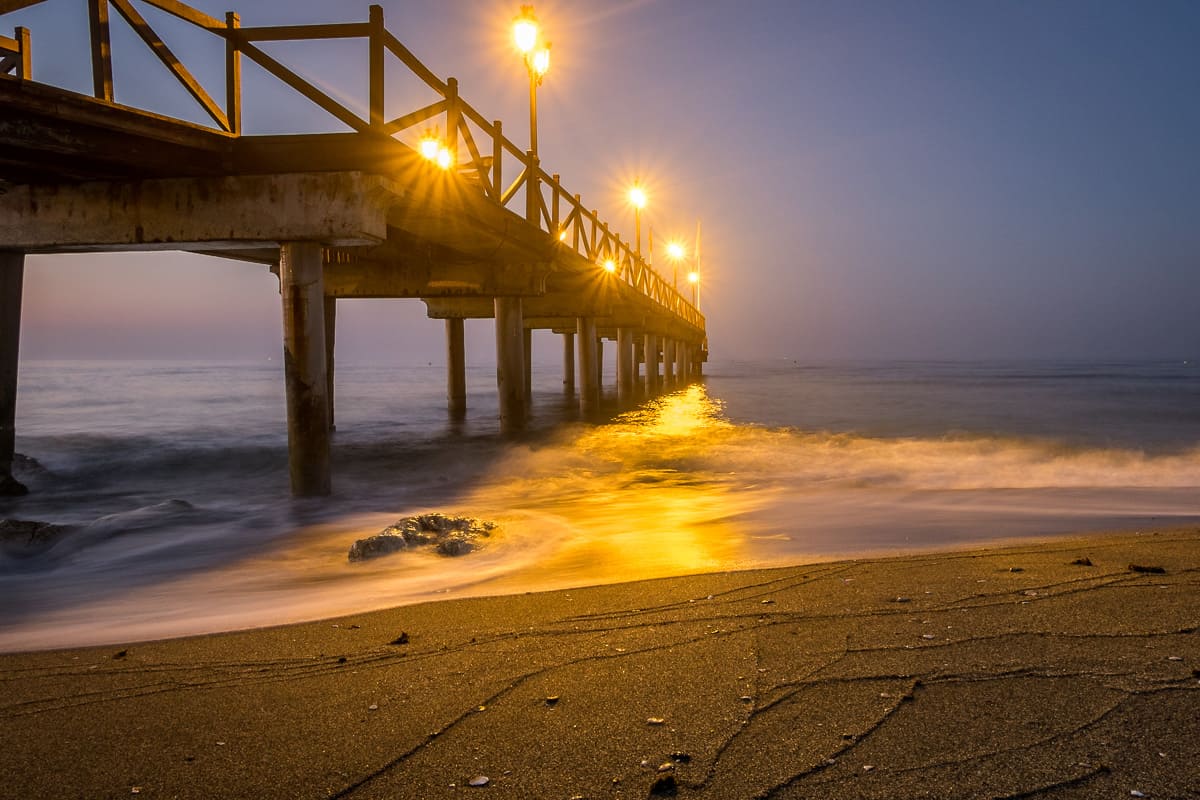 The photo set off a narrative in their head, an alternative story to what they had previously imagined. All provoked by 1 single image.
Composition is another huge part of making your images stand out. A well thought out composition will help to draw the viewer into the photo. The next image is one I took during a road trip somewhere in the Polish countryside and is a pretty good example of how composition can draw you into a photo.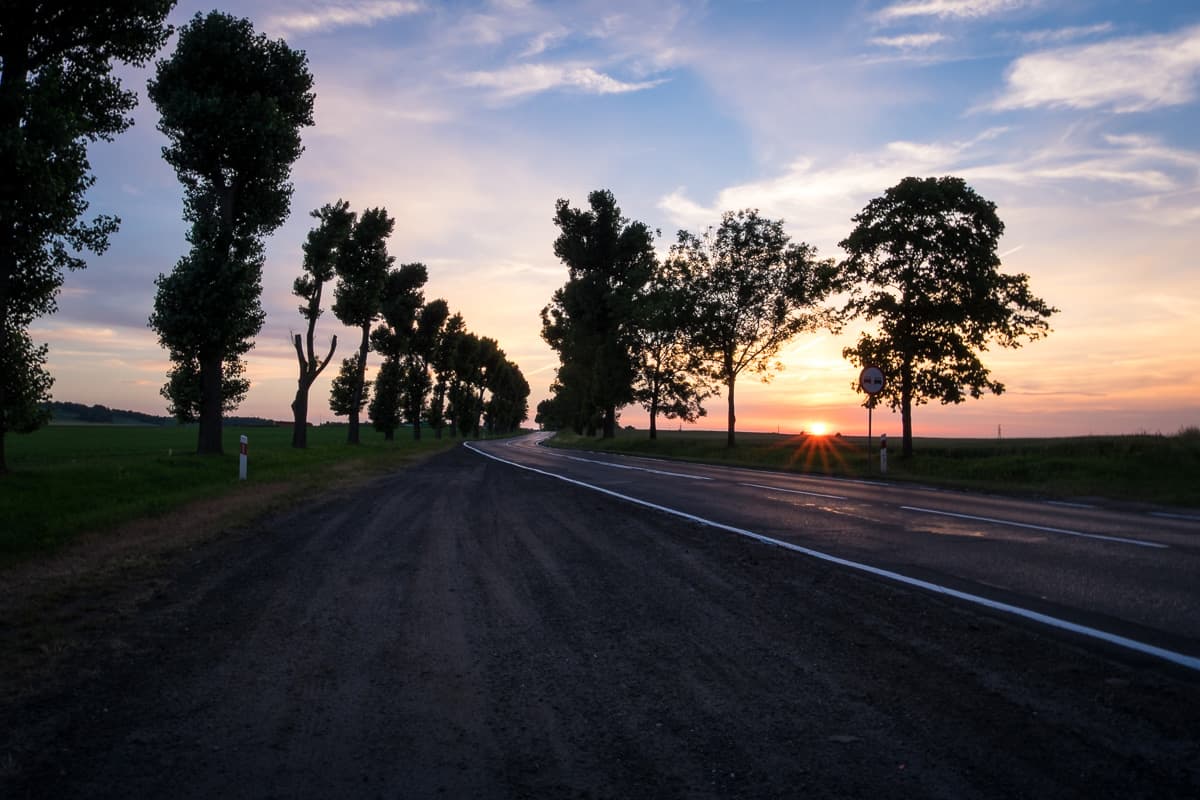 Using elements in your photos to enhance depth and to lead the eye through the frame as if you were standing behind the camera yourself is another aspect of photography that you should focus on using when possible. It's not always going to be possible though, especially if you are photographing your plate of Pad Thai in Thailand or your lump of meat straight off the Asador in Argentina! However when you see an opportunity you should definitely work it into your shot.
In the image above, the road leads your vision through the fields and towards the direction of the setting sun which is the main subject.
This feeling of being 'lead' through the photo from front to back gives an image depth and perspective. Making use of 'leading lines' as it's called, is something that should always be taken into consideration especially when photographing the landscapes or cityscapes of your destination.
Thinking Outside the Box
If you get to a place and see something you would like to photograph and there are a lot of other photographers all pointing their cameras in the same direction, then it's probably best to try and find another angle or perspective that others haven't thought of. Sure, get the photo everyone else is taking first but then move on and try to put your own twist on things.
This next photo is of Mirador de Colom in Barcelona, one of the most photographed landmarks in the city. I had some time on my hands one day so I went out specifically to get a shot of it from a different perspective.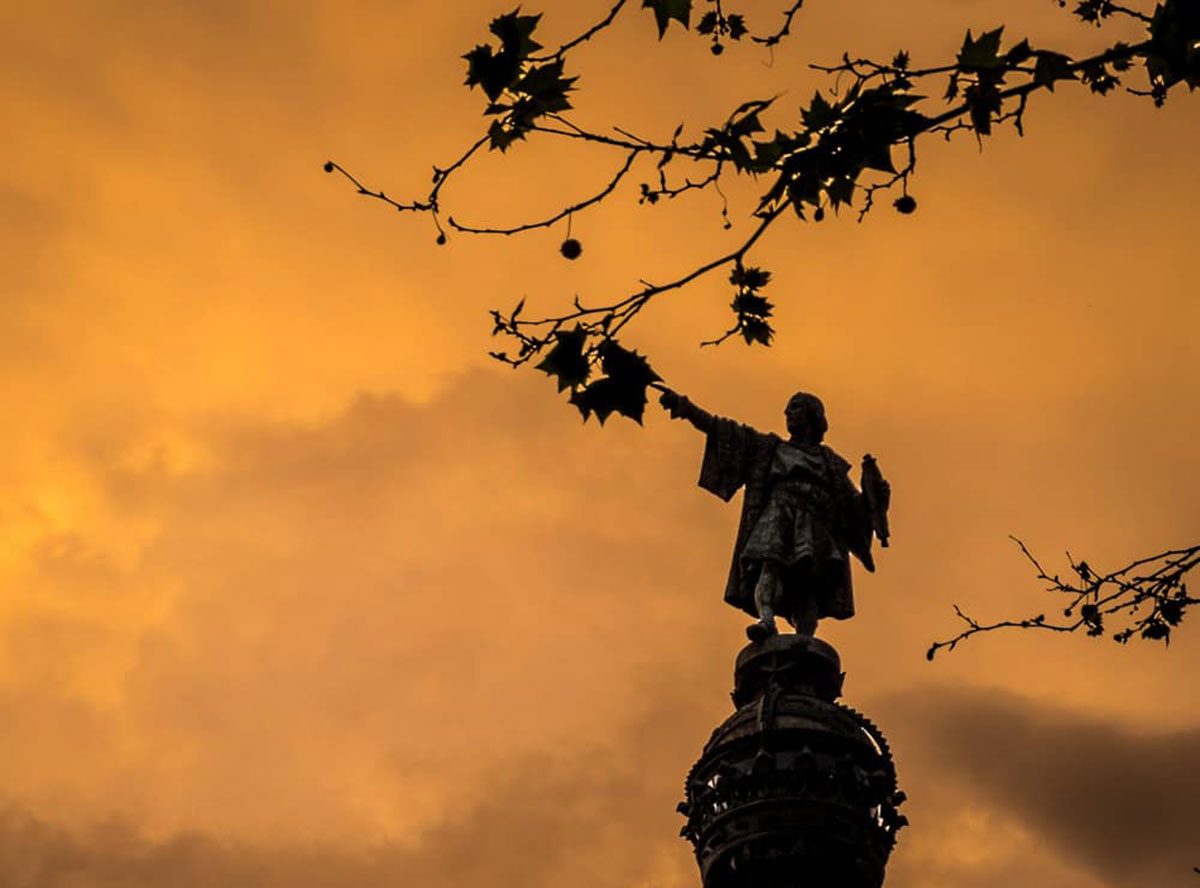 Maybe it's not the best photo I've ever taken in my life but I really like it. The thing I like most about it is that I created a photo of a very popular landmark that no-one else will have. I'm the only person who can claim that photo and that's kind of cool. After all, photography is all about being creative and coming up with new, original ideas.
Okay, so I hope that I have helped some people out with these travel photography tips. Just remember that the best thing you can do is always have your camera with you, be prepared and remember what I've just mentioned. You never know when something will present itself.
A perfect example of why you should always have your camera with you and be prepared. I was hiking through the mountains in Spain and came cross an old abandoned train. I have no idea how it got up there.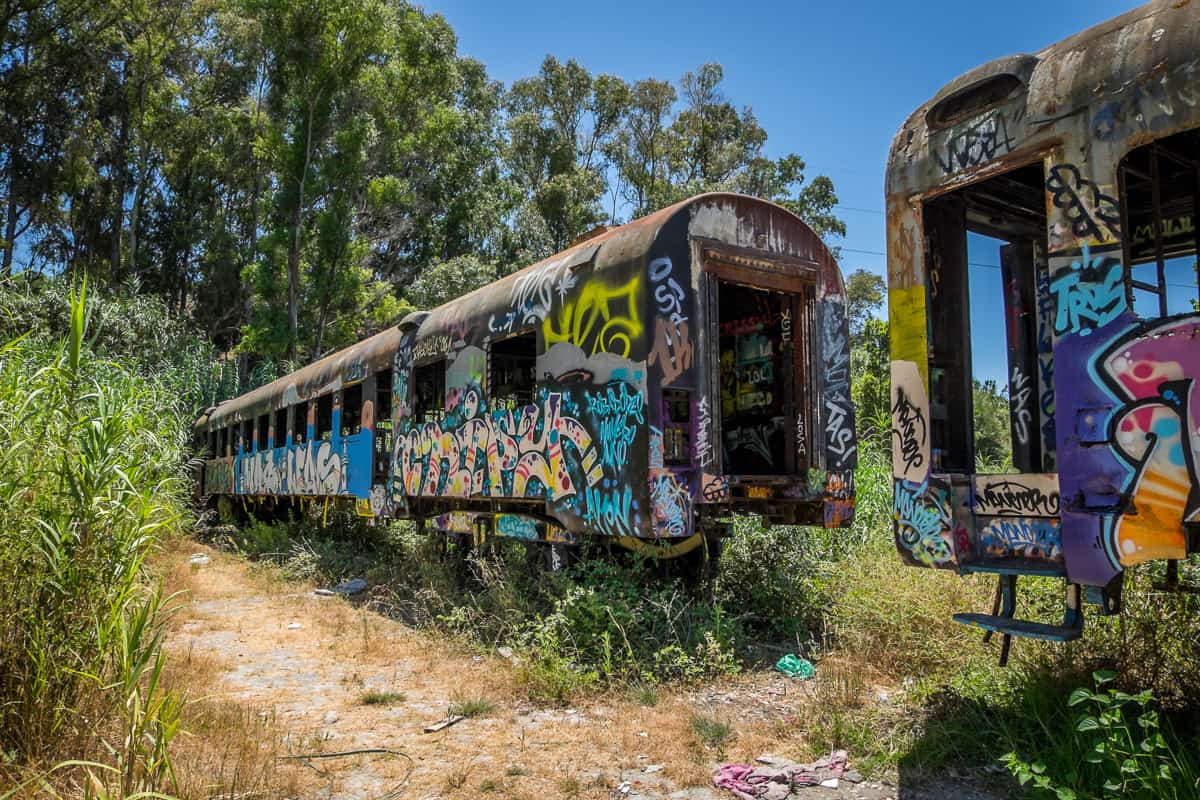 If you've found this useful I'd love to hear about it in the comments below.
Thanks for reading!