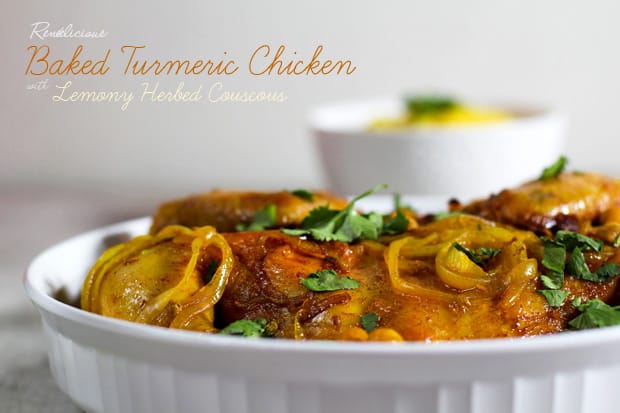 Baked Turmeric Chicken with Lemony Herbed Couscous
NOTICE: Some of our articles contain affiliate links. The ones that do will have a disclosure statement at the bottom. You can refer to our privacy policy and terms of use for more information.
Would you believe that this beautiful baked turmeric chicken was inspired by hospital food?
My ailing mother-in-law has been in and out of the hospital for the past year so Ren's been spending most of her time there. As such, she's had little time to cook, forcing her to eat whatever's nuking at 7-eleven or worse, hospital food. Her mom refuses to touch the stuff so it's left to be consumed by the nurses, her caretakers, or Ren. Ren passes on most trays, but she didn't with this one.
Different from the usual dreary crap they serve up, this turmeric chicken was a ray of sunshine. Colorful and delicious, it was a dish Ren had never seen before, inspiring her to create her own Reneelicious version just in time for Thanksgiving.
It's funny. You'd expect to find many things in a hospital — syringes, surgical masks, pseudomonas — but the one thing I never thought she'd find was inspiration for something beautful and delicious.
Sometimes, inspiration really does come from the oddest of places.
Baked Turmeric Chicken Recipe
Spatchcocked chicken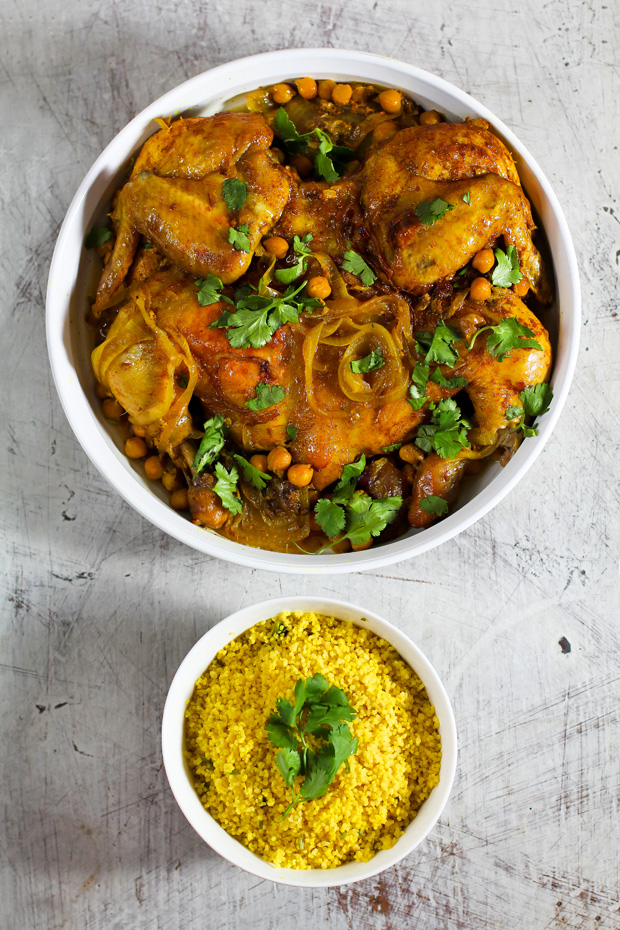 I know it's not turkey but we're not in the States now anyway. Happy Thanksgiving everyone!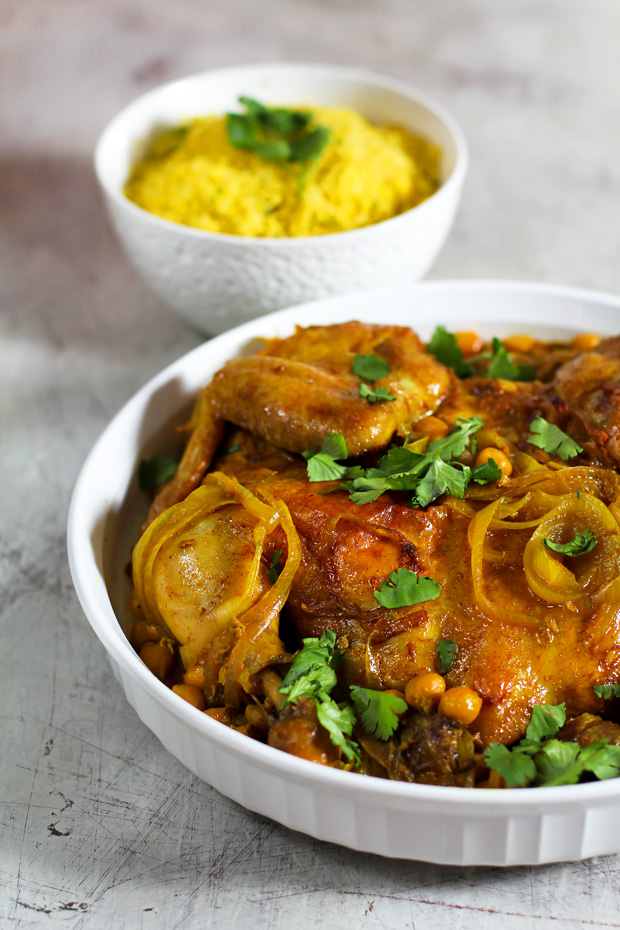 INGREDIENTS
1 kilo chicken, butterflied
3 Tbsps fish sauce
2 Tbsps oyster sauce
2 Tbsps brown sugar
1 Tbsp turmeric powder
4 garlic cloves, minced
1 onion, minced
1 Tbsp lemon juice
2 Tbsps olive oil
1 canned chick peas, drained and rinsed
3 white onions, sliced into rings
DIRECTIONS
Mix all ingredients except chicken, chick peas, and sliced white onions in small bowl or measuring cup.
Place chicken inside 1 gallon zip-lock bag. Add marinade to bag, press air out, then seal shut. Massage marinade into chicken until evenly coated. Place bag in bowl in refrigerator (to protect against leakage), and allow chicken to marinate for 5-6 hours (or overnight).
Preheat oven at 200° C. In 9″ x 13″ baking dish, place onion rings in one layer and scatter over chick peas. Place chicken along with marinade on top and tightly cover with aluminum foil. Bake for 35 mins. Remove foil and bake uncovered for 10-15 more minutes or until chicken is done.
Best served with a lemony herbed couscous.
JB and Renée are the Traveleaters behind Will Fly for Food, a travel blog for the gastronomically inclined.  They enjoy experiencing food from different cultures so they've made it their mission to try every country's national dish.  Read more about them and their National Dish Quest here.