Pasta alla Renee and Sushi Bytes' 500th Post
We did it.
After four years, a slow start, a year-long hiatus, a chance encounter, a reprisal of roles, three looks, over a hundred recipes, more than two hundred restaurants, eighty voucher meals, four countries, two continents, two cameras, three lenses, and an innumerable number of hours editing images and text…we finally did it. At long last, this humble food and travel blog has reached 500 posts.
For most, that may not sound like much. In the grand scheme of things, it really isn't. But for people who blog, who know firsthand how much effort and perseverance goes into these labors of love, 500 is a milestone. A meager milestone no doubt, but a milestone nonetheless, and one deserving of some celebration. With this blog having been inspired by my wife's passion for food and the kitchen, what better way to commemorate this modest achievement than with another delectable Reneelicious Recipe?
Inspired by Pasta alla Norma, Ren amped up the traditional recipe by adding two ingredients which for me, make everything taste infinitely better – bacon and mushrooms. Simple to make but abundantly flavorful (thanks in part to an old-fashioned kaserola which I'll talk about more below), this turned out to be one of the tastiest pasta dishes she's ever made. Absolutely delicious and worthy of a 500th post.
And for the few loyal readers who routinely visit this blog, I do hope that you enjoy this dish as much as I did. It's taken a good chunk of our time, effort, and money to get to this point, but your visits have made it all worthwhile. Without you, we NEVER would have made it this far.
As inspired at 500 as we were at 50, I can assure you that this humble milestone is just the beginning. From the bottom of our hearts (and stomachs), thank you! 😀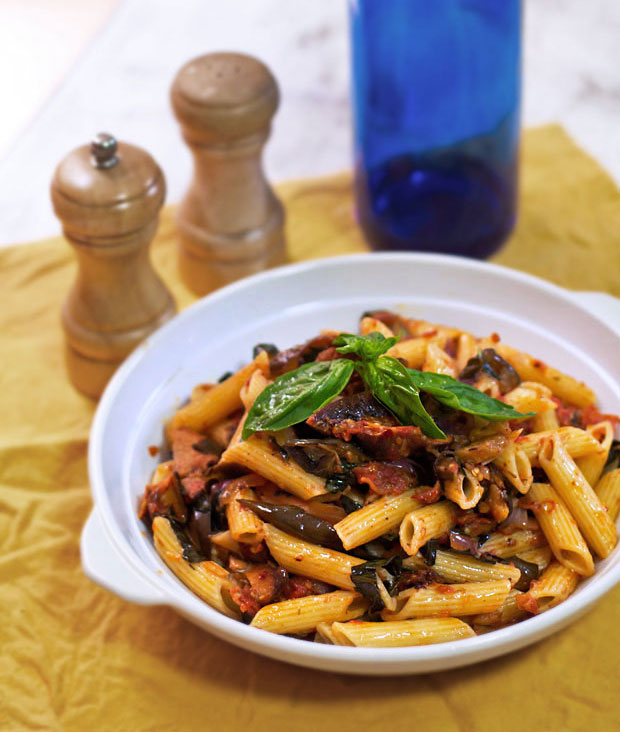 Because she used a traditional kaserola (pan) to fry up the bacon, it came as no surprise then that the caramelized bacon stuck to the bottom of the pan. Deglazing it with some pasta water, she proceeded to cook the rest of the dish in the same pan.
Unbeknownst to her at the time, this unplanned turn of events would culminate in a dish that was more effusive with bacon flavor than ever, every bite bursting with that delicious bacon taste. We know for a fact that this had everything to do with the kaserola, because she repeated the recipe the following night using a non-stick pan, and the flavor of bacon was noticeably less pronounced.
Lesson learned? When it comes to cooking with bacon, don't always stick to non-stick. 😉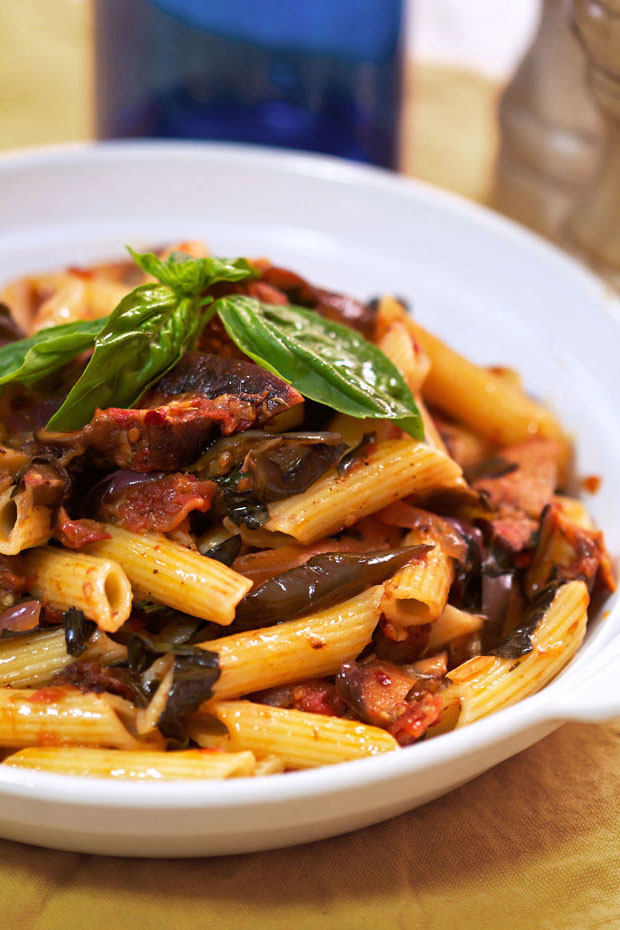 Ingredients
150 g bacon, diced
2 Tbsps extra-virgin olive oil (EVOO)
.03 grams dried mushrooms, rehydrated and cut into 1/4 inch slices
1 onion, sliced thinly
5 garlic cloves, sliced thinly
1/2 tsp crushed red pepper flakes
2 medium-sized eggplants, cut into 1/4 inch slices
1 (400g/14oz) can whole tomatoes, undrained and crushed by hand
Basil leaves, torn
Parmesan cheese, to serve
250 g penne
Salt and pepper, to taste
Directions
Cook diced bacon in large skillet over medium high heat until crisp. Remove bacon with slotted spoon and transfer to paper-towel-lined plate.
Add mushrooms and eggplant to bacon fat. Season with salt and pepper. Cook until eggplant is soft and mushrooms have caramelized. Transfer cooked eggplant and mushrooms to plate.
In same skillet, heat EVOO then add onions and cook over medium heat for about 3 minutes. Stir in garlic and red pepper flakes and cook for 30 seconds. Add tomatoes and season with salt. Put back bacon, mushrooms, and eggplant into skillet. Allow to simmer until pasta cooks, adding a little EVOO as needed.
Meanwhile, cook pasta in large pot of boiling salted water until al dente. Drain, reserving about 1/3 cup of pasta water.
Stir basil and pasta water into sauce, then toss with cooked pasta. Serve with grated Parmesan cheese.