Mussels Fra Diavolo with Linguine‏
Retrogusto or "Back of the Palate."
We've heard the phrase "Back of the Palate" used to describe certain flavors before, but we never fully understood what it meant until today. When Ren noticed subtle flavors presenting themselves after each bite from this rich and spicy dish, she experienced one of her proverbial lightbulb moments.
Retrogusto in Italian refers to that "taste you don't feel right away but remains in the mouth at the end." Think of it as a pleasant finish, a lingering flavor that dances on your palate at the end of each bite. The sensation you get from drinking a fine wine can also be described in this way.
Such is the feeling you'll discover when enjoying a bowl of this wonderfully unctuous Italian-inspired seafood dish. It's made with aligue, or crab fat, which imparts richness to the spicy Fra Diavolo sauce without being fishy or too overpowering.
As for that lingering sensation that lit Ren up? It was the hint of calamansi leaving sweet-sour notes of acidity at the back of her palate. Subtle but evocative, these soft, discrete notes of flavor are sometimes all a dish needs to really make it sing.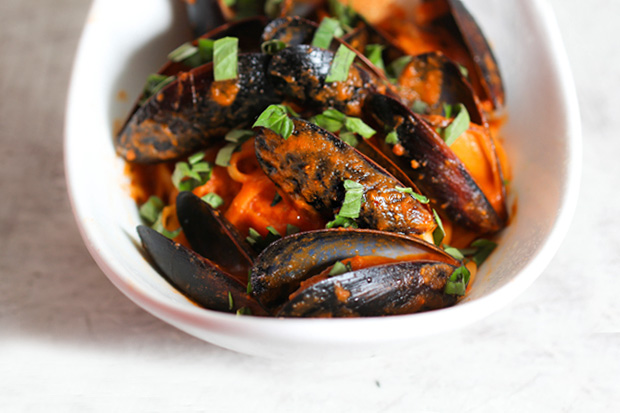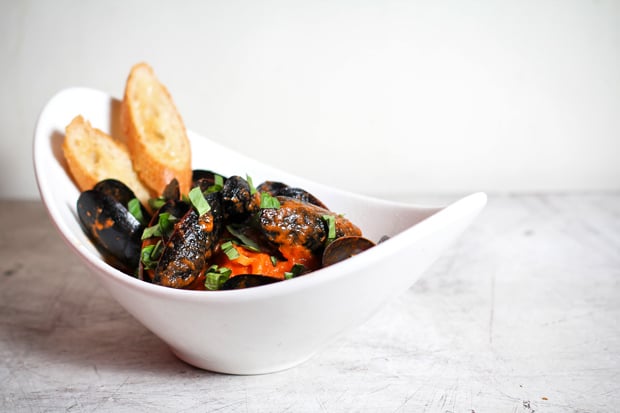 An opera of flavor and color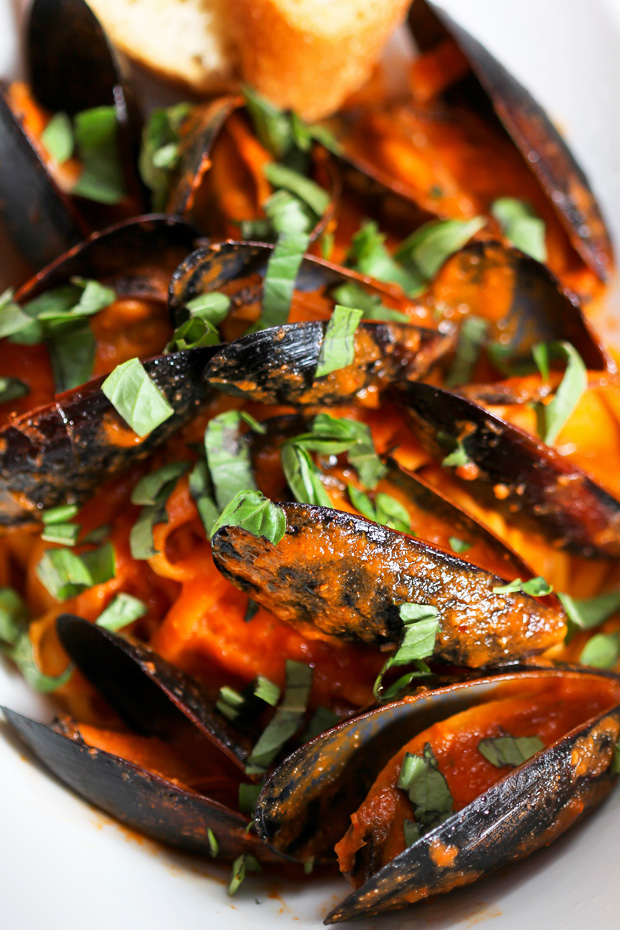 Ingredients
1/2 kilo mussels, scrubbed and de-bearded
2 Tbsps butter
1 Tbsp olive oil
1 shallot, finely chopped
1 red onion, finely chopped
2 Tbsp garlic minced
1 tsp crushed red pepper
1 bay leaf
1 (400g) can crushed tomatoes
1 cup shrimp stock or clam juice
1/4 cup crab fat
1 Tbsp Sriracha
1 Tbsp calamansi juice
1 tsp dried thyme
1 tsp italian seasoning
1/2 cup white wine
Salt and freshly ground pepper, to taste
250 g linguine
Chopped parsley, to serve
Directions
Heat butter and olive oil in large skillet. Add shallot and onions and cook until translucent and starting to brown.
Add garlic, bay leaf and crushed red pepper. Saute until fragrant.
Add crushed tomatoes, stock or clam juice, crab fat, sriracha and calamansi juice. Sprinkle dried herbs.
Simmer uncovered over low heat, while stirring occasionally, for about 30 minutes. Add wine and simmer for another 15 minutes.
Meanwhile, cook linguine until al dente and drain well. Drizzle 1 Tbsp olive oil onto pasta and toss to coat. Turn out into large bowl.
Add mussels to sauce and cook covered until mussels are fully opened, about 6-8 minutes. Discard unopened shells.
Pour sauce over pasta and mix gently. Sprinkly chopped parsley and serve.
DID YOU KNOW?
That Fra Diavolo is Italian for "Brother Devil?" It is a name given to any spicy sauce used for pasta or seafood.
Though most versions are tomato-based, the term is used for sauces that incorporate chili, cayenne or any other forms of pepper. According to Mario Batali, it is an Italian-American creation and is rarely served in Italy.