Celebrating Food and Tradition with a Bouchon Lyonnais at Brasserie CiÇou
So what exactly is a bouchon?
To be honest with you, I had never even heard the word until tonight. Listening to our host Anna Soenen explain it to us whilst ushering in the salad bowls and charcuterie, I became transfixed.
"Lyon is the gastronomic capital of France," she would begin, "and a bouchon lyonnais is a type of restaurant that serves traditional Lyonnais cuisine. It's like a French buffet where big bowls of food are passed around from group to group. You can help yourself to as much food as you wanted before handing it off to your neighbor."
Watching her gestures become increasingly animated as she got into her description, it was obvious that she was recounting the experience with much fondness.
"And they're inexpensive", she would later add, "my daughter and I paid just €25 (each) on our last trip."
Interesting. Call it ignorance, but I don't often associate French food with rustic homecooking, so the concept of a modest, convivial dining tradition born in Lyon, a city that's better known for its Michelin-starred restaurants and haute cuisine, was appealing to me.
Eyeing the generous spread laid out before us, I dug in, curious to know more.
* * * * *
Before our meal, Anna offered us a glass of Kir (left), which is a French cocktail made with crème de cassis (blackcurrant liqueur) topped up with white wine. This would soon be followed by a glass of white, then red, then another red, and another red after that.
Like the food, refills came often tonight. Generosity, as I would later learn, is a trait characteristic of bouchons.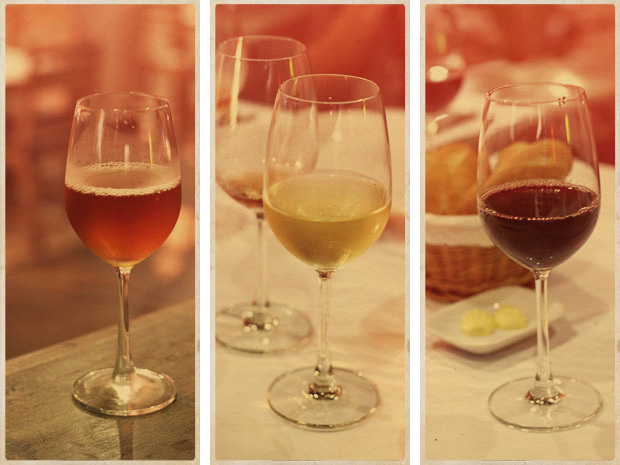 Furthering my reading, I learned that typical bouchons, unlike French haute cuisine, specialize in homey dishes made with pork, organ meats, and other humble cuts. The food is basic and the atmosphere light, with strangers often sitting elbow to elbow over pots of good, hearty fare like herring with potatoes and sausages cooked in wine. Comfort and coziness, not formality, appear to be the norm here.
For our first course, we were served these overflowing bowls of salad. Simple but heartwarming food like lentils, potatoes, cabbage, and haricots verts. I don't know much about French cuisine, but these strike me as the types of dishes that invoke childhood memories for local Lyonnais.
Les Saladiers
Clockwise from upper left:
Salad of pork sausage, onions, vinaigrette
Beetroot with sour cream
Salad of lentils with shallots and parsley vinaigrette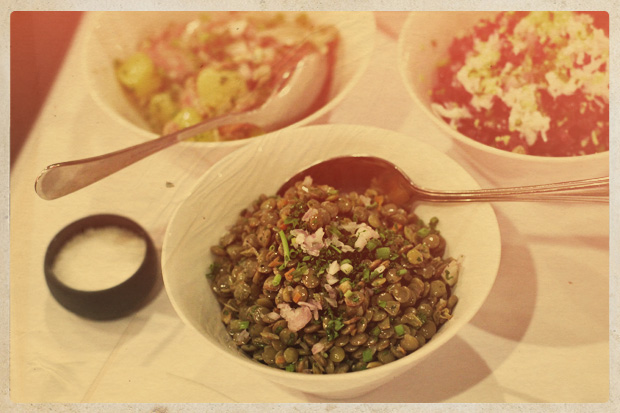 Perhaps it was the effect of eating nostalgic food, but the conversation shifted at one point to hypothetical last meals, a question that Ren likes to ask new friends. Interestingly enough, it's a question that brings most people back to the comforts of their youth.
"If you were to die tomorrow, what would your last meal be?"
Erica, without batting an eyelash, said arroz caldo. Spanky went on to describe a tapa that he used to enjoy as a child, sliced sheet-thin with edges perfectly charred and caramelized. Anna refused to be pigeon-holed by any one dish. And Chef Cyrille? A bottle of wine. Not a glass, but an entire bottle. He is French after all.
Respect for tradition, an homage to the past. Traits that I would again later learn, are part and parcel to a true bouchon.
Clockwise from lower left:
Salad of potatoes and smoked fish in olive oil
French green beans with vinaigrette
Red cabbage confit, mustard vinaigrette, egg mimosa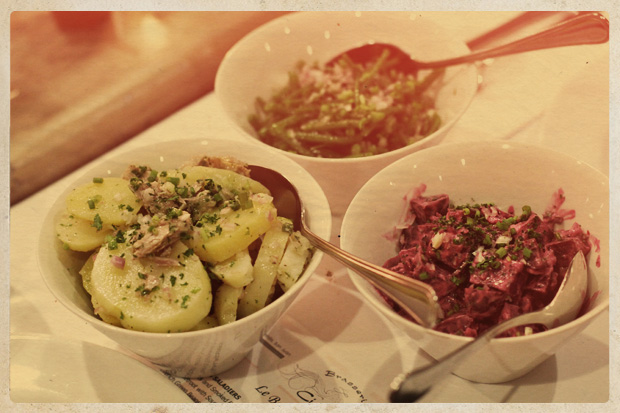 As enjoyable as the entire feast was, this platter of charcuterie and pâté may have been our favorite. A meal in itself, lesser appetites have been known to succumb here. I had no such problems.
The pork head pâté, which is essentially a cold, gelatinous block of pork sisig, was a showstopper.
Charcuterie et Pâté
Clockwise from top:
Pork head pâté
Pâté en croûte
Pork rillette
Chicken aspic with tarragon
Pâté de campagne
Bottom: Horseradish, cornichon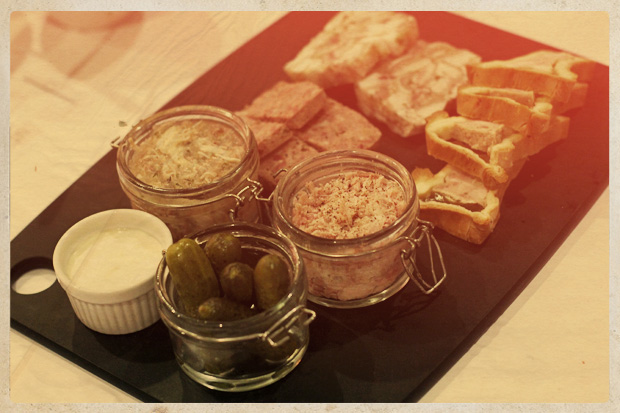 As the food and wine flowed, so did the conversation. Last meals, the World Cup, tattoos, child rearing, issues that make you "un-dateable", these were just a few of the myriad topics we discussed over the course of a dinner that spanned nearly seven hours. A good portion of the evening in fact, was spent trying to get Anna to name even just a single dish for her last meal.
"No! It's an unfair question! Where am I going to die? At what time of day? During what season? It depends on how I'm feeling and what's available!"
She was defiant until the very end.
Unlike more formal fine dining establishments, conversation is paramount at bouchons, so much so that chatting with your neighbors isn't just encouraged, it's required.
Next up were the mains, which is regrettably the only course in this bouchon that you can't get seconds of. I highly recommend the homemade boudouille. It's delicious.
Main Course
Fish Quennelle – Crab bisque, gruyere cheese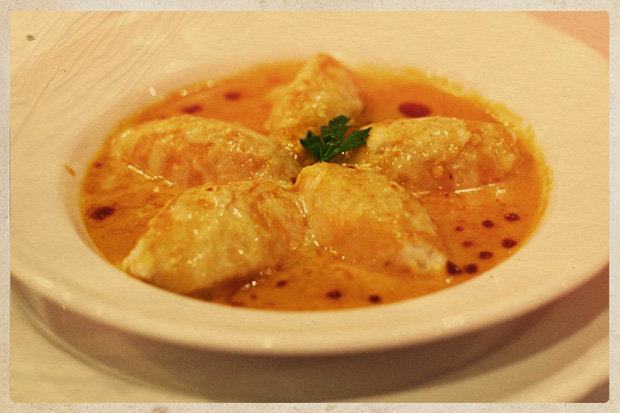 Tablier de Sapeur – Ox tripes coated in herb crumbs, carrots Vichy-style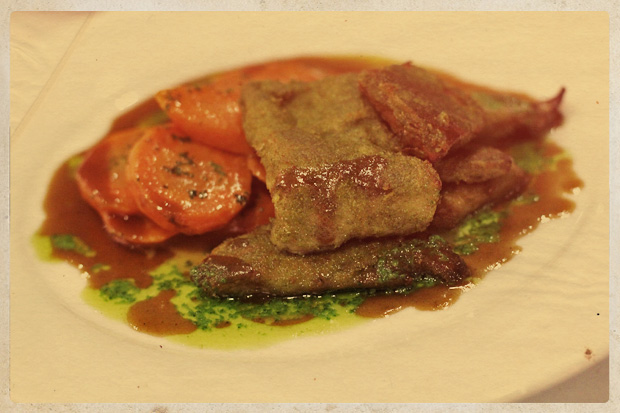 Roasted Homemade Boudouille – Combination of blood sausage and andouillette, crushed potatoes with parsley, sauteed apple and beef jus with thyme and shallots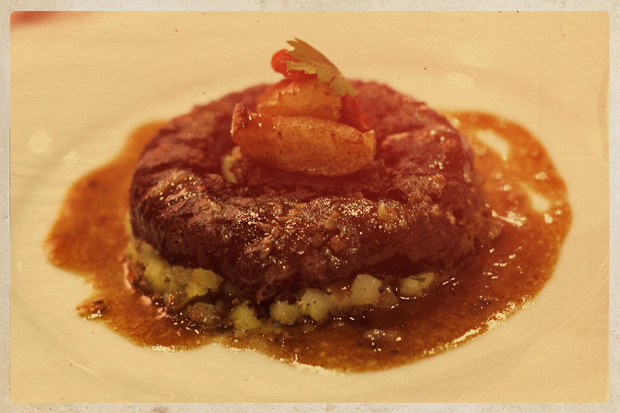 By this time, I had eaten my entire main course, most of Ren's, and some of Spanky's.
"Wow!" Spanky remarked, "Most people just pick on their food, but you really eat!"
"Oh I can eat!" I answered back between slices of ox tripe. This was a bouchon after all, and I was determined to experience it to the fullest.
And besides, I wasn't about to stop now, dessert was next.
Le Dessert
Floating Island – Praline crème Anglaise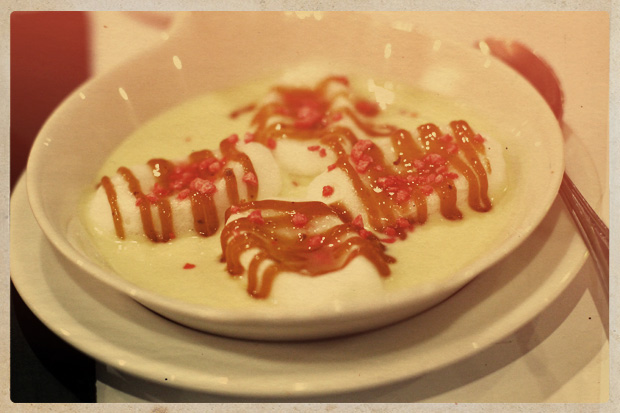 Crème Caramel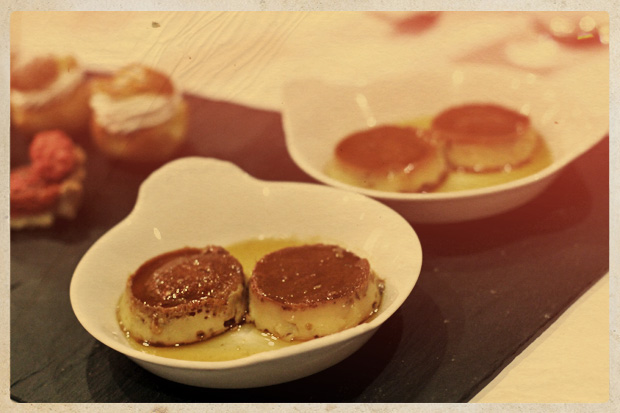 Le Bugnes de Lyon – Strawberry coulis, apple compote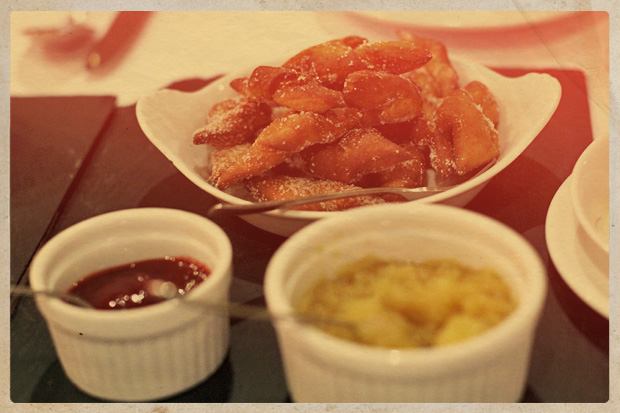 Tarte à la Praline and Choux Chantilly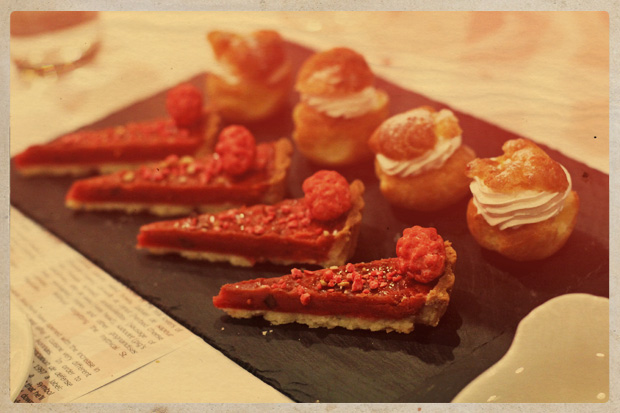 A true Lyonnais dessert made with finely ground toasted almonds in a crimson-colored sugar coating, Chef Cyrille seemed genuinely proud of his Tarte à la Praline, and rightfully so.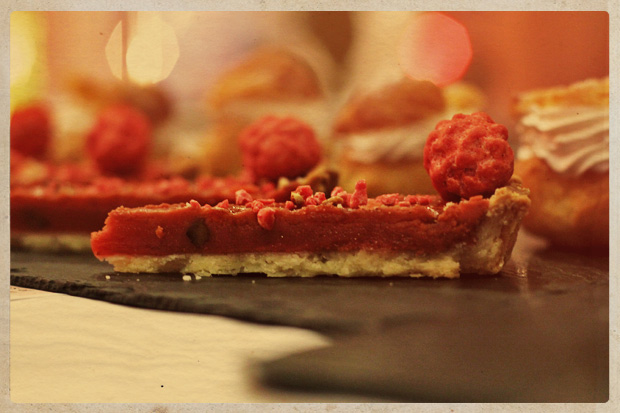 Post-Bouchon Revelry
By this time, the restaurant had emptied and the staff gone for the night, leaving us with our hosts, Anna and Cyrille Soenen. It was late, but our evening wasn't over just yet.
Chef Cyrille would share with us his personal bottles of Calvados and Eau de vie de poire. Calvados is an apple brandy from Lower Normandy, and eau de vie de poire a clear, colorless brandy made from pears. Both were incredibly potent.
Over shots, he described to us how they would attach carafes to trees back in France, just when the fruits were beginning to blossom and grow. This allowed the fruit to mature inside the bottle.
My world was practically floating at this point so I forgot to shoot the calvados, but the eau de vie de poire is pictured below. Cool huh? *hic*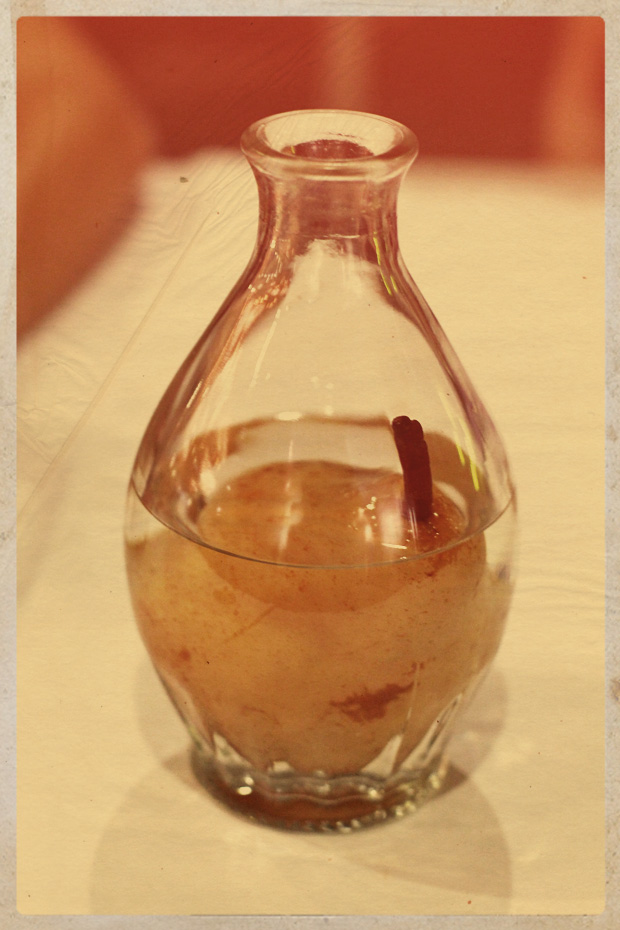 Sipping on my digestif, my first bouchon under my belt, I think back on the question at the top of this post, and I'm reminded of something that Anna said about tonight's gathering.
This was the third weekend in a row that the Soenens hosted this dinner. The first was for a small table, like ours, and the second for a much larger group. As enjoyable as that second dinner was, Anna confided that she much preferred these smaller groups. They afforded her the opportunity to converse with her guests more intimately.
This, for me, sums up the spirit of a bouchon.
Because as centered as these gatherings may be on good food and wine, a true bouchon goes much deeper than that. It's about generosity. It's about kindness. It's about respecting tradition, and having a genuine love for people.
* * * * *
Class picture headed by our most generous hosts. Such a lovely, down-to-earth couple.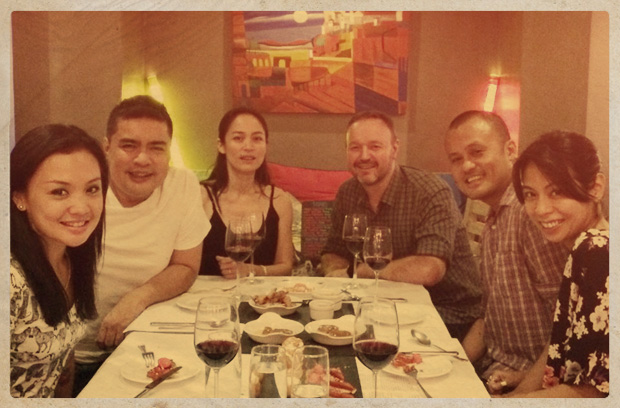 The first of its kind here in Manila, you can experience this bouchon lyonnais until August 2014 at Brasserie CiÇou for PHP 1,700. This entitles you to unlimited salad, charcuterie and pate, a choice of main, and limitless dessert.
Please be advised that all wine and spirits pictured here were courtesy of the Soenens, and not included in the price. Cheese may also be had for an additional PHP 500.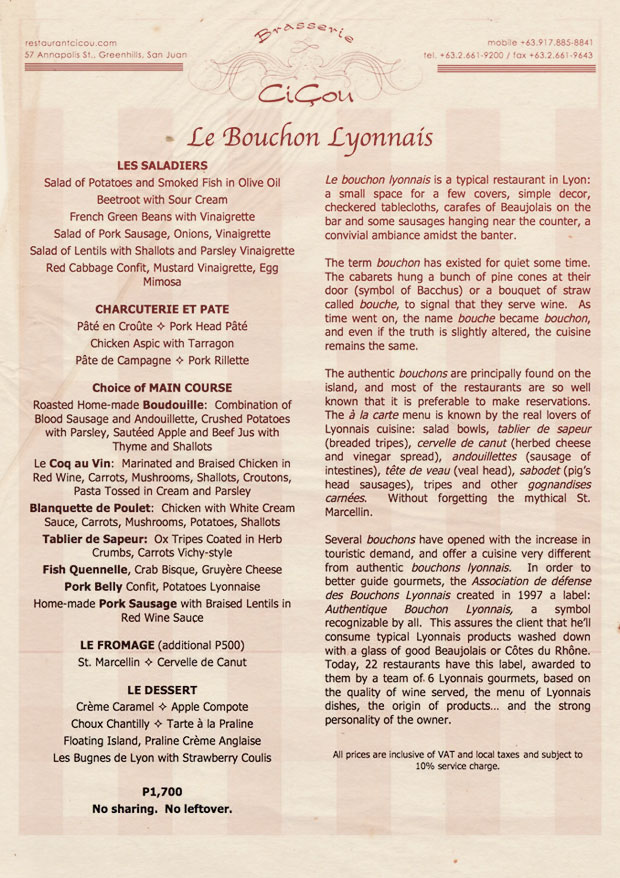 Ren and I would like to extend a sincere thank you to Anna and Chef Cyrille for having us tonight, and to Spanky for the invite. Your generosity, like this bouchon, knows no limits.
Santé!
Brasserie CiÇou
57 Annapolis Street, Greenhills, San Juan
Tel: 661-9200 | Mobile: 917-885-8841
Website: brasseriecicoumanila.wordpress.com
Facebook: CiÇou
Email: restaurant_cicou@yahoo.com
Operating Hours: Tue-Sat, 12PM-10PM / Sun, 10:30AM-2PM
Disclosure
We were here tonight as guests of Anna and Cyrille Soenen of Brasserie CiÇou. Our meal was paid for by the restaurant.
JB is one half of Will Fly for Food and its chief itinerary maker.  He's the one to blame for all the crappy photos and verbal diarrhea on this blog.  Don't listen to him.
Latest posts by JB Macatulad (see all)