Unagi sushi, with foie gras. Are you effing kidding me?
Hearing about it's mere existence was enough to reel us in. But to find out that we could get two orders for the price of one every Tuesday at Yumi had us pining for the start of the work week. I have a Type A personality so I don't like being away from my computer on a weekday, but I had no qualms whatsoever about skipping work for this. Buy one take one on unagi foie gras sushi? Seriously?!
Like all working adults, I love Fridays. But Yumi, you've just made Tuesday my new favorite day of the week.
Buy 1 Take 1 Yumi Tuesdays
L: Complimentary kani appetizer
R: Uni – PHP 134 (2 pcs)
Check out that uni! We got two buy-1-take-1 orders for a total of eight pieces.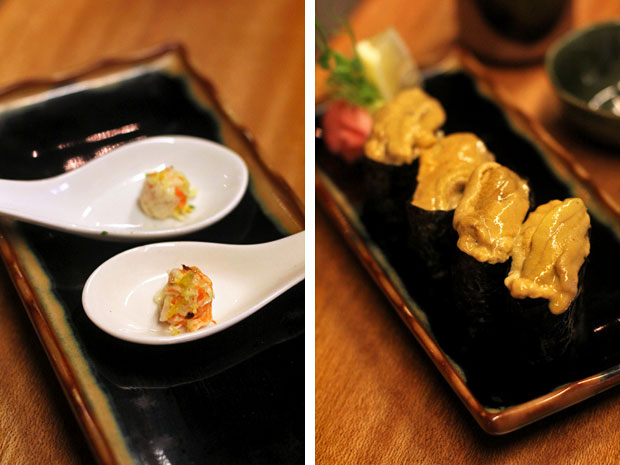 Sake Sushi Balls – PHP 205 (3 pcs)
Norwegian salmon, cream cheese, and a crisp salmon skin chip, garnished with microgreens and Korean red chili threads. Known for modern interpretations of Japanese cuisine, this is Yumi's take on the Philadelphia Roll. Delicious!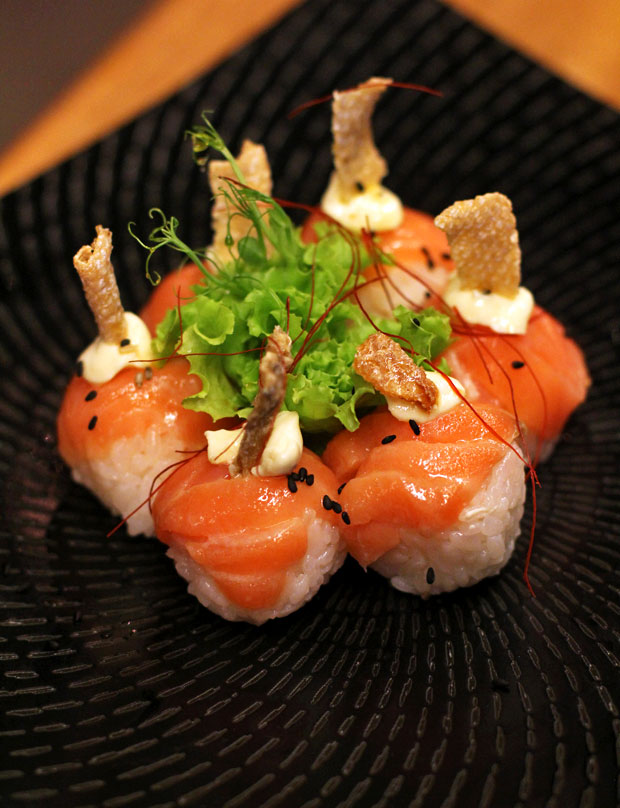 L: Sake – PHP 125 (2 pcs)
R: Ushi Ebi – PHP 150 (4 small pcs)
Aren't those slivers of salmon nigiri enticing? They look like bridal trains! Though beautifully presented, the ushi ebi or black tiger prawns are probably the only thing from today that I wouldn't order again. (Only because I was expectng something raw like amaebi)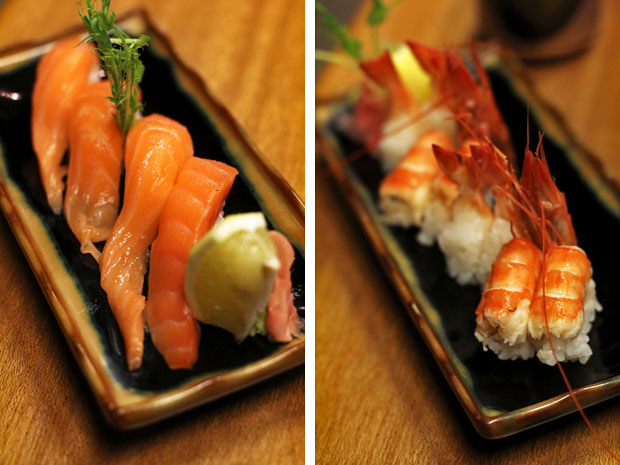 Symphony – PHP 380
A gorgeous, fiery mound of fried sushi rice, spicy salmon, spicy tuna, kani, and ebiko. I wasn't kidding about the fiery part. Those red dots on the plate are flecks of togarashi.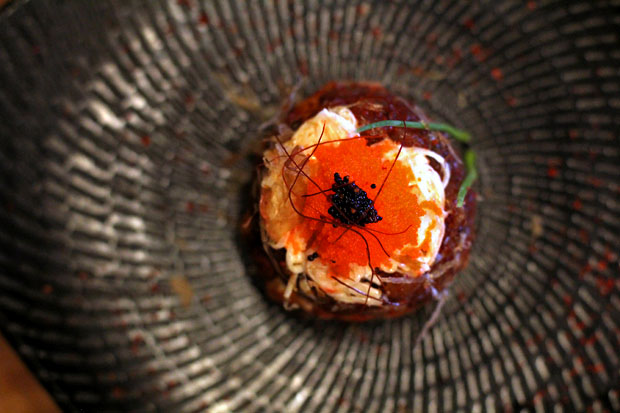 About fist-sized and for just PHP 380, this is a terrific 2-for-1 deal.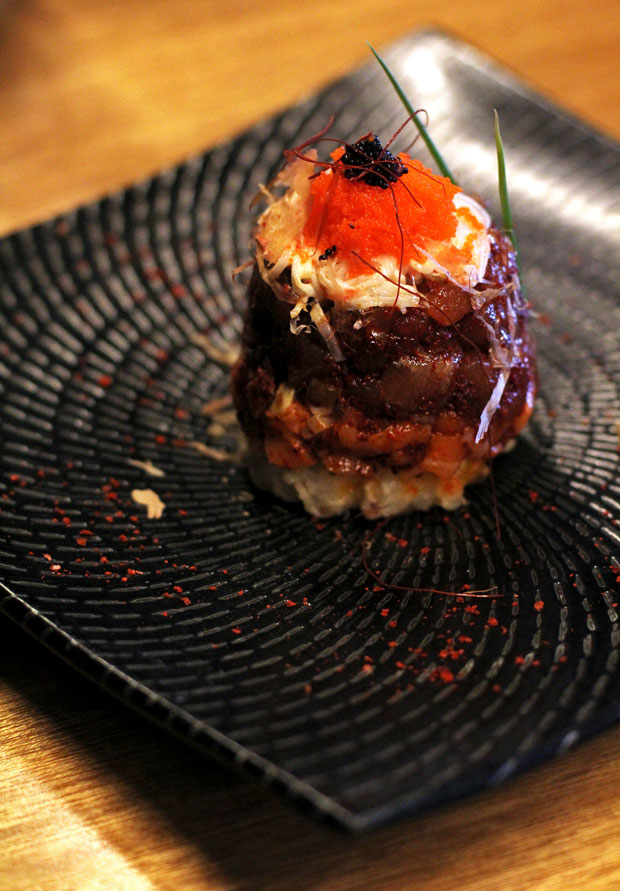 Unagi Foie Gras – PHP 350 (2 pcs)
The pièce de résistance, unagi sushi topped with pan seared foie gras. Decadent and delicious, these taste every bit as good as they sound and look. Seriously, why hasn't anyone thought of this sooner? Two pieces were hardly enough for each of us, so we're getting four apiece next Sushi Tuesday. 😈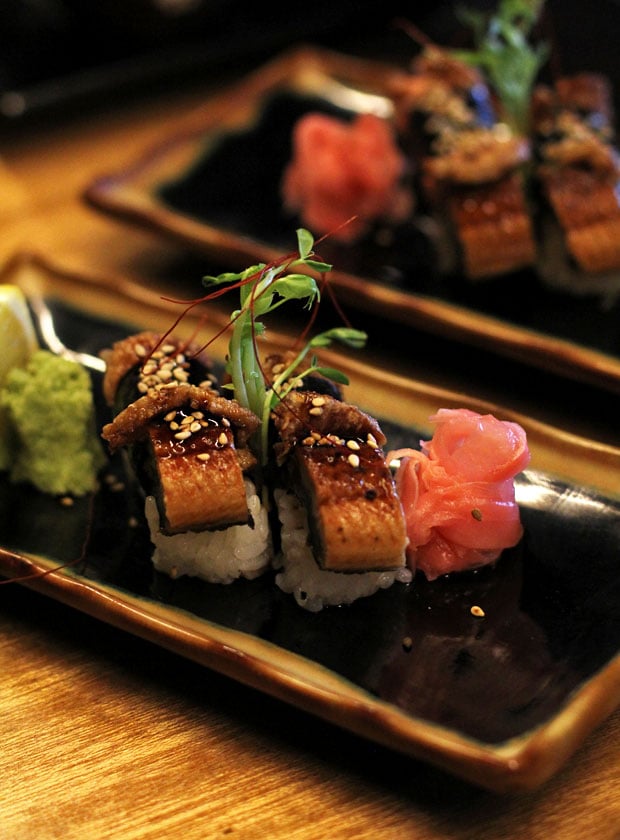 A closer look at the beautifully seared crust on that foie gras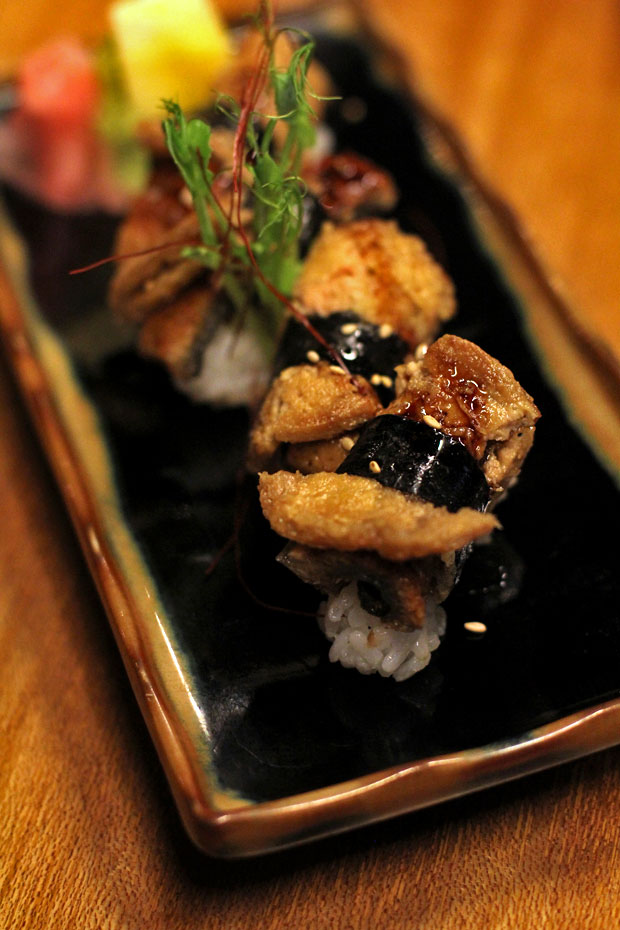 Apart from everything above, also available on Sushi Tuesdays are maguro, kani, ika, tako, unagi, ebiko, tamago, and hamachi. I'm not sure if this is an ongoing promotion or something that's available for just a limited time, but I'll ask on our next visit. If you love sushi, then I suggest going on the earliest Tuesday that you can, just in case this promo isn't a permanent fixture. Seriously, you don't want to miss this.
Ramen and tempura lovers will be happy to know that Yumi also offers Ramen Mondays and Tempura Wednesdays. Like Sushi Tuesdays, you can get Buy-1-Take-1 deals on all ramen dishes on Mondays. I'm not sure what the mechanics are for Tempura Wednesdays, but their ad says "tempura tasting menu" for PHP 675 a person. Does that mean all the tempura that you can eat? I'll find out soon enough. 😉
Yumi
Mezzanine level, Promenade, Greenhills Shopping Center, Ortigas Avenue, Greenhills, San Juan
Tel: 785-6932
Mobile: 0917-497-5111
Facebook: YumiJapanese
Operating Hours: Mon-Sun, 11AM-10PM