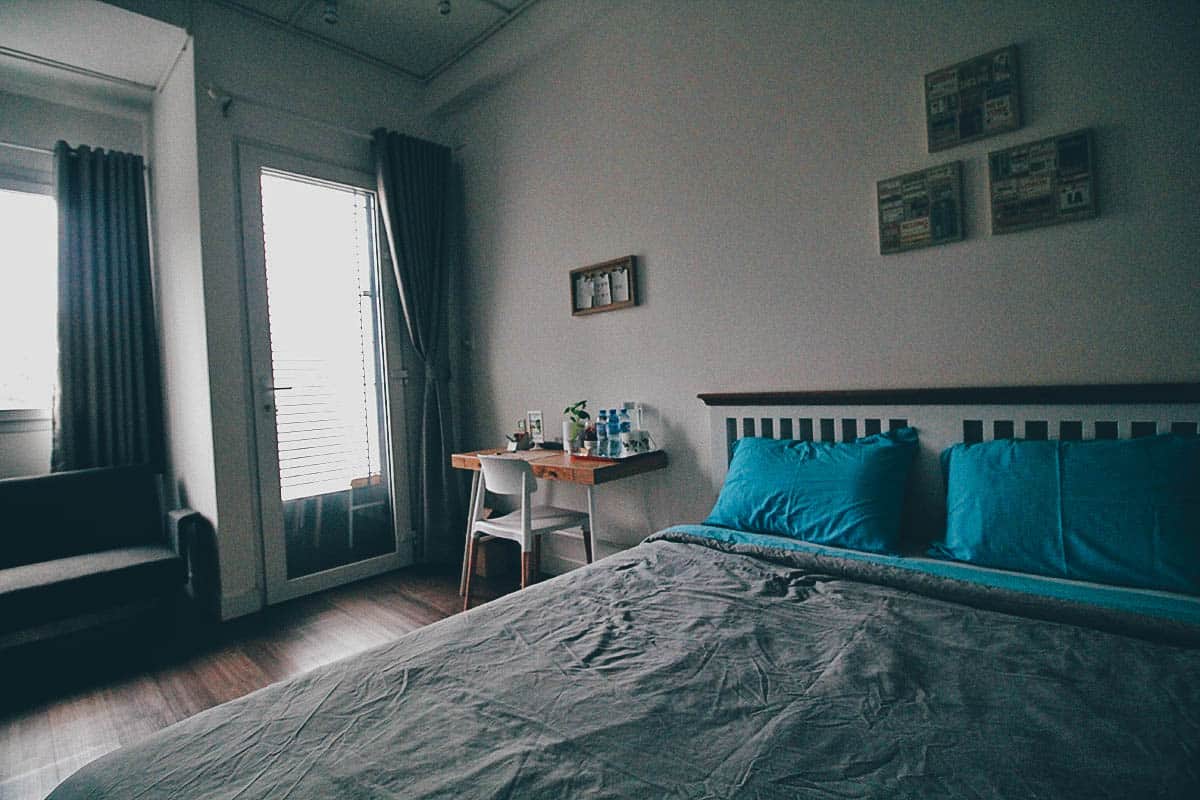 Where to Stay in Ho Chi Minh City (Saigon), Vietnam: M2C+ Cafe
NOTICE: Your health and safety come first. Please adhere to the WHO recommendations and avoid any non-essential travel at this time. If travel is unavoidable for you, then please refer to these advisories on COVID-19 coverage from our friends at World Nomads and SafetyWing.
DISCLOSURE: Some of our articles contain affiliate links. The ones that do will have a disclosure statement at the bottom. You can refer to our privacy policy and terms of use for more information.
I didn't realize this at the time, but Vietnam is apparently the second biggest exporter of coffee in the world, behind only Brazil. From simple sidewalk setups to trendy coffee bars, you'll find a cafe (or two) on nearly every block in Ho Chi Minh City. If you enjoy coffee as much as the Vietnamese do, then what better way to immerse yourself in the city's coffee culture than to stay at a cafe? Yes, a cafe.
M2C is a small chain of upscale cafes in Saigon. Modern with well-designed interiors, it's the type of cafe that trendy millennials love to post on their Instagram. In fact, most of the customers there seemed to be in their 20s and 30s. One of the cafe's branches – M2C+ Cafe along Nguyen Thi Minh Khai Street in District 3 – offers more than just cool glasses of cà phê đá. They have a handful of rooms on the building's top floor which they rent out to travelers on AirBnB.
It was a little unconventional yes, but we had never stayed at a cafe before so the prospect of waking up to espressos brewing was just too good to pass up.
The Cafe
M2C+ Cafe is located in District 3, just a short walk from the War Remnants Museum and Ben Thanh Market.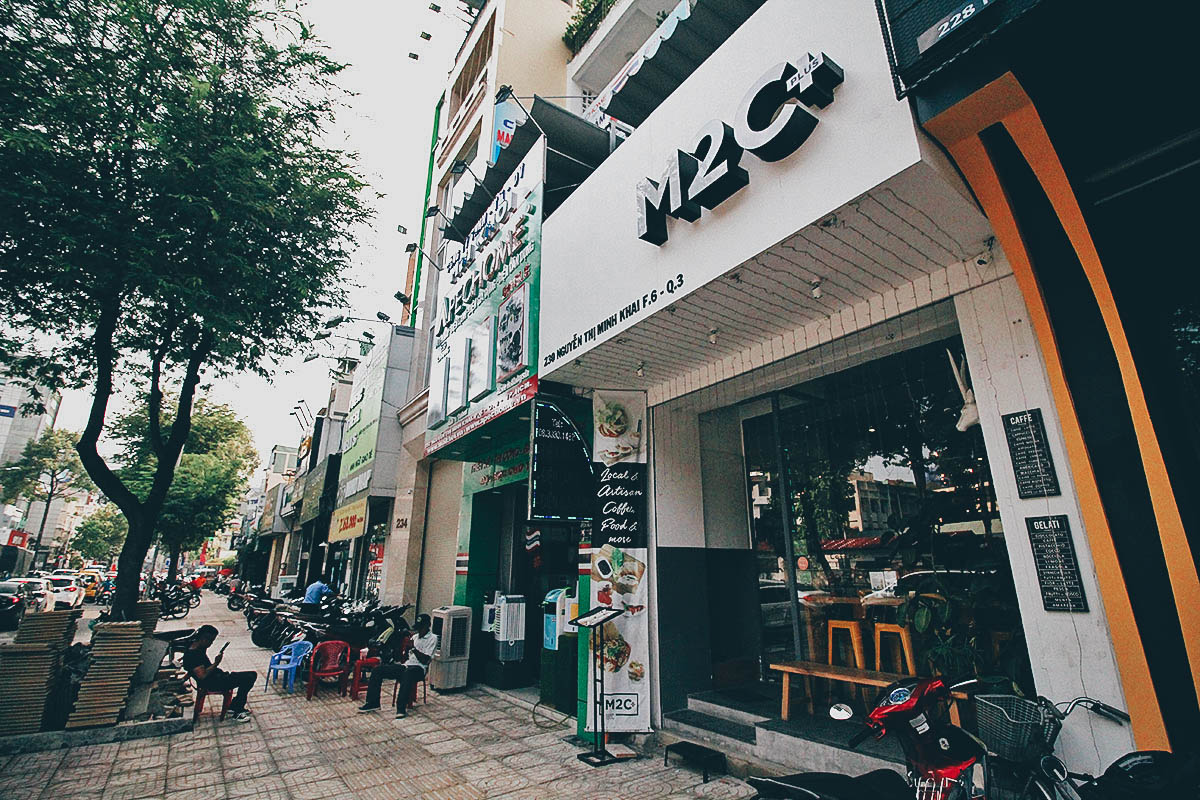 Nice right? At the moment, they have four branches in Saigon.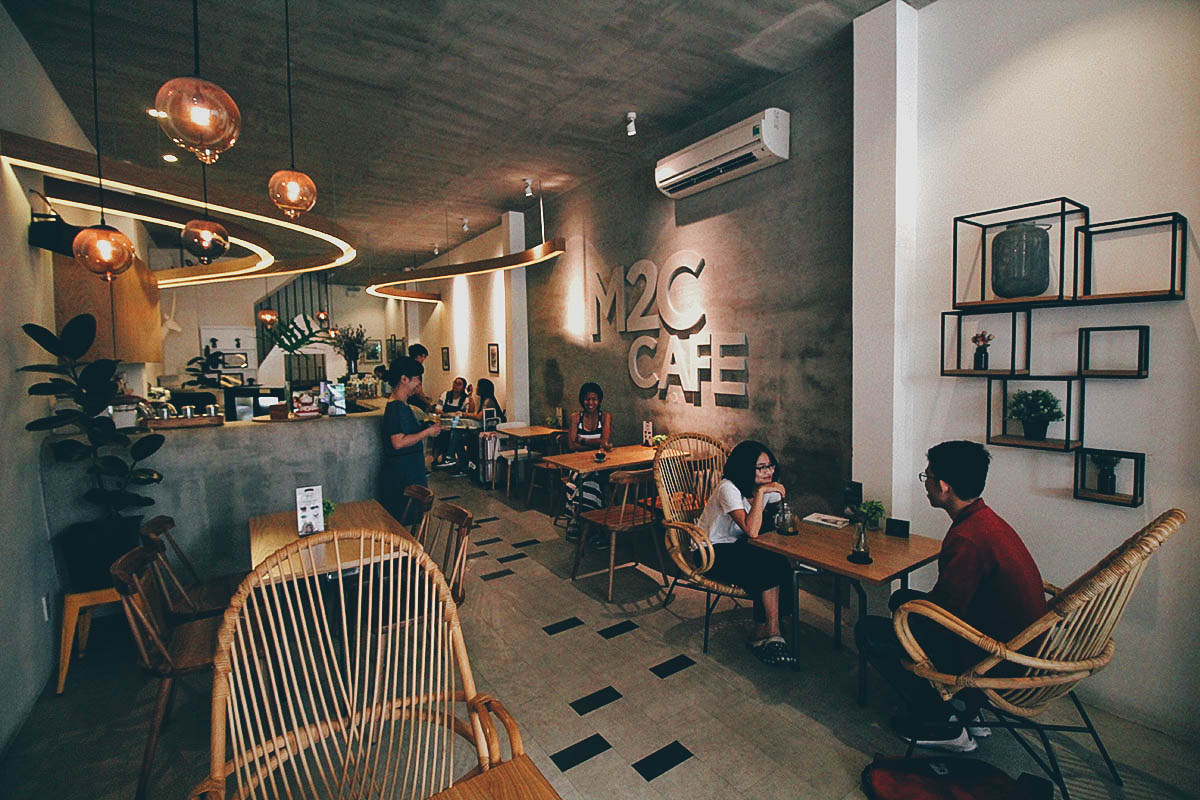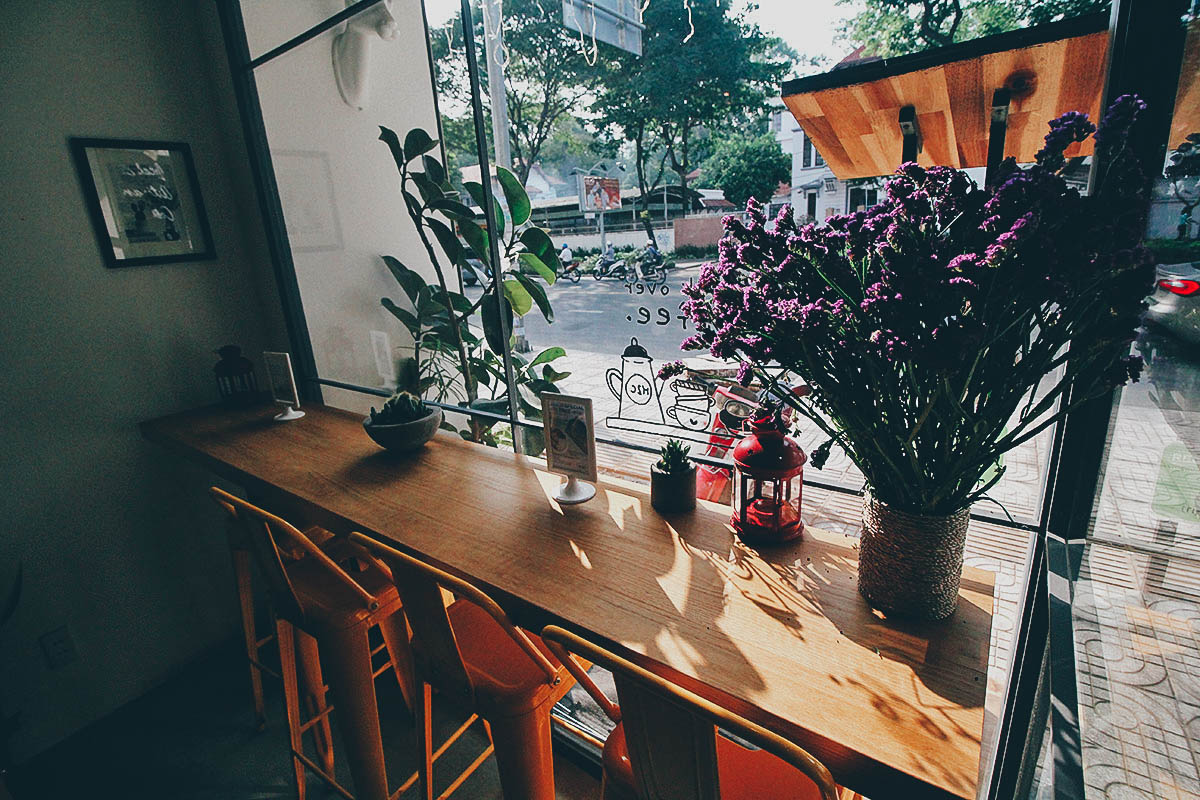 The cafe has two floors. This was taken on the second floor at around 7AM before the cafe opened.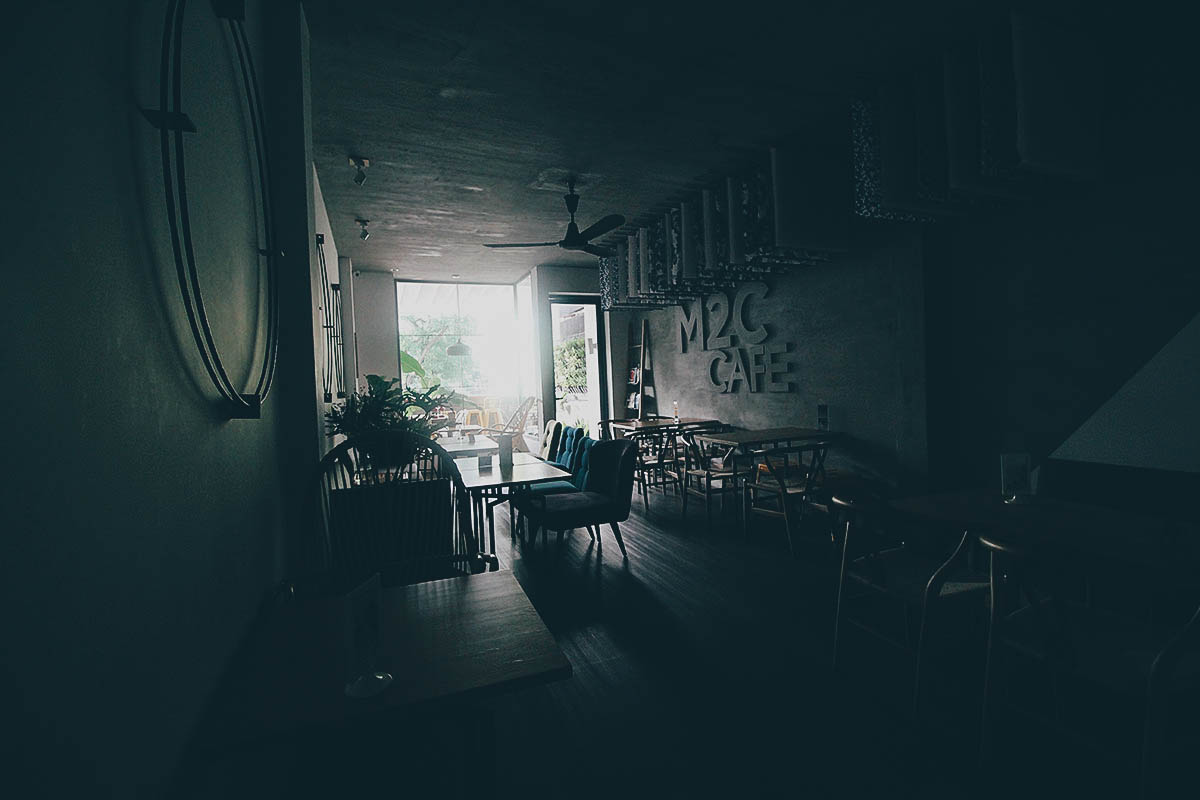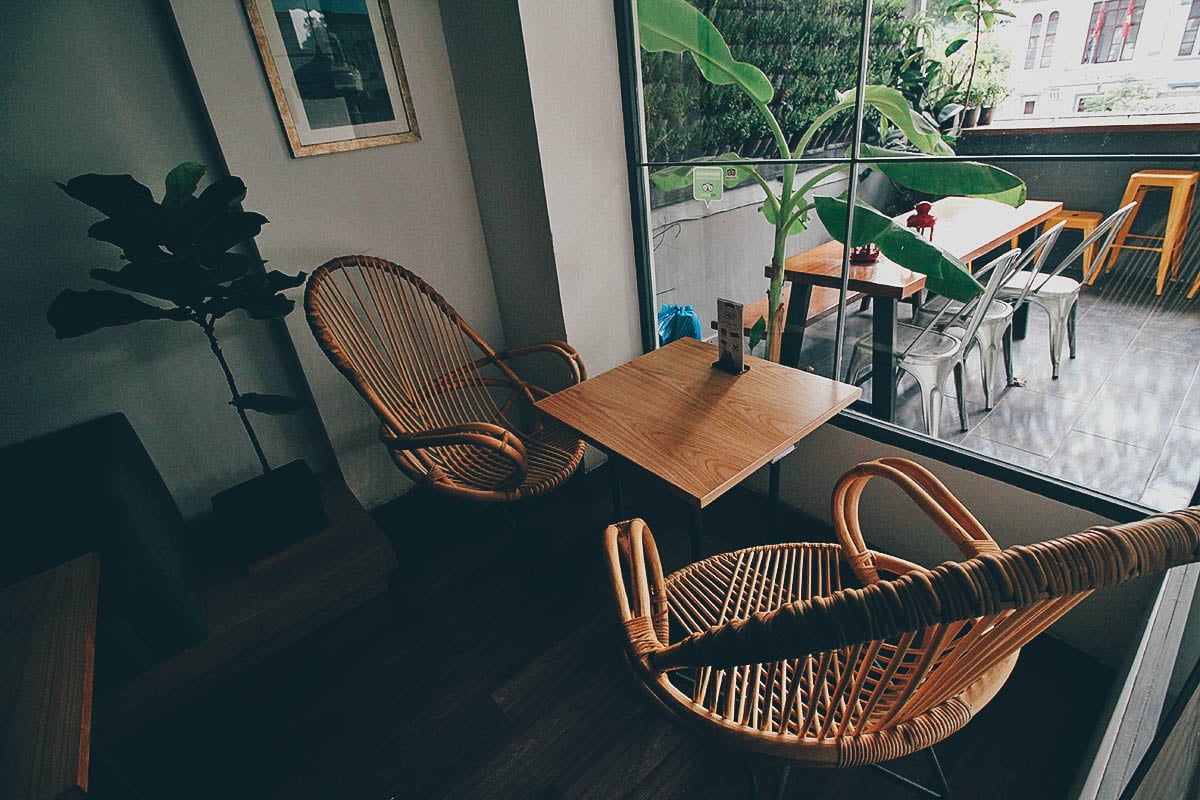 Balcony seating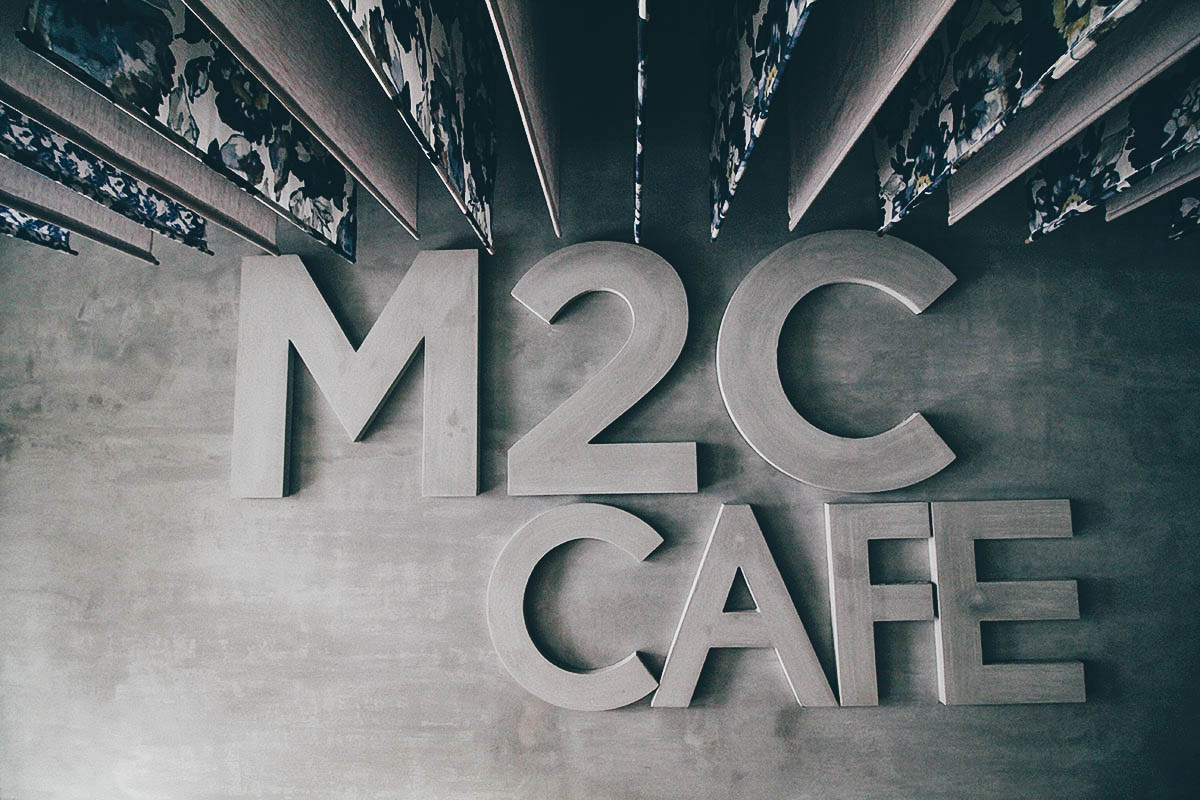 This was the stairway at the back of the building which took us to our room on the 4th floor. If I understood correctly, they're planning on opening a nail spa on the third floor.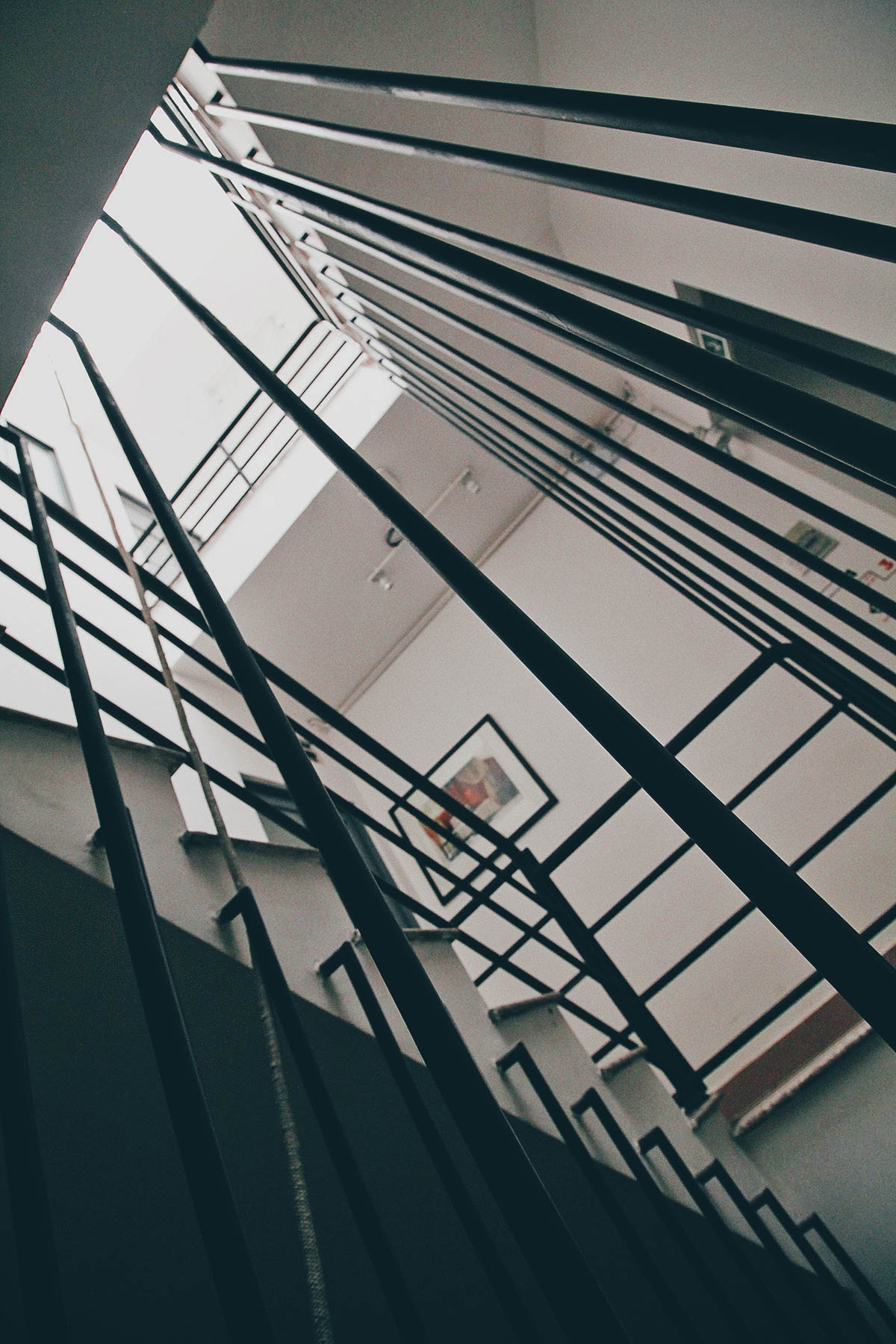 To give AirBnB guests some privacy, there's a gate and a sign keeping customers from going up to the 4th floor. Based on their listings, I think they may have two or three rooms for rent here.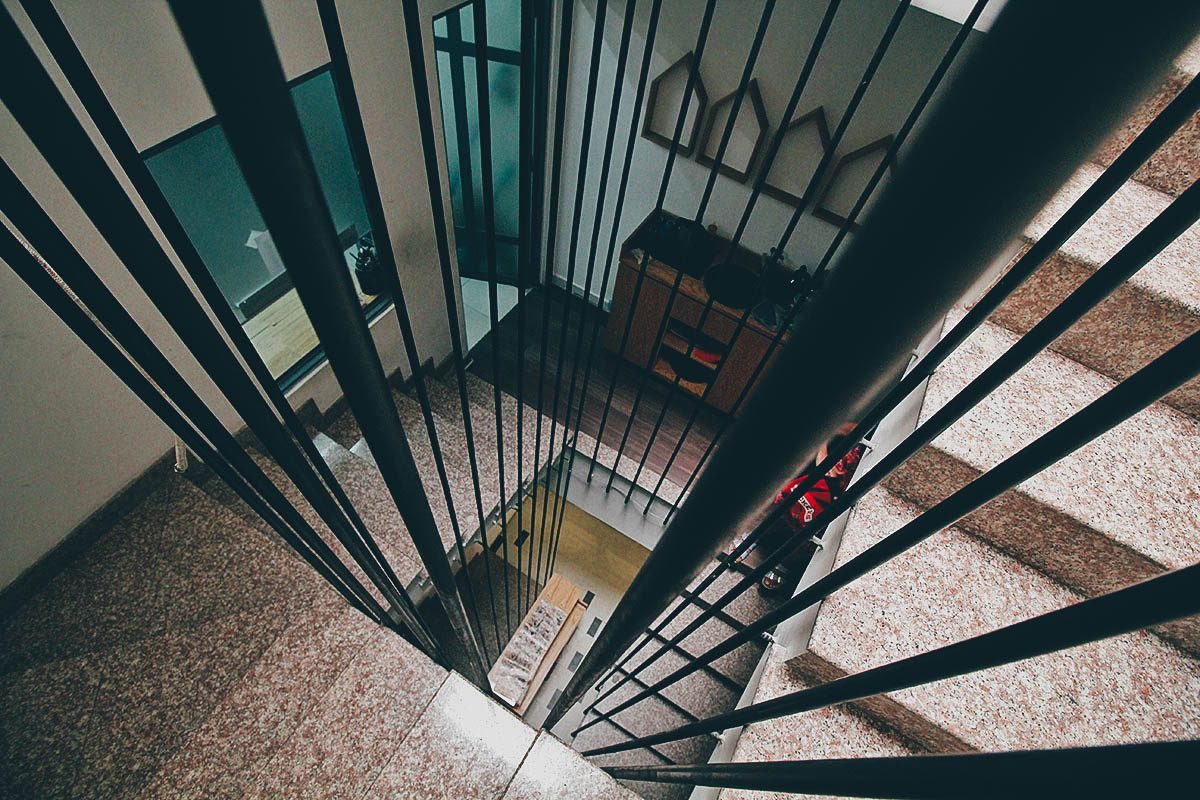 The Room
Beautiful right? The room matches the decor of the cafe and it's pretty big. Of all the rooms we rented in Vietnam, this one was the biggest and most comfortable.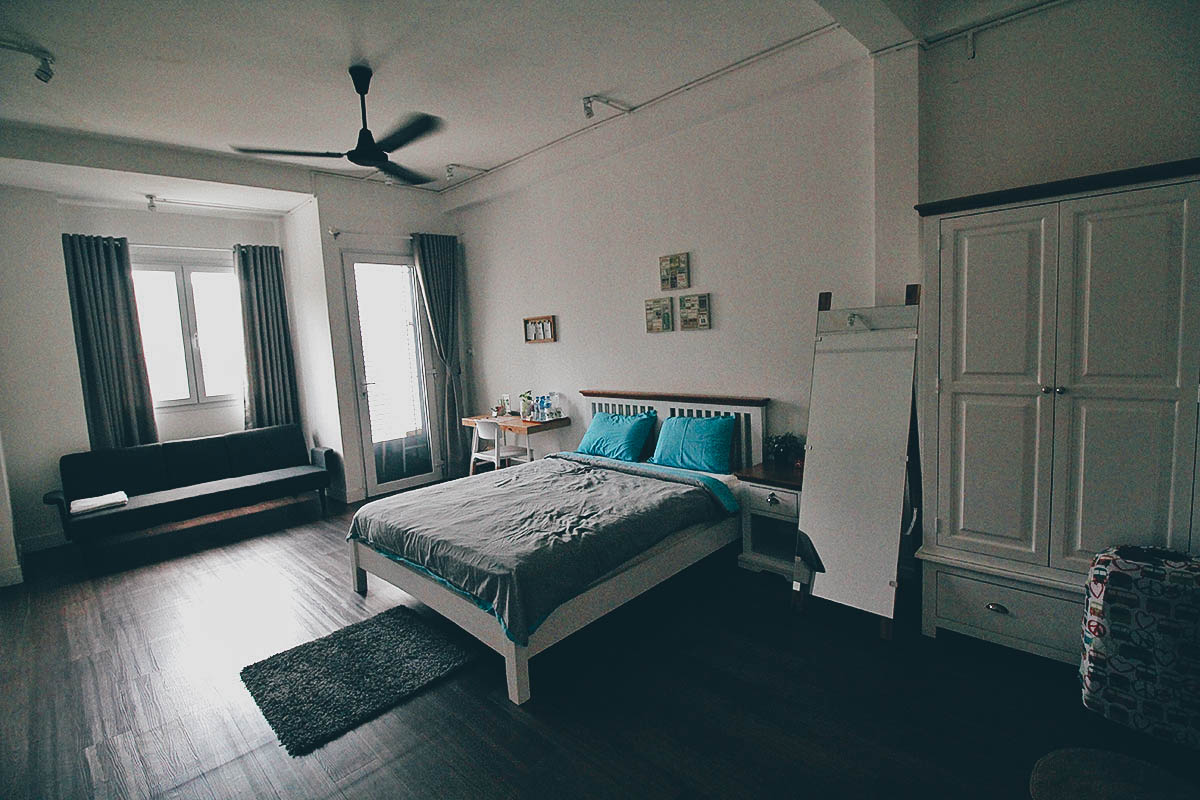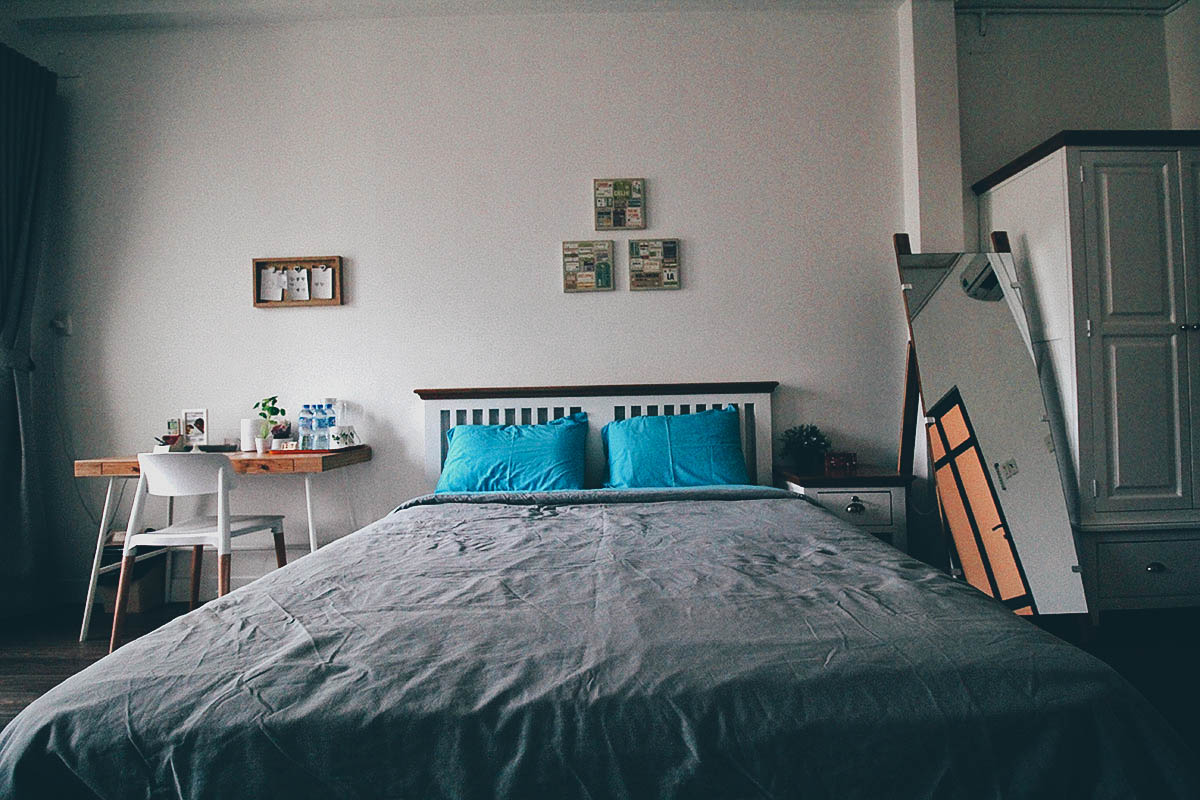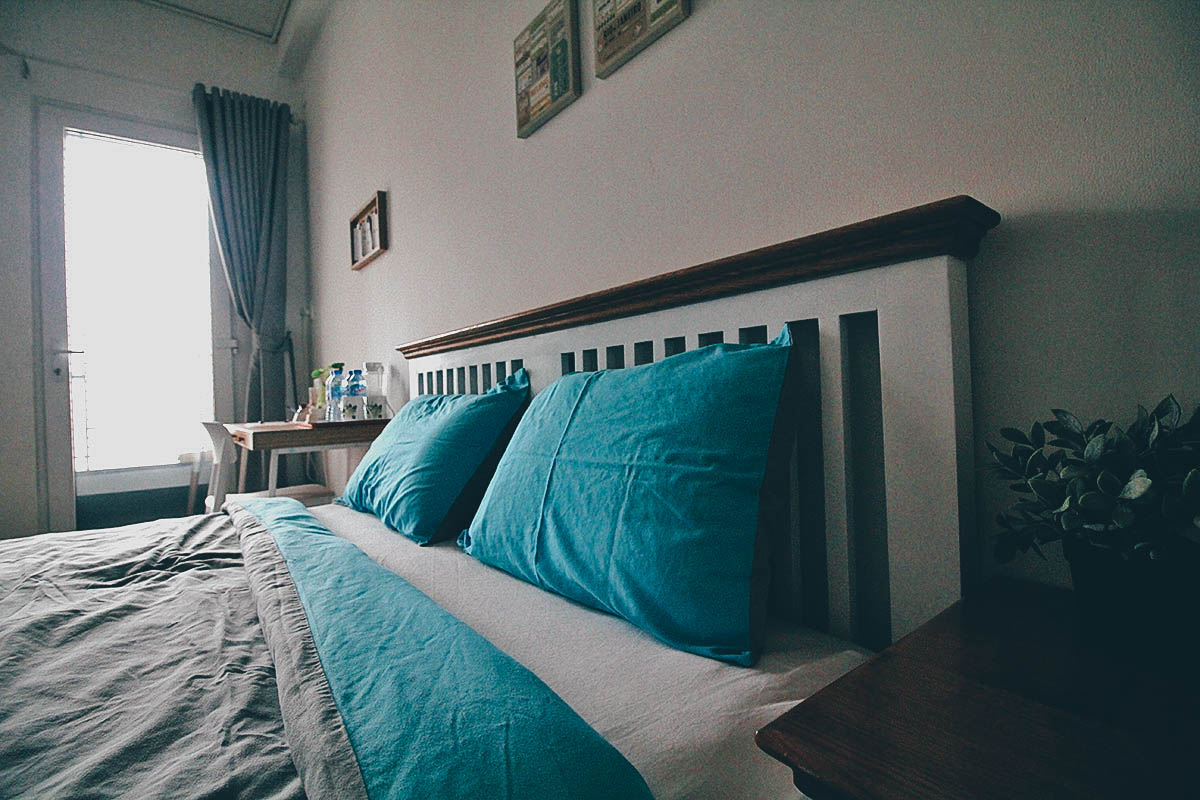 The M2C chain of cafes appears to be a family-run business. We were given a warm welcome by one of the sisters, Reynan, who personally took us up to our room to get us settled. She gave us a bunch of helpful advice too, including this map with all her favorite restaurants and street food stalls in Saigon. Our kind of host! 😀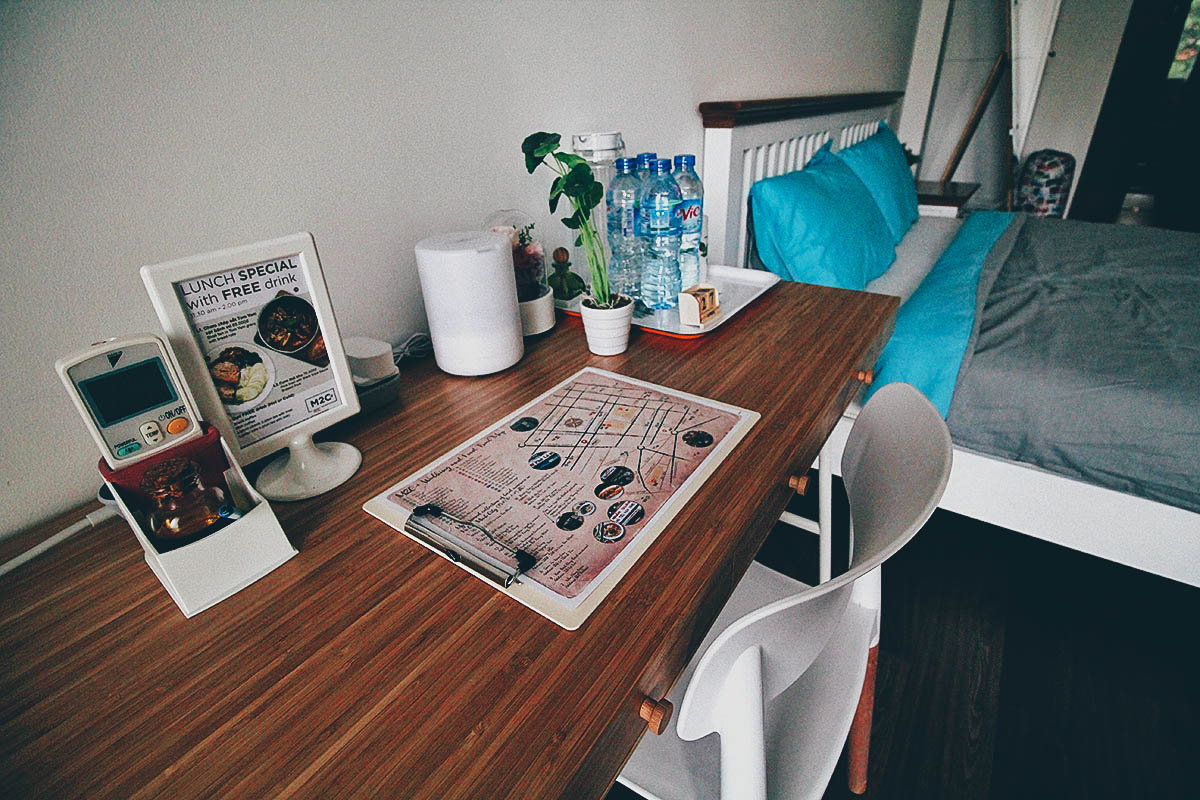 Thanks to Reynan's tips, we found two stalls not too far from the cafe – Phở Lệ Nguyễn Trãi and Giò Chả Minh Châu – both of which were delicious. You can read more about them in our Saigon food guide. Thank you Reynan! 🙂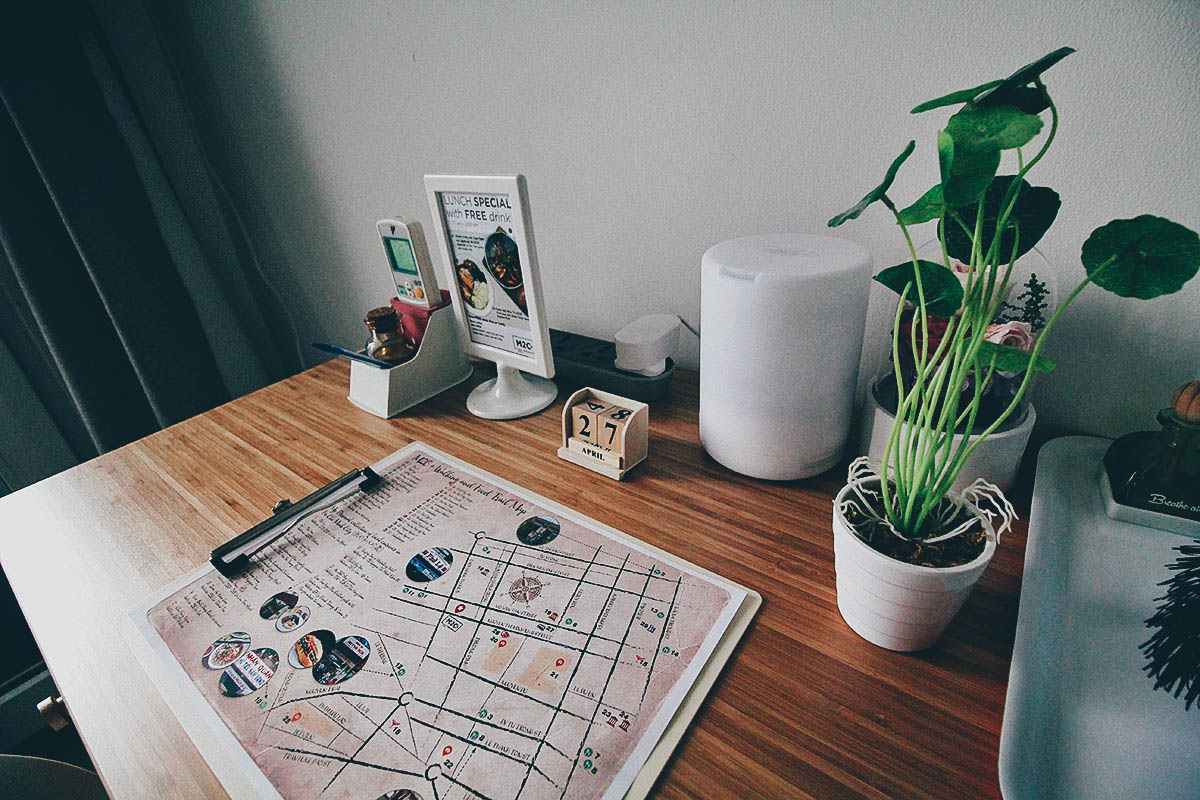 ♥ ♥ ♥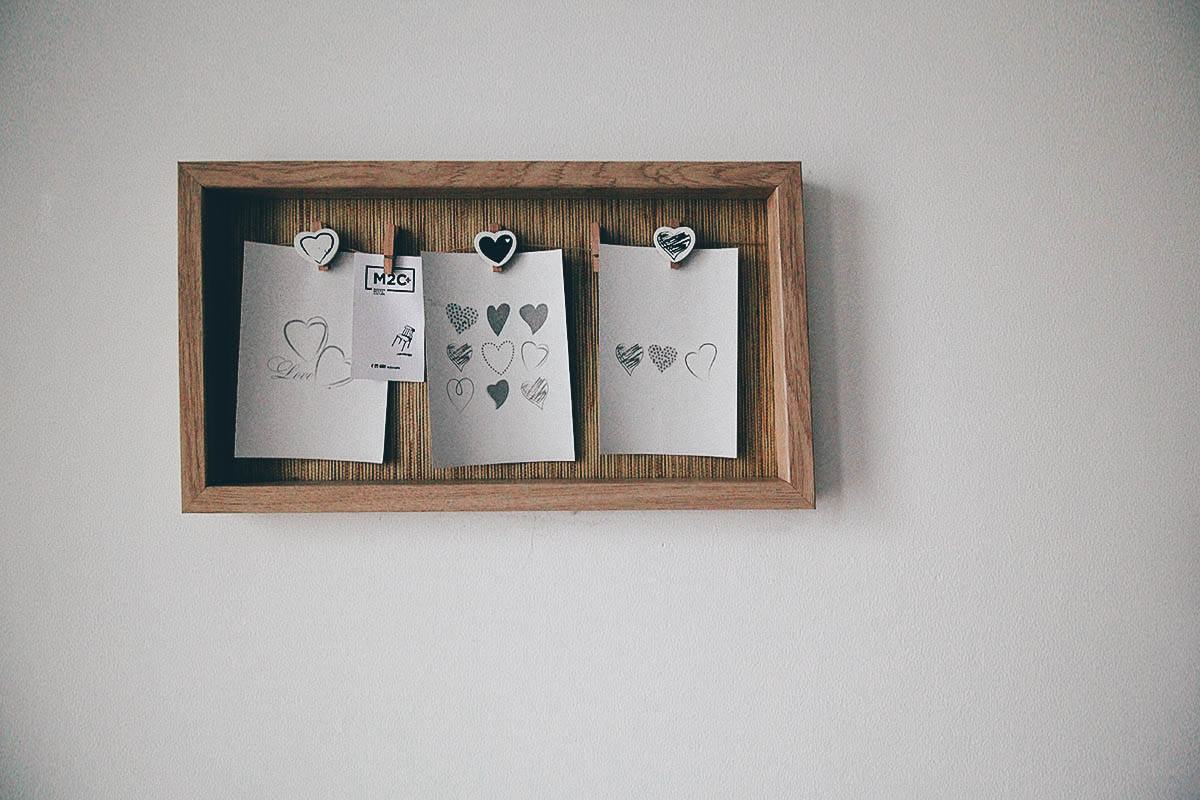 The only thing missing from the room was a TV, but we didn't really mind since we would be out the whole day anyway. The room didn't have a refrigerator either but with this being a cafe, the staff happily stored anything for us in the kitchen.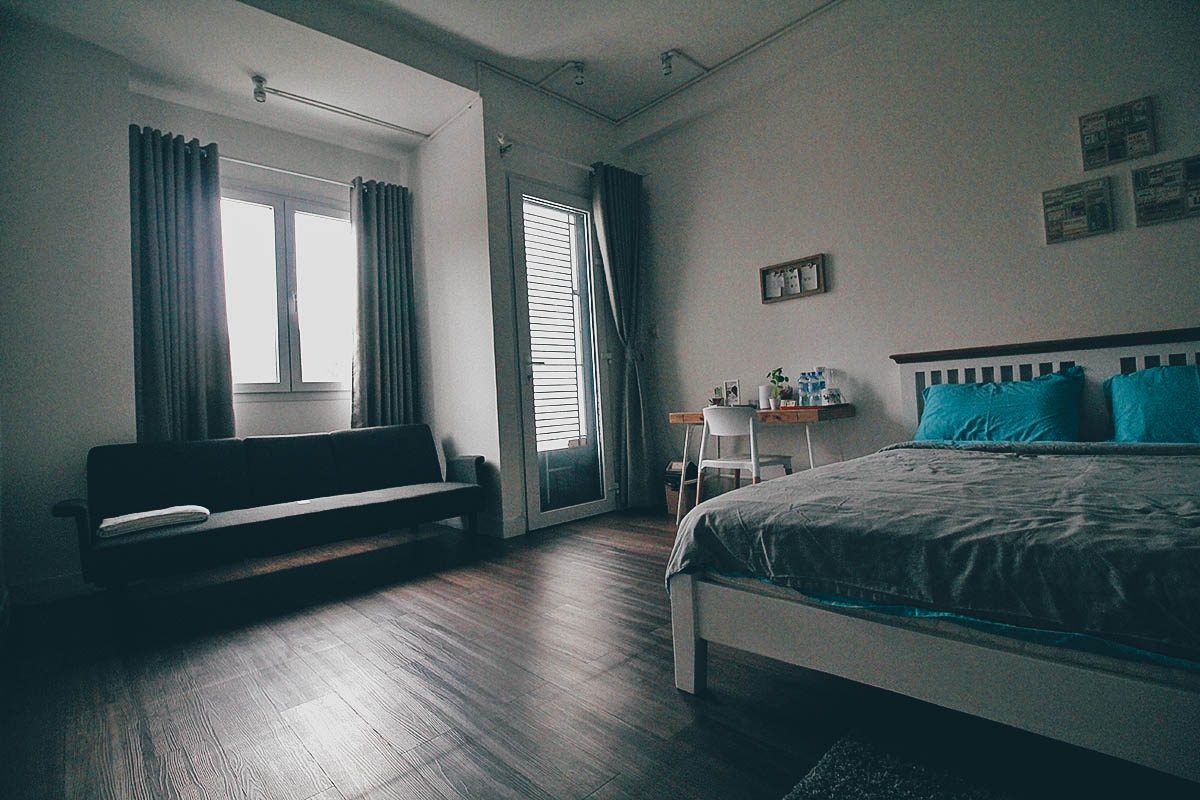 Ren digging that couch. I think it folds out into a bed too. According to their AirBnB listing, this room can accommodate up to four people.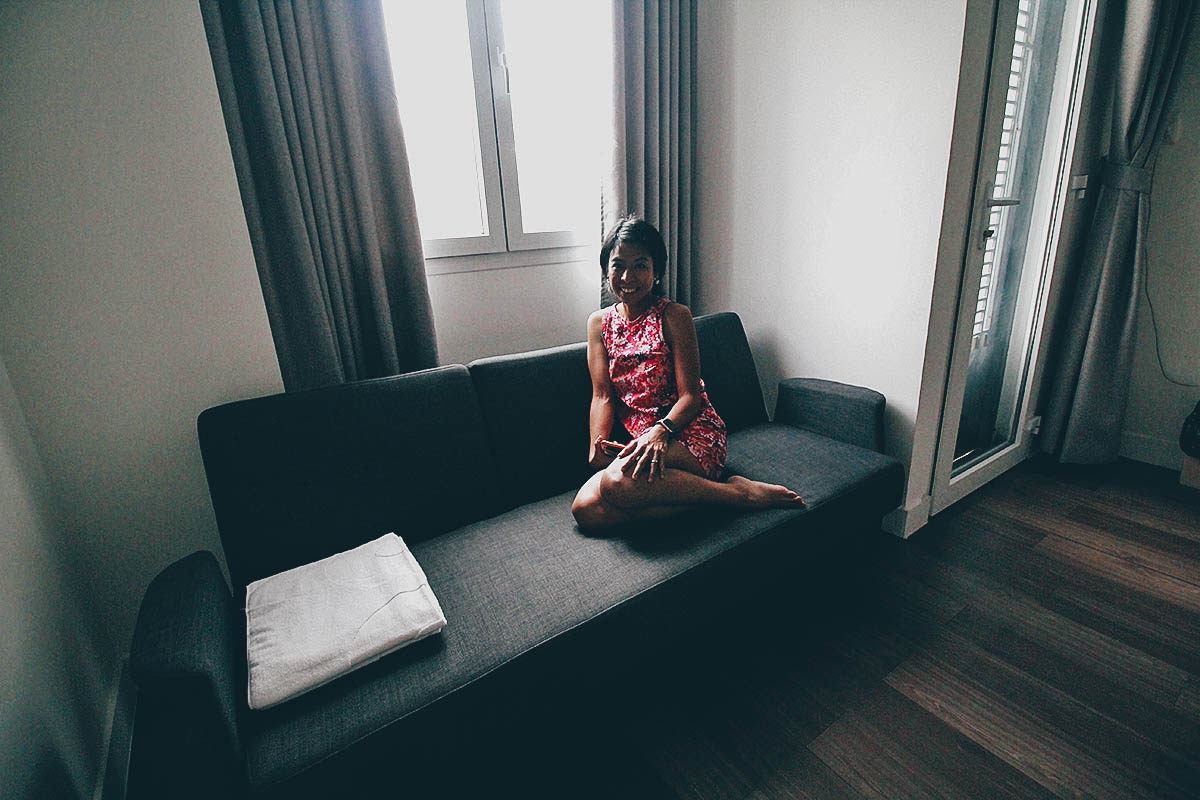 Can you believe this huge room went for just USD 38 a night (April 2017) with breakfast for two already included? A sweet deal indeed.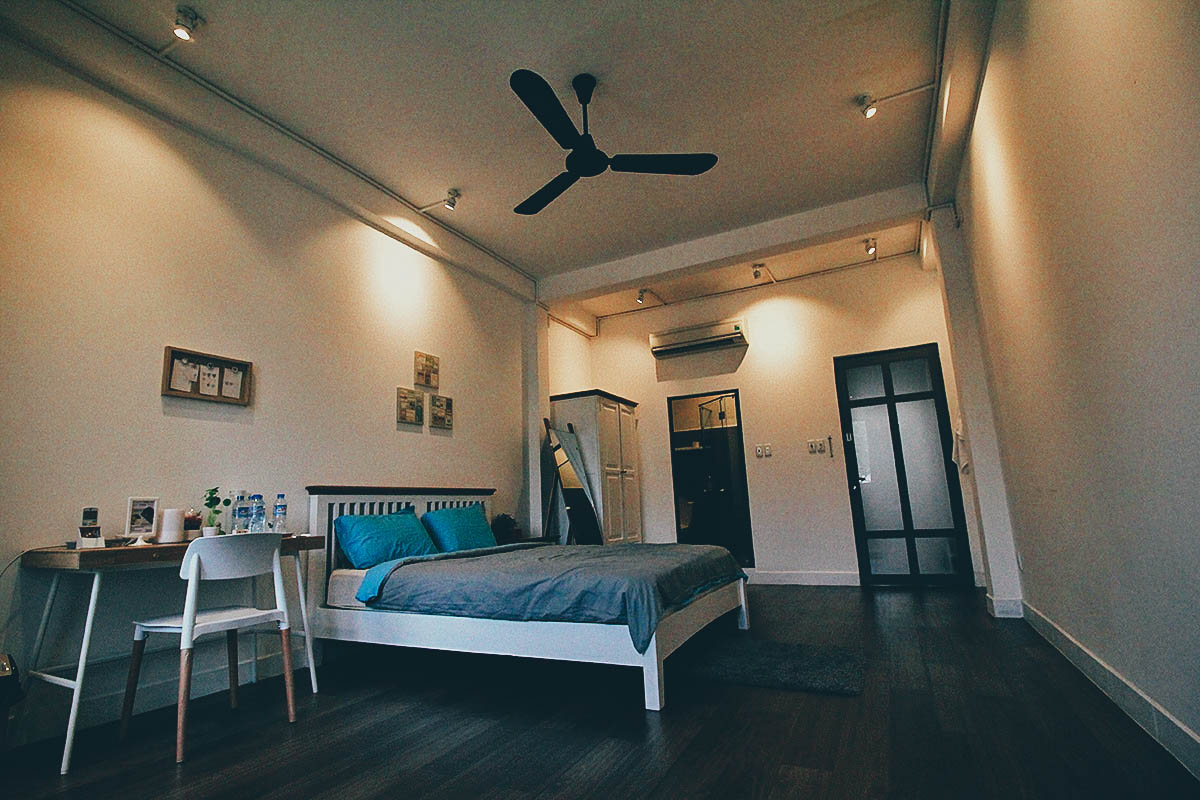 The bathroom was nice and spacious too.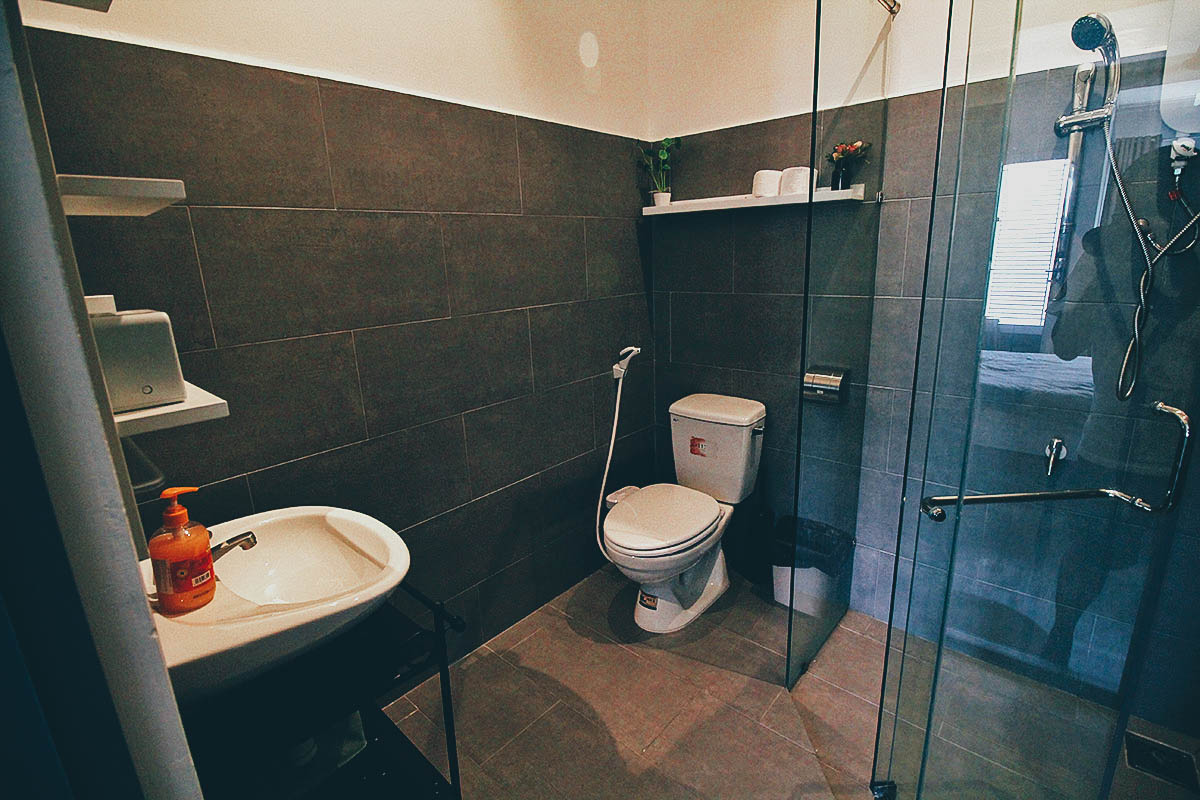 Breakfast
As described, your stay comes with free breakfast. Breakfast is from 7:30-11AM daily and you'll have your choice between four breakfast dishes and coffee or tea. I still hadn't forgotten the bánh canh I had in Hoi An so I went with this bánh canh gà nấm which is a tapioca noodle soup made with chicken and mushroom. It was delicious. The coffee was excellent too.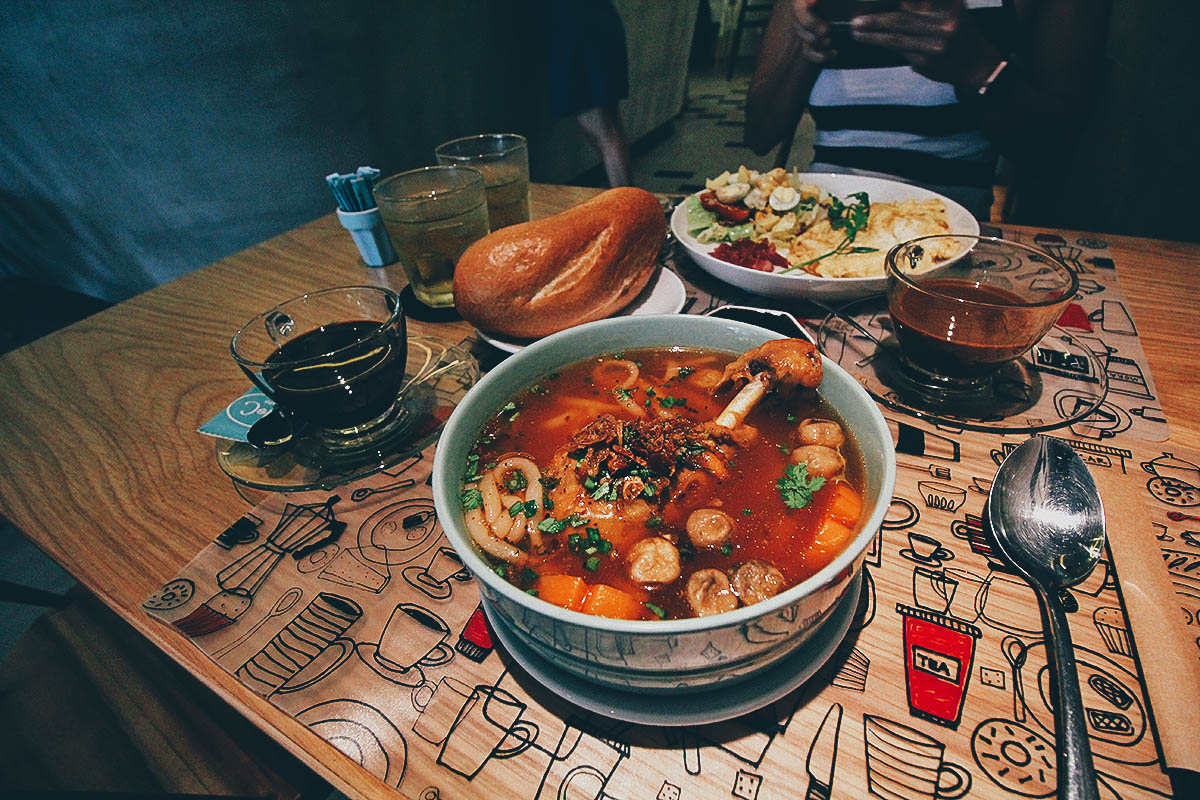 Ren had this equally tasty bánh mì trứng which consists of a personal baguette with scrambled or fried eggs.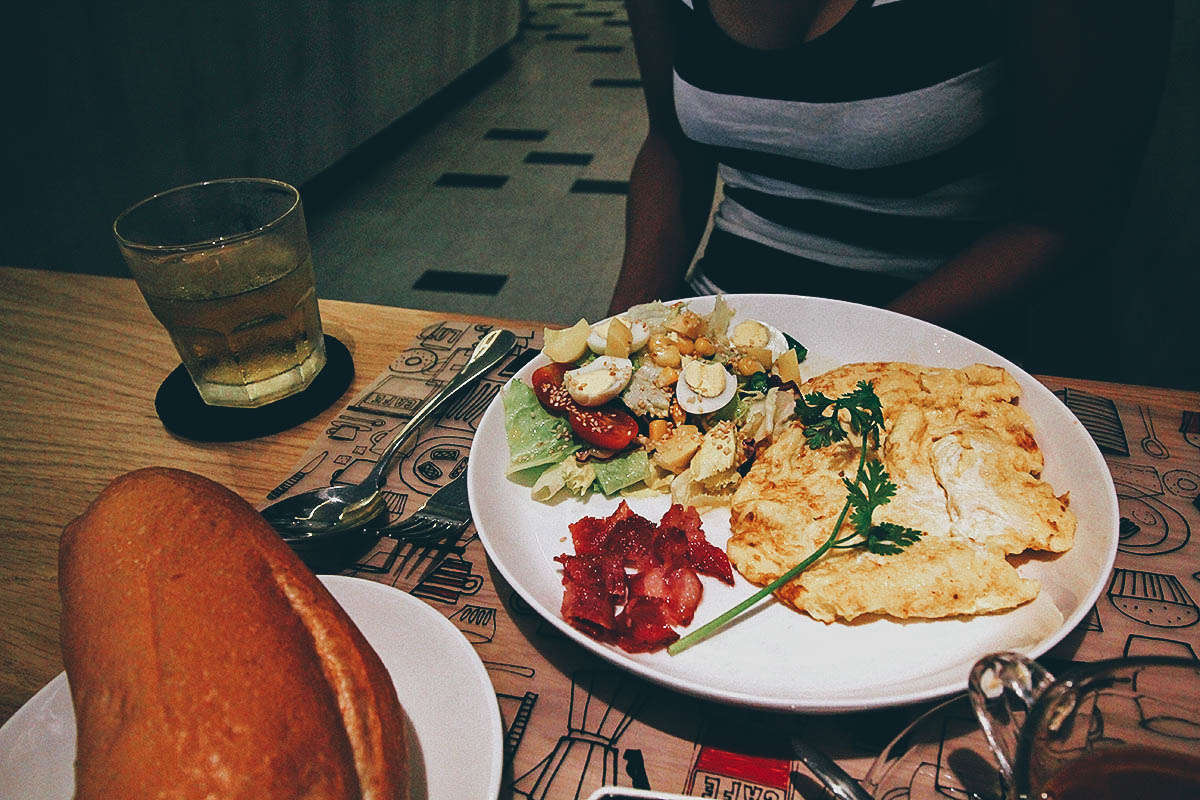 We had a fantastic stay at M2C+ Cafe. The room was great, breakfast was delicious, rates were reasonable, and the cafe was centrally located. It was walking distance to many notable places in Saigon. On top of that, Reynan was a terrific host. She really went out of her way to make us feel comfortable, even warning us about traffic en route to the airport on the day we were leaving.
But with M2C+ being a cafe, there was one thing we didn't anticipate – closing hours. They would shutter the front door sometime after 10PM and reopen at 7:30AM the next morning. No staff member stays in the building at night, so if you wanted to get in or out during off hours, then you needed to contact Reynan so she could have someone open the front gate for you.
Ren and I are early sleepers so we never had to worry about that, but I did become concerned the morning of my Cu Chi Tunnels tour. I was supposed to be picked up between 8-8:30AM on a Saturday morning so I started to worry when no one from Reynan's staff was there at 7:30AM. Thankfully, the first staff member arrived shortly after to let me out and I didn't miss my tour. But this may be a problem (or at least an inconvenience) if you're a partier or an early riser. If that's the case, then it may be better for everyone if you stayed in a traditional hotel. But if you're like us and are pretty much active only between 7:30AM and 10PM, then M2C+ Cafe is a great place to stay in Saigon.
If you'd like to book a room at M2C+ cafe, then you can do so through AirBnB. If you'd rather book at an actual hotel, then you can search through Booking.com and Agoda. Prices often vary so be sure to check both sites to find the best deal.
M2C+ cafe, Ho Chi Minh City, Vietnam
230 Nguyen Thi Minh Khai Street, District 3, Ho Chi Minh City, Vietnam
Tel: +84 8 3930 2886
Website: m2ccafe.com
Instagram: m2ccafe
Email: [email protected]
Approximate Room Rate: Around USD 38 per night (as of April 2017, with breakfast)
HOW TO GET THERE:
Regardless of how you arrive in Saigon, the best way to get to M2C+ Cafe is by Uber or Grab. They're efficient and inexpensive. When you make a booking through AirBnB, the owners will send you instructions in Vietnamese which you can show your driver.
MAKE A RESERVATION: AirBnB | Booking.com | Agoda
Disclosure
Some of the links in this post are affiliate links, meaning we'll get a small commission if you make a purchase at NO extra cost to you. We really appreciate your support as it helps us keep this website going. Thank you!