NOTICE: Some of the information on this website may have changed due to the current global situation. It's important to check with the proper authorities for the latest updates on travel restrictions and requirements.
DISCLOSURE: Some of our articles may contain affiliate links or sponsorships (disclosed at the bottom). You can refer to our terms of use for more information.
What an absolute gem this hotel turned out to be.
We were staying in Fukuoka for just one night before flying out to Sapporo the next morning, so we needed to find a hotel that was cheap and close to the airport. I found Hotel Sunline on Booking.com by doing a search for hotels "close to the airport". It's about a 10-minute walk from Hakata Station – Fukuoka's central train and bus station – and just two stops away from Fukuoka airport. When I booked it, I paid JPY 5,580 a night which at the time was less than USD 50.
At that price in Japan, I wasn't expecting much but I was in for a surprise. Have a look.
Hotel Sunline Fukuoka Hakata Ekimae
As soon as we saw the hotel, I knew we stumbled upon a great deal. This place was way nicer than I expected! I think it may have been a business hotel.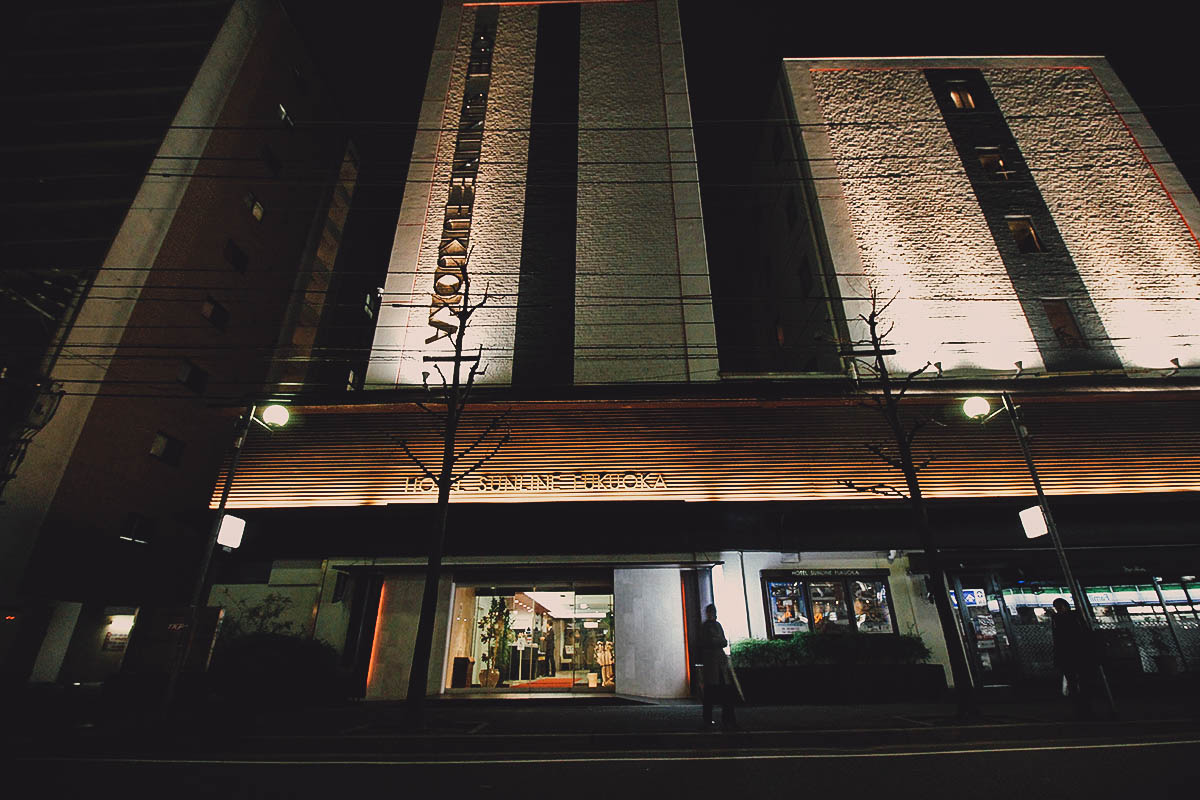 We flew back to Fukuoka after a week in Sapporo and booked another night at a different hotel. I do that to give myself more hotels to write about for this blog. We paid USD 63 for a private room at a hostel but it was nowhere near as nice as this place! On top of that, it was farther away from Hakata Station too. I should have just booked another night here. 😆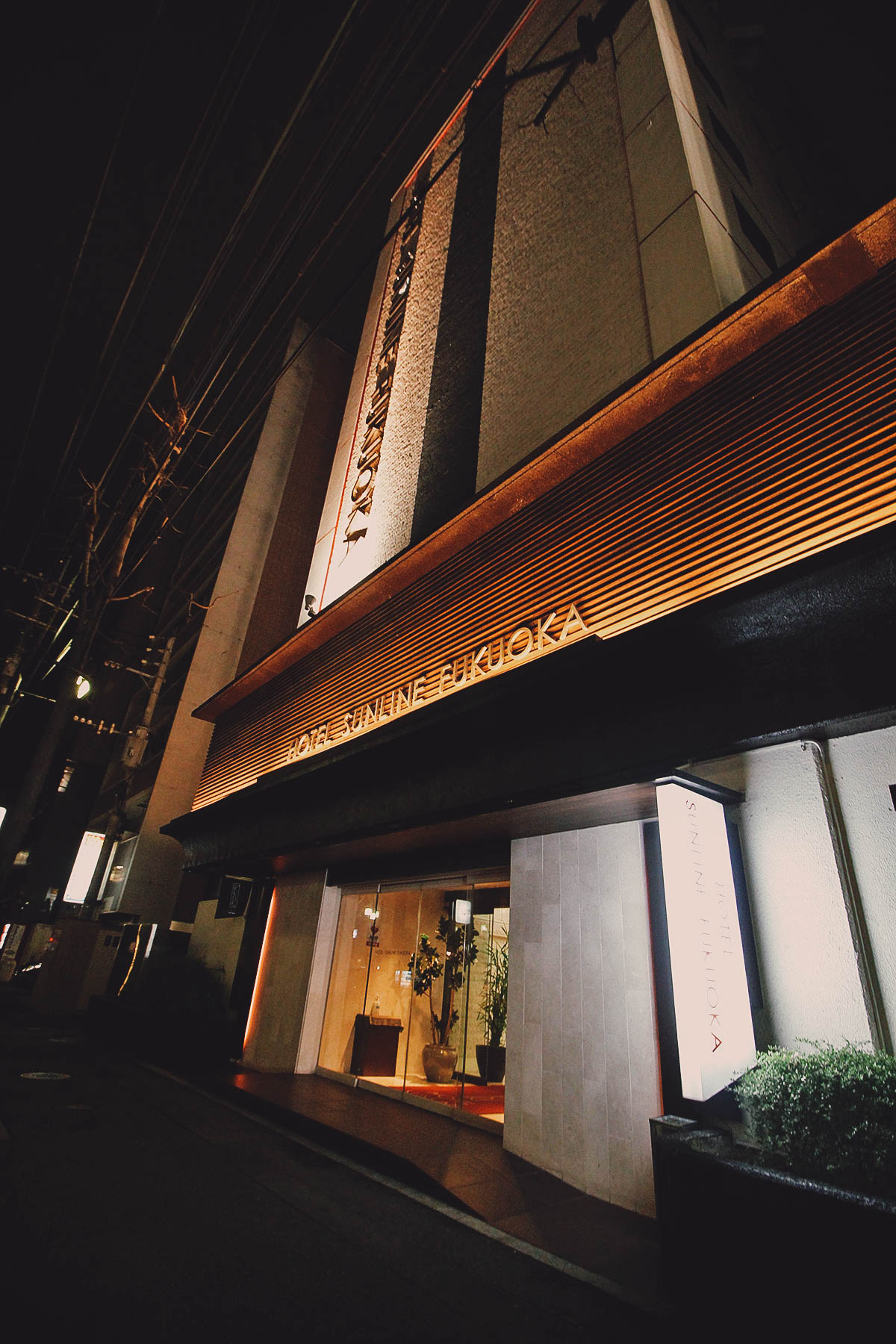 The hotel lobby. We had an early flight the next morning so I didn't get a meal option with our room, but you can get breakfast for JPY 1,100. I think that price is already for two people.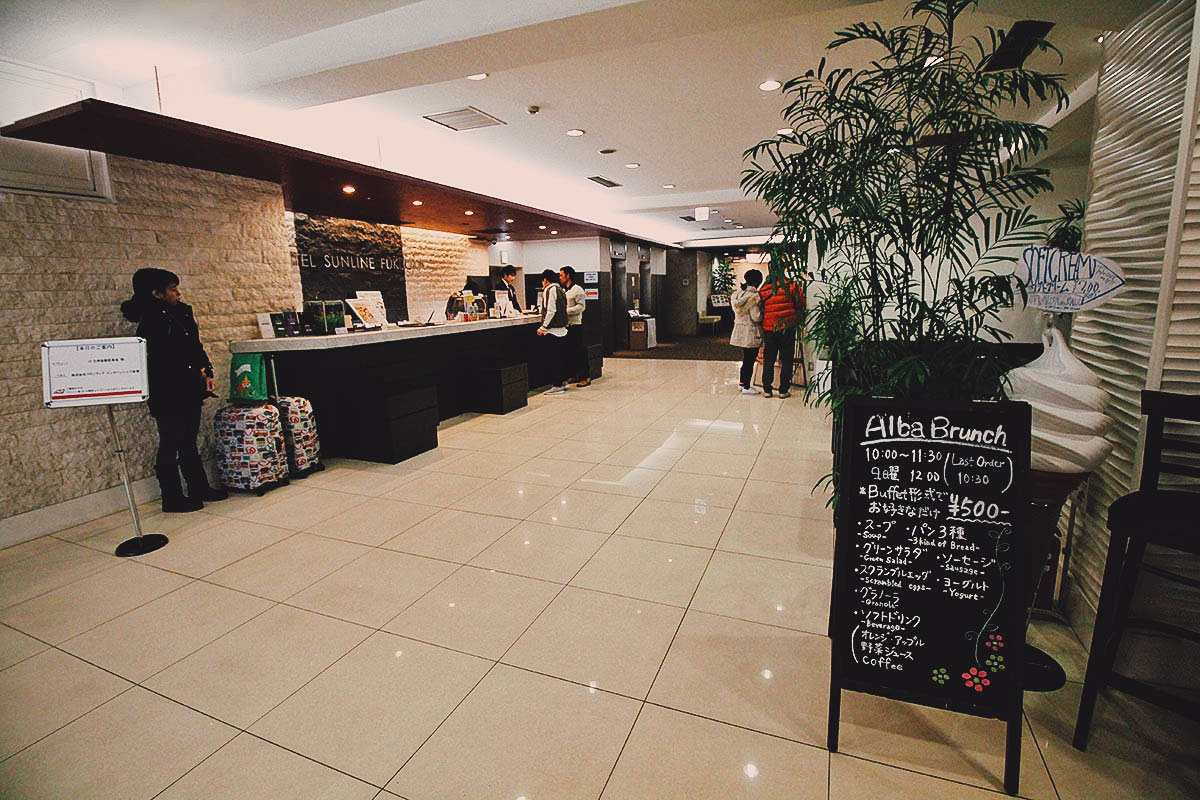 I think this was a restaurant/bar?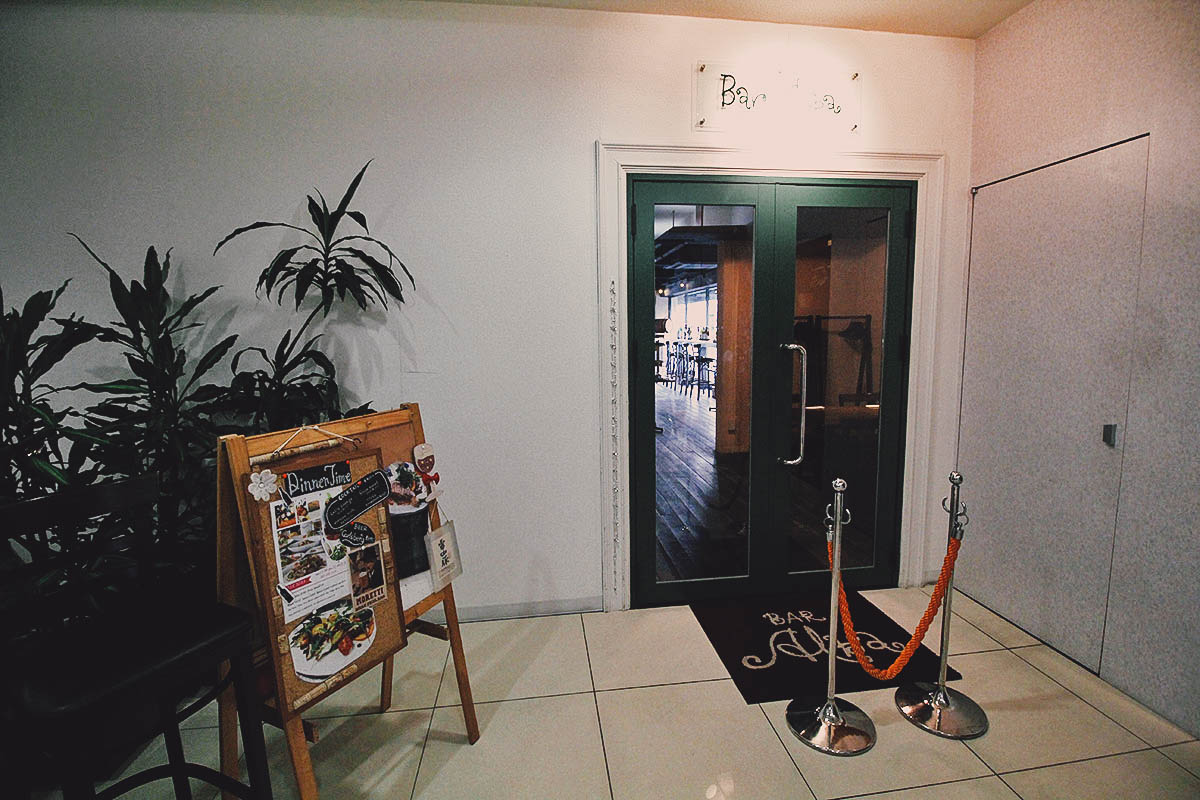 By the elevators are these free amenities like shaving kits, cotton swabs, etc. You just grab whatever you need and go. Pretty cool eh? Just don't be a dick and start pocketing more than you need during your stay. 😡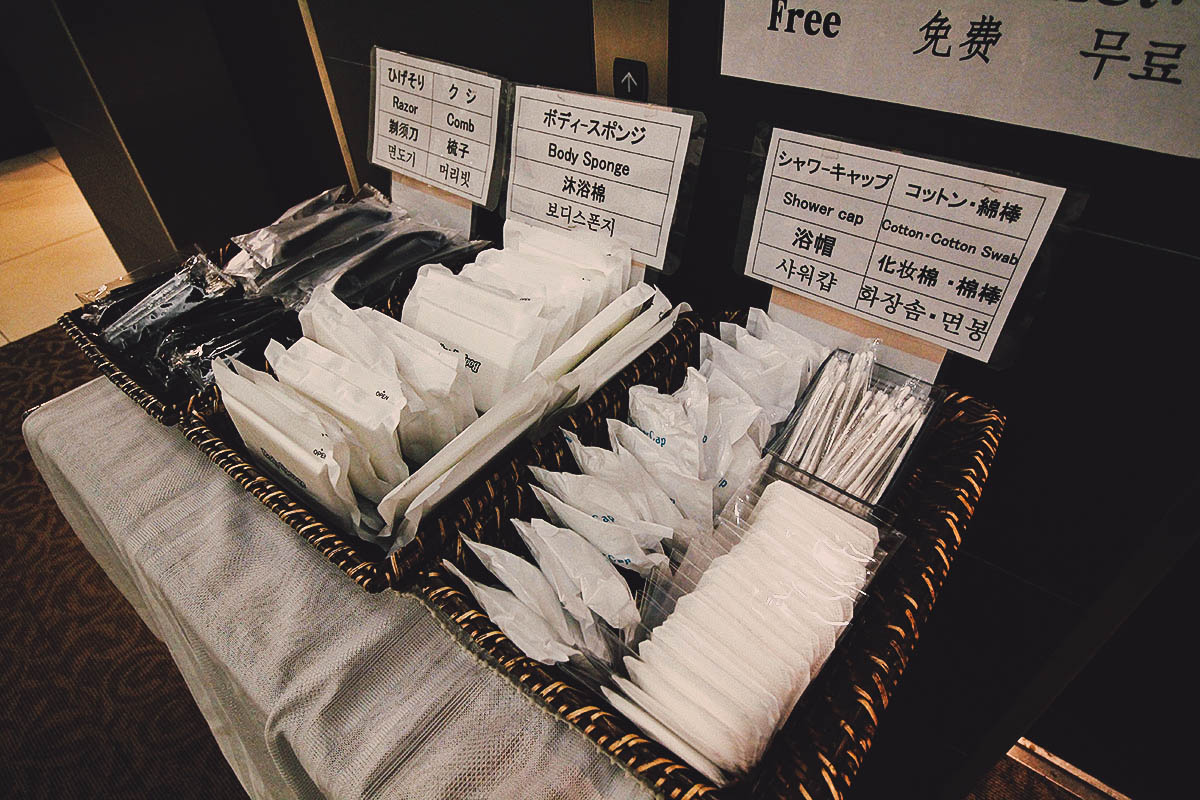 Here's our room. It's small, but this is pretty much what you can expect in Japan. Pretty sweet for less than fifty bucks right?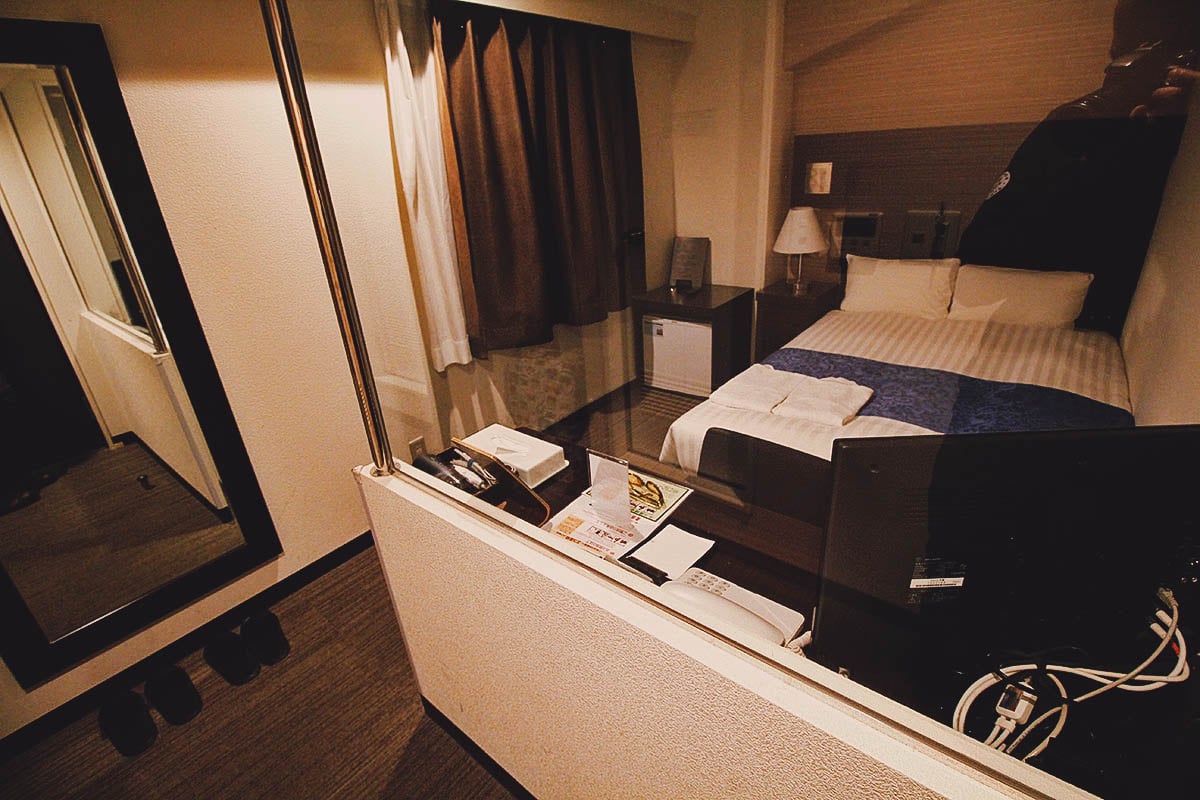 There's a glass partition in case you want to do some sexy dancing while your partner or spouse is in bed. Ren gave me a few yen for my routine. 😆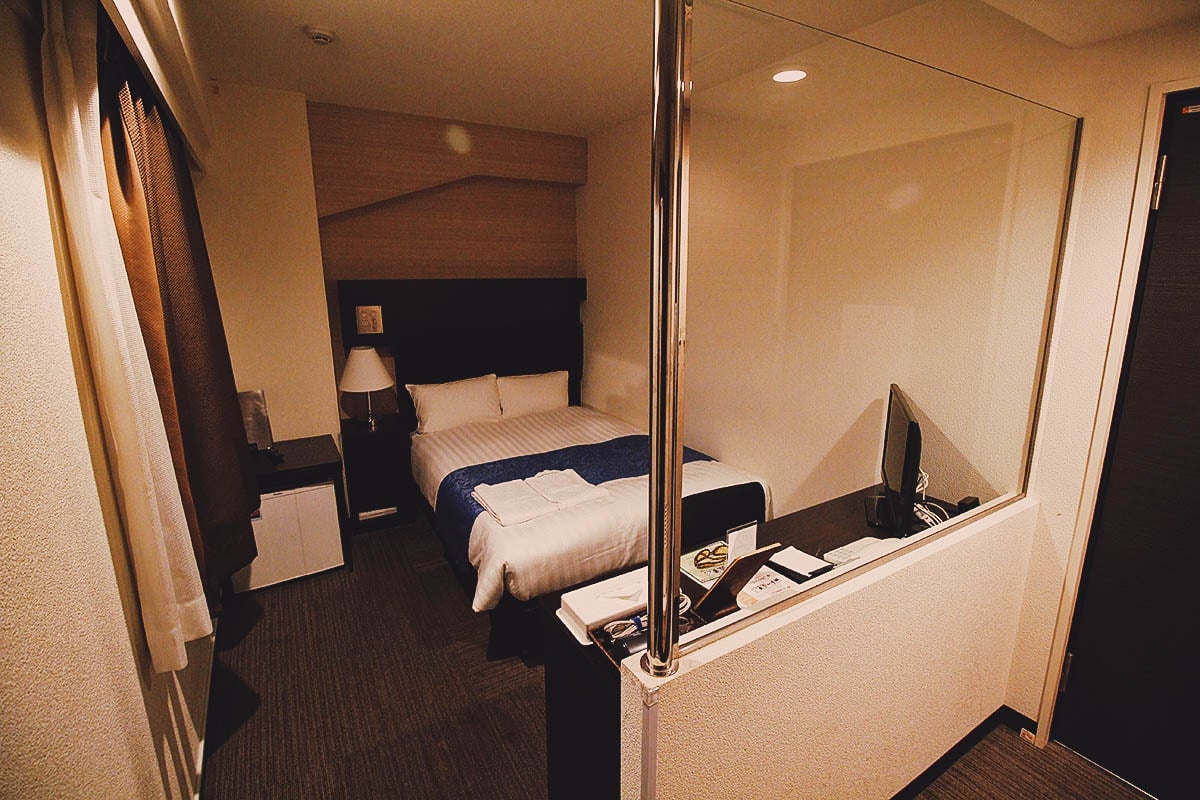 In-room refrigerators are always a welcome sight. Ren and I like to drink but going out every night can get expensive. Instead, we buy beers at convenience stores and drink them in our room. Conveniently, there's a Family Mart directly across the street from the hotel. I love this place!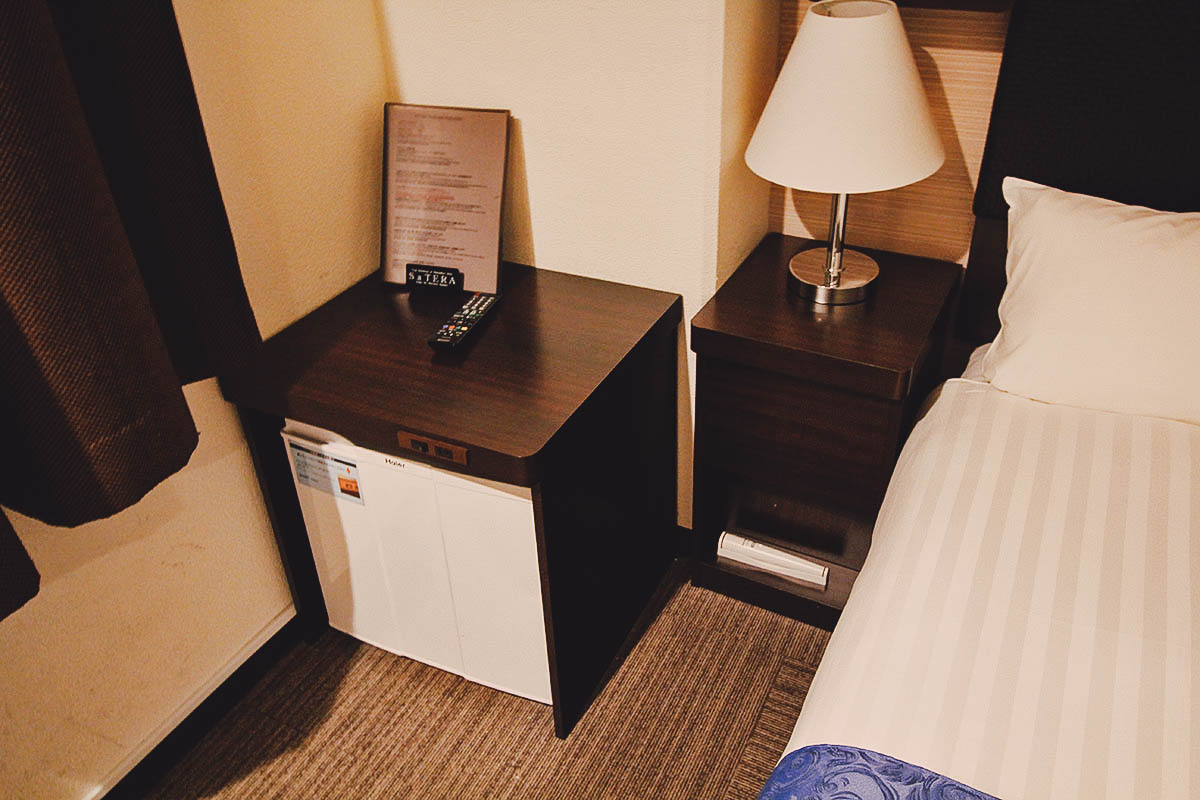 Workstation with flat screen TV. There's a blowdryer and hot pot as well.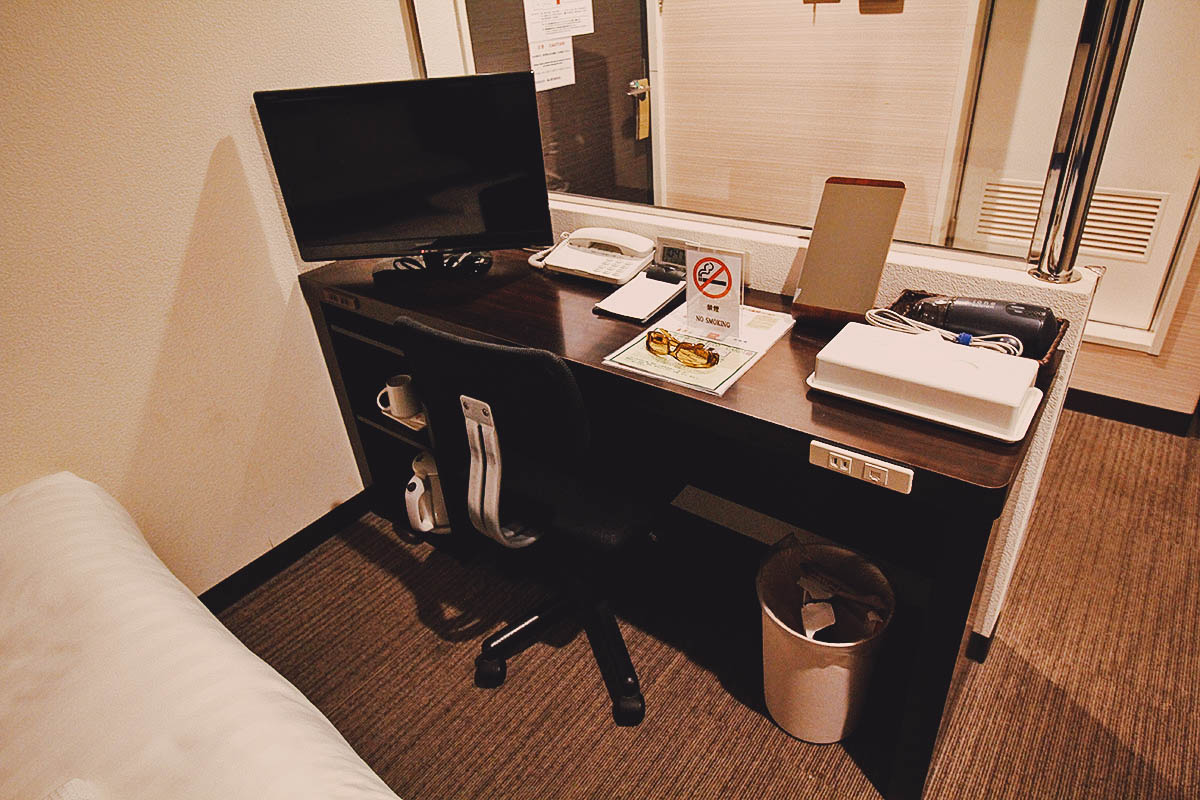 A little nook to hang our coats and store our luggage. Peace and love man. ♥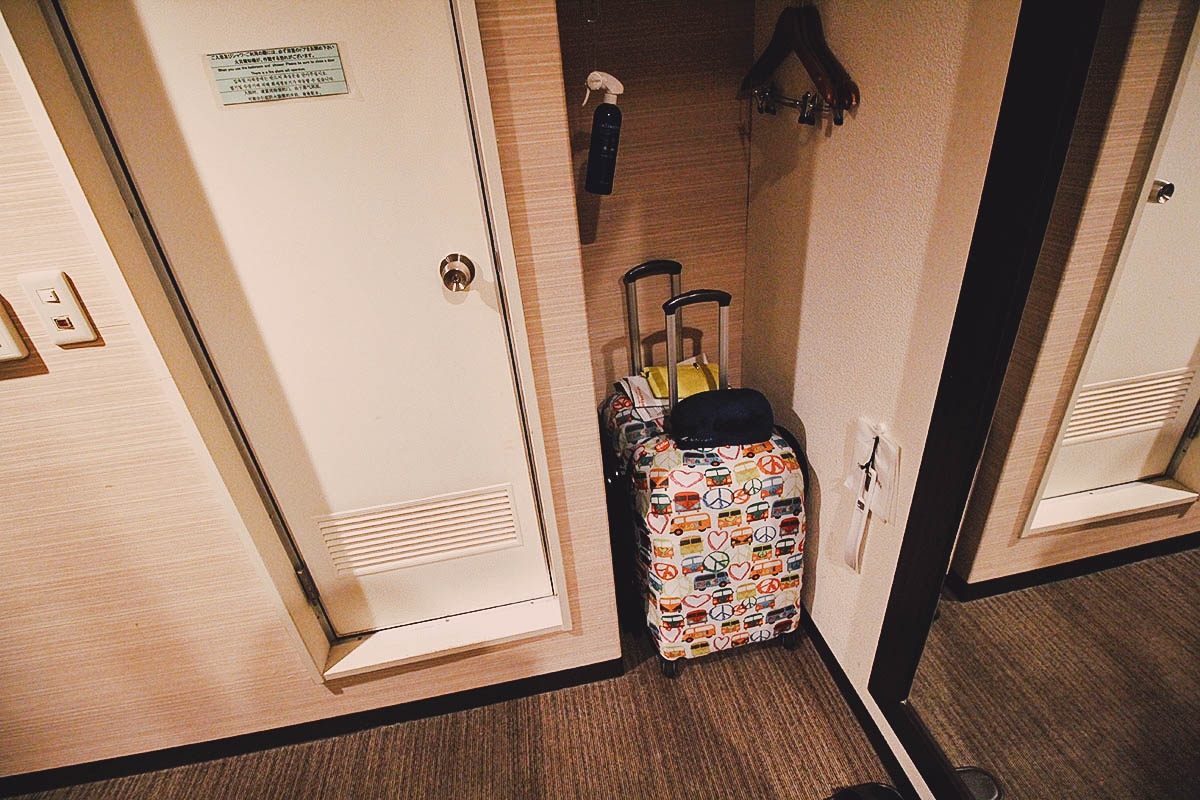 Bathroom with awesome Japanese toilet. Japan is without a doubt the absolute best place in the world to relieve yourself. 🙂

"The Amenity" – it sounds so exclusive! 😆 Ren LOVED how they use Shiseido bath products here.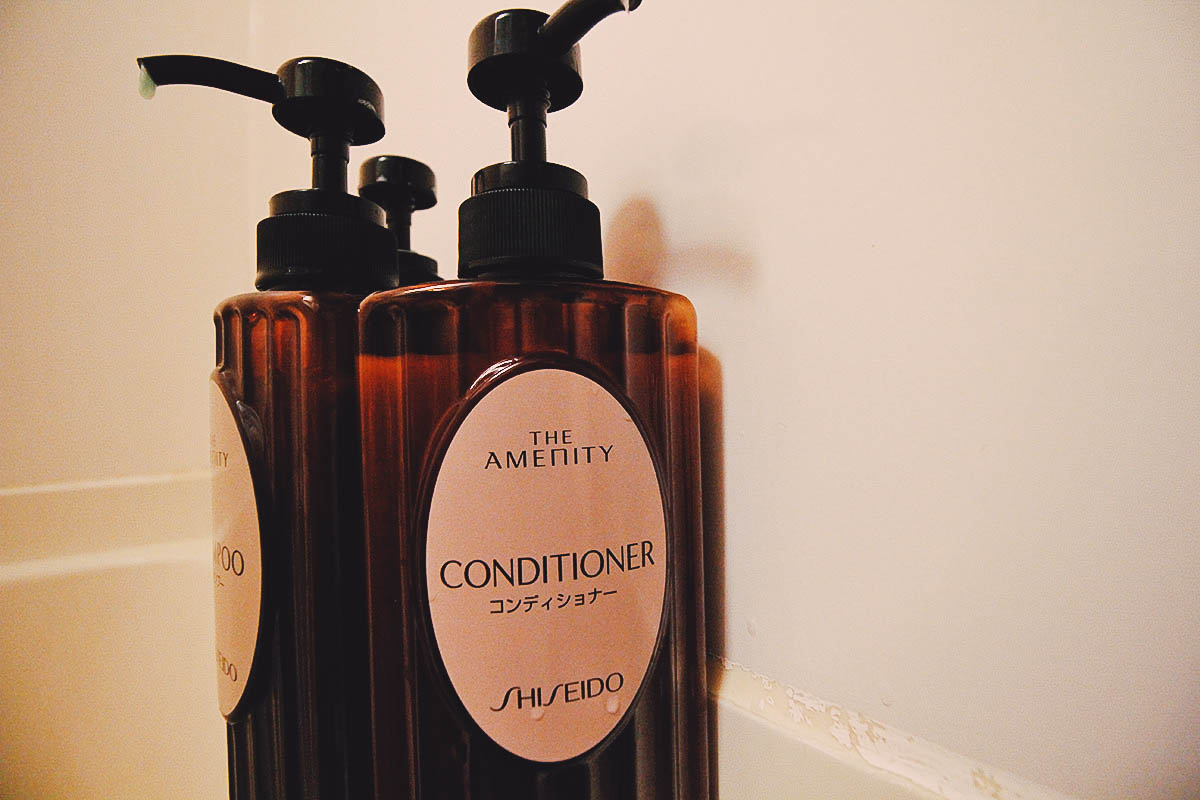 As you can tell, we were super happy with this hotel. It's one of the best deals we've gotten so far on our travels. If you're visiting Fukuoka and need a conveniently located hotel in the city, then Hotel Sunline Fukuoka Hakata Ekimae is an excellent choice. Take note of the exact name. They have another branch in Fukuoka called Hotel Sunline Fukuoka Ohori which is a little farther away from the airport.
It's important to note that we got a good deal on this room probably because we made reservations so early. We booked it way back in September for a stay in February. So if you can, make reservations as soon as you have your dates set. Booking.com and Agoda usually allow free cancellation anyway so you have nothing to lose.
If you'd like to make a reservation at Hotel Sunline Fukuoka Hakata Ekimae, then you can do so through Booking.com or Agoda. Prices often vary so be sure to check both sites to find the best deal. You can browse through those links for other listings in Fukuoka as well.
Hotel Sunline Fukuoka Hakata Ekimae, Fukuoka, Japan
812-0011, Fukuoka, Hakata, Hakata-ku Hakataekimae 4-11-18
Tel: +81 9-2409-2121
Website: h-sunline.co.jp/hakataekimae
Approximate Room rate: JPY 5,580 per night (as of February 2017, without breakfast)
HOW TO GET THERE:
Take the subway to Hakata Station. Before exiting the station, go to the information desk and ask which exit you should take to go to Hotel Sunline Fukuoka Hakata Ekimae. Hakata Station is big so it's hard to tell which way to go. CLICK HERE for a map and walking directions to the hotel.
MAKE A RESERVATION: Booking.com | Agoda
Disclosure
Some of the links in this post are affiliate links, meaning we'll get a small commission if you make a purchase at NO extra cost to you. We really appreciate your support as it helps us keep this website going. Thank you!