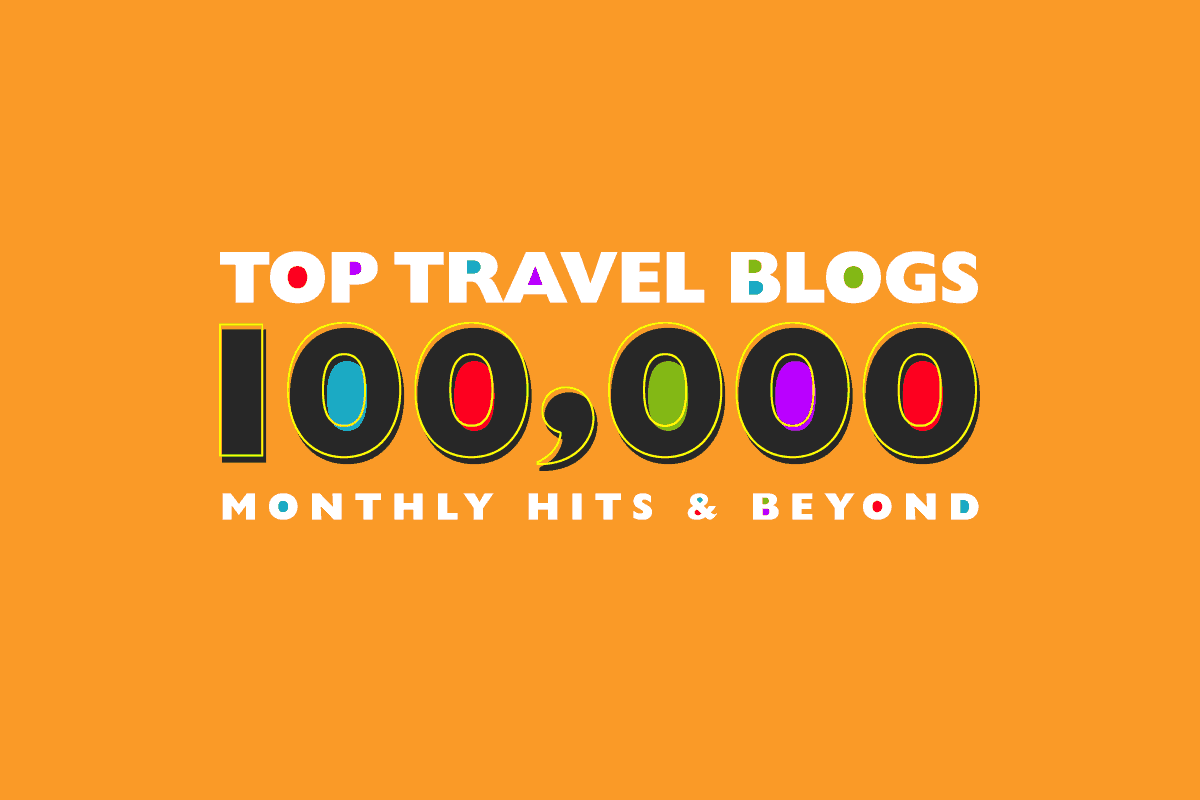 Top Travel Blogs: 100,000 Monthly Hits and Beyond
NOTICE: Your health and safety come first. Please adhere to the WHO recommendations and avoid any non-essential travel at this time. If travel is unavoidable for you, then please refer to these advisories on COVID-19 coverage from our friends at World Nomads and SafetyWing. Please be advised that all information on this website is for travel pre-COVID-19. We'll update the information soon as new travel guidelines become clearer.
DISCLOSURE: Some of our articles contain affiliate links. The ones that do will have a disclosure statement at the bottom. You can refer to our privacy policy and terms of use for more information.
A few years ago, I was doing research on blog advertising rates when I came across this article from Yaro Starak. He cited 100,000 monthly pageviews as the first real milestone which qualified your blog for the "big leagues". According to him, reaching that level of monthly traffic would get the attention of brand buyers – companies that wanted brand awareness more than just raw clicks.
That number stuck in my mind and it was something I worked hard to achieve. Success is relative but for me, 100,000 seemed like a nice round number to shoot for, a milestone that validated all the effort and told me "Hey, you're finally doing something right with your blog. You should keep going." I'm sure anyone who's persevered through the frustrations of a blog can relate.
Whether you started your travel blog as a business or for personal enjoyment, I think that 100,000 monthly pageviews is indeed a good first milestone to aim for. It's difficult to reach and even harder to maintain, which is why I've decided to start this list of travel blogs that receive at least 100,000 total visits a month as measured by SimilarWeb and Google Analytics.
What is the Purpose of This List?
I created this list for two reasons – one, to recognize the most visited travel blogs on the internet, and two, to help create more transparency on the web.
Recognize the Top Travel Blogs
At the end of the day, we bloggers want one thing more than anything – traffic. It's arguably the one thing that can best validate your success as a blogger. For one, higher traffic brings more opportunities and sponsorships. But even if you aren't doing it for the money, what's the point in keeping a public blog if no one's reading it? It's why we embed Google Analytics into our blogs and monitor it religiously, to gauge how many eyeballs are landing on our pages.
Personally, having a list of the most visited travel blogs gives me motivation. It makes me want to work harder to get more traffic and climb higher up the rankings. I think most bloggers are the same way, which is why it's nice to have a fair, objective list to use as a measuring stick.
Speaking of objectivity, this is by no means a list of the "best" travel blogs on the web. There are terrific travel blogs out there that aren't getting as much traffic. This is a purely objective list based on quantifiable, publicly accessible data. There is no bias or personal preference here.
Create More Transparency
Check an influencer's Instagram account, and you'll see exactly how many followers they have. Same with Facebook and Twitter. Because they give you precise numbers and publicly show levels of engagement, potential sponsors have a pretty good idea of what type of return on investment they can expect from a social media influencer.
Not so with blogs. Sure, there are tools like trafficestimate and SimilarWeb that offer estimates on a website's traffic. But any blog owner who uses these tools to check their own traffic know how off they can sometimes be. They can only guess how much traffic a website is getting, so on some months, those estimates can be off by tens of thousands of hits.
This is why I wanted to create a list with publicly verifiable data, so potential sponsors can check exactly how much traffic a website gets. If they can do that with social media influencers, then they should be able to do that with blogs. You can learn how to publicly verify your blog traffic in the How Do I Get on This List section of this post.
Travel Blogs with 100,000+ Monthly Visits
So without further ado, here are the travel blogs that get at least 100,000 visitors a month. They're listed in order – starting with the blog that gets the most monthly traffic – based on SimilarWeb's (SW) data.
There are a couple of things to understand about this list. One, it doesn't include all travel blogs that get 100,000+ monthly visits. It only includes travel blogs that get 100,000+ visits AND have linked SimilarWeb to their Google Analytics account (that I know of), making the data accurate and publicly verifiable. As described, you can learn how to do that in the How Do I Get on This List section of this post.
Two, the "Total Visits" metric in SimilarWeb displays Google Analytics "Sessions" and not "Pageviews". You can follow this link to learn the difference between sessions and pageviews. Anyone familiar with Google Analytics knows that pageviews are always greater than sessions, so having 100,000+ sessions means that you're definitely getting well over 100,000+ pageviews.
March 2020
Travel Blog
Total Visits
Links
1. Seth Lui
1,349,726
Site

/

SW
2. Daniel Food Diary
1,272,148
Site

/

SW
3. God Save the Points
1,056,666
Site

/

SW
4. Miss Tam Chiak
772,576
Site

/

SW
5. The Poor Traveler
709,149
Site

/

SW
6. Travel Codex
438,914
Site

/

SW
7. Out of Town Blog
429,334
Site

/

SW
8. Swedish Nomad
388,739
Site

/

SW
9. Bucket List Journey
359,927
Site

/

SW
10. Expert Vagabond
321,134
Site

/

SW
11. The Planet D
318,041
Site

/

SW
12. Atlas and Boots
213,691
Site

/

SW
13. Local Adventurer
200,760
Site

/

SW
14. Adventure in You
163,721
Site

/

SW
15. Detourista
154,542
Site

/

SW
16. Y Travel Blog
154,413
Site

/

SW
17. Nomadic Boys
149,022
Site

/

SW
18. La Jolla Mom
148,608
Site

/

SW
19. I Am Aileen
132,800
Site

/

SW
20. The Travel Intern
126,344
Site

/

SW
21. Escape Manila
125,103
Site

/

SW
22. Along Dusty Roads
121,500
Site

/

SW
23. Alvinology
120,180
Site

/

SW
24. Pinoy Adventurista
107,020
Site

/

SW
25. Lakwatsero
100,614
Site

/

SW
I compiled this list by going through these directories from The Expeditioner, Expert Vagabond, and Everything Everywhere. To my surprise, only a small percentage of travel bloggers have linked SimilarWeb to their Google Analytics data. In my opinion, transparency is always a good thing so I hope more people verify their data.
I'll be updating this list around the 15th of every month. I noticed that the data tends to fluctuate a bit at the start of the month before stabilizing. Any fluctuations after the middle of the month are minimal and mostly inconsequential.
Any blog whose traffic falls below 100,000 pageviews or unlinks their data will be removed. If you own a travel blog that's getting 100,000+ monthly pageviews, then we'd love to include you on this list. Here's how.
How Do I Get on This List?
1. To be included on this list, you'll need to have a travel-focused blog that's getting 100,000+ pageviews a month. It doesn't matter what your niche is. Whether it's food, adventure, deals, news, budget, or photography, as long as it's primarily within the context of travel, then you're eligible to be on the list.
2. If you're eligible, then go to SimilarWeb to verify your data if you haven't already. Type in your travel blog's URL in the form field.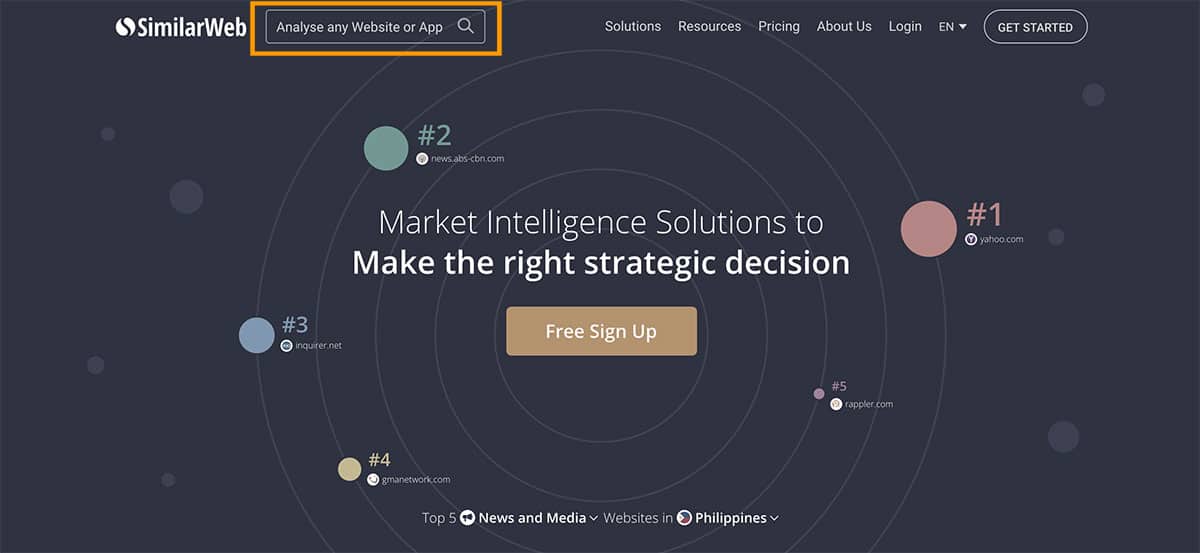 3. Scroll down to the Traffic Overview section. On the right side of the page, you'll find a link that says "Verify Your Website." Click on that to connect Google Analytics to verify your data.


4. After you've verified your data, let us know via the form below so we can promptly add you to the list. That's it!
*All fields required. You must tick the consent box to submit the form.
On Connecting SimilarWeb with Google Analytics
Some bloggers may be uncomfortable with verifying their SimilarWeb data with Google Analytics, which is a valid concern. After all, Google Analytics stores a lot of sensitive data, information which we may not want to share with the rest of the world.
But to be clear, verifying your data will only make public the following information:
Pages / Visit
Avg. Visit Duration
Bounce Rate
Monthly Unique Visitors
Visits Per Unique Visitor
That's it. No other data will be revealed. I contacted SimilarWeb to verify this and they did. You can check their Help Center as well for more information.
Thanks for reading guys and we hope to see your travel blog soon on this list. Happy travels and best of luck on your blog!