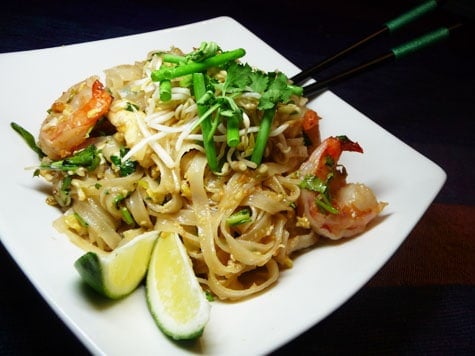 Who doesn't like pad thai? The combination of that subtly sweet flavor with the chewiness of the flat noodles…the crunchiness of the peanuts…the crispness of the green onions and bean sprouts…the succulence of the perfectly cooked shrimp…all drizzled with the sharp citrus-y flavors of lime? Man oh man are you hungry yet? 🙂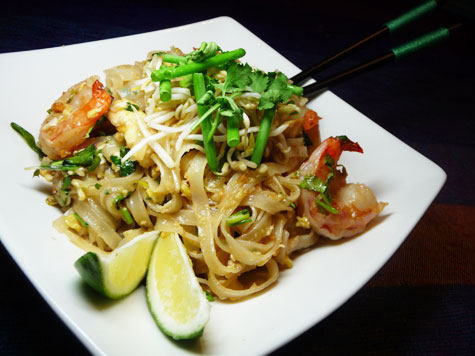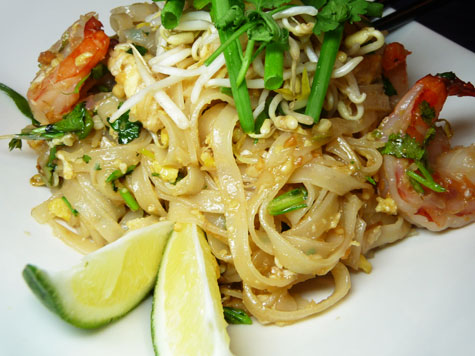 Shrimp Pad Thai
Ingredients (serves 2)
200 grams thin hofan/rice stick noodles
12 medium shrimp, shelled and deveined
1 shallot, finely chopped
4 cloves garlic, minced
1/3 cup extra firm tofu, cut into 1″ strips
1 egg
2 cups bean sprouts
1/8 tsp. ground white pepper
1 cup sliced green onions
1/2 cup fresh coriander/cilantro/wansoy
1/4 cup dry roasted peanuts, ground or chopped
2-3 Tbsps. oil for stir-frying (coconut, peanut, corn, sunflower, or canola are all good)
Wedges of lime for serving
FOR THE PAD THAI SAUCE:
3/4 Tbsp. tamarind paste
1/2 cup hot water
2 1/2 Tbsps. fish sauce
1-3 tsps. chili sauce (to taste), OR 1/2 to 1 tsp. dried crushed chili
3 Tbsps. palm sugar OR brown sugar
Directions
Soak noodles in warm water until a little soft. Drain and rinse, then set aside.
In a bowl, dissolve tamarind paste in hot water. Once dissolved, add other Pad Thai Sauce ingredients (fish sauce, chili, and brown sugar). Stir well to dissolve sugar, then set aside.
Warm a wok or large frying pan over medium-high heat. Add 2 Tbsps. oil and swirl around, then add shallots, garlic, and tofu, and stir-fry until tofu starts to brown a little.
Add shrimp. Stir-fry for 2-3 minutes, or until shrimp turns pink.
Make room in the center of the pan by pushing the ingredients aside. Add another 1 Tbsp. oil, then crack in the egg. Stir-fry to scramble.
Add drained noodles and drizzle pad thai sauce. Stir-fry noodles quickly to keep from sticking.
Add bean sprouts and continue stir-frying for 1 more minute, or until noodles are chewy and a little sticky.
Remove from heat and do a taste test, adding more fish sauce until desired taste is achieved.
Sprinkle white pepper, onion, coriander, and peanuts, and garnish with lime wedges. Toss one more time and serve.
DID YOU KNOW?
That Pad Thai was first made popular as a national dish in the 1930s and 40s in an effort to reduce rice consumption in Thailand?
The Thai economy at the time was heavily dependent on rice exports, so prime minister Luang Phibunsongkhram hoped to increase the amount of rice noodles available for export by launching a campaign to educate the poor in their production, as well as in the preparation of these noodles with other ingredients to sell in small cafes and street carts. Detailed instructions on how to make them as well as recipes were printed and distributed around the country. From these efforts, rice noodles became firmly rooted in Thai culture and have since become a widespread staple food.