Have you ever come across something you didn't know you wanted until you actually used it? For us, this was one of those things.
Ren and I share one suitcase when we travel so our clothes used to get pretty jumbled up. She'd neatly arrange our clothing only to find our suitcase turn into a twisted mess of silk and cotton upon arrival. We've since learned to keep our clothes separate using plastic bags. It isn't the most elegant or aesthetically pleasing solution but it works.
Thanks to this TUO from Origami Unicorn, which promises to help you stay organized when traveling, we may have found a way to level up our packing another notch.
Tuo Travel Organizer from Origami Unicorn
Our Signature Black TUO came in this handsome resealable sleeve. Everything about this organizer, from the packaging to the company logo, is fashionable designed.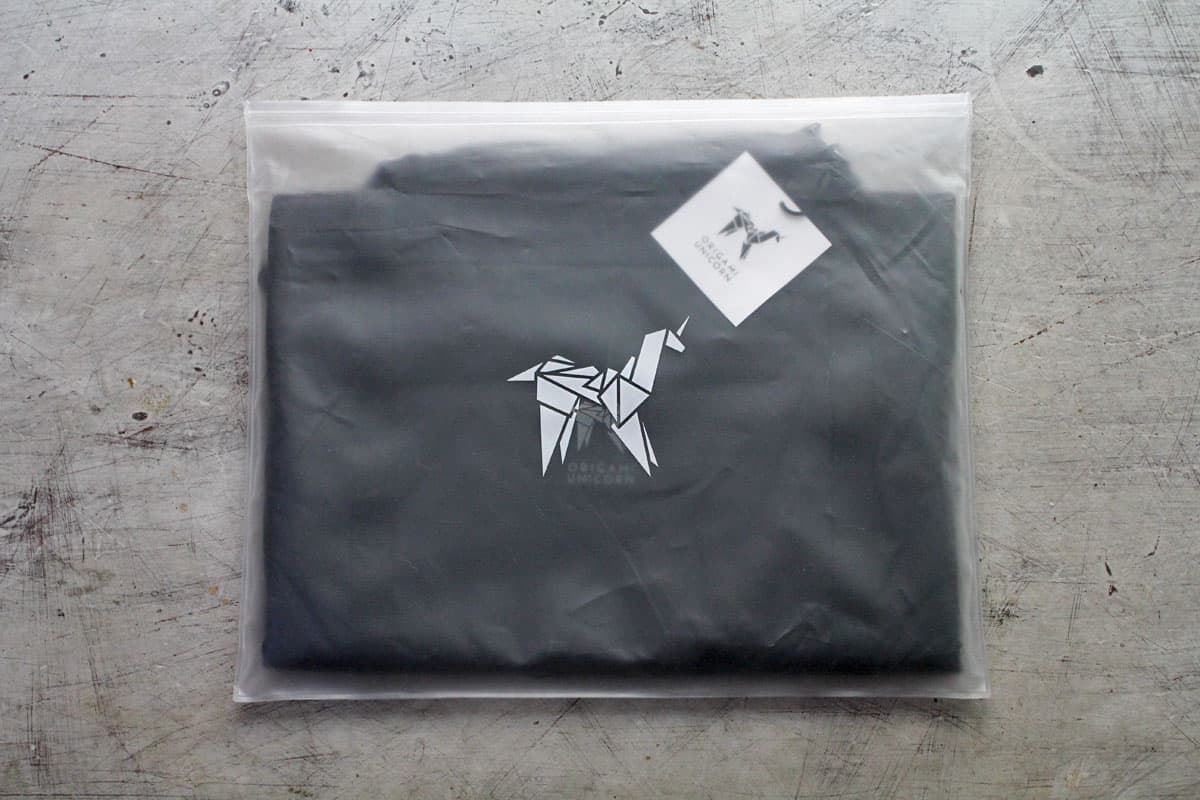 The TUO is made from water-resistant nylon fabric. Folded like this, it's about 9.5″ x 13.5″, a good fit for even small- to medium-sized luggage.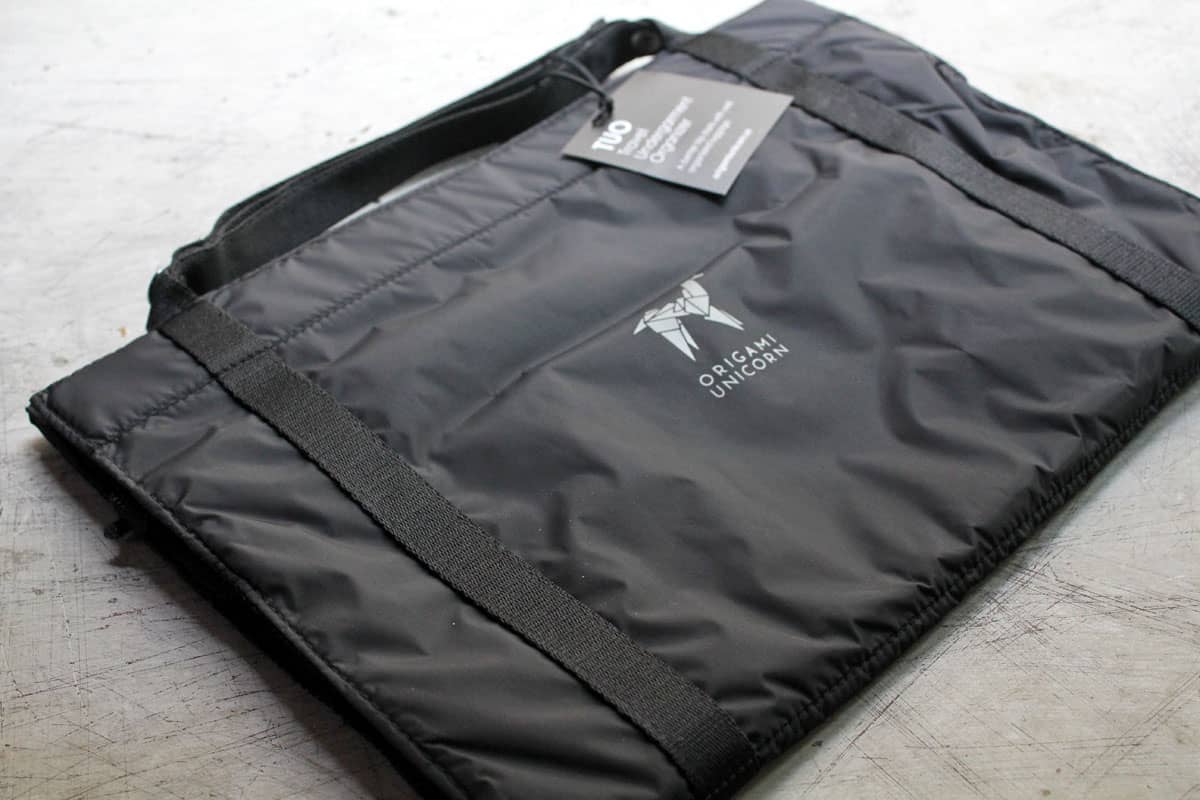 Sorry, I usually take all the pictures myself but I didn't have the resources for this one (like a light colored floor). I couldn't take the photos I wanted to give the TUO justice so I used a few from their media kit. Here's a nice flat lay image displaying the TUO with other items to be packed. That black drawstring bag in the lower left corner comes with the TUO and is meant to be used as a laundry bag.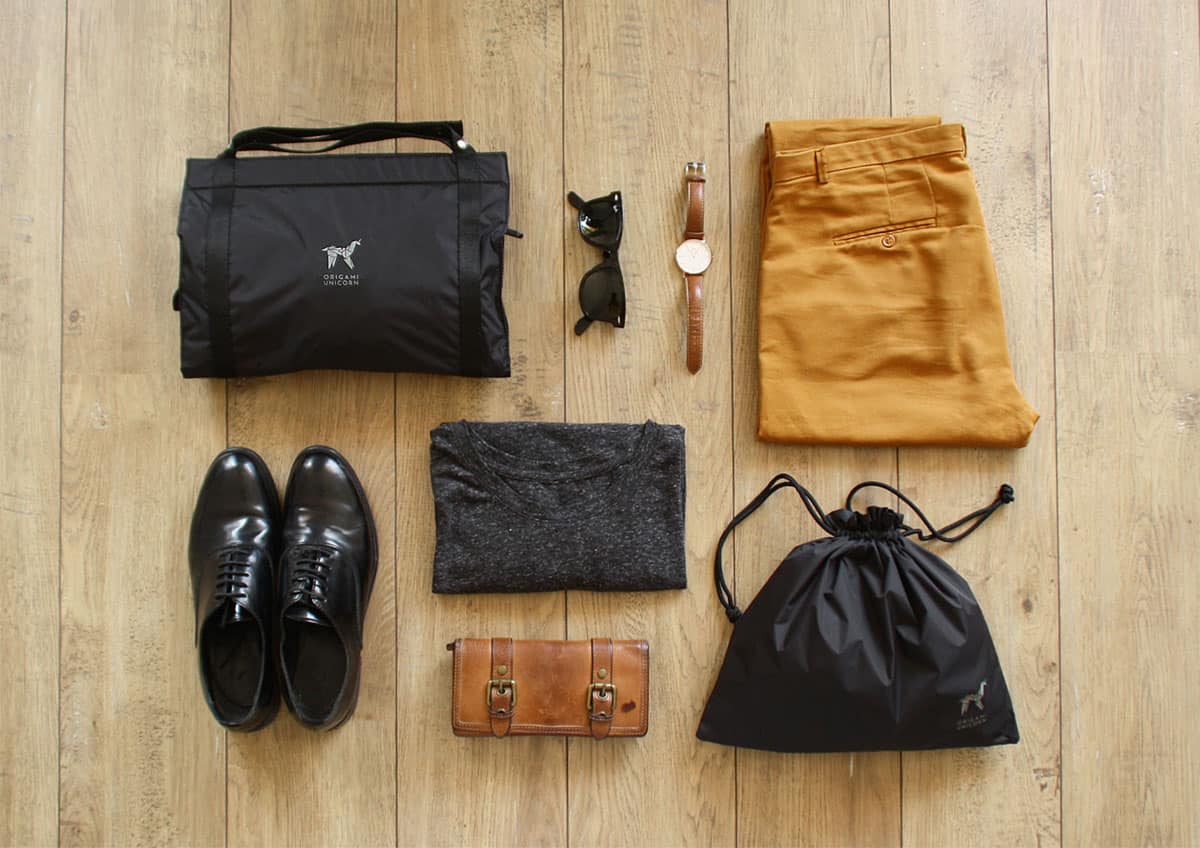 The TUO has 3 see-through mesh zipper pockets and 6 internal elastic pockets. It's meant to pack smaller articles of clothing like underwear, socks, belts, and ties.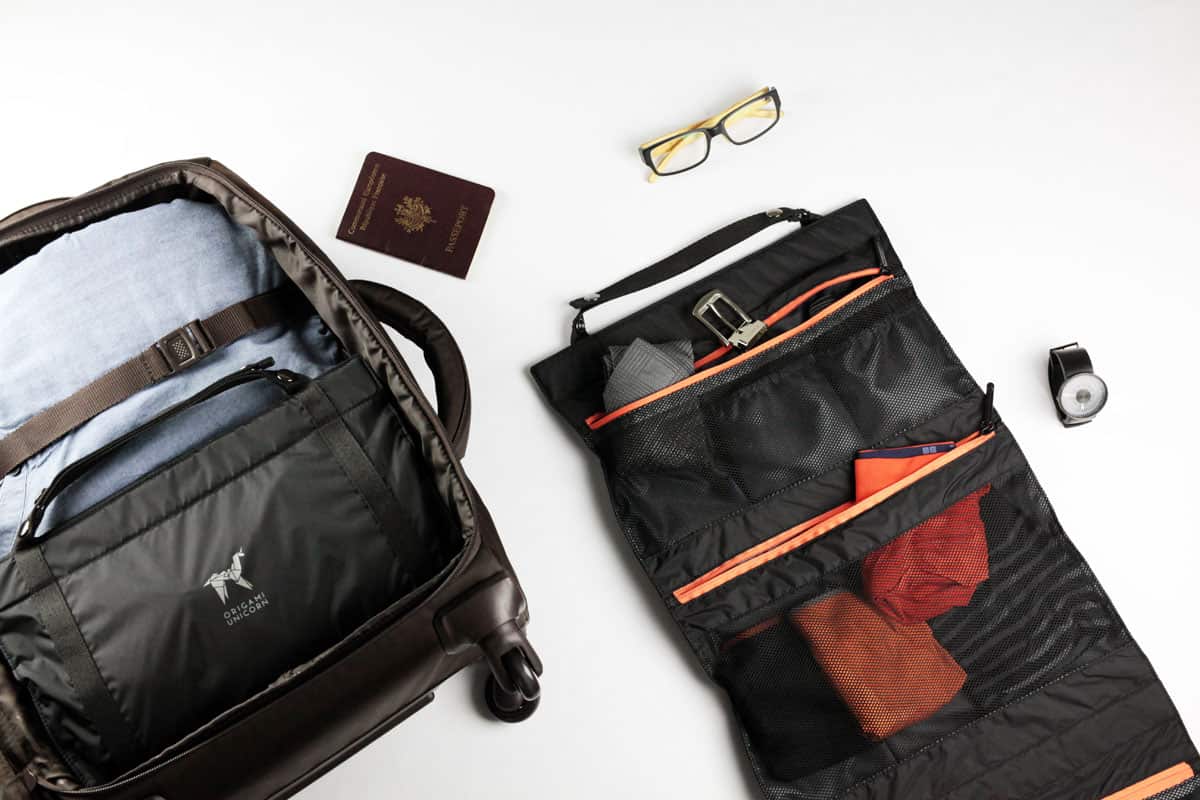 Another look at the drawstring bag. Though this is meant to be a small laundry bag, it worked great as a shoe case. Ren packed her extra pair of sandals in this.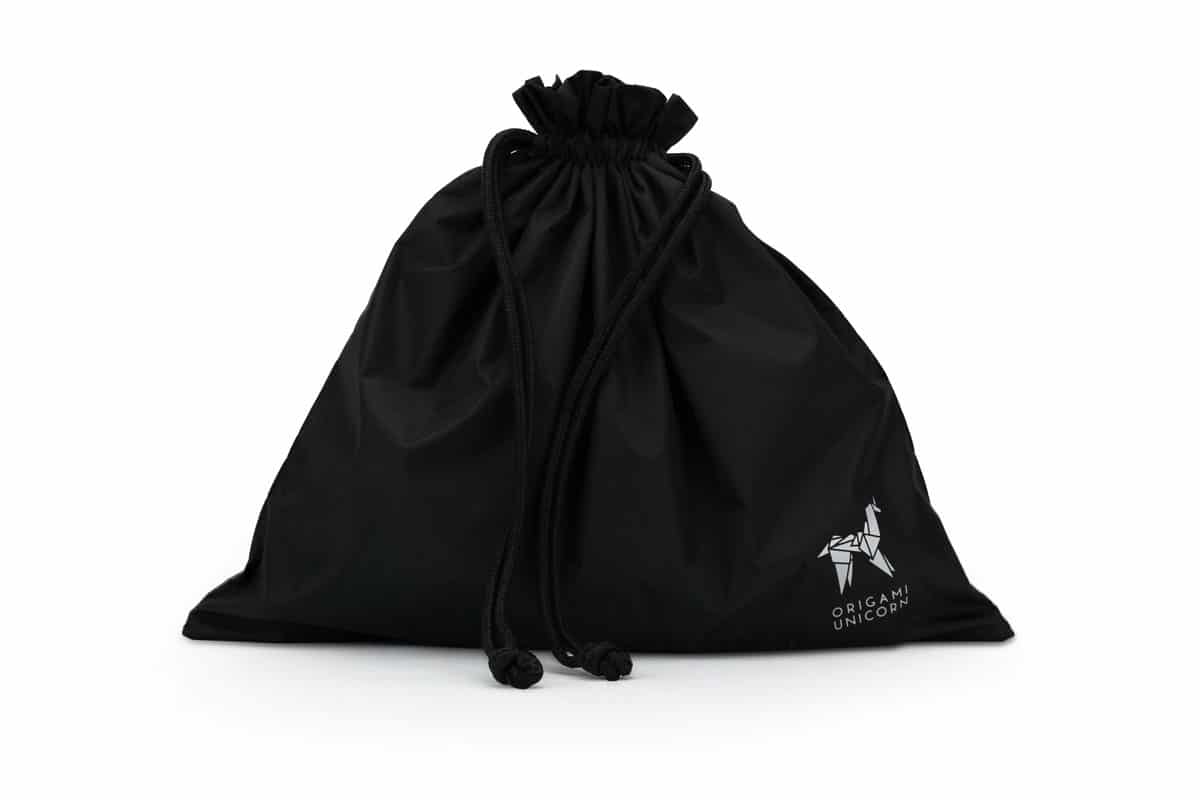 The TUO hanging in a bathroom. You can't tell from this picture but the handle is detachable to give you more hanging options.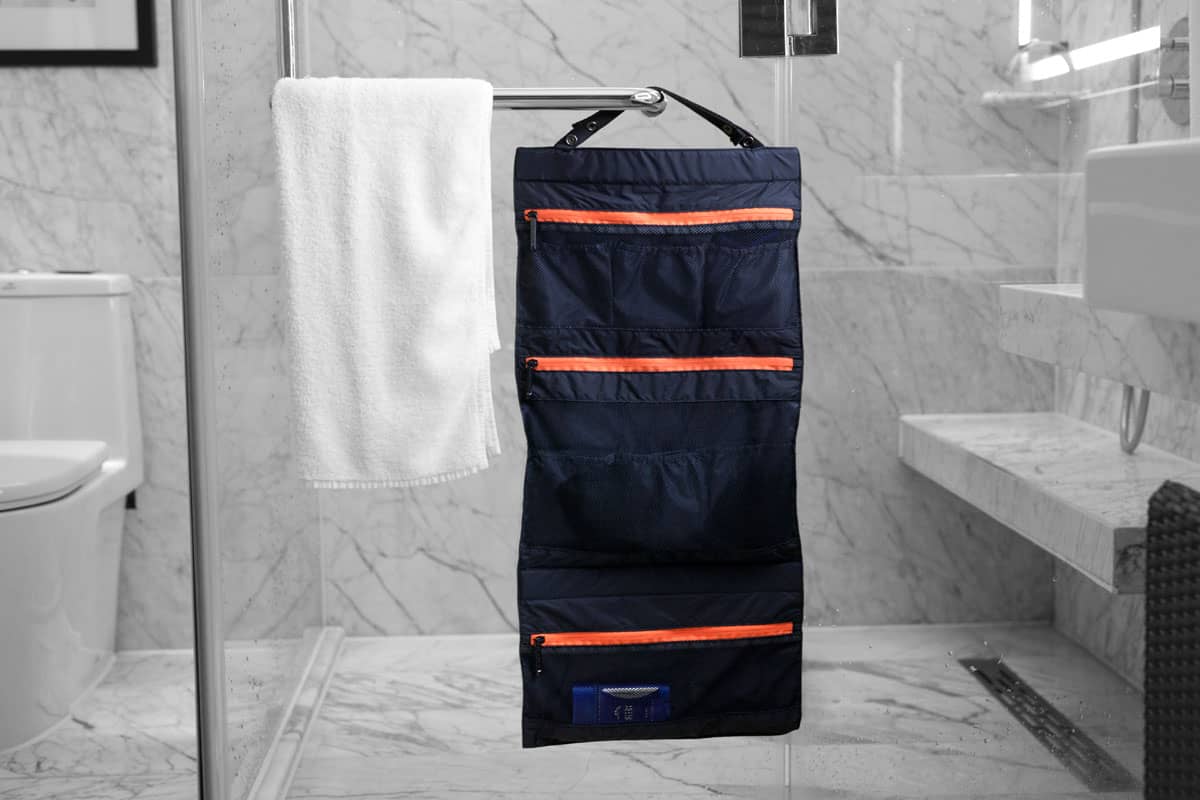 Here's a picture I took of our TUO hanging in our hotel room in Penang. Though Origami Unicorn doesn't seem to market it in that way, it's a great way to pack your toiletries and medicine as well. We used to have a separate toiletries case for all our sundries but the TUO has since eliminated that. Awesome!
You can check out the designs HERE.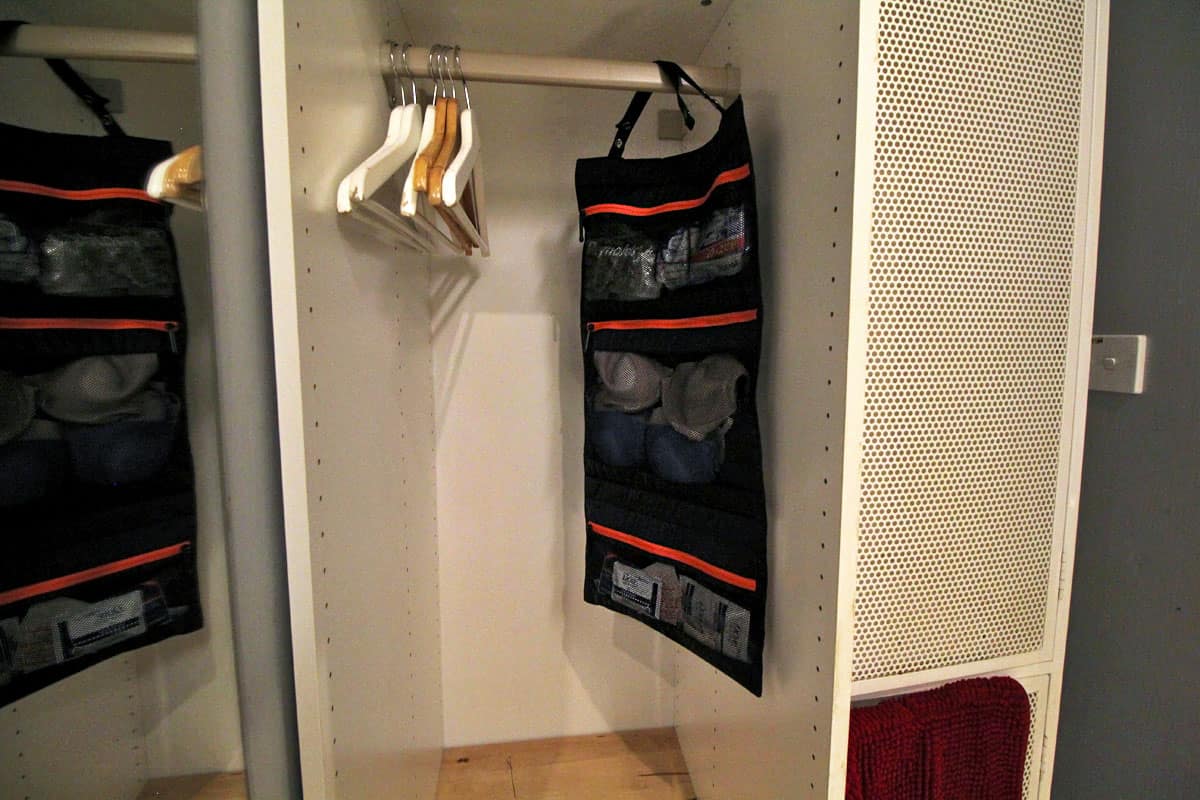 After our trip, I asked Ren if she liked the TUO and she said yes. I asked if she plans on using it for all our trips and again she said yes. Not a resounding yes like it's something she's been waiting for her whole life, but more like a "it's a cool product that's nice to have but not really essential" kind of yes.
In other words, the TUO is a handsome organizer. It's practical, it's well-made, and it's beautifully designed. Do you absolutely need to have one? No. It isn't a revolutionary product that'll change the way you pack or travel. But it will save you some space and keep things neater and more organized. I liked how we could hang the TUO in our hotel room for easy access to our undergarments and socks.
To be honest, I was a little put off by the USD 49.50 retail price at first. I thought it was pricey for a travel organizer. But after receiving the TUO, I realized it's a higher-end luxury item, similar to a more expensive iPhone or iPad case. It's stylish and built to last unlike those cheap packing cubes made in China.
If you travel a lot and have money to spend, then you'll appreciate the TUO (especially if you're into good design). It makes for a great gift as well for that jet setting friend or family member who has everything.
You can purchase a TUO directly from the Origami Unicorn website.
TUO, Origami Unicorn
Website: origamiunicorn.us
Facebook: origamiunicornlife
Twitter: OrigamiUnicorn_
Retail price: USD 49.50
Colors: Signature Black, Signature White, Hibiscus Black, Hibiscus White, Blue Leaf Special Edition
Disclosure
Origami Unicorn sent us a free sample of the TUO under the condition that we would write about it only if we liked it, and we did. As always, all thoughts and opinions expressed in this post are ours and ours alone. We signed up for their affiliate program so at no extra cost to you, we'll get a small commission with every sale made via THIS LINK. Thank you! 🙂