When I started this travel blog, never did I think I'd be talking about travel insurance, let alone spending money on it. But here I am, eight years into our blog, talking about travel insurance, and buying it before many of our trips. Yes, we're officially old. Or grown up, depending on how you look at it.
I didn't buy travel insurance because I never thought we needed it. It was an added expense that we could have done without. But therein lay the error in my thinking, that I was so sure we wouldn't be using it. How did I know?
A travel insurance policy will cover medical expenses, trip cancellations, lost/stolen items, even travel delays. As this excellent article on VisaGuide.World taught me, it's a helpful asset to purchase and a crucial part of any trip abroad.
As I've gotten older, I've learned that nothing in life is guaranteed. You could be up one moment and down the next. You could have everything you ever wanted one day and then poof…the next day it's all gone, and your life is completely different. I've learned that the hard way.
The truth is, we don't have control over many aspects of our life. Our safety, our well-being, isn't always guaranteed. And this becomes especially true when we travel.
Save This on Pinterest!
No time to read this now? Click on the red save button and pin it for later!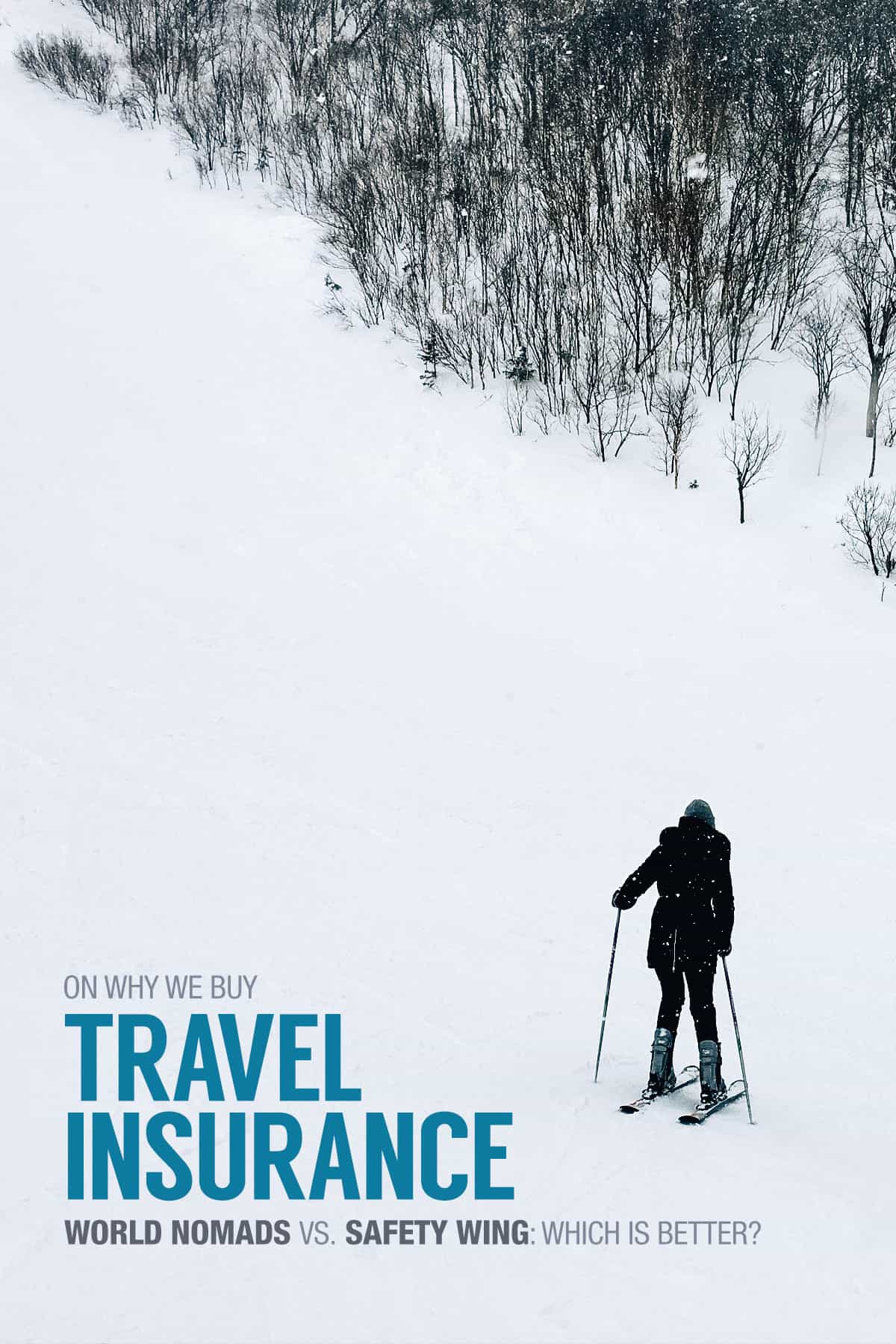 Here's Ren with her cousin Brooke skiing in Sapporo. We did a lot of physical activities on this trip, things that could have gotten us hurt, so it was a no-brainer for us to get insurance. At our age, I wouldn't have gone without it.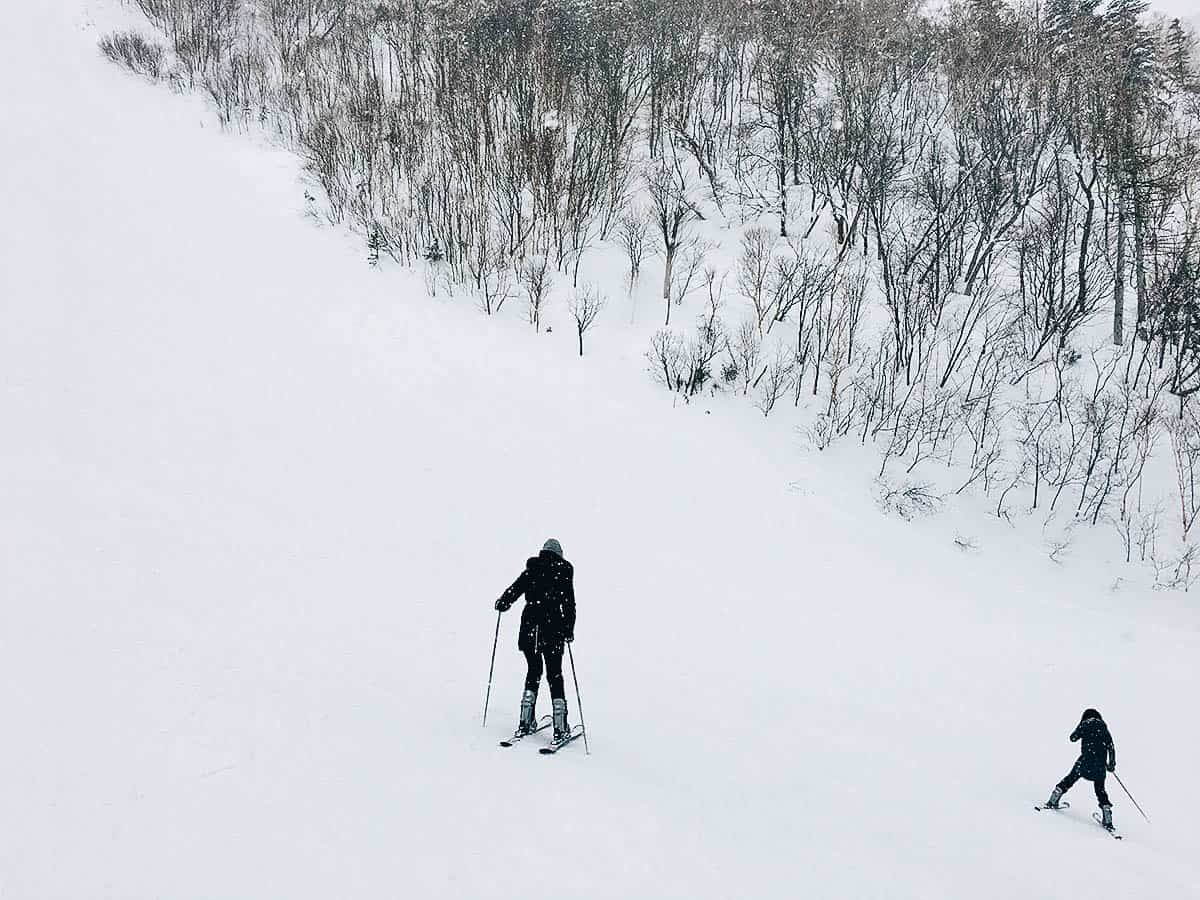 I'm closer to 50 than I am to 30 and I'm nowhere near as arrogant as I once was. Like many kids, I used to think that I was invincible, that nothing bad I saw on tv could ever happen to me. Thankfully, nothing has, but I don't think that way anymore. I have a lot more to lose now and I'm wise enough to understand that even though I'm careful, things can still happen that are beyond my control.
I work very hard. I work no less than 50-60 hours a week on top of all the time and effort I put into this blog. I'm not going to risk losing what I've worked so hard for simply because I was too shortsighted or too cheap to buy travel insurance. Sure, it's an added expense. But in the grand scheme of things, it really isn't that expensive.
Take our trip to Japan for example. I bought travel insurance from World Nomads and paid USD 110.30 for two weeks of coverage for both Ren and myself. That's a little over USD 55 each for the peace of mind that should anything happen to us while skiing, our insurance policy had a coverage limit of USD 5 million for medical expenses. I didn't want to break my leg in a country as expensive as Japan, so the decision to get travel insurance for that trip was an easy one.
Here we are riding a snowmobile on that same trip to Japan. Neither of us had ever been on a snowmobile before. Do you think it would have been wise to do this without travel insurance? In Japan?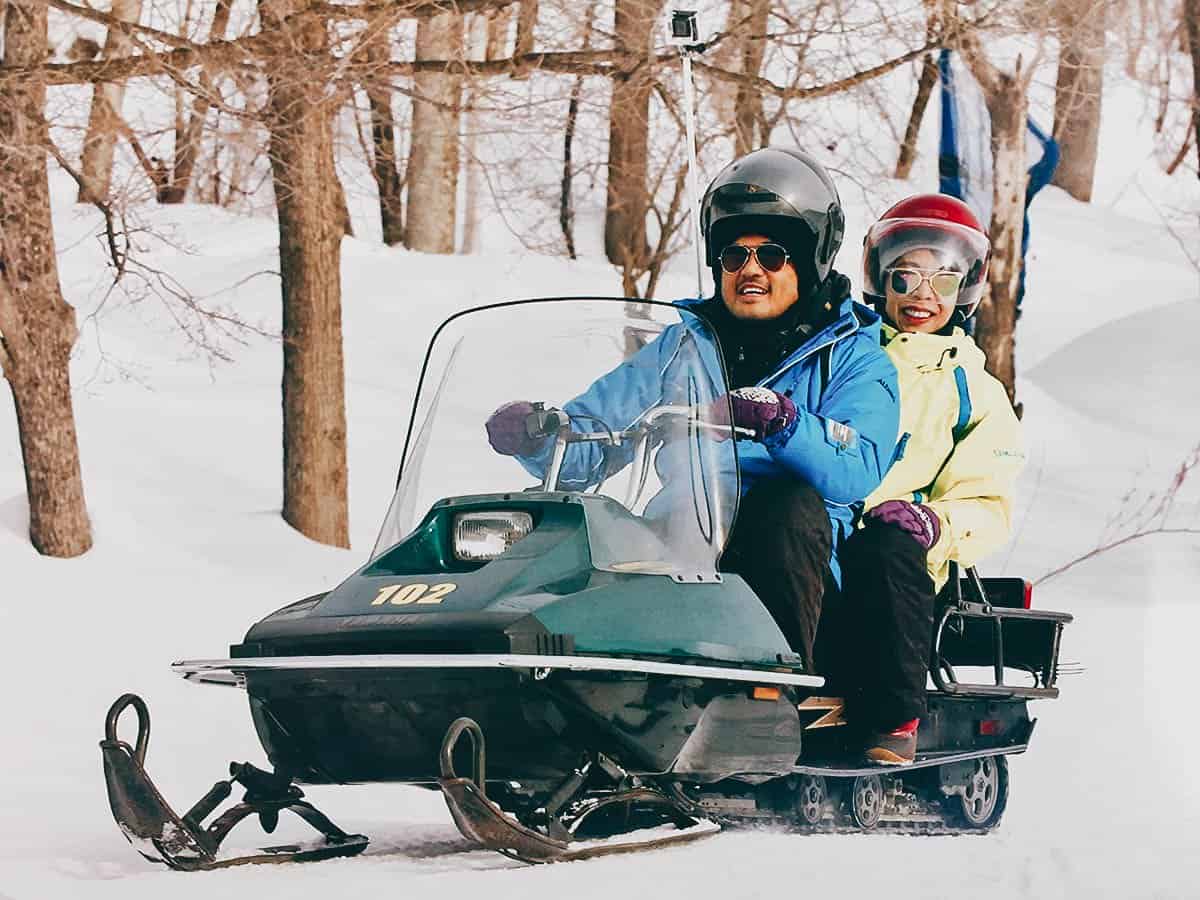 This was from a trip to Cappadocia, Turkey. We had just polished off an entire bottle of red wine when on a whim, we decided to go on a horseback riding tour. Both of us had little to no experience riding horses but it seemed the perfect thing to do since the name Cappadocia meant "land of beautiful horses". It was an unforgettable afternoon. Thankfully, we didn't fall off and break our necks but this was an experience we probably wouldn't have had the courage to do without the cushion of travel insurance.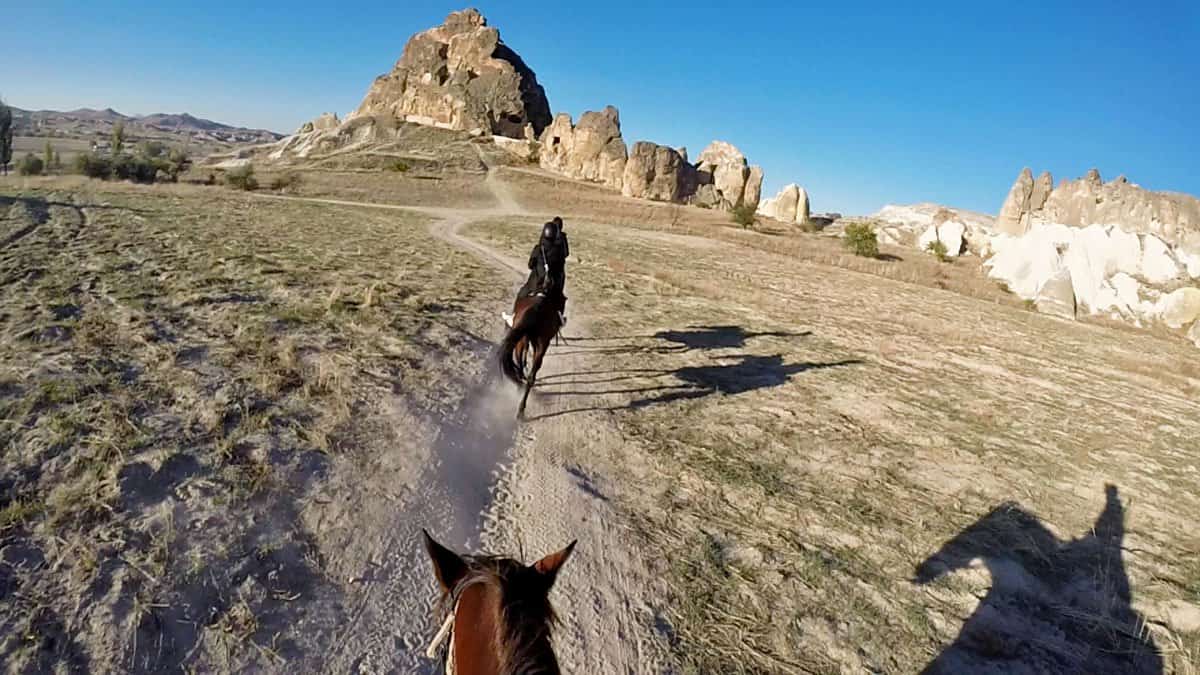 The very next morning, we got into a hot air balloon to get a bird's eye view of Cappadocia's moonscape. Admittedly, insurance probably would have done little for us in this situation had anything gone wrong. 😆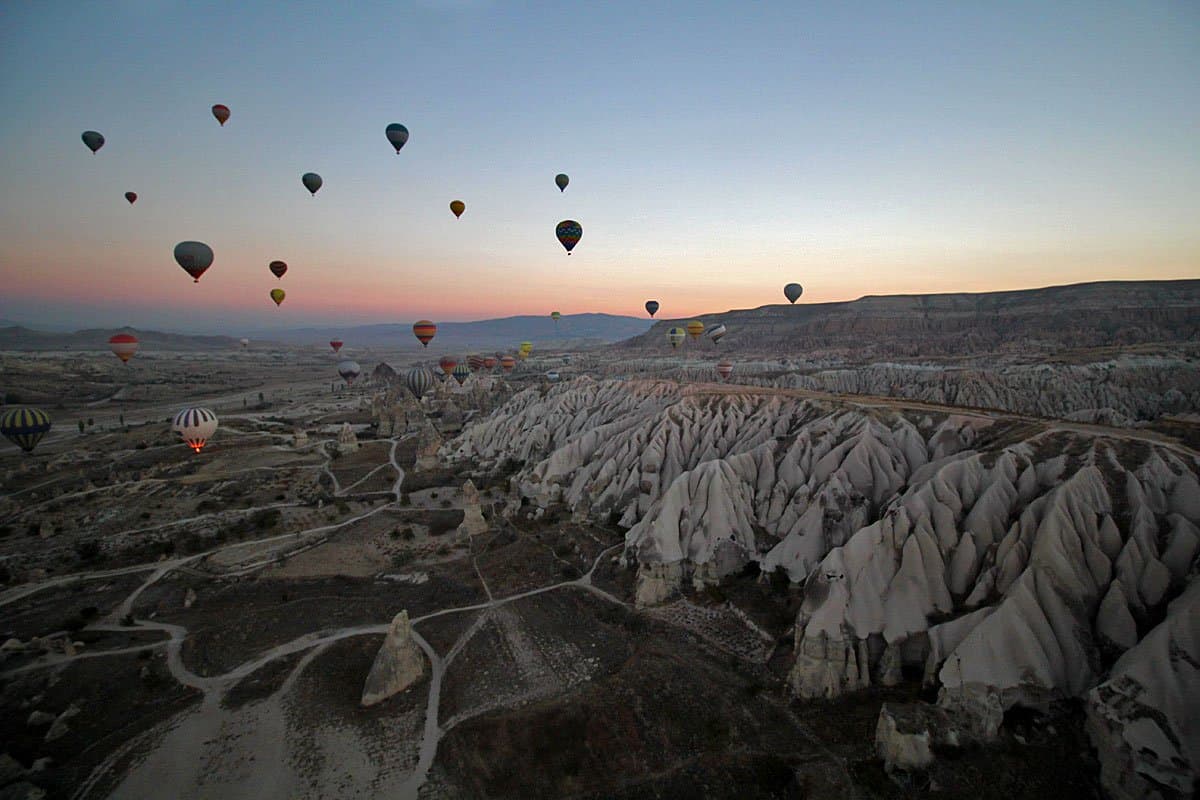 This was from our most recent trip to My Son Sanctuary in Vietnam. I bought travel insurance because I mistakenly thought this would be a bike tour. As it turned out, it wasn't, but I was still glad we had insurance. 😆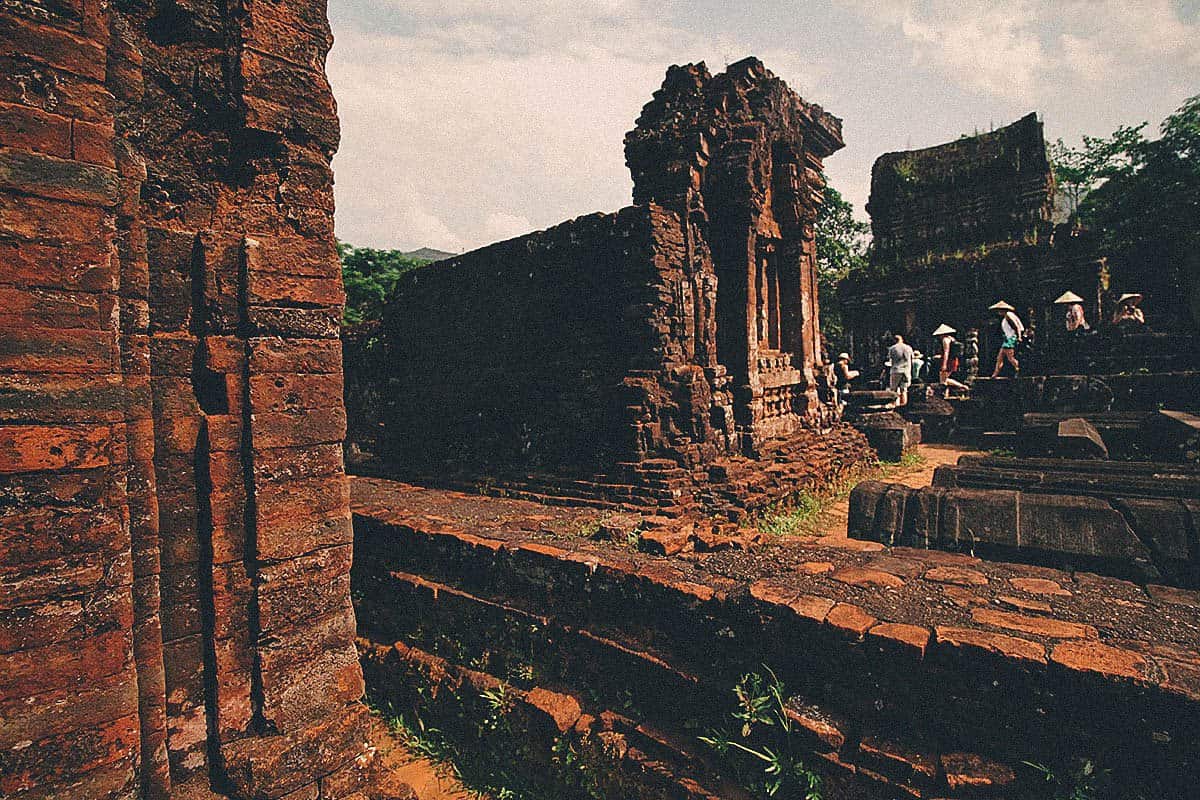 There's me eating what could very well be the best durum in Istanbul, at least according to Anthony Bourdain. I was happy to have insurance here because this durum was dangerously delicious.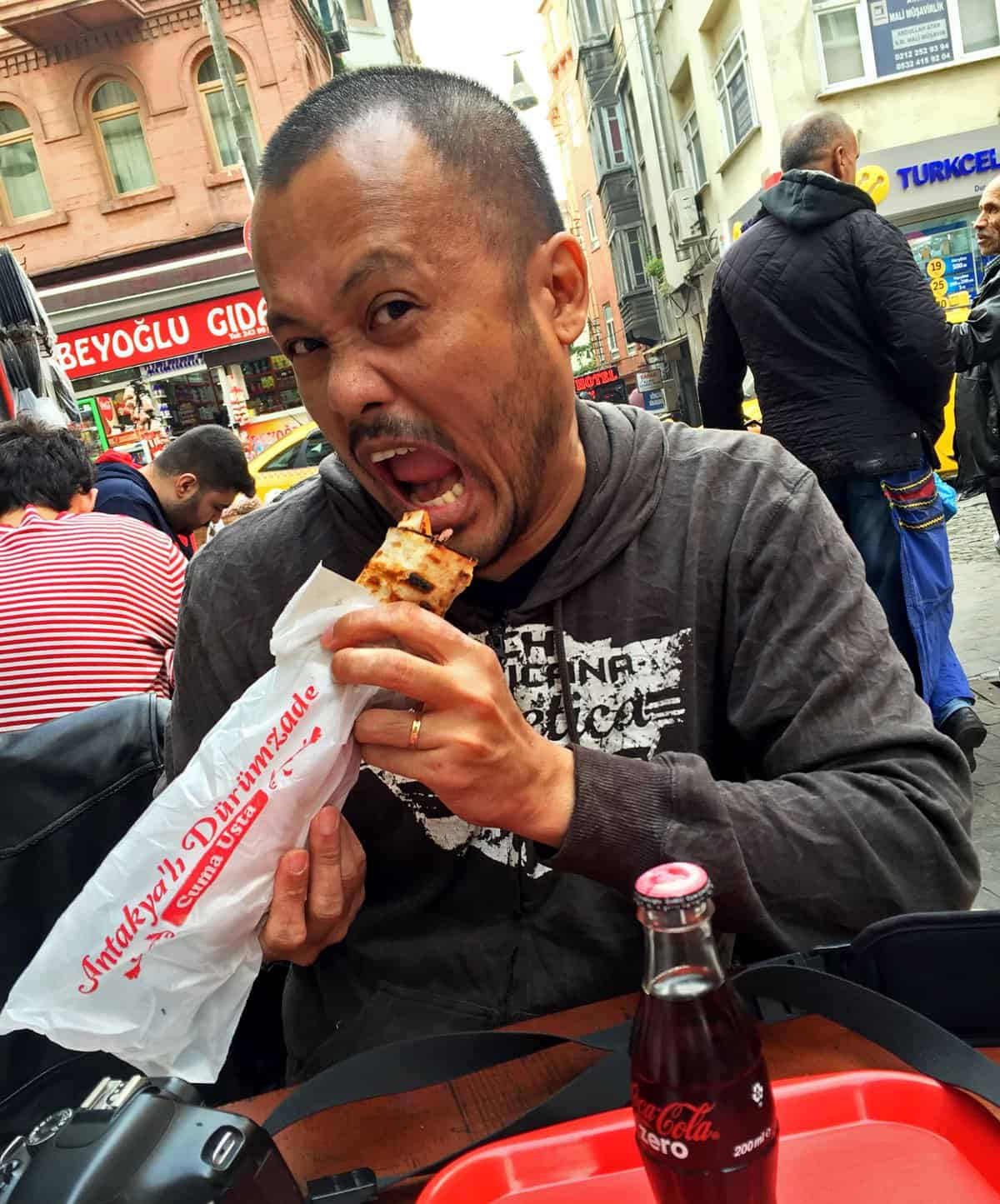 Just kidding. The durum was good, but I didn't need insurance in that case. I bring this up for a reason. Even though I think it's important to get insurance when traveling, there are times when you don't need it as much. Sure, anything can still happen, but the risks are less in some cases.
If you'll be spending a few days in Singapore or Hong Kong for example, just shopping and eating and staying away from anything remotely physical, then you probably won't need it as much. We did exactly that in those two countries along with Penang and Macau last year, and we didn't get travel insurance on any of those trips. But had we done anything physical, even something as seemingly harmless as a city bike ride, then I would have gotten insurance for sure.
At the end of the day, it's up to you to weigh the risks and decide if travel insurance is a good investment or not. For me, it's on a trip by trip basis. The way I see it, a 3-day food trip to Osaka probably wouldn't call for it as much, but throw in bungee jumping, sky diving, ATV riding, or anything like that, then yes, absolutely. I wouldn't even think twice about it. It's just one of those things that you wish you never had to use, but if you did need to use it, then you'll be glad as hell that you had it.
Here we are riding bikes on a wire a hundred feet up in the air. Nothing unsafe about this at all.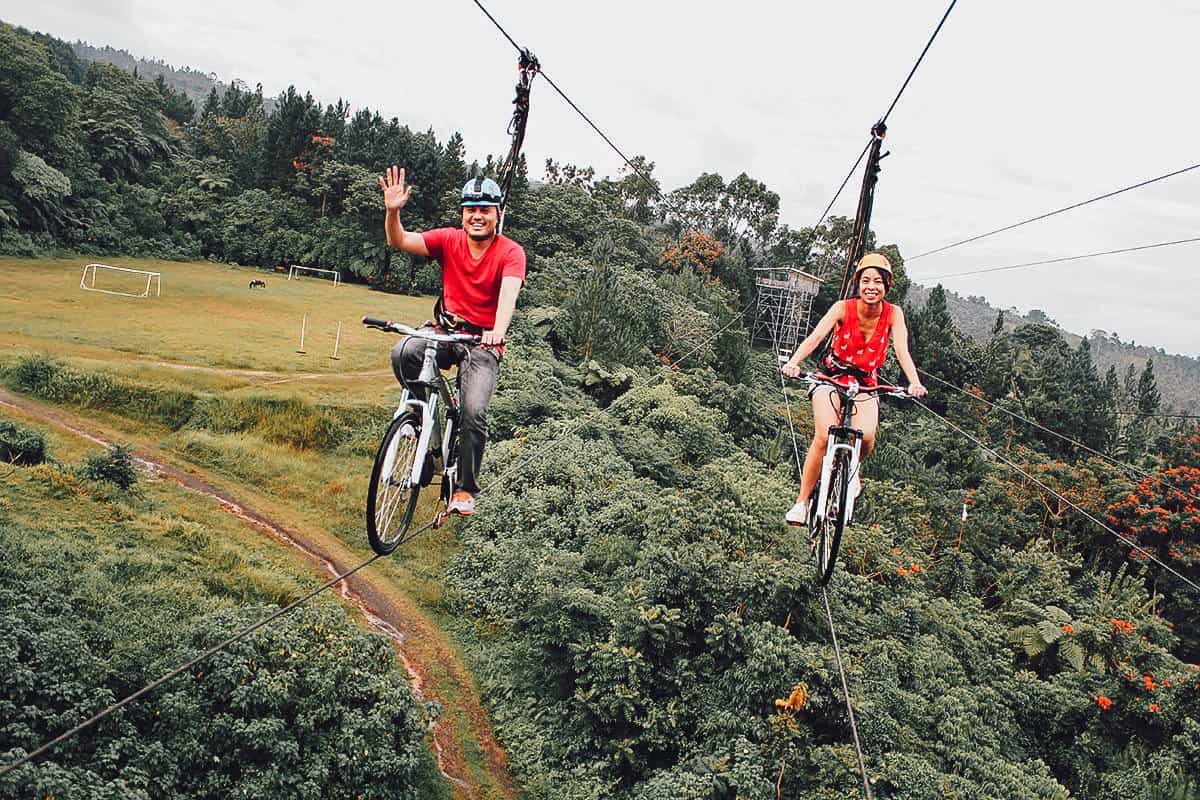 World Nomads
I don't profess to be an expert on travel insurance. In fact, I know very little about it. I don't know much because I've never had to make any claims, and I'd like to keep it that way. But the one thing I do know is that many long-term travelers use World Nomads. Respected people in the industry like Nomadic Matt and Wandering Earl swear by this company, so I use them too. After all, who would know more about travel insurance than someone who travels for a living?
I'm not perennially on the road like many of these travel bloggers so I don't have a need for monthly coverage. Instead, I buy it on a per trip basis and I've purchased several policies over the last couple of years through World Nomads. It varies per trip but I've paid between USD 58.50 and USD 110.30 for a coverage period of 1-2 weeks. From what I understand, they offer longer-term policies that start at around USD 120/month.
Aside from medical expenses, they also cover things like trip delays, missed flight connections, theft/loss of passport and luggage, etc. You can follow the link or use the widget below to get a free travel insurance quote from World Nomads.
SafetyWing
Another company making waves in the travel insurance space is SafetyWing. I haven't used them yet but from the looks of it, they're a cheaper alternative to World Nomads. Quickly going through what's covered and what isn't, they're less expensive because their coverage doesn't seem to be as comprehensive, but what they do offer may be all that travelers like us need.
For example, they don't cover missed flights or expensive electronics. Their focus seems to be on health coverage for unexpected injuries and illnesses, which is precisely why travelers like us buy insurance. While they do cover things like travel delays and lost checked luggage, they seem to focus on travel medical insurance which in many cases, is all that Ren and I need.
In fact, purchasing airline tickets with our credit cards already gives us free travel insurance. It covers things like trip delays and loss of personal effects. What it doesn't cover are medical expenses for unexpected injuries and illnesses which is why we still buy travel insurance. If that's all you're looking for, then SafetyWing can offer you that at a lower cost.
Like World Nomads, they offer short-term coverage as well as longer-term policies that start at USD 36.96 for every four weeks (USD 67.76 if you're traveling to the US).
World Nomads vs. SafetyWing
If you do feel the need for travel insurance, then going with World Nomads or SafetyWing is entirely up to you and depends on what you need. If you want the most complete coverage and don't mind spending the extra coin, then go with World Nomads. If you're unwilling to spend as much and/or just want travel medical insurance, then go with SafetyWing.
To illustrate the differences in cost, Ren is going on a quick 5-day trip to South Korea next month so I did a quick comparison between the two. On World Nomads, it'll cost us USD 54.45 for the Standard Plan. On SafetyWing, it'll cost us just USD 16.80.
If we do decide to get her travel insurance for that trip, then we'll probably go with SafetyWing.
Disclosure
Some of the links in this guide are affiliate links, meaning we'll get a small commission if you make a purchase at NO extra cost to you. We only recommend products and services that we use ourselves and firmly believe in. We really appreciate your support as this helps us make more of these free travel guides. Thank you!