These beautiful, handcrafted journals from Alunsina bring me back to San Francisco.
When I was attending art school there many years ago, there was hardly a moment when I didn't have a sketchbook in my hand. Everywhere I went, I had with me an 11″ x 14″, spiral-bound, Strathmore sketchbook. At a cafe. In Union Square. At the zoo. I was always sketching. I would fill up each of those sketchbooks in a month before eagerly moving on to the next. Back then, I lived and breathed drawing and painting, and it was pretty much all I wanted to do.
That was then.
Today, over a decade later and half a world away, my sketchbook has evolved into a monitor, and my pen a mouse. Transitioning to a more pragmatic career in graphic design and web development, I haven't drawn in years, which is in stark contrast to that prolific time when every missed sketch felt like an opportunity lost forever. Though I'm abundantly grateful to have the design career that I do today, I'd be lying if I said that I didn't miss it. Through the years, I've learned that doing something for money, and doing something purely out of love, are two completely different things, which is largely why I started this blog in the first place, as my creative outlet.
Holding this gorgeous Alunsina journal in my hand, and looking at all its empty pages filled with possibilities, I find myself back in San Francisco, inspired to pick up the pen once again.
The packages, each beautifully wrapped with a personal thank you note from Alunsina artisans Nadja and Enan. Which to open first? Let's start with that coffee-dyed Alunsina pouch.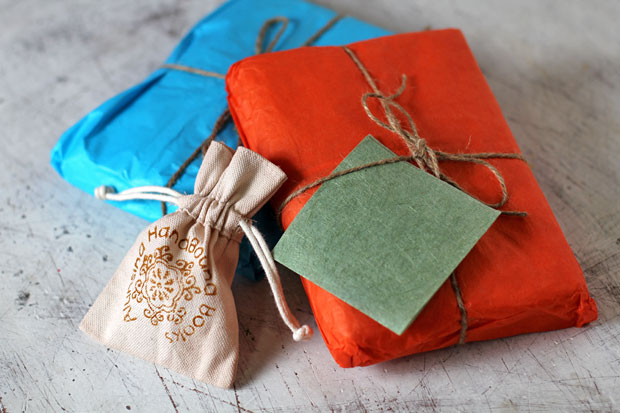 Mini Journal Necklaces
Aren't these ridiculously cute? Only around 1″ x 3/4″, each mini journal contains writeable, acid-free, ivory-colored blank pages hand-sewn into genuine, cowhide leather covers. They come in several colors and charms, each dangling from a 23 1/2″ chain that can be adjusted to your preference. I bought five for Ren so she can wear my wedding vows around her neck. ♥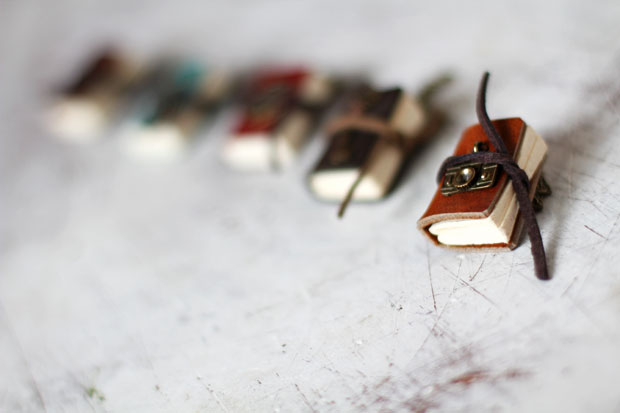 Charms from top to bottom: key, camera, guitar, anchor, Celtic symbol.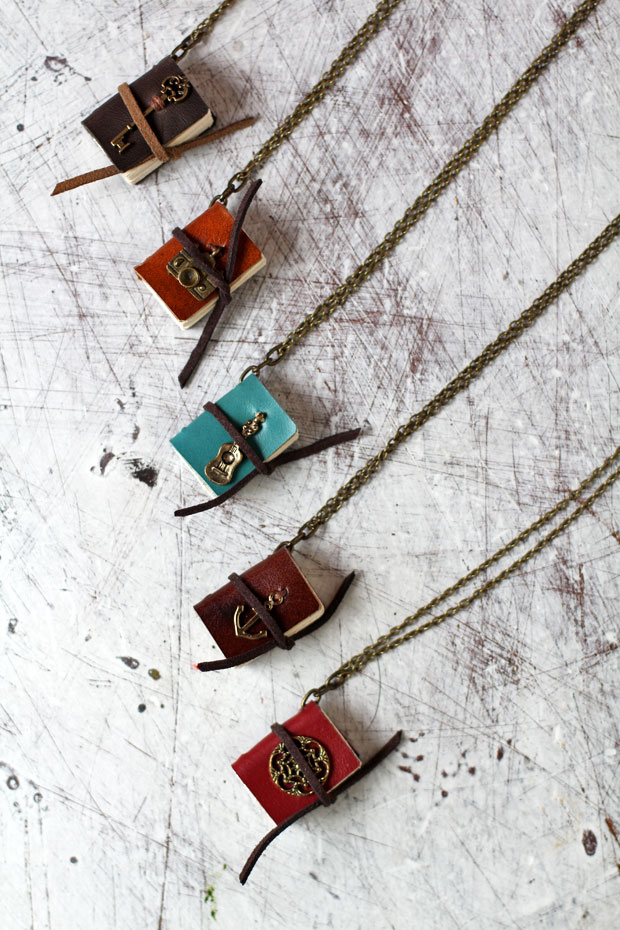 Next to a one peso coin for scale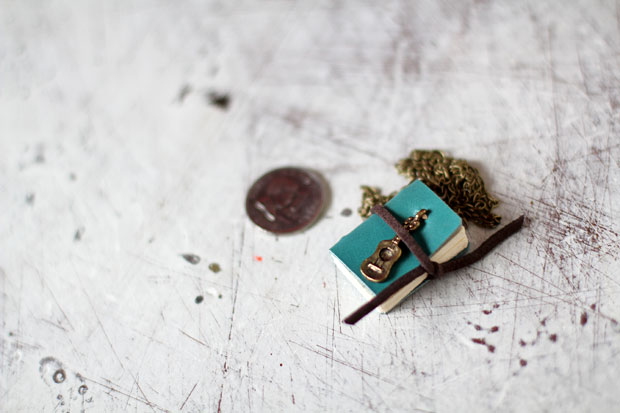 A library of vows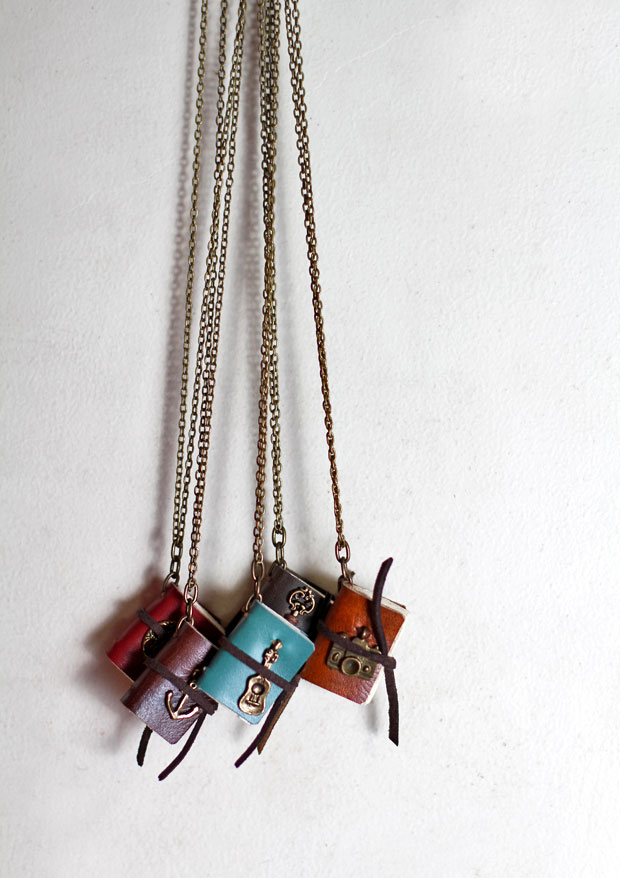 Terrene Journal
Spotting this journal on my Facebook feed, I fell in love with it instantly, and I knew I had to have it.
Measuring 7 1/2″ x 5″, it contains 240 coptic-bound, ivory-colored, acid-free pages with distressed edges to give it a more handmade look and feel. Decoupaged with an old world map and embellished with a nautical anchor charm, terrene means "Of or relating to the earth." Seriously, can there be a more perfect journal for a writer or travel blogger?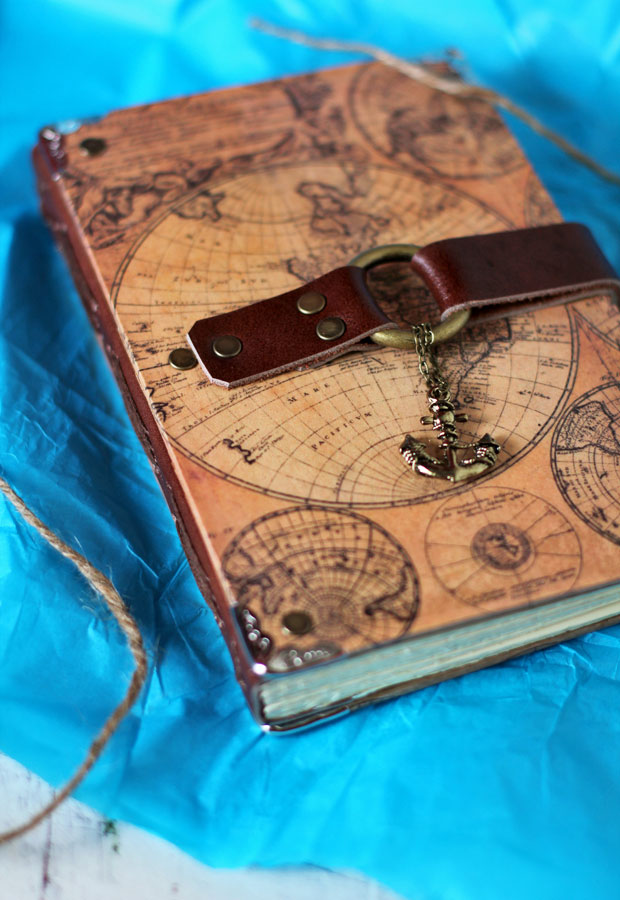 Love is in the details. Check out that beautiful, hand-stitched leather spine.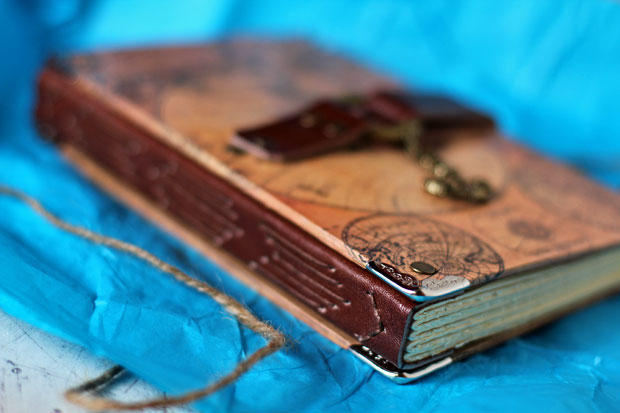 Journal front and back covers protected with vintage metal book corners.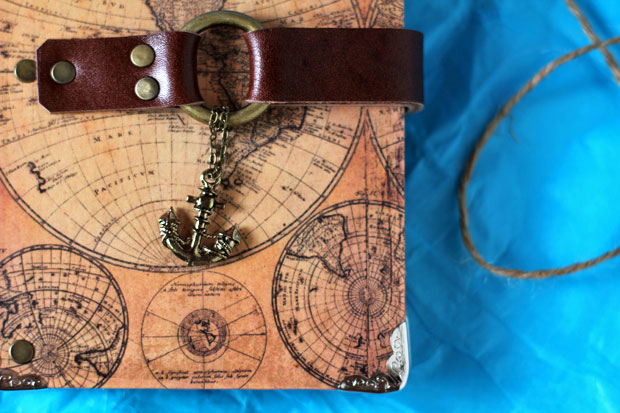 The leather strap loops through the metal ring on the front, and snaps to a button on the back. Beautiful!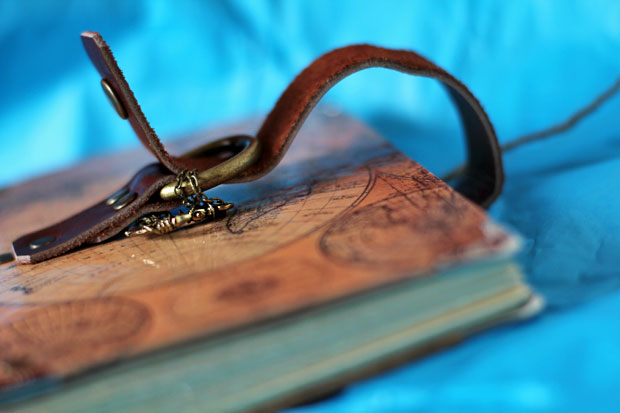 Scribe Journal
Similar in construction to the Terrene, the Scribe is decoupaged with a handwritten, vintage letter reprint and embellished with a sun/swallow charm. Gorgeous.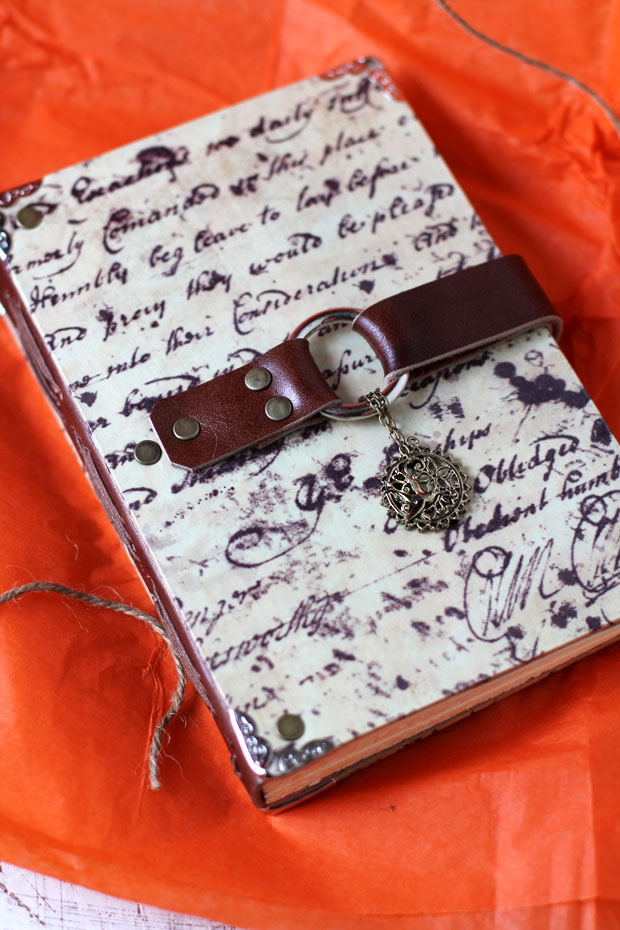 The Alunsina logo embossed on the first page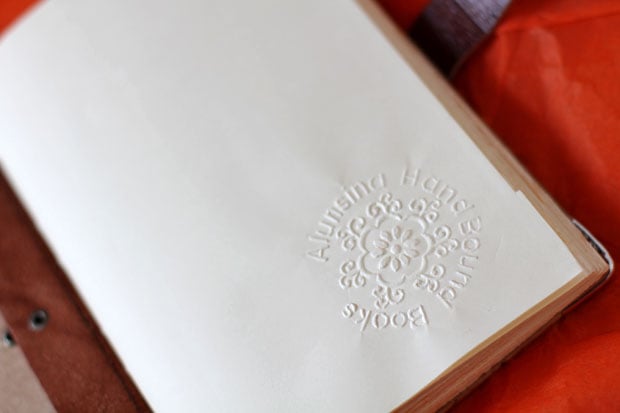 Note the coptic binding. A more labor- and time-intensive technique, the couple reserves this method for special collection journals.
Employed by Christians in Egypt as early as the 2nd century AD, coptic binding is characterized by one or more sections of parchment, papyrus, or paper sewn through their folds, then attached to one another with chain stitch linkings. This long-stitch method allows you to open the book 360° without damaging the spine.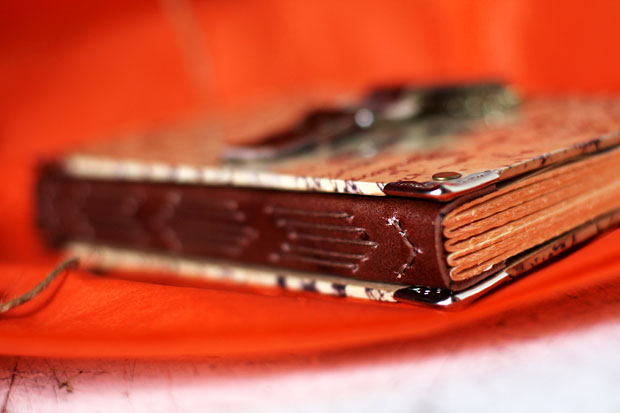 A closer look at the filigree sun/swallow charm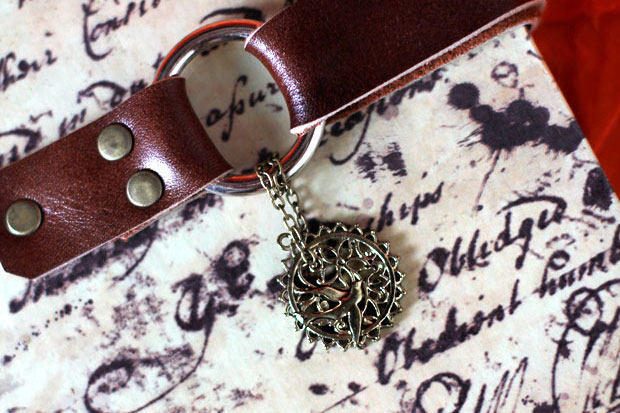 To paraphrase a friend: "The blank page, the paradox. It opposes with its emptiness, but invites with its possibilities." These blank pages, I hope to fill, with meaningful, inspired things.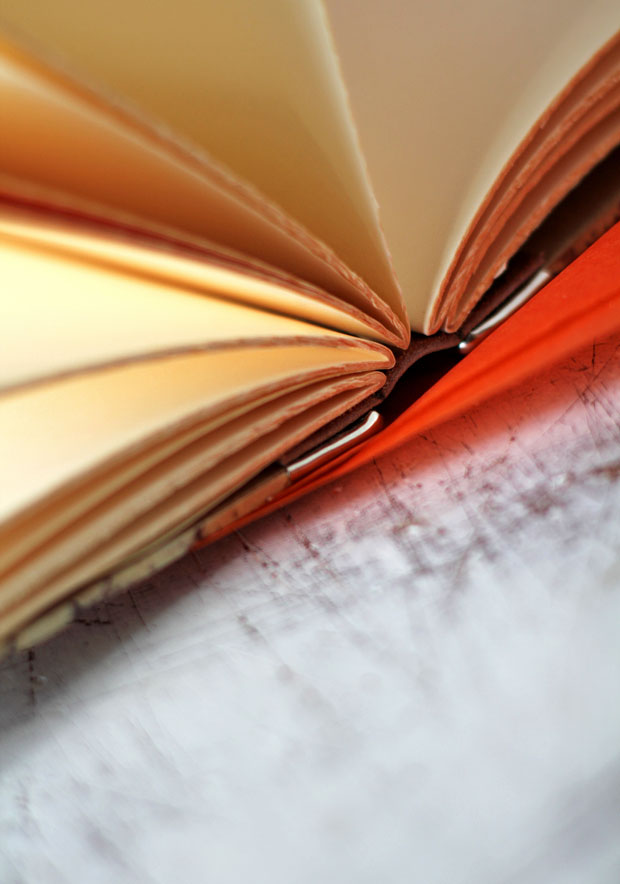 Though I only bought two journals and five necklaces today, you can be guaranteed that I'll be buying more. They have many other designs available that are every bit as unique and beautiful as these two. Even if you never write in them, they're great to collect and make wonderful conversation pieces, not to mention perfect gifts for bookish family members or friends. If I didn't know about Alunsina and I received one of their journals as a gift, I would have been over the moon with joy.
If you're interested in starting your own Alunsina collection, then you can order from Nadja and Enan directly via the contact information below. That's what I did. You can also find their journals and planners for sale at the 10a Alabama arts and crafts fair in Quezon City, which happens every three months or so. If you follow the link, then you'll see that they make these cute, miniature, decorative suitcases as well. The next fair won't be until November though, so I suggest you order yours soon if you want to beat the holiday rush. 🙂
Alunsina Handbound Books
Tel: 990-7347
Mobile: 0939-870-0071
Website: alunsinahandboundbooks.tumblr.com
Facebook: Alunsina.Handbound.Books
Email: [email protected]