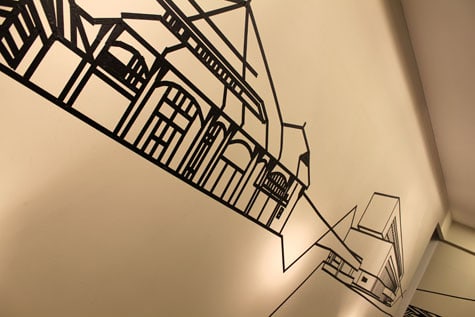 Livin' La Vida Imelda by Carlos Celdran
NOTICE: Your health and safety come first. Please adhere to the WHO recommendations and avoid any non-essential travel at this time. If travel is unavoidable for you, then please refer to these advisories on COVID-19 coverage from our friends at World Nomads and SafetyWing. Please be advised that all information on this website is for travel pre-COVID-19. We'll update the information soon as new travel guidelines become clearer.
DISCLOSURE: Some of our articles contain affiliate links. The ones that do will have a disclosure statement at the bottom. You can refer to our privacy policy and terms of use for more information.
I was nine years old when Ninoy Aquino was assasinated in 1983.
Back then, I was more interested in the concept of Darth Vader than democracy, so I couldn't really grasp what the decade-long series of events simmering up to the EDSA Revolution was all about. Born into Martial Law, I was too young to be affected by any curfews, I hadn't yet learned what "suffrage" meant, and I had never heard of, let alone seen, Ninoy Aquino until he was already dead, laying prostrate on the tarmac.
I remember collecting coins outside Mt. Carmel Church with a converted gulaman jug and a "PISO FOR CORY" sticker, only because that's what all the adults around me were doing. I became fervently pro-Cory through osmosis, tagging along on car rallies and flashing the "L" symbol with as much enthusiasm, though considerably less understanding of its historical and political context, as the grown-ups.
In short, I did it to be accepted.
Marcos was bad. Cory was good. Wear yellow, shout "Laban!" (fight!) at the top of your voice, and you get to hang out with the cool, older kids and their stylin', big-haired posse. That pretty much sums up what the People Power Revolution meant for me at the time.
Fast forward thirty years, two continents, and one liberal arts education later, I have to admit that this performance by Carlos Celdran, about Imelda Marcos and that controversial time in Philippine history, has shaken up my beliefs quite a bit. What I had previously deemed as gospel may no longer be as irrefutable as it once was, thanks to this provocative thespian and an open-minded understanding that history can indeed be open to interpretation.
I LOVE this poster. From the groovy fonts, to the colors, to the topographic-like background, to that well-executed sketch of Imelda, the design is simply superb.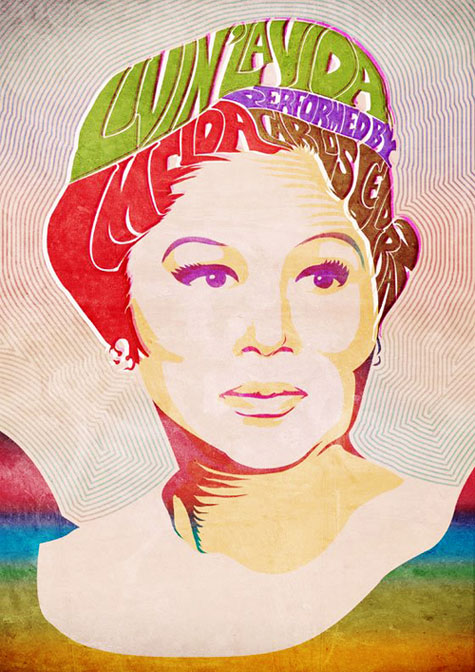 Held at the Silver Lens along Pasong Tamo Extension in Makati, the walls of the gallery were adorned with these black-masking tape outliness of the mostly culturally-related buildings for which Imelda became famous.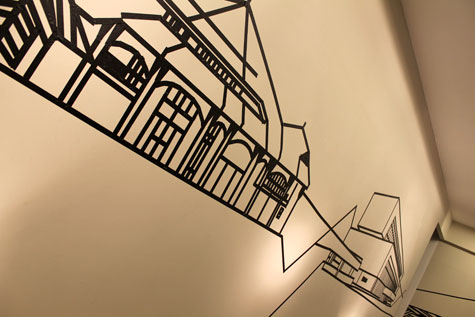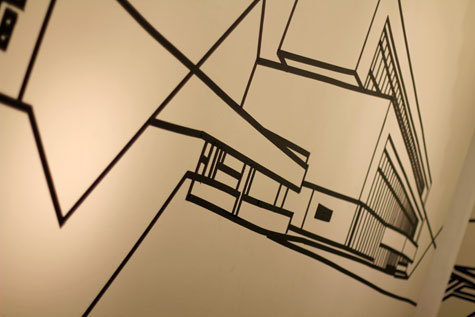 A wider shot of the space and audience.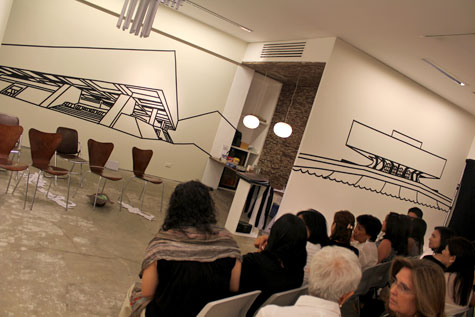 Close-up of the Coconut Palace. Having never visited it myself, this is the closest I've ever been. Looks like one of the windows is smashed, or just painted black.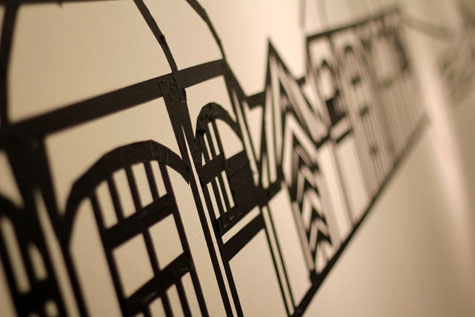 The Manila Film Center, from which Imelda received much of her notoriety.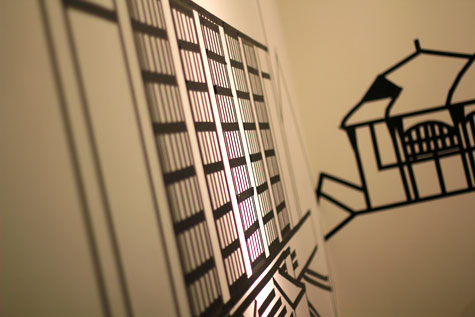 There's Ren with her brother and sisters, enjoying 50-peso bottles of San Mig Light. PHP 50 bottles of beer in Makati? Where where?! 😯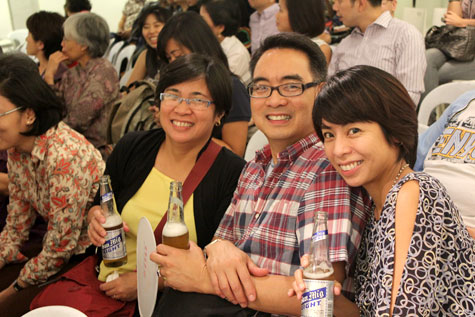 As described above, this is a fun, thought-provoking performance that examines "one of the most controversial periods in Philippine history as seen through the life and ambitions of the lady who defined it, Imelda Romualdez Marcos." Exploring a spectrum of issues from Cold War geopolitics to what Carlos likes to refer to as "state sanctioned arts & culture", it will challenge your opinions on that highly contentious time period and beg you to ask the question: "How much of what I've heard, of what I've known, of what I've come to accept as fact, is really true?" I found his take on the ideals of democracy and how well it fits into a developing nation's psyche, like the Philippines, particularly fascinating (and true) as well.
A little bit disco, a lot New Society, this utterly unabashed, Imeldific performance will entertain you regardless of which side of the fence you're on. 😉