Yes, your eyes aren't deceiving you. What you're looking at above is a giant chicken in the forest. More specifically, a church shaped like a giant chicken in the forests of Yogyakarta, Indonesia, just a few minutes' drive from Borobudur. I shot the image with my Mavic Pro around 10AM, close to when the sun was at its brightest and photos were supposed to look more washed out, but I still managed to capture images with rich, deep tones thanks to my SANDMARC filters.
The good people at SANDMARC Action Gear were kind enough to send me a set of Pro Plus Filters for my Mavic Pro. They're an American company based in San Diego that makes filters, lenses, and accessories for DJI drones, iPhones, and GoPro action cameras.
Ever since I got my Mavic Pro, I've been wanting to take those long exposure shots of waterfalls where the water looks ultra smooth and silky. Thanks to my ND filters, I was able to do just that. My aerial photography has improved by leaps and bounds because of these filters, so much so that I don't bother taking it off my drone anymore, not even in storage.
Save This on Pinterest!
No time to read this now? Click on the red save button and pin it for later!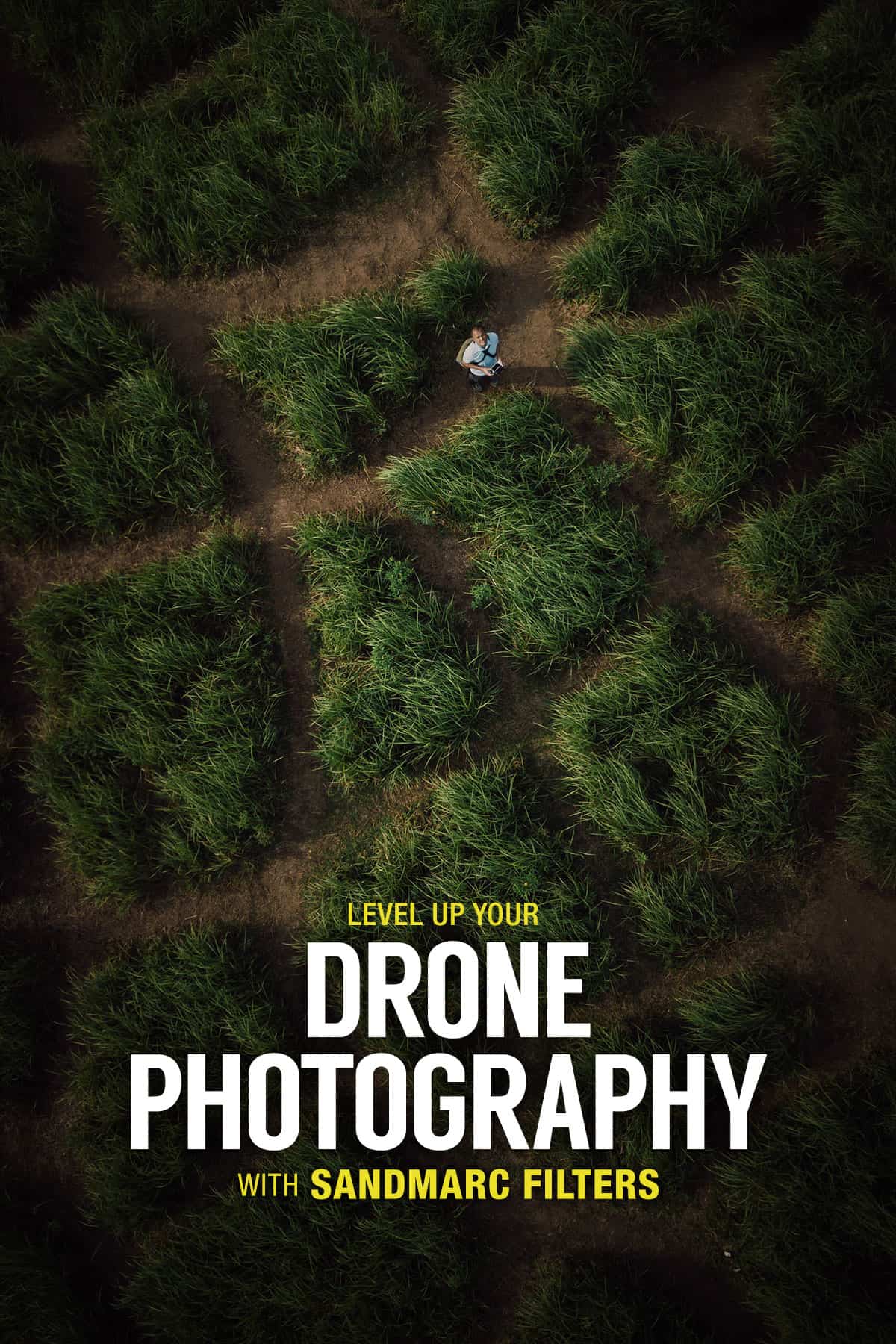 SANDMARC PRO PLUS FILTERS
This is the 6-pack of aerial filters that SANDMARC sent me. They make filter packs like this for several models of DJI drones. Follow the link to see the entire line of DJI filters.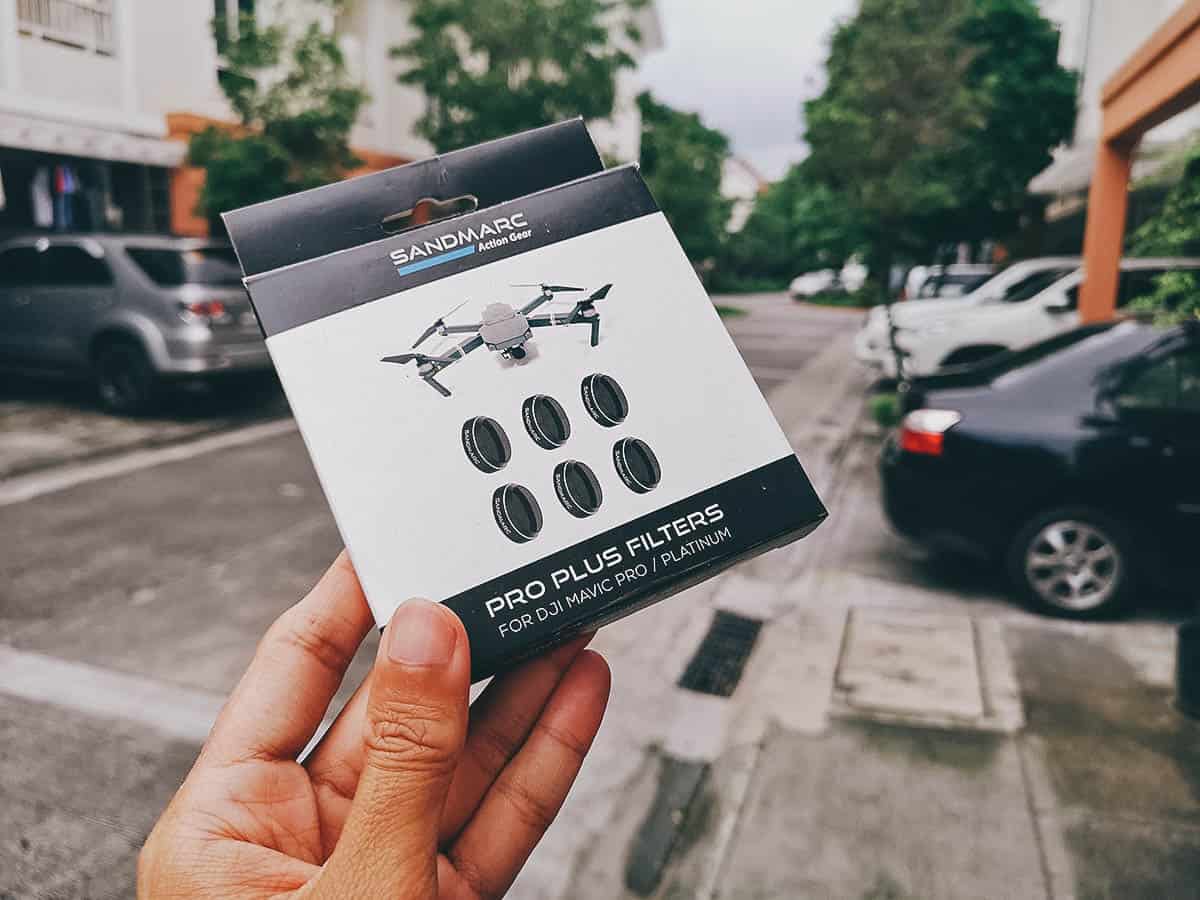 The set I have contains one each of the following filters – PL, ND4/PL, ND8/PL, ND16/PL, ND32/PL, and ND64/PL. If you aren't familiar with lens filters, then here's a brief description of these terms:
Neutral Density Filter (ND) – This is basically a dark-colored piece of glass (or similar material) that reduces the amount of light entering your lens. It decreases camera shutter speed to enable you to achieve those motion blur effects with water, people, or moving vehicles. ND filters vary in darkness. The lightest I have in my set is ND4, with the darkest being ND64.
Polarizing Filter (PL) – These filters cut out polarized light, dramatically reducing glare while enhancing colors and increasing contrast. In drone photography, these come in very handy when shooting over large bodies of water like the ocean.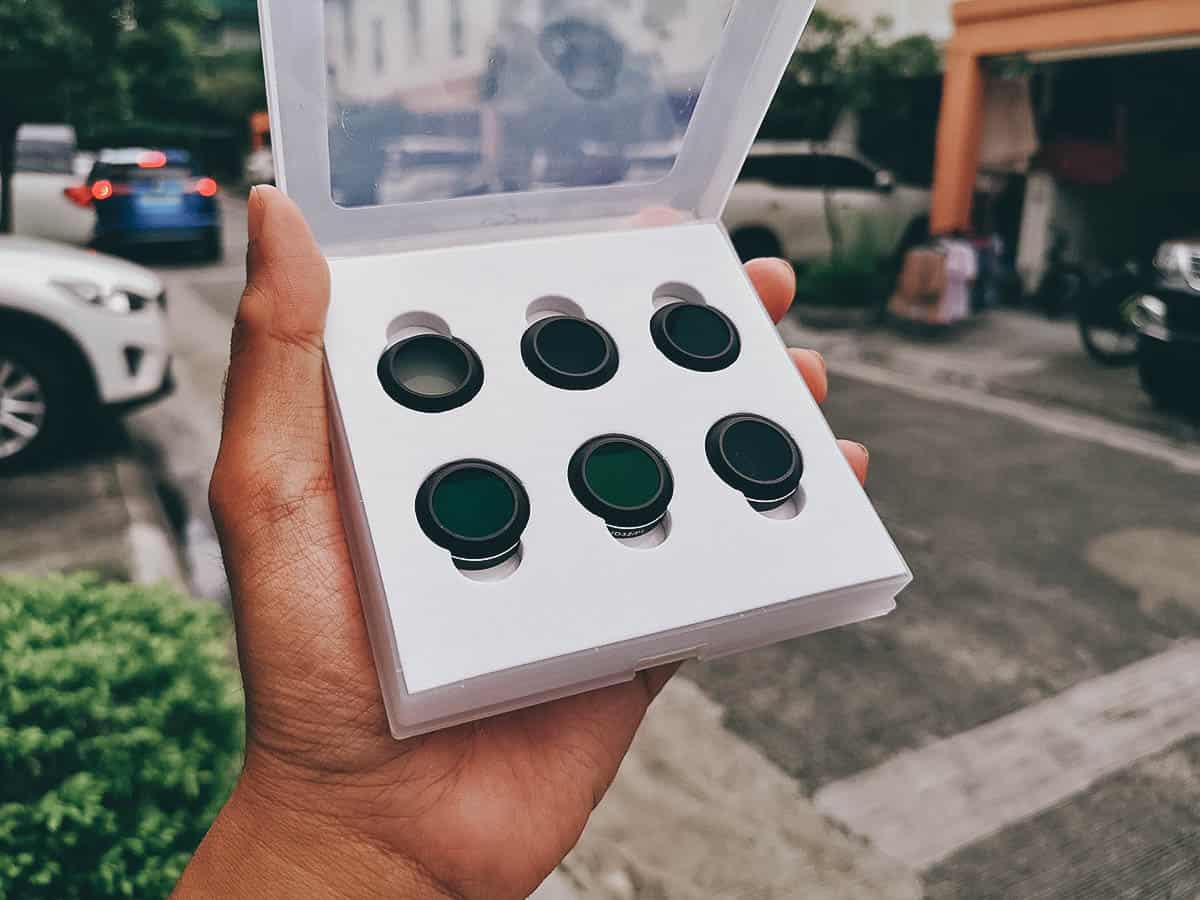 In my set, five of the filters are both ND and PL, meaning they'll reduce the amount of light entering your lens while also cutting out glare. You can refer to the table below for suggestions on when best to use each filter.
ND/PL Filter Guide
| | |
| --- | --- |
| FILTER | WHEN TO USE |
| PL | In situations when you need to cut out glare but not decrease your shutter speed (ie no motion blur effect) |
| ND4 | During low light situations like sunrise or sunset |
| ND8 | During cloudy/overcast days |
| ND16 | On days with clear skies and moderately strong sunlight |
| ND32 | On bright days |
| ND64 | On the brightest of days and conditions, like at noon over white sand or snow |
Knowing which filter to use for any situation is a matter of preference and something you'll learn along the way. In my limited experience, I've shot mostly during the brightest times of the day so I use either the ND32/PL or ND64/PL. I also like to underexpose my shots.
Here's what my Mavic Pro looks like with the filter on. It's easy to attach and remove. It doesn't snap into place, but slides snugly on and off. TIP: Be sure to have that plastic gimbal clamp on when attaching or removing a filter. This keeps the gimbal stable and in place so you don't damage it while changing filters. This is important!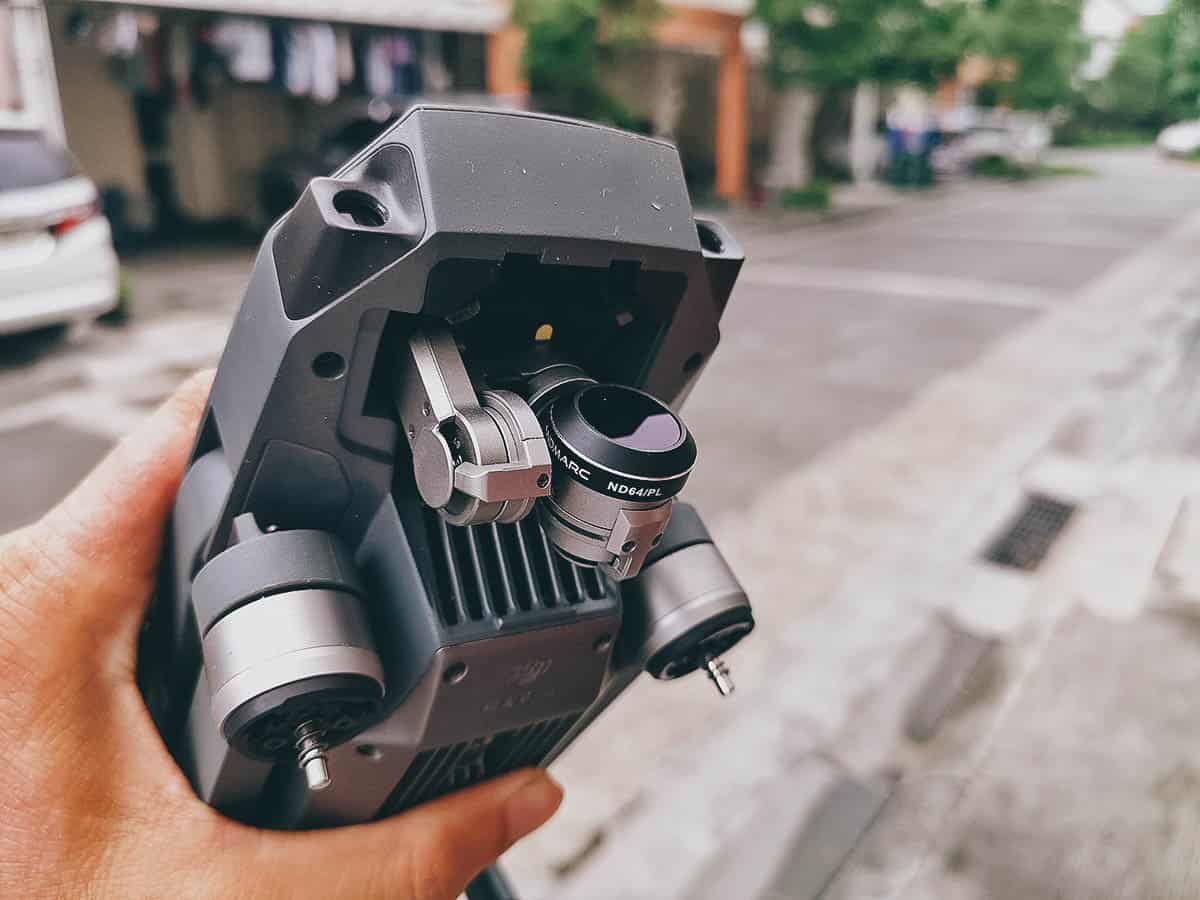 Now that we've gotten the boring technical side out of the way, let's see how the images look with my SANDMARC filters! All the images below were taken in RAW format and processed in Adobe Lightroom.
INDONESIA
We visited multiple destinations in Java in July 2018. Indonesia has some of the laxest drone laws of any country we've visited thus far so I was able to get good footage in multiple places. If you're visiting Indonesia and would like to bring your drone, then you can refer to these helpful articles on Drone Traveller to familiarize yourself with the country's drone regulations.
Kawah Putih
Kawah Putih is a volcano crater lake about two hours south of Bandung City. It's remarkable for its highly acidic powder blue water which can change to whitish green or brown, depending on the conditions of the environment. You'll notice that the sand and rocks surrounding the lake have been leached to a near white state because of the lake's acidic waters. Makes for great drone photography!
TIME: Around 9AM, FILTER: ND32/PL, ISO: 100, APERTURE: f/2.2, SHUTTER SPEED: 1/120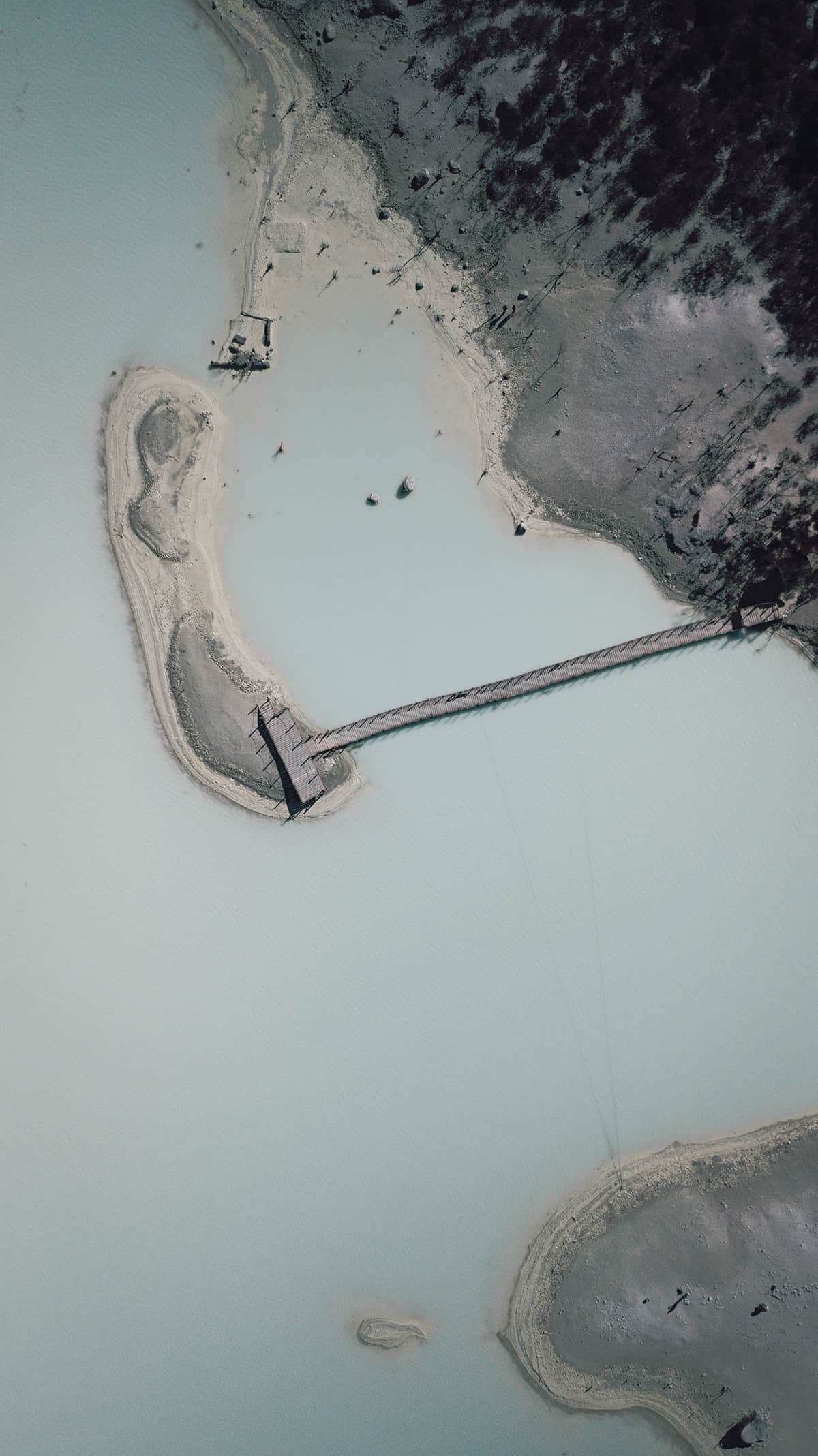 TIME: Around 9AM, FILTER: ND32/PL, ISO: 100, APERTURE: f/2.2, SHUTTER SPEED: 1/120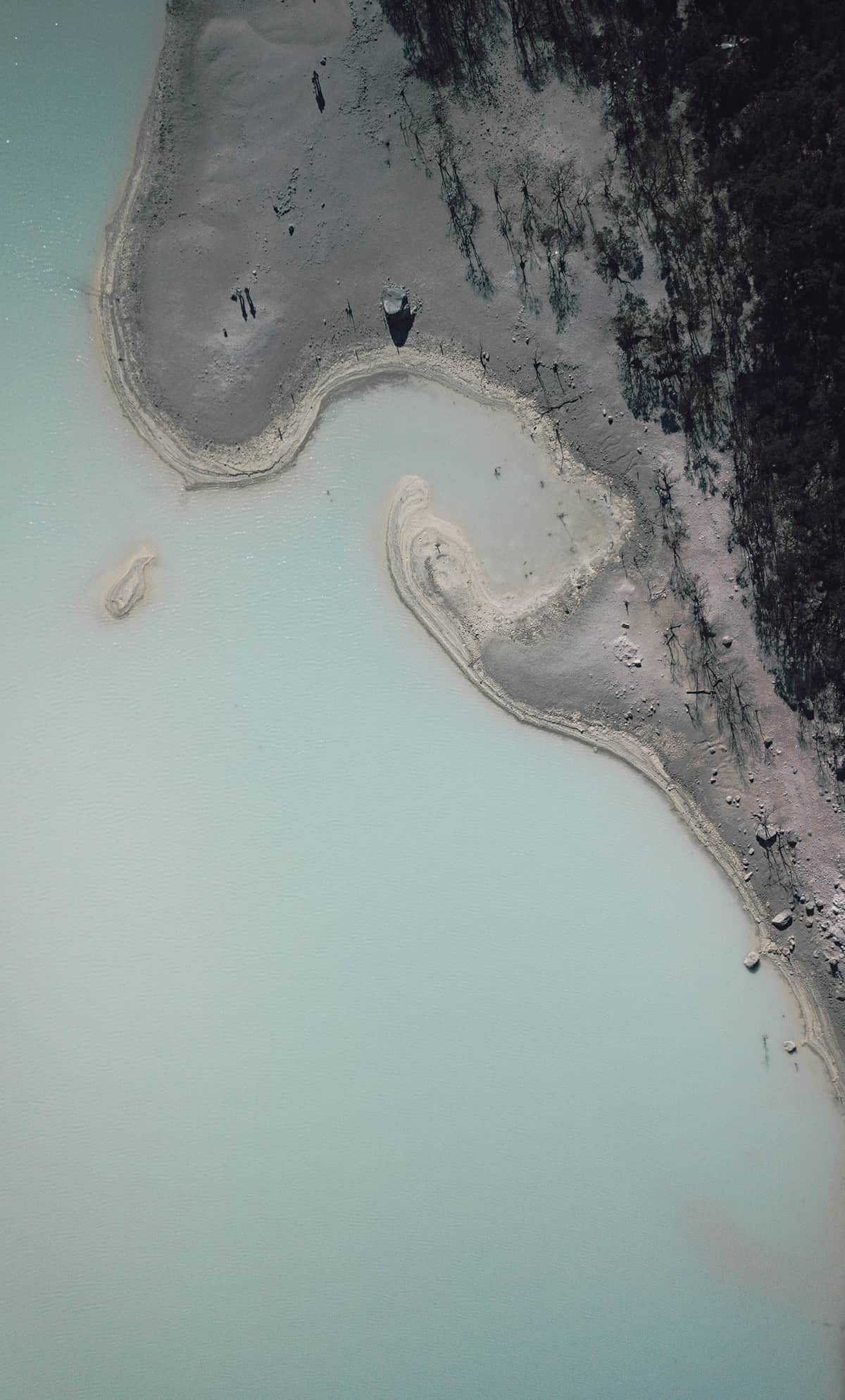 TIME: Around 9AM, FILTER: ND32/PL, ISO: 100, APERTURE: f/2.2, SHUTTER SPEED: 1/120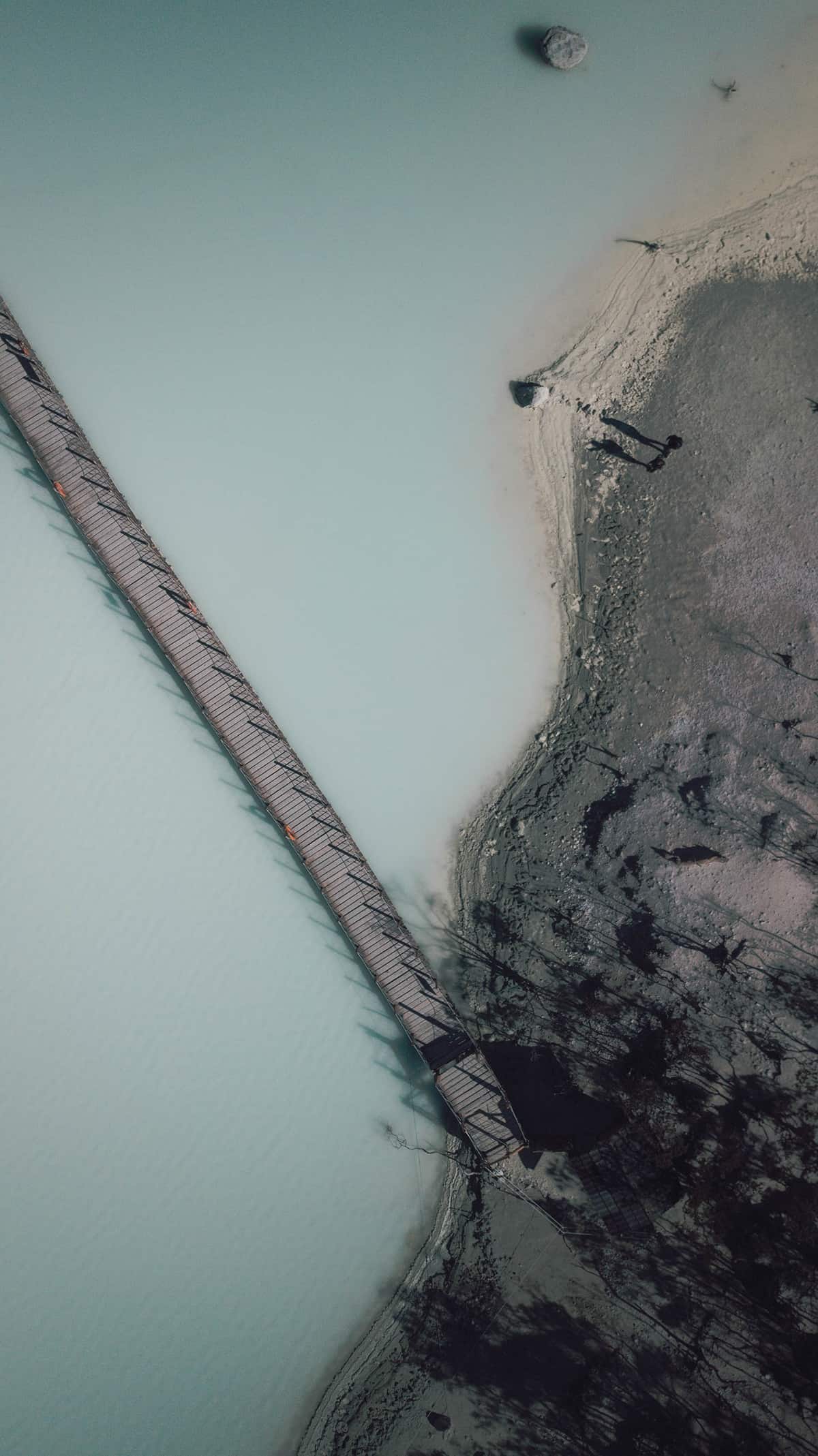 Patenggang Lake
Also located in Southern Bandung, Situ Patenggang is a lake surrounded by tea plantations on all sides. At its center is this small island that makes for an eerie focal point.
TIME: Around 10AM, FILTER: ND32/PL, ISO: 100, APERTURE: f/2.2, SHUTTER SPEED: 1/120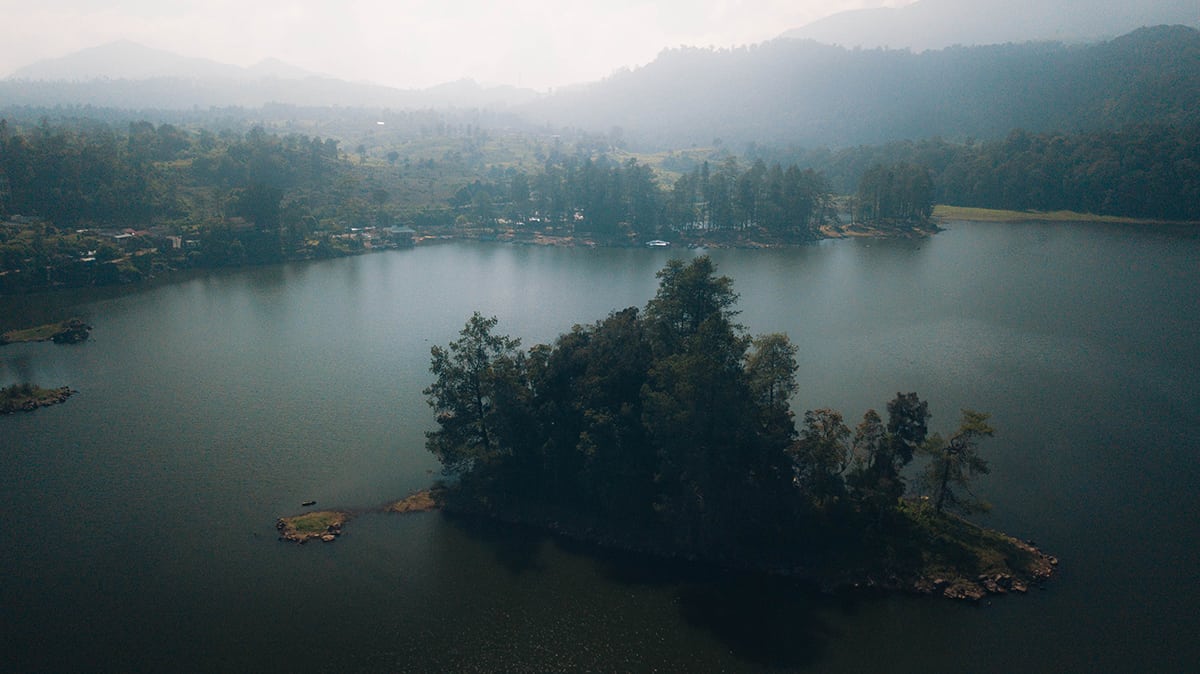 Bukit Rhema
Now here's something you don't see everyday. Bukit Rhema is a non-denominational prayer house built in the forest near Borobodur in Yogyakarta. It was meant to resemble a dove but locals thought it looked more like a hen, so they started calling it "Chicken Church" and the name stuck. Either way, it looks pretty cool from the air.
TIME: Around 11AM, FILTER: ND32/PL, ISO: 100, APERTURE: f/2.2, SHUTTER SPEED: 1/160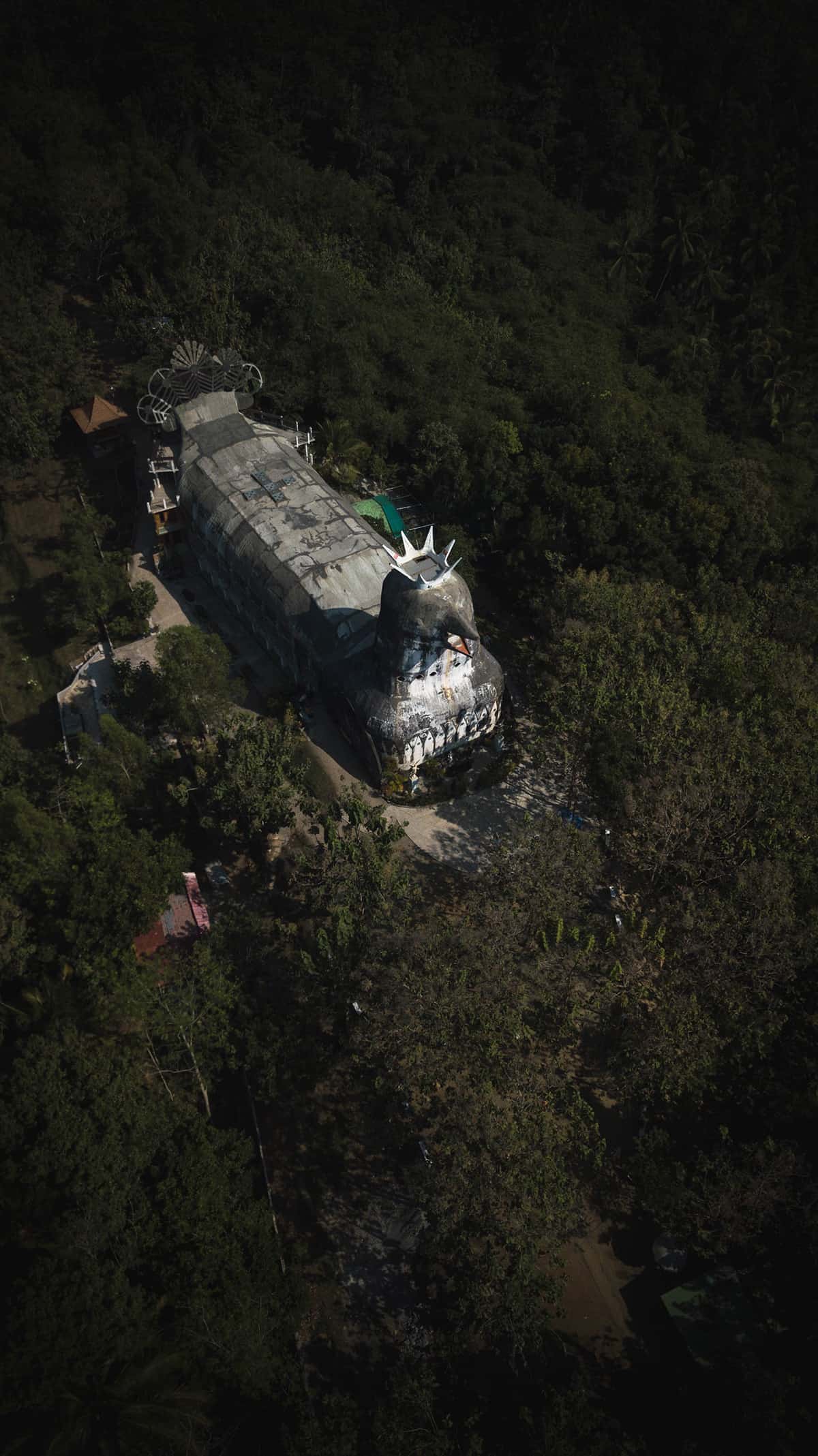 You can enter the church and climb all the way to the top of its head. I considered flying my drone in and out of its mouth but I was too chicken to do it.
TIME: Around 11AM, FILTER: ND32/PL, ISO: 100, APERTURE: f/2.2, SHUTTER SPEED: 1/160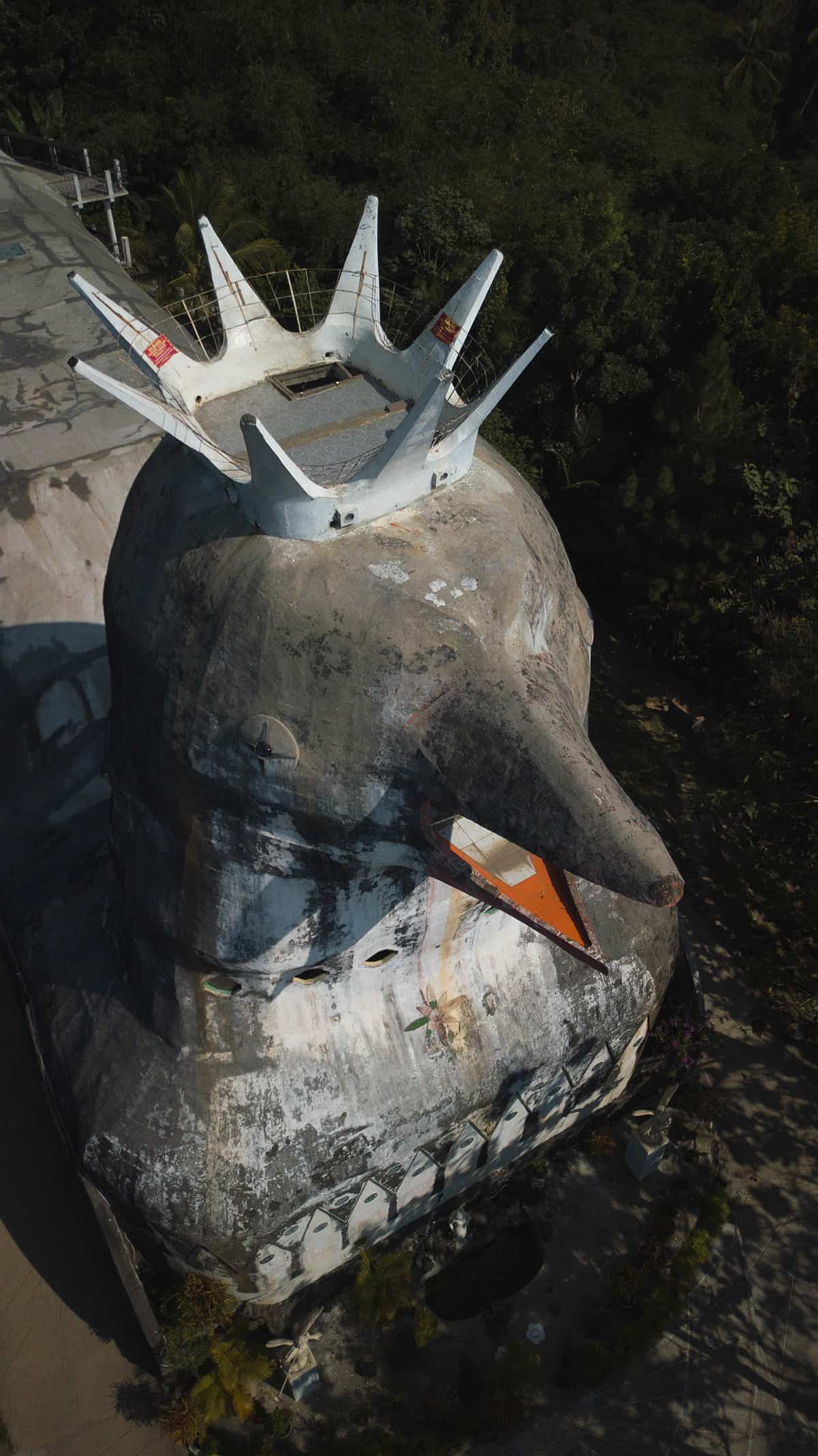 Campuhan Ridge Walk
This was one of my favorite place in Ubud, Bali. Campuhan Ridge Walk is a 2 km paved trail, at the end of which is a cafe. I liked it because there are relatively few people here and it gives you a chance to fly your drone in peace.
I'm new to drone photography but I've always had a tendency to underexpose my shots with my DSLR. I find that colors come out richer and fuller in post when I do that, so I tried using an ND32/PL filter and a fast shutter speed for this one. I think it came out pretty well, dramatic and moody.
TIME: Around 3PM, FILTER: ND32/PL, ISO: 100, APERTURE: f/2.2, SHUTTER SPEED: 1/1600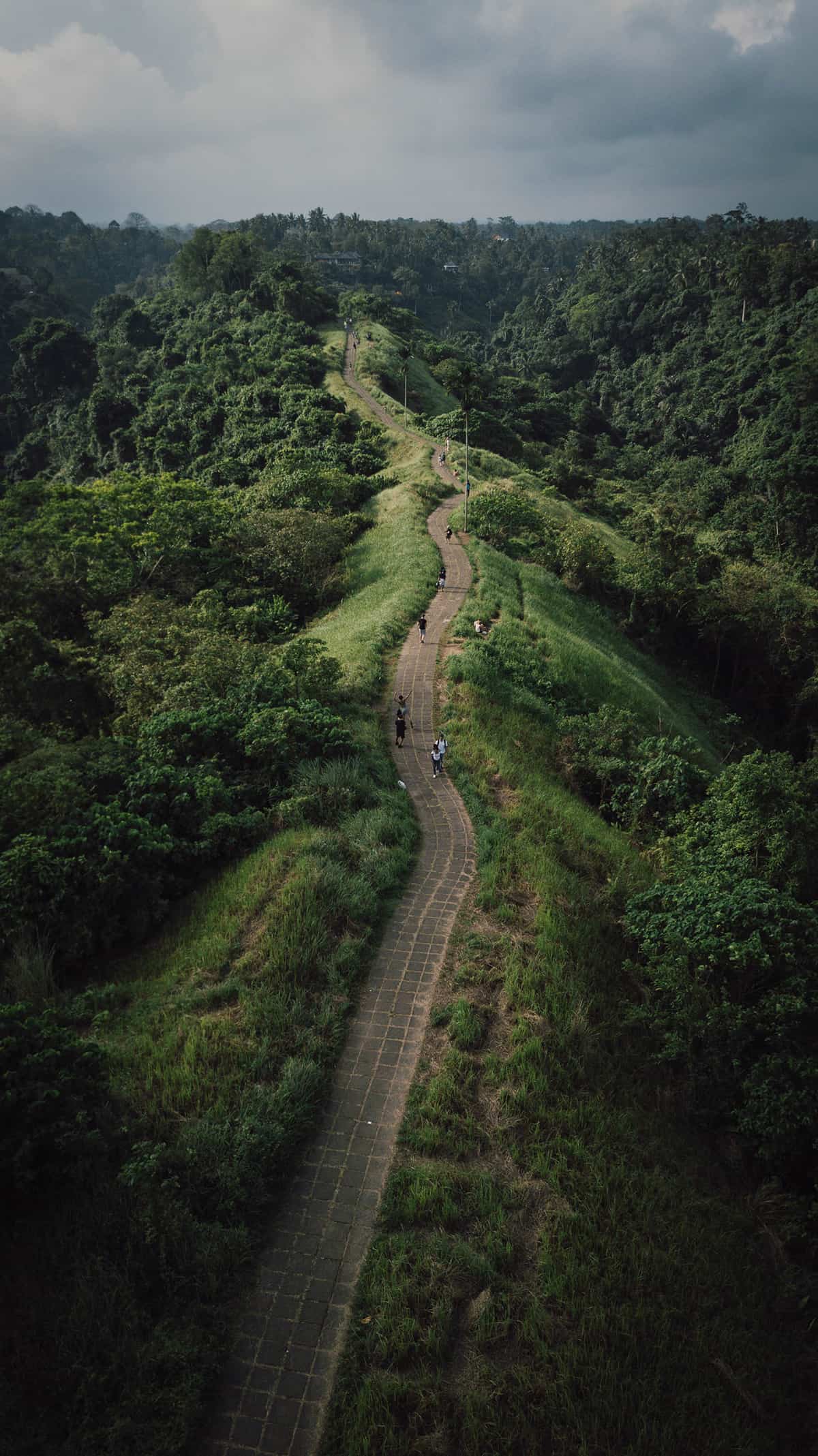 Beam me up, Scotty!
TIME: Around 3PM, FILTER: ND32/PL, ISO: 100, APERTURE: f/2.2, SHUTTER SPEED: 1/1000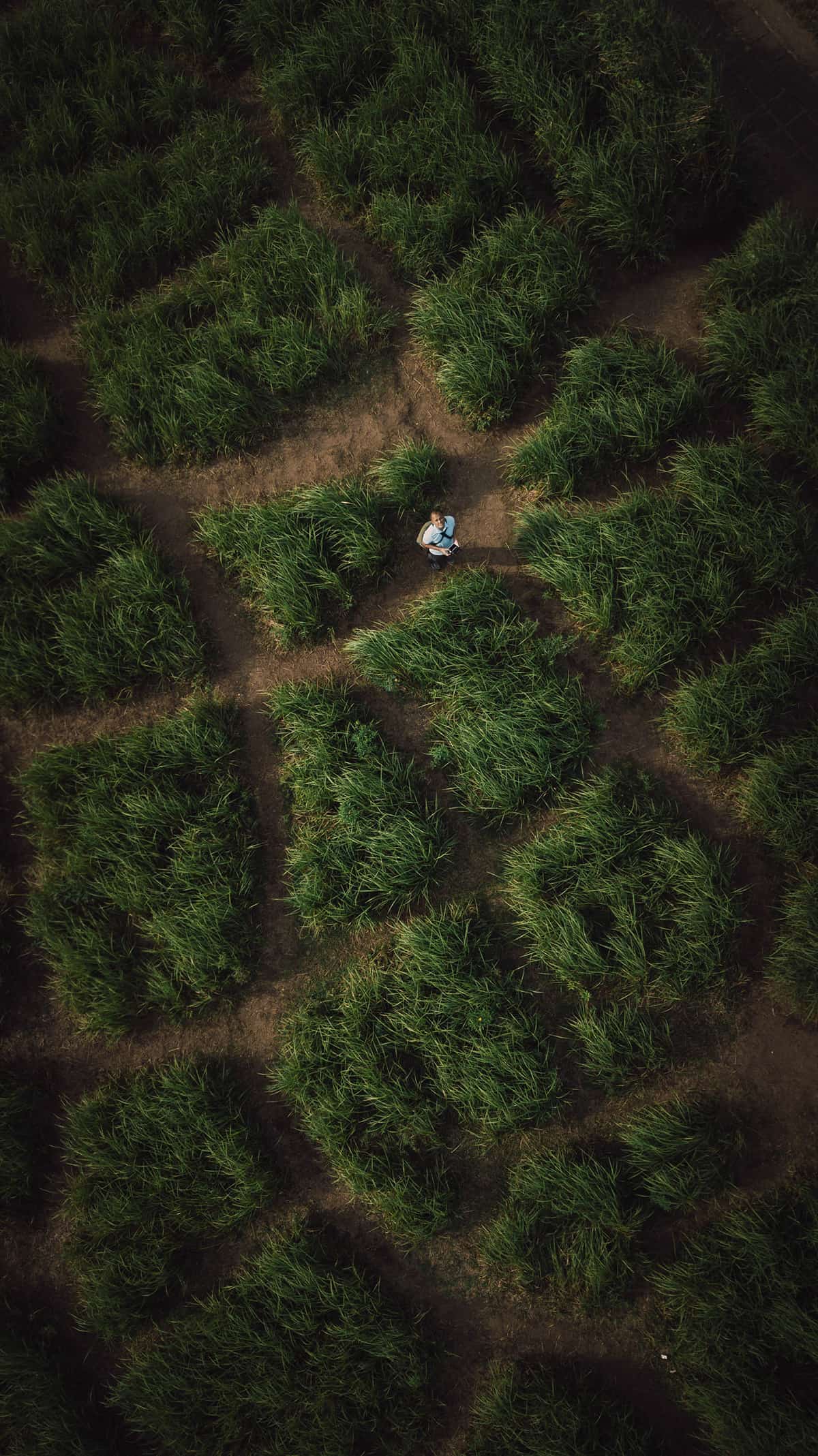 Tegalalang Terraces
Tegalalang Rice Terraces are among Bali's most visited attractions. You may have seen those Bali swing pictures circulating on social media in recent years. Most of those images were taken here.
These next two pictures are the perfect example of why it's so important to have ND filters. These were taken around noon, when the sun was blazing at its hottest and brightest, but it doesn't seem that way in the pictures right? It's all thanks to my ND64/PL filter which darkened my lens, saving me from washed out colorless photos. Thank you SANDMARC!
TIME: Around 12NN, FILTER: ND64/PL, ISO: 100, APERTURE: f/2.2, SHUTTER SPEED: 1/120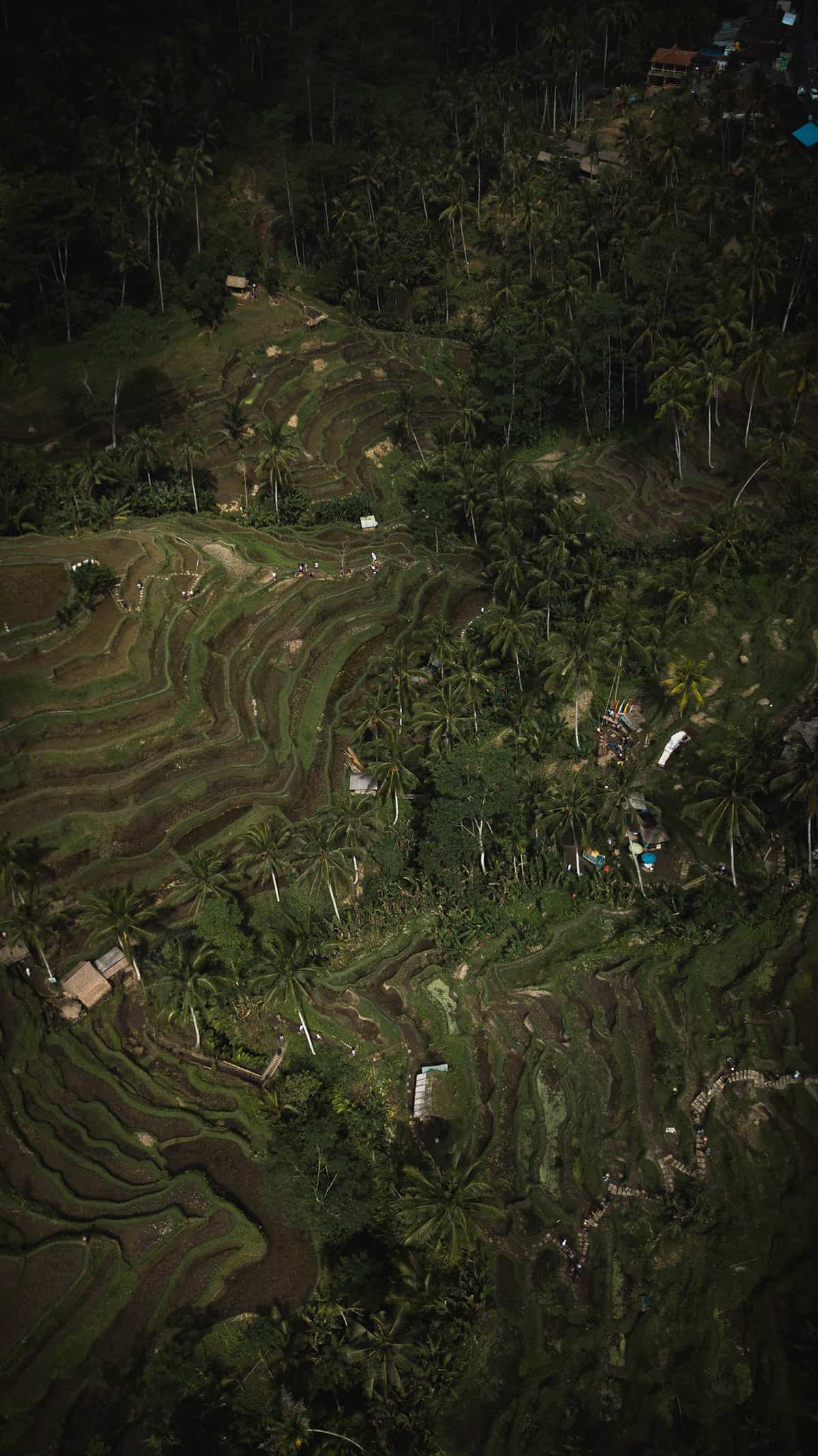 The hermit drone pilot in his kingdom.
TIME: Around 12NN, FILTER: ND64/PL, ISO: 100, APERTURE: f/2.2, SHUTTER SPEED: 1/100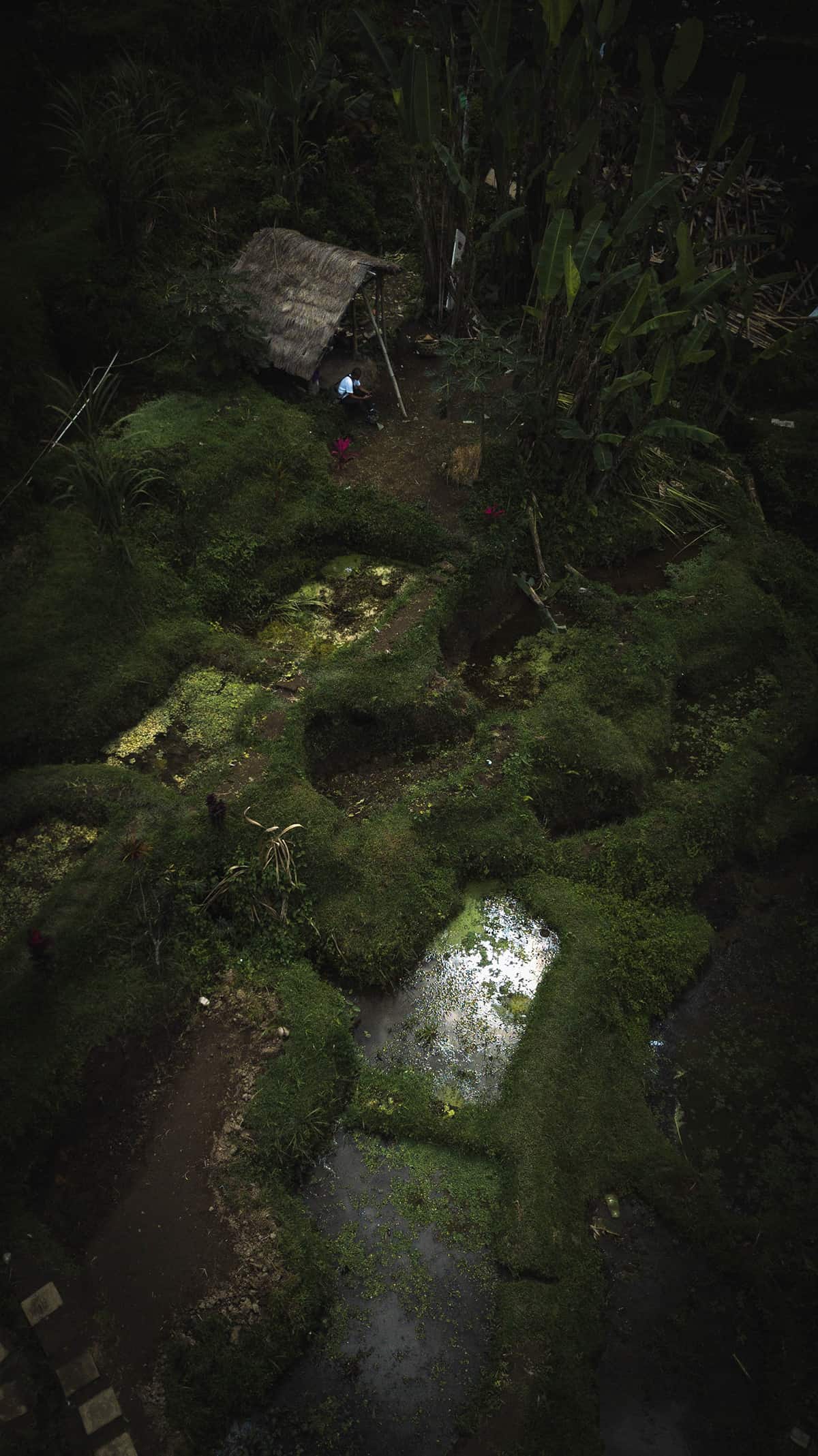 Tegenungan Waterfall
This is the shot I've been waiting for and the reason why I wanted ND filters in the first place. This was taken at Tegenungan Waterfall – another popular tourist attraction in Bali – at around 4PM with an ND64/PL filter. I can barely see my screen when I'm flying so I wasn't sure if I got the effect I wanted till I got back from our trip. Looks like I did. Woohoo!
TIME: Around 4PM, FILTER: ND64/PL, ISO: 100, APERTURE: f/2.2, SHUTTER SPEED: 1/8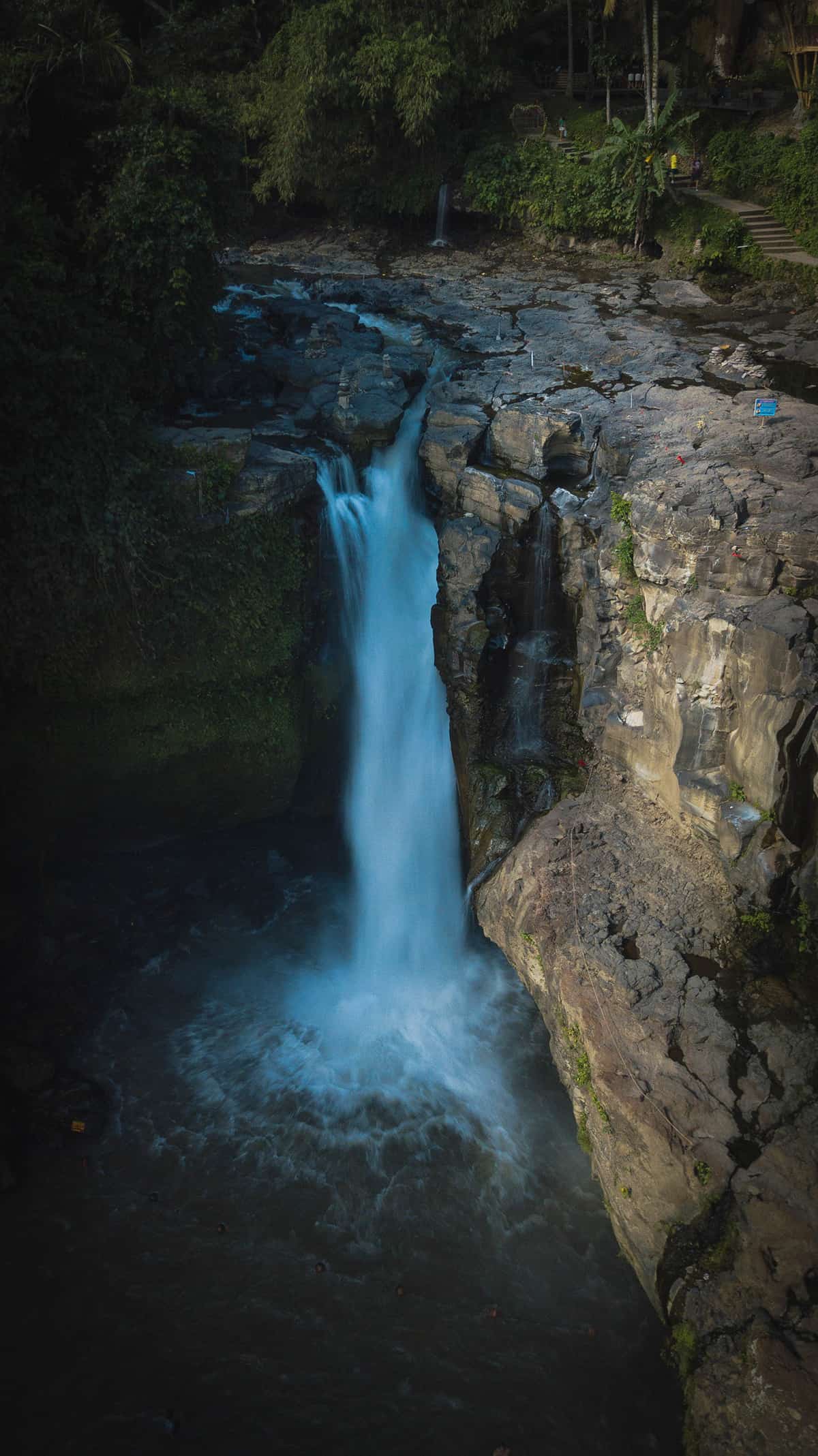 Seminyak Beach
Here's a standard beach shot taken at Seminyak Beach in Bali at around noon when the sun was at its brightest. This is a boring photo but I included it to discuss a point. I was trying to achieve the same silky smooth look with the waves crashing onto shore but I couldn't do it, not even with an ND64/PL filter. The sun was just too bright, and slowing down the shutter any more would have made for a washed out photo.
I did some research and it looks like top filter brands like SANDMARC make filters only up to ND64. There must be a reason for it, but it would be great to have even darker filters so we can achieve long exposure shots in the brightest of conditions. Maybe an ND128 or ND256? That would be awesome!
TIME: Around 12NN, FILTER: ND64/PL, ISO: 100, APERTURE: f/2.2, SHUTTER SPEED: 1/80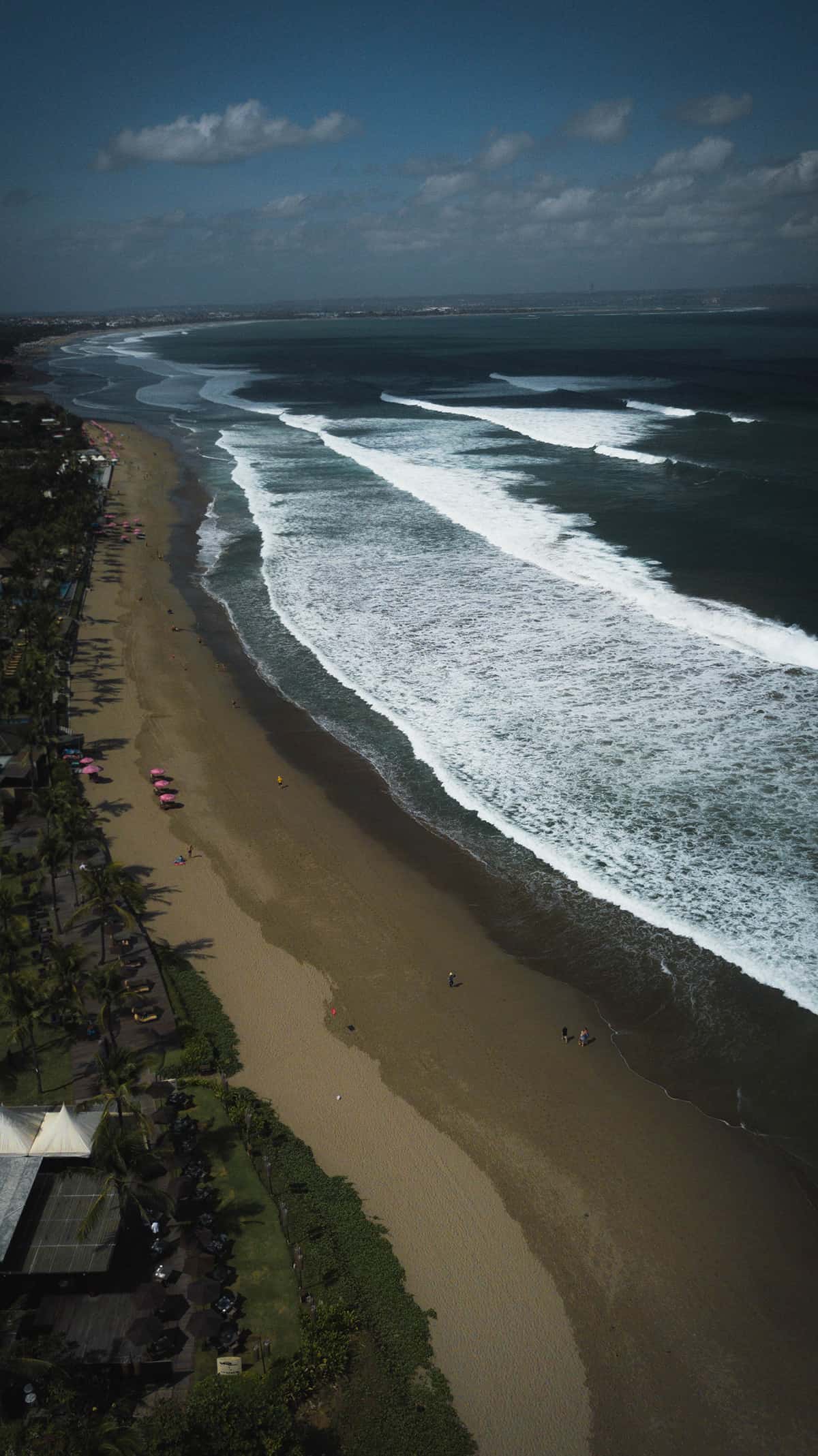 CONCLUSION
I'm not a great aerial photographer but I think even average results like mine speak for themselves. Having a good set of ND/PL filters is essential if you want to get the best possible photos out of your drone. I thought the ND filters were only for long exposure shots, but now I know they're essential for many types of drone photography.
If you have a DJI drone and want to improve your photography and videography, then I highly recommend getting a set of aerial filters. Trust me, it will improve your work dramatically. Check out SANDMARC's website for more information. As desscribed, they make lenses, filters, and accessories for iPhones and GoPro cameras as well.
SANDMARC Action Gear
Website: sandmarc.com
Facebook: sandmarcgear
Instagram: sandmarc
YouTube: sandmarcgear
Email: [email protected]
Disclosure
I'm an affiliate for SANDMARC Action Gear and they sent me two sets of Mavic Pro aerial filters and a polarizer filter for the GoPro Hero 5/6 in exchange for an honest review. As always, all words expressed in this post are mine and mine alone.
Some of the links in this post are affiliate links, meaning we'll get a small commission if you make a purchase at NO extra cost to you. We really appreciate your support as it helps us keep this website going. Thank you!