I was always under the impression that Hokkaido had the best seafood in Japan. I think many foreigners do. So when our friend Kai told us that Kyushu has the most delicious seafood, I couldn't believe it. I had never heard anyone say that about Kyushu before.
Born and raised in Japan, Kai lives in Hyogo now but she's originally from Hokkaido. On top of that, she works professionally as a cook so she knows a thing or two about Japanese food and ingredients. We spent the first half of our trip in Sapporo to attend the annual snow festival before flying to Fukuoka to explore Kyushu. With Hokkaido's reputation for having the most incredible food like crabs, lamb, and dairy, I was convinced we'd have our best dining experiences during that first week. But as Kai promised, Kyushu would be just as memorable.
To be honest, it was pretty much ingrained in my head at that point that Hokkaido has the best seafood, so I wasn't sure if what Kai said was widespread belief or just her opinion. Kaisen Ichiba Nagasakiko, a highly regarded seafood restaurant on Dejima Wharf in Nagasaki, seemed the perfect place to find out.
Delicious Seafood at Kaisen Ichiba Nagasakiko
Kaisen Ichiba Nagasakiko is a TripAdvisor Certificate of Excellence awardee. It's located on scenic Dejima Wharf in Nagasaki prefecture in Kyushu.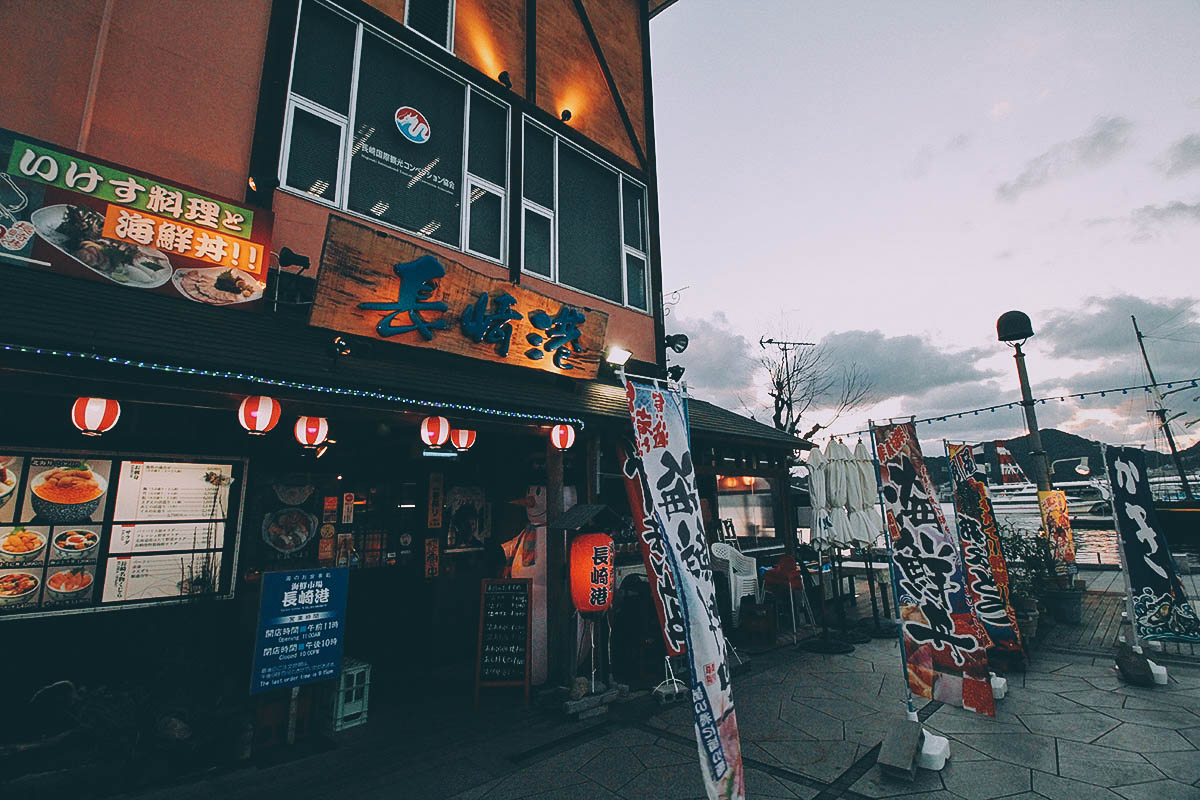 The restaurant is big and comfortable. On that far end are tanks with live seafood.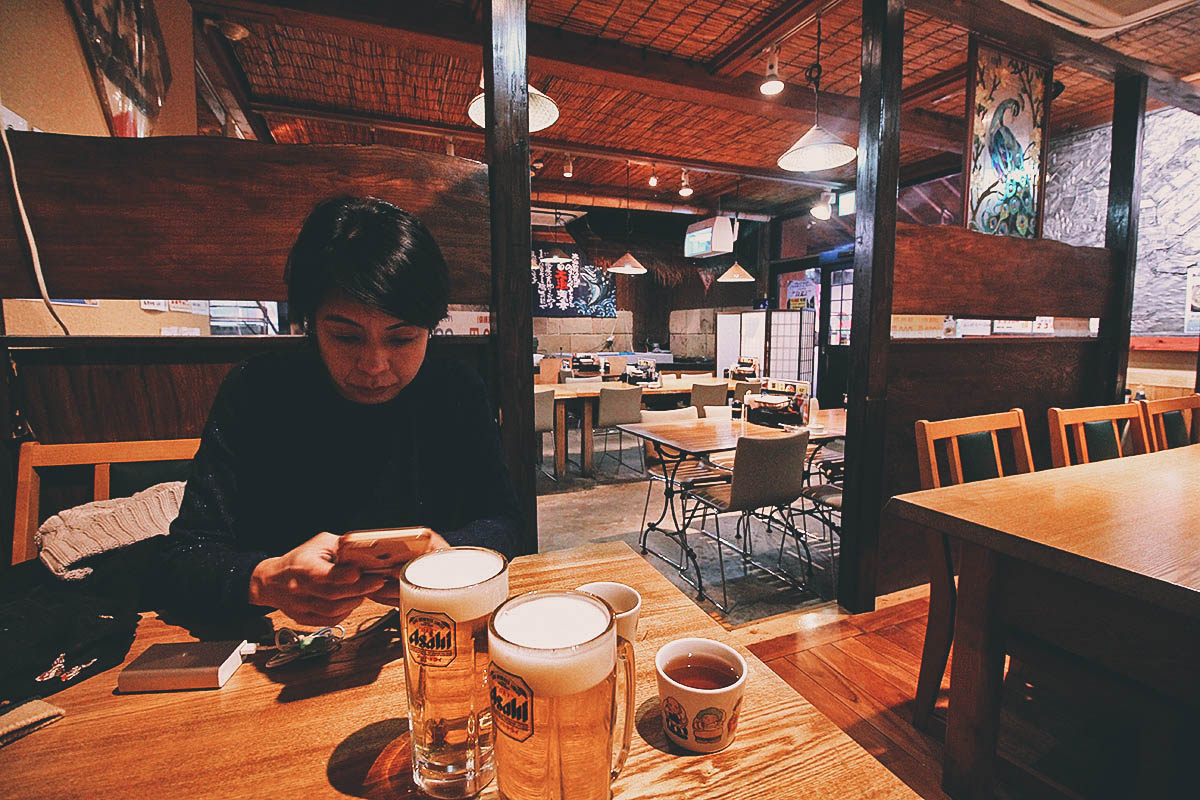 Starting off with a small bowl of uni (sea urchin) sashimi. Yum!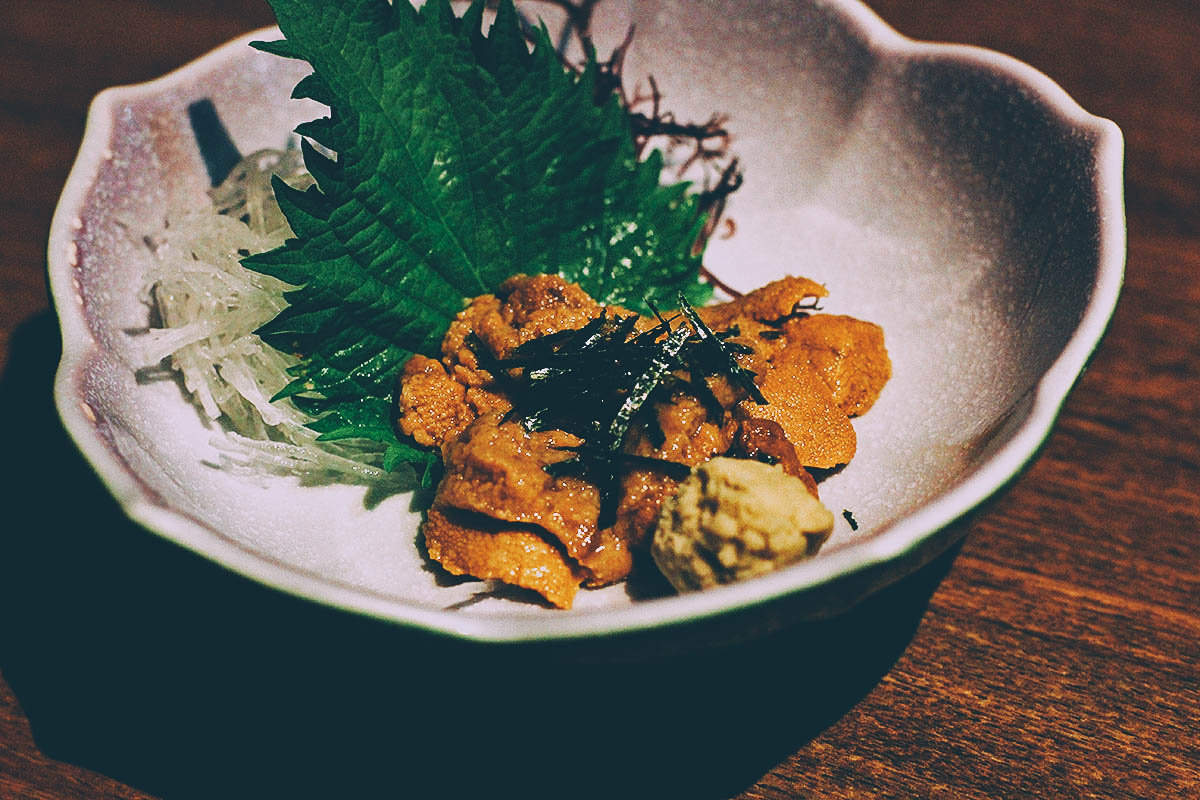 Unagi (freshwater eel) is one of my favorite foods but Hokkaido isn't really known for it so I waited until Kyushu to have it. This beautiful bowl of unagi don went for JPY 1,830. It was delicious but not as good as the unagi I had the next day at Izumiya, a 160-yr old unagi specialty restaurant also in Nagasaki.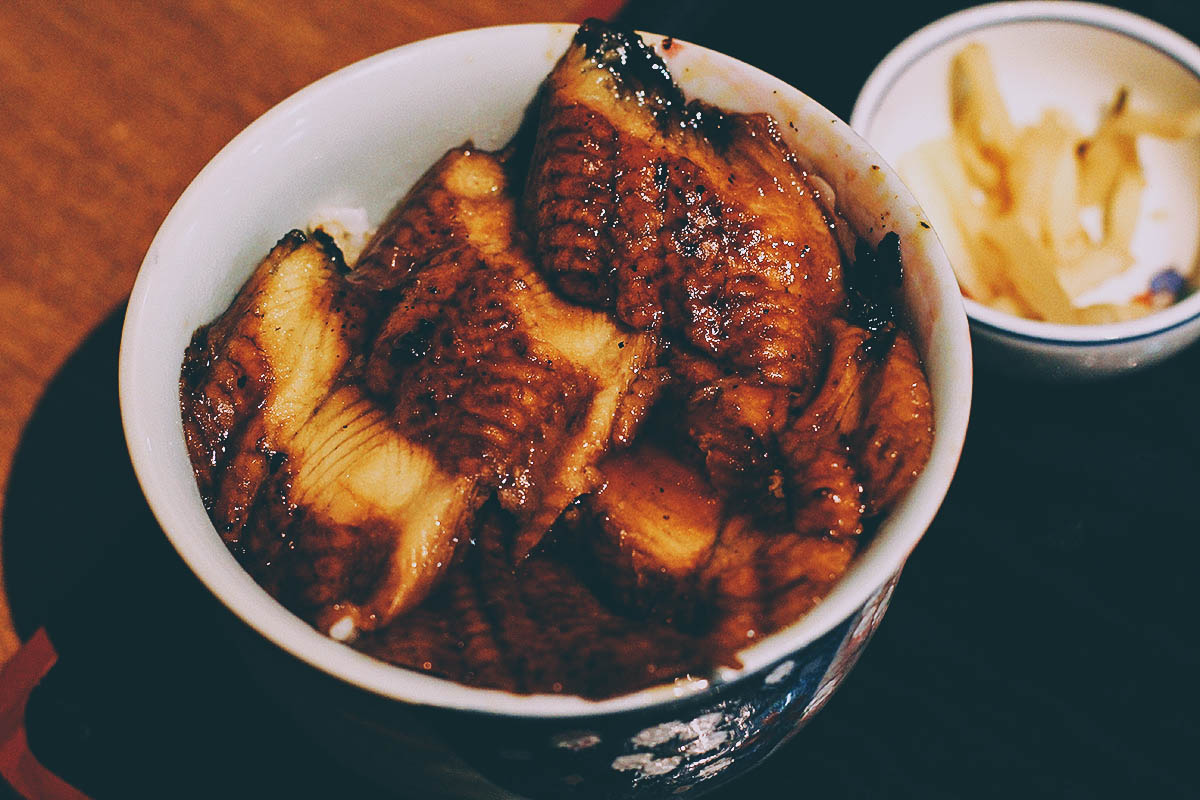 This was the star of tonight's dinner. At first, Ren thought she was ordering a regular bowl of kaisendon (fresh seafood over rice) but it turned out to be tuna and salmon zuke. I had never heard of zuke before so I read up on it. As it turns out, zuke is an old method of preserving fish in Japan by soaking fillets in a soy sauce mixture. It was a technique long forgotten with the onset of refrigeration but has seen a resurgence in recent decades as a method of food preparation. This delicious bowl of maguro and shake zuke went for JPY 1,450. It was so tasty.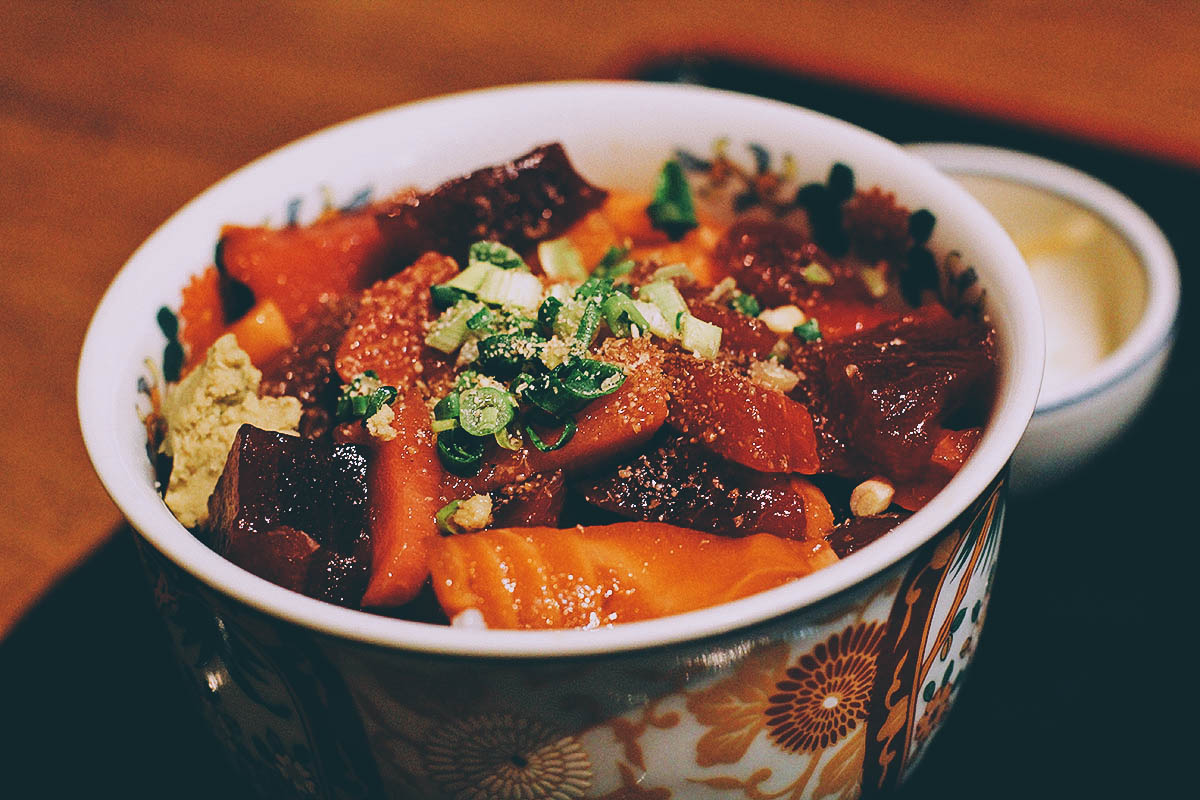 These are the live seafood tanks I was talking about earlier. I didn't get a picture but in that far tank are live squid used to make ika-no-ikizukuri. Ika-no-ikizukuri is a specialty of Yobuko so I wasn't expecting to find it here! To make it, live squid are scooped up from a tank and quickly prepared. It's so fresh that the flesh is still translucent when served. I had read many stories about ika-no-ikizukuri so we came back here the next day to have it. Unfortunately, they were sold out. The group of customers before us ordered the last one. 😥 We were leaving the next morning for Yufuin so I lost my chance to try it. I was so disappointed I couldn't stop thinking about it for days! You can only find it in port towns so I'm making it a top priority on our next visit to Kyushu.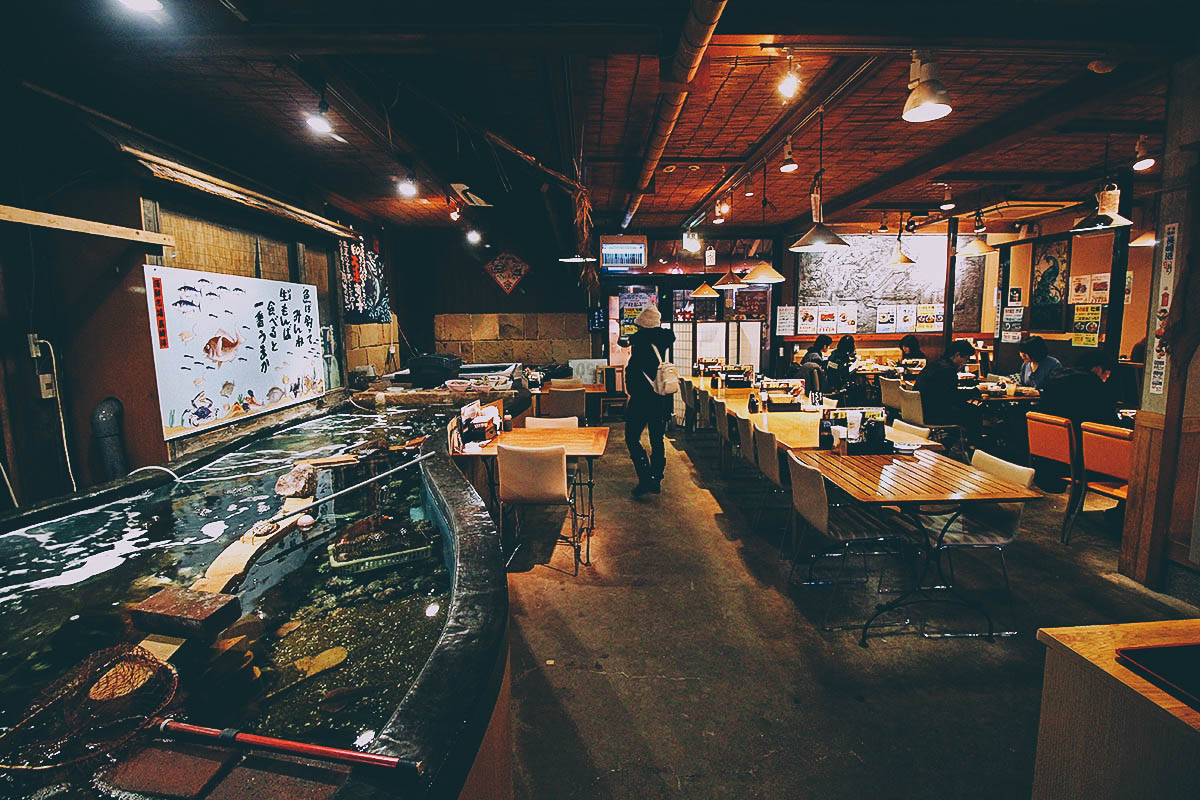 Dejima Wharf is a pleasant place to take a stroll any time of the day. There are several restaurants and cafes here, as well as a couple of shopping malls just a short walk away.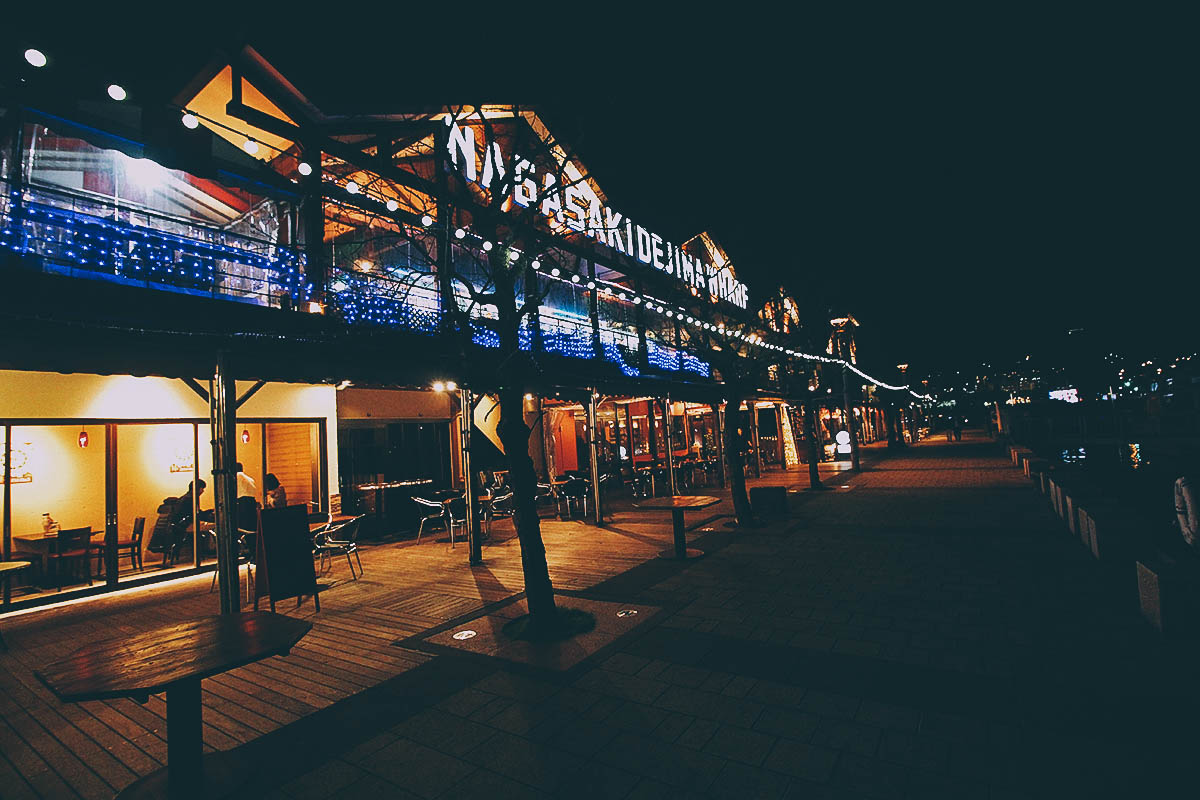 So this brings me back to the question I posed at the top of this post: Is the seafood in Kyushu really better than the seafood in Hokkaido? And the answer is, I'm not sure. 😆
We spent much of our time in Kyushu inland so we didn't get to try as much seafood as we wanted to. But the seafood we did have was fantastic. In fact, I enjoyed the bowls of kaisendon here at Kaisen Ichiba Nagasakiko more than the ones we had in Otaru, which is said to have the best and freshest seafood in Hokkaido. The thing is, we were in Sapporo during the snow festival which is peak of peak seasons. Every restaurant was packed, every eatery had a long wait. We felt rushed at every meal which is probably why I didn't enjoy them as much. In Kyushu, we got to take our time and savor our meals. That may have had as much to do with it as the actual quality of the food.
In any case, it doesn't really matter which place is better. The seafood is awesome in both. Crabs are king in Hokkaido but Kyushu has its own specialties like mentaiko (pollock roe) and ika-no-ikizukuri. It's been a couple of months since our trip and I'm still thinking about that damn squid. 😡
Next time you're in Nagasaki, make a stop at this restaurant. If you're lucky, then you may just have a squid waiting in the tank for you.
Kaisen Ichiba Nagasakiko Dejima Wharf, Nagasaki, Japan
1-1 Dejimamachi | Dejima Wharf 1F, Nagasaki 850-0862, Nagasaki Prefecture
Tel: +81 95-823-1550
Website: nagasakikou.com
Operating Hours: Mon-Sun, 11AM-2PM / 5-10PM
What we paid: Around JPY 2,200 each with drinks
HOW TO GET THERE:
Take the tram to Dejima station. Walk towards the water to find Dejima Wharf and Kaisen Ichiba Nagasakiko.
Disclosure
The TripAdvisor links in this post are affiliate links, meaning we'll get a small commission if you make a purchase or reservation at NO extra cost to you. We really appreciate your support as this helps us keep this website going. Thank you!
For travel tips to Nagasaki, check out our First-Timer's Travel Guide to Nagasaki, Japan