It's been over 20 years since either Ren or I have been to Cebu, so we were more than happy to join Brooke and her family when she invited us there on a short 3-day getaway.
Brooke's Seattle-based brother Dondi and his wife Arlene were in town on a Gawad Kalinga project, so she wanted to take them someplace special where they could get some much deserved R&R. If you've ever been to Cebu, then you'll know that this was as good a place as any to just switch off your cellphone, put on your sunglasses, and bask under the warmth and rejuventaing powers of Philippine sunshine. "Walang ganyan sa States!" (There's no like that in America) 🙂
Staying for only two nights, we spent the first at the Waterfront Hotel in Cebu City before moving to the stunningly beautiful Plantation Bay resort, of which we had heard so many marvelous things about. In between, we visited Magellan's Cross, got a private tour of Kenneth Cobonpue's brilliant showroom, dined on some crispilicious Cebu lechon, and got a taste of true Cebuano hospitality from Brooke's good friend, the ever affable and gregarious Jun Osmeña.
Who said you couldn't do much in 3 days? 😉
Day One
Touchdown in the land where the skies are blue…in the middle of the pouring rain…oh no wait, it was sunny…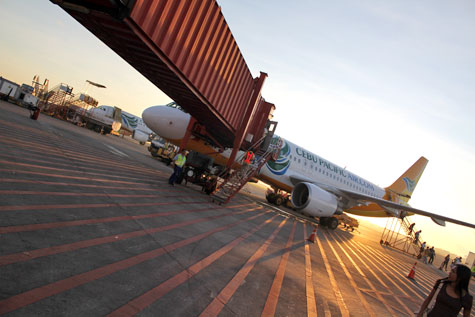 Waterfront Hotel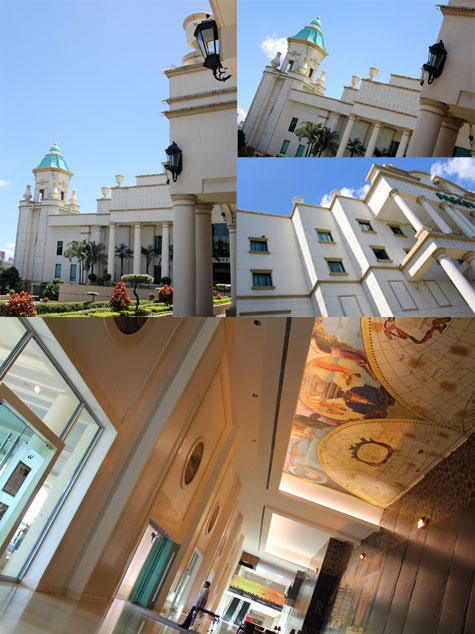 Restaurant row. Here they had posh restaurant upon posh restaurant lined up and waiting to be dined at. I remember spotting a Chinese, Japanese, and an Italian restaurant, as well as a sumptuous hotel buffet, a sleek all-white nightspot, and a mouth-watering little pastry shop. Awesome!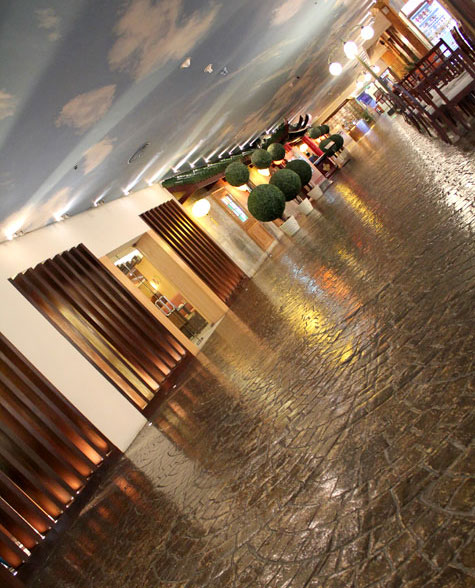 Peek-a-boo! Doesn't Ren look really cute here?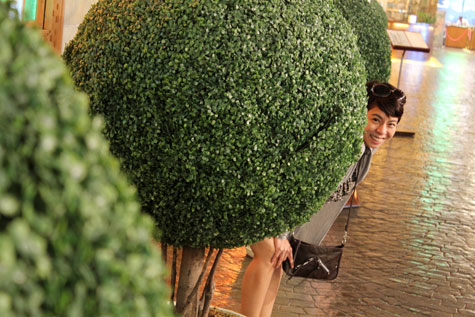 Ren looking regal with her feather bonnet.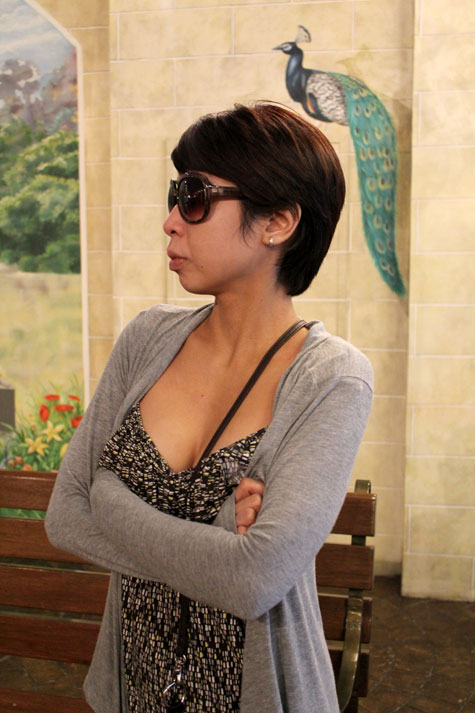 Here's me trying to look cool, all the while resisting a shameless urge to pole dance.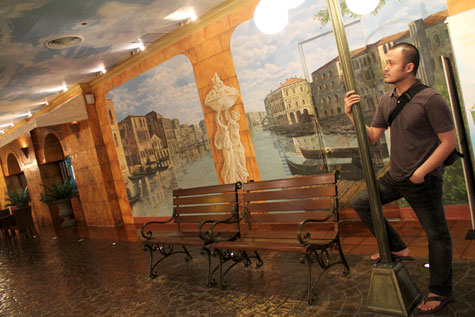 We decided to have lunch here at Tin Gow for some delicious Chinese food.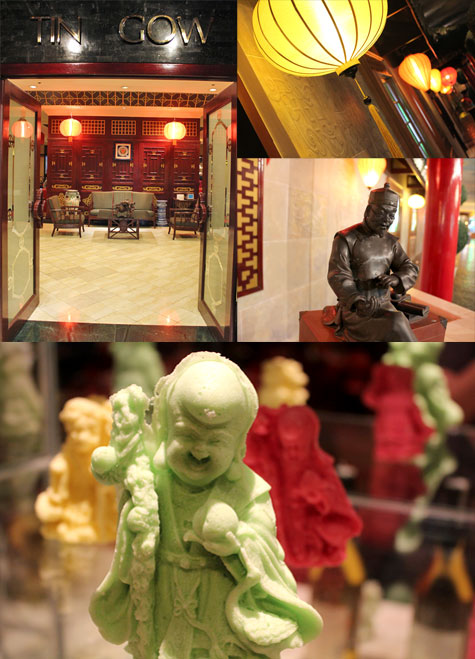 The dimsum was delectable and the shrimp with loads of garlic was to die for.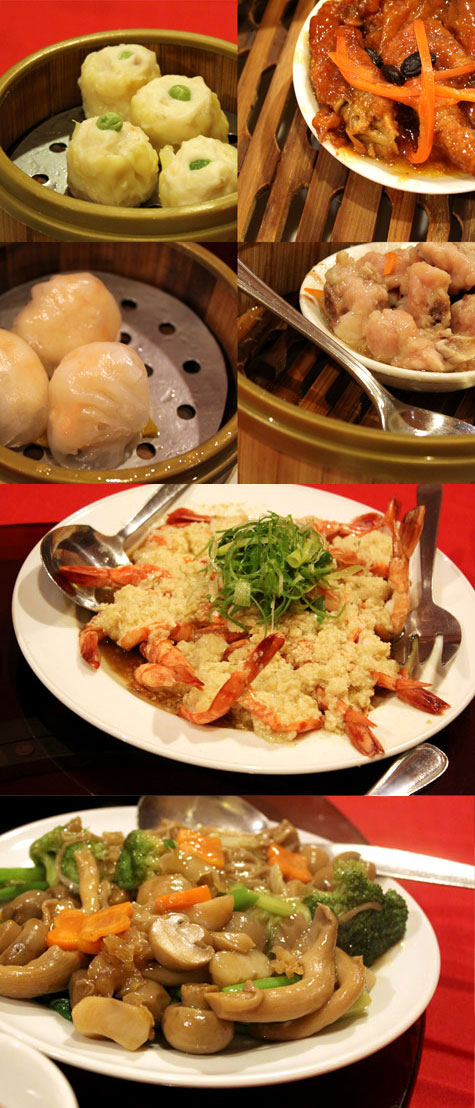 With our appetites satiated, off we went to do a little sightseeing.
Magellan's Cross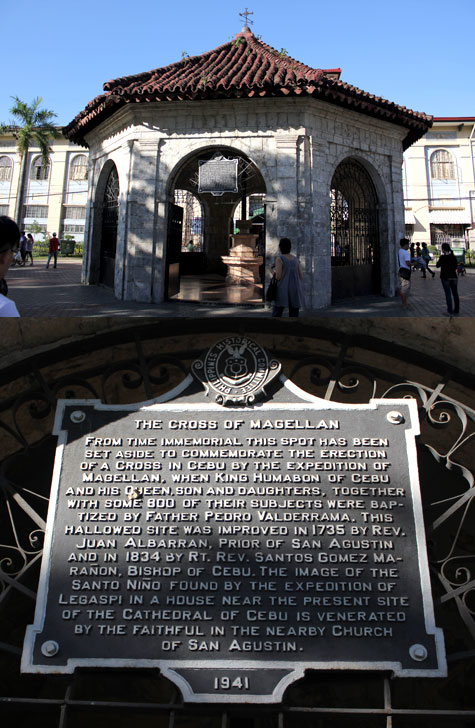 If you're thinking that this looks way too new for a wooden cross that's almost 500 years old, it's because it is. It's made of tindalo wood with the actual cross housed safely within.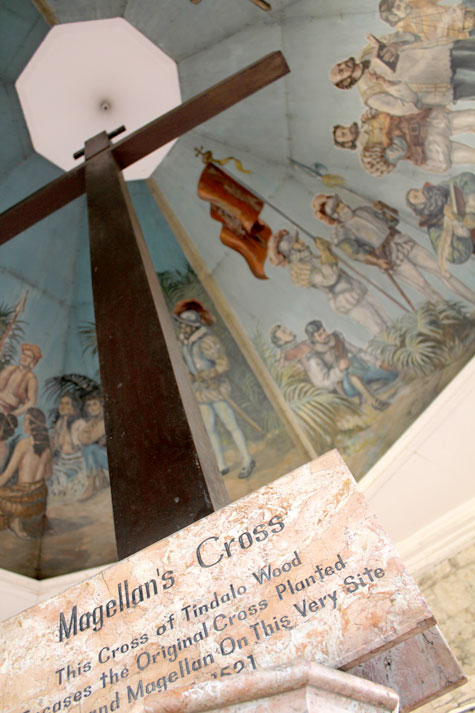 Basilio de Sto. Niño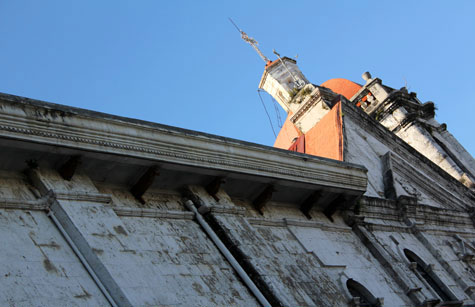 It's like a scene from Charlie's Angels, except only Ren is in character.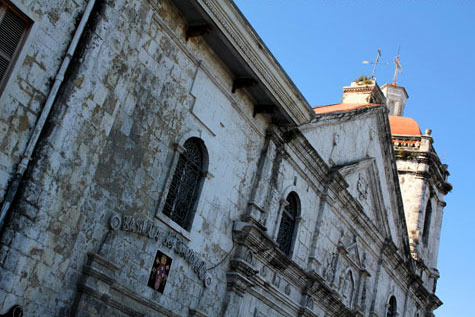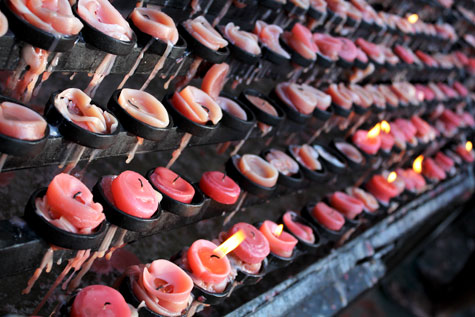 It's like a scene from Reservoir Dogs, except with girls. And they're not wearing suits. Plus they're smiling. Ok it's not like Reservoir Dogs at all.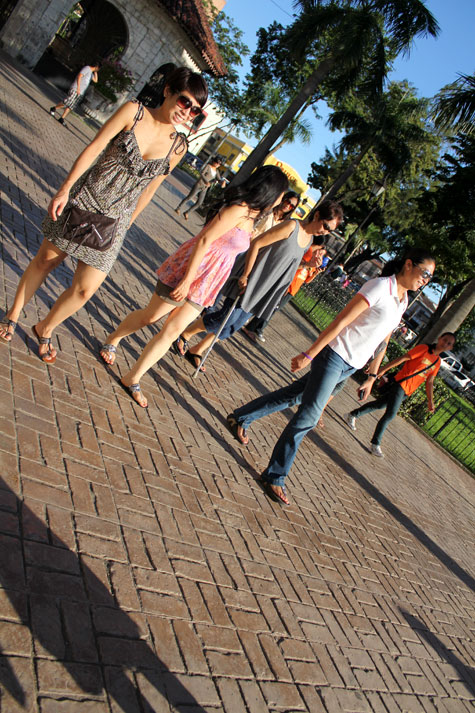 Kenneth Cobonpue Showroom
Ren and I have been wanting to come here for the longest time and thanks to Brooke who was awesome enough to arrange a private tour for us, we were able to visit Kenneth Cobonpue's actual showroom here in Cebu.
For those unfamiliar with Cobonpue's work, he's an industrial and furniture designer internationally renowned for his signature free-flowing designs using natural materials like rattan, buri, bamboo, and abaca. Known for drawing his inspiration from nature, to describe his work as organic is like calling Salvador Dali's work surreal. He personifies the term.
100% pure genius, he is definitely someone for us Filipinos to admire and be proud of. Find out more about him at kennethcobonpue.com.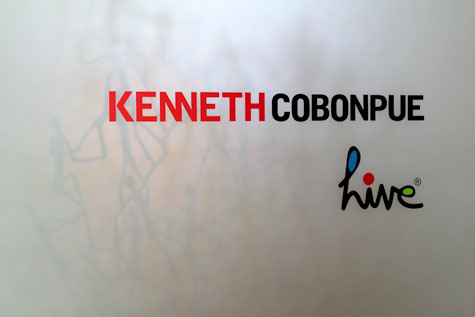 So as not to bore you, I've kept the descriptions brief and limited the number of pictures, but you can CLICK HERE for a lenghtier and more detailed post.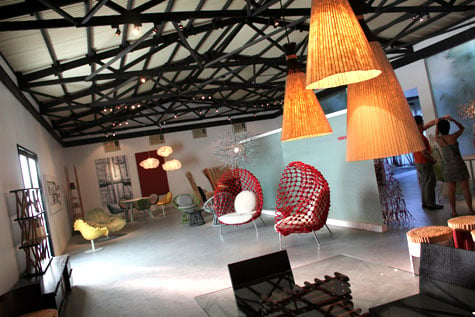 Dragnet lounge chairs and end table.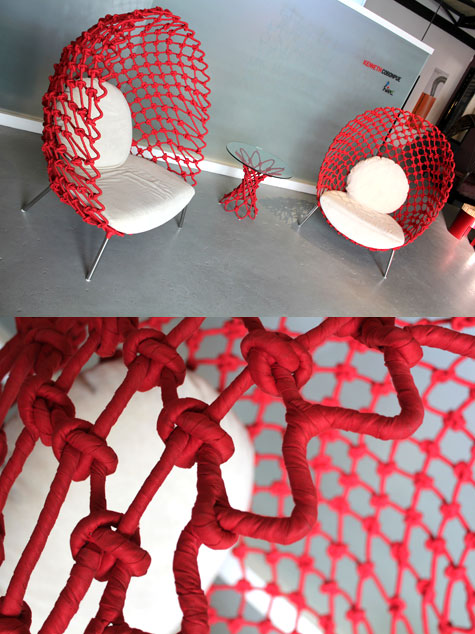 Chiquita stools.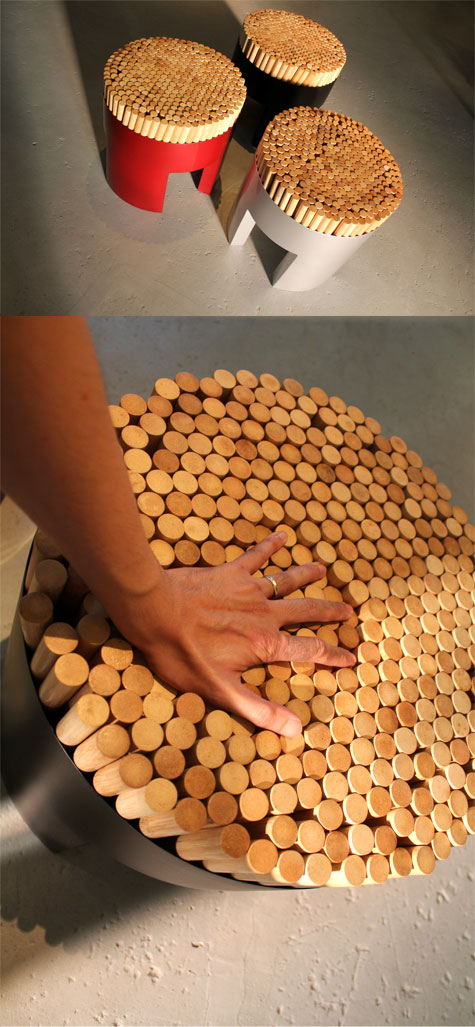 Noodle armchairs around a Freya round dining table.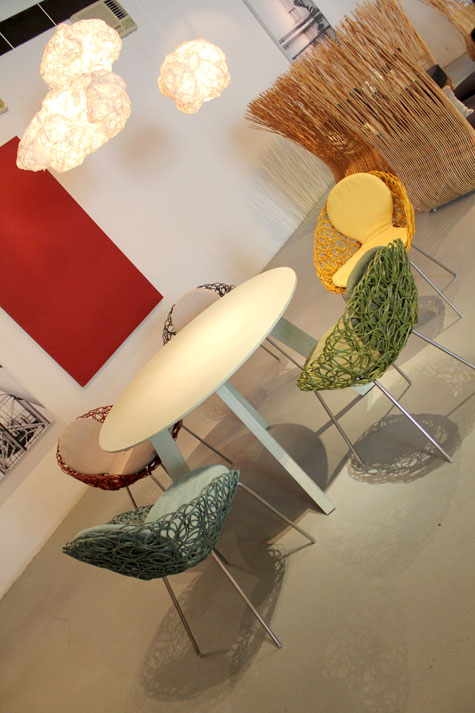 Yoda sofas, coffee tables and barstools.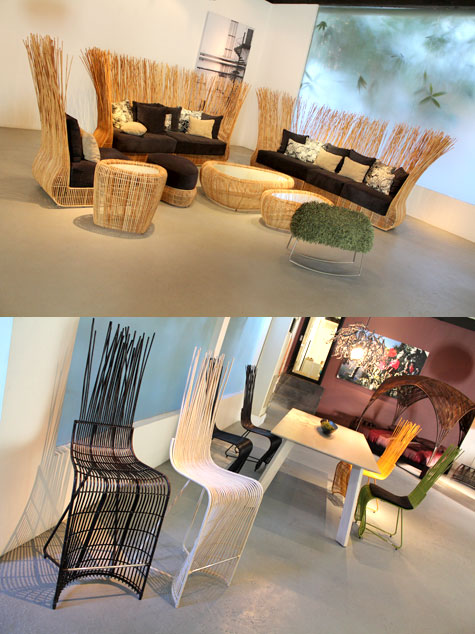 Gorgeous lighting fixtures. The spiky durian-looking pieces are made with origami paper.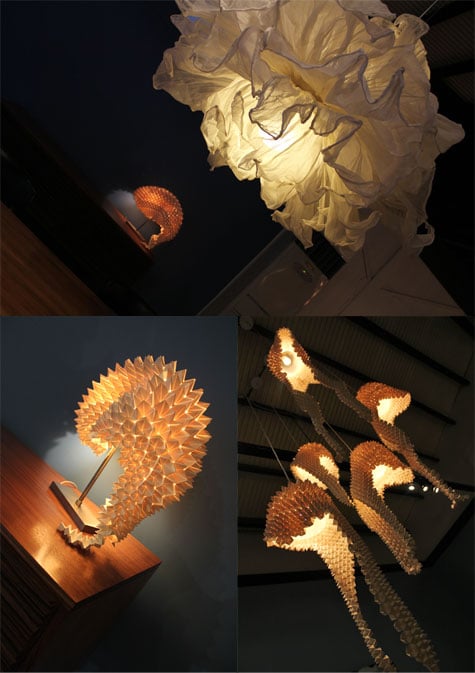 Probably my single favorite Cobonpue piece – The Yoda easy chair in lime green.


This was a bathroom faucet and sink. Lifting off that woven top reveals a glass bowl sink underneath.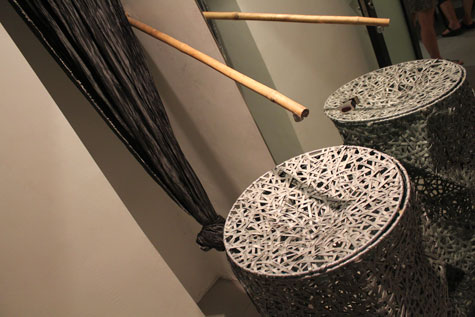 Funky little figures holding hands to form lamps, dividers and chandeliers.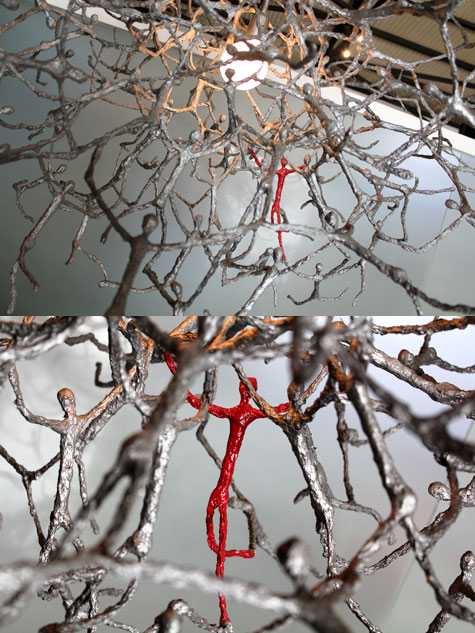 Complimentray cappuccinos at the end of our tour. Sweetness.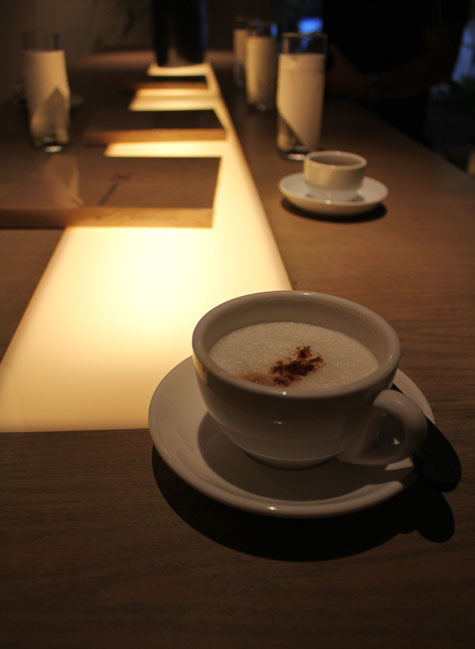 Ren getting a breather after a highly entertaining and enjoyable tour. Love those bird's nest lamps in the back.
It goes without saying that to own one of Kenneth Cobonpue's captivating creations would be a joy and an honor. We'll definitely invest in one soon as we have the resources to build our dream house in the country.
I think having just one in a striking color would make for a great focal point and converstaion piece, don't you think?

After touring the city, we go back to our hotel to have dinner at Mizu Japanese restaurant. Here we finally meet for the first time Brooke's good friend Jun and his wife Girlie. Warm and wonderful people, to say that they are abundantly generous with their time and spirit is an understatement.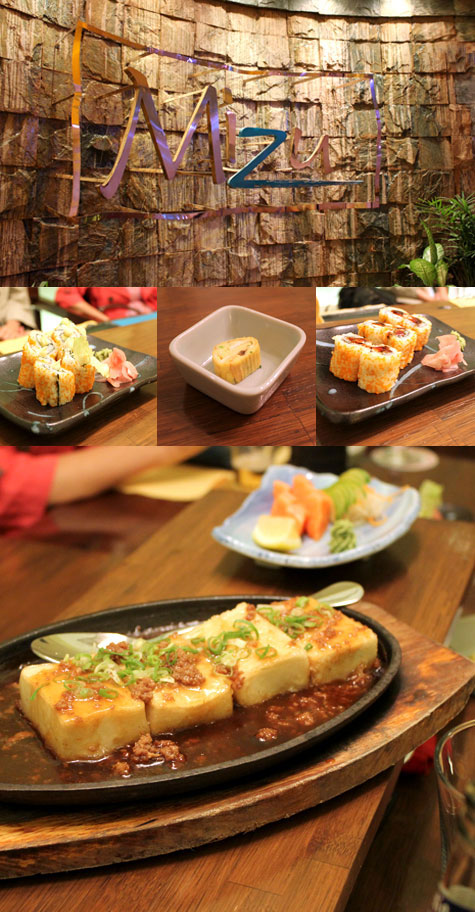 The steak and tempura were delicious, as was the tofu with pork dish above.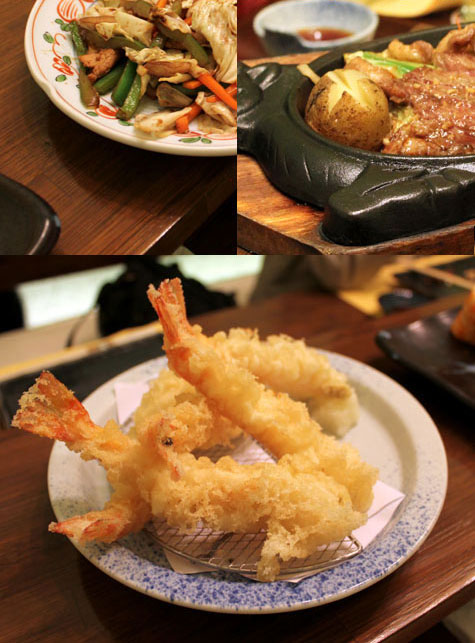 Beautiful desserts.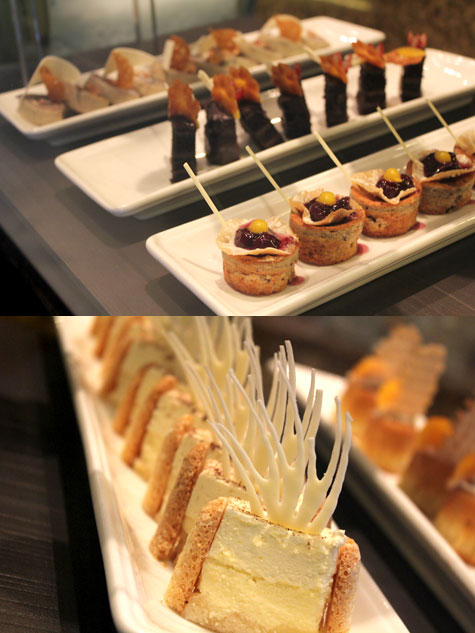 Day Two
Ayala Center
Ren and Brooke hamming it up at Ayala Center, Cebu. I think I can now proudly say that I've been to all the Ayala Malls.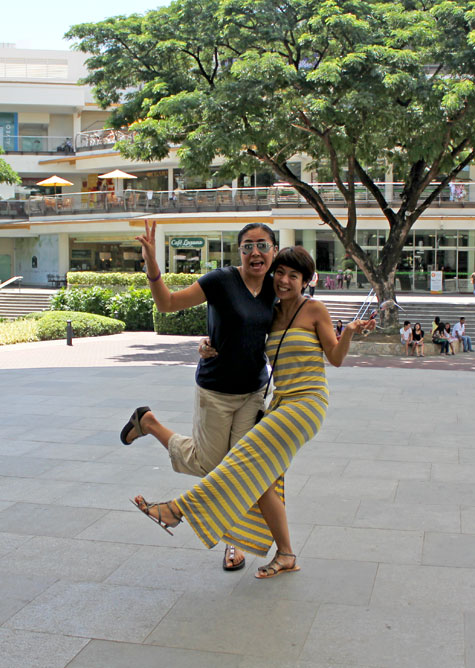 Here Jun treated us for lunch at one of his favorite restaurants, Lemongrass.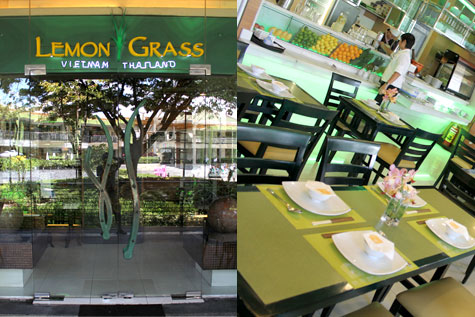 Check out all these beautiful Thai and Vietnamese dishes. The pitcher of juice below was amazingly refreshing. If I remember correctly, it had lime, orange and cucumber slices, as well as some mint and basil leaves.

The pandan chicken was especially delicious. Moist and tender on the inside with crisp, lightly charred skin, this was the best pandan chicken I've ever had.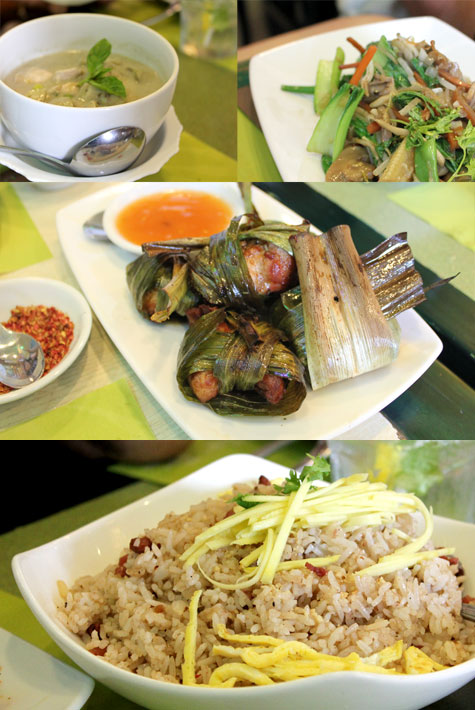 A tall, refreshing glass of Vietnamese iced coffee as served by our jovial waiter. Service with a smile always makes great food taste even better.

Jun poking fun at Tita Lita's sour cheek of mango. Jun's one of the funniest and wittiest people I've ever met. He had us all in stitches every minute he was with us.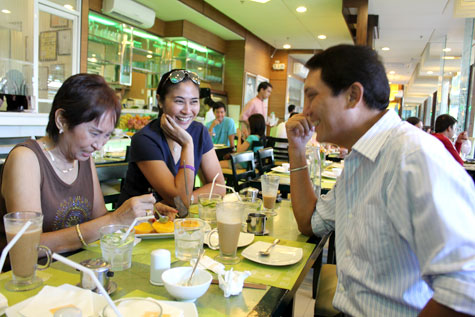 Plantation Bay
Aaaaah…beautiful Plantation Bay. We were finally here!
Opened in 1996 and located only 30 minutes from Cebu City, Plantation Bay is set in 11.4 hectares of secluded grounds and offers one of the largest privately-owned waterways in the world. It's been voted one of the top 20 resorts in Asia by Condé Nast Traveler 3 years in a row.
Aside from the large and gorgeous lagoon-like saltwater pools, they also offer many other activities including scuba diving, aqua sports, fishing, rock climbing and Segway rentals. They even have archery and shooting ranges! How cool is that?!
For more information, please visit their website at plantationbay.com.
Here's the reception area.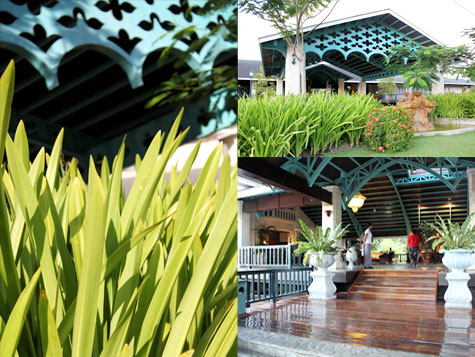 Ren looking radiant while posing at one of the resort's many gazebos.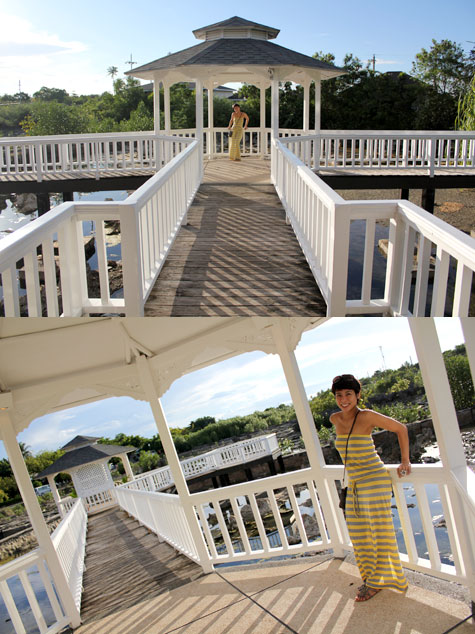 Beautiful colonial plantation-inspired architecture. This was where we stayed – Edo Hall.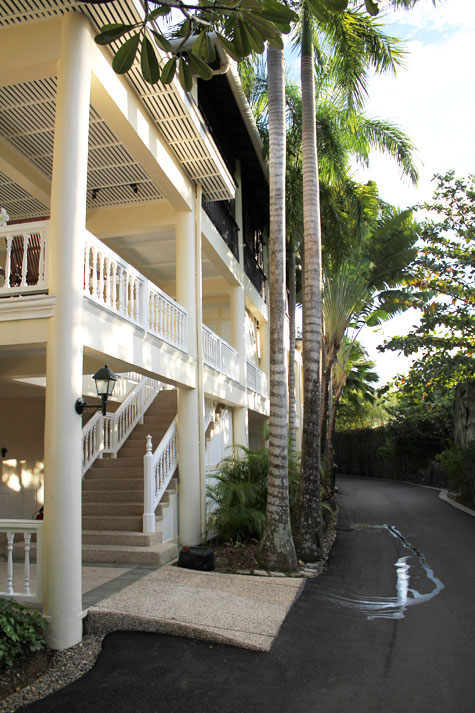 Ren and Brooke striking a pose.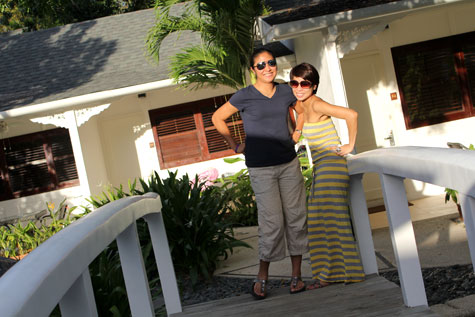 Aaaaaaaawwww…..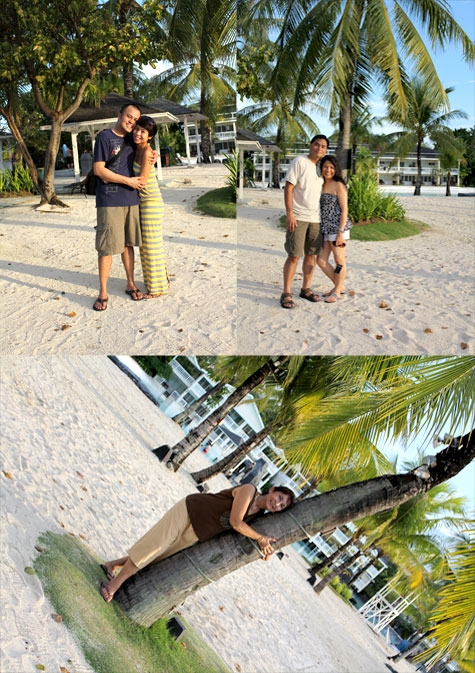 Finding Nemo…or is it Ariel the Little Mermaid?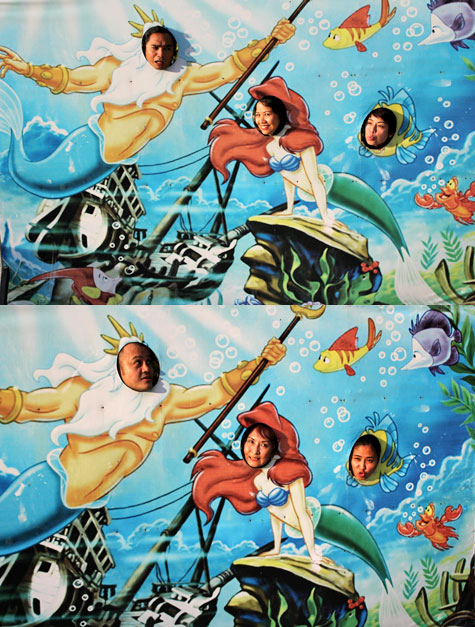 Dondi elated, having crossed the great divide.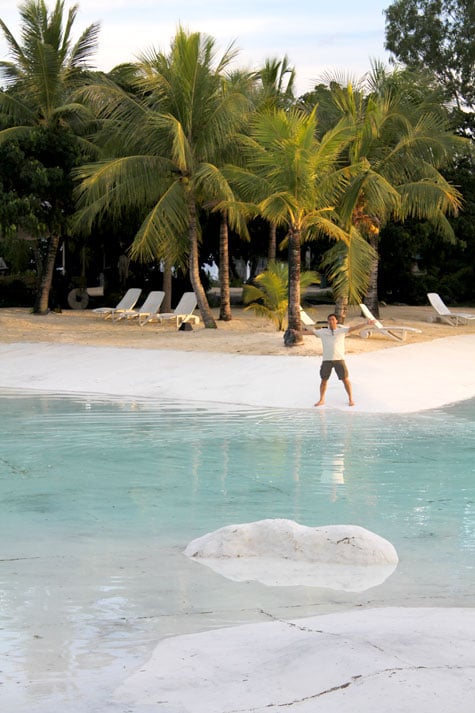 Our spacious and very comfortable room, complete with complimentary cookies and other goodies.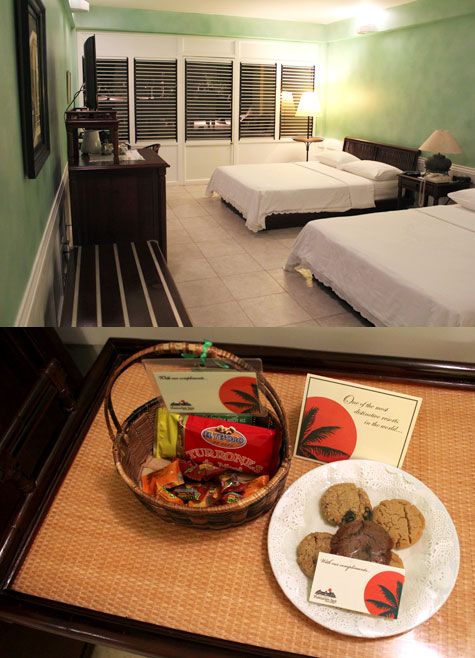 When you hang out with my wife's family, it won't be too long before you find yourself holding a karaoke mic in one hand and an ice-cold beer in the other. I don't sing so I often find myself holding two beers instead.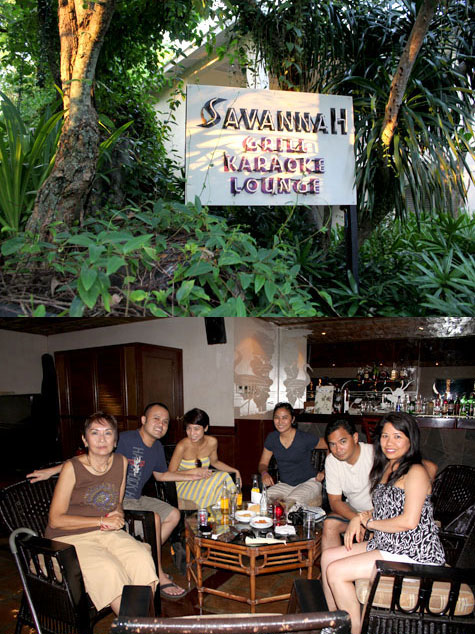 Agut-agutan.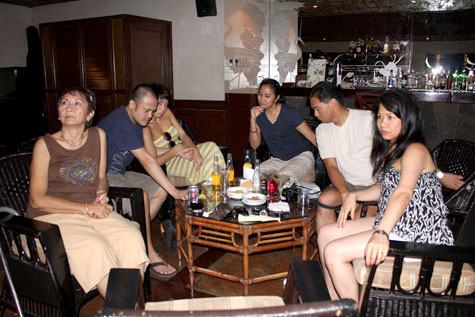 Jun and Girlie were on their way bearing Cebu lechon for dinner, so we enjoyed a small appetizer first of pita bread and Japanese gyoza at Fiji restaurant. Along with Savannah Grill above, Fiji is one of I believe three restaurants serving delicious fare at Plantation Bay.
As you'd expect from a resort of this caliber, the food was a little pricey but most everything we ordered was good and they did give you large portions.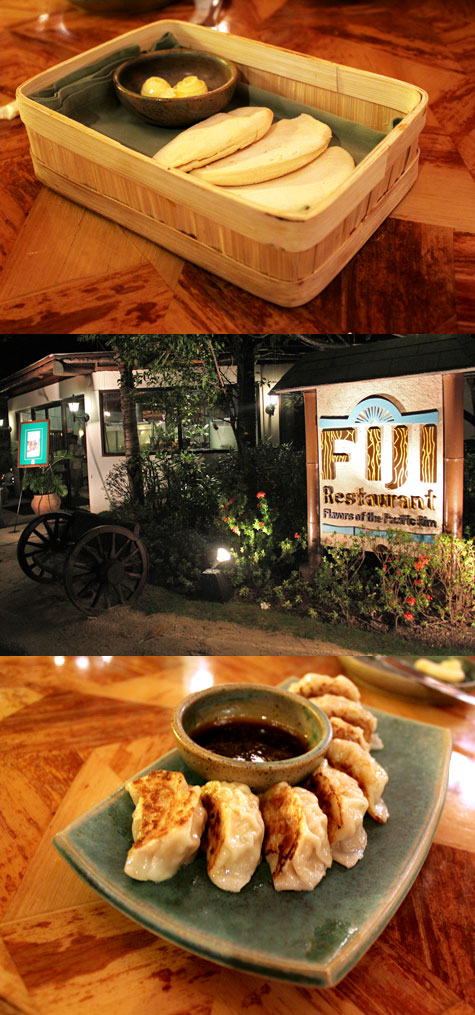 Famous Cebu lechon (roast pig) courtesy of Brooke and Jun. How can a trip to Cebu be complete without a taste of this all-time Pinoy favorite?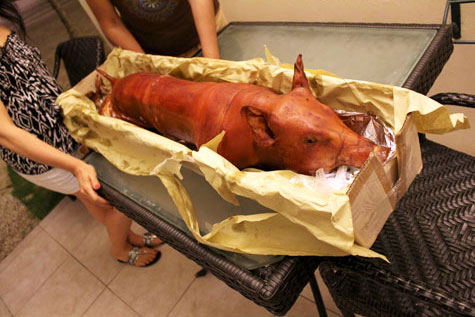 Plates? Silverware? Who needs em?! Using only our bare hands, we give in to our primal urges and tear into it like savages. Incredibly crisp and flavorful, this was the best damn lechon I've ever had, bar none. Thanks again Brooke and Jun!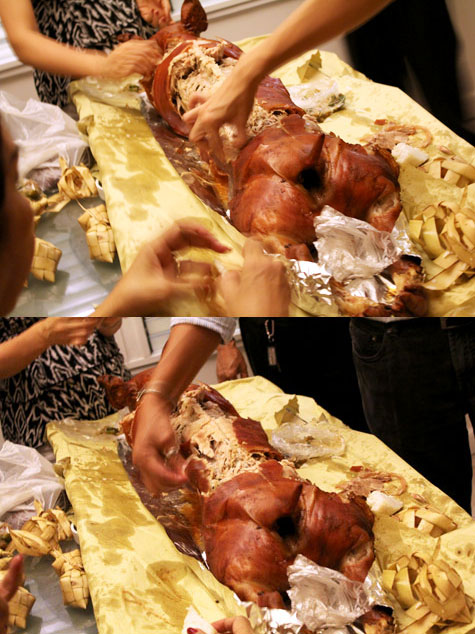 We enjoy our lechon with some Cebu hanging rice (puso).
A true Cebu original, the rice is wrapped in coconut leaves then boiled. It's served by slicing the coconut leaves in half, exposing the rice.
Before they're eaten, puso rice pieces are usually strung hanging together hence the term "hanging rice."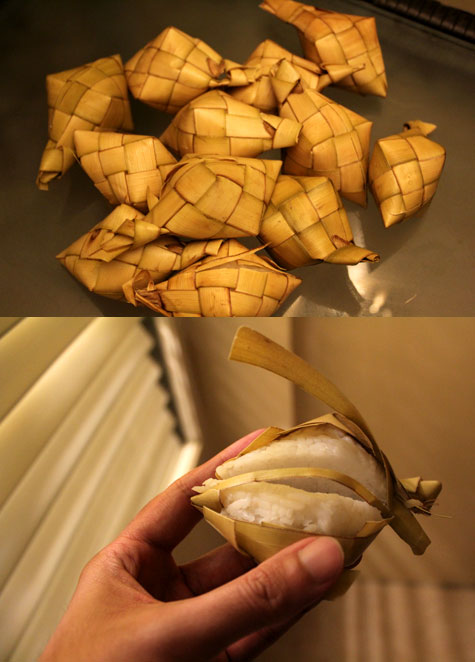 Nothing but the best to wash down our meal. Incomparable Grey Goose vodka, courtesy of Jun.
Thanks Jun for the memories, or should I say lack thereof since I don't recall much after this. I just remember quietly singing Adele's "Someone Like You" before finding myself in bed the next morning…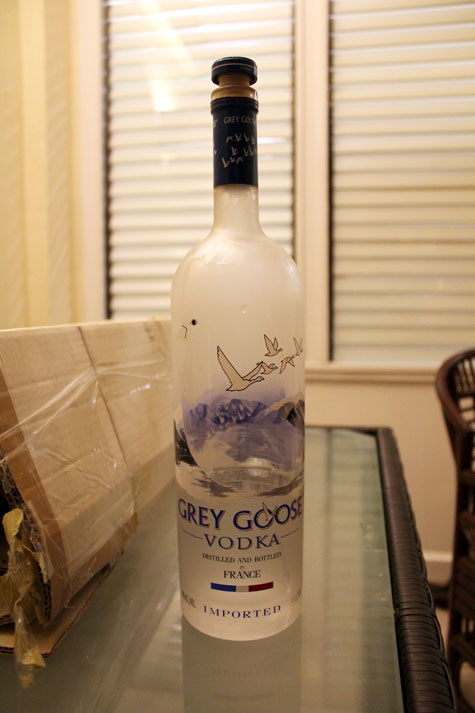 Day Three
Thank God for the French for making hangover-free vodka. Otherwise I wouldn't have enjoyed this as much. What a beautiful sight to wake up to.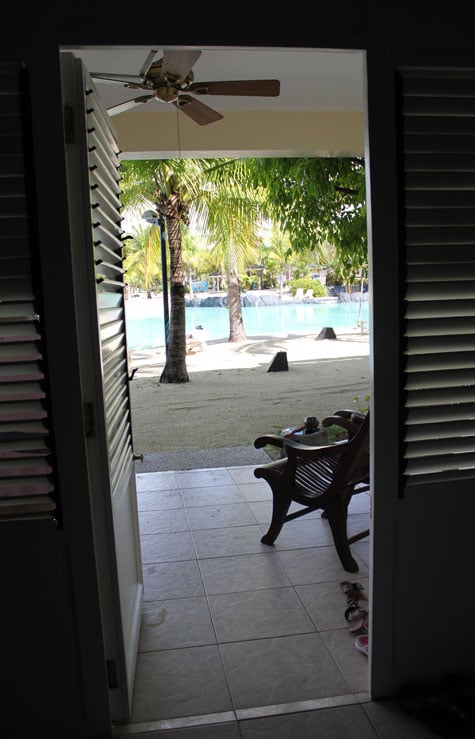 If I remember correctly, the resort had about 2 or 3 of these beautiful gigantic man-made saltwater pools with sand lining the shores. As you can see from the pictures, some of the rooms had a patio with steps leading directly into these pools. At the deepest parts, they were only around 5 feet deep, making them much safer for everyone.
I never thought anything man-made could be so beautiful. It had all the pleasures of the ocean without the little annoyances like rocks, jellyfish, boats, etc. Plus the saltwater didn't tatse as salty as regular seawater either.

Our patio complete with water basin to wash the sand off your feet. I love it when resorts provide you with little conveniences like this.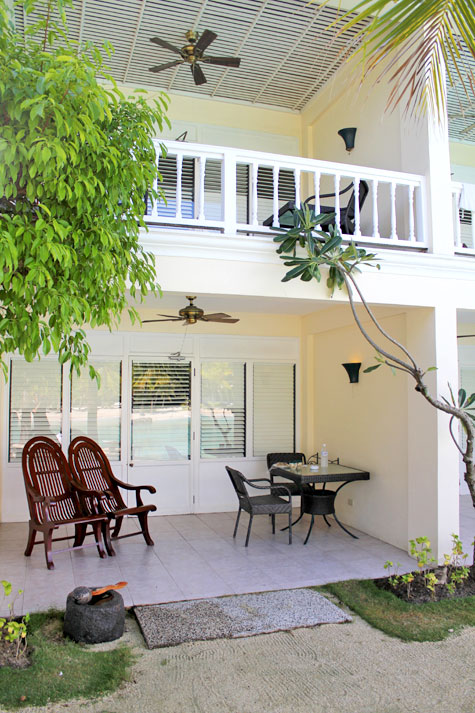 The lovely Renée taking her first dip. Check out them coconuts…in the background. 😀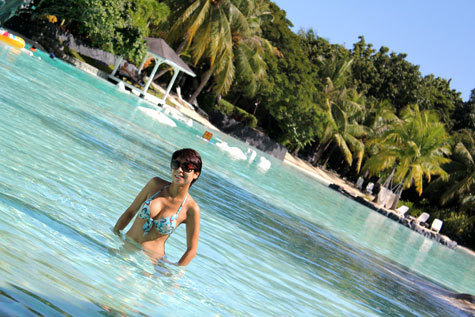 "Miiiiiike?…"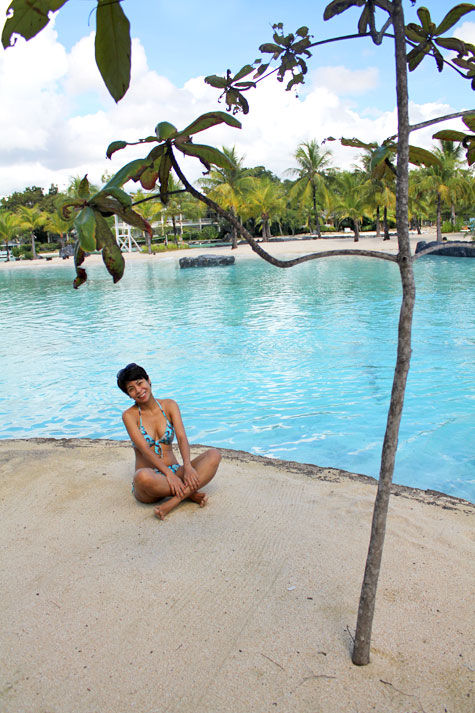 Being extremely careful not to get my camera wet, I go into the pool to take some photos. The plantation-style cottages look breathtakingly gorgeous bathed in the water's turquoise reflection. The water was so warm and inviting too.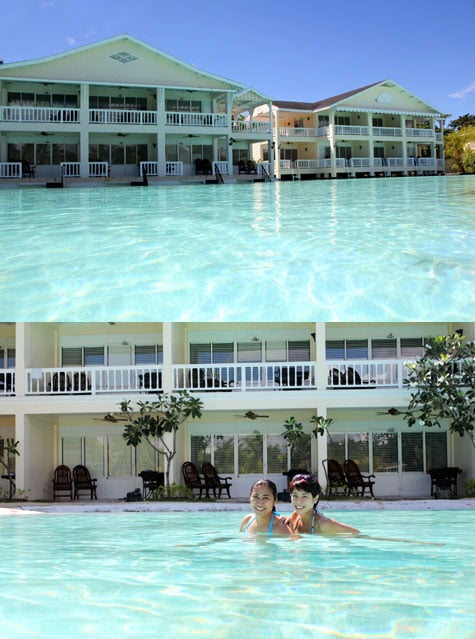 Ren spelunking in this floating cave. I guess it's for making out?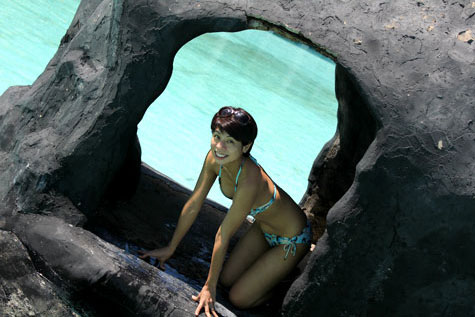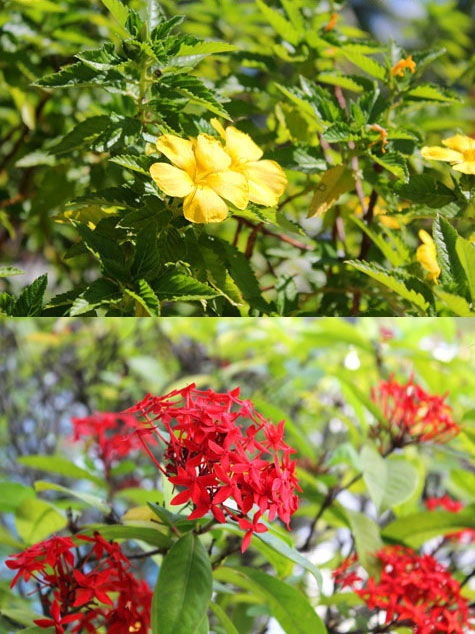 Doesn't it feel great to be alive?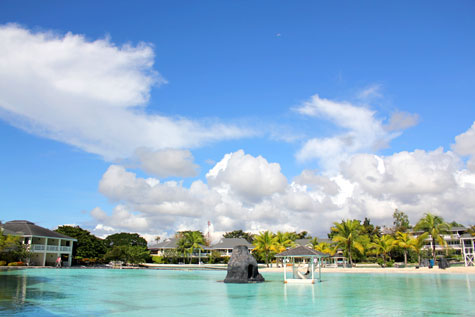 Lush greenery and flowers abounded.


Pier leading from the reception area to the heart of the resort.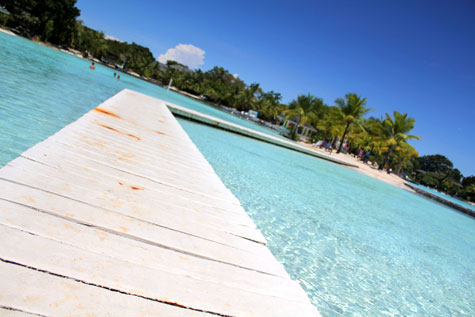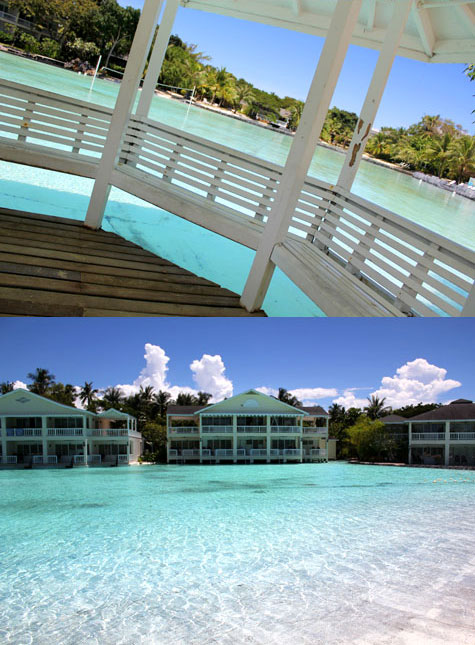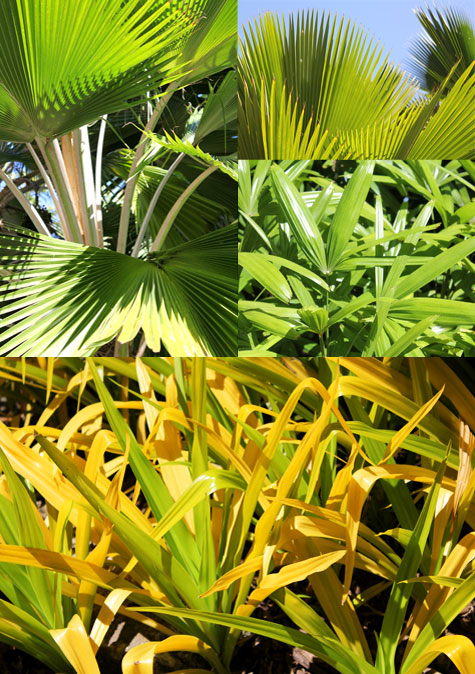 Hammock in the middle of paradise.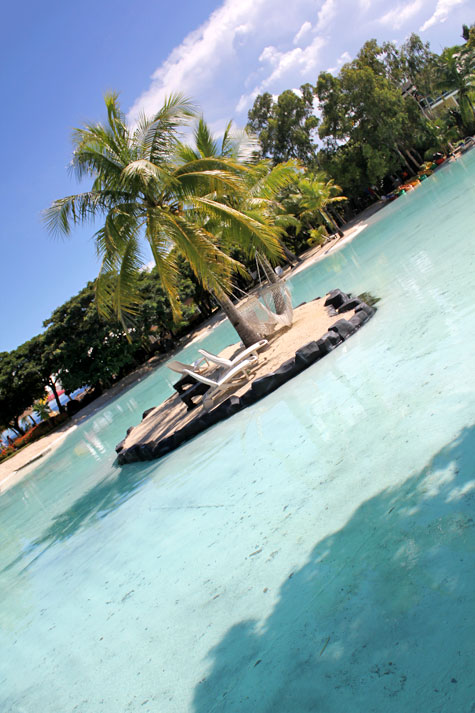 For anyone who preferred fresh water, they had this smaller pool surrounded by dark man-made rocks. It had all these little "make-out" caves with mini waterfalls and sprinklers, as well as several private jacuzzis as pictured below.
Laying down, the picture at the top left corner is your view. Beautiful huh? And the view ain't so bad either.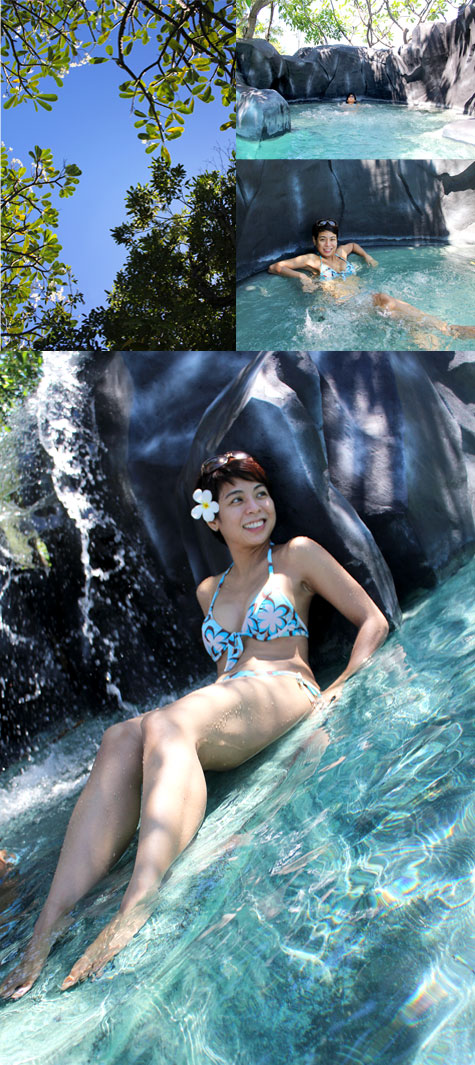 We enjoy a few chilled, fresh coconuts before lunch.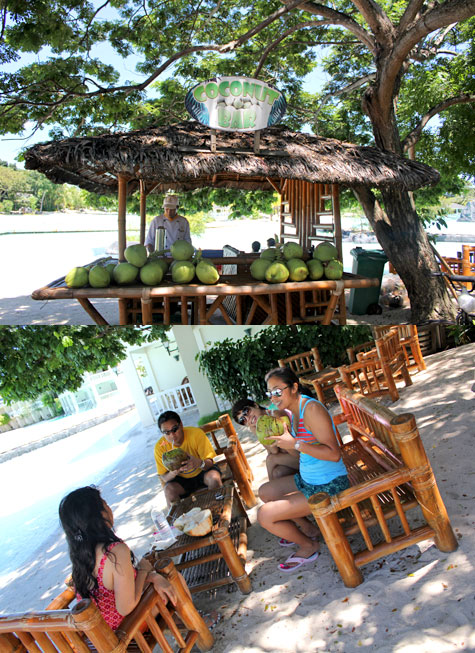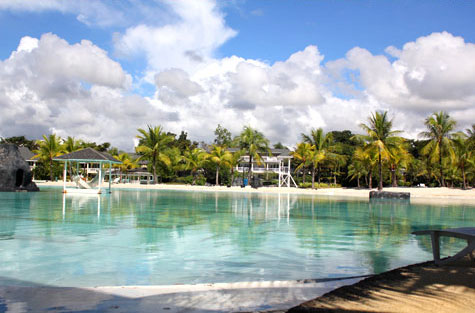 Kilimanjaro Cafe, the third restaurant here at Plantation Bay. I had the delicious Powerhouse Burger with mushrooms, bacon and fried egg pictured below.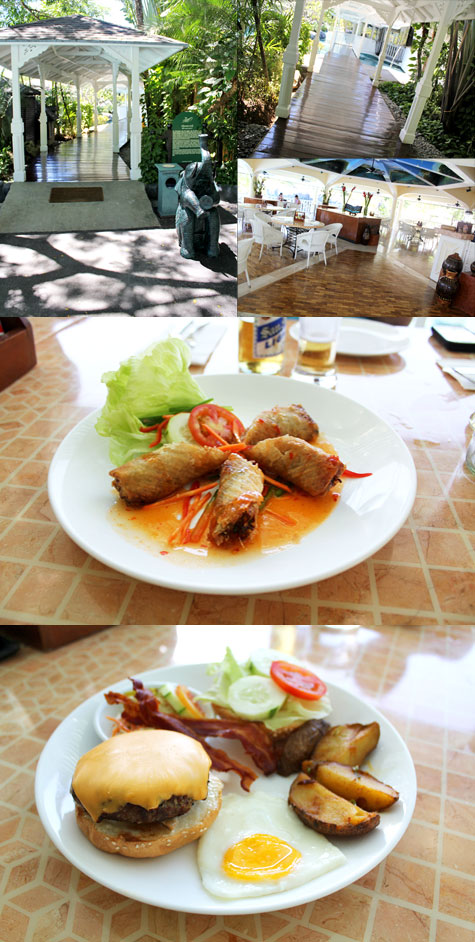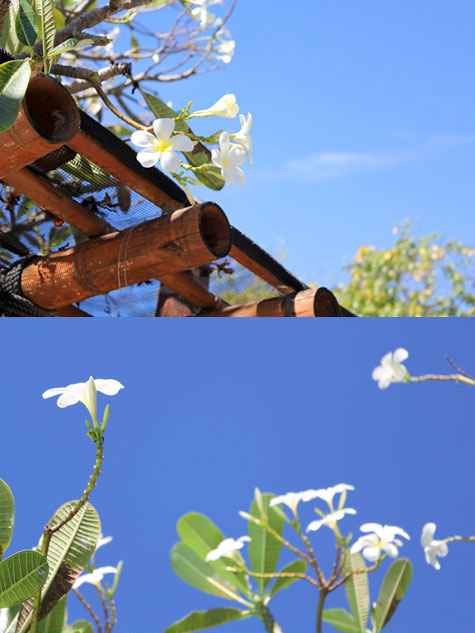 With the day coming to an end and the sun setting on our vacation, I take a few parting shots, grateful for the experience but a little sad that we have to say goodbye so soon.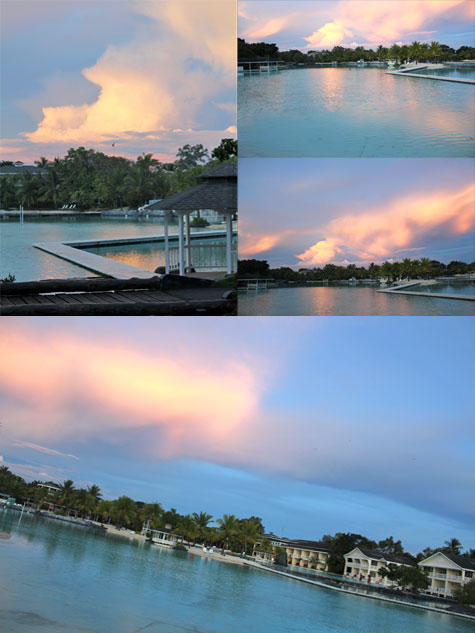 Even the flowers look sad.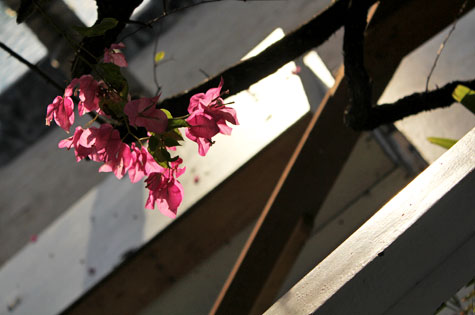 The reception area mascot. "I may be cute, but I'm cranky!" Renée, izzachoo?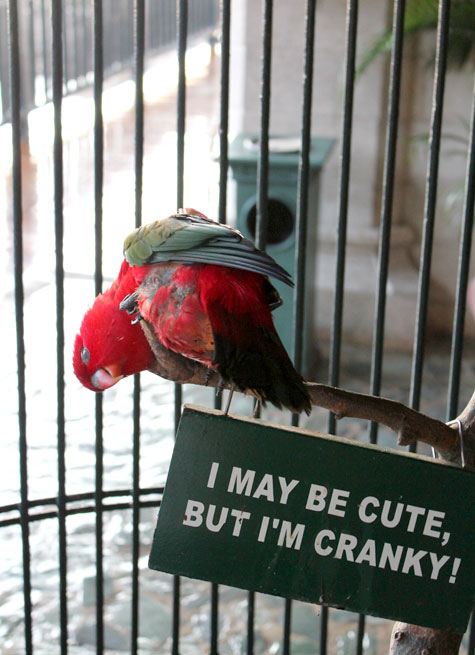 Farewell Banquet
In true Cebuano fashion, Jun wouldn't let us go without giving us a farewell banquet first.
While waiting for the feast to be set up in his office, he sends us down to Veranda for a delicious sizzling squid appetizer. I spy with my little eye my friend and nemesis Grey Goose at the end of the table, again courtesy of Jun's bottomless generosity.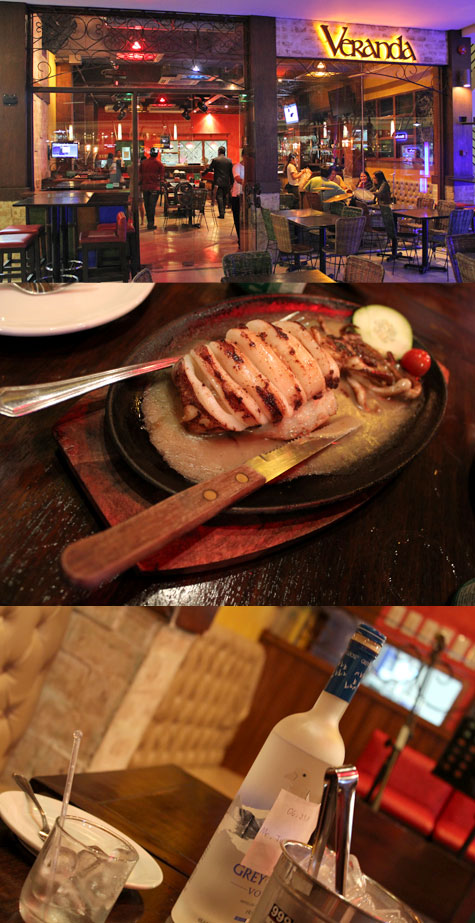 After polishing off the squid, we go upstairs to find this waiting for us. Mr. Osmeña, your hospitality knows no limits.
As usual, everything was simply delicious. We even got to try some native roast chicken as well as the unique and interesting coconut gelatin dessert pictured below.

With our bellies full from this fabulous feast, I take a couple of parting shots. Coincidentally and fittingly, they're of us laughing hysterically, again from one of Jun's many jokes.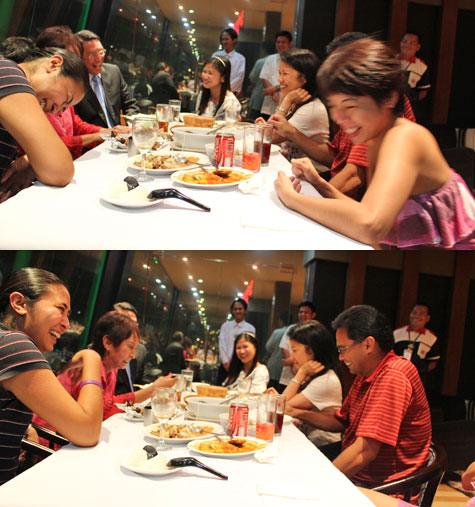 These last two photos pretty much sum up this entire trip – food, laughter and heartwarming, humbling hospitality. It's refreshing to discover that people with such generosity of spirit still exist. People with an openness and warmth who give and give asking only for your joy in return. A jaded Manileño such as myself could learn a thing or two from these Cebuanos.
Everyone, from Jun and Girlie, to Paolo at the Cobonpue showroom, to our waiters, to the staff at Plantation Bay, to Lando and our drivers who patiently chauffeured us around, all the people whom we met played a part in making this trip truly special. And for that, our hearts are filled with joy, love and gratitude.
I've heard people say that it's always sunny in Cebu. After this trip, I know now that they weren't just talking about the weather.
PS: Thanks a million Brooke for inviting us on this trip and making things happen! Sigurado ka bang hindi ka rin Cebuano? Your generosity matches theirs on so many levels. 😀
More on Cebu
Where to Stay in Cebu: Club Serena Resort, White Beach, Moalboal, Cebu, Philippines
Swimming with Whale Sharks in Oslob, Cebu, Philippines
On Taking the Road More Traveled to Kawasan Falls, Badian, Cebu, Philippines
Zubuchon, at Last we Meet
Plantation Bay Resort and Spa, Marigondon, Mactan Island, Cebu, Philippines
Kenneth Cobonpue Showroom, Cebu City, Philippines
Ayer Lechon, Cebu City, Philippines