Like Ren, her brother Randy knows food.
Ever since he was a teenager, he's been making impossibly laborious things like ensaimada, Sachertorte, and eggs benedict with hollandaise sauce. Legend has it that he was baking tannies way before they were called blondies, and he specialized in this little-known Swiss layer cake called Zuger Kirschtorte.
Zuger Kirsch-whaaaat? Had Ren not explained to me what that was, my ignorant self would have assumed it meant "kiss my ass" in German, or something like that. 😆
In town from California, Ren and I wanted to take him out to a special restaurant, a place that wasn't just good, but offered something unique that wasn't ubiquitous in the US. Considering his refined palate and the wealth of choices back home, you'd think that coming up with a place like that to impress a US-based gourmand would be difficult, but it wasn't.
All thanks of course, to Yabu. 😉
Yabu: House of Katsu
Choice of two appetizers – PHP 195
L: Spinach Salad with Goma Sauce – Chilled Japanese spinach mixed with sweet goma (sesame seed) sauce / R: Lidako Salad – Baby octopus marinated in a sweet-savory sauce, and tossed with crisp slices of cucumber
A fan of all things cephalopod, I loved the sweet baby octopus. The spinach was good too. It was nutty and smokey from the bonito flakes. Both appetizers were served cold.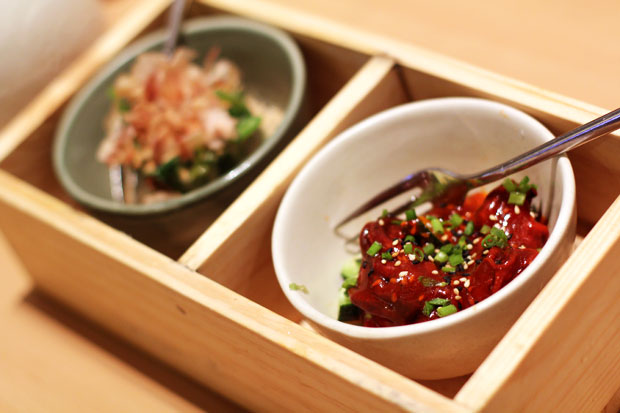 Seafood Katsu Set 2 – PHP 560 – Salmon, black tiger prawn, crab, and oyster served with unlimited Japanese white rice or organic brown rice, miso soup, Japanese pickles, organic cabbage with your choice of dressing and a bowl of fruit
I've ordered the seafood katsu set 1 before and loved it. That had cream dory, black tiger prawn, scallop, oyster, and squid. This one had salmon, black tiger prawn, crab, and oyster. I enjoyed it, but I definitely prefer set 1. This is purely a case of personal preference though. Personally, I'm not as big a fan of cooked salmon, but if you like it, then you'll definitely enjoy this.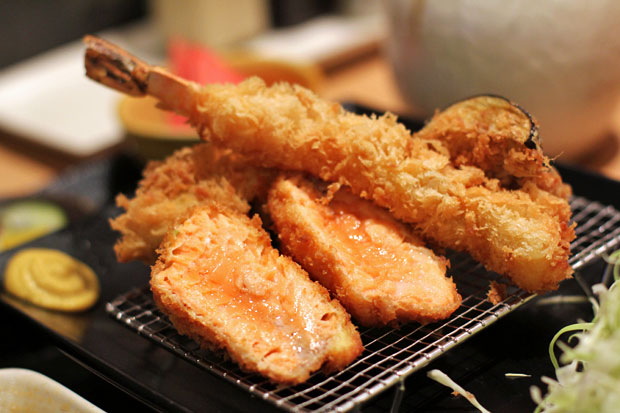 I don't know why they served this to me separately, but this was the Hiroshima oyster that was meant to be part of the set. Cultivating oysters for over 450 years, Hiroshima boasts the biggest, best-tasting oysters in all of Japan. Juicy and delicious!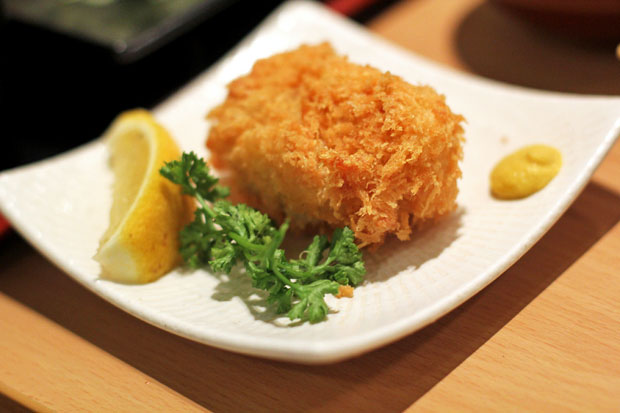 So impressed was Randy with the Kurobuta premium set that he invited the entire family back for seconds the weekend before he left. I asked him if he can get katsu this good back in California, and he answered with a resounding "no", confirming what I had known about Yabu all along:
"Walang ganyan sa states!" (There's no like that in America!) 😆
As for me, I was so smitten with the oysters that I decided to get the entire set the second time around.
Jumbo Oyster Set – PHP 465 – Four pcs Hiroshima oysters with unlimited Japanese white rice or organic brown rice, miso soup, Japanese pickles, organic cabbage with your choice of dressing and a bowl of fruit
Four times the awesome. With oysters this scrumptious, even four wasn't enough. So good, especially with the katsu and karashi sauces.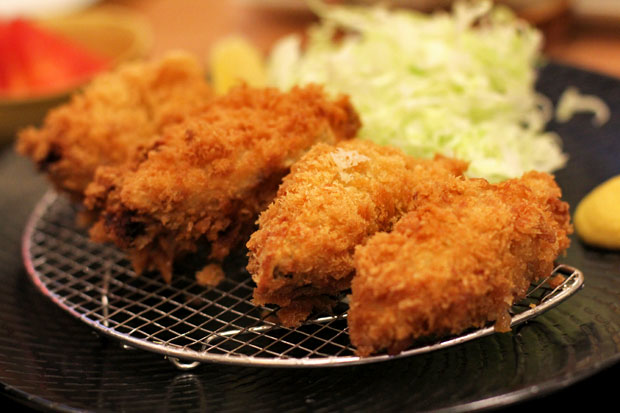 Oh behave!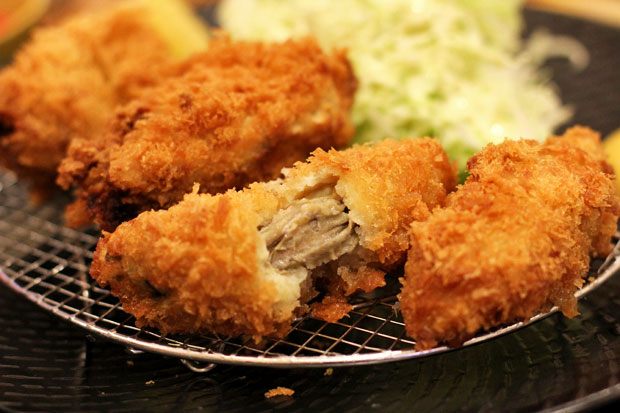 If you have guests visiting from abroad, then I suggest taking them to Yabu or someplace comparable. I've only been to Yabu, but I know that there other authentic katsu places around like Saboten, Tonkatsuya, and Ginza Bairin. As far as I know, the katsu craze hasn't caught on in the west yet like it has here in Manila, so they'll be sure to enjoy it.
Another interesting choice would be to give them a taste of Chris Locher's panizza. If you've never tried it, a panizza is a rolled-up pizza/salad hybrid invented by Chef Chris himself. There are many imitations nowadays but nothing beats the original, which you can enjoy at his restaurants My Kitchen by Chef Chris in Paco Park, Manila, Recess along Jupiter Street in Makati, and at the original C' Italian Dining in Clark, Pampanga.
Hey, it beats that old "let's make the foreigner eat balut" cliche right? Actually, maybe not. 😆
Yabu: House of Katsu Robinson's Magnolia
G/F Robinsons Magnolia, Aurora Blvd corner Doña M. Hemady Avenue, Valencia, Quezon City
Tel: 961-4975
Facebook: yabuhouseofkatsu
Email: [email protected]
Operating Hours: Mon-Thurs, 10AM-9PM / Fri-Sat, 10AM-10PM / Sun, 10AM-9PM
CLICK HERE for all other branches.