I love Chef Rob Goco. The man behind popular places like Charlie's, Ristras, Achiote, and Cyma, he's easily my favorite local chef. Tonight, he reminds me again why with this fantastic meal at his latest venture, Green Pastures.
A hot commodity since opening late last year, Green Pastures is Chef Rob's foray into back-to-basics, farm-to-table dining. Most of his ingredients are locally sourced, and he doesn't use MSG nor any canned ingredients. Instead, he prefers to make as much as he can – like his cheeses, breads, and yogurt – in-house.
Can I give you a hug Chef Rob?
For aspiring aquaponicists like Ren and myself, who eventually want to "take back" our food with our own residential farm in Batangas, tonight's spread was more than a meal. It was inspiration for our future. 🙂
Green Pastures
Sneaky Sagada Cooler – PHP 650 (pitcher) / PHP 250 (glass) – Muddled Sagada oranges, homemade lemongrassciello, organic lambanog (coconut liquor), organic tapuy (local sake)
This tasted really good, very fresh and lemongrass-y. Don't be intimidated by its "sneaky" title though. It's not that strong. 😉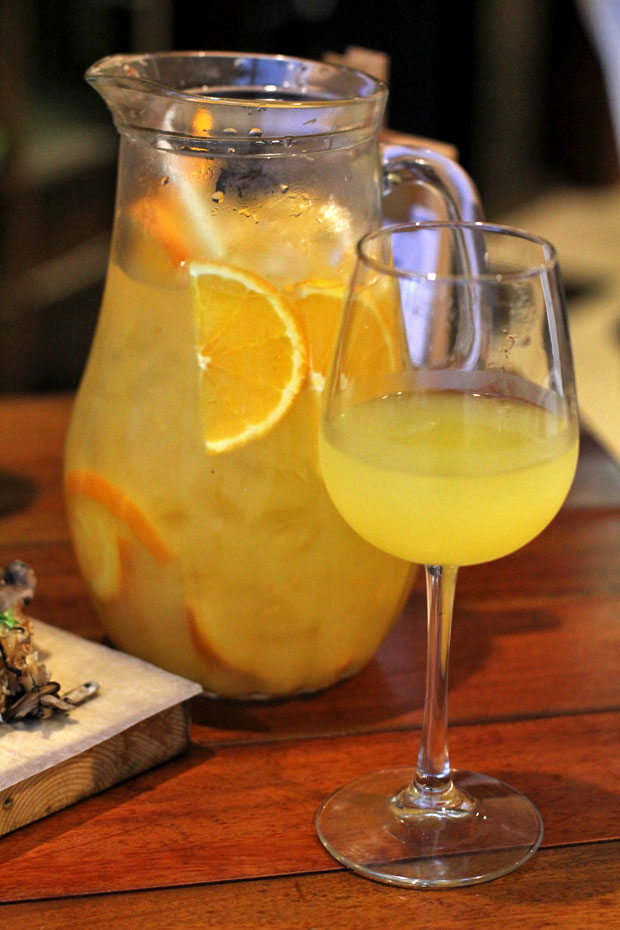 Combination of Two Toasts – PHP 560
Squash Blossom – Homemade burrata cheese with creamy ricotta, grape tomatoes, and basil
I had often read about these toasts in blogs so I was excited to try them. This squash blossom was great – rich, creamy, and crunchy fresh. Ren loved the house made burrata cheese.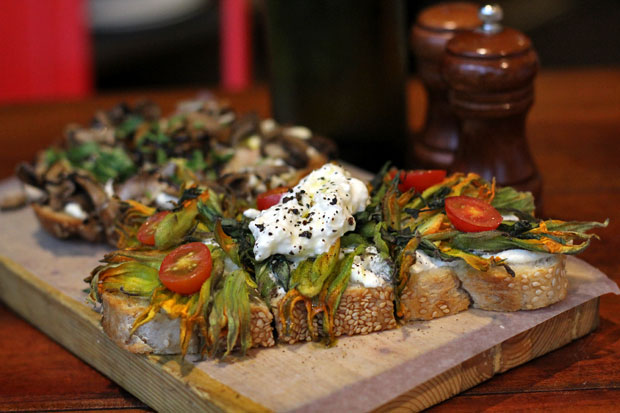 Organic Mushrooms – Quail eggs, house made ricotta and bacolod cacciocavallo cheese
Delicious! Overflowing with mushrooms and a raw quail egg, this was rich, creamy, and very earthy.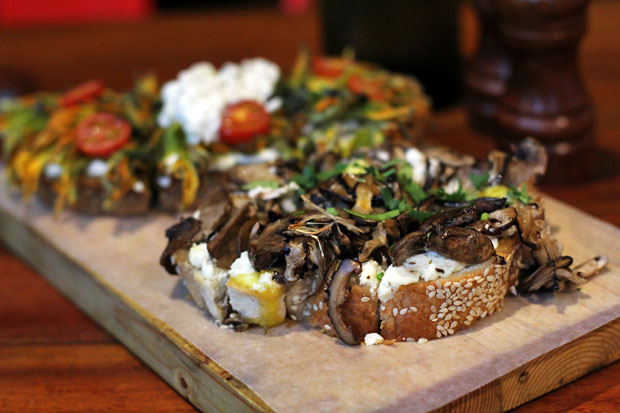 Octopus and Bone Marrow Fussili – PHP 425
Rich and deeply flavorful with a strong ocean taste, this was easily my favorite dish of the evening. So so good! I just loved the overall flavors and the texture of the octopus with the fussili.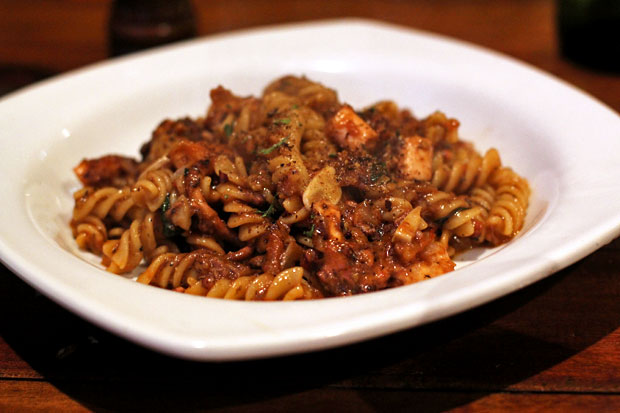 Crab Meat & Sea Urchin Pasta – PHP 385 (solo) / PHP 525 (to share) – Lemon, chives, spaghetti
This was really good too, though not quite as impactful as the previous pasta dish. It's a lot more subtle. I've had sea urchin pasta dishes before which I was surprised not to like, but I really enjoyed this one.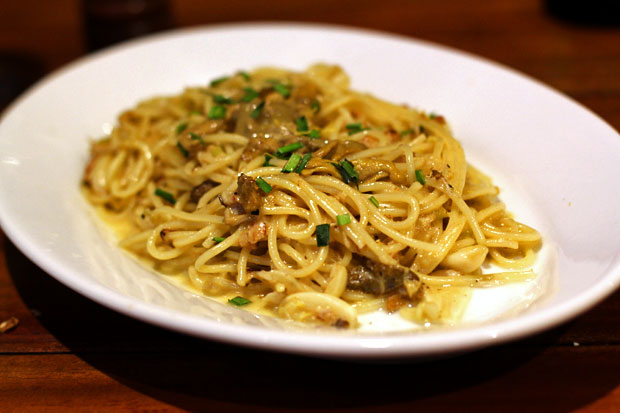 Tequila Joe's Organic Beef Sloppy Cow – PHP 495 – Homemade oyster jus, mushroom glace, and garlic bulgur
Basically a salpicao, this was the only dish that disappointed us tonight. The beef was tough and the bulgur dry and heavy. It must have been an off night because I've read nothing but good things about this dish online. The beef was probably just overcooked.
To our surprise, they scratched it off our bill after someone from the kitchen tasted it and agreed that it was indeed tough and overcooked. How awesome was that?! (You're absolutely right Ren, sometimes it does pay to speak up. 😉 )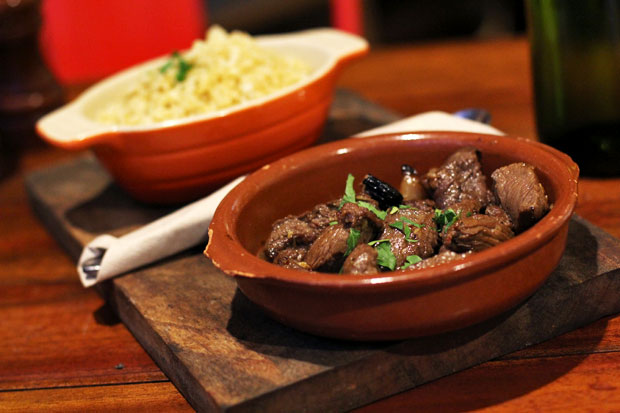 Milkeggshoney – PHP 155 – Organic honeycomb, house made Greek yogurt, citrus curd
Sweet, sharp, and tangy with an unusually pleasant, honeycomb texture, Ren and I both enjoyed this dessert. If you like Greek yogurt, then you're sure to like this.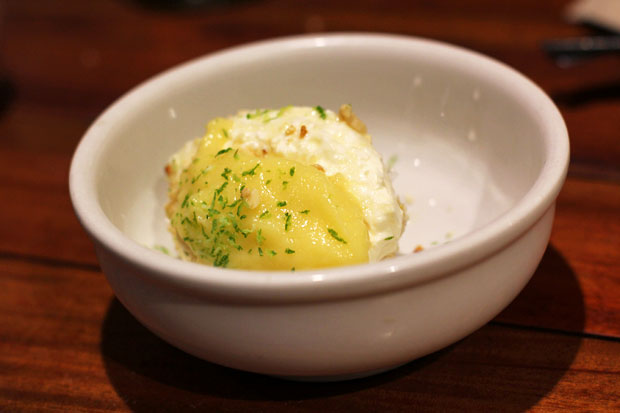 The organic white honeycomb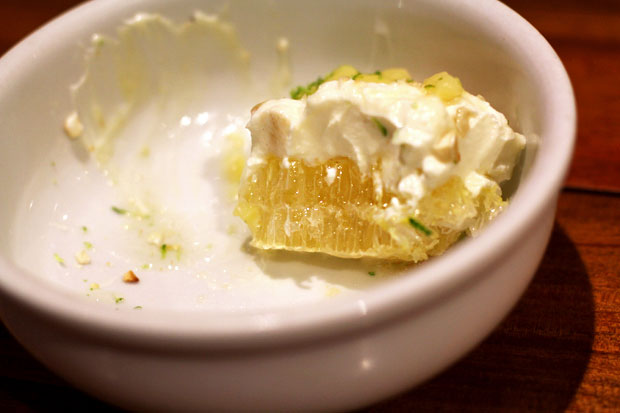 If you haven't eaten here yet, then I suggest you go pronto, especially if you enjoy organic, healthier dining. They have an extensive menu, giving you plenty to choose from. Just be sure to make reservations a few days in advance because the place still gets pretty packed. The first time we tried to make reservations on the same day, and they were already booked solid. If you've ever eaten at any of Chef Rob's restaurants though, then you're probably used to that by now. 😉
Green Pastures
4th Floor, East Wing Shangri-la Mall, Mandaluyong
Tel: 654-3219 | Mobile: 0922-633-4687
Twitter: greenpasturesph
Foursquare: green-pastures
Email: [email protected]
Operating Hours: Mon-Sun, 11AM-10PM