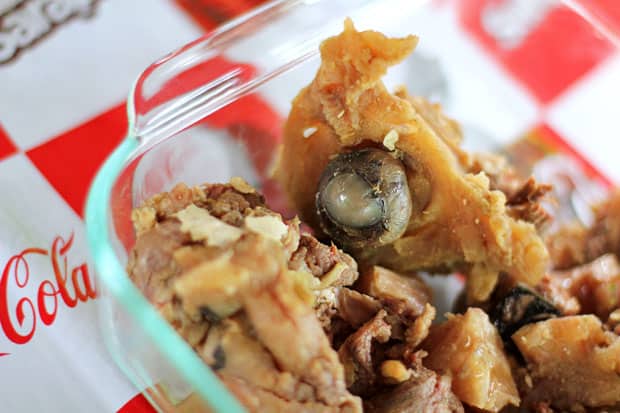 NOTICE: Some of the information on this website may have changed due to the current global situation. It's important to check with the proper authorities for the latest updates on travel restrictions and requirements. You can also check the Flatten the Curve website for information on global travel restrictions.
DISCLAIMER: You are reading the information on this website at your own free will and any reliance you place on said information is strictly at your own risk. You can refer to this website's terms of use for more information.
DISCLOSURE: Some of our articles may contain affiliate links and sponsored brand mentions. Any affiliate partnerships or sponsorships are disclosed at the bottom of the article.
Our friend Eira described our recent visit to her home in Malolos, Bulacan as an "epic harakiri weekend." I wonder why. 😆
What started off as a seemingly innocuous invitation to an out-of-town drinking session quickly turned into a banquet of bacchanalian proportions. With a passion for the good things in life and the warmth and generosity to share them, Eira and her family exhibited no limits to their hospitality, welcoming newcomers Ren and I, along with old pal Sep and our pugs Henry and Mona, into the fold like family. And my God, what a welcome it was!
With the bahay kubo in their garden serving as ground zero for this opulent feast, we were served delicacy upon delicacy the moment we stepped into that hut. And I'm not talking about no humdrum, run-of-the-mill fodder either. I'm talking the good stuff. The exotic stuff that neither Ren nor I had ever tried before. The sinfully delicious stuff that makes you smile while it chokes the shit out of your arteries.
By the end of the night, I lay prostrate, asleep in the guest room, felled by a never-ending barrage of beer, beef eye, boiled pork belly, bone marrow, crab roe, beef tendon, and deep-fried pork face. With a few years undoubtedly shaved off my life expectancy, I'd say that it was a most epic weekend indeed.*
Scroll down to see what deliciously exotic goodies we got to enjoy in Sta. Isabel, Malolos over the weekend, courtesy of Eira and the Caluag family's bottomless generosity.
*With the term harakiri specifically referring to death by disembowelment, wouldn't heart-attack-iri be a more fitting epitaph? 😉
Lugaw Mata
Lugaw mata is rice porridge with beef eye. Here's the delicious porridge, made exceedingly flavorful by the stock that the beef was cooked in. I haven't eaten many a lugaw in my life but Ren says this was one of the best she's ever tried.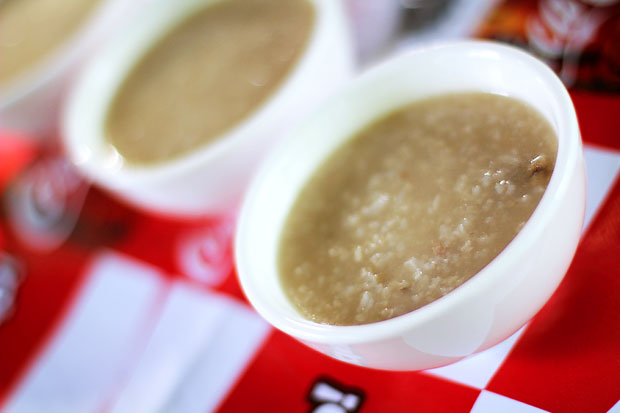 Any type of lugaw is almost always served with a side of tokwa't baboy (boiled pork ears and belly with fried tofu).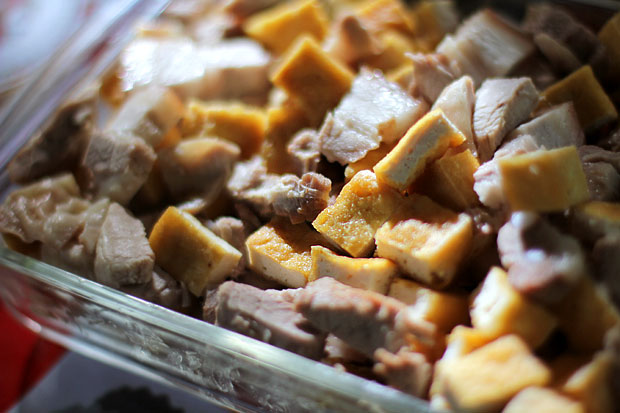 The condiments – toasted garlic bits, chopped green onions, calamansi.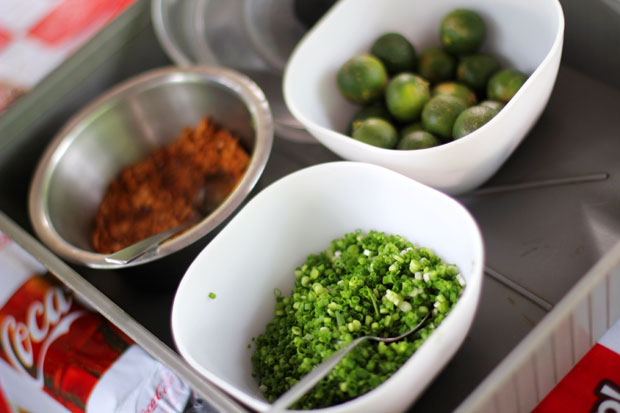 And the star of the show, boiled beef eye! That bit of tissue up top looks like it's giving me a high five. "Up top, carnivore!"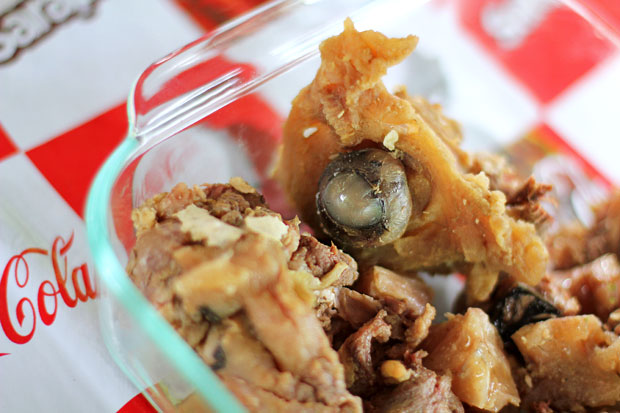 "Here's looking at you kid."
My first time consuming the eye of any animal, I was pleasantly surprised by its texture. The muscles around the eye were tender and tendon-like in texture – pleasantly chewy, somewhat gummy. I was expecting the eye itself to burst with liquid soon as I bit down on it but of course it didn't. Aside from the hard inedible lens in the center, it reminded me of tender cartilage, similar to pig's ears but softer.
Savoring every bit of this rare treat, now I know why Andrew Zimmern's and Anthony Bourdain's faces light up whenever they're served this portion of the animal. 😆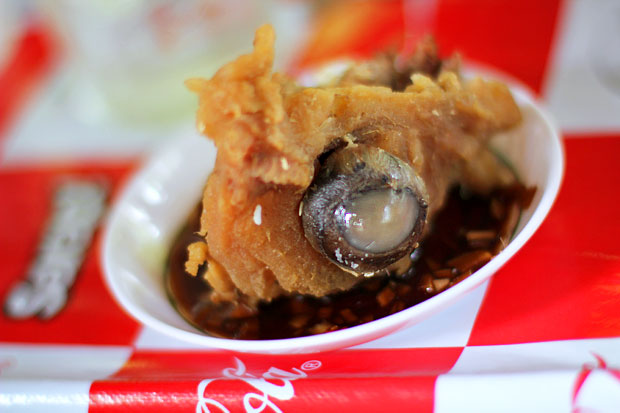 The Banquet
I don't think "banquet" is necessarily the right term for this. When I think of banquet, I think of a buffet, or a large dinner table spread showcasing a spectrum of dishes that span the entire pyramid from salad to dessert.
This meal didn't have salad, nor did it have dessert. It didn't have carbs nor starch. It didn't even have a buffet table nor much tableware for that matter. Instead, dish after dish was nonchalantly plopped down amidst our round table of beers without much celebration nor fuss, like it had been done a million times over and will be done a million times more. And like ravenous carnivores congregating around a kill, we tore into them with our bare hands, stuffed our faces, and washed it all down with icy cold swigs of San Mig Light.
It was beautiful, and it was legendary.
By the end of night, I realized that we weren't eating mere banquet food. We were eating pulutan on heart-numbing steroids. 😈
L: The Caluag secret to great-tasting food? Cooking with charcoal and wood. 😉 R: There's master cook Tang proudly showing me his deep-fried pork face.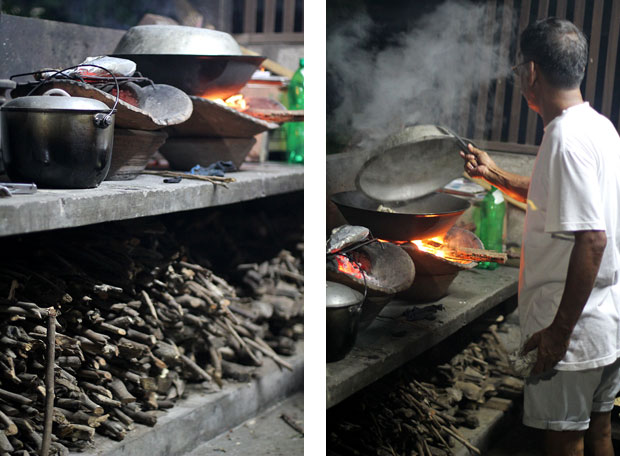 Burn baby burn!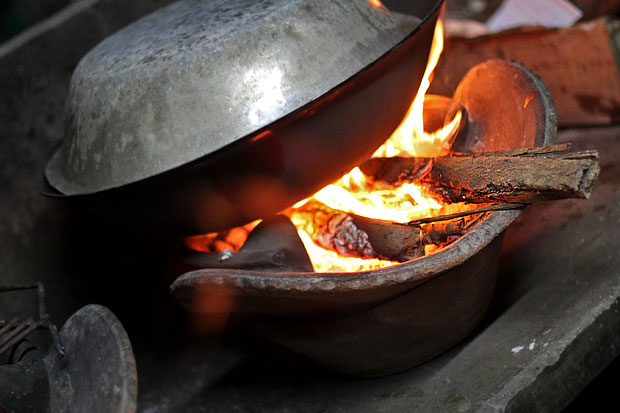 Under the guise of "being healthy", here's some grilled tilapia stuffed with lemongrass. Suffice to say, it wasn't as popular as the other artery-clogging dishes. 😆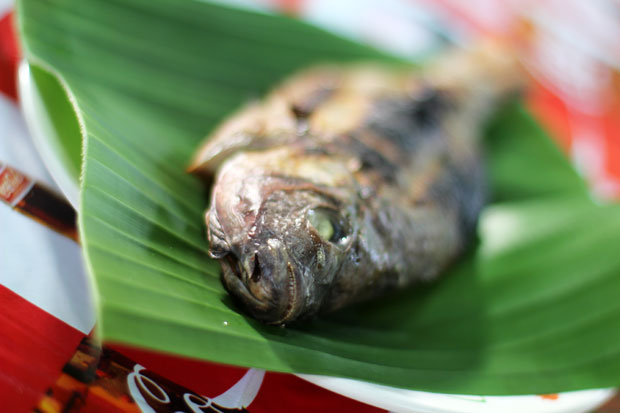 Pinaupong manok or "sitting chicken." It's so named because the chicken is made to sit on a bed of rock salt while cooking. It cooks from the steam generated by its own natural juices as well as the water content of the salt, whose flavor it absorbs. My first time trying pinaupong manok, it was deliciously tender, very mild and clean in its flavors.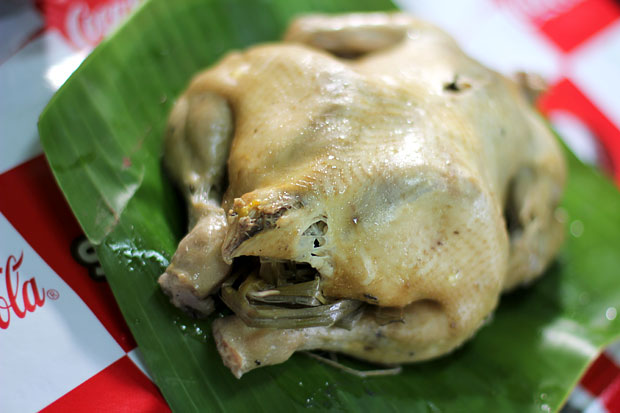 Pinaputok na tilapia literally translates to "exploded tilapia." I'm not entirely sure why, but I presume it's from the balooning of the foil pouch in which the fish is steamed. During the cooking process, the foil pouch expands from the pressure and looks like it's about to burst.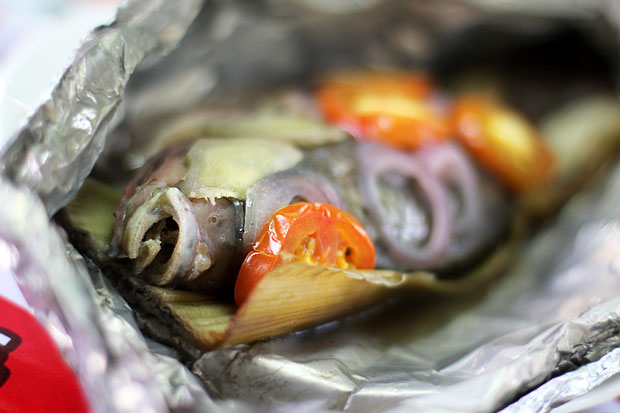 Steamed or boiled crabs (not quite sure), from which I harvested a delectably heart-stopping clump of aligue or crab fat. 😈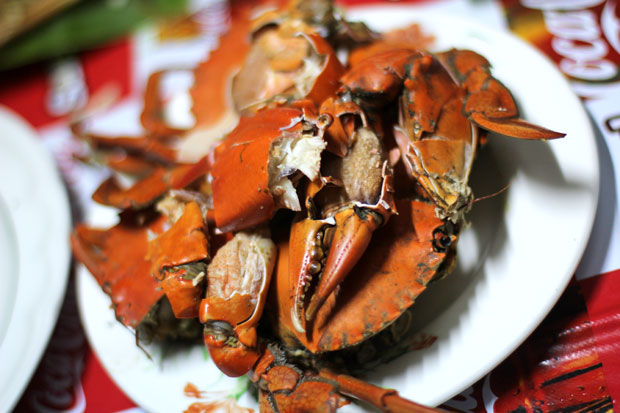 Crispy Ulo
Yes, this is exactly what you think it is. Crispy ulo, as its name suggests, is deep-fried pork face.
Crisp in most parts, gelatinous in some, and chewy in others, this dish for me was the undisputed star of the evening. I'm not usually fond of lechon but this was something else. A smorgasbord of textures, it was unbelievably good and one of the best examples of bar chow, pinoy or otherwise, that I've ever experienced. As far as taste and ritualistic consumption is concerned, I personally can't think of anything better.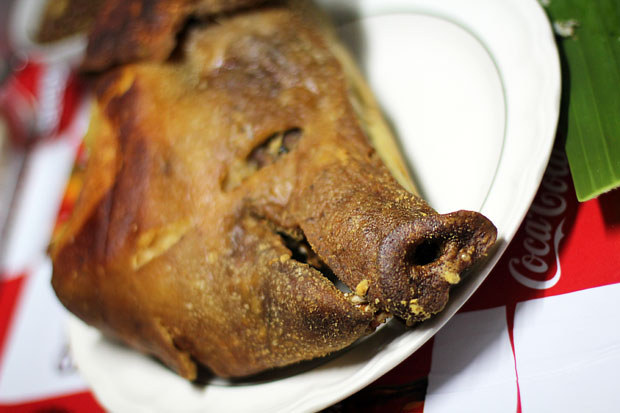 Peek-a-boo, I see you…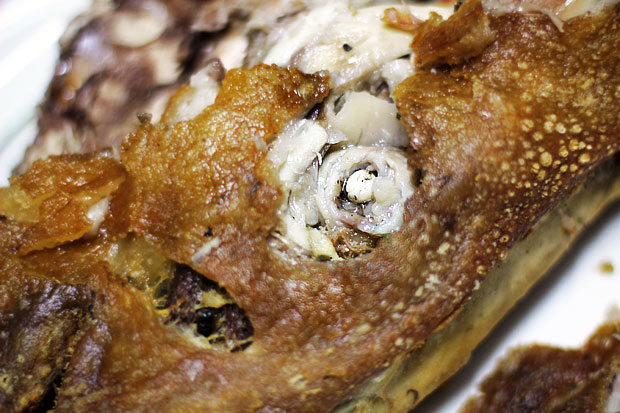 Pork eye, similar to the beef eye up top, except smaller, more tender, and far more gelatinous. Dee-licious!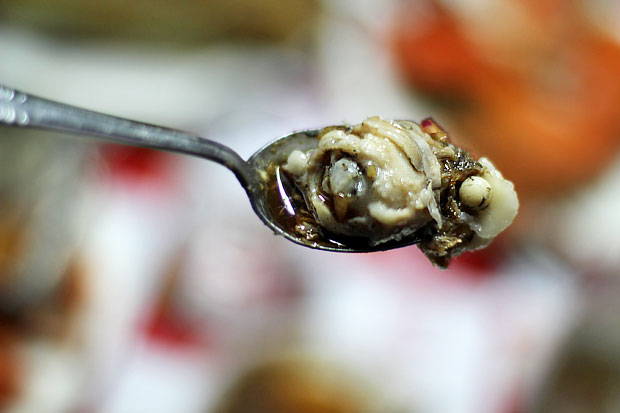 The underside. You see that orange-brown section of gum above its teeth? It tasted like crispy-fried pork chips. How awesome and barbaric all at the same time.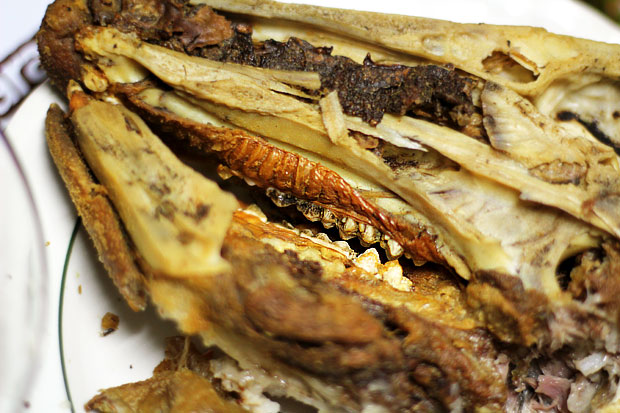 Henry & Mona
Ren gets separation anxiety whenever we have to leave Henry and Mona at home, so we were thrilled when Eira let us tag them along. With the ridiculous spread before us, from which they got their fair share, I think it's safe to assume that they were pretty stoked themselves. 😉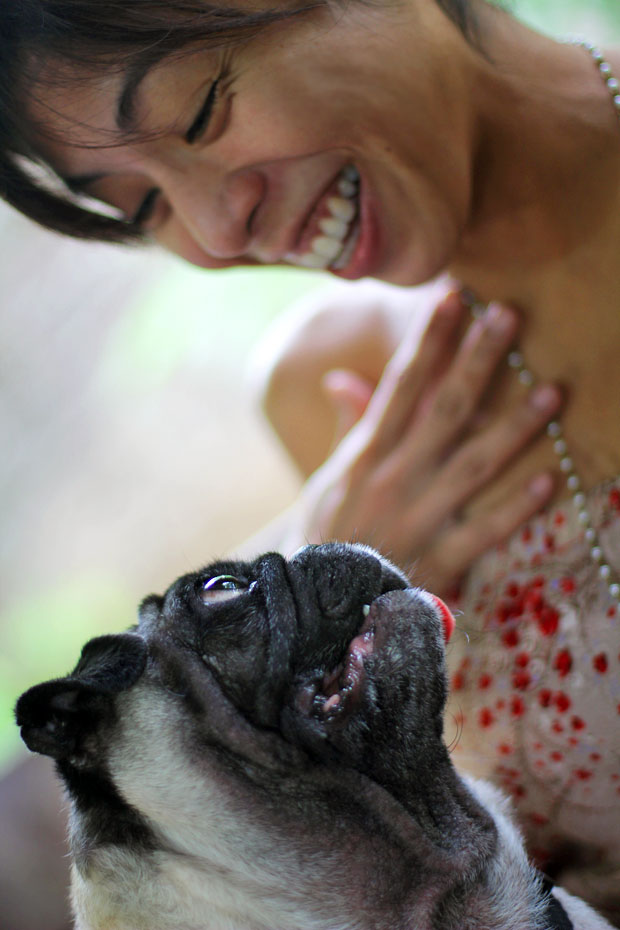 "Are you hungry?" 😀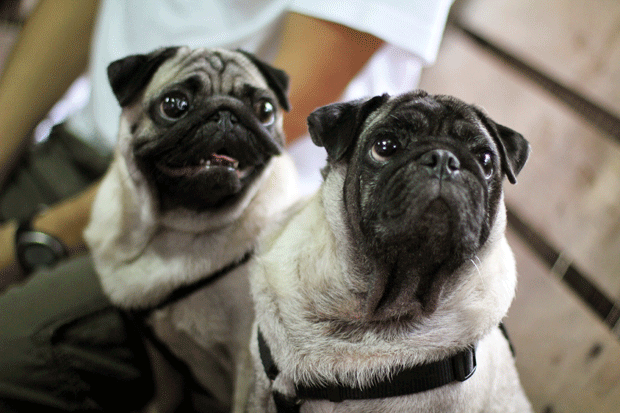 My tummy only now beginning to deflate from this weekend's opulence, I can't thank Eira and the Caluags enough for the terrific feast they prepared for us. It was nothing short of an amazing experience, and for curious food lovers like Ren and myself, it's one that we won't soon forget. Well, at least not until the next invite. *wink wink* 😆
Thanks again Eira!