Ren and I wanted to celebrate our wedding anniversary this year with sushi.
But we didn't want just any old sushi. With this being a special occasion, we wanted the best the city had to offer. Trouble is, we didn't know where to get it.
Being such homebodies, we're virtually clueless when it comes to restaurants outside our neighborhood. With the possibility of a poor choice dampening our special night, we could have played it safe by choosing one of those can't-miss favorites like Kimpura, Sugi, or Kai, but we wanted something exciting and different. We wanted something that neither one of us had ever tried before, something that was sure to be authentic and mind-blowingly good. In short, we wanted a guarantee. Luckily, we knew just where to get it.
Shooting a quick email to the good people of Table for Three, Please, one of Manila's premier food blogs, I asked where we could find the best sushi in Manila, and they responded with a detailed, very helpful list of options. Being a trio of knowledgeable and honest gourmands, we knew that whatever restaurant they recommended was guaranteed to be good.
Tsumura, as you can probably surmise by now, was at the top of that list. 😉
Tsumura
As you may have read in TFTP and other blogs, Tsumura is tucked away on the second floor of the 88 Corporate Plaza building in Salcedo Village. There's no sign outside so you have to know where you're going. Just keep an eye out for 88 Corporate Plaza and you'll be fine. Conveniently, there's a parking lot located directly in front of the building on Sedeno Street. I suggest parking there if you suck at parallel parking like I do. 😉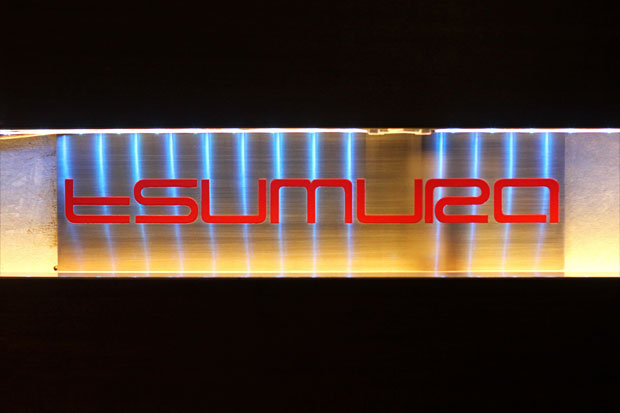 Complimentary cold appetizer with wakame (seaweed) and sliced octopus. Really good.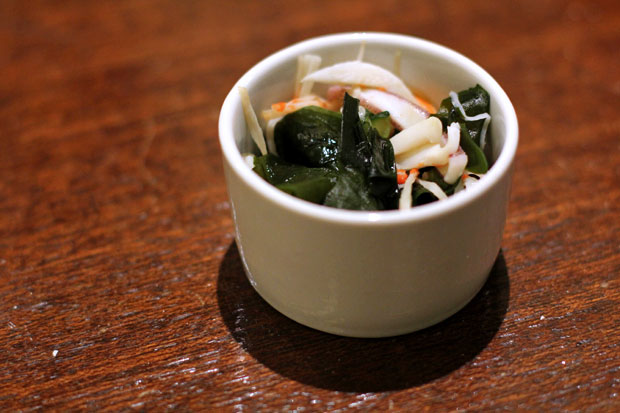 Hotaruika Okizuke – PHP 400 – Imported Japanese marinated firefly squid
I first learned about this interesting dish when I spotted it on Kitsho's menu sometime last year. When I saw it on Tsumura's menu, I just had to get it.
Each around three inches long, what you're looking at are whole pieces of firefly or sparkling enope squid (Watasenia scintillans), a small species of squid that gets its name from the light-producing organs in its tentacles. Served cold, the squid has a strange but pleasant taste and texture that's a little tough to describe. It's slimy, briney, and a little sour, with a fun, delicately chewy, squid-like texture. I enjoyed it, being a fan of all things cephalopod, but it's definitely an acquired taste. 😆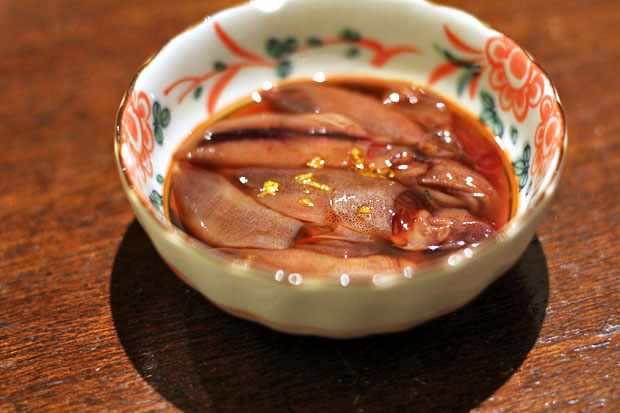 Shirako Ponzu – PHP 400 – Fish testes in ponzu sauce
Fish testicles anyone? 😆 Another exotic first for us, they taste exactly how they look – soft, creamy, and citrus-y from the Ponzu sauce. Enjoyable, but like the firefly squid, not a dish for everyone. I enjoyed the squid more while Ren preferred this one.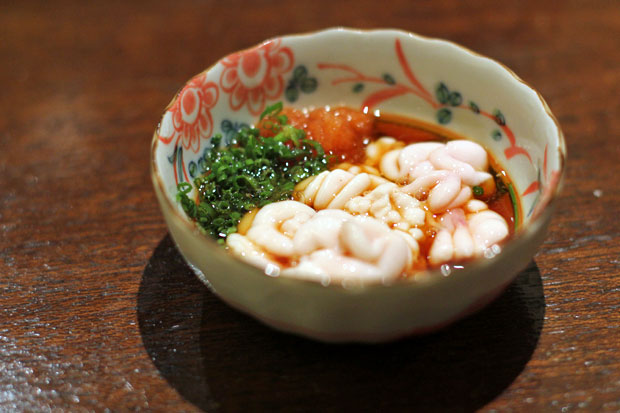 Jikasei Gyoza – PHP 200 – Homemade gyoza
Light, delicate, perfectly seared gyoza. What else can I say? Delicious.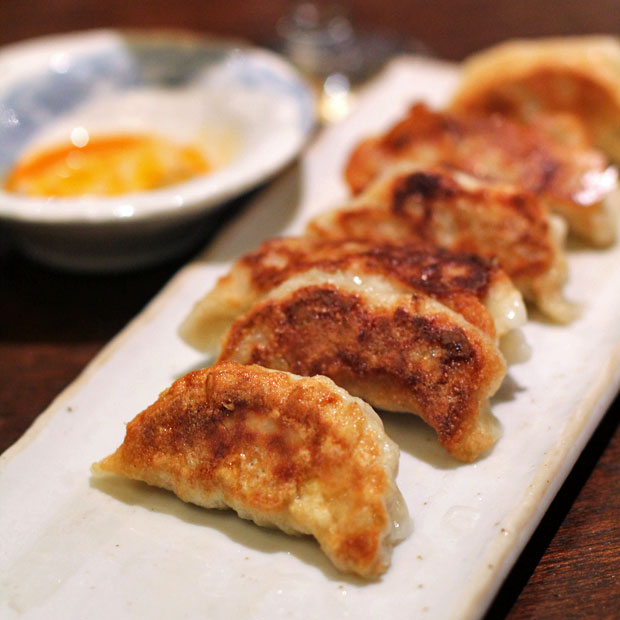 Shake – PHP 450 – Imported salmon sashimi
All the blogs were right. This is arguably the best salmon sashimi that you can find in Manila. Ridiculously fresh, buttery, and melt-in-your-mouth tender, it's unbelievably delicious, easily the best salmon sashimi that either Ren or I have ever tasted. If you like shake, then you absoutely MUST try this.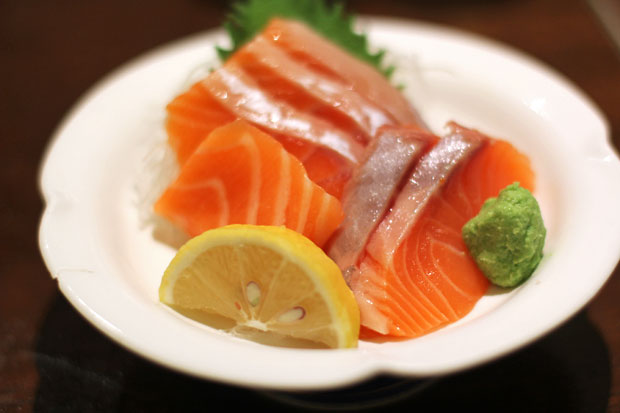 Unagi – PHP 155 – Freshwater eel nigiri sushi
The piece of fish that turned me on to sushi over two decades ago. A favorite of mine since my teens in the US, it's been ages since my last good piece of unagi, so no way in hell was I leaving Tsumura tonight without ordering (at least) one. Warm, sweet, and buttery tender, this beautiful piece of unagi wasn't just good, it was perfect. So fucking delicious.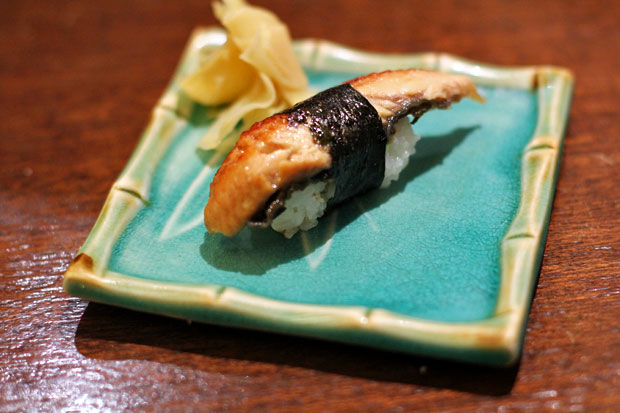 Assorted Sushi – AOI (11 pcs) – PHP 995 – Heaven on a plate
Have you ever seen anything so beautiful? My absolute favorite food in the world, this stunning plate of sushi made me a very happy man.
Whenever I eat sushi, I usually order the same things over and over, so I was pleased to find a couple of pieces on this plate that I had never tried before, like the aka-gai (red clam) and otoro (fatty tuna belly – more on this below). Apart from those two, on this plate, if I'm not mistaken, are unagi, maguro (tuna), sake (salmon), hamachi (yellowtail), aji (horse mackerel), ikura (salmon roe), ika (squid), ebi (boiled prawn), and hokki-gai (surf clam). All were FANTASTIC.
I'm usually a fast eater, but I took my sweet time with this plate, savoring each piece as if it were my last. So damn good.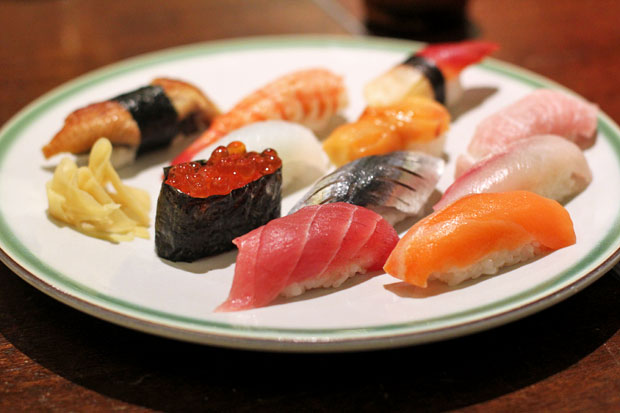 The star of the plate, a very expensive piece of otoro (PHP 550 per piece ala carte!). It's the most sought-after portion of tuna, cut from the fattiest part of the fish.
Our first time trying it, we both enjoyed it, though perhaps not as much as we thought we would. With all the hullabaloo surrounding toro, it failed to live up to our overhyped expectations. With that said however, I do suspect that this isn't the most premium cut of otoro available, as evidenced by the excess of white striations on the flesh. We did get it as part of a set, so I'm sure they reserve the best pieces for ala carte sushi and sashimi orders.
Regardless, I was very hapy to have finally tried it. 😉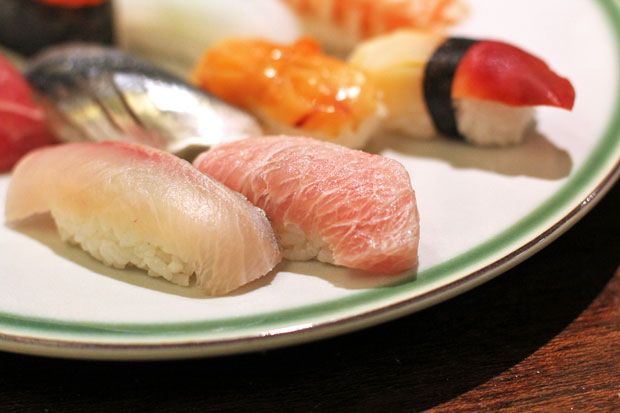 Hamachi Jaw Shioyaki – PHP 450 / 100g – Grilled yellowtail jaw sprinkled with salt
Hamachi jaw or collar, one of the most prized parts of the fish. Light and buttery with just a sprinkling of salt for seasoning, the flesh practically dissolved in your mouth.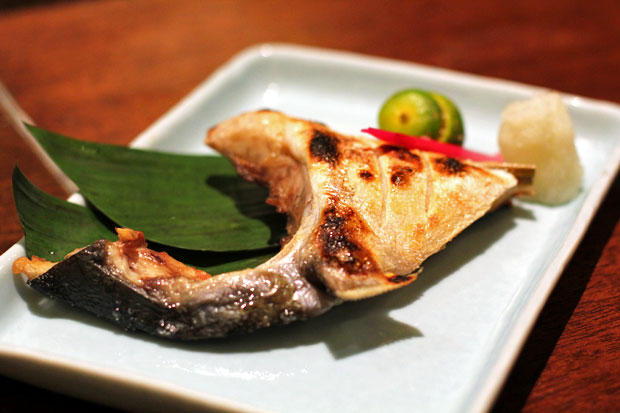 The best part. 😈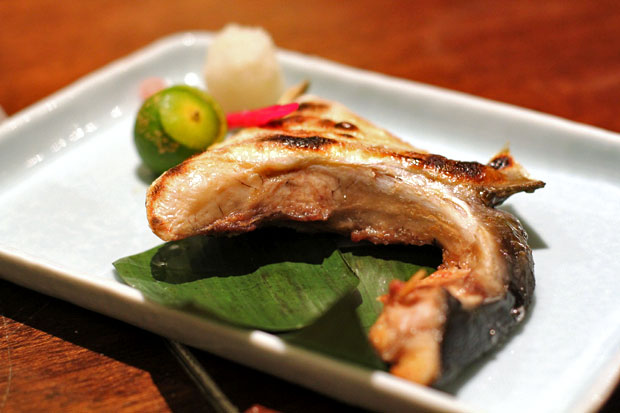 As mentioned above, we weren't leaving without ordering (at least) one piece of unagi sushi, so we ordered two more. Enjoyed at the very end of our meal, these delicious slivers of sweet barbecued eel served as our "dessert." 🙂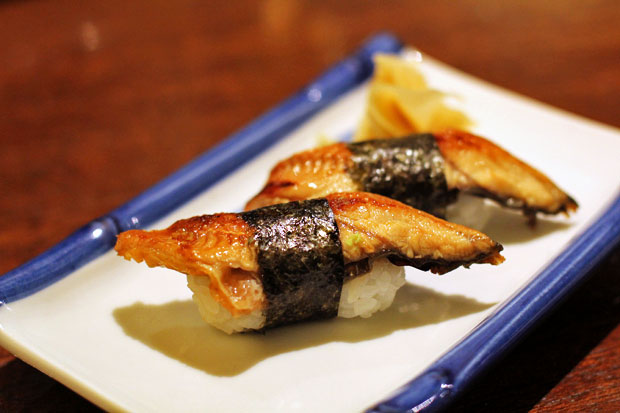 Proper miso soup, with clams. Yum!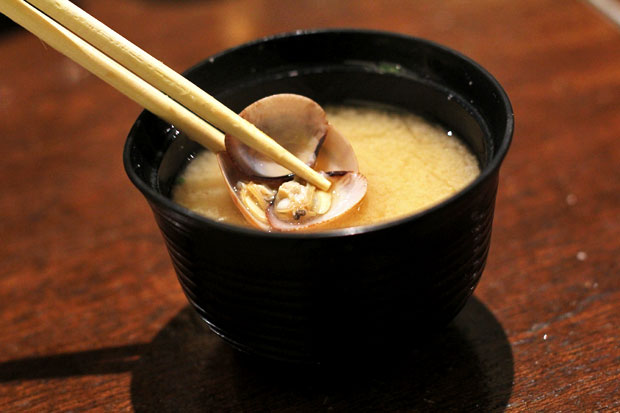 My beautiful wife Renee, who still manages to look so radiant despite daily, twelve-hour shifts caring for her ailing mother. Happy anniversary MBH! I love you. ♥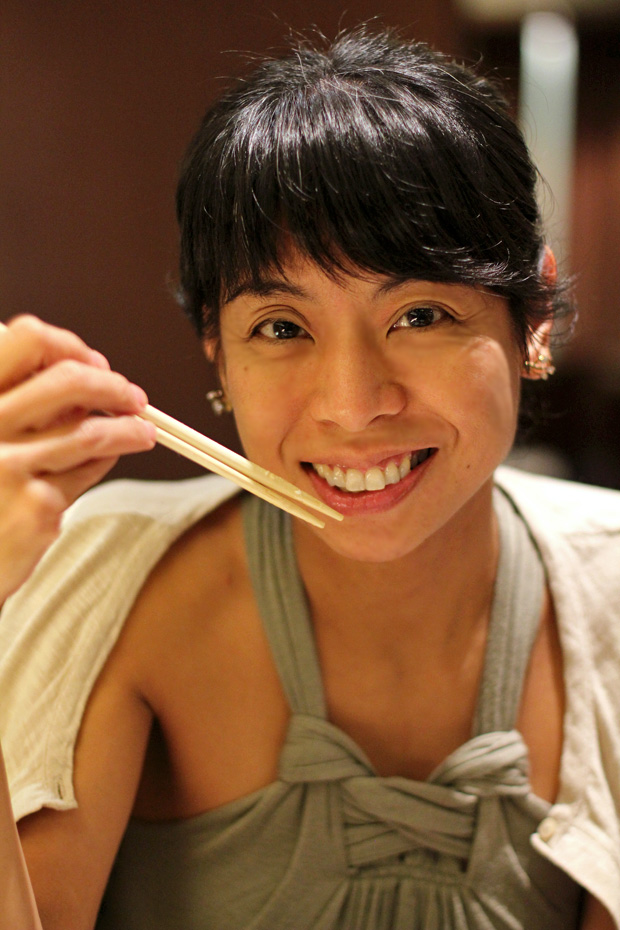 In parting, if you frequently visit blogs for restaurant reviews, then you've probably read the jokes about Tsumura being called "Tsumahal" because they're relatively pricey. It's true. They're not cheap, but I wouldn't call them overpriced either. Our total bill, with three beers, came out to just over PHP 4,500, which wasn't too bad I thought considering the quality of their Japanese food.
For sushi this good, I really don't care if people call them Tsumahal, because they're Tsumasarap. (Sorry, had to do it. :lol:)
Anyway, corniness aside, my sincere thanks to Anonymous Paul, Sanjay, and Kitchyart of TFTP for their fantastic recommendation. You guys were spot on. As mentioned in my email, we'll definitely give as many of your recommended sushi restaurants a try, probably starting with Keizo, then Sensei Sushi. That Sensei omakase experience looks really intriguing. 😀
Tsumura
2/F 88 Corporate Plaza, Sedeno St corner Valero St, Salcedo Village, Makati
Tel: 887-4848 to 50
Operating Hours: Mon-Sun, 12PM-3PM / 5PM-12MN