How would you feel if you flew all the way to the Louvre in Paris to see the Mona Lisa, only to find out that it was on loan at the Prado? Wouldn't that just suck?
Well, that kinda almost happened to us when we traveled to Puerto Princesa last week. Ren's older brother Randy was in town from the US to celebrate his 50th birthday and wanted to visit Palawan specifically for the Underground River, one of the newly declared seven wonders of nature. As if seeing the Undergorund River weren't cool enough, Ren's mom paid for our entire trip as a birthday gift to Kuya Randy. Awesomeness! 😀
By serendipity, we spotted and secured Deal Grocer vouchers for a stay at the 5-star Sheridan Beach Resort & Spa, inclusive of daily buffet breakfast and tours of the Underground River and Mangrove Forest. Being responsible, well-planned travelers, we made our booking early, way back in early December, only to find out a few days prior to our trip that permits were required to visit the Underground River.
The hotel's reservations manager never secured these permits for us, never even telling us that we needed them, which was odd and utterly irresponsible on his part since our package already included passes. As a result, we were in danger of not being granted access to the river despite booking our trip three months in advance, with almost half of our party flying in all the way from the US.
Fortunately for us, Ren's cousin Brooke is a personal friend of Mayor Hagedorn and his family, so they were able to secure permits for us at the very last minute. What a tragedy it would have been to come this far only to be denied access to the Underground River.
In any case, you can read about it in more detail HERE. Here are images from an unforgettable trip that seemed poised at one point to end in disaster, but turned out to be an even more amazing experience in the end. A true blessing in disguise.
Sheridan Beach Resort & Spa
Without a doubt, Sheridan Beach Resort & Spa is the most luxurious hotel you'll find here at Sabang Beach, Puerto Princesa. A Sterling Group hotel, the grounds are well-kept, the rooms beautiful, the facilities first-rate.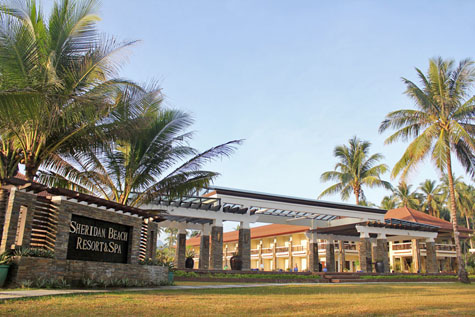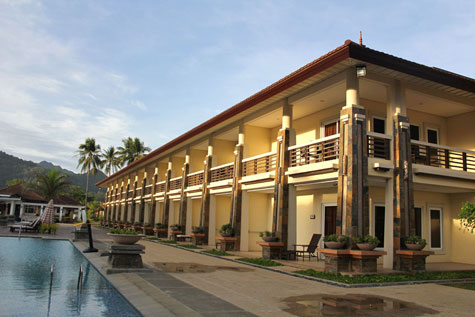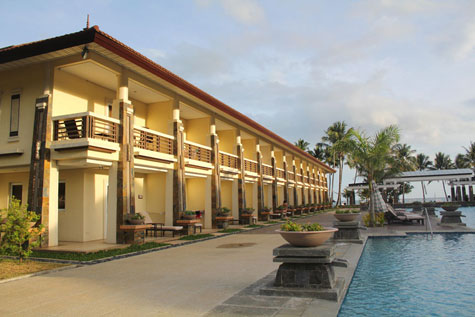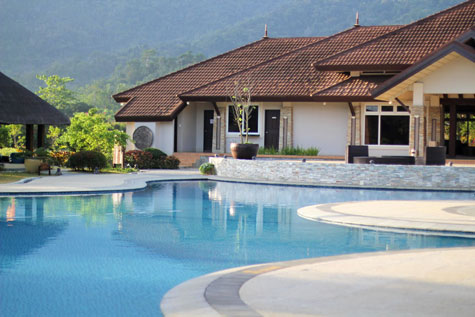 The pool was awesome. It was loooong, only 4 feet deep everywhere, and had several jacuzzis off to one side.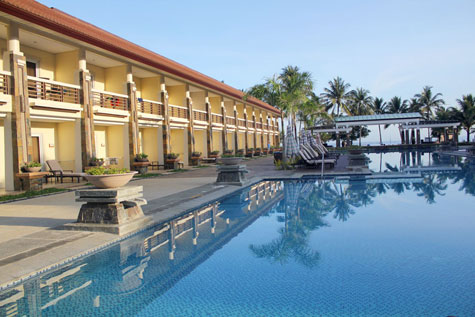 The best part about the pool? The bar where you could chug ice-cold SMLs while half-submerged in tepid water.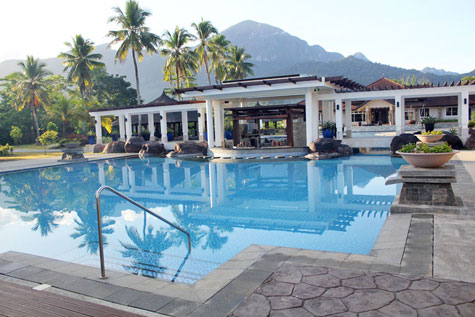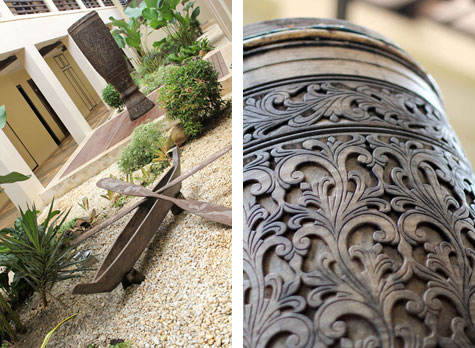 Our beautiful room with direct access to the pool. Those beds with down feather pillows and duvet were ridiculously comfortable.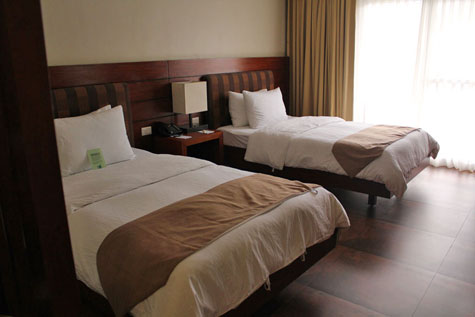 As beautiful and luxurious as this hotel was, it stood out like a sore thumb next to its unassuming, more provincial-looking neighbors. I guess it all boils down to personal preference. If you like these large, cookie-cutter luxury hotels, then Sheridan is the place for you. Comfort- and facilities-wise, there's little to complain about.
However, if you prefer resorts that are more rustic and island-y in their appeal, then nearby Daluyon Resort may be a better choice. With its standalone cabanas with thatched roofs, Daluyon definitely looks the part of a more laid-back island getaway. It's also a green, zero carbon resort that supports the Clean & Green Earth Campaign. Being the tree-hugging hippie that I am, any resort that takes care of the environment gets extra points from me.
Around the Resort
The food at Sheridan was subpar and expensive, so we wound up eating most of our meals, apart from breakfast, at neighboring Taraw resort. Here's Ren with one of several canine friends we made at Taraw.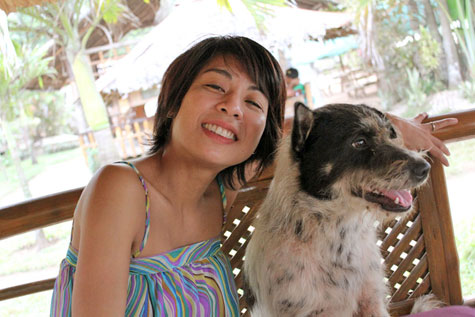 Beachfront photos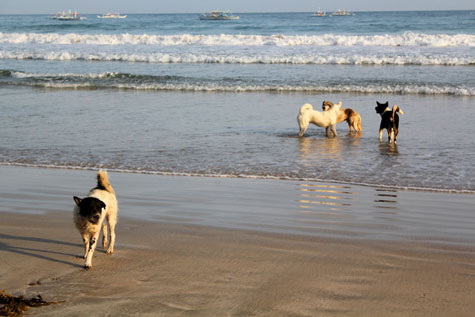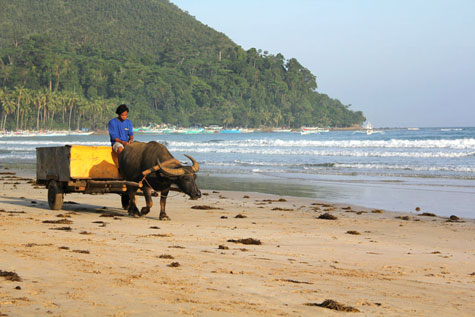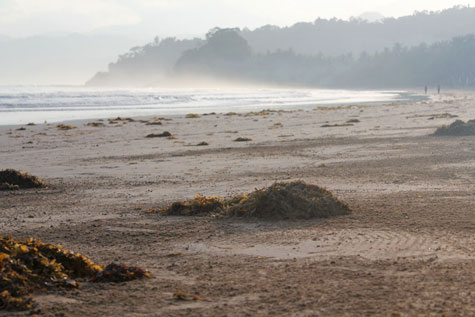 Self-portrait with tripod and clump of earth.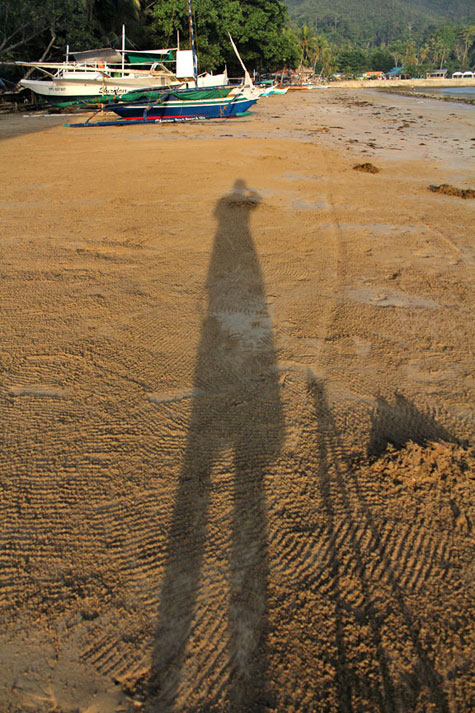 Ever since reading in Scott Kelby's The Digital Photography Book that professional landscape photographers only take pictures at sunrise and sunset, I've been dying to try it myself, which is why I paid extra just to bring my tripod on this trip.
Here are a couple of sunset photos taken at around 6 pm.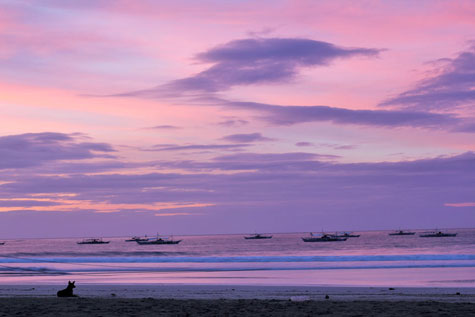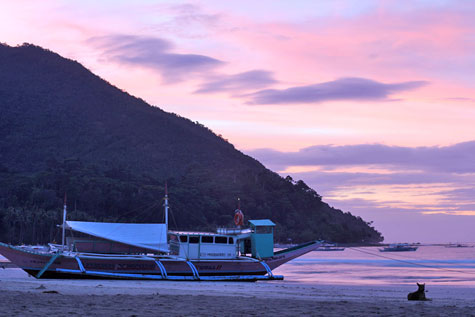 First light, taken sometime between 5:30 and 6 am with a tripod and 10-15 second shutter.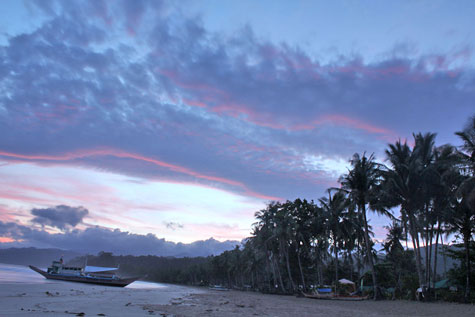 After seeing just how much better these sunrise and sunset photos looked, I think I'll be lugging my tripod with me on every trip from now on.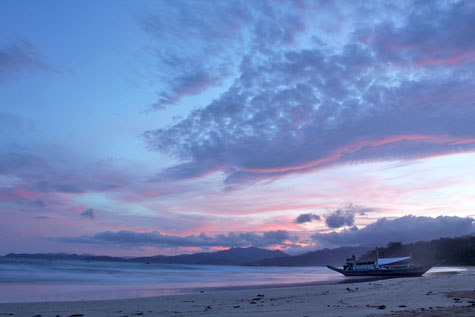 My beautiful wife, Ravishing Renee.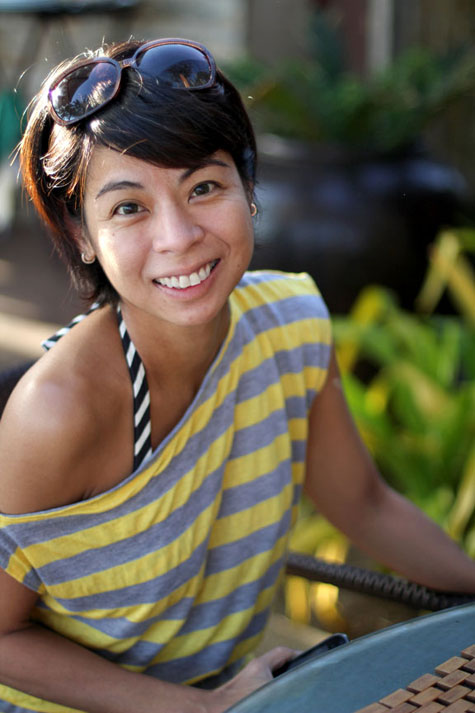 Underground River
One of the newly minted seven wonders of nature, the underground river in Palawan is truly something to marvel. The longest navigable subterranean river in the world, it stretches for approximately 8.2 kms, though the tour will only take you as far as the first 1.5.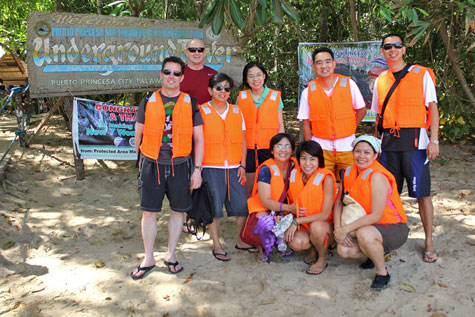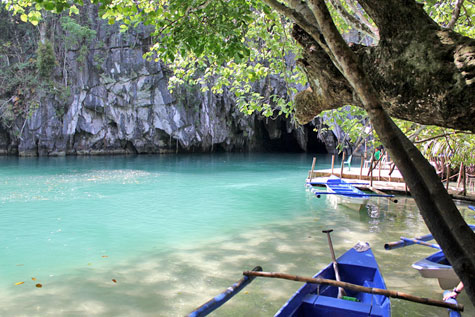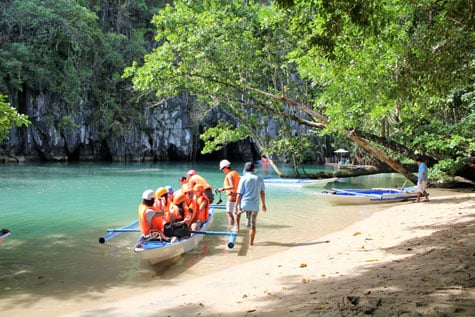 Entrance to the cave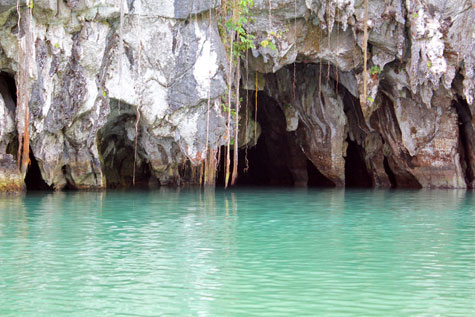 And into the belly of the beast we go…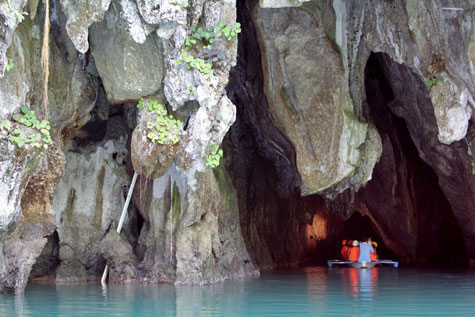 It was tough as hell to get good pictures. It was pitch black inside, save for the small beam of light from the boat's spotlight. On top of that, the boat was moving, making it even more difficult to get clear, unblurred images.
The big bounce flash I brought along was only useful whenever we were close enough to the cave walls, which wasn't often since most of the chambers were cathedral-like in their enormity, the highest ceilings estimated to be around 300 meters from the surface of the water. Amazing!
Simply put, the pictures below don't do this subterranean river any justice. However, I do hope that they at least give you a sense of just how stunningly beautiful this underground network is and inspire you to go see it for yourself. Just remember that you need to secure a permit, otherwise you will not be allowed to enter.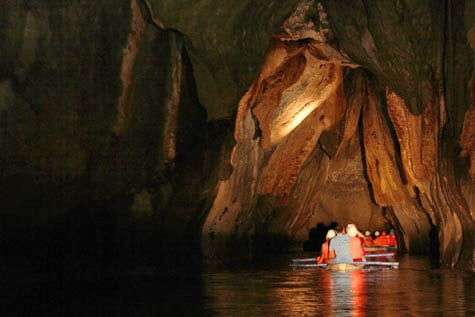 You can't tell from the picture, but this obelisk-like stalagmite was massive, rising up, in my estimation, about 60-80 ft from the surface of the water.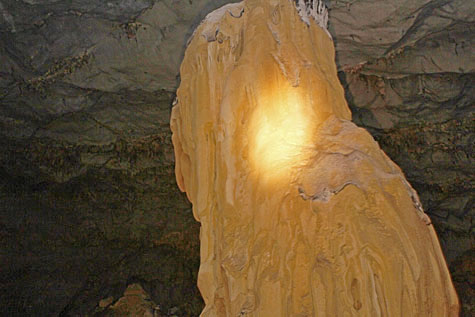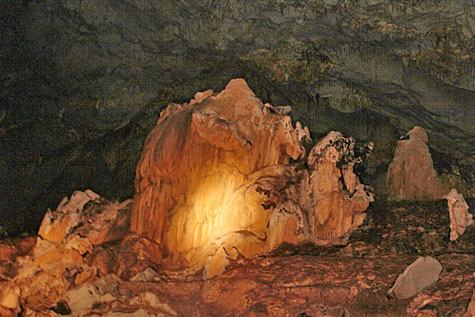 You get a sense in this picture of just how colossal some of these stalactites were.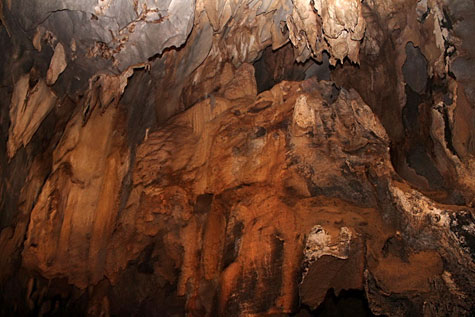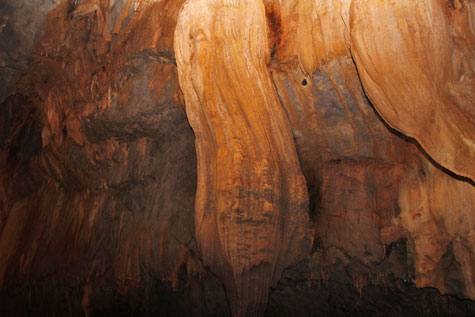 You can't really tell from these pictures, but bats were hanging from…well, pretty much everywhere.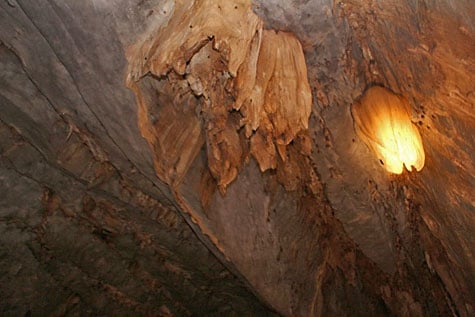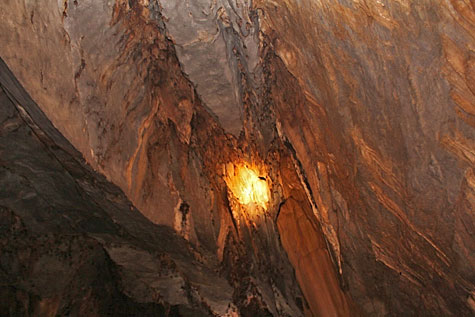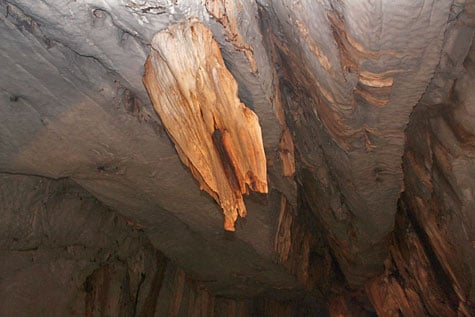 Do you see Jesus?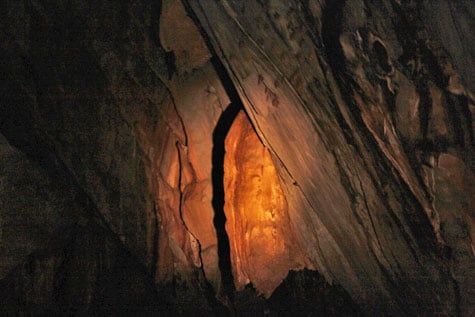 Jellyfish-looking stalactites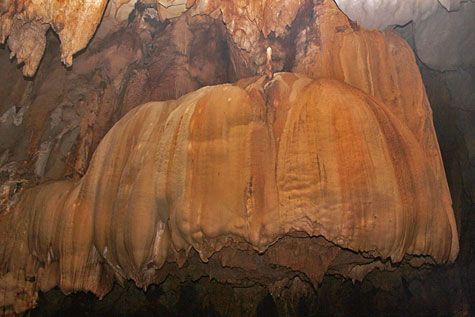 Droplets of water would fall from the ceiling from time to time, so be sure to bring something waterproof to protect your camera.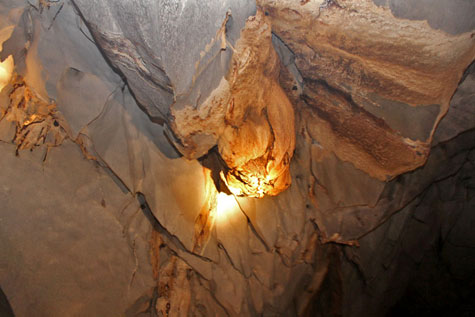 A few meters from the mouth of the underground river was an open area where several Asian water monitors (Varanus Salvator) were basking. I love reptiles and amphibians, keeping a few as pets, so I really enjoyed getting close to and photographing these beauties. Adult water monitors can grow up to a length of 5 feet from snout to tail tip.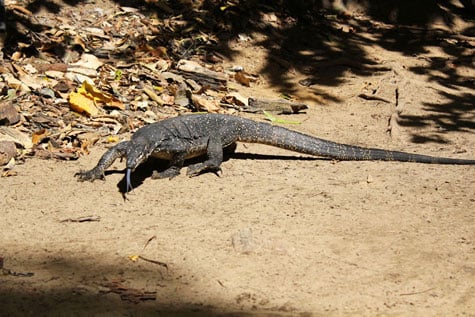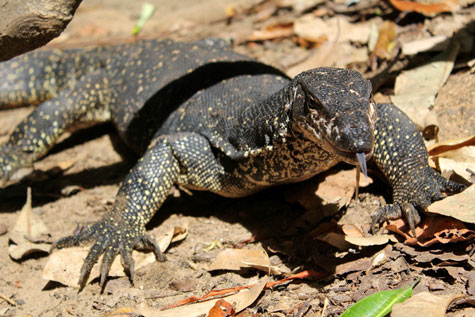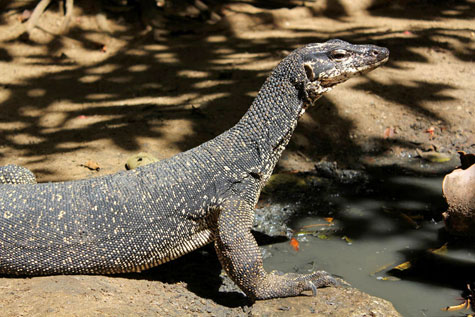 Mangrove Forest
The voice of the forest, Lady Mangrove. Aside from giving us a splendid, well-informed tour, she also sang us an OPM tune of her own composition that expressed her sincere love for this magical mangrove forest.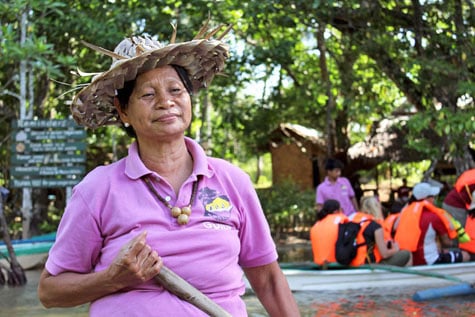 The beauty of this alien landscape was enchanting.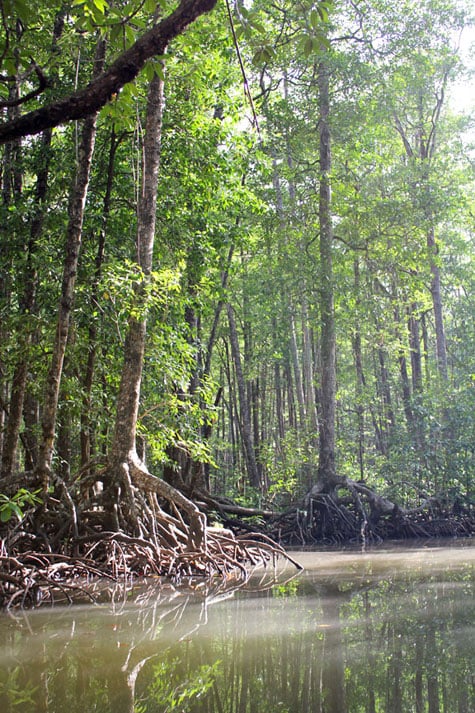 Beautiful Palawan mangrove snake (Boiga Dendrophila). A mildly venomous colubrid, it grows to an adult length of around 6-8 feet.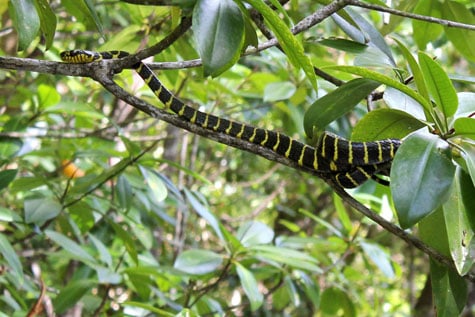 A juvenile Varanus Salvator chillin' like a villain on a tree branch.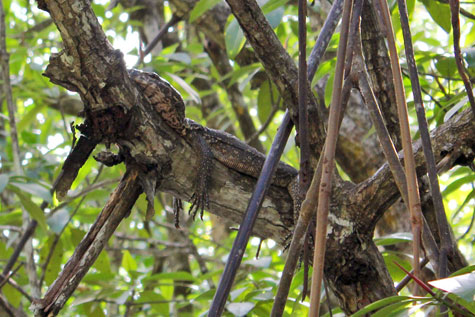 The forest looked so alien to me that I half-expected to hear predator growling sounds reverberate from the forest at any moment.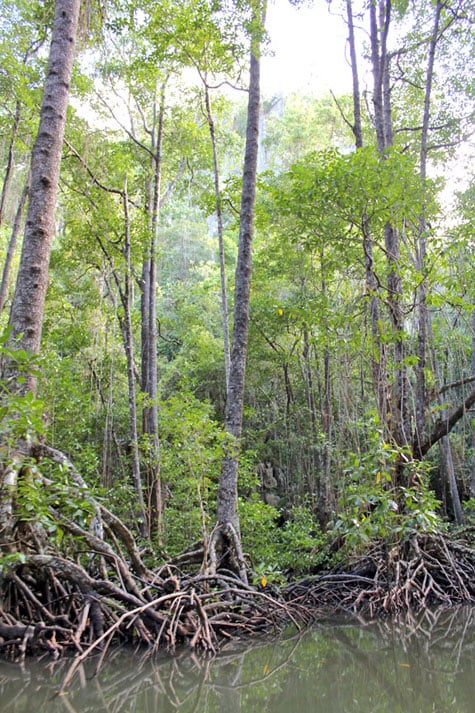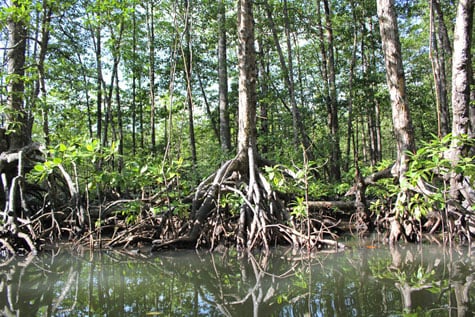 At the end of the tour, Lady Mangrove gave us mangrove seeds to plant before departing. Here's Ren doing her part in preserving and propagating life in this otherworldly forest.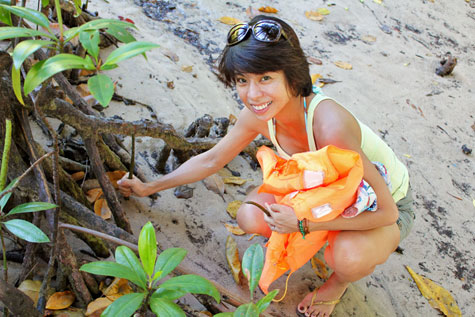 Tamilok
AT LONG LAST!
After watching Andrew Zimmern enjoy these on an episode of Bizzare Foods, I've been dying to try them myself. Unable to finy any during our trip to Coron, Palawan in November of last year, I was ecstatic to finally get my chance.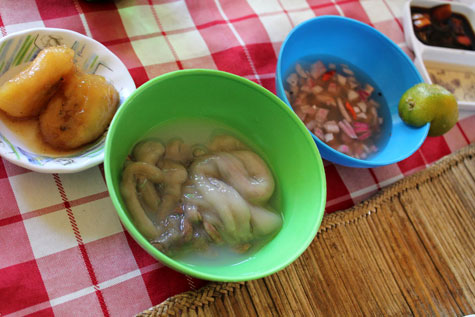 A bivalve mollusk commonly known as a "ship worm" or "wood worm", it feasts on rotten mangrove wood and grows to an adult length of over 12 inches.
Eaten raw and dipped only in calamansi, vinegar, onions, and a few drops of hot sauce, it's milky and sweet with a texture that's very similar to oysters, hence the title "the world's longest oyster." Absolutely dee-licious and well worth the wait.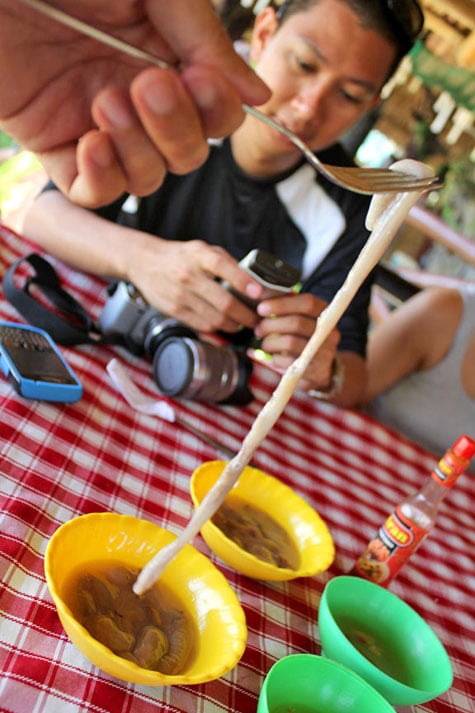 And down the hatch you go my pretty.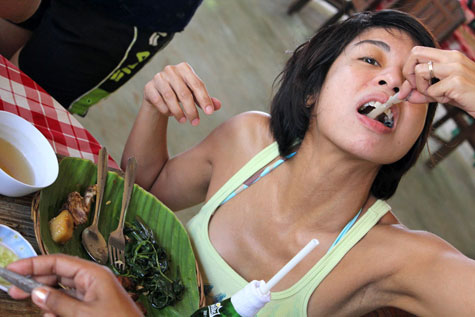 "Tommy, look!"
Do you know how the ship worm came to be called tamilok in the Philippines? The urban legend goes something like this:
Two Caucasians were vacationing in Palawan when they spotted local Batak tribesmen digging out these slimy, worm-looking things from rotting mangrove wood and eating them. Shocked, one of the men shouted to his companion: "Look! Tommy, look!", hence the common name by which we know it today, tamilok.
I know, right?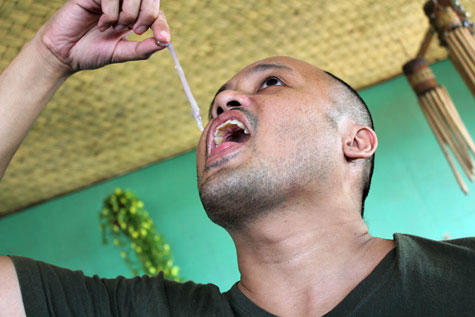 Isla Rita
House on Isla Rita, private island of the Hagedorn family. Yes, you read that correctly. Private island, onto which we were invited for lunch one day thanks to the generosity and kindness of our hosts, the Hagedorns. Life is awesome. 😀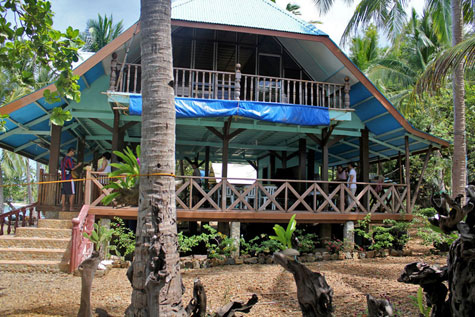 Gorgeous flowers all around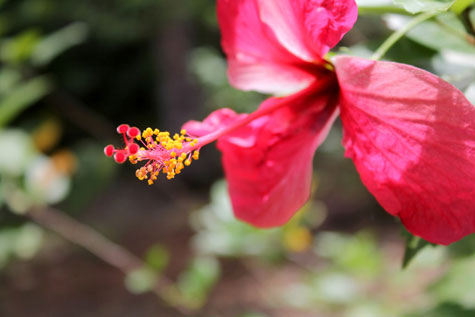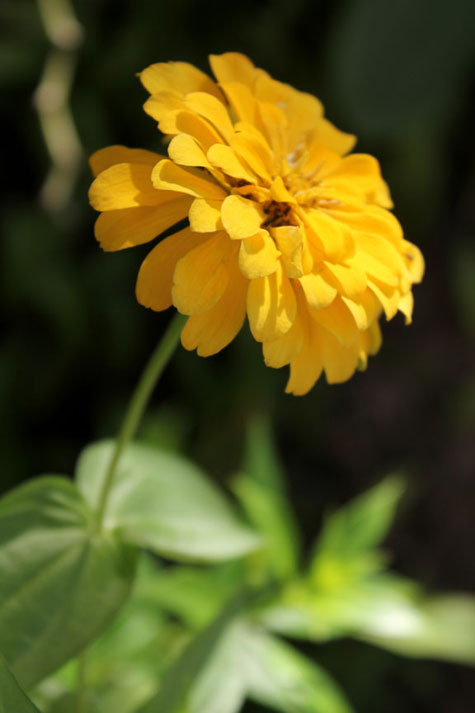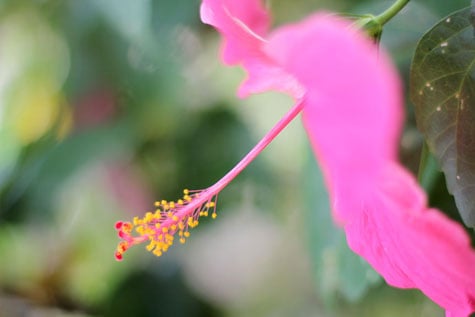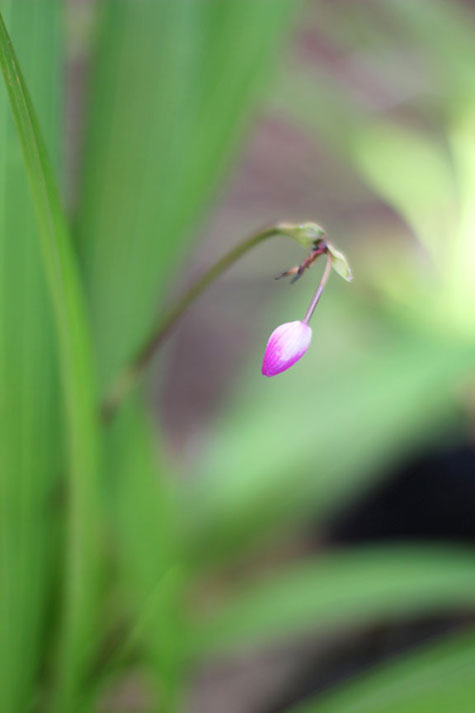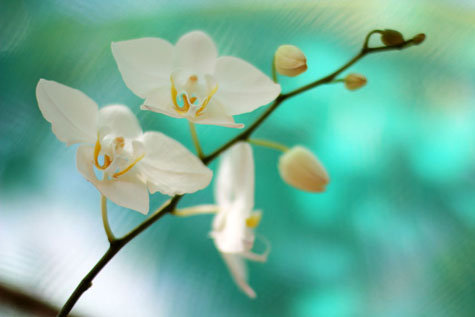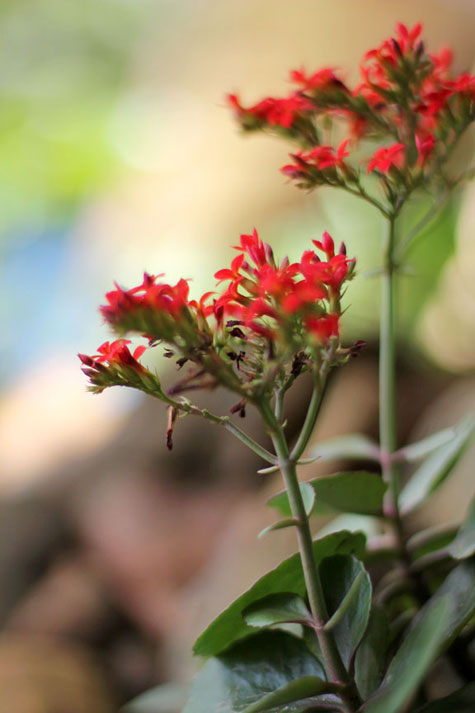 Mulberries! These were delicious. They had a deep, sweet, berry taste reminiscent of blackberries. Apparently, you can grow a new tree by cutting off and planting a branch, which Mrs Hagedorn was kind enough to give us to take home. Hopefully with some TLC, we'll be picking off mulberries from our own tree in no time.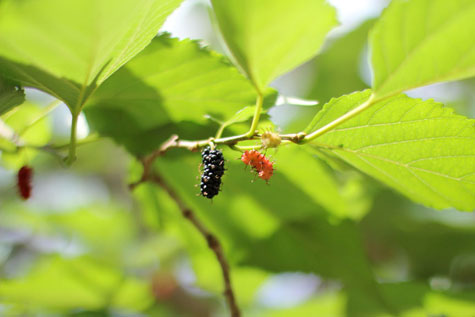 Did I already say how ravishing my wife is?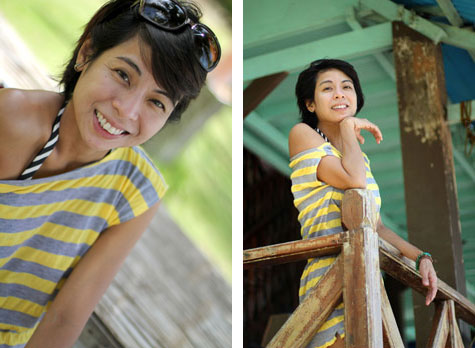 Pork ribs grillin' like a villain. Yum!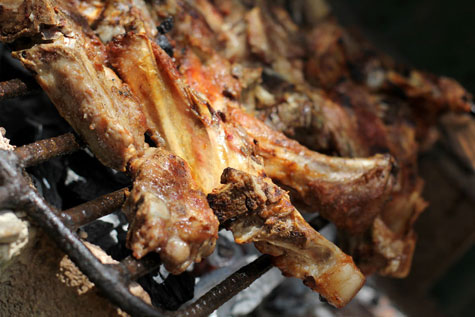 The fantastic banquet the Hagedorns prepared for us. If I remember correctly, there were pork ribs, steamed shrimp and crabs, grilled fish, stuffed squid, binakol (coconut chicken soup), liempo (pork belly), etc. Awesomeness!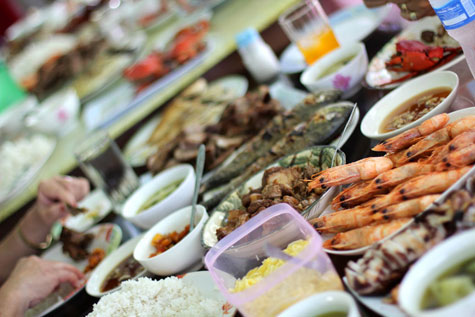 Fresh coconuts for dessert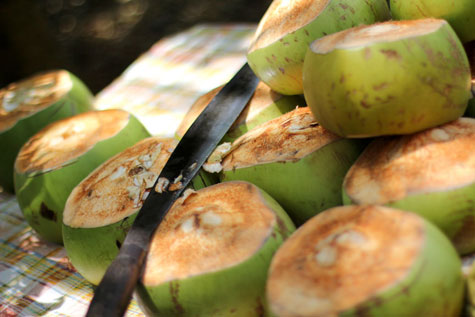 Again, we can't thank the Hagedorns enough, not only for this fantastic banquet and tour of their island, but for salvaging our trip as well. They literally saved it. Not being able to visit the underground river would have been a travesty, so our heartfelt gratitude goes out to them for their benevolence, generosity, and unbridled hospitality.
From the bottom of our hearts, THANK YOU!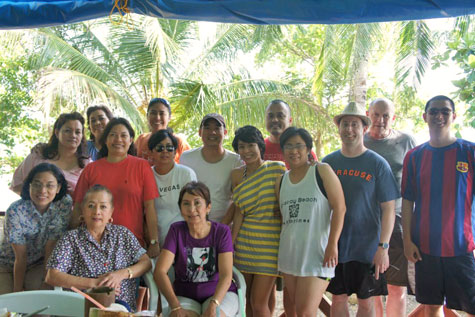 Sabang Waterfalls
The 1.8 km trek to the Sabang waterfalls was marked along the way with these Buddhist sayings. Why? Because you had to endure suffering to get there! These large, round, smooth rocks were difficult as hell to walk through.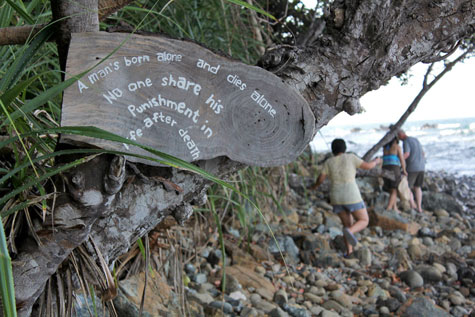 L: A mere trickle of a waterfall, I'm not to sure all that pain was worth it. 👿 R: Inspired by all the Buddhist affirmations we had just passed, here's Sepphartha Gautama deep in meditation.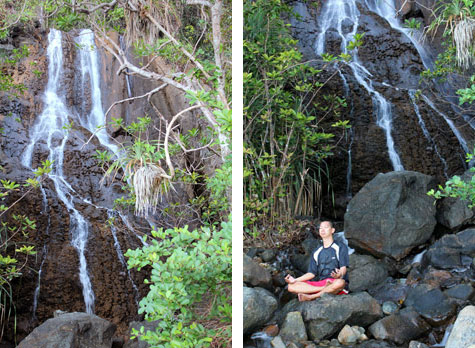 The reason I came here was to experiment with slower shutter speeds in an attempt to get those milky-looking waterfall shots, which is why I brought my tripod along. However, seeing as how this waterfall was too small to create an interesting image, I turned my attention instead to the waves crashing onto the rocks.
The two images below were taken with a tripod and a 2-3 second shutter.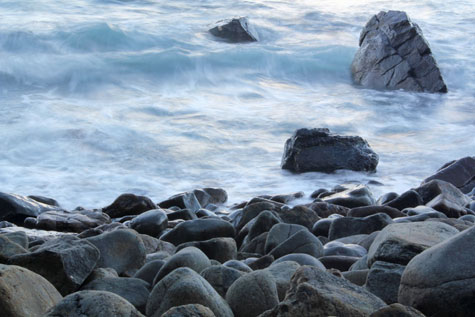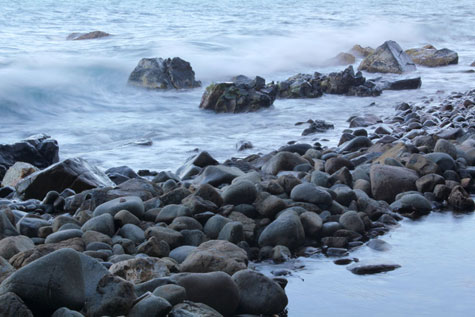 Sabang Zipline
An 800-meter long, 50-meter high adrenaline rush over water. FUN!
Here we are trekking towards the jumping off point.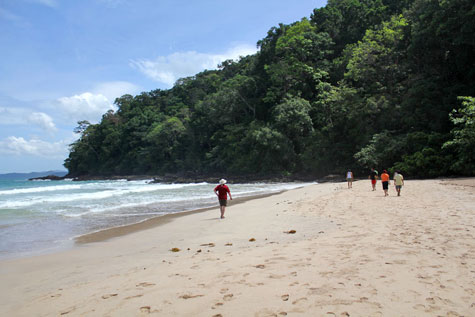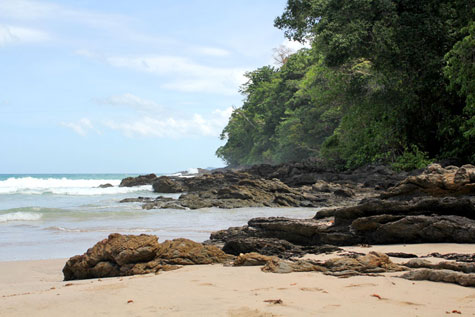 The zipline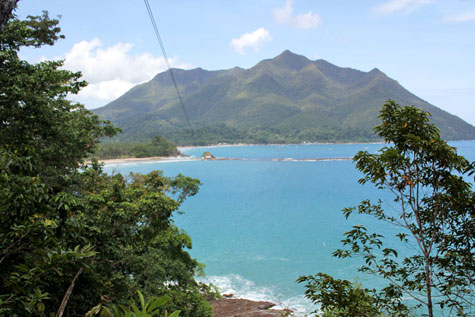 The gear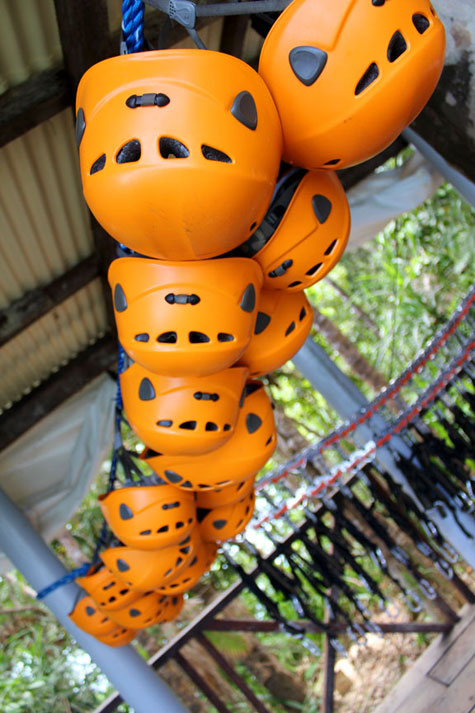 The zipliners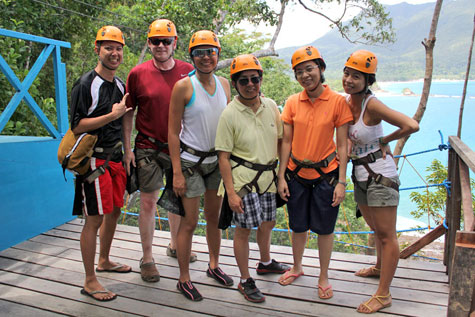 Because I wanted to shoot video and take pictures, I went first. This is the view from the landing platform.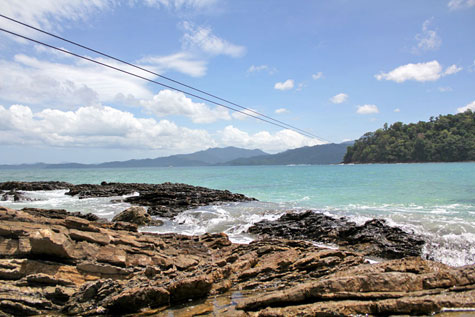 Here's Ren hamming it up for the camera…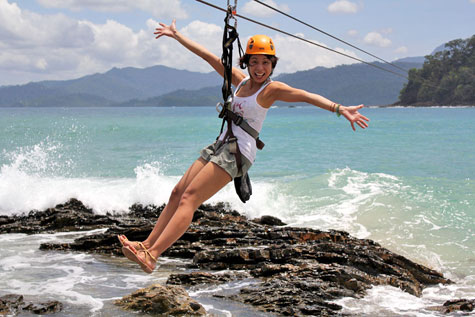 …and here she is doing it again. 😆 This was a blast!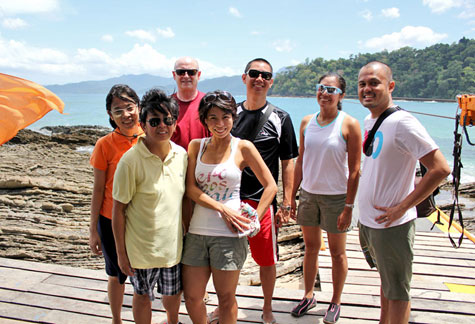 Jungle ATV Track
On the morning of our departure, we rented ATVs and did this quick one-hour ride through the jungle. None of us had ever ridden on ATVs before so we all had a terrific time blazing through the trails. VROOM VROOM!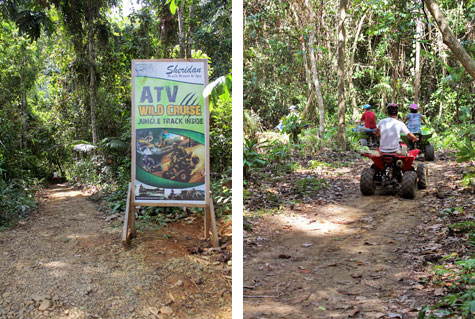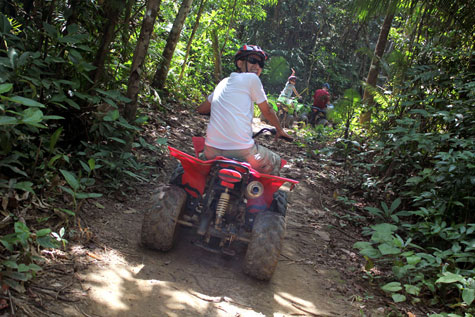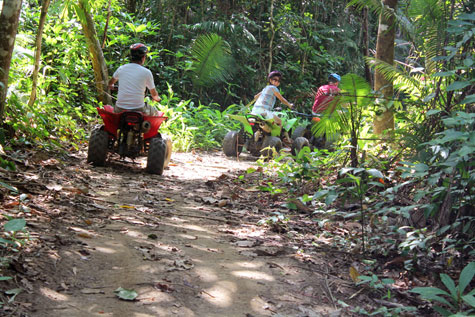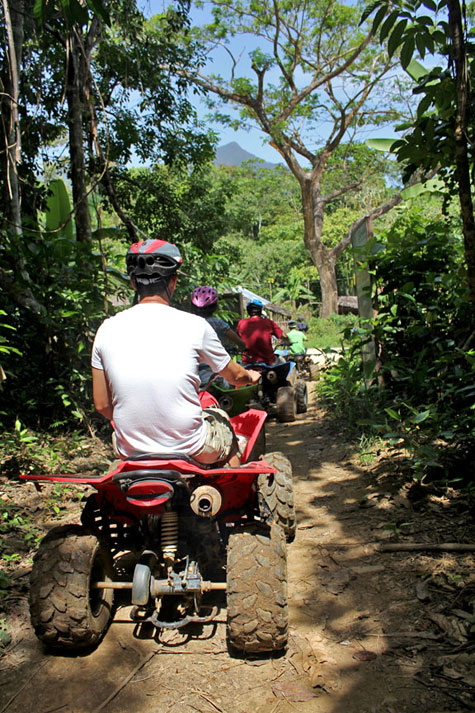 Here we are back at the resort, with nary a scratch nor broken bone to brag about. That was awesome!

Cantos Siblings
Of course, this trip wouldn't have been possible without the Cantos kids. Here they are in order of appearance: Rachel, Randy, Rosalie, Rhona, and Ravishing Renee. Happy 50th birthday Kuya Randy!
And many many thanks mom for this most generous trip! We all had an amazing, unforgettable time.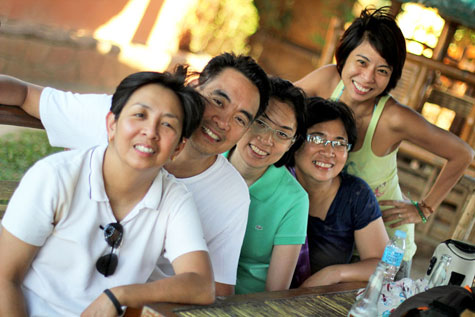 As mentioned at the top of this post, what almost became a debacle turned out to be a blessing in disguise. Had the reservations manager at Sheridan not botched our permits, we probably would never have met the Hagedorns, and we would not have enjoyed the pleasure of their company on that most enjoyable tour of their private island.
To top it off, not only did they save our trip by securing our permits to the Underground River, but they insisted on shouldering all the fees as well. What kindness! Their hospitality and generosity of spirit was a genuine and humbling treat that we won't soon forget.
And because the Sheridan failed to fulfill that portion of our package, they redeemed themselves by refunding the cost of our Underground River tour in full. Talk about everything working out in the end, this turned out to be about as perfect a trip as we could possibly have wished for.
Great company, interesting food, killer hotel, a wealth of fresh experiences, and a new wonder of nature. Seriously, can life get any better? 😀
Thank you Palawan for yet another lifetime of terrific memories!
More on Palawan
Underground River, Puerto Princesa, Palawan
Palawan Mangrove Forest
Sheridan Beach Resort and Spa
Tamilok, the World's Longest Oyster
The Edge of the World
Corals, Cliffs, and Crustaceans in Coron, Palawan
Kayangan Lake, Coron, Palawan
Ay kay Layo ng Lamayo!