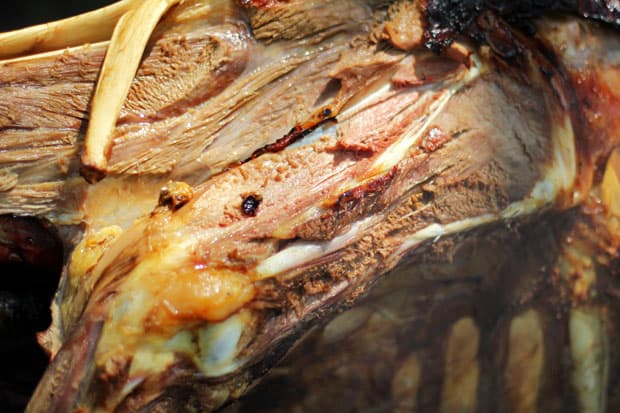 A Biblical Feast at Kamalig Bar & Resto, Malolos, Bulacan
NOTICE: Your health and safety come first. Please adhere to the WHO recommendations and avoid any non-essential travel at this time. If travel is unavoidable for you, then you can check the Flatten the Curve website for information on global travel restrictions.
DISCLOSURE: Some of our articles contain affiliate links. The ones that do will have a disclosure statement at the bottom. You can refer to our privacy policy and terms of use for more information.
"Thou Shalt Not Wear Pants that Stretch".
That's the cardinal rule in Dr. Oz's Ten Weight-Loss Commandments. On our way to Kamalig Bar & Resto in Malolos for an epic feast of biblical proportions, I did exactly that, doing away with my favorite, drawstring pants in favor of belted cargo shorts. All the swimming Ren and I have been doing lately has led to favorable results, so I knew that some measure of prudence was needed if I had any hope of keeping that weight off. This belt, I told myself, would be today's gatekeeper.
Right.
In the wake of another all-day barrage of food and booze that surpassed our first Malolos Experience, I again found myself passed out and defeated on a bench, my top button undone with my now humiliated belt hanging by a wedgie somewhere. My belly close to bursting from the roasted flesh of cow, pig, chicken, goat, and snake, I couldn't help but think of Moses and the parable of the Golden Calf. With Dr. Oz's Ten Commandments of Weight Loss furiously smashed to the ground, I'm reminded that in Malolos, in the company of the ever-generous Caluags, one rule and only one rule applies:
"Thou shalt ALWAYS check thy belt at the door."
With food flying at us seemingly from all directions that day, I wasn't sure how best to present all the pictures, so I decided to arrange them in sequential order of consumption, beginning with the banquet's centerpiece, this golden brown roast calf on a spit. I told you this was a biblical feast. 😉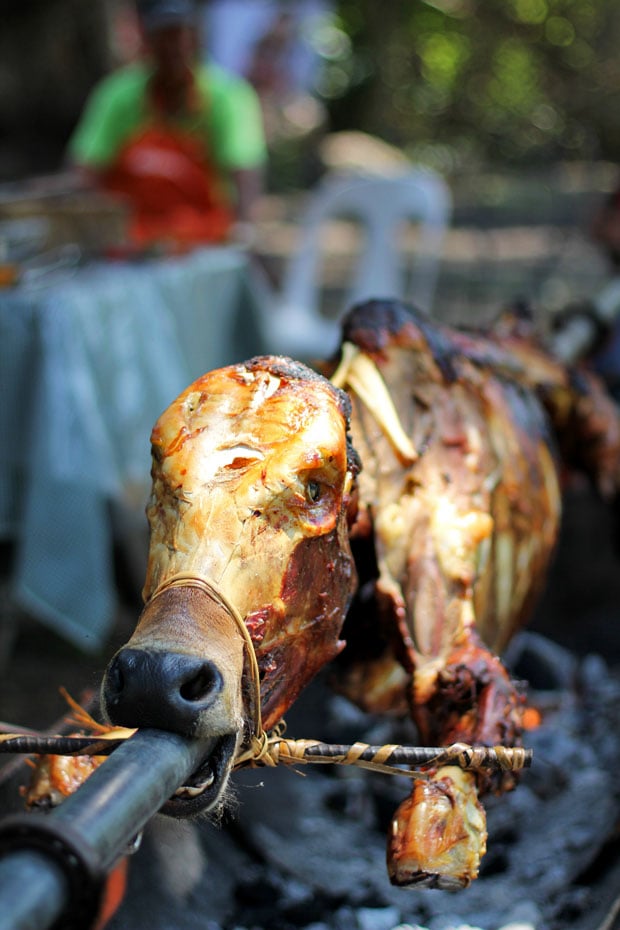 Courtesy of proprietor Louie S. Laquindanum, aka "Kaka", this roast calf goes for PHP 27,000 and can feed up to 200 guests. CLICK HERE for complete contact details.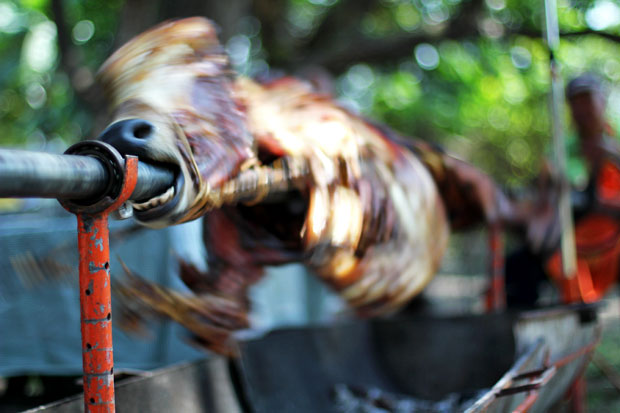 Smokey, charred, juicy, and delicious, I couldn't stop eating this thing.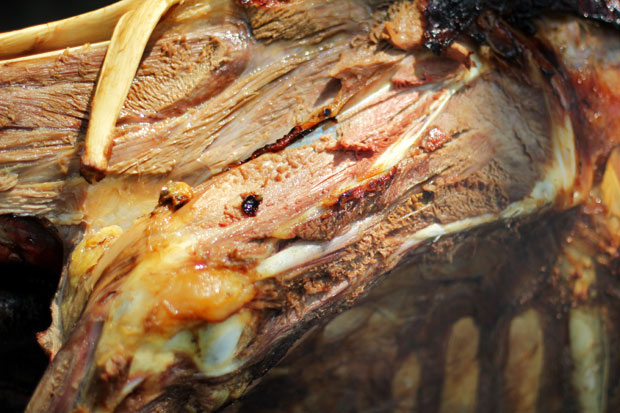 Can you tell what this is? For the uninitiated, it's sawa or snake meat. 😈
Cooked adobo-style, it tasted similar to white chicken meat, but much tougher. If you've ever handled a live constrictor before, then you'll know firsthand that their bodies are comprised of powerful muscles with little fat. Though tasty, it does require some effort to consume, since you have to navigate your way through dense chunks of meat teeming with sharp, spiny bones.
With many reptiles like snakes and crocodiles being such prolific breeders, it makes sense to incorporate them more into our mainstream diet. A potentially sustainable source of food (and leather), I just wish that there was an easier way to cook the meat to make it more tender. We've enjoyed snake meat once before, as part of a Cambodian BBQ, but the meat was just as tough.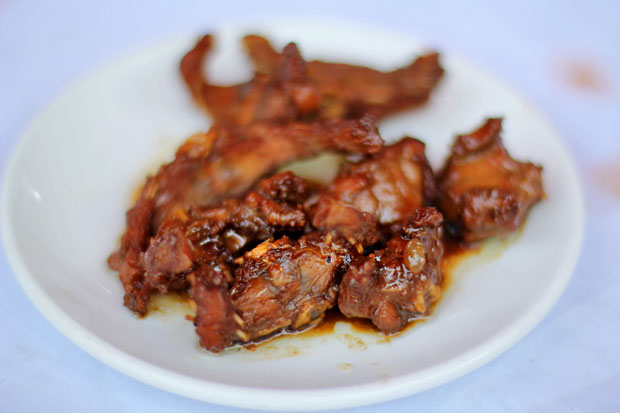 A surprisingly delicious bowl of papaitan, which is an Ilocano stew of goat or ox tripe and innards, flavored with bile and sampalok (tamarind) or siling labuyo (bird's eye chili). The dish derives its name from the word pait, meaning "bitter", which is in reference to the bitterness imparted by the bile.
My first time trying this dish, I didn't think I'd like it but I wound up slurping down two bowls. 😆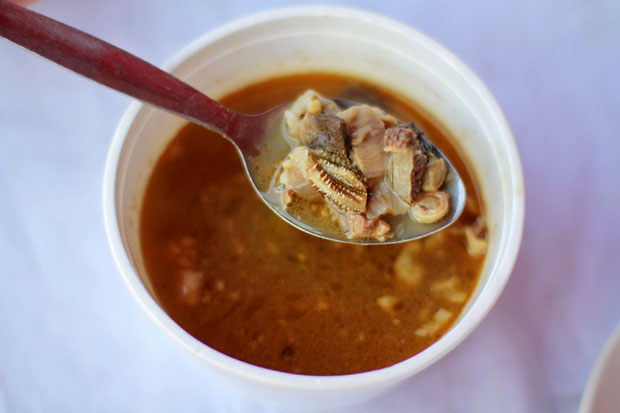 Made with goat, here's a closer look at the tripe and innards. Because of the dish's name, I thought that it'd be unpalatably bitter, but it wasn't. The bitterness was mild and quite pleasant in fact, adding another layer of flavor to an already tasty dish. The gelatinous, slightly gummy texture of the tripe and innards was wonderful as well.
UPDATE: A commenter from Bulacan mentioned that papaitan in the lowlands, like in Bulacan and Nueva Ecija, isn't made with bile, so it's essentially just sinampalukan, with both sampalok and alibangbang leaves traditionally used as souring agents.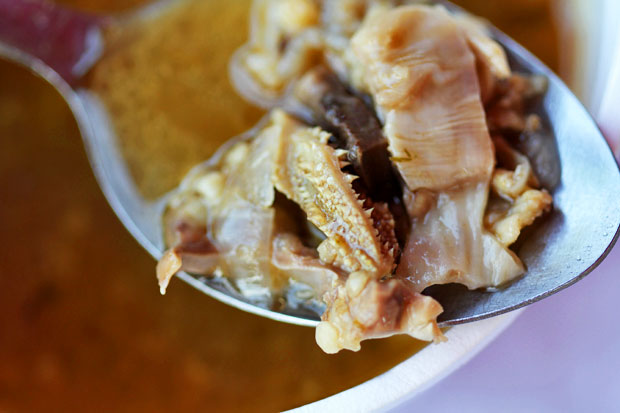 We've enjoyed bibingkang kanin on many occasions before, but this was the first time that we've ever had it in bite-size, amuse bouche form. For any non-pinoys, bibingkang kanin is a Filipino rice cake made from sticky rice, coconut milk, and brown sugar. Eye-poppingly delicious, I love how the toasted, caramel-ly flavor just explodes in your mouth.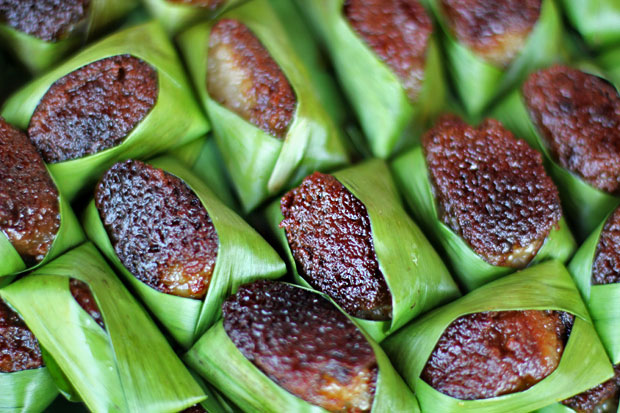 Similar to the bibingkang kanin above, this biko came in bite-size form as well. Also made with sticky rice, this version was interspersed with slivers of langka (jackfruit) and topped with crunchy bits of latik (toasted coconut milk crumbs).
Don't bother asking me how many servings I had of the biko and bibingkang kanin. I don't want to know.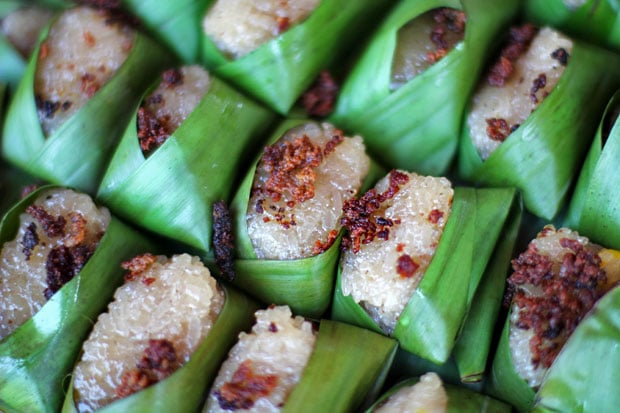 Already done with dessert, I guess that everything from this point on was technically a snack? 😆
Eira's mom kept raving about this empanada de kaliskis, so she bought a couple for us to try. It's basically an empanada with a flaky, scale-like appearance. Kaliskis means "fish scales".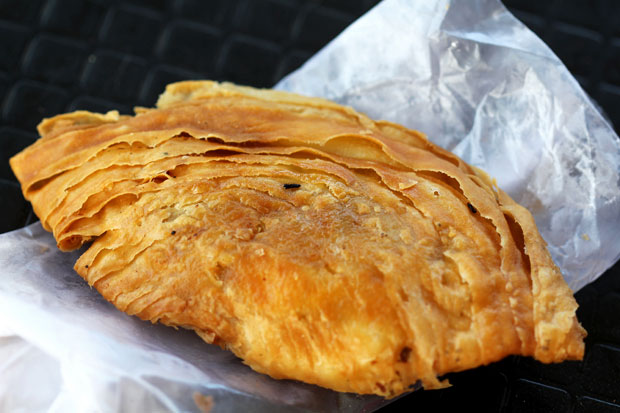 Stuffed with chicken, it was noticeably less oily than the more famous Vigan version, and tasted cleaner in my opinion. The pastry was smashingly crisp but delicate, imparting a dimension of texture and flavor that you wouldn't normally find in ordinary empanadas. Very nice.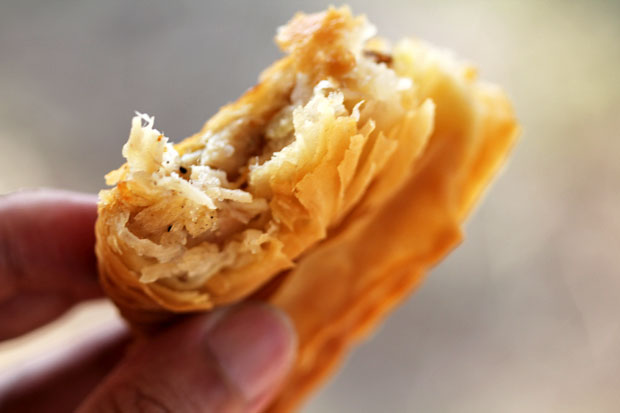 Many eateries in Manila serve dinuguan, but not all serve dinuguan laman-loob. Dinuguan, or "blood stew", is a dish made by cooking pig's blood with choice cuts of pork and other ingredients. Dinuguan laman-loob is a gamier, more flavorful version of dinuguan, made with pork innards like heart, liver, and intestines. Think of it as pig's blood stew minus the training wheels. So so good with its more diverse, albeit unusual mix of flavors and textures, switching back to regular dinuguan after trying this feels a lot like drinking Keystone Light after a hearty pint of Guinness. It's a step down.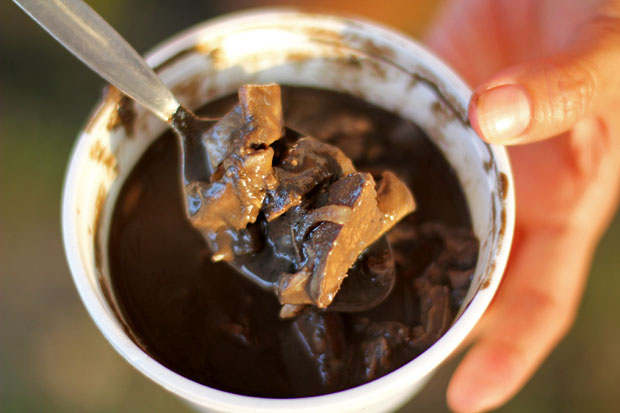 If you think that this is just an ordinary plate of barbecue, then you are sorely mistaken. Look closer. 😈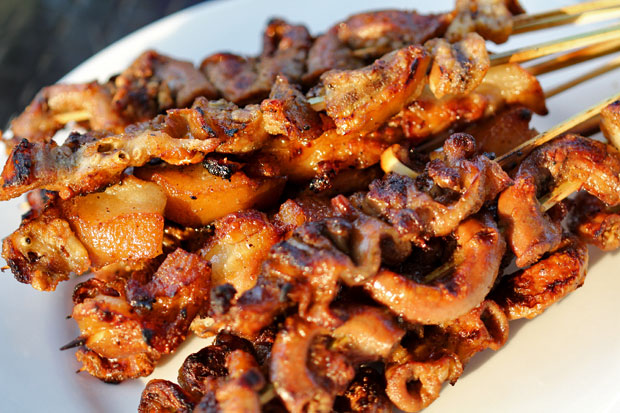 L: From left to right – Inihaw na isaw, tenga, at bulaklak (roasted pork intestines, ears, and mesentery) Though these delicious sticks of roasted pork intestines and ears aren't exactly common, they're not terribly rare either. I've tried them on a couple of previous occasions. Roasted mesentery however, is something that neither Ren nor I had ever seen before. Usually eaten in crunchy, chicharon form, this smokey and juicy inihaw na bulaklak was INSANELY delicious.
R: Not to be left at home, our beloved Henry and Mona got to tag along as well, enjoying tasty morsels from just about everyone throughout the afternoon. 😀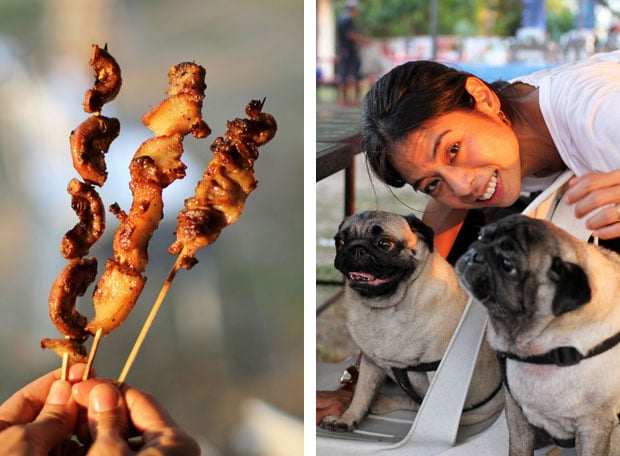 What makes fiestas like today's truly special – food, booze, and the company of a few friends. Thanks again to Eira and the Caluag family for having us. We had an amazing time as always. Sa uulitin! 😀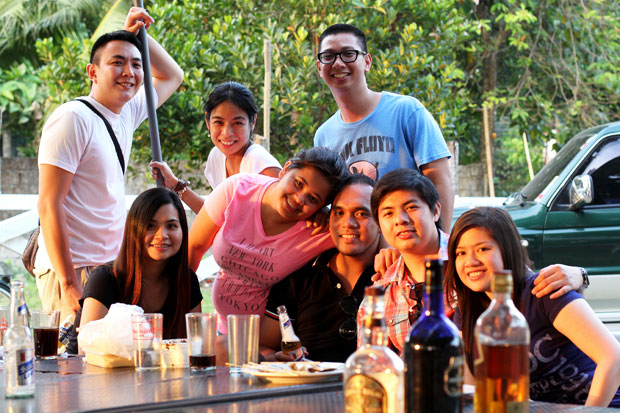 A big thanks has to go to Eira's brother IJ, who runs the Kamalig restaurant as well as its catering arm. He was responsible for cooking up most of the delicious dishes that we enjoyed there today, so if you're in the Malolos area and in need of a good caterer, then he's your man. 😉
Going back to this biblical feast, there was so much food flying around that I unfortunately wasn't able to photograph everything. The most glaring omission was the pot of stewed goat's head served while I was in mid-siesta. I woke up too late to try anything but the cheeks, but Ren did get to sample the brain and eyes, both of which she described as "amazing". 👿
Kamalig Bar & Resto
76 Gat Damaso Kaluag St., Sta. Isabel, Malolos City, Bulacan
Contact Person: Ivan Jethro Caluag
Mobile: 0922-898-8250
Email: [email protected]