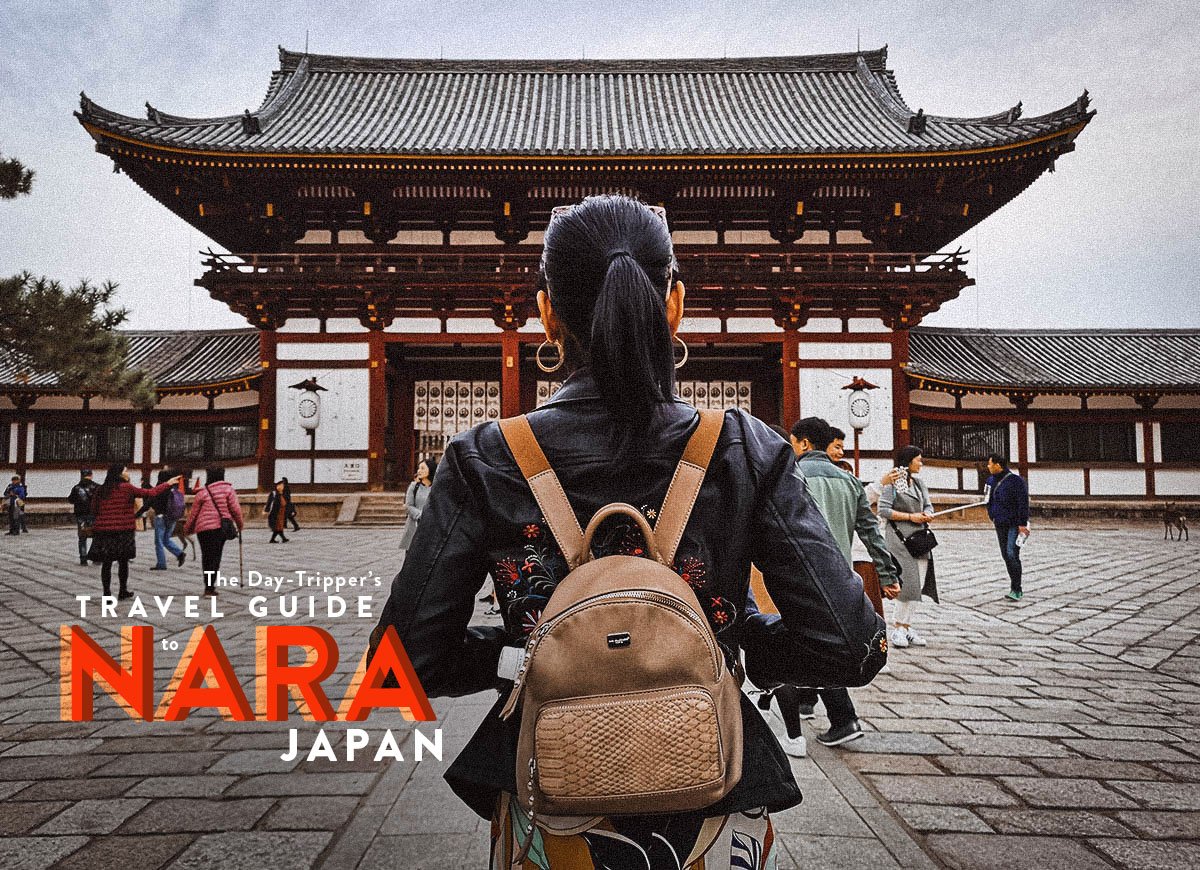 The Day-Tripper's Travel Guide to Nara, Japan (2019)
Many people who visit the Kansai region seem to focus on three cities – Osaka, Kyoto, and Nara. There are other interesting destinations within this area of western Japan though many itineraries seem to start with those three cities.
We had never been to Nara so we made a point to spend some time there on our most recent trip to the Kansai region. By most accounts, it didn't seem to merit more than a day or two so we decided to visit on a day trip from Osaka.
If you're unfamiliar with Nara, it isn't a booming metropolis like Tokyo or Osaka. It's traditional in feel, more closely resembling Kyoto with its wealth of historical and cultural attractions. I like to think of it as "Kyoto light", with deer.
If you're traveling to the Kansai region and looking to spend time in Nara, then I hope this day tripper's travel guide can help you plan your trip.
GUIDE TABLE OF CONTENTS
PLAN YOUR TRIP WITH VIAHERO
I enjoy trip planning. I like doing the research and putting together itineraries for our trips. For me, it's half the fun.
However, not everyone likes it as much as other people do. Some are perfectly fine using itineraries they find online. Using someone else's itinerary is ok, but your trip becomes less personal because you're basically doing the exact same thing someone else did. Not everyone enjoys the same things so if you'd like a custom itinerary made just for you, then you may want to check out ViaHero.
ViaHero is a travel planning service that links travelers with local experts to create custom itineraries to Japan, Cuba, Colombia, and Puerto Rico. They'll ask what you like and don't like and make a custom itinerary designed just for you. They helped us with the Kyoto leg of our most recent trip to Japan and I was impressed with how detailed and user-friendly their itinerary was. I asked them for a food-centric itinerary with a good mix of street food and Michelin-starred restaurants, and that's exactly what they gave us.
If you're the type of person who wants your travel plans neatly laid out for you, then you may want to give ViaHero a try. As described, they can help plan your trips to any city in Japan, Cuba, Colombia, and Puerto Rico. They like our style so they're giving all traveleaters (that's us and you) a 5% discount when you plan your next trip with ViaHero. Woohoo!
NARA AT A GLANCE
When people think of Nara today, they usually think of deer. But what many people probably don't know, is that Nara holds the distinction of being Japan's first permanent capital. Formerly known as Heijō, Nara became the country's seat of government in the year 710. It held that title till 784, before the capital was moved to Nagaoka then Kyoto where it stood for the next thousand plus years.
Because it was Japan's first permanent capital, Nara remains a culturally rich and historically significant city, second only to Kyoto in its wealth of traditional temples and shrines. There you'll find eight historical attractions that make up the UNESCO World Heritage Site known as the Historic Monuments of Ancient Nara.
The site is comprised of 26 buildings designated as National Treasures, at the core of which is Tōdai-ji Temple, a proud landmark of Nara that's revered as one of Japan's most historically significant temples.
BEST TIME TO VISIT
Like Osaka and Kyoto, the best times to visit Nara are in Spring (Mar-May) and Autumn (Sept-Nov). The weather is temperate and the landscape is at its most beautiful, characterized by the pinks of cherry blossom season and the fiery oranges and reds of autumn.
DEC-FEB: This is winter in Nara. Temperatures can go as low as -0.2°C (31.6°F) so it's probably not the best time to go if you don't like cold weather.
MAR-MAY: Spring is one of the best and most popular times to visit Nara. Cherry blossom season typically begins around the end of March, with flowers being in full bloom by the first week of April. It's one of the most beautiful times of the year in Nara so expect heavier crowds.
JUN-AUG: This is summer in Nara. It tends to get hot and humid – reaching a high of 32.6°C (90.7°F) in August – so this isn't the most comfortable time to go. June and July are also the rainiest months of the year.
SEPT-NOV: Autumn is a terrific time to visit Nara. Like spring, the weather is mild and the landscape is at its most picturesque. We were there in late November and as you can see below, the leaves turn to striking hues or red, orange, and yellow. It's the perfect backdrop for your Instagram #ootd!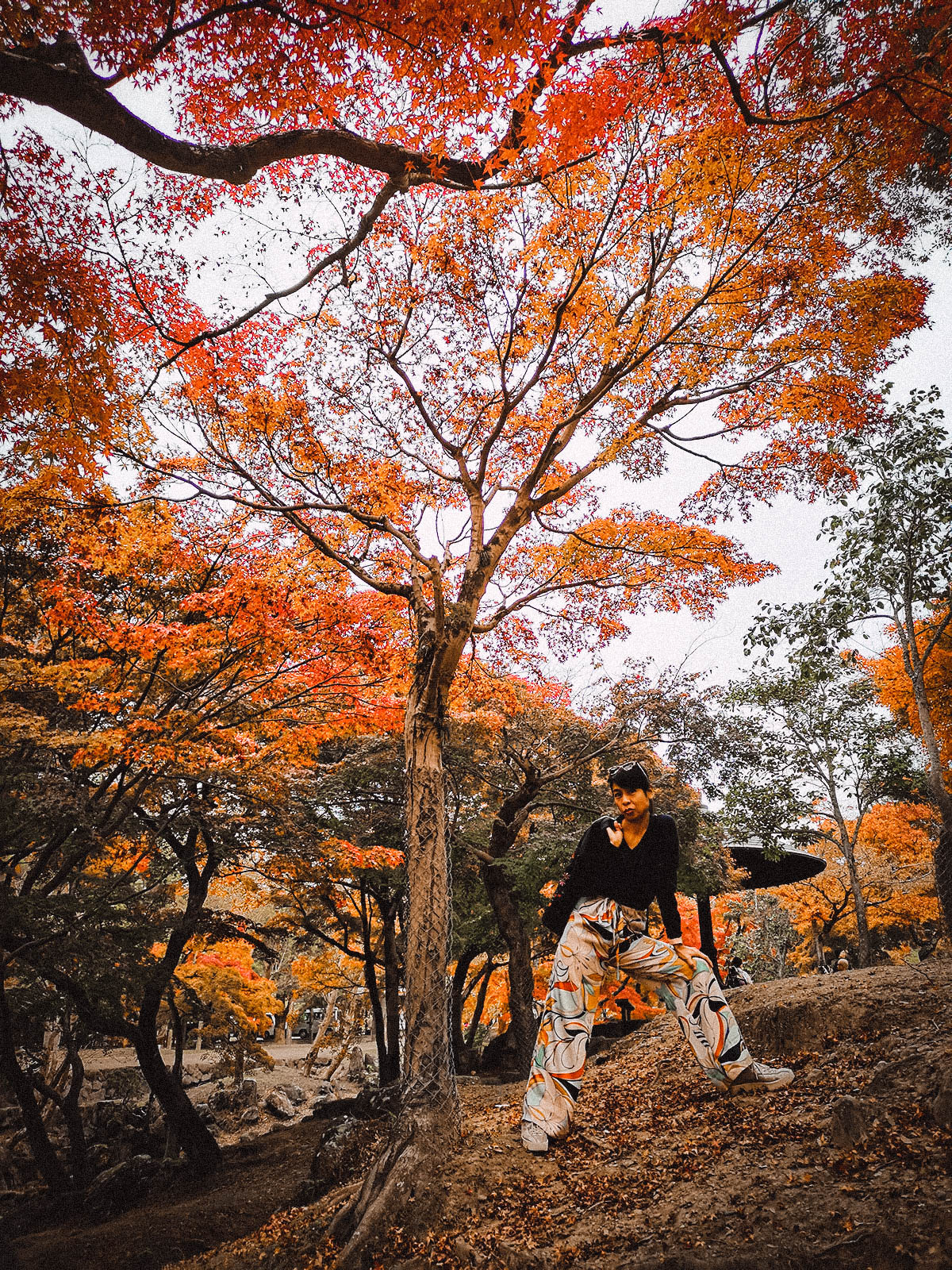 Climate: Annual Monthly Weather in Nara
To help you better understand the weather in Nara, I've included average temperature and annual rainfall graphs below. Suggested months to visit are indicated in orange.
Average Temperature


Annual Rainfall


NARA BY GUIDED TOUR
Japan's railway system is highly efficient so it's easy to visit Nara on your own. However, some people may prefer to go on an organized tour with a guide. It's an added cost so Ren and I rarely go on tours unless we feel it's absolutely necessary. We didn't go on one in Nara but if you want the benefit of a guide explaining everything to you, then it may be a good idea.
If you're interested in going on a guided tour in Nara, then you can check out these tours from Klook or Get Your Guide. There are a few tour variations to choose from starting from Nara, Osaka, or Kyoto.
FROM NARA: Get Your Guide Nara Tour 1 | Get Your Guide Nara Tour 2
FROM OSAKA: Klook Nara Tour
FROM KYOTO: Klook Nara Tour
Please note that the tours listed above are to Nara attractions only. There are Kansai tours that include attractions not just in Nara, but in other Kansai cities as well like Kyoto, Osaka, and Kobe. If you'd rather do that, then you can check Klook, KKday, and Get Your Guide to find a Kansai tour that works best for you.
TRAVELING TO NARA
By train is the best and easiest way to get to Nara from wherever you are. It's cheap, fast, and very efficient. Just plot your trip using hyperdia.com and you'll be fine.
Another option is to go by private car charter. It'll be a lot more expensive but if you're traveling in a larger group and want the flexibility and comfort of a chauffeured car, then it may be worth looking into. Check out this Kyoto and Nara private car charter from Klook for more information.
But as advised, if you're a commoner like us (ha!) and want the most practical option, then going by train is best. You can get a single journey ticket or invest in one of Japan's many transportation passes. This may be a worthwhile investment if you'll be traveling extensively in the Kansai region or throughout Japan. Choosing the right pass can be daunting so I've narrowed it down to make it less confusing.
Kansai Thru Pass
If you'll be traveling a lot by train between Nara, Osaka, Kyoto, Kobe, and other cities within the Kansai area, then you may want to get a Kansai Thru Pass. It's available in 2- or 3-day variants and gives you unlimited train and bus rides within the region. It isn't valid for travel on JR trains, but unlike JR Passes, you don't have to use it on consecutive days. You can even use it to go from Kansai International Airport (KIX) to your hotel in the Kansai region, provided you ride only on non-JR trains. You can purchase the Kansai Thru Pass on Klook or KKday.
JR Kansai Area Pass
JR Kansai Area Passes are similar to Kansai Thru Passes except they're for use on JR trains (including the Kansai Airport Express Haruka) and need to be used on consecutive days. You can purchase the JR Kansai Area Pass on Klook (1-day | 2-day | 3-day | 4-day) or KKday.
ICOCA IC Card
Another option is to get an ICOCA IC Card. It isn't an unlimited use pass like the Kansai Thru Pass or the JR Kansai Area Pass, but it'll give you discounts on JR trains (including the Kansai Airport Express Haruka), the subway, private railways, and buses. Think of it as a stored value card similar to Hong Kong's Octopus Card or Seoul's T-Money Card. It'll save you from the hassle of having to buy single journey tickets every time.
JR Pass
Lastly, if Nara is just one of many stops on a countrywide tour of Japan, then a JR Pass may be a good investment. It'll give you unlimited use of all JR national trains in Japan – including the Kansai Airport Express Haruka, Shinkansen bullet trains, and the Narita Express – for a consecutive number of days. You can purchase a JR Pass in 7-, 14-, or 21-day variants from Japan Rail Pass or Klook.
WHERE TO EXCHANGE CURRENCY
This guide assumes that you'll be visiting Nara on a day trip from Kyoto, Osaka, or some other nearby city. If that is indeed the case, then you should already have Japanese Yen (JPY) with you. If not, then the best places to exchange currency in Japan is at banks and post offices.
Between the two, people seem to prefer post offices because the transactions are faster. I have exchanged currency at both and the bank did take longer. I had to fill out a bunch of forms then wait for the transaction to complete. But if you don't mind the wait, then either place is fine.
Alternatively, and this may be the most convenient option, you can also withdraw JPY from an ATM. The rates are comparable. Just be sure to advise your bank you'll be using your ATM card overseas so you don't run into any issues. In my experience, my ATM card works fine in some machines but not in others.
NOTE: When an ATM asks if you want to proceed "with or without conversion", always choose WITHOUT conversion. Proceeding "with conversion" means that the foreign bank operating the ATM does the conversion (instead of your local bank). In my experience, this has always led to terrible exchange rates. According to this excellent article, the difference between rates offered can be as high as 10% or more.
ATTRACTIONS TO VISIT
As described, Nara is second only to Kyoto in its number of traditional temples and shrines. There's a lot to see here. However, this guide assumes that you'll be visiting on a day trip which isn't enough time to see everything. As such, I've narrowed it down to some of the most important attractions, all of which are conveniently located in Nara-koen which is the main park area.
1. Tōdai-ji Temple
Todai-ji Temple is one of eight sites that comprise the Historic Monuments of Ancient Nara. It's without a doubt the most important attraction in this city. As some people have described, it isn't just a must-see in Nara, it's a must-see in all of Japan.
Constructed in the year 752, it was the head temple of all provincial Buddhist temples and the main reason why the capital was moved to Nagaoka in 784. It grew so powerful that the capital was moved away from Nara to lower the temple's influence on government affairs. If you had time to visit just one attraction in Nara, then this should be it.
Tōdai-ji is comprised of multiple structures, many of which will take up a good chunk of your time. Pictured below is Nandaimon Gate, the main entrance to the temple and one of the 26 aforementioned national treasures in Nara. This is a good place to feed the deer. Near the gate you'll find vendors selling shika senbei or deer crackers, as well as multiple food stands offering different types of Japanese snacks and street food.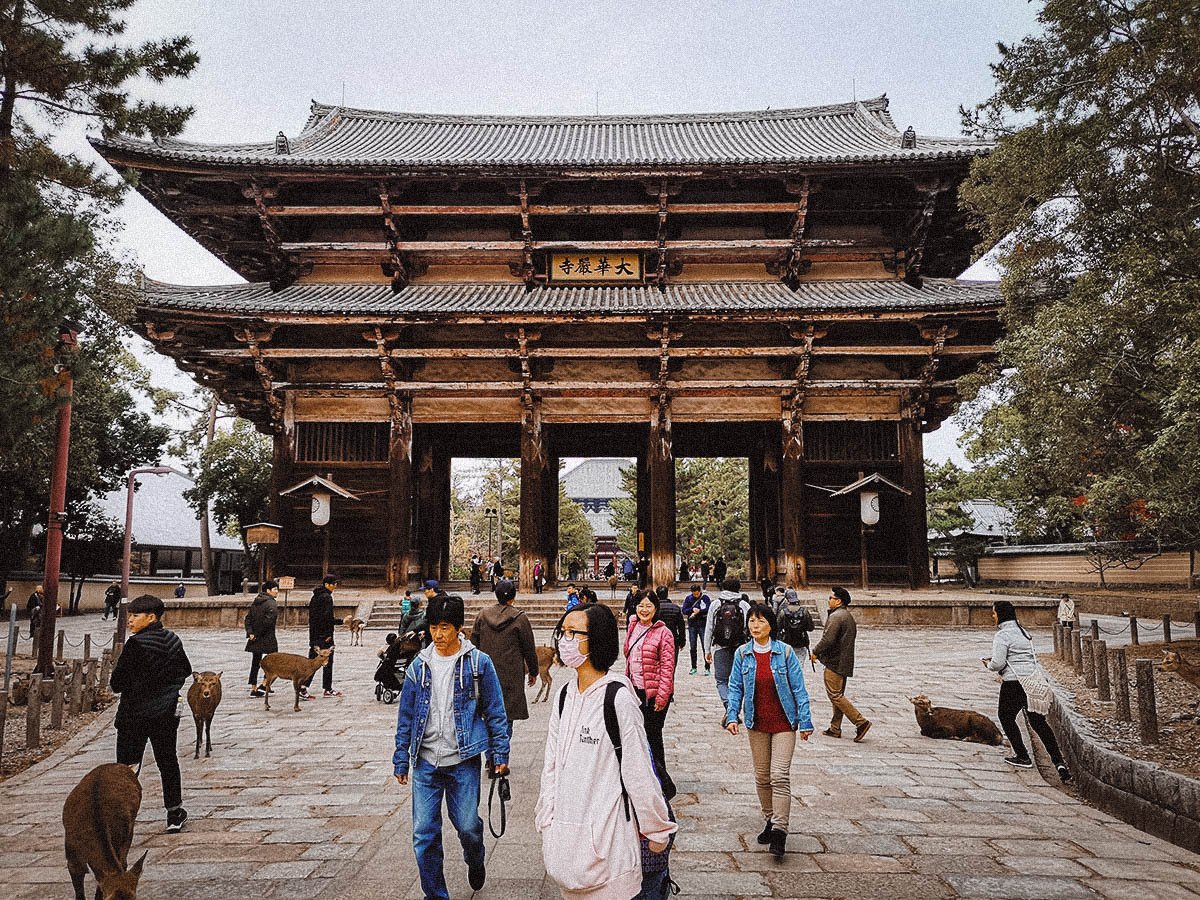 This is the heart and soul of Todai-ji. The Daibutsuden or Big Buddha Hall is the largest wooden structure in the world and houses one of Japan's biggest bronze statues of Buddha. Like Nandaimon Gate, it's one of the 26 designated national treasures in Nara.
Aside from the Daibatsuden, there are several other structures in Todai-ji that are worth visiting. You can refer to this article on Todai-ji Temple for more information. Some of the most important include Nigatsu-do Hall, Hokke-do Hall, and Todai-ji Museum.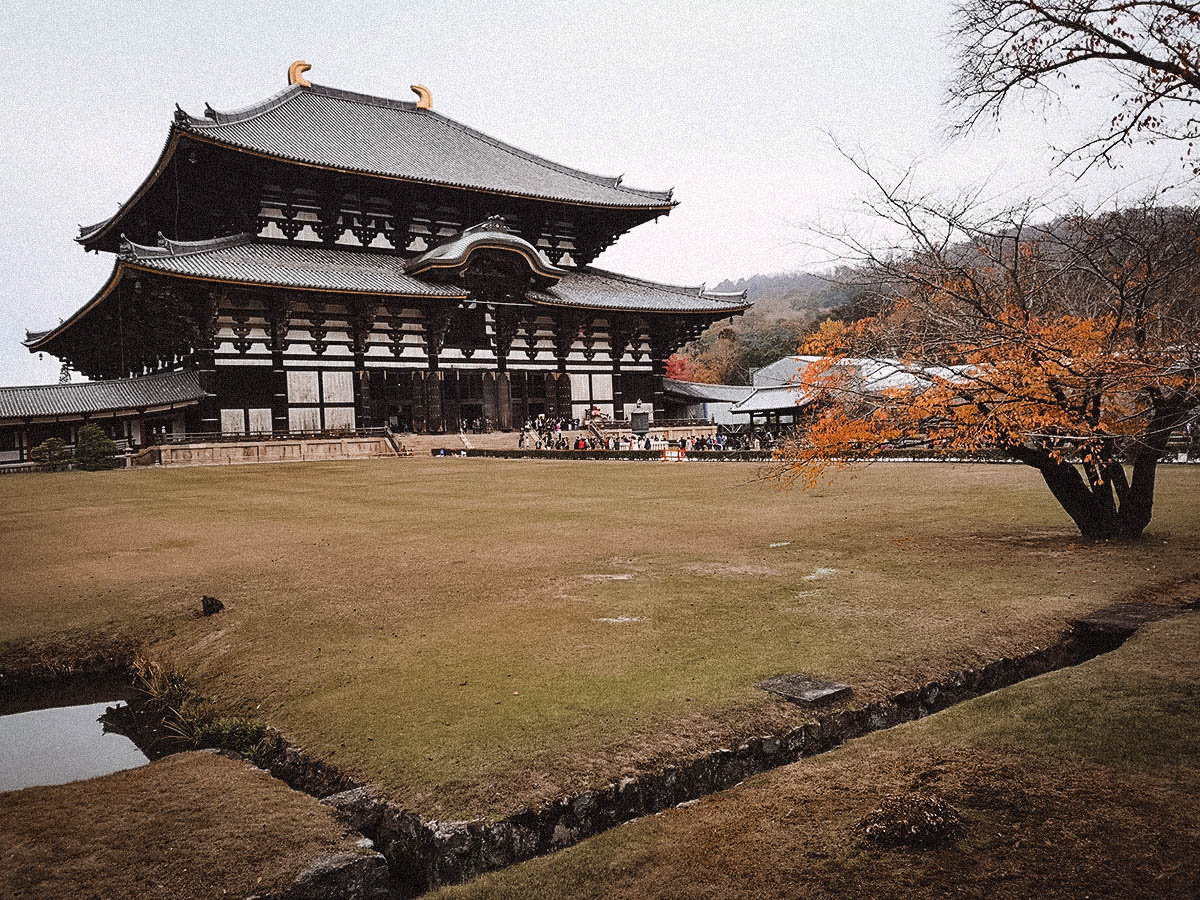 Approximate time needed: About 2-3 hours / Admission: JPY 600
2. Kasuga-taisha Shrine
Like Todai-ji, Kasuga-taisha is one of eight sites that make up the Historic Monuments of Ancient Nara. It's the only shrine on the list and perhaps holds the key as to why deer have become synonymous with this city. According to the shrine's history, the god Takemikazuchi arrived on a white deer to guard Nara (then known as Heijō), leading to the belief that deer are heavenly animals sent to protect the city and the rest of the country.
I visited Kasuga-taisha shortly after sundown so I didn't have much time to go through it. It's comprised of multiple buildings set in a more heavily wooded area of the park. The buildings are interesting but what I enjoyed most are the shrine's grounds. You can walk on pathways through the woods around Kasuga-taisha, along which you'll find several smaller auxiliary shrines. It's a mysterious place that would have been fun to explore with more time.
Walking around Kasuga-taisha, you'll find hundreds of these bronze and stone lanterns hanging from buildings and along pathways. Kasuga-taisha is famous for its lanterns which are lit twice a year during lantern festivals in early February and mid-August.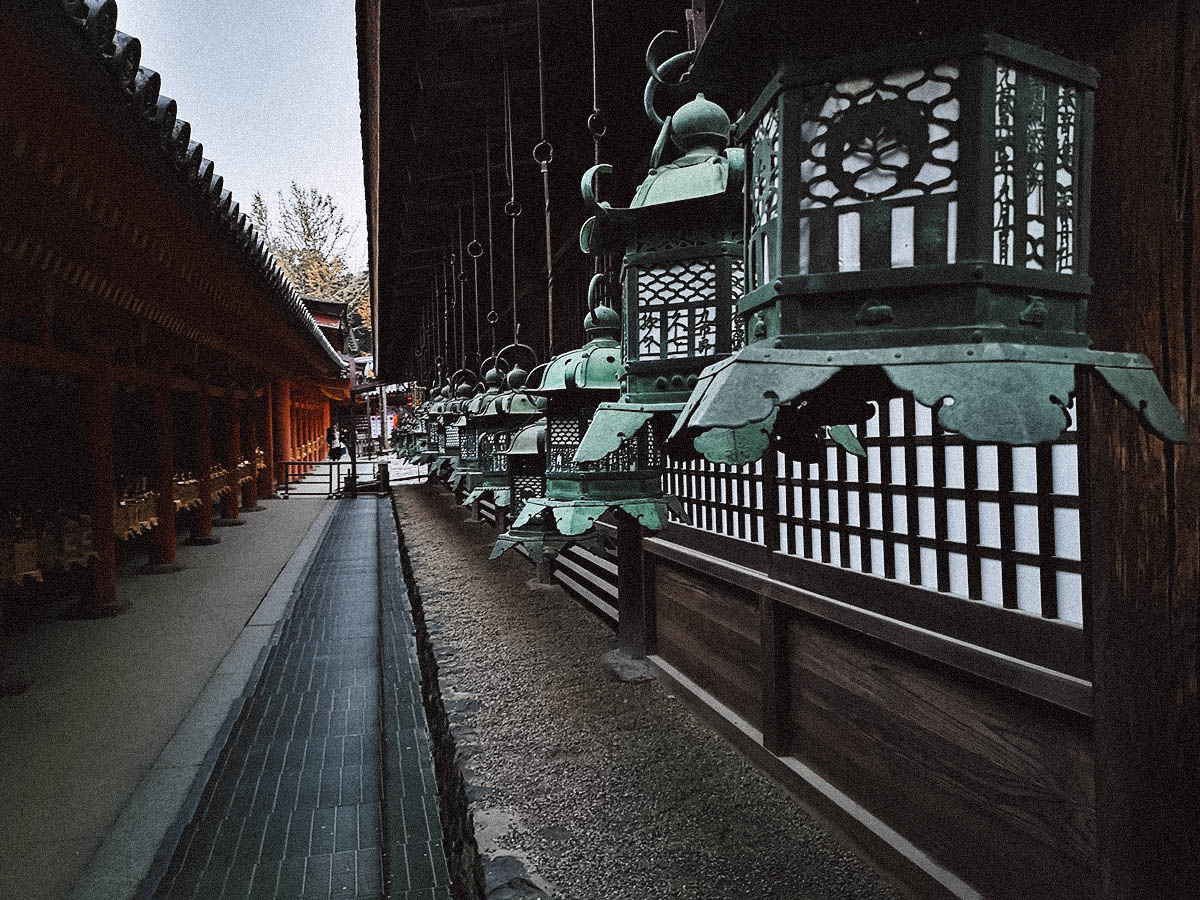 Approximate time needed: About 1.5-2 hours / Admission: Free (outer area), JPY 500 (inner area)
3. Kofuku-ji Temple
Like Todai-ji and Kasuga-taisha, Kokufu-ji Temple is among the eight sites that comprise the Historic Monuments of Ancient Nara. It's comprised of multiple buildings including a 50-meter 5-storied pagoda that's the second tallest in Japan.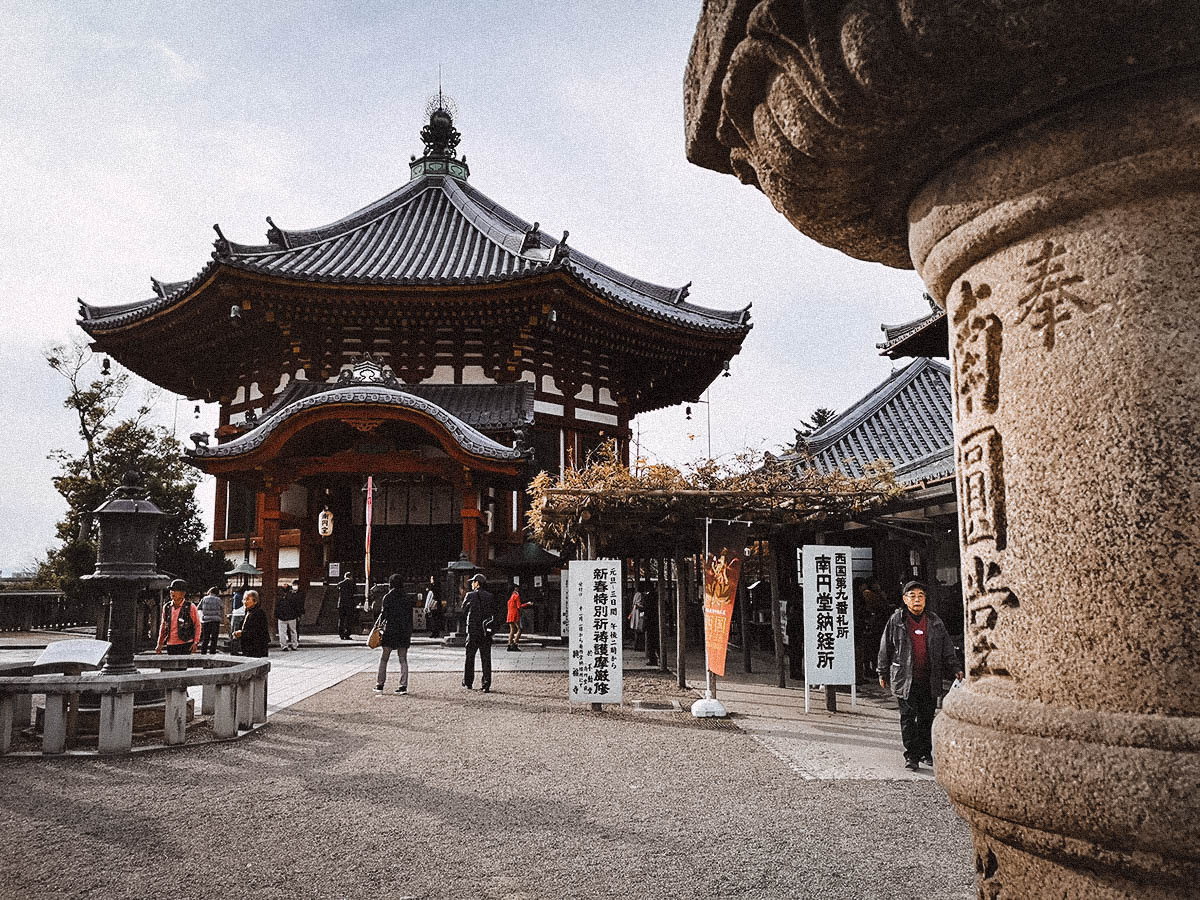 Pictured below is Kofuku-ji's 5-storied pagoda. It's second in height only to the 5-storied pagoda at Kyoto's Toji Temple. Walking around the Kofuku-ji Temple grounds is free but you'll need to pay admission fees to enter three of its main buildings. Details below.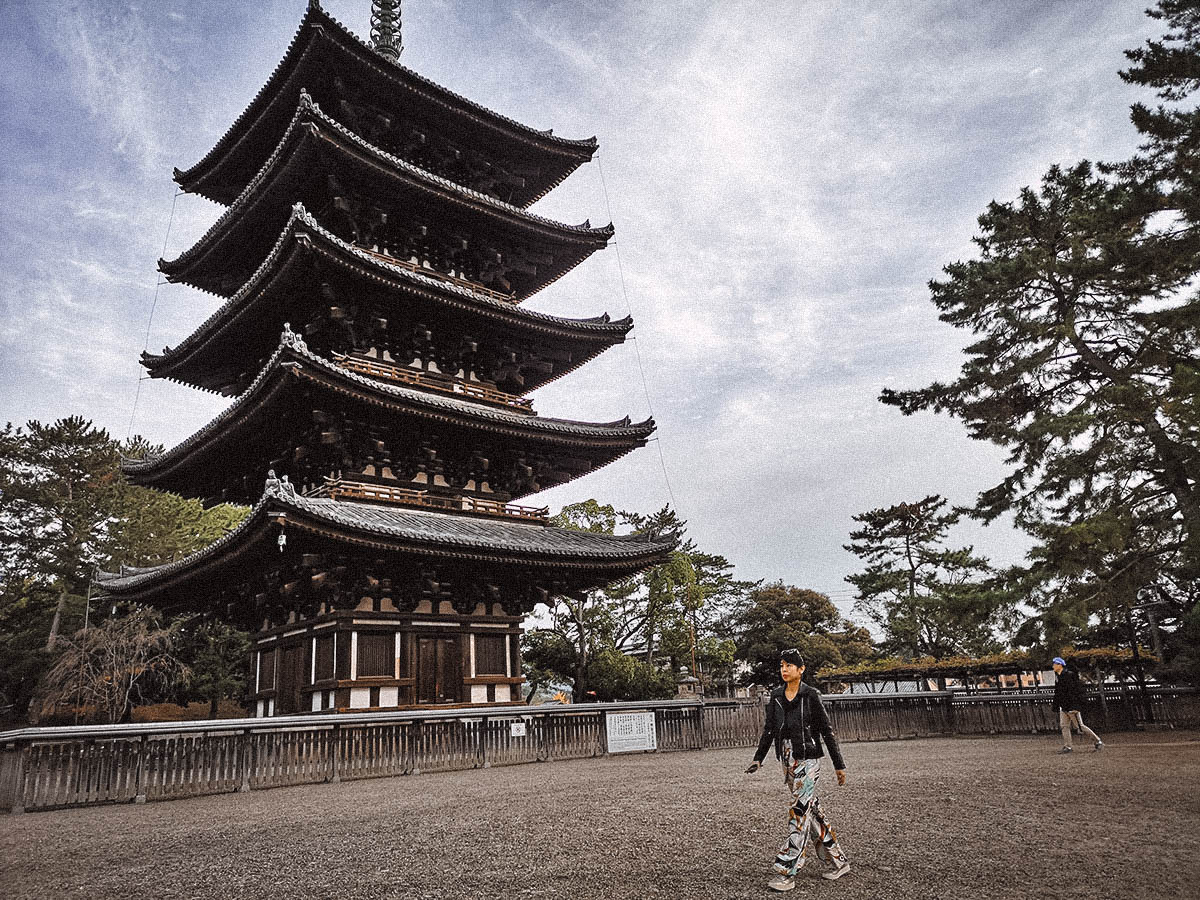 Approximate time needed: About 1.5-2 hours / Admission: JPY 500 (Central Golden Hall),
JPY 700 (National Treasure Museum), JPY 300 (Eastern Golden Hall)
4. Isui-en Garden
If you like Japanese gardens, then you need to visit Isui-en Garden. It's been described as the most beautiful garden in Nara. Comprised of a front and rear garden, there are teahouses throughout Isui-en where you can enjoy a hot cup of matcha whilst taking in the view.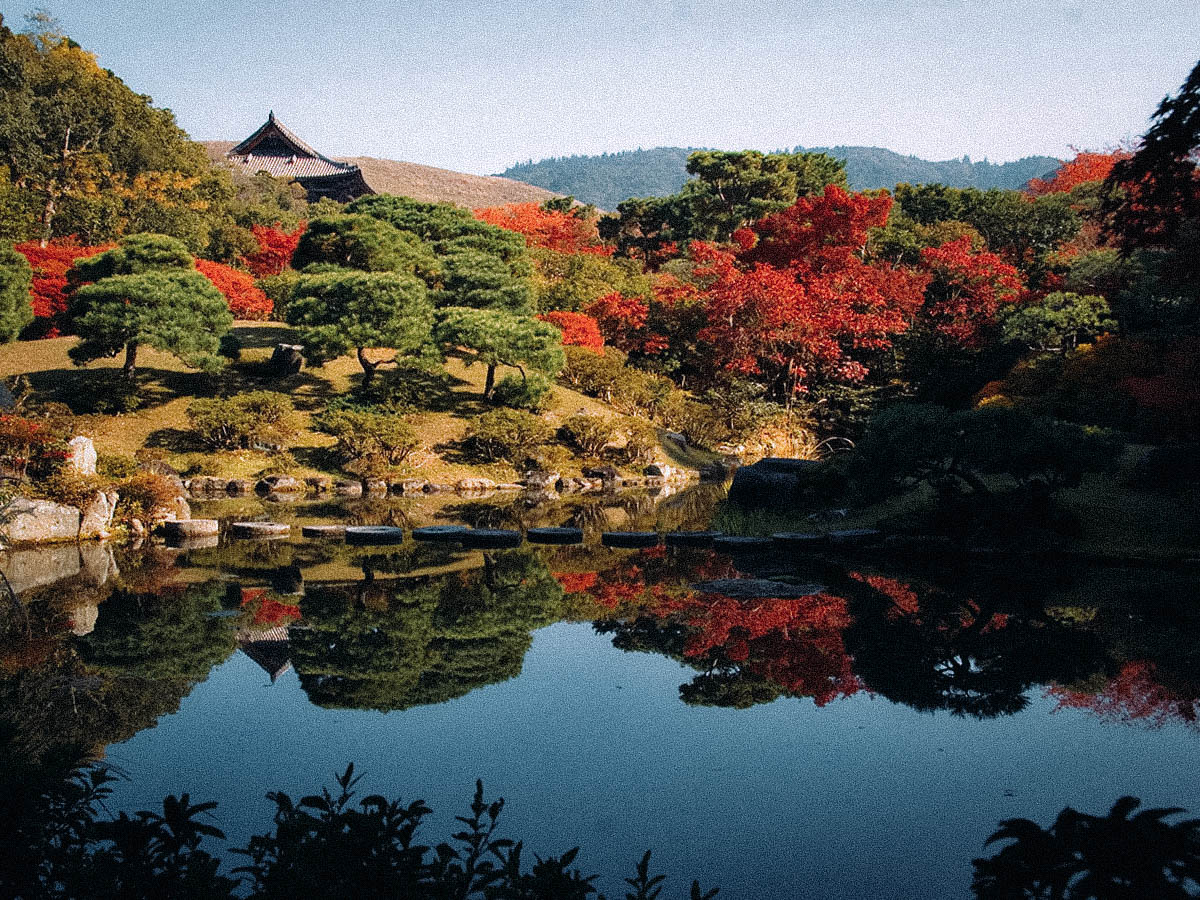 Approximate time needed: About 1-1.5 hours / Admission: JPY 900
PHOTO: Kimon Berlin (Gribeco) [CC BY-SA 4.0], Processed in Photoshop and Lightroom
5. Tamukeyama Hachiman Shrine
This is a smaller, lesser known shrine dedicated to Hachiman, the god of warriors. Located between Todai-ji and Mt. Wakakusayama, I made a quick stop here en route to Kasuga-taisha. It isn't as interesting as the others but admission is free so it may be worth visiting if you have the time. There are fewer people here, making it a nice quiet place to stop and enjoy Nara's atmosphere between visits to the more popular attractions.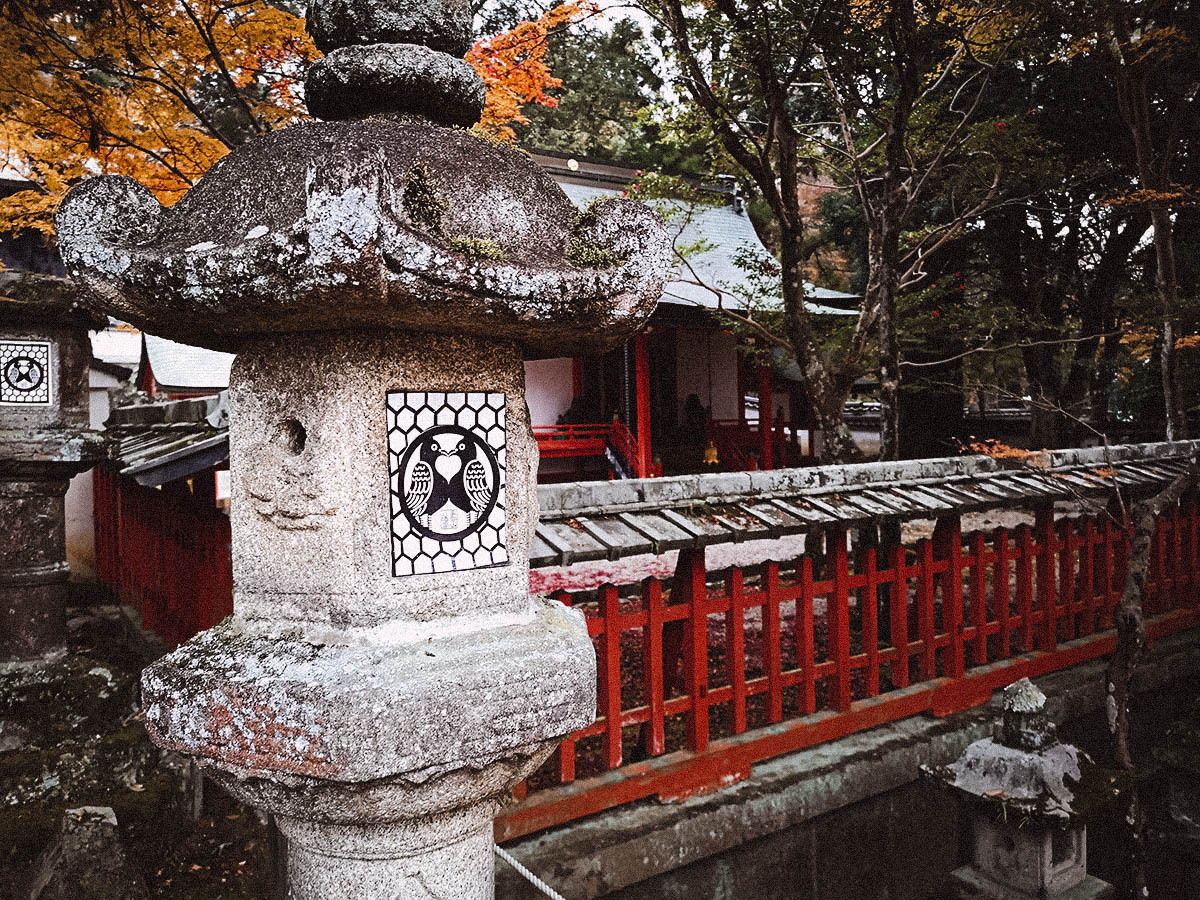 Approximate time needed: About 30 mins – 1 hour / Admission: FREE
6. Nara National Museum
People with an interest in Buddhism may want to check out the exhibits at Nara National Museum. It's comprised of two buildings – one containing the museum's permanent collection of Buddhist images, and another holding its temporary exhibits. You can check out the Nara National Museum website for more information.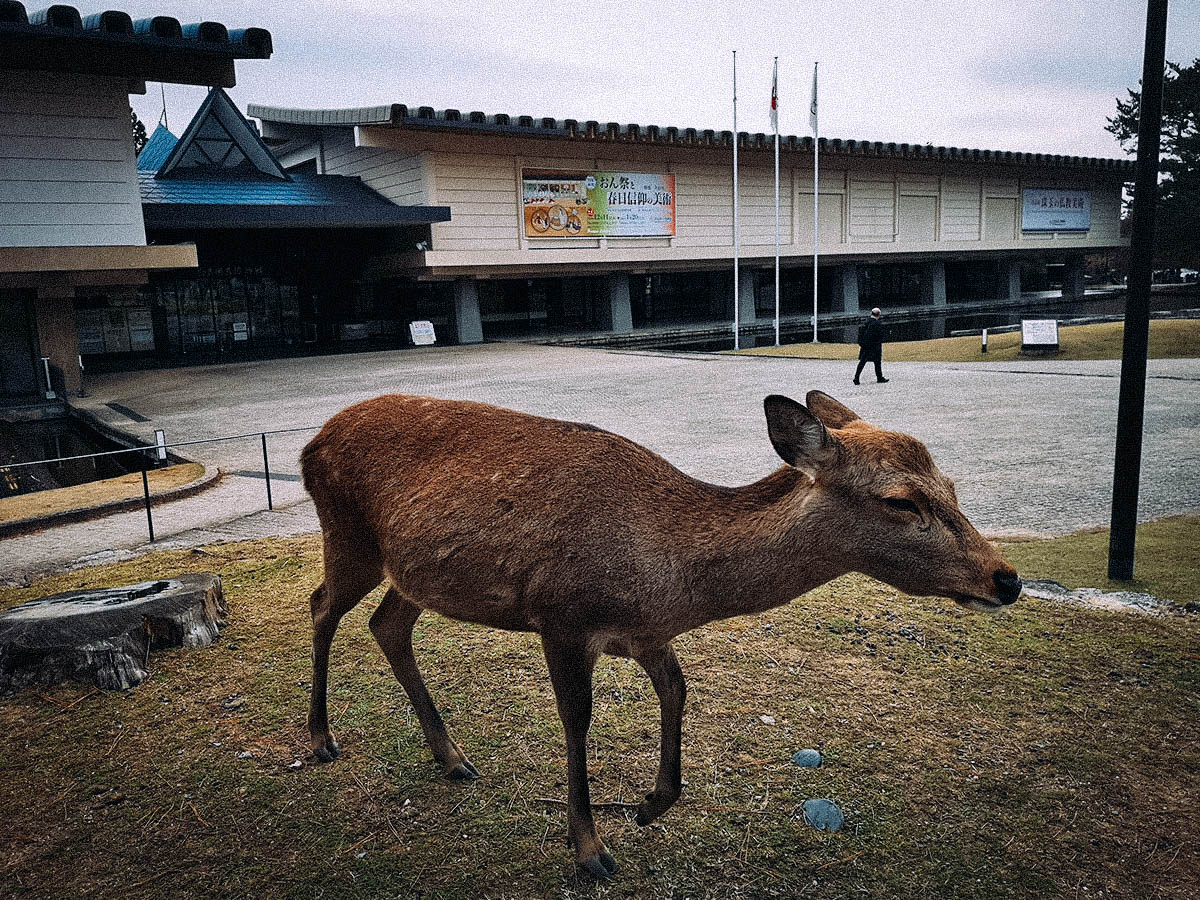 Approximate time needed: About 2-3 hours / Admission: JPY 520
THINGS TO DO
1. Feed the Sika Deer
This is perhaps the number one reason why many foreigners come to Nara, to feed the sika deer. As described, they're viewed as guardians of the city so they're treated with reverence and respect. I've read that many will even return your bow for a deer cracker, known locally as shika sembei.
You can find deer throughout the park so just look for vendors selling shika sembei. Each bundle goes for JPY 150. We found a few around Todai-ji's Nandaimon Gate.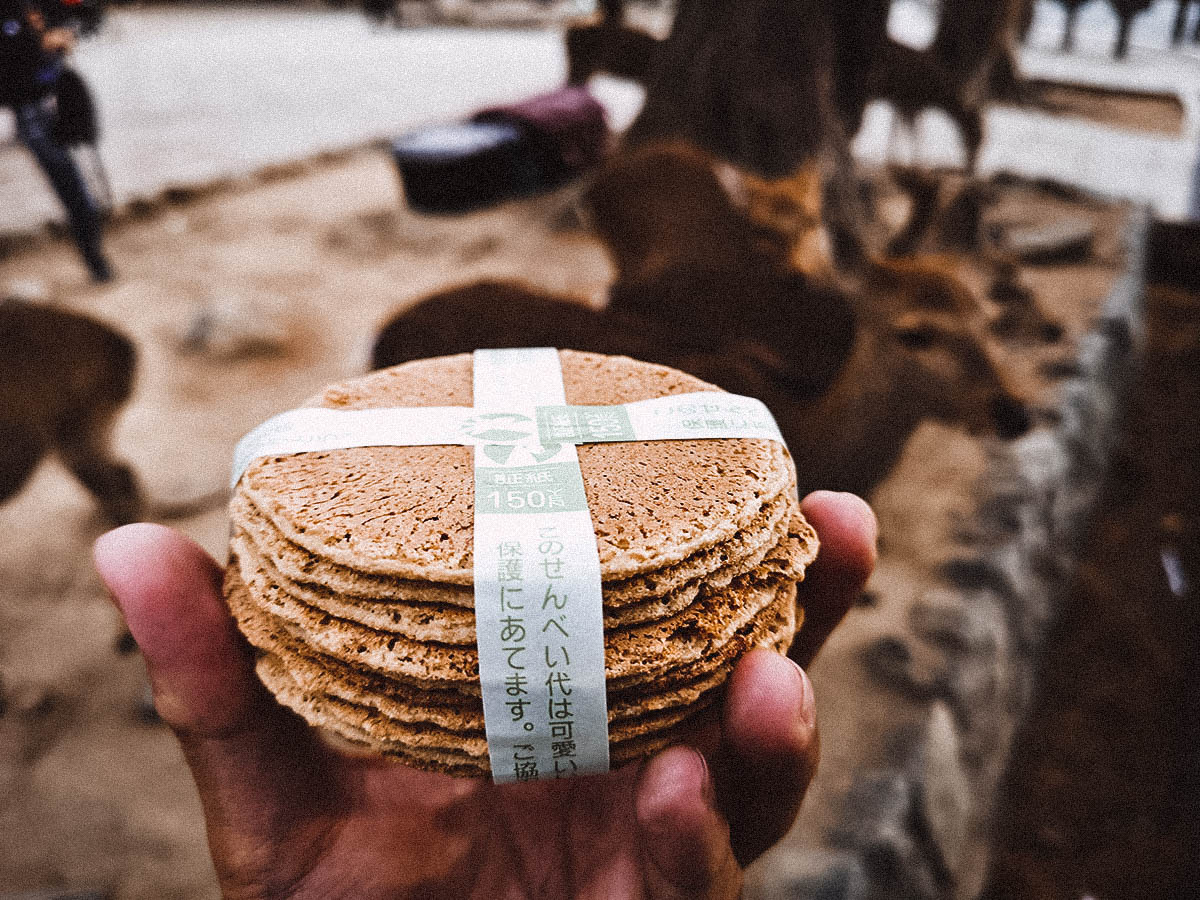 After watching Bambi, you'd think that all deer are cute and docile but that isn't the case. These sika deer can be very aggressive when they see you carrying food. They will actively try to bite it out of your hand, even chew on your clothing to get you to give it to them. Be careful when feeding the deer and never give crackers to small children.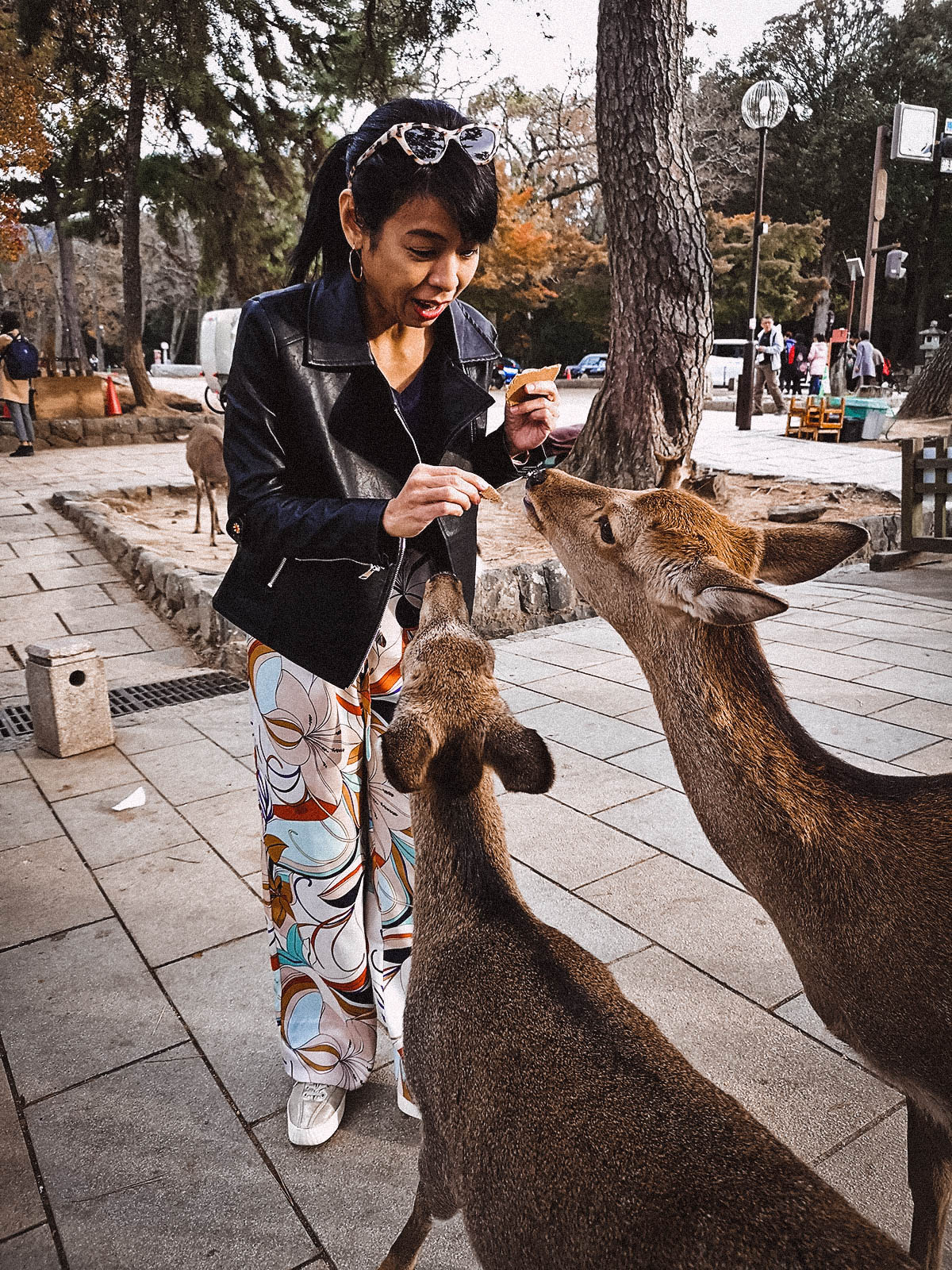 Cost: JPY 150 per bundle of shika sembei
2. Rent a Kimono
I know, renting a kimono in Japan sounds like a cliche, but I don't care. It's fun and makes for great pictures, especially when you're in the right environment. Because of its wealth of traditional temples and shrines, Nara is one of the best places to rent a kimono in the Kansai region. We rented one in Kyoto and came away with some great photos.
You can find a kimono rental shop in Nara but if you'd like to arrange for one in advance, then you can do so through Klook or Get Your Guide. This may be a good idea during peak times like cherry blossom season because shops have been known to run out of kimonos. Klook offers kimono rental packages with one-way transfers from Kyoto to Nara, so you may want to go with that if you're staying in Kyoto.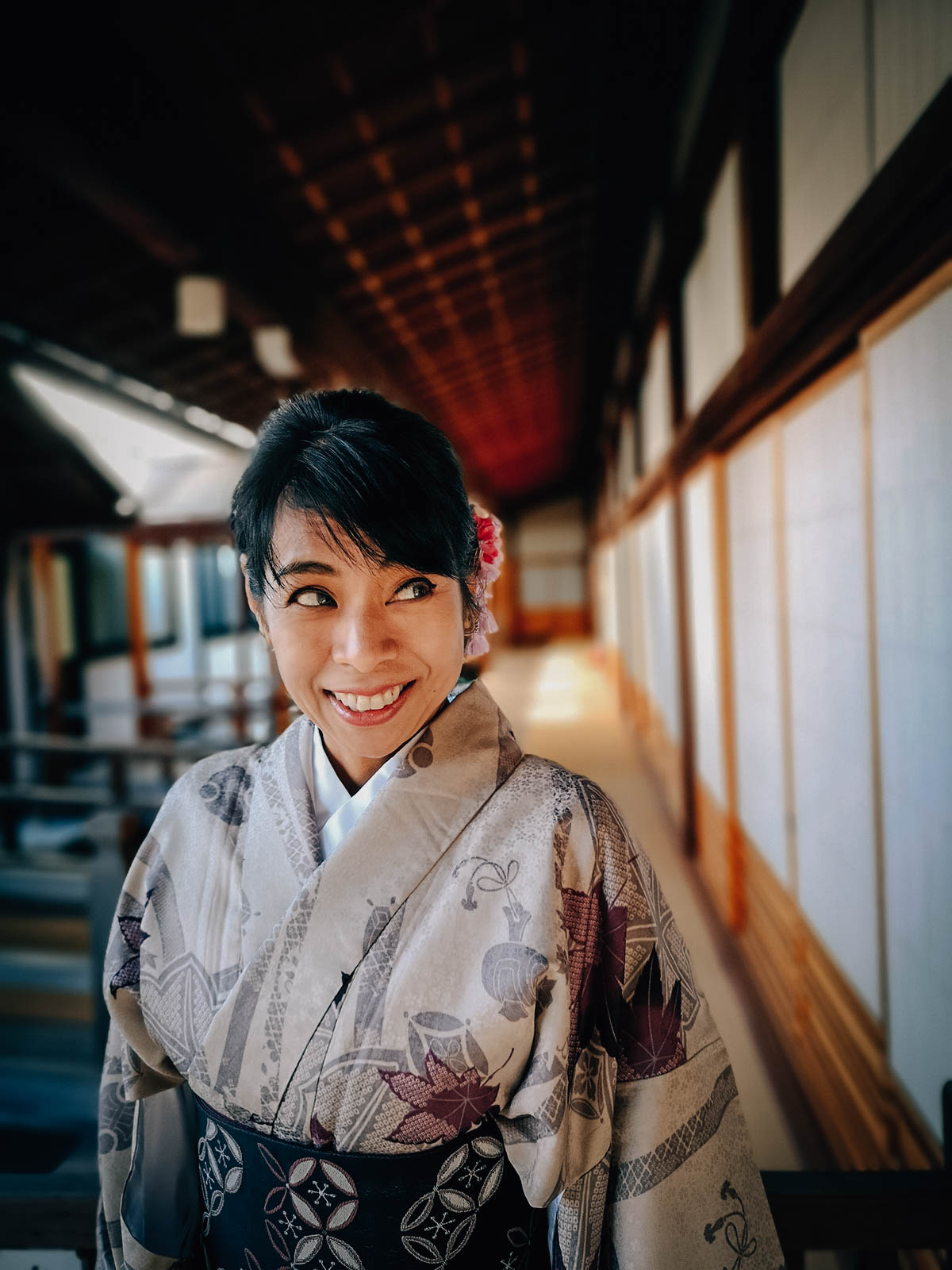 Cost: Starts at around JPY 2,800 for a whole day rental
THE ULTIMATE JAPANESE FOOD GUIDE
We adore Japanese food. It's my absolute favorite cuisine in the world and a big reason why we love visiting this country. If you enjoy Japanese food as much as we do, then you need to read our Japanese Food Guide. It includes popular dishes in Japan as well as regional specialties by prefecture.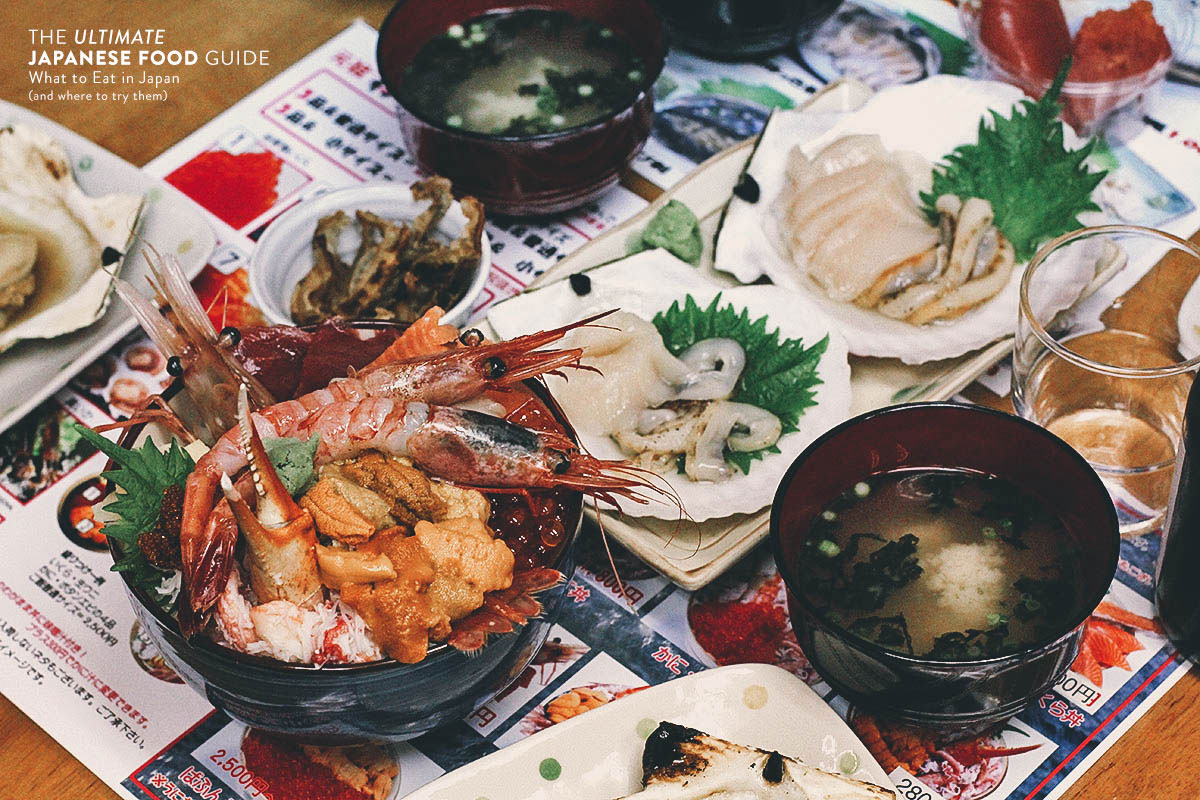 WHERE TO EAT
1. Nakatanidou
I had read about this famous mochi place in Nara called Nakatanidou so I added it to our itinerary. What I didn't know, is that it's the very place that was featured by Great Big Story. They crowned it's owner – Mitsuo Nakatani – as the fastest mochi maker in Japan, and we got to see him in action without expecting it. Click on the link to watch him slap that mochi to submission. So cool!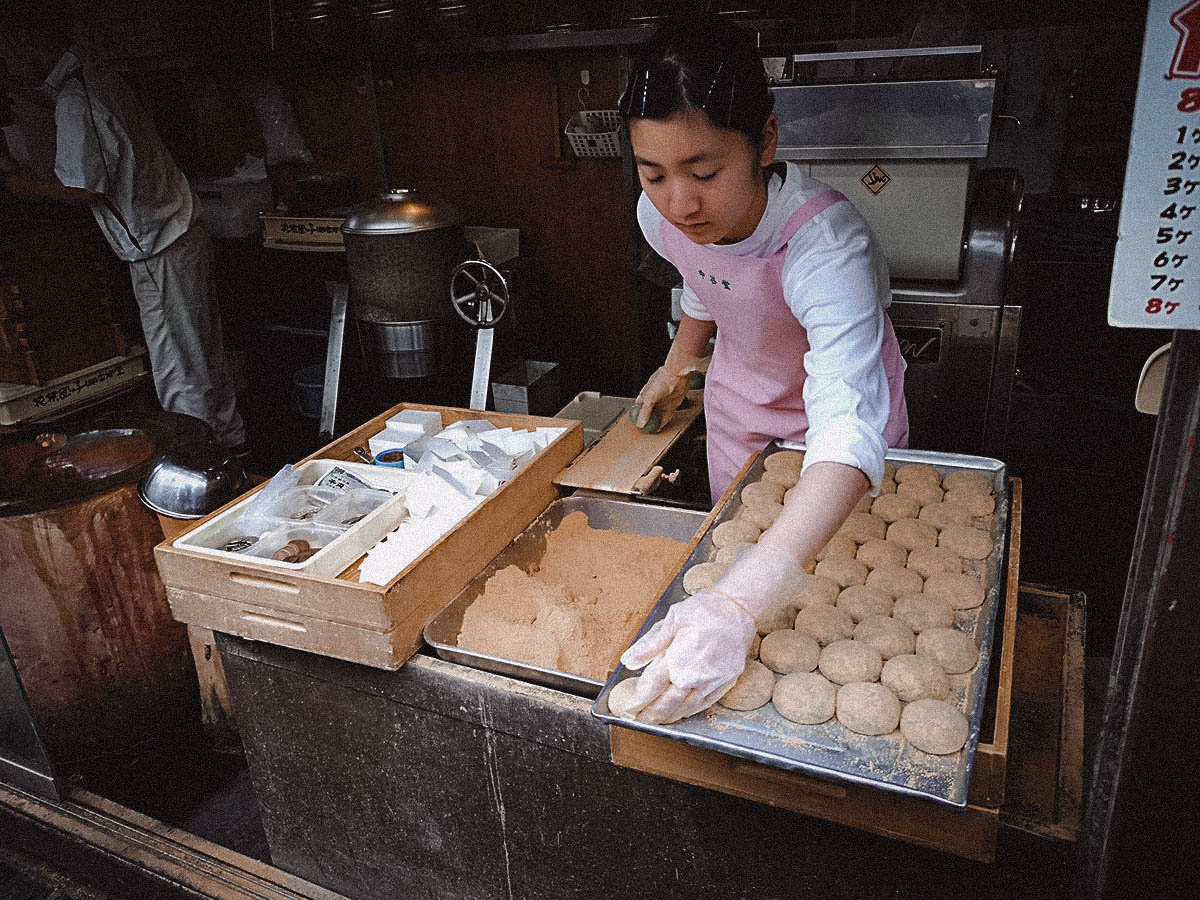 Nakatanidou specializes in kusa mochi, a type of red-bean-filled mochi made from the leaves of the yomogi or Japanese mugwort plant. Like many Asians, we've had mochi countless times before but this was easily one of the best we've ever had. As you can see in the picture below, it was ridiculously soft and chewy. It was so good that our Japanese friend Tsutomu immediately bought another pack to bring home to his wife.
If you like mochi, then you HAVE to try this. And if you're lucky, then you may just catch Mitsuo Nakatani and his lightning fast mochi-making hands in action.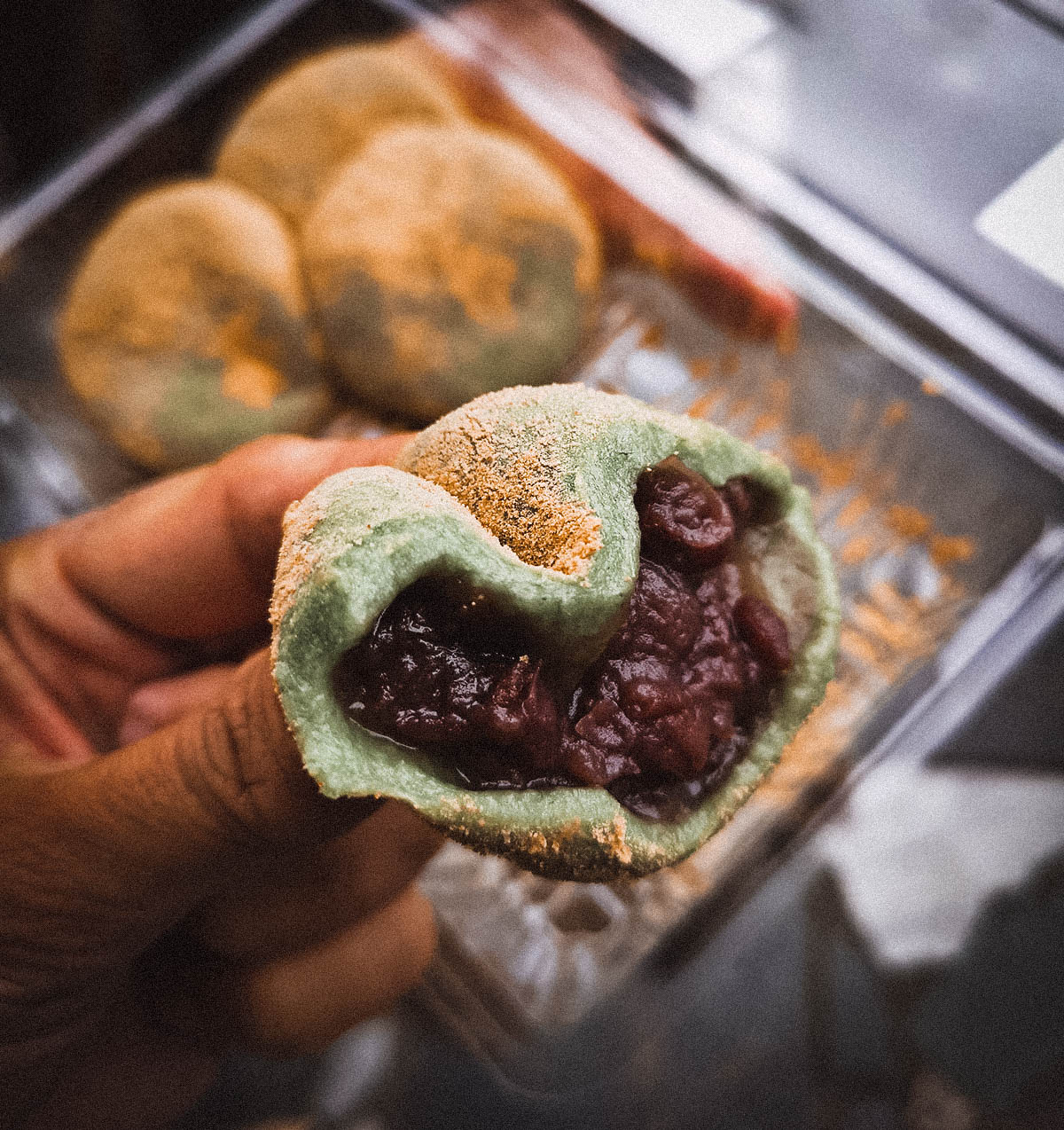 Nakatanidou is located along the main road, between Nara station and the main park area. You can refer to the location map below to see where it is. Nakatanidou is popular so you can always expect a crowd, but no worries, the queue moves quickly.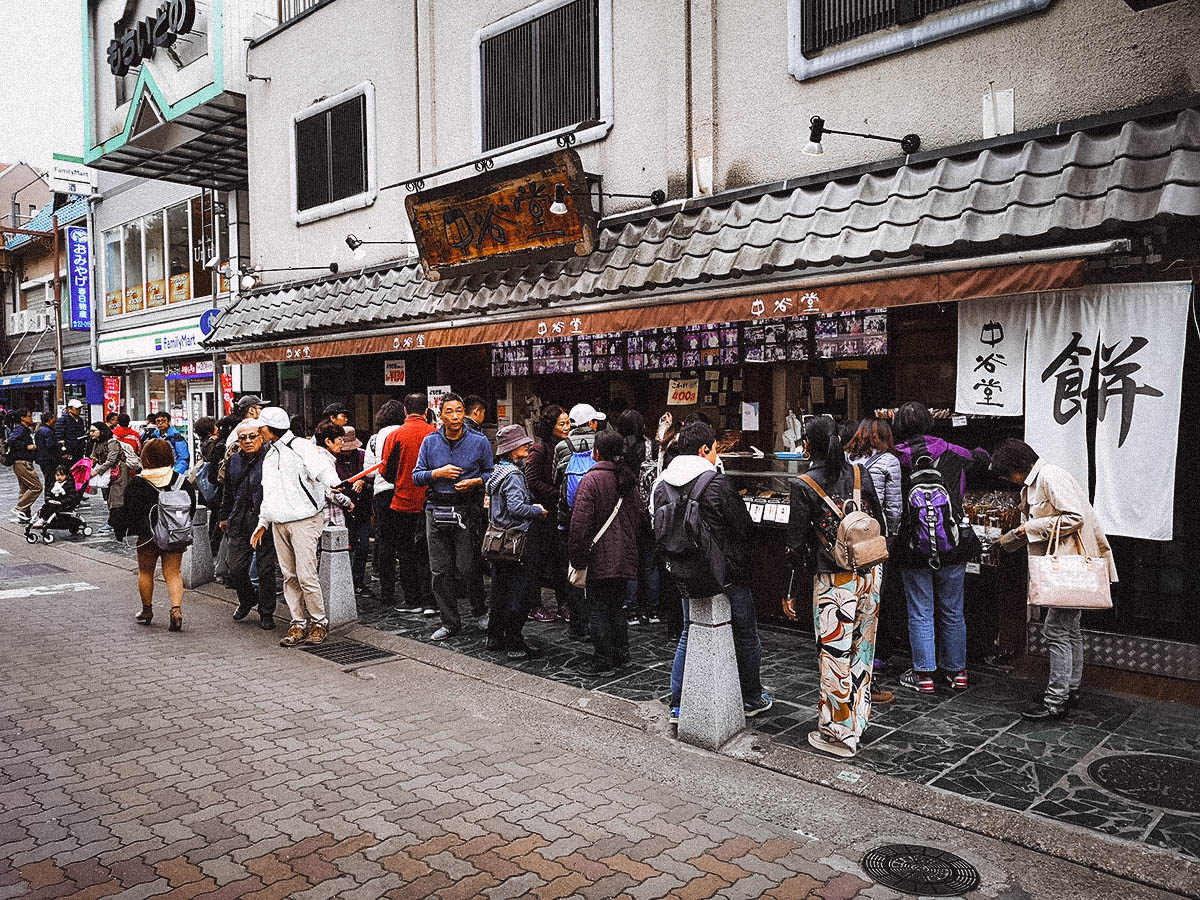 Expect to Pay: JPY 1,000 for 8 pcs of kusa mochi
2. Kura Izakaya
An izakaya is a type of informal Japanese pub. It's a casual place where you can have a few drinks over small plates of bar food. You can think of it as the Japanese equivalent to Irish pubs or Spanish tapas bars.
We've been to a few izakayas in Japan, but Kura is one of the best we've been to so far. Tsutomu agrees with us too. They serve many interesting dishes, the likes of which we haven't had anywhere else in Japan. If you're looking for a place to unwind and enjoy a few beers after exploring Nara, then we highly recommend Kura.
Check out my post on Kura Izakaya for more pictures and information.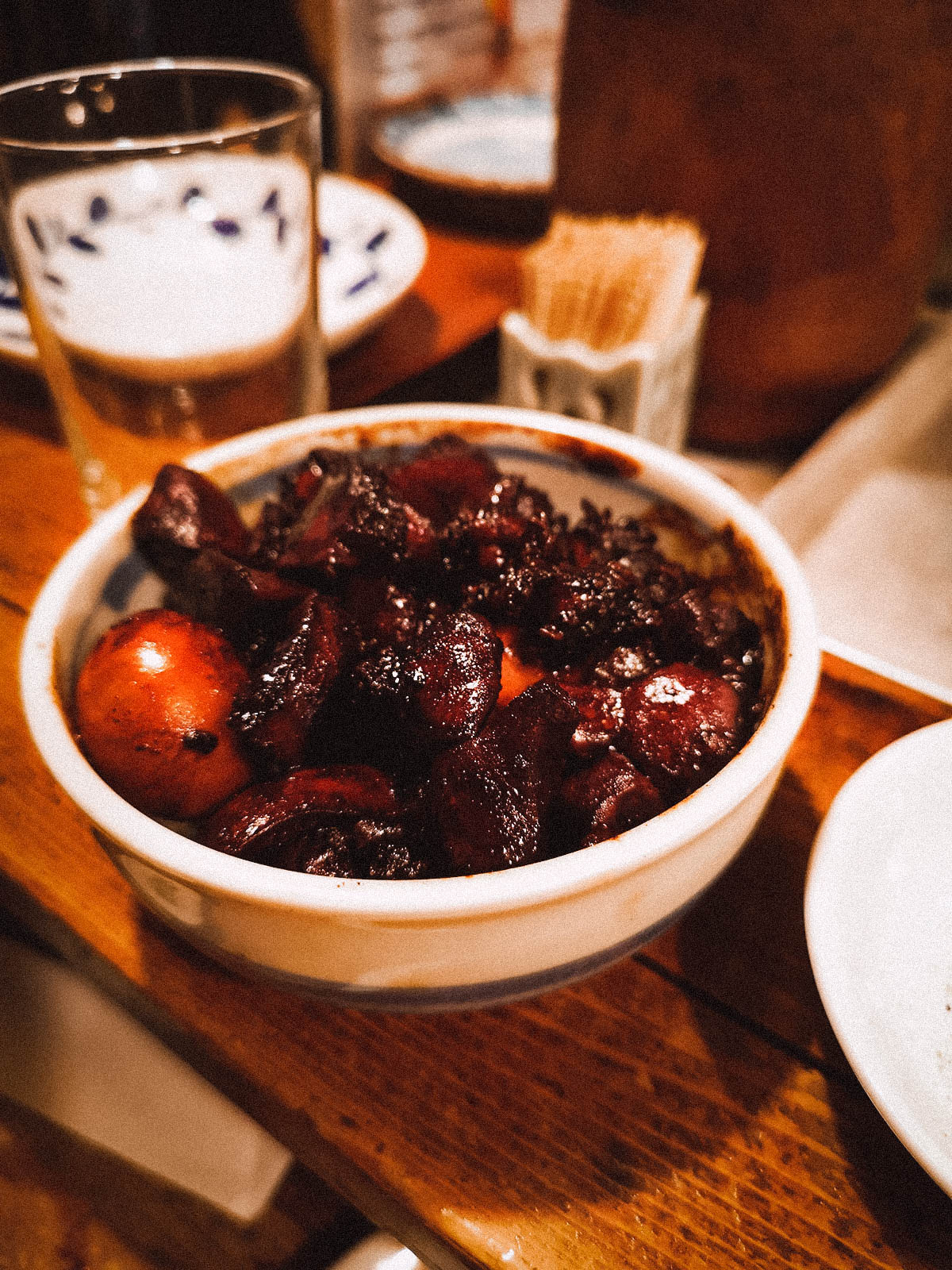 Kura is located in Naramachi, between Nara station and the main park area. It's in a convenient spot but it can be a little hard to find, so you can refer to this map to see exactly where it is. It's in the building pictured below, through the sliding doors with the Japanese kanji characters.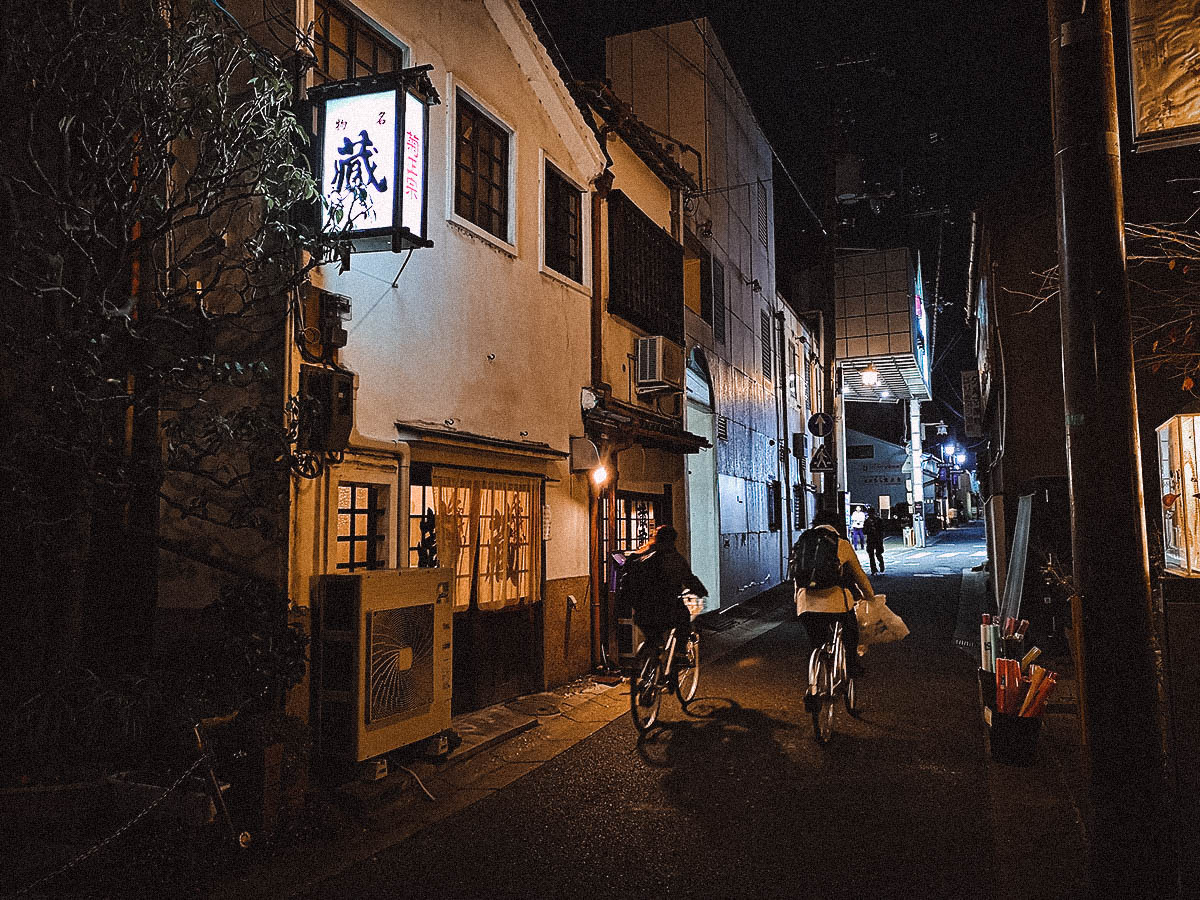 Expect to Spend: Around JPY 3,000-4,000 per person with food and drinks
POINTS OF INTEREST IN NARA
To help you get your bearings, I've created this map so you get a better sense of where everything is. All of the places recommended in this guide are pinned on this map.
SAMPLE 1-DAY ITINERARY
There's a lot to see in Nara but this guide focuses on the most important attractions within the main park area. Here's a suggested itinerary.
9AM – Arrive by train in Nara.
9:15-9:45AM – Get fitted and styled for a kimono.
10-10:30AM – Have kusa mochi at Nakatanidou. Watch Mitsuo Nakatani make mochi.
10:45-11:30AM – Take a few pictures at Kofuku-ji Temple.
11:45AM-1PM – Take a stroll and have matcha at Isui-en Garden.
1:15-2PM – Feed sika deer in front of Nandaimon Gate. Eat street food.
2:15-4PM – Explore Todai-ji Temple – Daibutsuden, Nigatsu-do Hall, Hokke-do Hall, and Todai-ji Museum.
4:30-6PM – Explore Kasuga-taisha Shrine.
6:30PM – Return the kimono.
7PM-onwards – Unwind with food and drinks at Kura Izakaya (reservations recommended).
BUDGET / SUMMARY OF EXPENSES
Assuming you won't be renting a kimono and eating just street food, then a budget of around JPY 6,000-6,500 for the entire day trip to Nara should be enough. This takes into account transportation fees, food, drinks, pocket wifi rental, and attraction entrance fees. Here's a quick breakdown of expenses:
TRANSPORTATION

Assuming you're coming from Osaka or Kyoto, then roundtrip transportation to Nara should run you between JPY 1,200-1,600.
MEALS

Assuming you'll be eating just street food, then a budget of around JPY 2,000 for the entire day should be plenty.
POCKET WIFI RENTAL

If you're renting a pocket wifi device, then expect to spend JPY 390 for the day's rental.
ATTRACTION FEES

This can get expensive if you enter every temple and shrine. But if you enter just Tōdai-ji Temple, Kasuga-taisha Shrine (inner area), and Isui-en Garden, then expect to pay JPY 2,000. Throw in a couple packs of deer crackers and your total will be JPY 2,300.
TOTAL



This comes out to about JPY 5,890-6,290 for the entire day. If you plan on renting a kimono, entering more temples and shrines, and/or eating at better restaurants, then feel free to increase the budget.
TRAVEL TIPS
1. Plan your Trip with Sygic Travel (formerly Tripomatic)
This has been my go-to travel planning app for several years now. Sygic Travel is a free app that allows you to plot points of interest on a map, including your hotel, so you can see how far you need to travel between points. Knowing where everything is makes it easy to group attractions together to minimize travel time. With pocket wifi, it can turn your mobile phone into a GPS tracking device so people with a terrible sense of direction never get lost again. Pretty cool right? Check out my post on the Sygic Travel app for more information.
Sygic Travel is what I used to create the location map above. Follow this link to check out our most recent 7-day Kansai itinerary on Sygic Travel. We spent time in Nara, Osaka, and Kyoto. You can also download it in editable Word format from our EAT-ineraries page.
2. Rent a Pocket Wifi Device
A reliable wifi connection is a must when traveling these days, especially in Japan. There aren't many free wifi zones in this country so you'll need it to do last minute research, navigate the subways, convert currencies, etc. Having access to Hyperdia alone justifies the cost. We never go anywhere now without renting a pocket wifi device first.
For our most recent trip to the Kansai region, our friends at KKday were kind enough to let us use this 4G pocket wifi device for the duration of our trip. It was fast and reliable and costs just JPY 390 a day. We never had any connectivity issues and the battery would last around 6-7 hours before I had to plug it in to a powerbank. Follow the link to rent a pocket wifi device through KKday.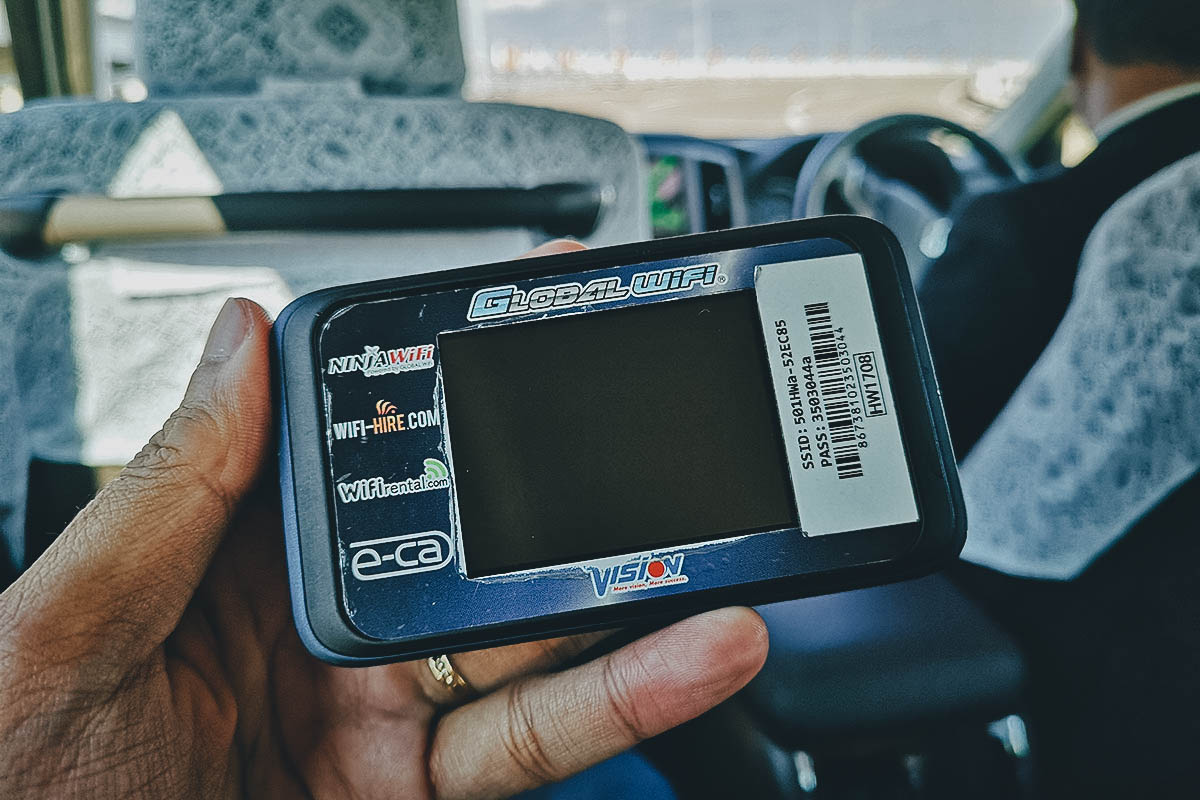 3. Bookmark Hyperdia or Get the App on your Mobile Device
As I've often mentioned in this guide, Hyperdia will be your new best friend when in Japan. You'll be riding the subway a lot, frequently changing lines and services, and this website will tell you exactly how to get from one station to another. It's very detailed, providing several route options with fare prices and travel times. Train arrival and departure information is very accurate as well. I can't stress enough how handy this website is. Without it, you may never get out of Japan's subway system alive. Just kidding, but it is a lifesaver for foreign commuters in Japan.
WEBSITE: hyperdia.com | DOWNLOAD: iOS / Android
4. Check for Discount Passes
There are many websites that offer discount passes to tours and services. Among the sites I use the most are Klook, KKday, and Get Your Guide. They offer deals in many cities around the world, including Nara. If you want to find deals on tours, transportation cards, activities, etc, then you can search through these lists of Nara attractions on Klook, Kkday, and Get Your Guide. I sometimes find interesting activities that I wouldn't normally think of myself so it's definitely worth a look.
5. Don't Taunt the Deer
I didn't intend to taunt a deer, but that's exactly what I wound up doing when it wouldn't leave me alone. And it made sure to punish me for it.
As described in the THINGS TO DO section of this guide, these sika deer can get aggressive when it comes to food. I was feeding this young buck when it started getting aggressive with my last cracker. I wanted to give it to another deer but this one was having none of it. When it wouldn't back off, I struck this Bruce Lee pose hopefully to scare it away. Big mistake.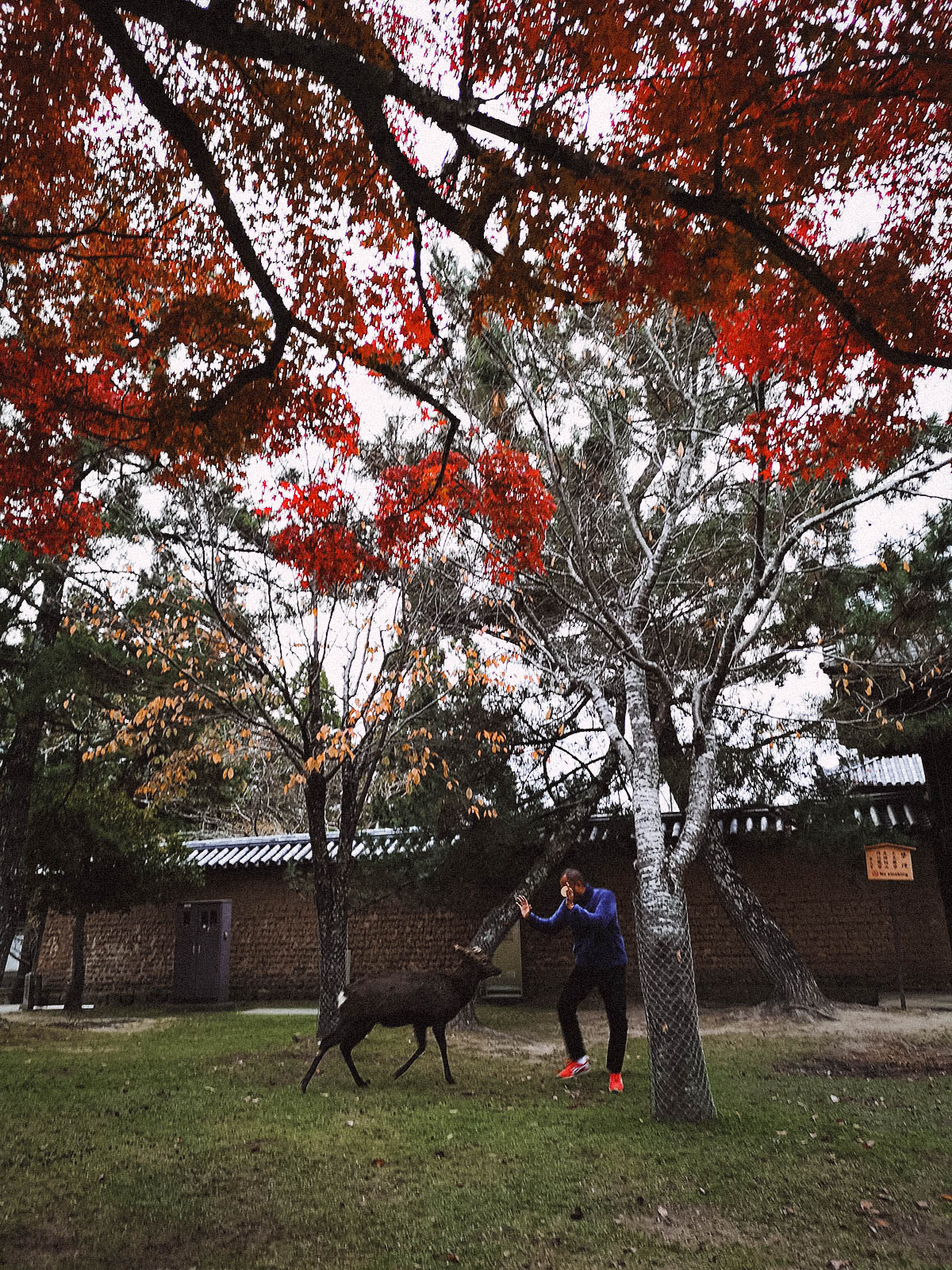 Instead of respecting my authority, the dude got pissed and charged me! It rammed me in the ass and launched me a couple of inches off the ground. I wasn't hurt but it did serve as a reminder that these deer aren't domesticated animals and not to be messed with.
When you're in Nara, remember that you're on their turf so it's best to tread lightly. Treat them with the utmost respect and leave the kung fu for another species, preferably one without sharp antlers on its head.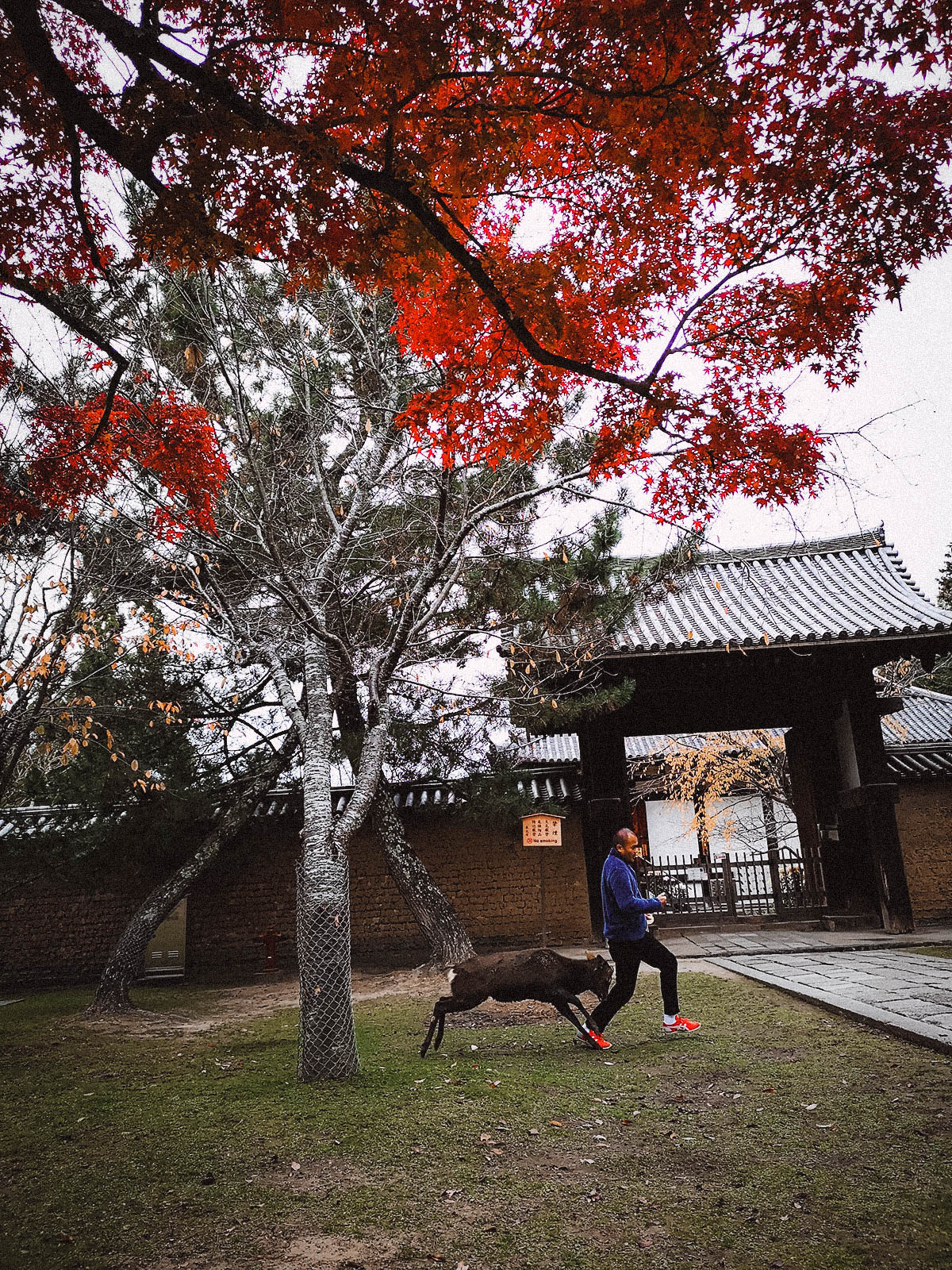 6. Get Travel Insurance
I'll be honest with you, it was only recently when we realized the importance of travel insurance. Back when we traveled just once or twice a year, travel insurance felt like a luxury, something we could do without. But now that we're older and travel more often, I understand how important it is. Fact is, you never know what can happen on the road. It's one of those things that you hope you never have to use, but if you do wind up needing it, then you'll be thanking the gods that you had it. Or cursing them if you didn't.
Though I do find it more necessary now, it's still up to you if you think you need it. A 3-day trip to Osaka just shopping and eating may not really call for insurance but if you plan on doing more active things like bungee jumping, skiing, or even going on a city bike tour, then I'd say travel insurance is a must.
We buy travel insurance from World Nomads because every long-term traveler I know recommends it. From the sound of it, they're the best in the industry by a mile. Not only do they provide a high coverage limit for medical expenses (up to USD 5 million with the Standard package), they also cover things like trip delays, missed flight connections, theft/loss of passport and luggage, etc. Follow the link or use the widget below to learn more and get a free travel insurance quote from World Nomads. It's super quick and easy.
8. Bring the Right Power Adapter
Japan has Type A or Type B electrical outlets so be sure to bring the right power adapters for your devices. Electrical voltage is 100V and the standard frequency is 50/60Hz.
9. Learn Basic Japanese Etiquette
When in Rome, do as the Romans do. In other words, don't be a stupid gaijin. You don't have to know all the rules but you can learn a few basics that will make you more palatable as a traveler. Here's a good overview on Japanese etiquette for tourists. Japan is a country with many unspoken rules so it's good to familiarize yourself with the basics.
For Filipinos
VISA INFORMATION
If you're a Philippine passport holder, then you'll need to secure a tourist visa to Japan. The entire application process is coursed through a travel agency so you'll never have to go to the Japanese Embassy. I went with Reli Tours & Travel and at the time (2016), they charged PHP 950 if you're applying as a tourist, and PHP 2,000 if you'll be visiting friends or relatives. It takes between 3-7 days to process.
Check out my post on how to apply for a Japan tourist visa for a step-by-step process and a list of accredited agencies.
HOW TO GET CHEAP AIRLINE TICKETS
Ever since I scored my first piso fare from Cebu Pacific, I've been hopelessly addicted to cheap airline tickets. Our tickets to KIX had a base fare price of PHP 10. After taxes, fuel surcharges, and a shared 20 kg baggage allowance, the total fare came out to just under PHP 6,000 each roundtrip. How awesome is that?
These piso fare tickets are limited and sell fast, so you have to be quick. For our Osaka tickets, I had to try three separate times before finally getting them. They just kept selling out before I could complete the transaction! To give yourself an advantage, I suggest liking their Facebook page and following them on Twitter to quickly find out about these seat sales. If you check off "Get notifications" on Facebook, then you'll receive instant alerts every time they post something new.
Other airlines that fly from Manila to KIX are Jetstar Asia, Philippine Airlines, and All Nippon Airways (ANA).
Have fun!
I'm not an expert on Nara but I do hope that you find this post useful. I'm only sharing some of the things that I learned from our trip. If you have any suggestions or simply want to share your own experiences, then please feel free to do so in the comments section below. You're welcome to join our Facebook Travel Group as well. We'd love to hear from you.
Thanks for stopping by and have a great time feeding the deer in Nara!
OUR GEAR
These are some of the things we brought with us to Nara. As you can tell, I document a lot of content for this blog so most of the things I bring are photo and video equipment. 😆 If you'd like to see what other gear we use, then you can check out our "What's in Our Backpack?" post. (NOTE: The following links are Amazon affiliate links.)
Disclosure
We were in Osaka on a partially sponsored trip to Universal Studios Japan, courtesy of our friends at KKday. They provided us with a pocket wifi device and a 4-day JR Kansai Area Pass. This side trip to Nara was something we did on our own. As always, all thoughts and opinions expressed in this post are mine and mine alone.
Some of the links in this guide are affiliate links, meaning we'll get a small commission if you make a purchase at NO extra cost to you. We only recommend products and services that we use ourselves and firmly believe in. We really appreciate your support as this helps us make more of these free travel guides. Thank you!