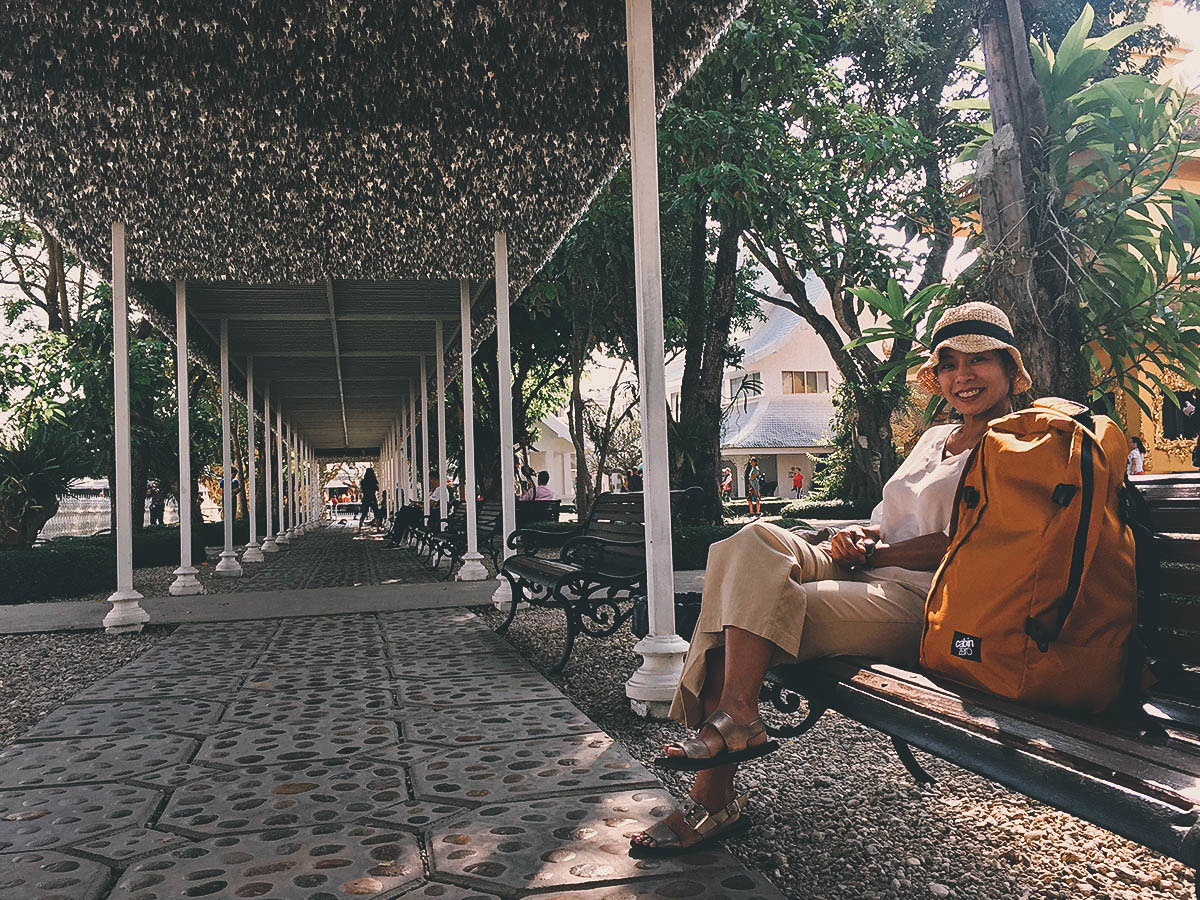 How CabinZero Has Changed the Way We Travel
NOTICE: Some of our articles contain affiliate links. The ones that do will have a disclosure statement at the bottom. You can refer to our privacy policy and terms of use for more information.
We've been sent a few travel products over the last couple of years, things like organizers, keepsakes, and travel pillows. Product reviews aren't really my thing but I do it as a way of helping out emerging brands. The way I see it, they're people like us who are struggling to make it in a competitive field. We need all the help we can get right?
In any case, I never request payment for a review, just the freedom to give an honest assessment of the product. I'm always happy to receive things over the mail but my involvement or enthusiasm for the product typically ends after I publish my review. Not so with these CabinZero bags.
This is the first time that I've truly liked a product we've been sent to review. In fact, I don't just like these bags, I absolutely love them. Why? Because they've changed the way we travel. Keep reading to find out how.
What is CabinZero?
CabinZero is short for Cabin Sized, Zero Hassle. It's a British company that makes backpacks designed to fit in an airplane's overhead bin. Neil Varden, the company founder, was an avid backpacker himself who grew tired of bags that couldn't hold up to the rigors of travel. He wanted a durable, lightweight backpack that conformed to airline carry-on restrictions. He couldn't find one in the UK or Asia so he decided to make it himself, and so CabinZero was born.
At the time of this writing, they make travel backpacks in three primary sizes – 28L, 36L, and 44L. They sent us two 44L bags so that's what I'll be focusing on in this review.
CabinZero 44L
See that green bag? That's my Crumpler 7 Million Dollar Home. It's a hefty DSLR bag that houses all my camera and video equipment. In it I have (almost) everything I need to document content when traveling – DSLR, three lenses, GoPro, gimbal, mounts, GorillaPod, microphone, etc. I have a LOT of stuff in it. In the smaller black bag next to it is my DJI Mavic Pro drone.
Before the CabinZero came along, I used to have both bags and my camera slung over my shoulders – the DSLR by my right hip, the DJI by my left, and the Crumpler behind me. It's cumbersome to say the least and it made me look like a damn tourist. Not anymore. Both fit snugly in my CabinZero with plenty of room for other stuff.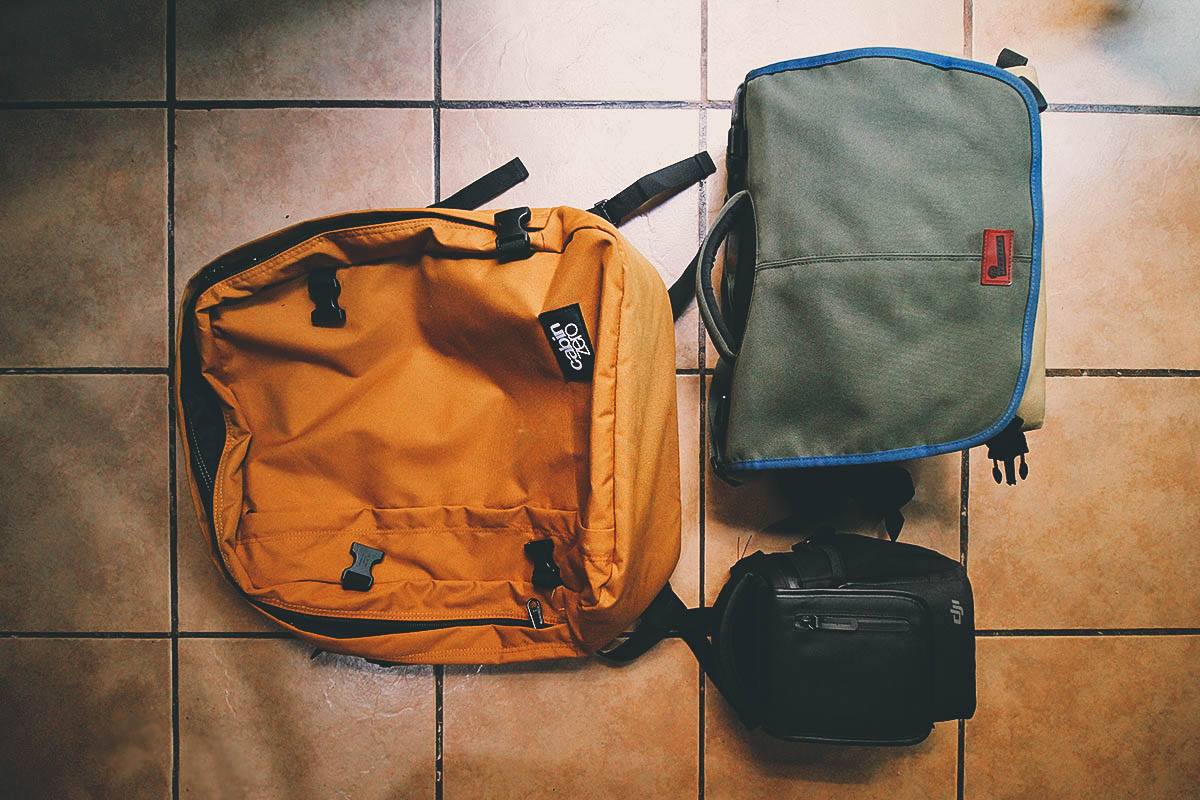 See what I mean? I was surprised to find that the CabinZero is wide enough to fit the Crumpler without having to set it on its side. Even with the DJI bag, I still have a lot of stuff I can fit in there which comes in very handy during a trip. I'll explain why.
Ren and I are light travelers to begin with. We usually share just one 20 kg checked in bag between us. While it's worked out great for us, we sometimes think twice about buying anything on a trip for fear of exceeding that 20 kg limit. It's happened once so far in Cambodia. But now that we have this extra room in my CabinZero, we don't worry about it anymore. I can just put the extra stuff in here and it's all good! I don't always travel with my drone either so most of the time, I have even more room for goodies like local food items, souvenirs, and gifts.
I know that sounds like a minor thing but trust me, not having to worry about overweight baggage fees is a relief. That's not something I enjoy thinking about when we travel.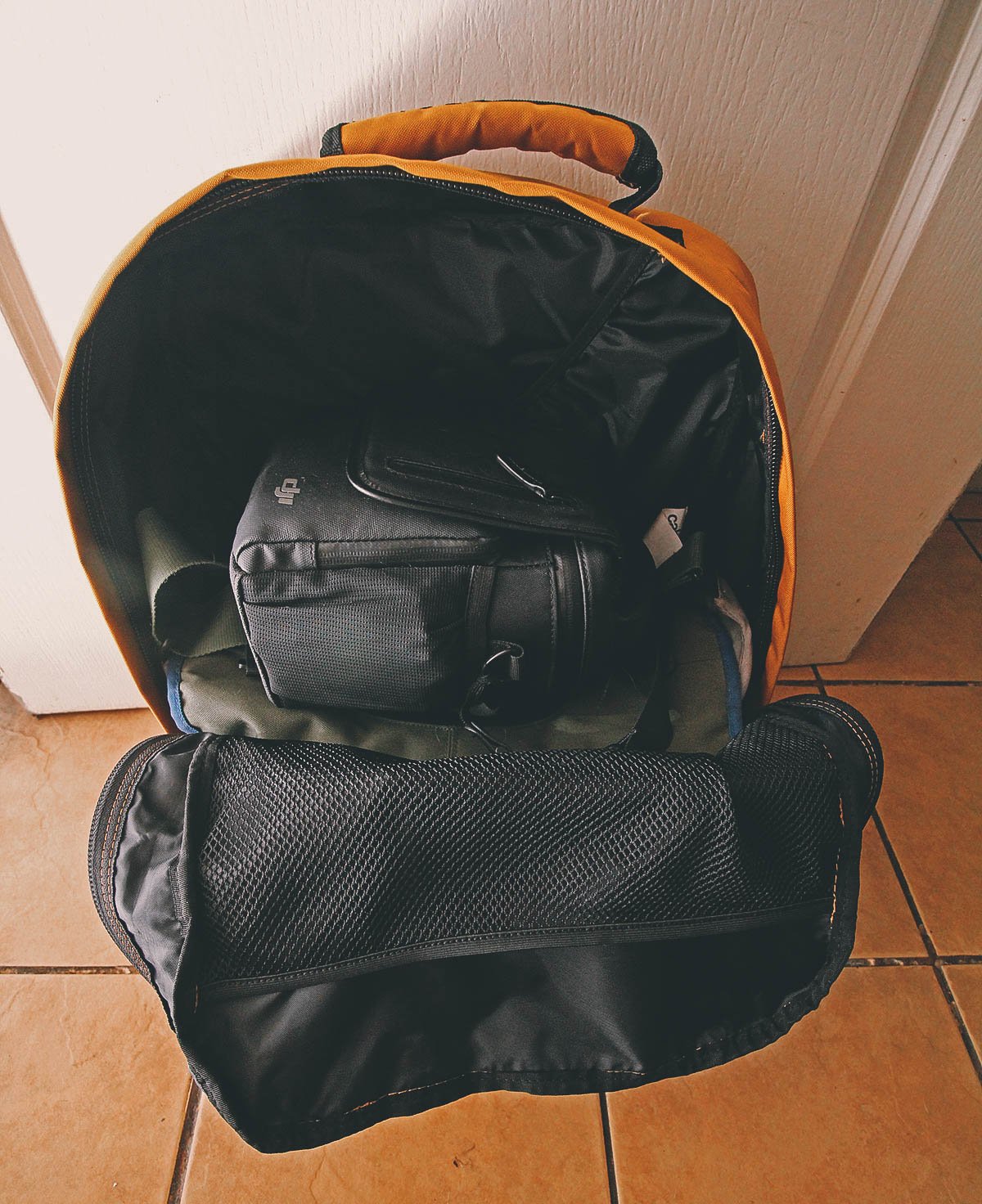 Size and durability aside, what I love most about my CabinZero 44L is that it's designed to fit snugly in an airplane's overhead bin. It measures 51cm x 36cm x 19cm, which is the maximum carry on size allowed by many airlines. I know because I checked. 😉 As you can see in the picture below, it's an easy fit with plenty of room to spare!
I often see people hand carrying bags way bigger than this. No way do those bags comply with airline carry on limits. People obviously get away with it, but I'll stick to my size compliant CabinZero thank you very much. I don't want to risk being forced to check in all my expensive camera and video equipment. Again, it's all about peace of mind. My CabinZero gives me that.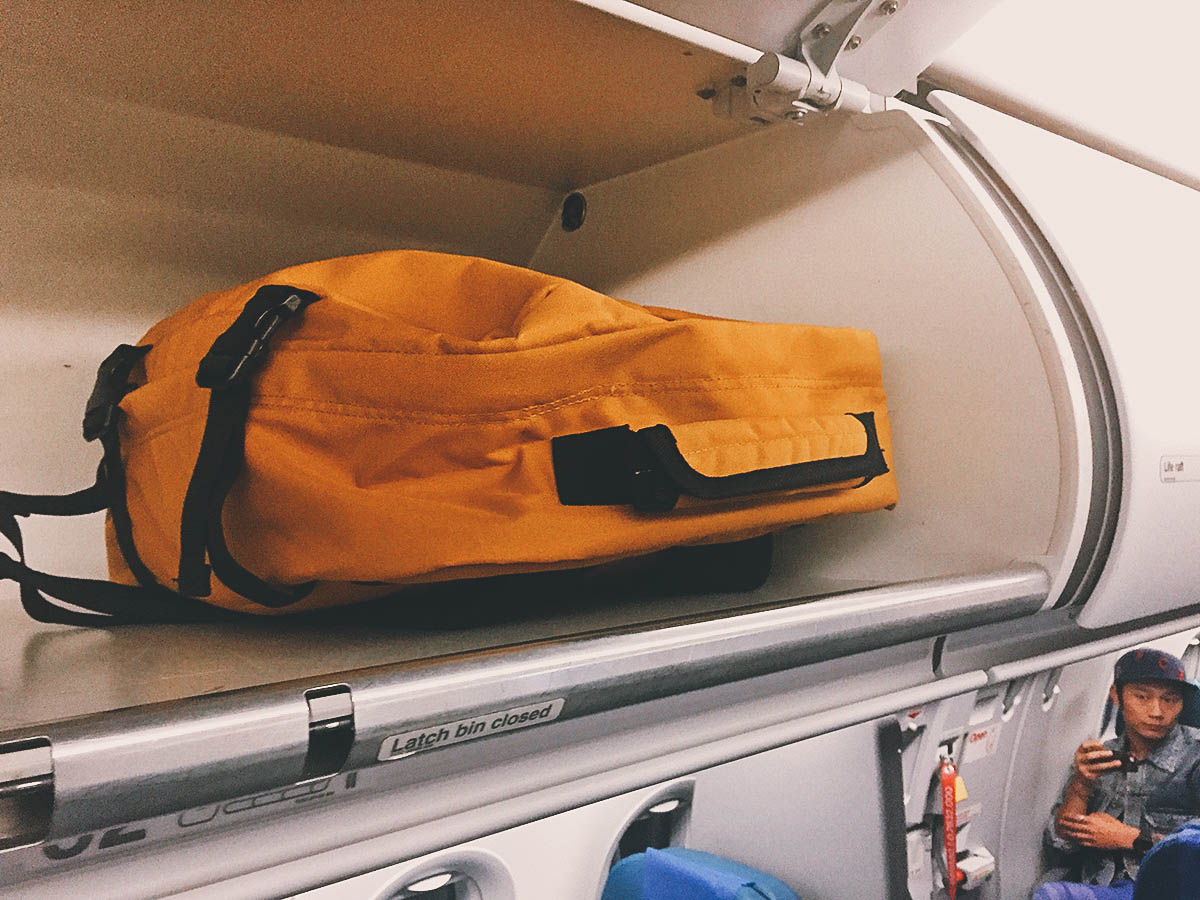 So you think the awesomeness of CabinZero ends with its size and durability? Think again! Every bag comes with a built-in tracker powered by Okoban. You'll have your own unique tracking code which you can input into the Okoban website when you register. If you ever lose your bag and a good samaritan finds it, then they can notify you by entering your tracking code into the Okoban website. Awesome!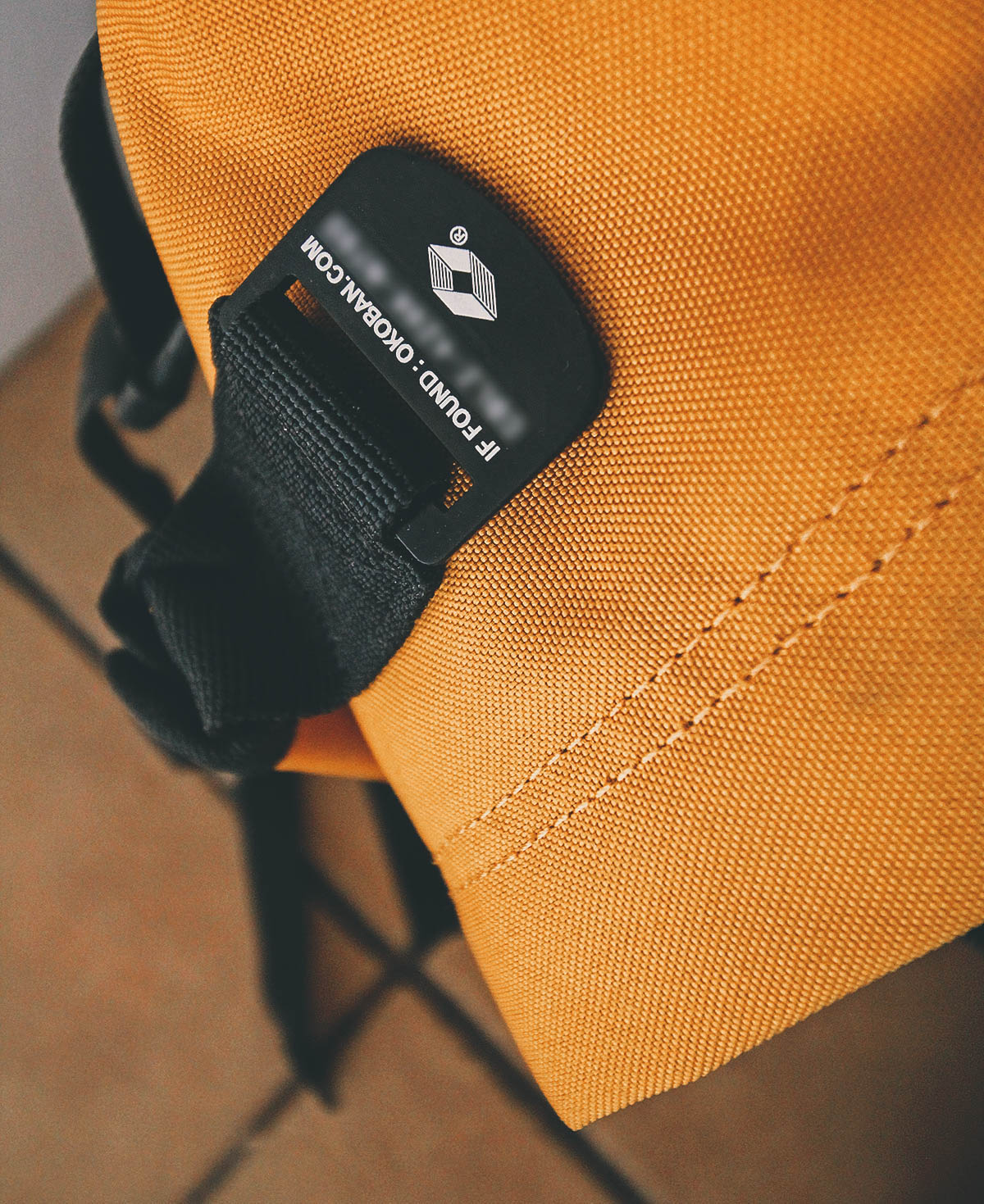 On the Road with Our CabinZero
We've been on just one real adventure with CabinZero so far, to Thailand with our Orange Chill 44L. We're leaving for Korea in a couple of weeks and we'll use our Navy 44L for that trip. Needless to say but I'll say it anyway, we'll be traveling with at least one of our CabinZero bags from now on, so I'll update this post with pictures from future adventures.
Here's me posing like a hip millennial at the famous Wat Rong Khun or White Temple in Chiang Rai, Thailand. It's not easy pretending to be walking like this.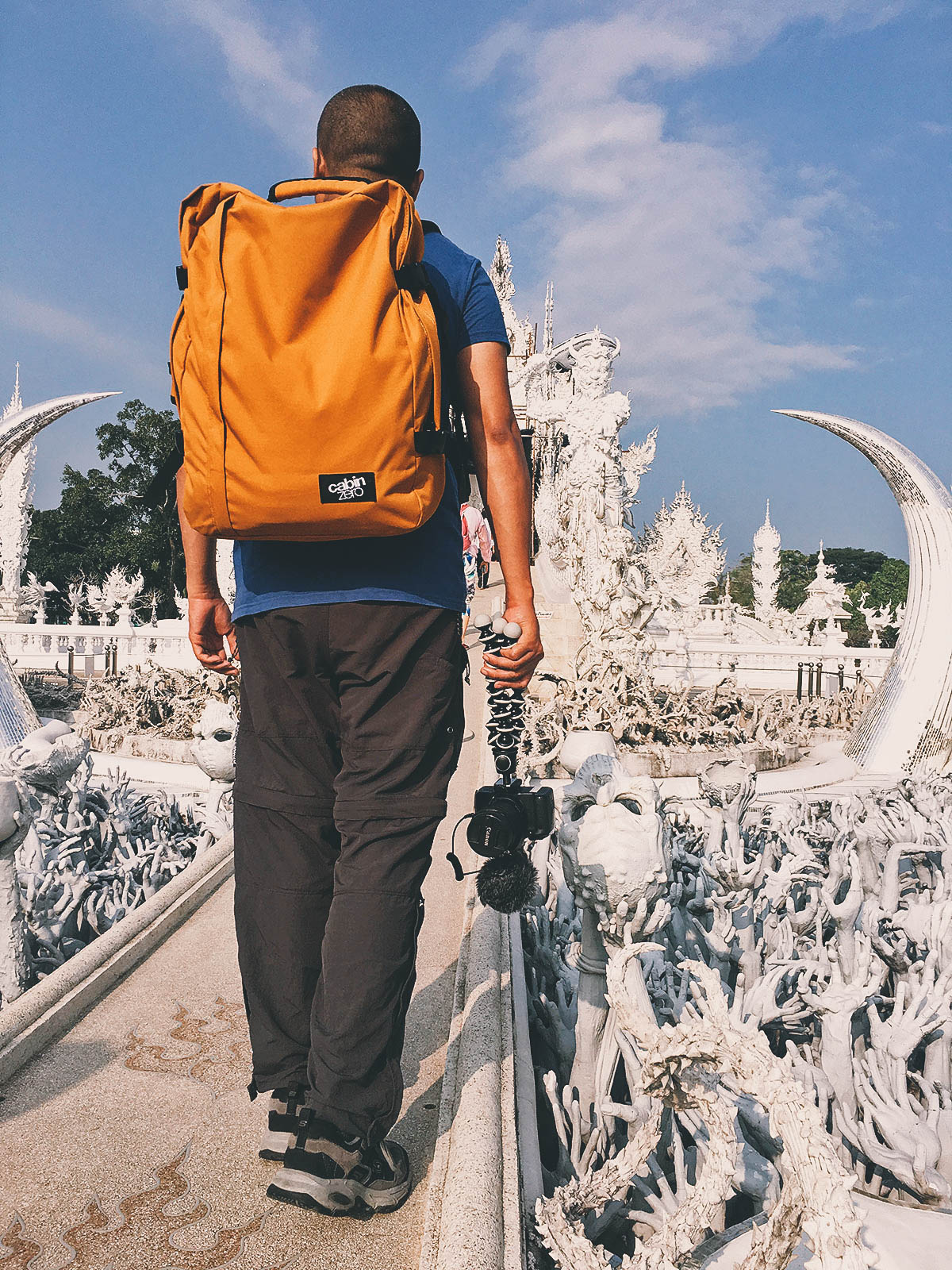 Here I am taking pictures at Baan Dam Museum or Black House later that morning. It's owned by a man named Jean Claude. Just kidding. The Black House is the creation and residence of Thai national artist, Thawan Duchanee.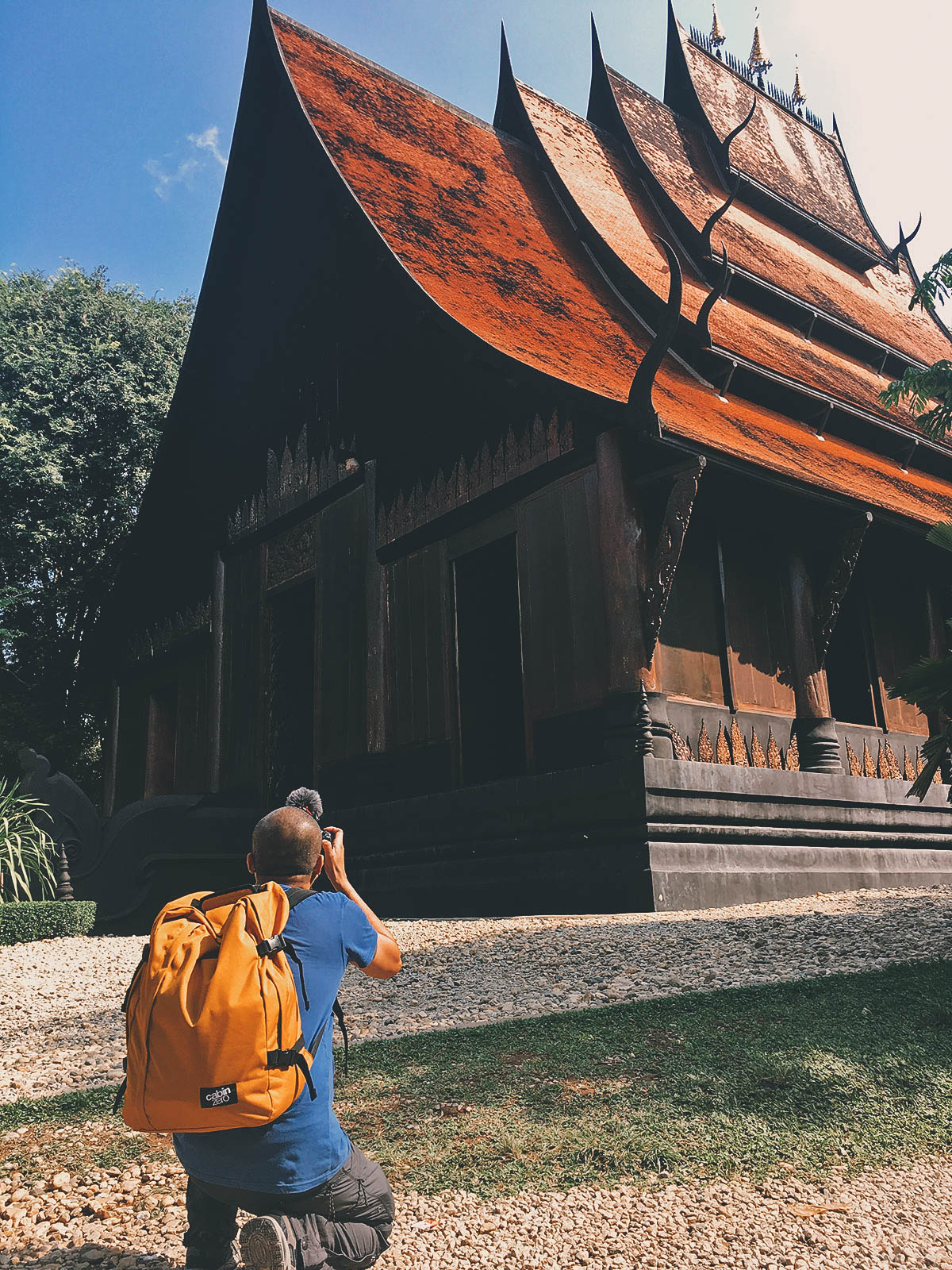 Me taking video, again at Baan Dam Museum. Bored yet?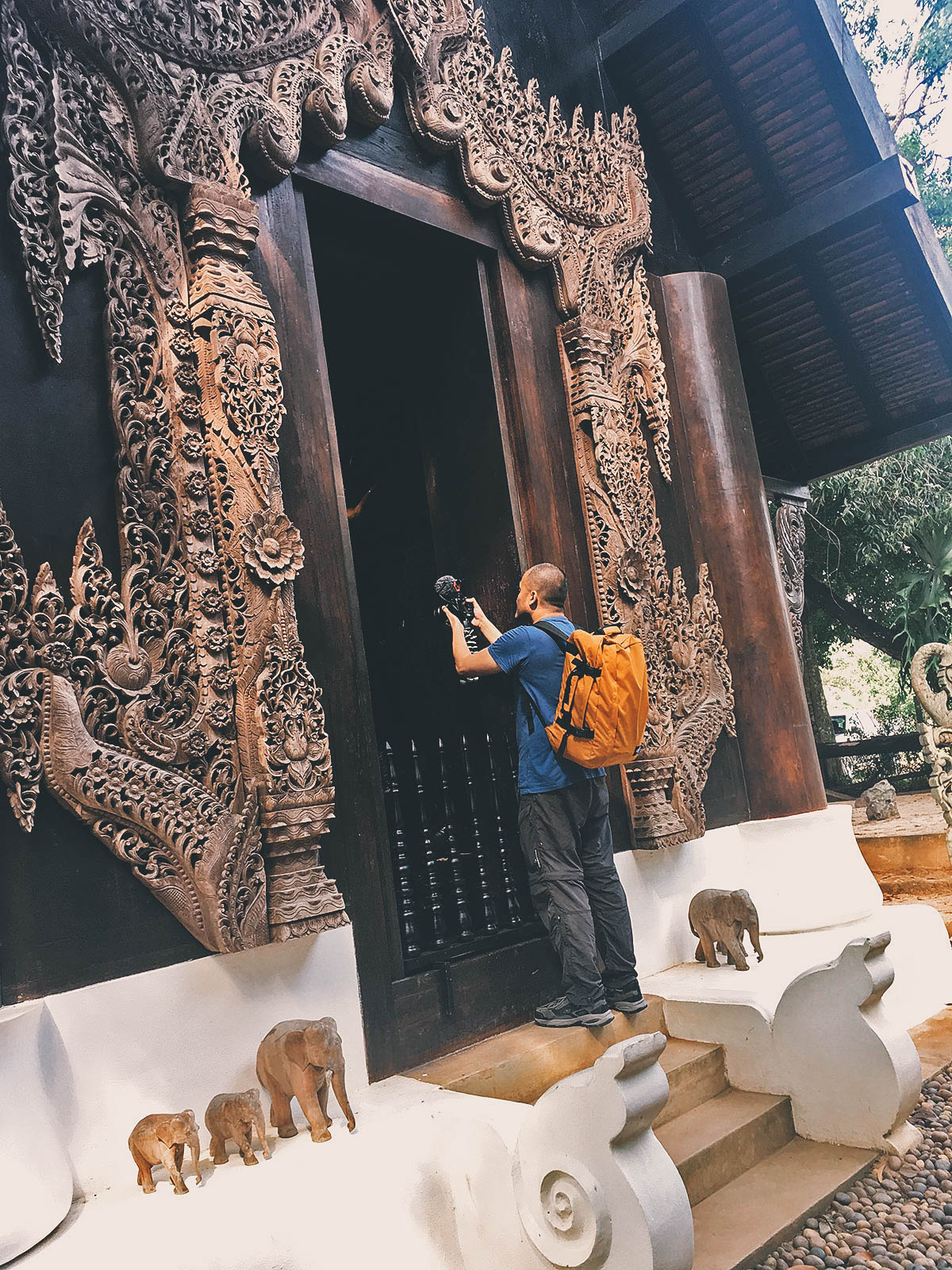 Let me change it up a bit. There's Ren with our Navy 44L at La Casita Mercedes in Poblacion. If you're traveling to Manila, then this is a great place to stay.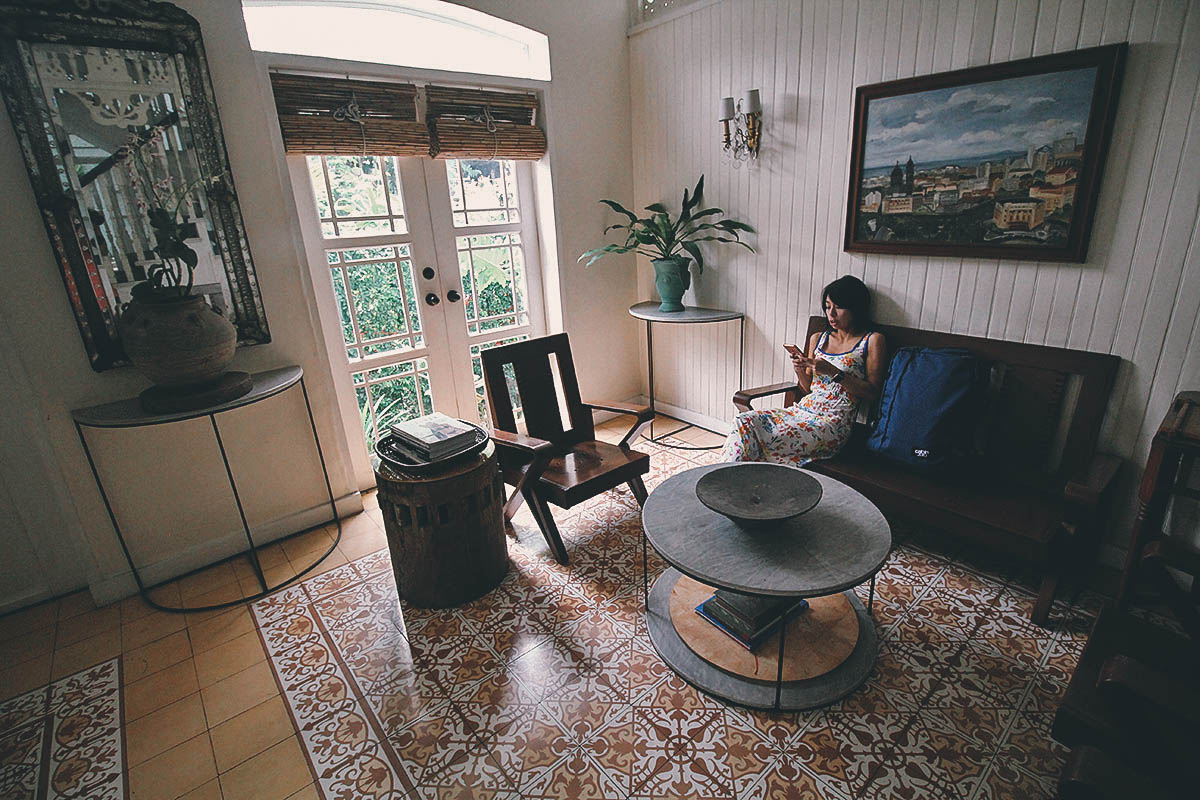 Again, I can't express how much I love our CabinZero bags. Not only have they changed the way we travel, but they're solidly built too so I expect them to last for years. You can see and feel it in the material and the way it's put together. In fact, so confident is CabinZero in their products that every bag comes with a 10 year warranty. Like them on Facebook and they'll extend it to 25 years free of charge. Is that enough of an insurance policy for you?
If you're convinced that this backpack is the travel bag for you, then check out their website to find the CabinZero that suits you. Don't worry that they're based in the UK. According to their website, they'll ship to most addresses in the world for free.
A Classic 44L like ours goes for GBP 60. I don't have a lot of experience buying bags so I don't know if that's expensive or not. But considering that shipping is free and every bag comes with a 25 year guarantee, then I'd say it's absolutely worth it.
CabinZero
Website: cabinzero.com
Facebook: CabinZero
Twitter: cabinzero
Instagram: cabinzero
Pinterest: cabinzero
LinkedIn: CabinZero
Youtube: CabinZeroLuggage
Disclosure
CabinZero sent us two 44L backpacks in exchange for an honest review and three Instagram posts. As always, the words and opinions expressed in this post are mine and mine alone.
The CabinZero links in this post are affiliate links, meaning we'll get a small commission if you make a purchase at NO extra cost to you. We really appreciate your support as it helps us keep this website going. Thank you!
JB and Renée are the Traveleaters behind Will Fly for Food, a travel blog for the gastronomically inclined.  They enjoy experiencing food from different cultures so they've made it their mission to try every country's national dish.  Read more about them and their National Dish Quest here.