Universal Studios Japan: What You'll Find at Universal Cool Japan 2017
The last time I was at a Universal Studios was probably around 30 years ago. It was either in Florida or California and one of the hottest rides at the time was Jaws. People would pile into a ferry and watch in nervous anticipation as a fin circled the boat before diving out of sight. Then moments later, just when everyone was looking around wondering where it went, a massive fiberglass Great White would pop out of the water next to the ferry and send everyone into a screaming tizzy. If you were lucky enough to be seated on the right side of the boat, then you'd get splashed a little. It was great fun.
Fast forward to 2017, and the thought of going on that Jaws attraction is about as exhilarating (and terrifying) as a Teacup ride. Much has changed in the advent of 4D technology and virtual reality. Rides are faster, scarier, more thrilling, and far more transportive than a fiberglass shark with painted eyes and mechanical jaws. With more control over your senses, the rides of today skew reality to bring you into another world — a world of giant unicorns, cyborgs, and fire-breathing behemoths. That augmented sense of reality is what we experienced many times over today at Universal Studios Japan.
Together with a group of bloggers/media from multiple countries, I was invited by Cebu Pacific Airlines and USJ to experience the new limited time attractions at Universal Cool Japan 2017. It was out of this world.
Woohoo! I'm at Universal Studios Japan!
Excited much? 😆 There's me acting like a kid, happy to be back at Universal Studios after three decades.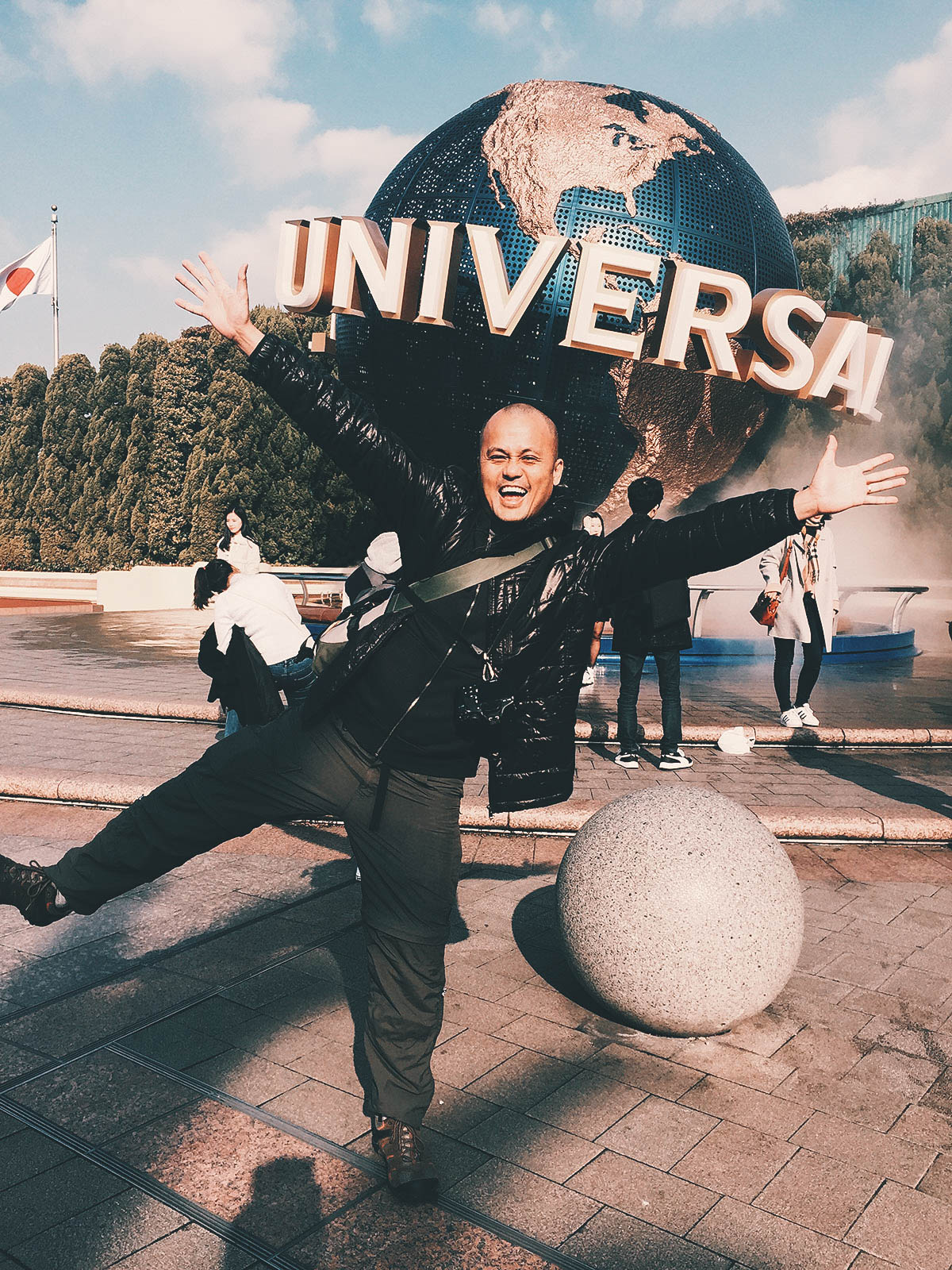 They've hung Jaws out to dry! 😆 I was pleasantly surprised to find the iconic Jaws shark (and pickup truck) here at USJ. From what I understand, the ride is still around. It helped make Universal Studios what it is so it's only right they retain it. What a classic.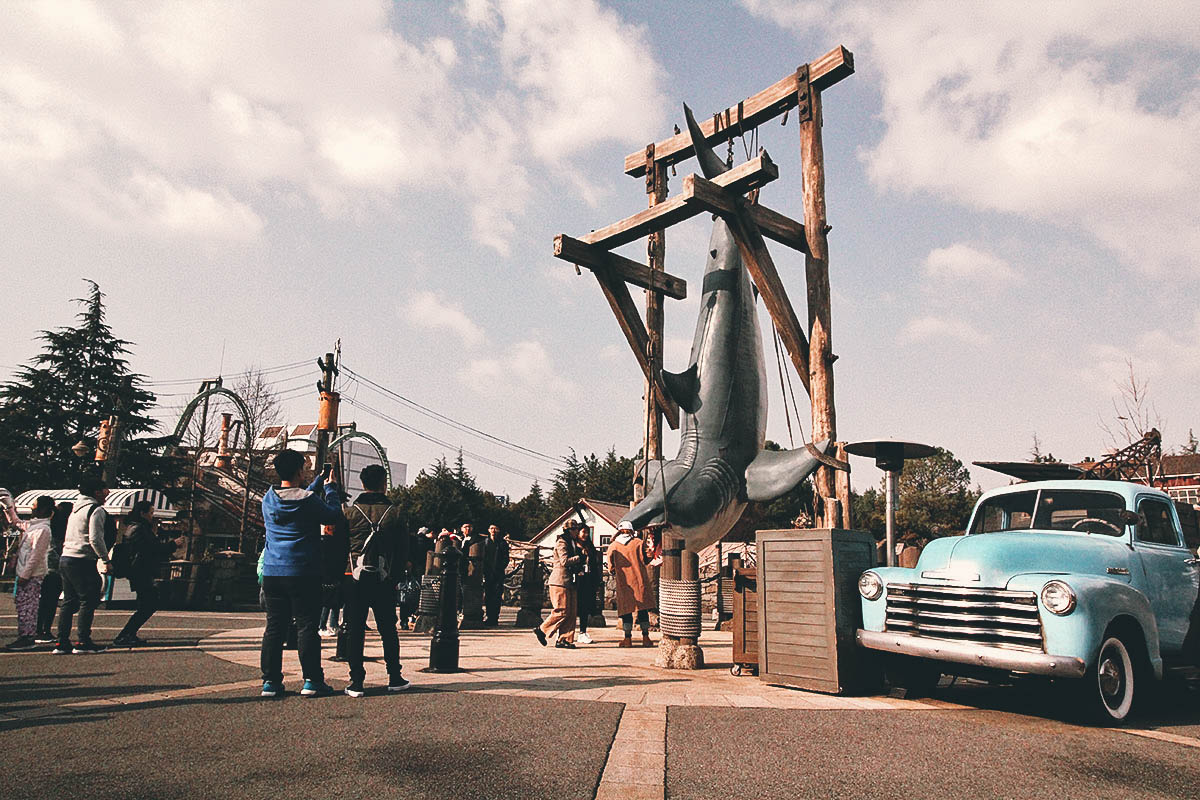 THE WIZARDING WORLD OF HARRY POTTER
Though we were here mainly to cover Universal Cool Japan 2017, we couldn't go without experiencing their most popular attraction – The Wizarding World of Harry Potter! Here's the crashed Ford Anglia from the movie.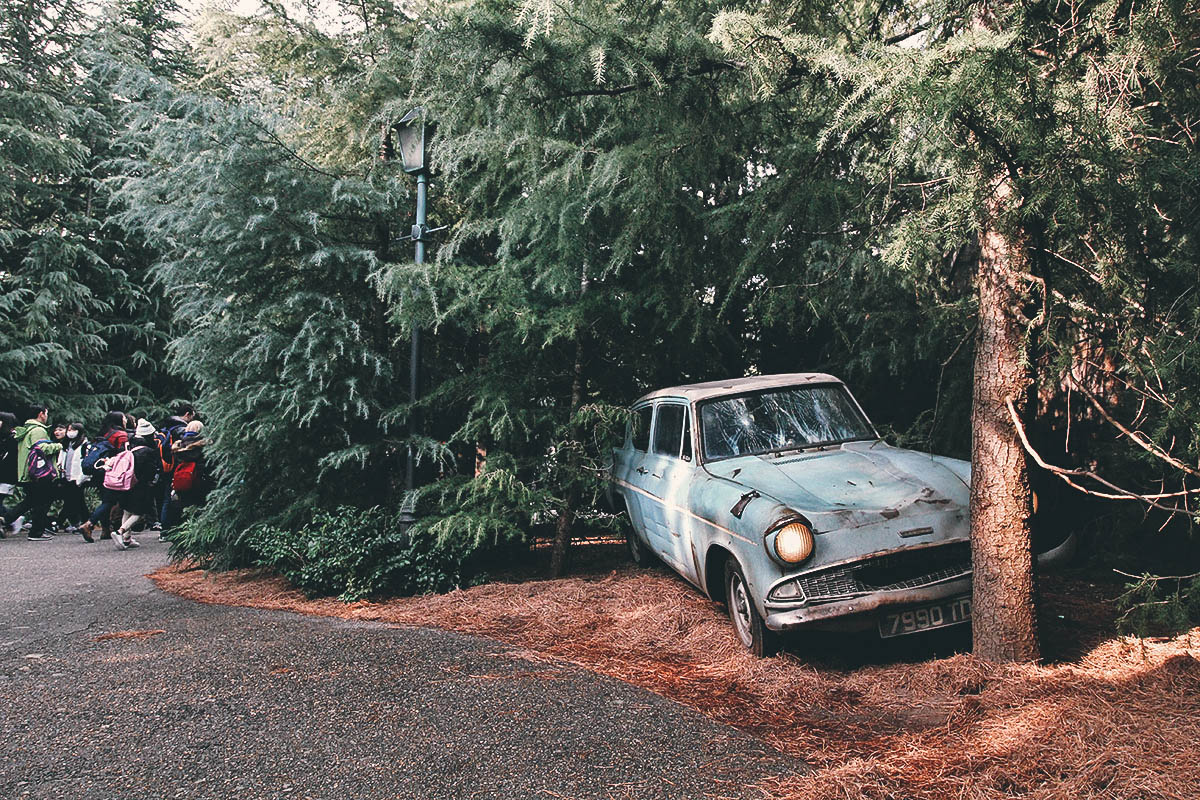 If you've never been to WWoHP, then prepare to be blown away. This place is mind-numbingly awesome! It really does feel like you're in the movie. The atmosphere and attention to detail is remarkable.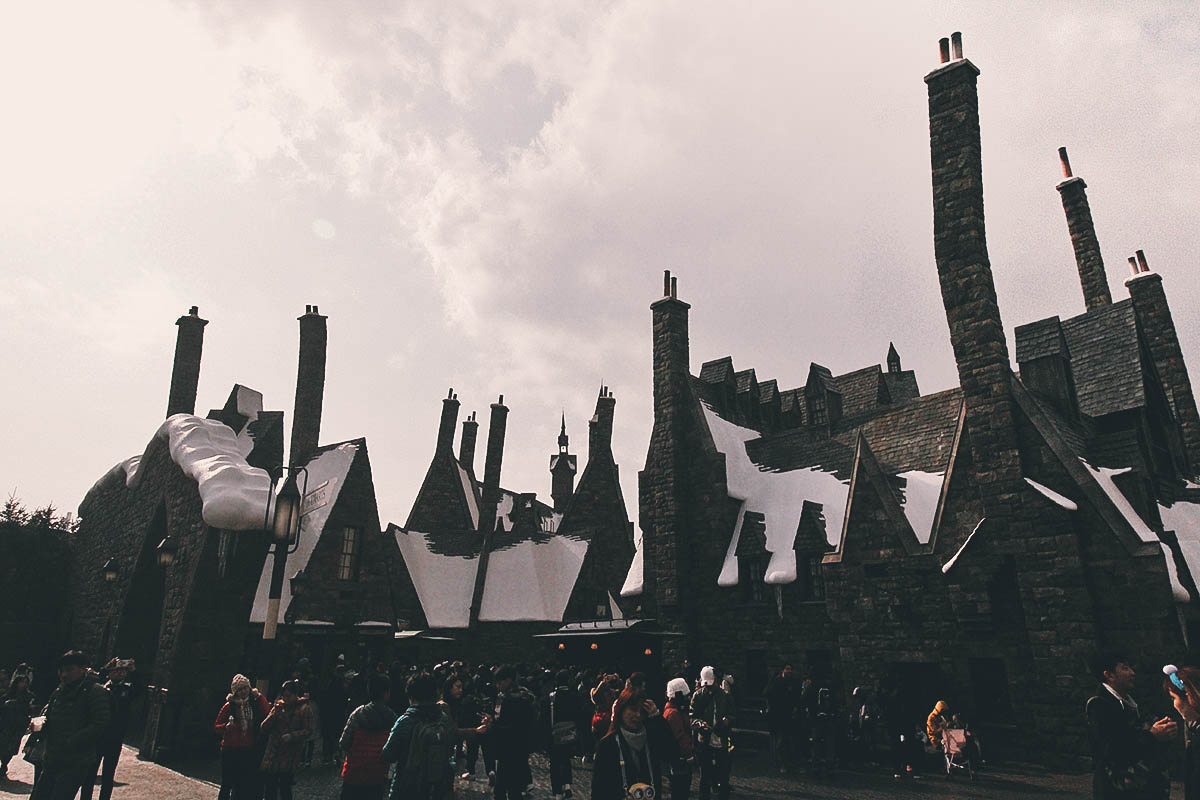 Here's a better photograph courtesy of USJ. The place is simply magical.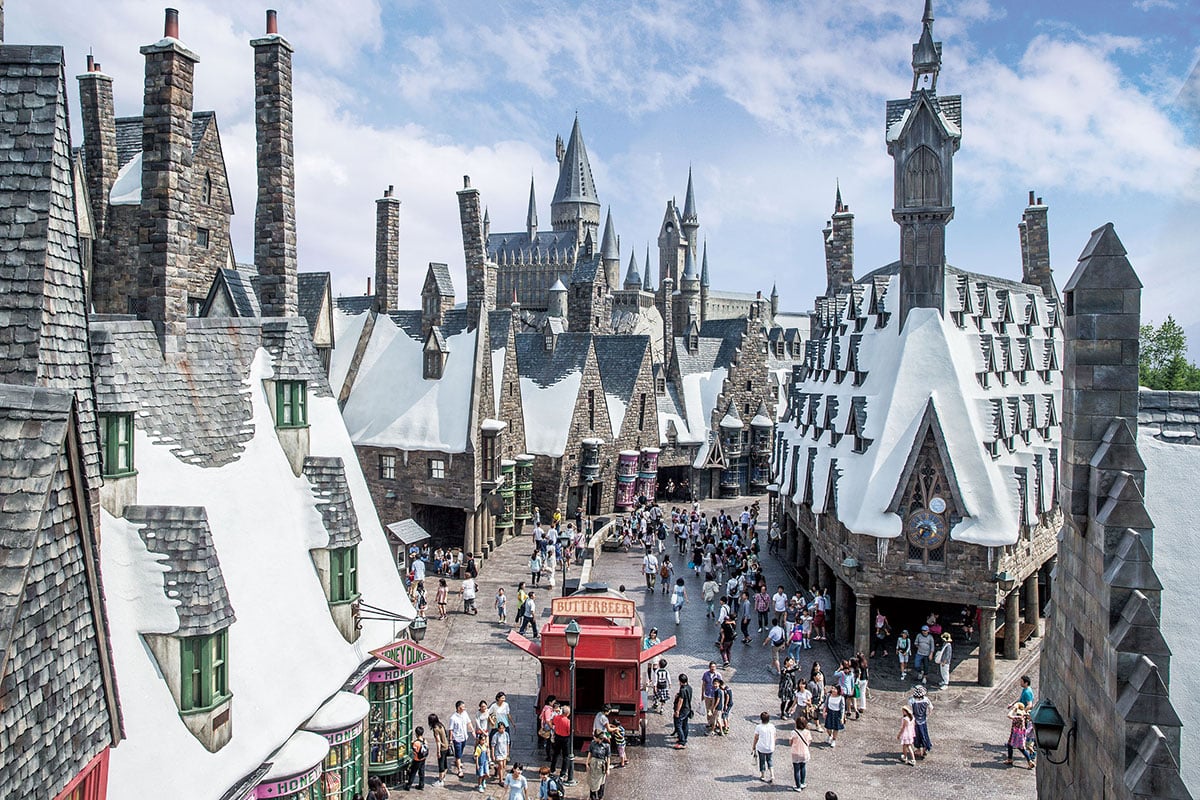 * Picture courtesy of Universal Studios Japan
Hogwarts Express. We had such a tight schedule that we didn't have time to take pictures, but fans of the series can't leave without snapping a few photos with this iconic train.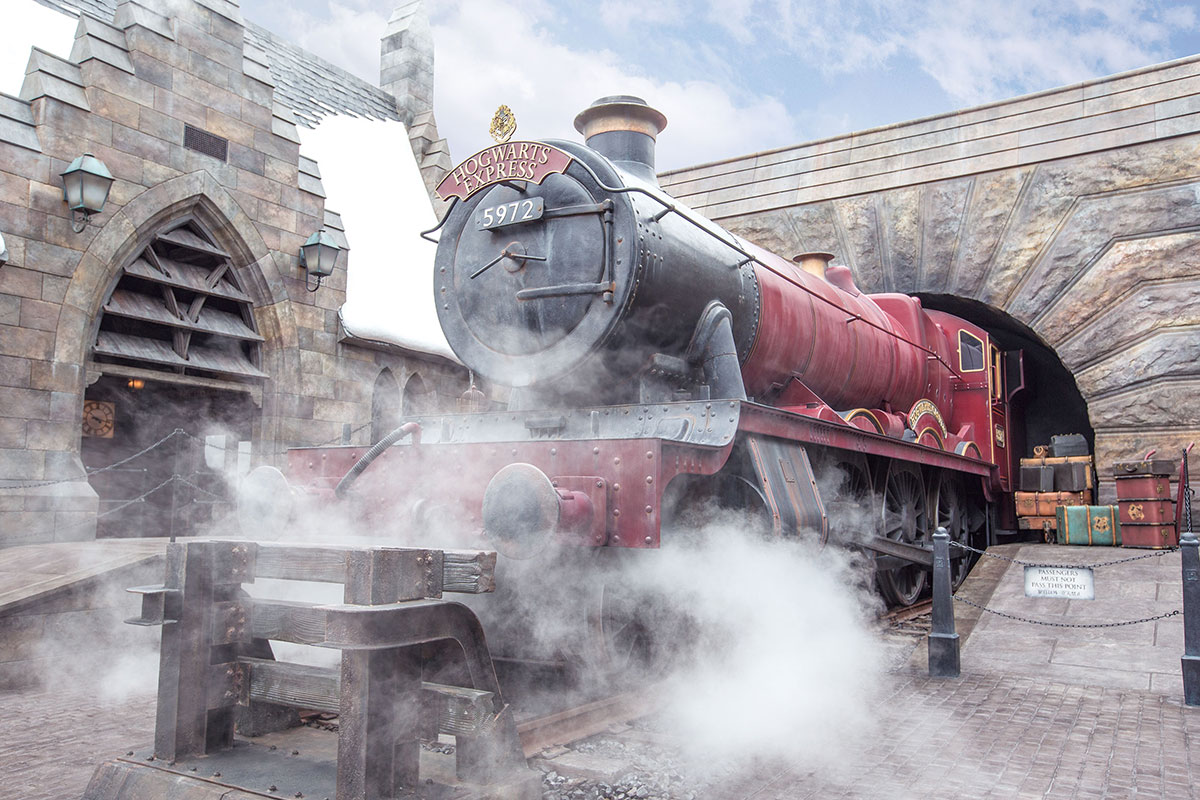 * Picture courtesy of Universal Studios Japan
The shops were so much fun! Too bad we didn't have time to really explore. 🙁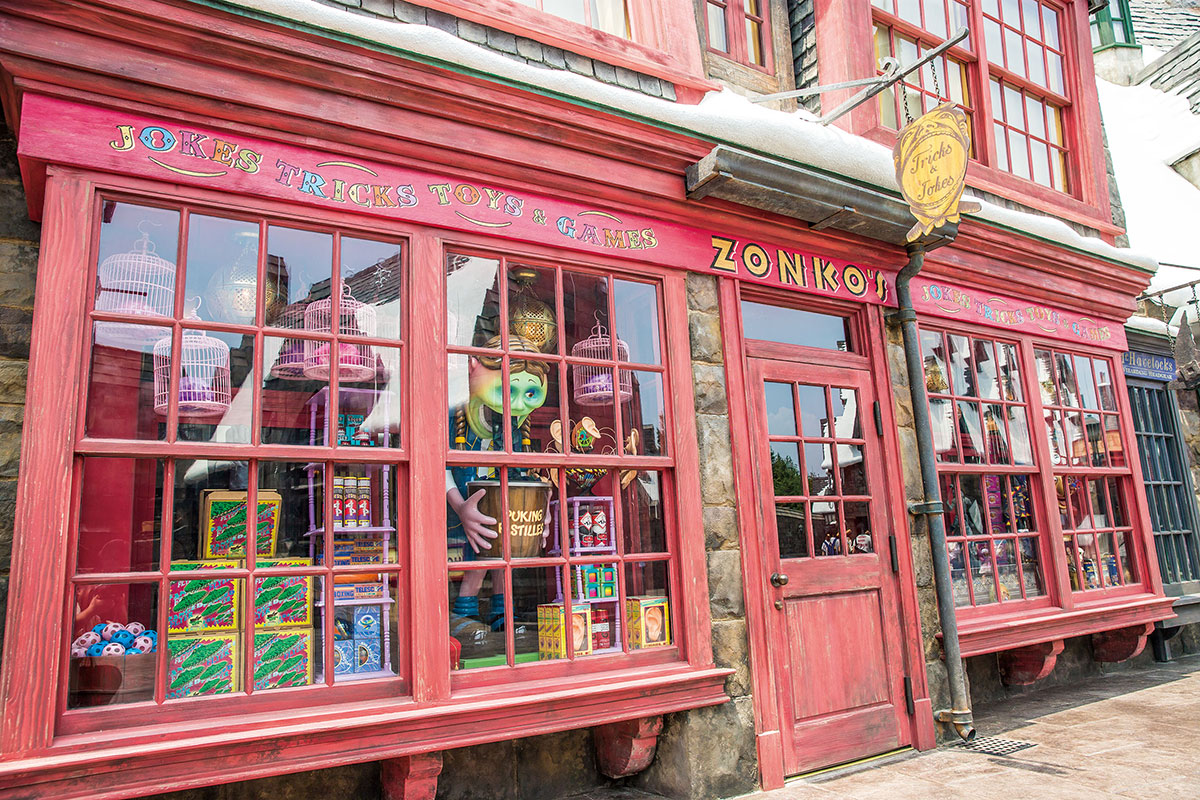 * Picture courtesy of Universal Studios Japan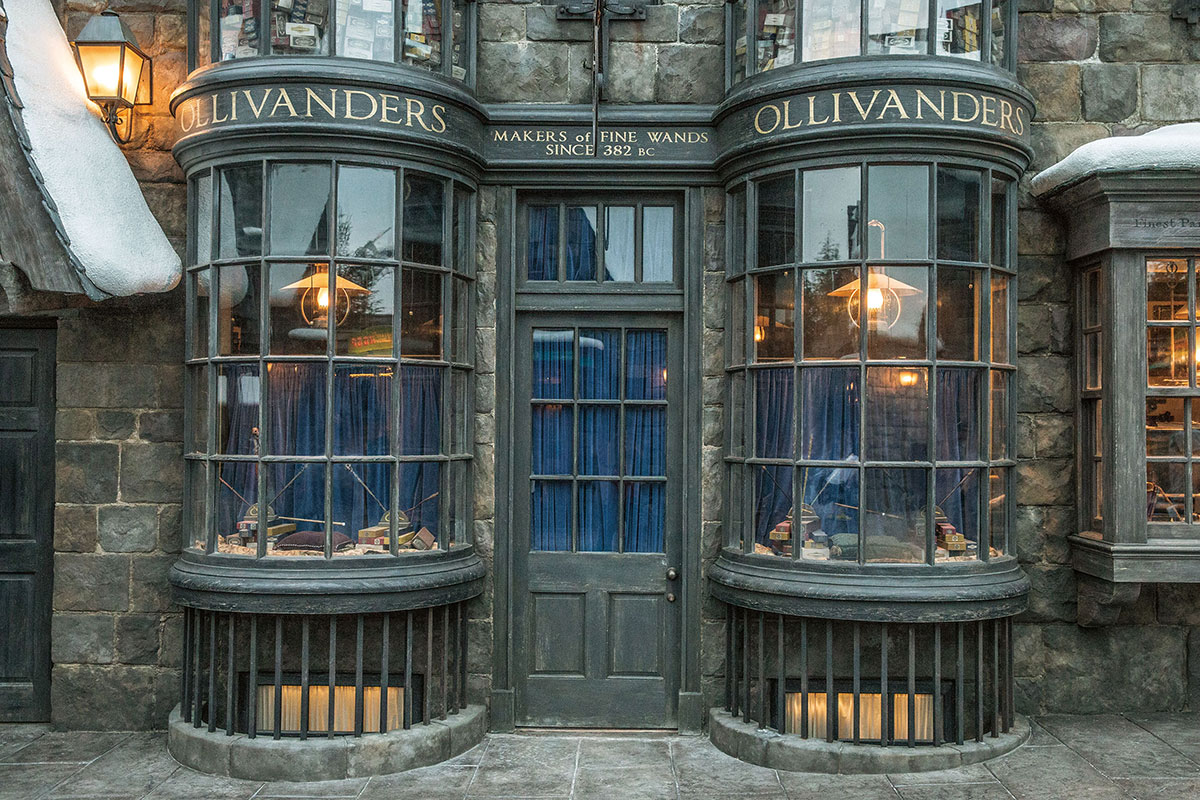 * Picture courtesy of Universal Studios Japan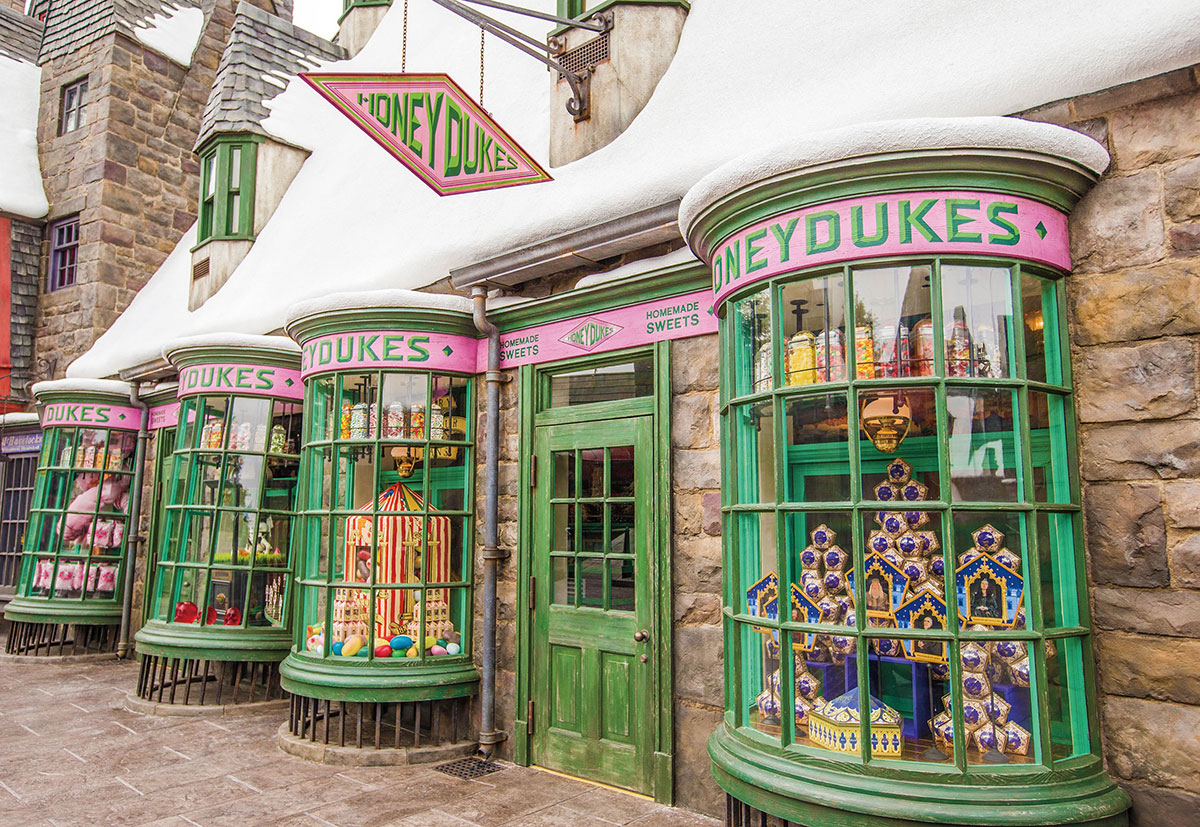 * Picture courtesy of Universal Studios Japan
Check out this wand store! Just like in the movie! 😀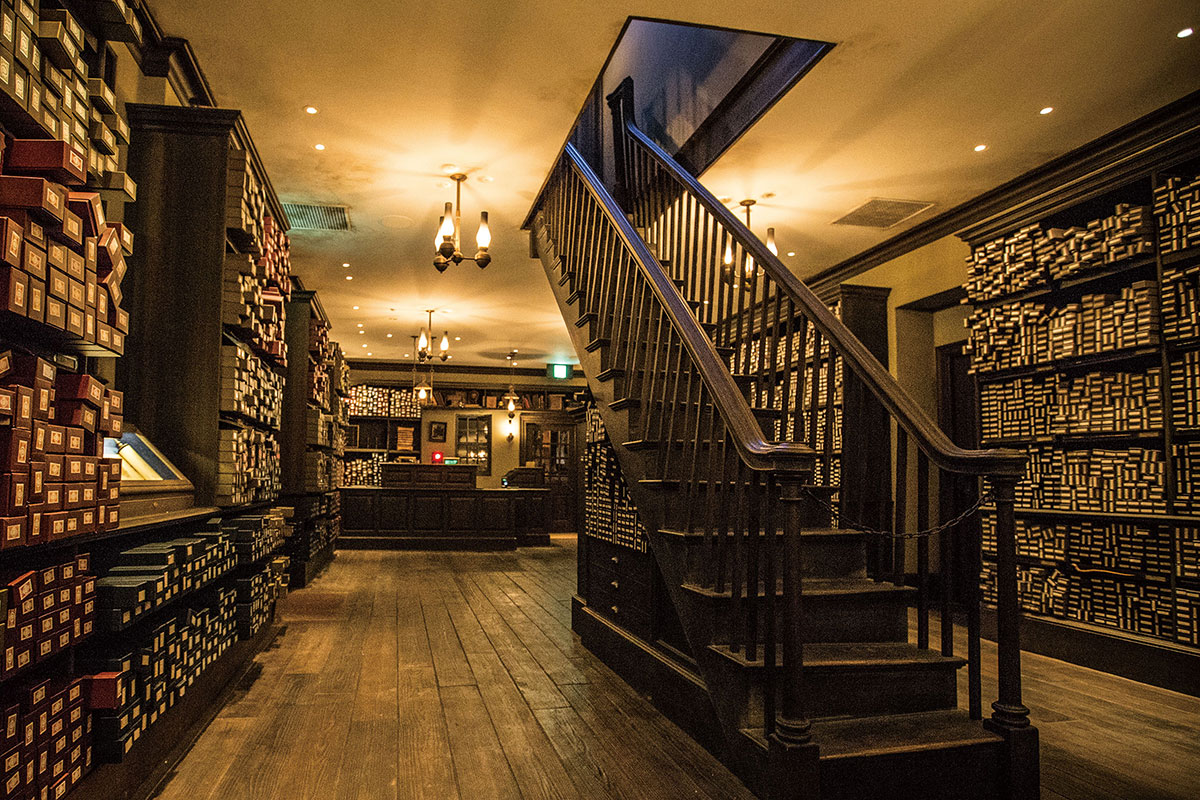 * Picture courtesy of Universal Studios Japan
There's Castle Blac…I mean Hogwarts Castle. 😛 There we got to experience USJ's most popular attraction – Harry Potter and the Forbidden Journey in 4K3D. They strap you into this vessel wearing 3D glasses so you can join Harry and the other wizards in a game of Quidditch. Fun!!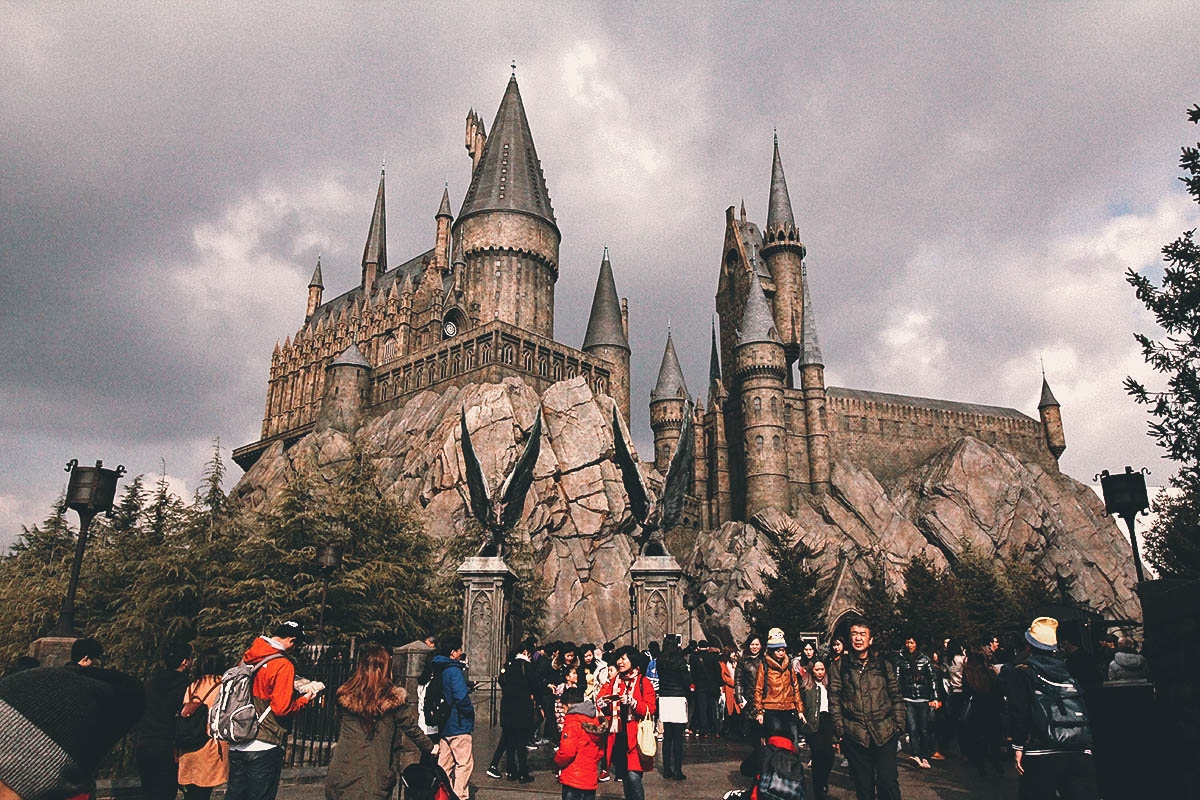 A shot of Hogwarts Castle taken just outside the Three Broomsticks Restaurant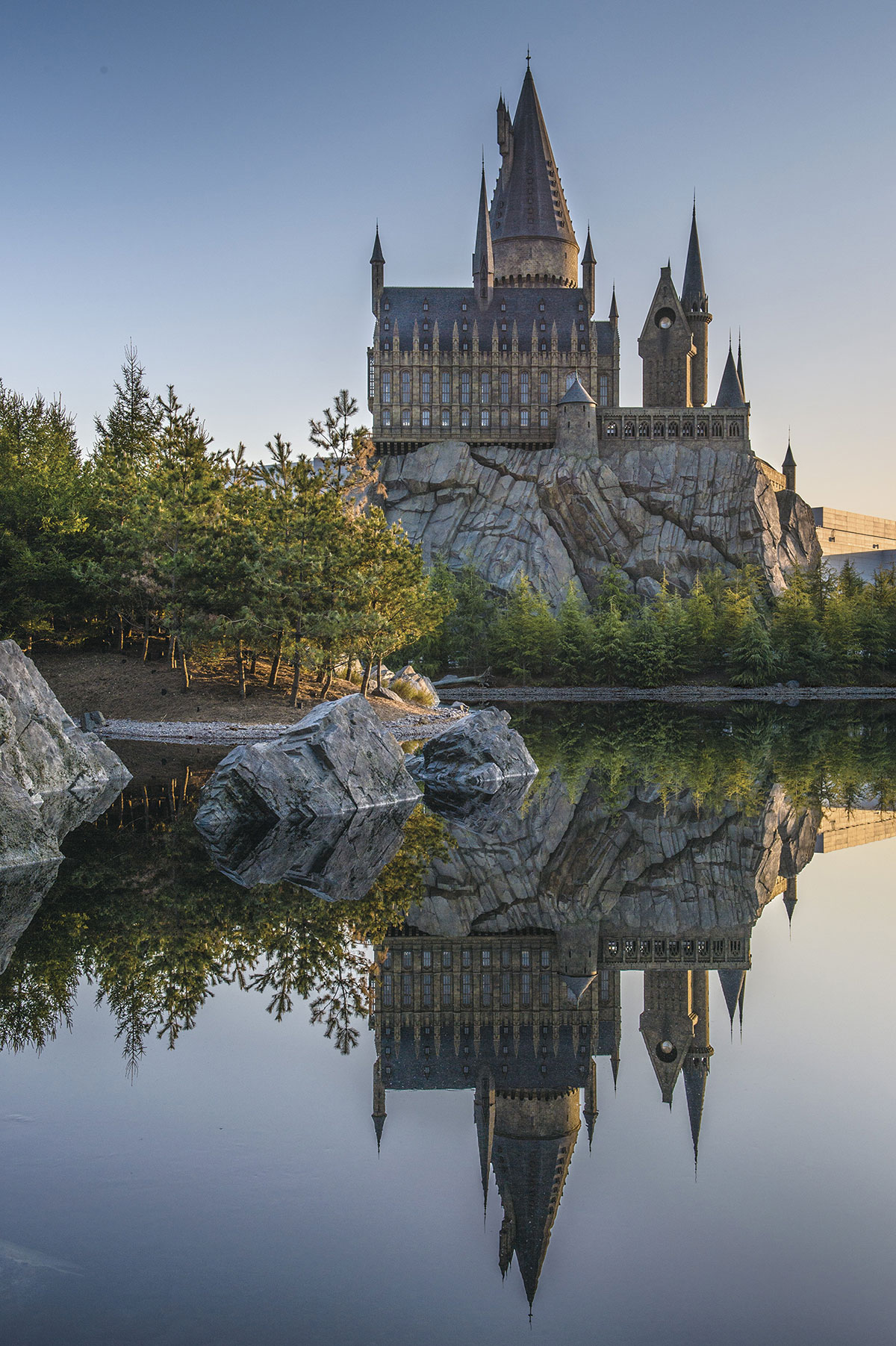 * Picture courtesy of Universal Studios Japan
Harry Potter fans will get a kick out of this. It's a new Magical Wand attraction comprised of six spell-casting stations. Here they were teaching us how to light the chimney by waving the wand in a specific manner and chanting Incendio! After messing it up for the nth time, I think they lit it up for me just to move the line along. 😆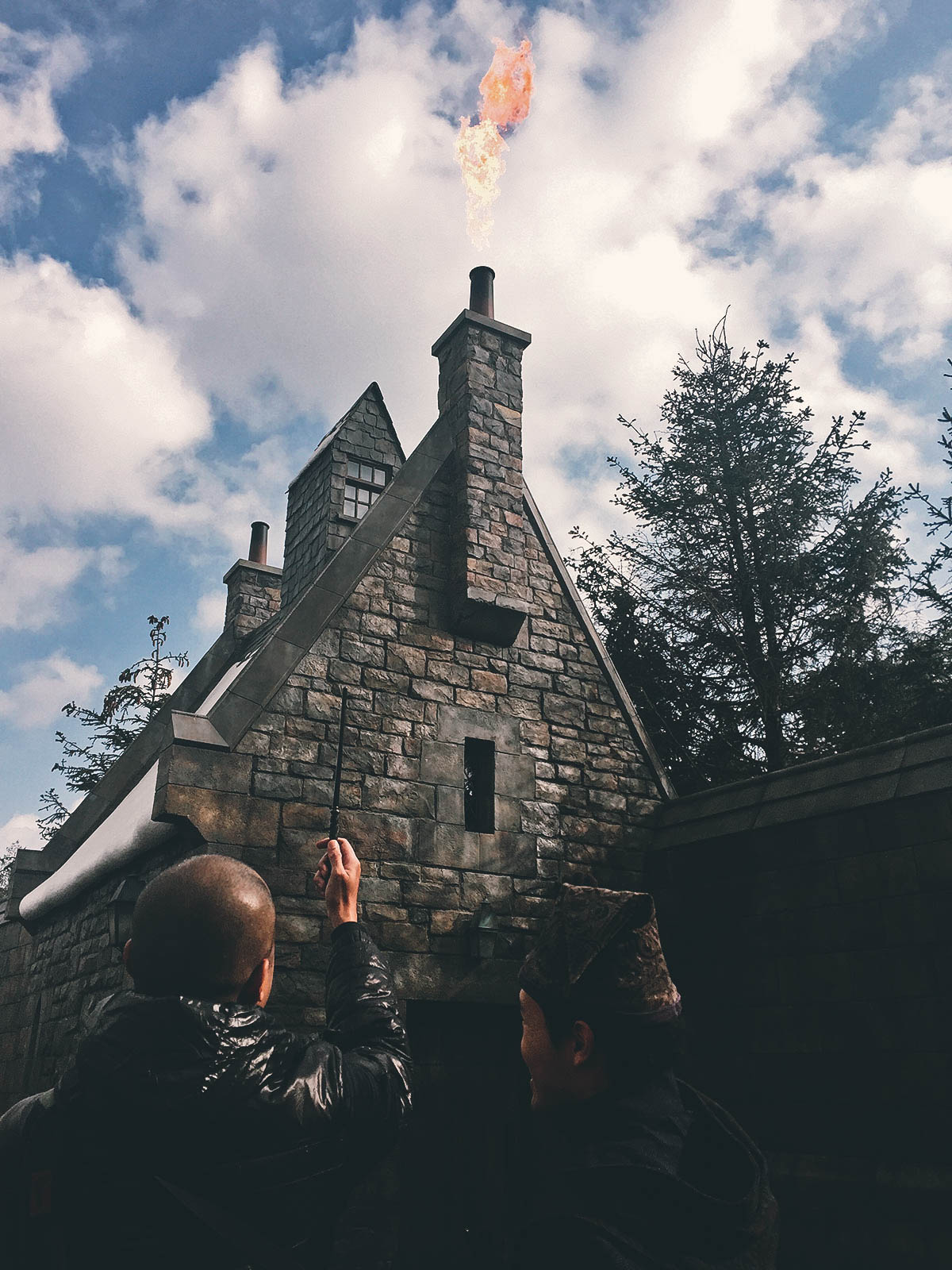 Later that evening, they treated us to dinner at the Harry Potter Three Broomsticks restaurant. Like the rest of WWoHP, the attention to detail at the restaurant was remarkable. For example, they served corn on the cob with the husk slightly charred and folded back so you could use it like a handle. It's a small detail but it gave the place more authenticity. So cool.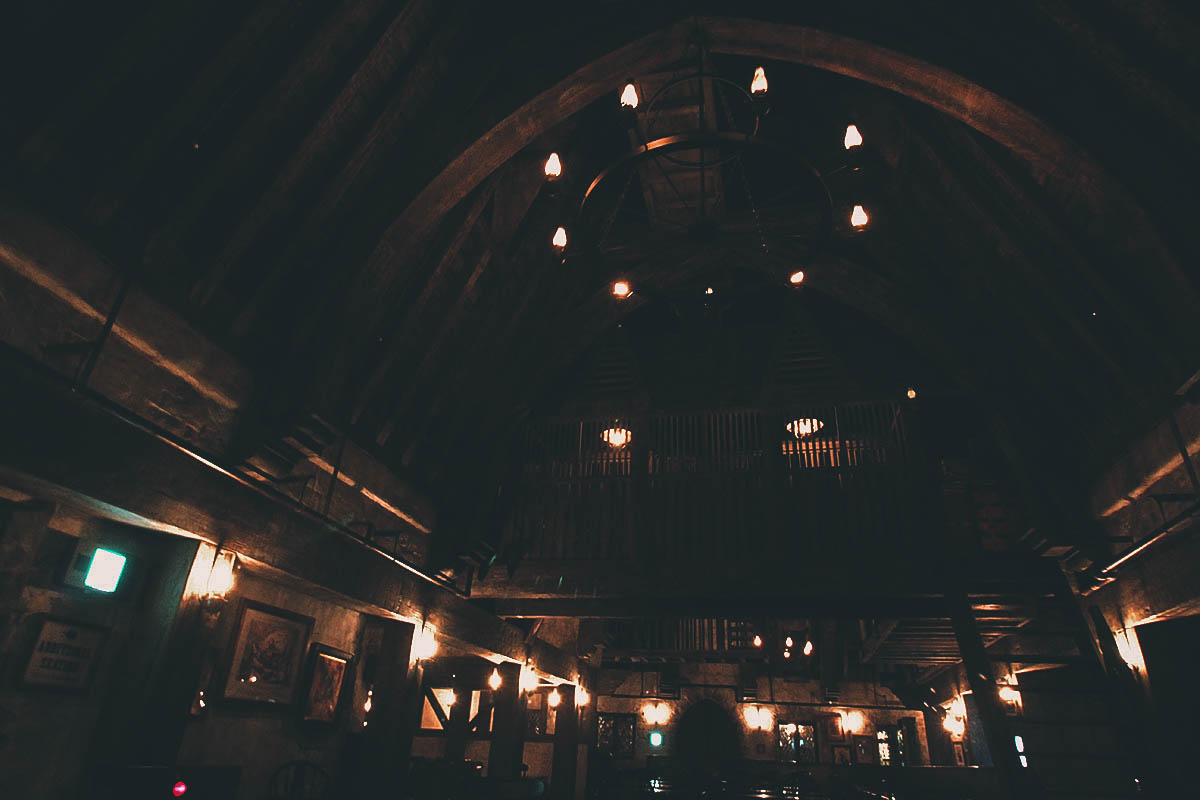 A better shot of the restaurant courtesy of USJ.

* Picture courtesy of Universal Studios Japan
A mug of the famous Butter Beer. I had seen this many times on social media and I always thought it was real beer. Turns out it's just some buttery sweet carbonated drink similar to root beer. 😆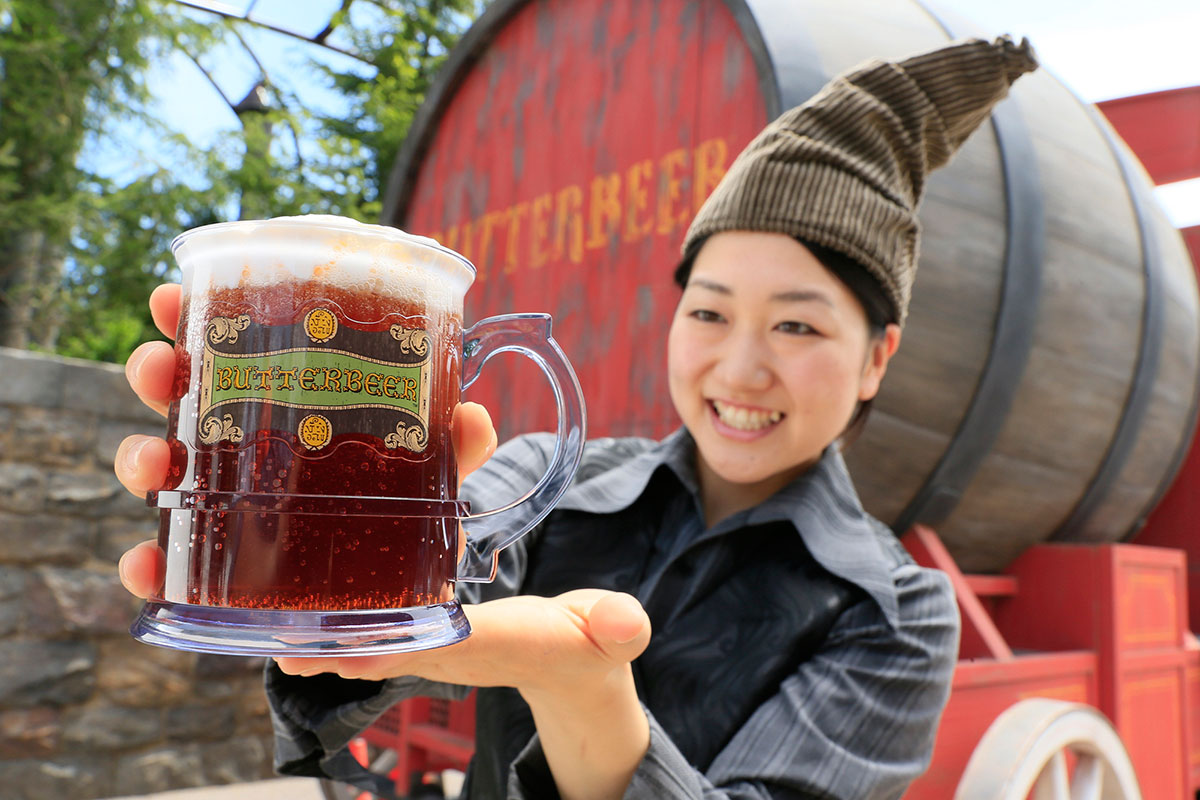 * Picture courtesy of Universal Studios Japan
UNIVERSAL COOL JAPAN
As described at the top of this post, we were invited to cover the limited time Universal Cool Japan 2017 attractions. There are five in all at USJ and we got to experience all of them! How luck were we?! 😀 These attractions are available from 13 January until 25 June 2017 only, so if you or your kids are fans of any these shows/movies, then I suggest you go pronto.
Because we had press passes, we were zoomed to the front of the line every time. Unfortunately, not everyone can be as lucky. Queues can get pretty long, sometimes 2-3 hours long, so you may realistically get to visit just a few of these attractions even with a full day at USJ. To help you decide which attractions to visit to maximize your time, I've listed them below in order of preference starting with my favorites.
1. Evangelion XR Ride
Hands down, my favorite ride of the day. I liked this even more than the Harry Potter ride and I liked that ride A LOT. Evangelion is a long-running anime series that started in 1995 I believe. I remember many of my art school animator friends being into it.
This was my first time experiencing virtual reality and it blew me away. As you can see below, they strap you into this roller-coaster-type thingy and put a VR headset over your eyes. Unlike the rides with 3D glasses where you can still see everything around you, this one is a completely immersive experience. For the duration of the ride, everything you see, hear, and feel IS Evangelion XR. It was awesome.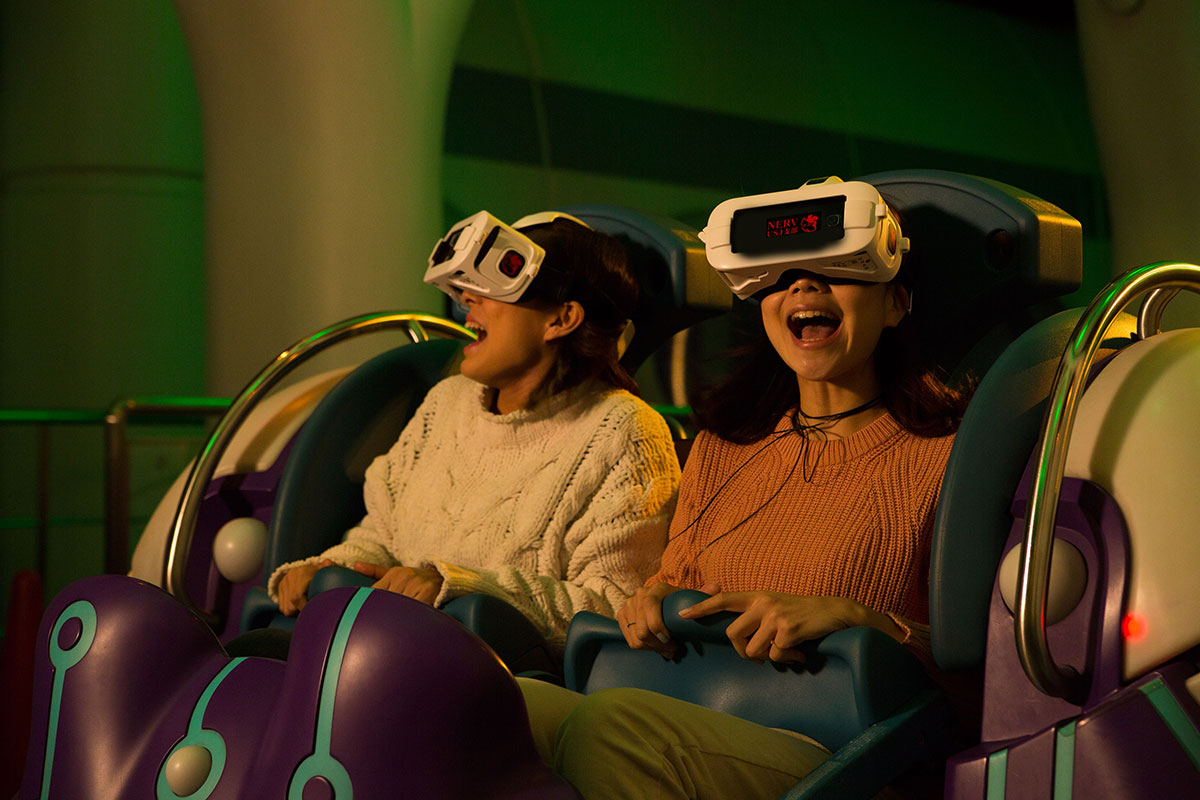 * Picture courtesy of Universal Studios Japan
Here's a sneak peak of what you'll see. You're basically in this spaceship that's zipping through and around an urban battlefield (Tokyo?) where good guy Evangelion cyborgs are kung fu fighting with bad guy giant Angels. It was super cool, and very convincing too! A couple of times, I found myself trying to reach out and touch the metal around me. 😆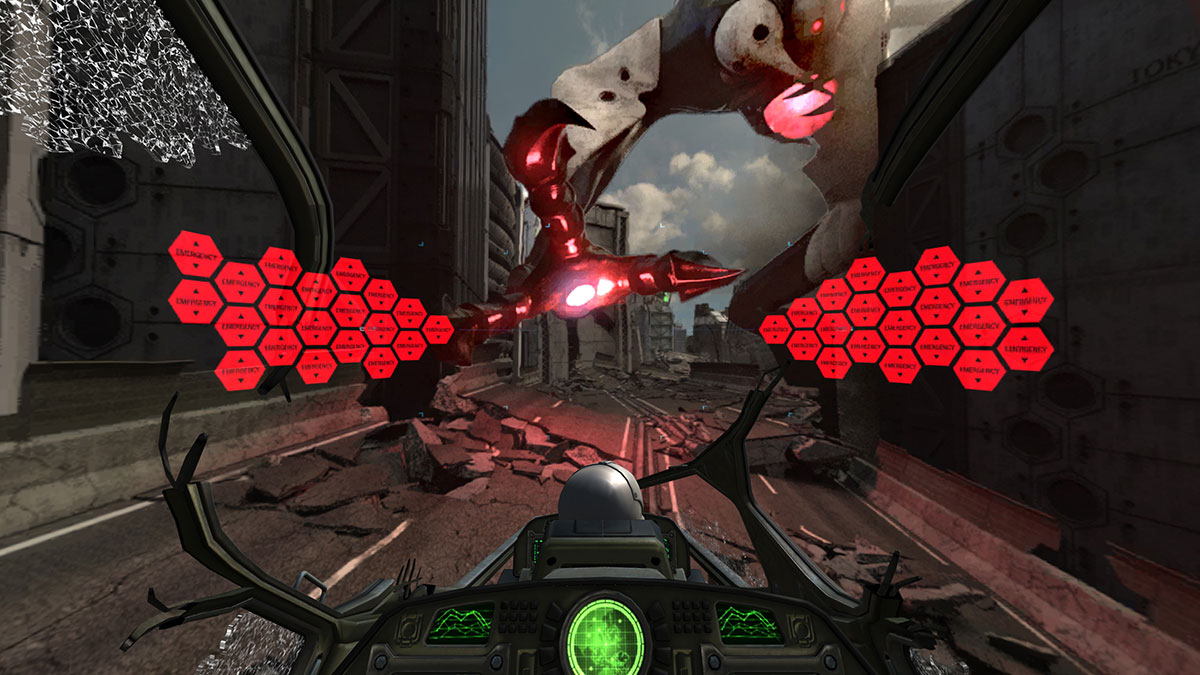 * Picture courtesy of Universal Studios Japan
If you enjoyed the ride, then you may want to bring home one of these Evangelion cyborg heads. Scroll down to see what they do.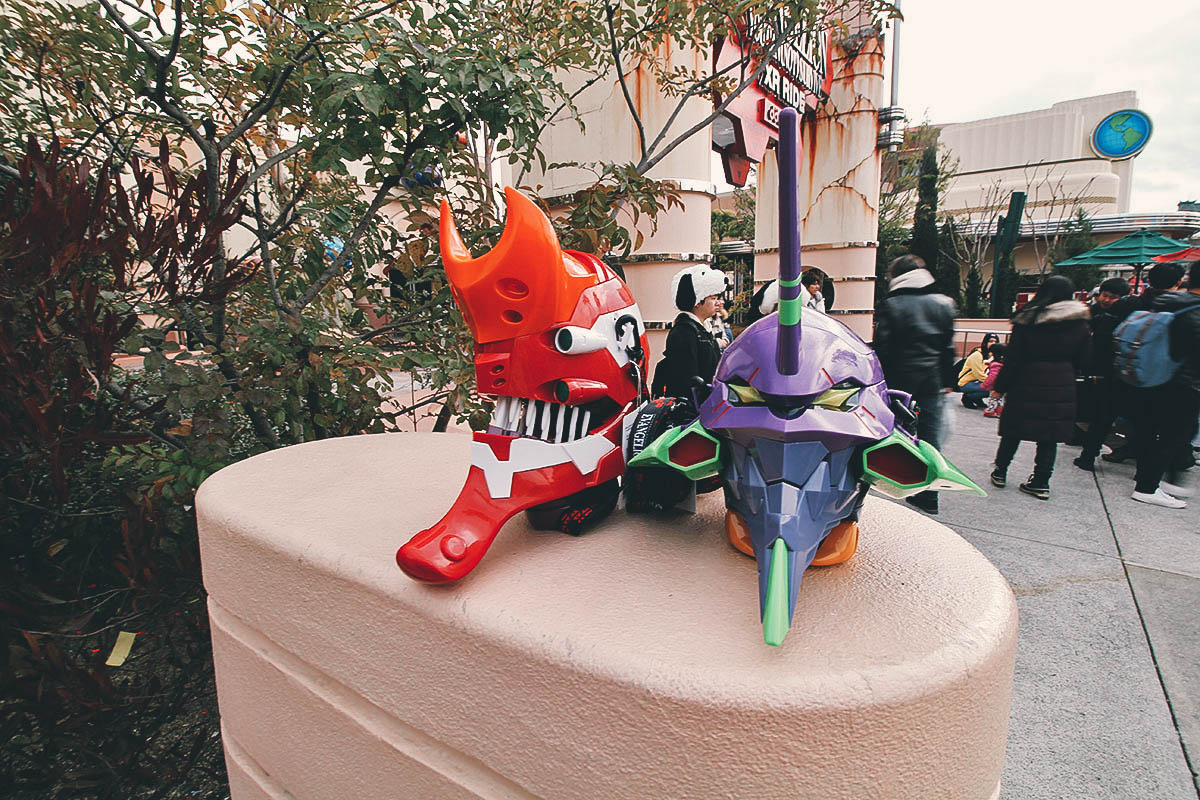 This one's eyes light up.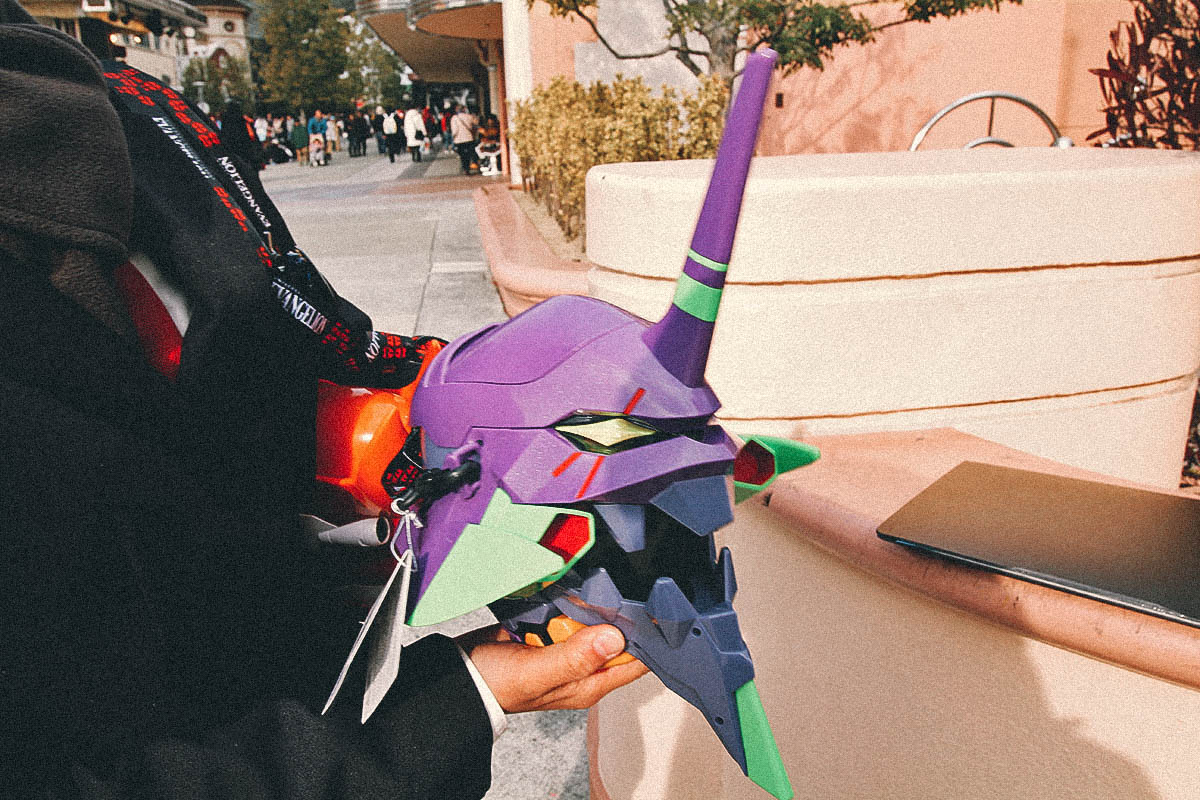 This one shows you its teeth and sticks out its tongue. Raaaaawwwrrr!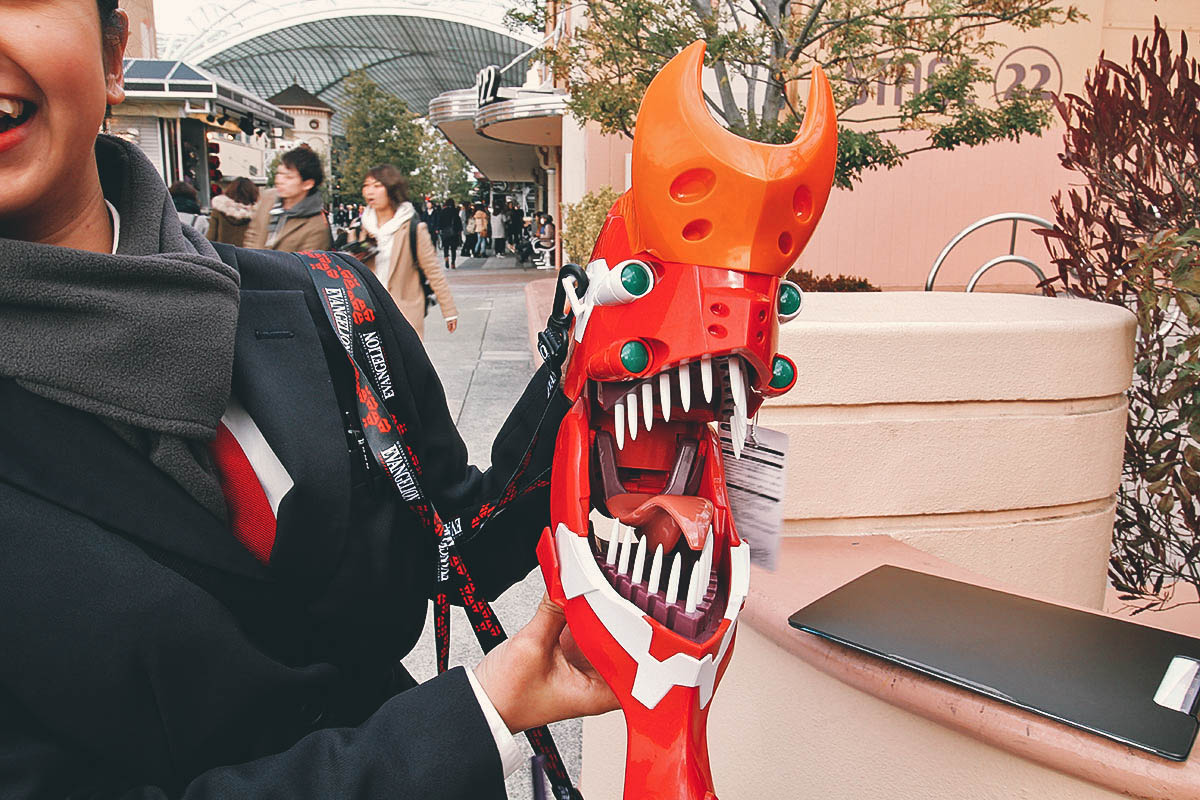 Best of all? They're both popcorn holders! 😆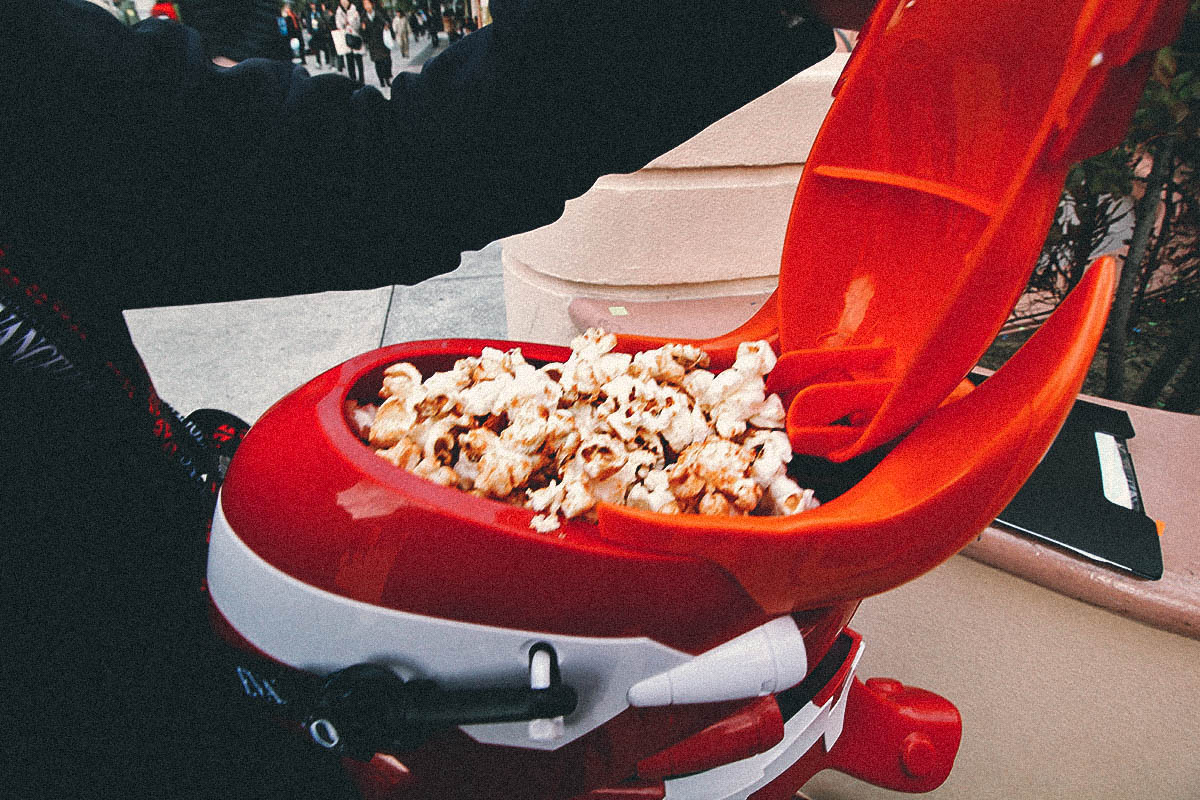 As a gift, they gave each of us one of these Evangelion popcorn holders to take home as a souvenir. Thank you so much USJ! They gave us another kind too, which you'll see at the bottom of this post. 😉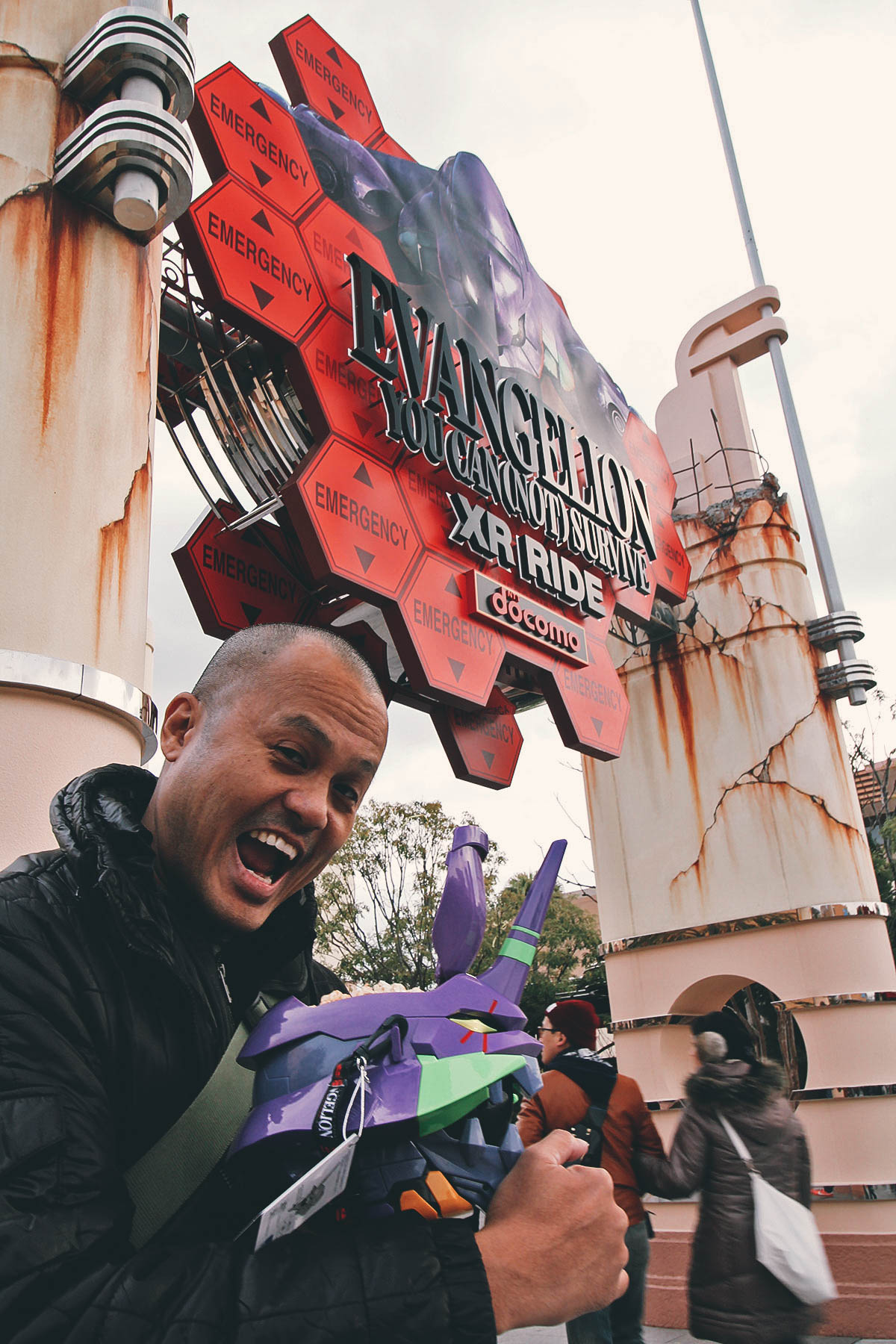 2. Detective Conan: The Escape
This was the only attraction among the five that wasn't an actual ride. Based on the Detective Conan (Case Closed) manga series, it's one of those live escape games where you have to solve a series of puzzles and riddles to get out. I've heard of this genre of games before though I've never tried it. This one challenges you to escape from a four-storey police station before it blows up!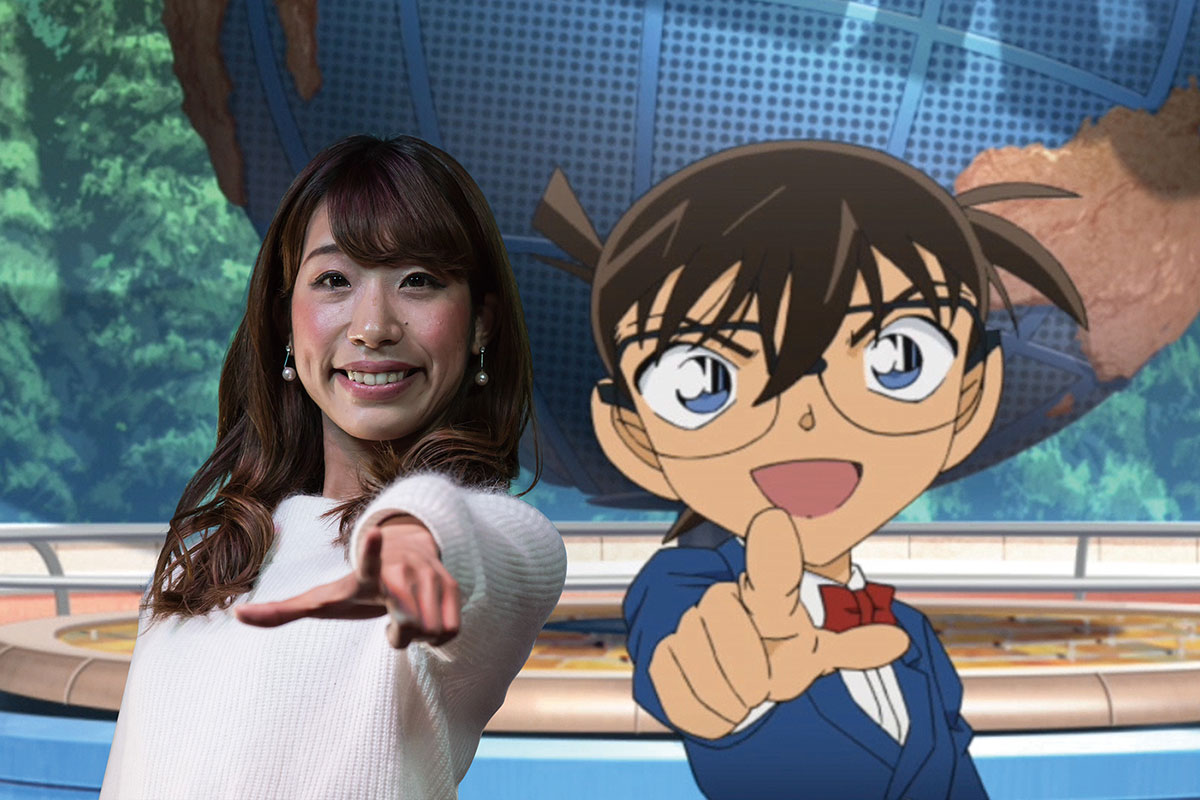 * Picture courtesy of Universal Studios Japan
Can't remember if I was feeling cool or dorky in this shot. 😆 Before entering the station, they strap that bracelet onto your wrist to simulate the bomb. Once it flashes red, you're dead. 😉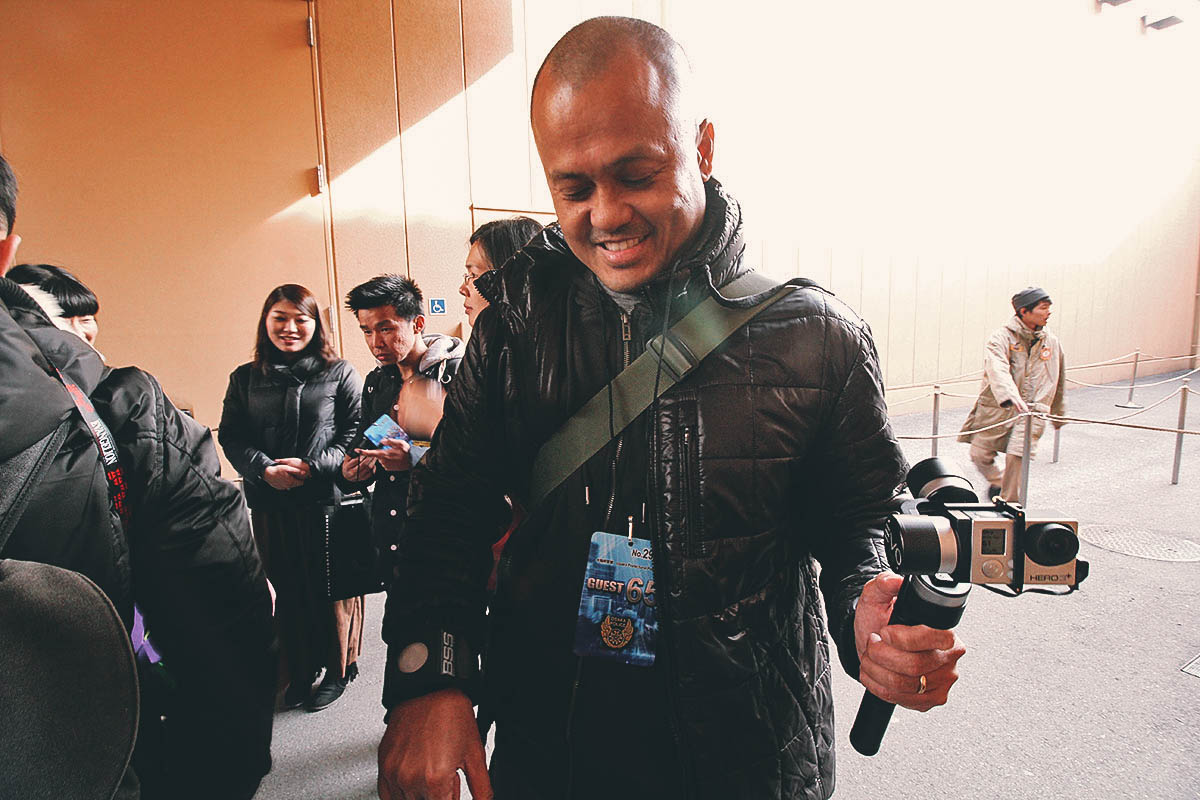 Before you start playing, they sit everyone down in this auditorium to watch actors perform a skit and get the story going. It's entirely in Japanese but you can kinda follow what's going on. If I understood correctly, some villain planted a bomb somewhere which you have to try and diffuse. Each team is given a tablet (in English or Japanese) which provides the sequence of clues.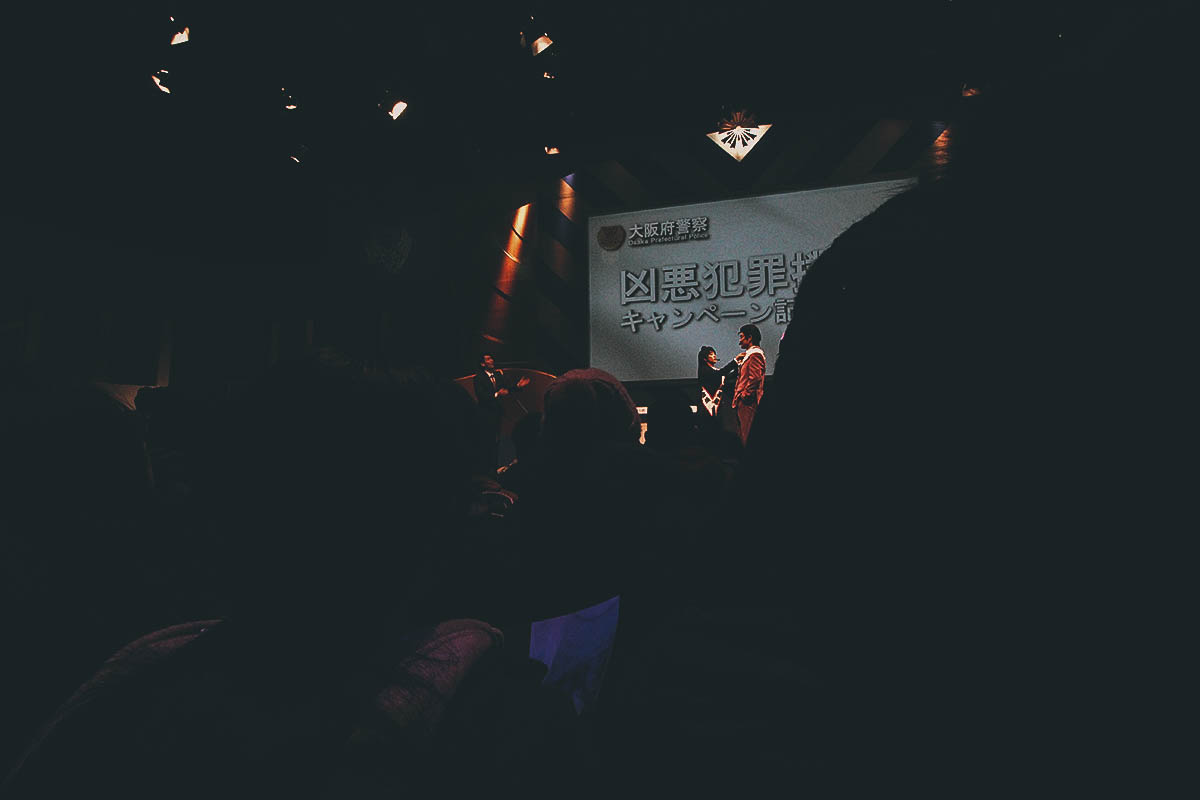 They go all out with the production yo! There was a real motorcycle riding around on stage.

* Picture courtesy of Universal Studios Japan
The police station had four storeys of rooms and clues that you had to contend with. The puzzles were pretty easy at first but they got progressively harder. If I remember correctly, we had 90 minutes to diffuse the bomb and get out of the police station alive. Most of us didn't. 😆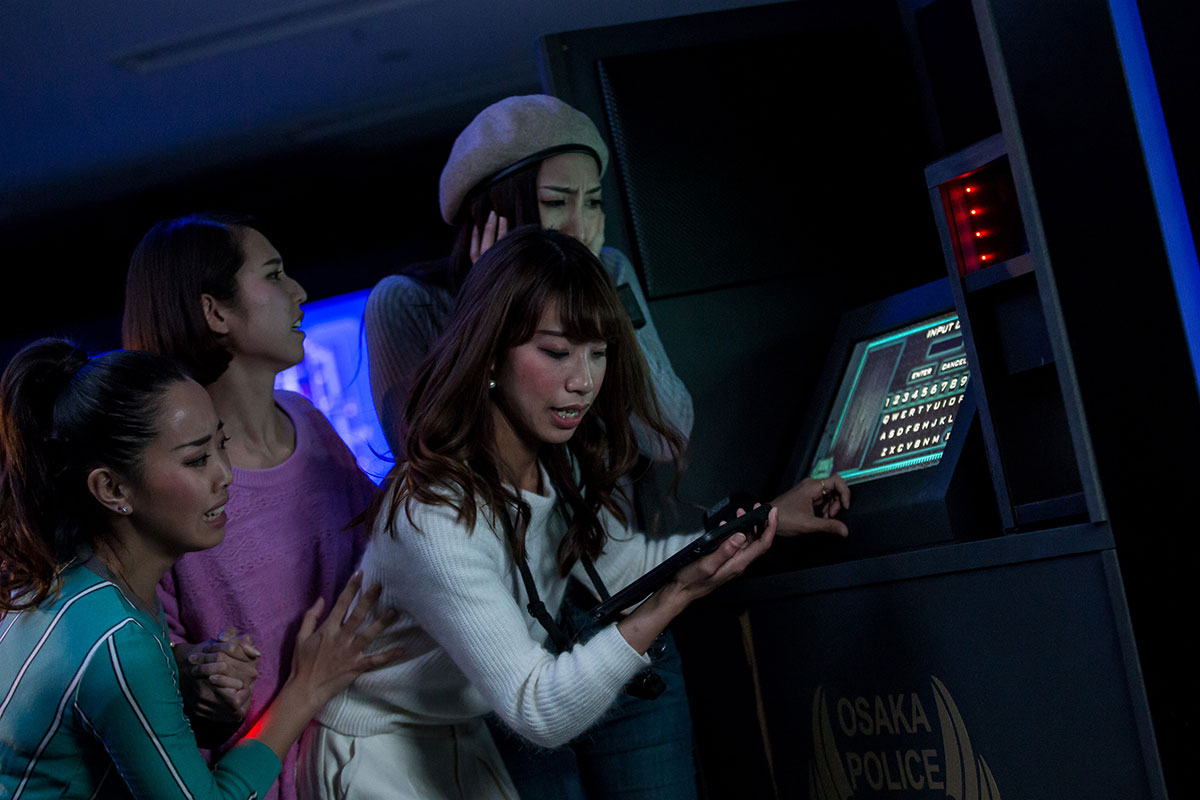 * Picture courtesy of Universal Studios Japan
A quick shot I took of one of the rooms. They really made the facility look like an actual police station complete with evidence rooms, a target practice range, etc. It's a fun game but if movement isn't your thing, then you may want to skip this. 😆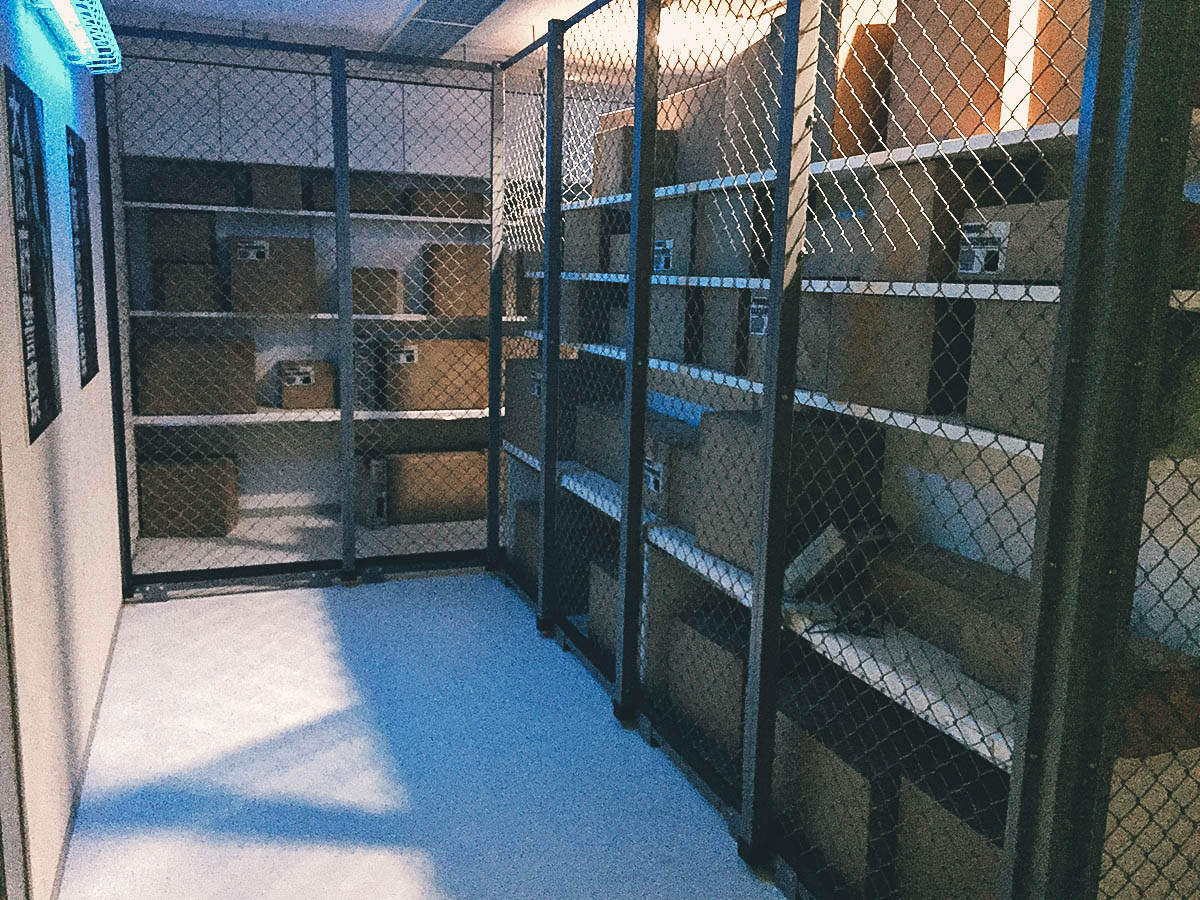 For lunch, they served us this Conan-inspired pumpkin chowder in a bread bowl. It was good! Detective Conan's bowtie was a biscuit.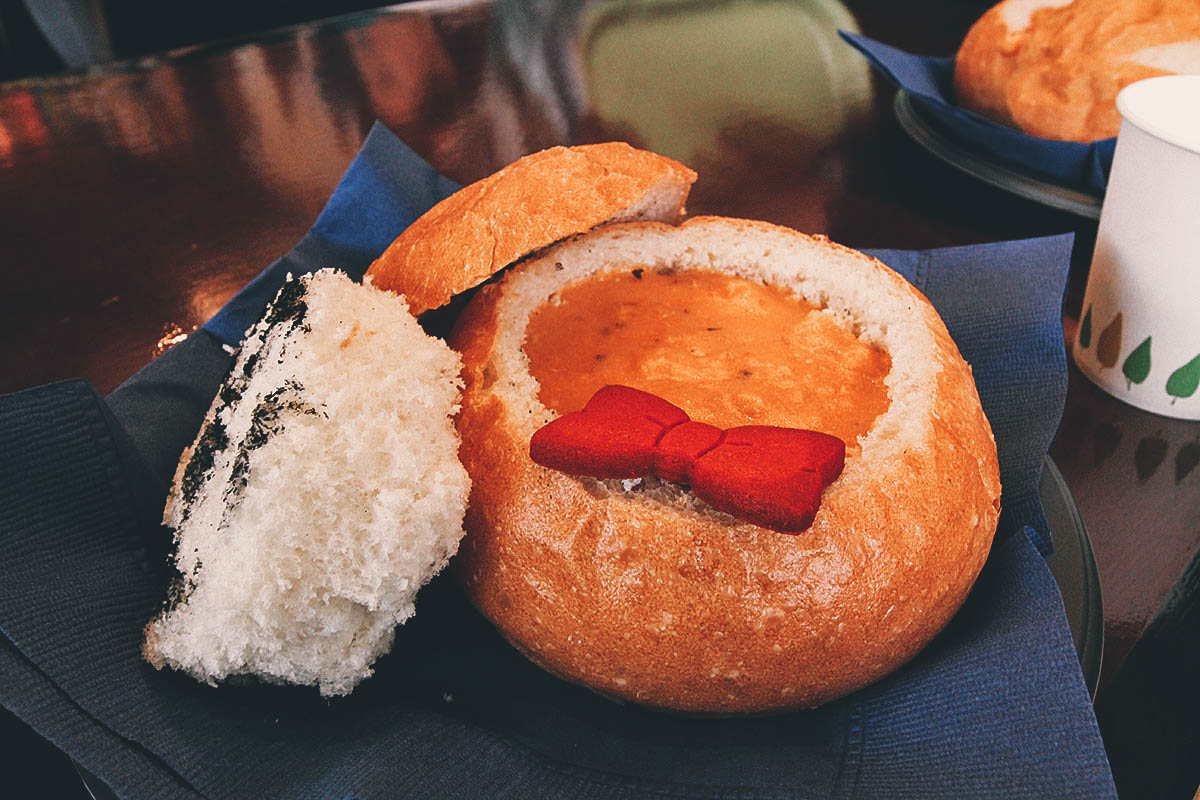 This had nothing to do with the show but I just wanted to show you the rest of our lunch which we had at the Studio Stars Restaurant. They gave us some type of Japanese curry dish. Delicious!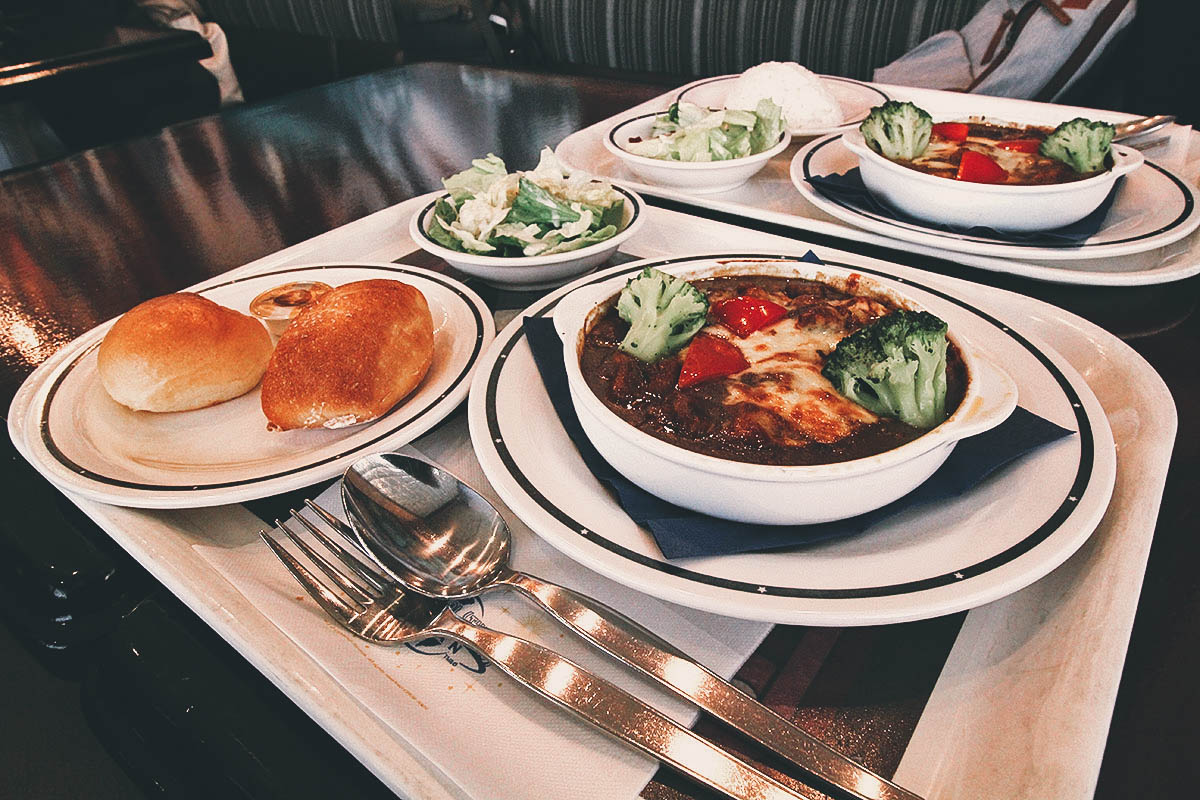 3. Attack on Titan: The Real
Ok, not to be a tito (literally "uncle", funny way of saying older dude), but this was kinda weird. It's a 4D show based on the Attack on Titan manga series about these giant, naked, zombie-like humanoids that move around on all fours trying to eat every human they see. A little perturbing to look at, they reminded me of big ventriloquist dolls with their emotionless eyes and toothy grins. Every time they chomped down on a human, you'd get sprayed in the face with water while blood splattered all over the movie screen. Delish! 😆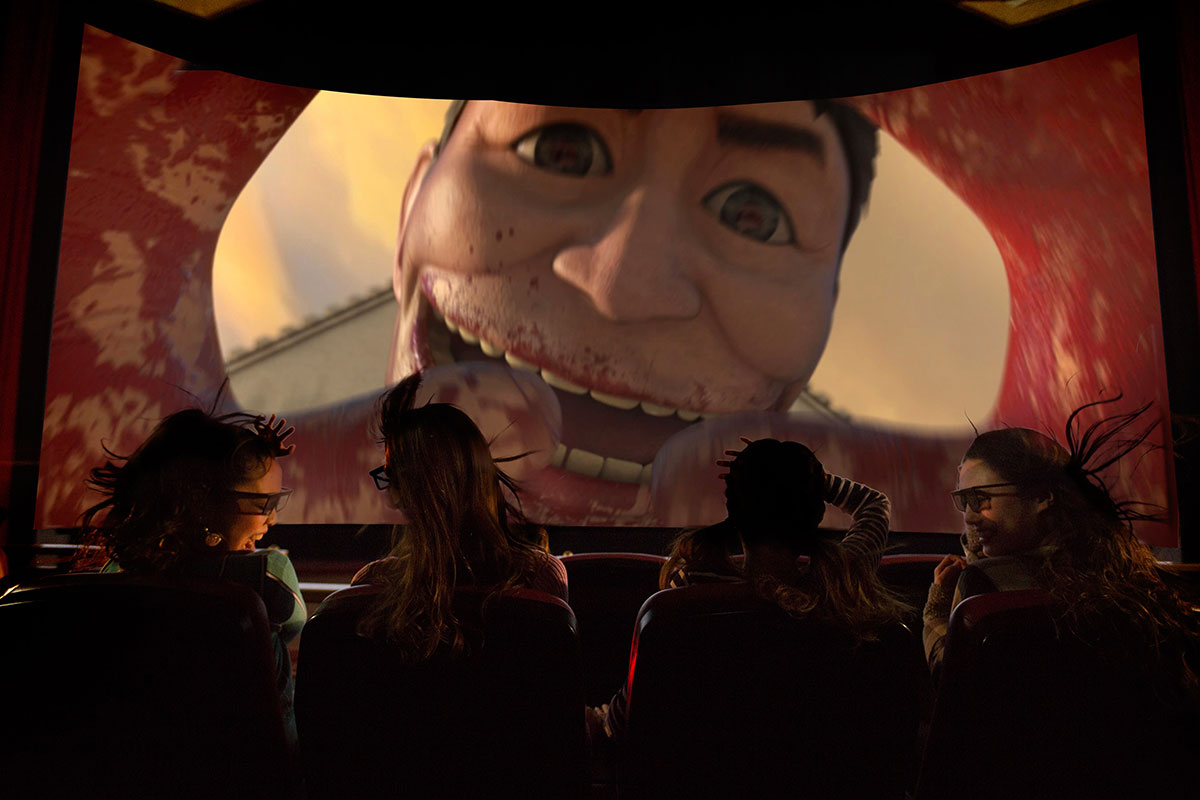 * Picture courtesy of Universal Studios Japan
Speaking of delish, fans of the show can try these Wall pies inspired by the show. To protect themselves from the giant nudists, the humans built a wall around their town which is what these potato-made snacks are named after. Notice how they resemble bricks? I didn't try it but everyone said they were tasty.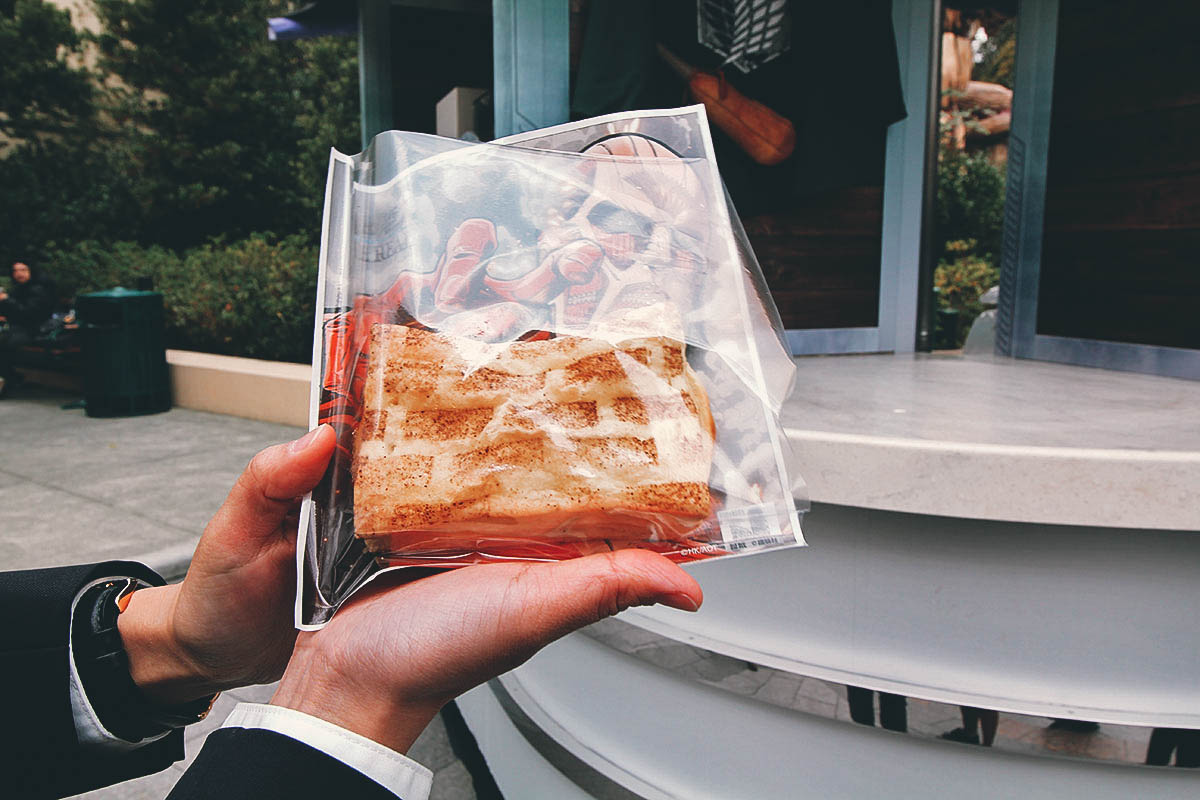 And the best actor award goes to… 😆 Outside the Attack on Titan theater is this giant photo op statue. What you're looking at isn't a camera trick. It really is a massive statue built for the sole purpose of taking home these awesome picture souvenirs. USJ was generous enough to give ours for free but you'll have to pay a fee to get yours taken. They print the picture on the spot and insert it into a handsome Attack on Titan cardboard frame. So cool!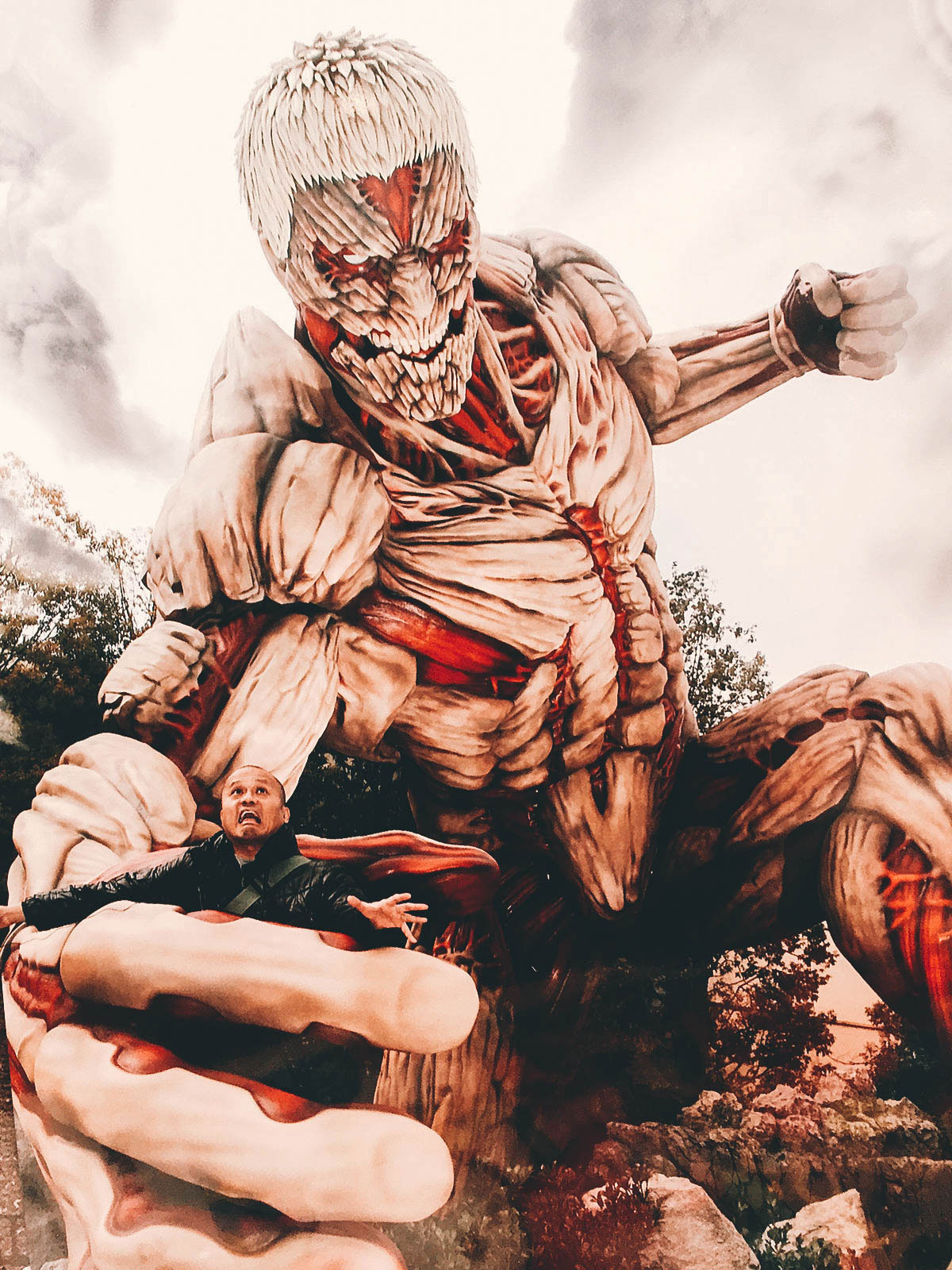 4. Godzilla: The Real 4-D
Like Attack on Titan, this was a 4D show based on the iconic Godzilla films. You ride shotgun in a fighter jet as it tries to feed Godzilla a steady diet of air-to-air missiles. (Settle down dude. I already won the best actor award. 😛 )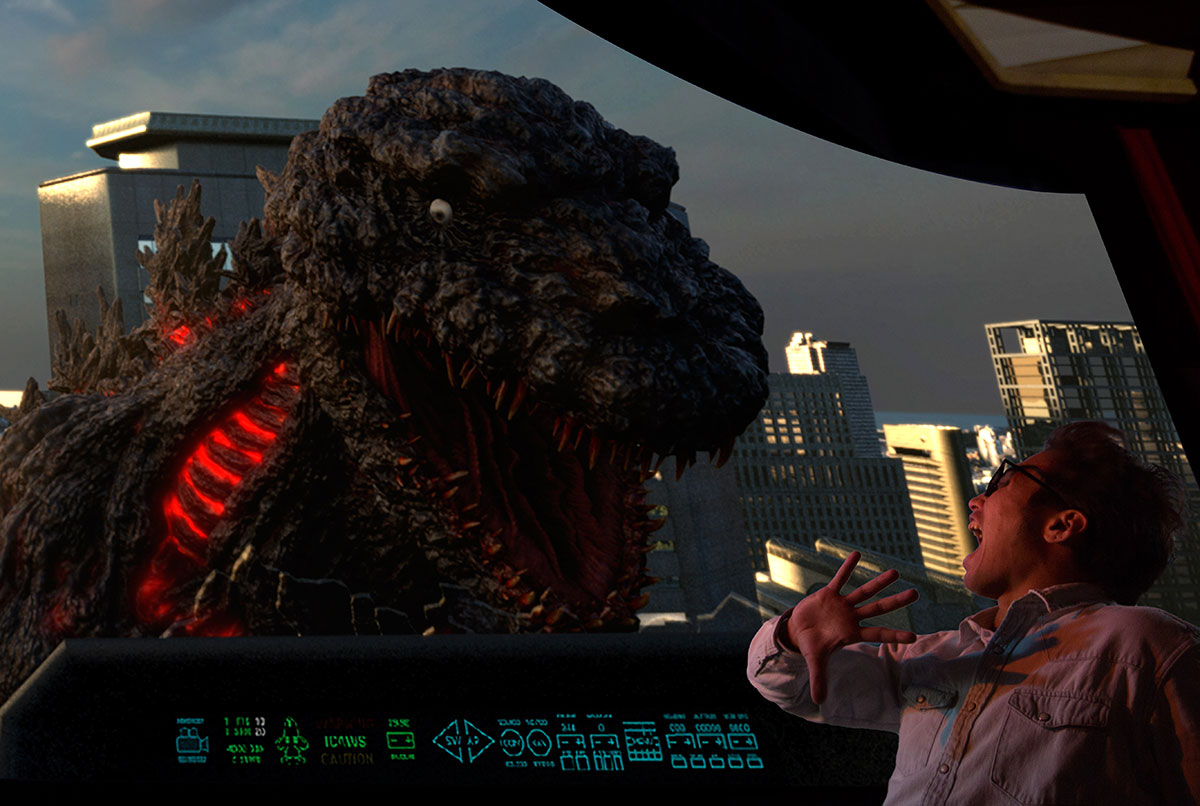 * Picture courtesy of Universal Studios Japan
After the show, they gave us a taste of these Godzilla-inspired siopao buns. They were filled with a reddish puree that was a little spicy and quite good!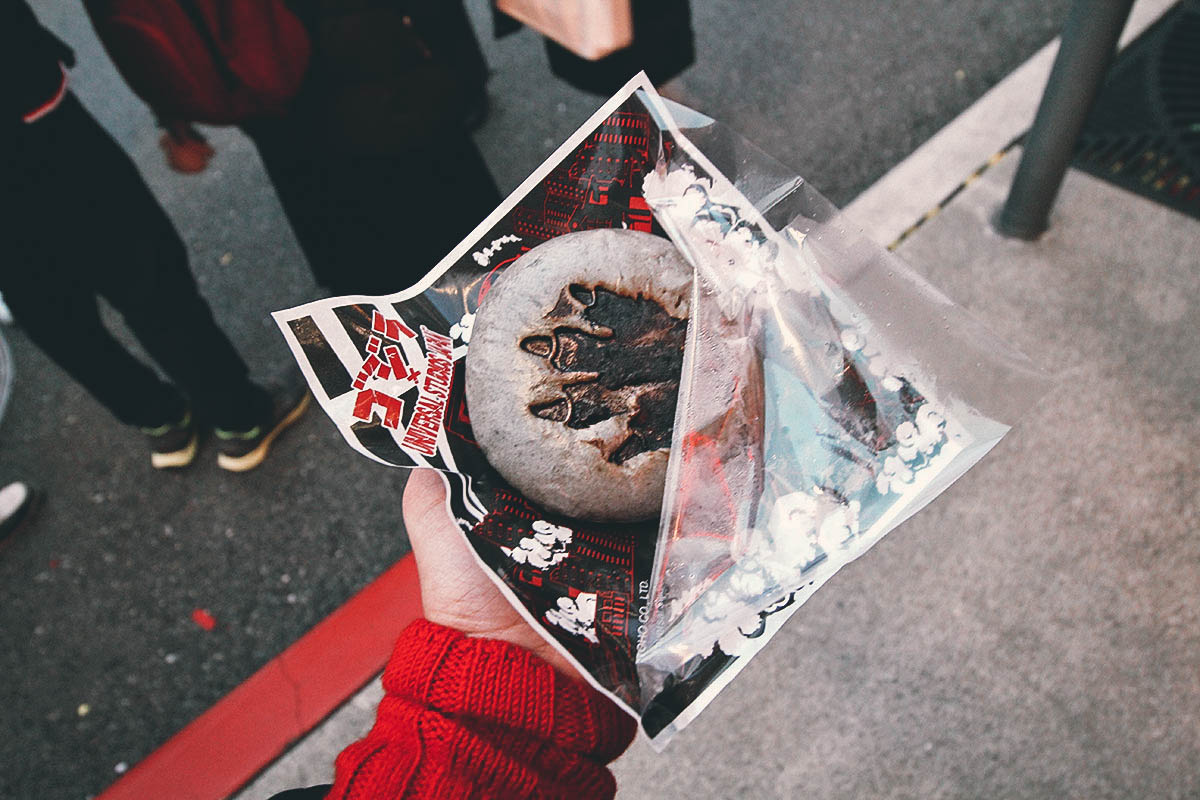 5. Monster Hunter: The Real
This short film is based on a popular series of action video games where you try to capture (or kill) a bunch of fantasy-inspired monsters. I guess it's kinda like a more macho version of Pokemon?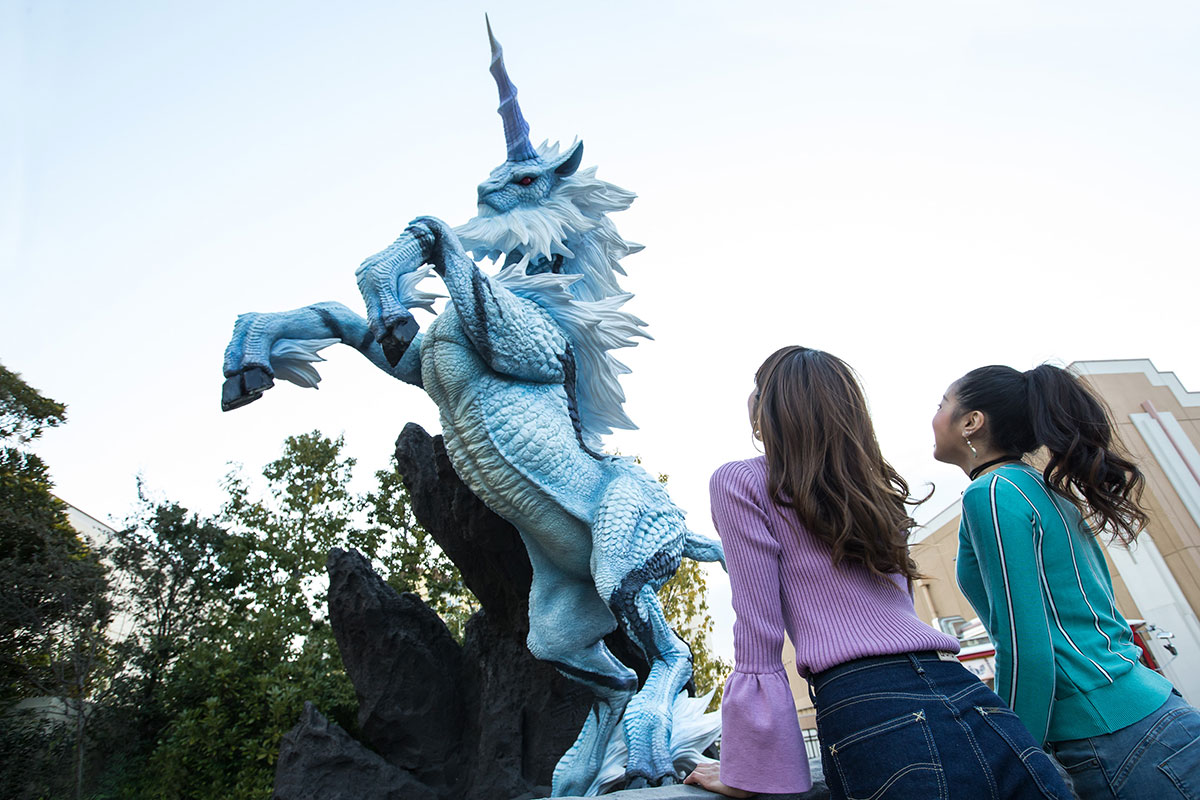 * Picture courtesy of Universal Studios Japan
Unlike the other 4D attractions, we weren't wearing 3D glasses for this one but it does feature a massive screen. It's so big in fact that it feels like it's wrapping around the entire room! Participants stand on a stage that looks like the galleon of a ship and push a button to attack the monsters appearing onscreen.


* Picture courtesy of Universal Studios Japan
From time to time, you get sprayed in the face with mist. Or was that someone's spit? 😛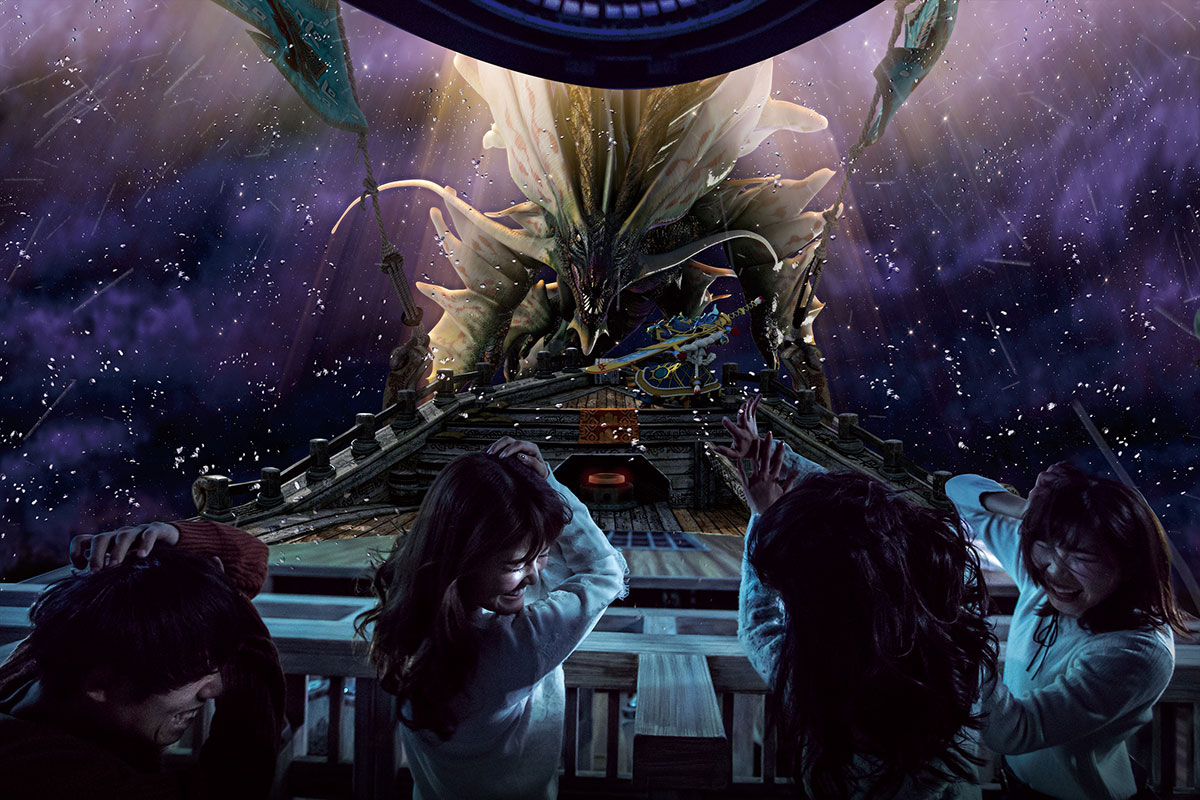 * Picture courtesy of Universal Studios Japan
Just outside the theater is this Happiness Wagon serving Monster-Hunter-inspired energy drinks.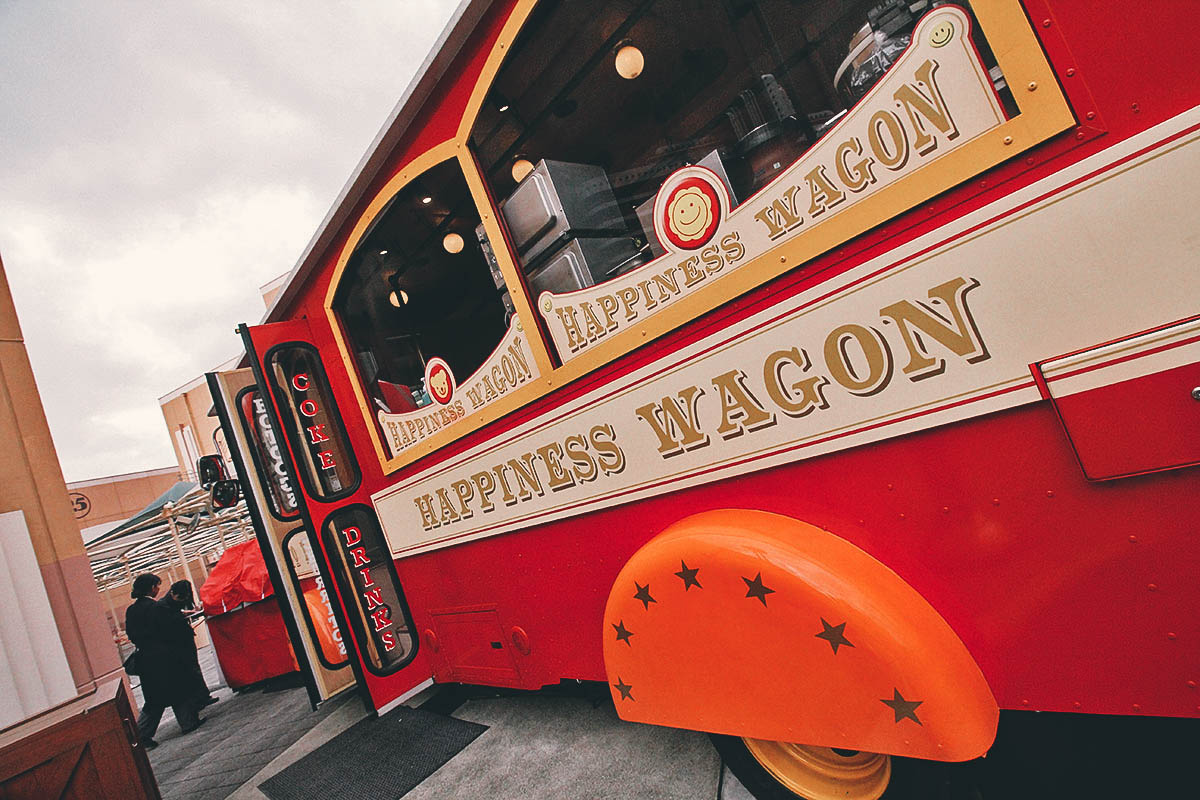 They reminded me of warm lemonade served with pop rocks. You dump the rocks into the drink and watch it snap, crackle, and pop! According to our USJ guide Yamashita, it'll give you the energy to catch more monsters. 😉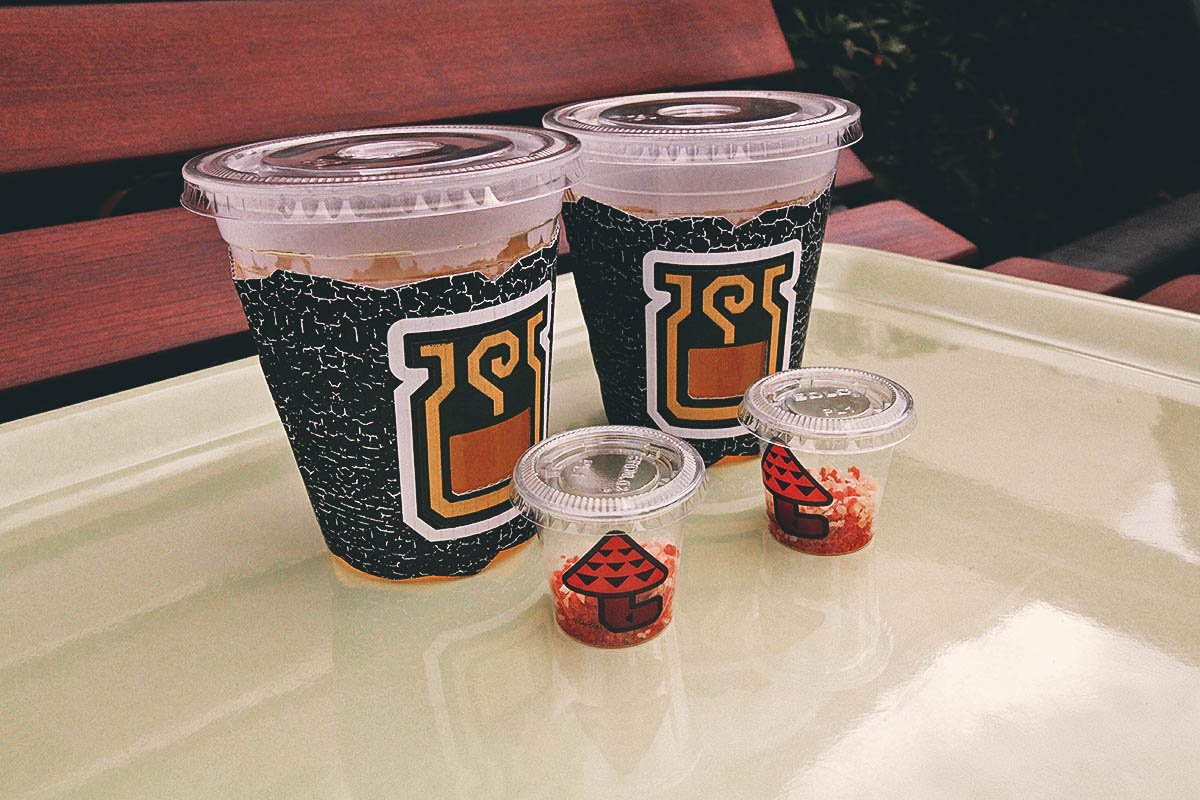 We weren't allowed to use our cameras inside any of the attractions so I made a quick video walking around the park instead. If you like shitty videos, then you'll love this. ♥
UNIVERSAL STUDIOS STORE
There are merchandise stores all over USJ but this is the main one. It's also their biggest.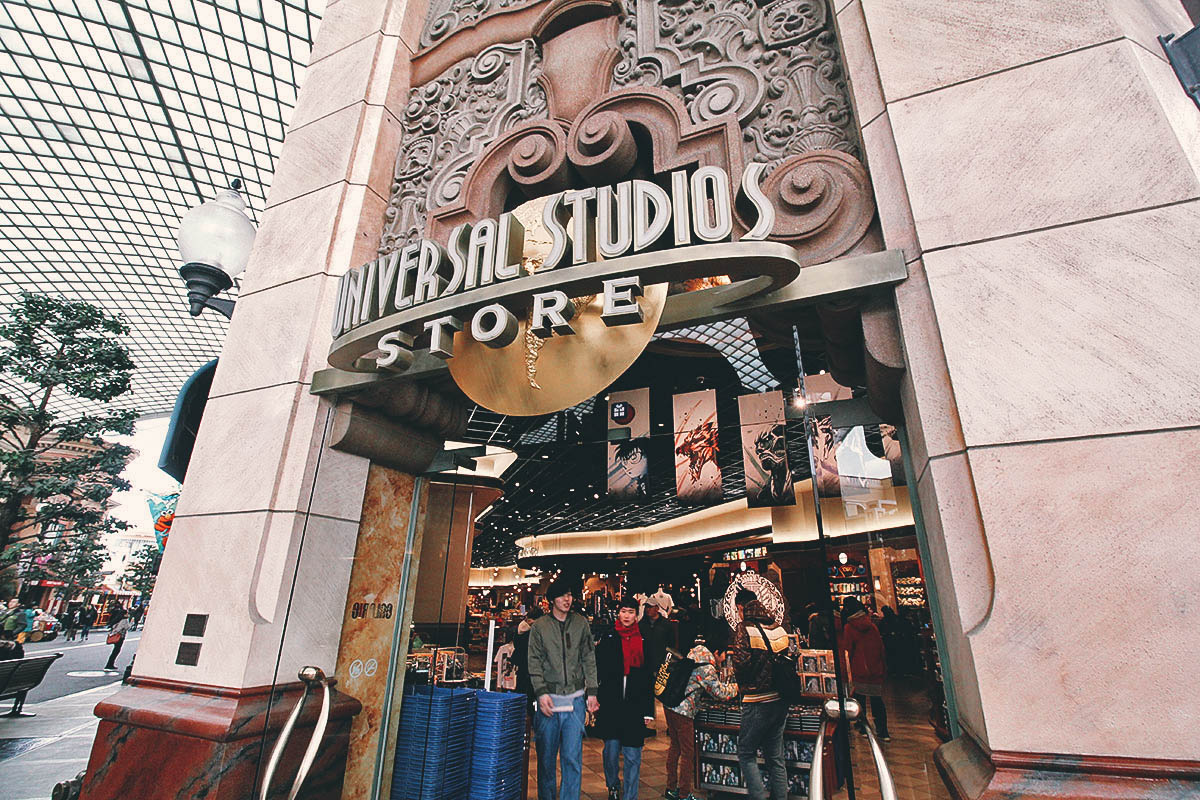 Here you can buy all kinds of merchandise related to the Universal Cool Japan attractions featured in this post.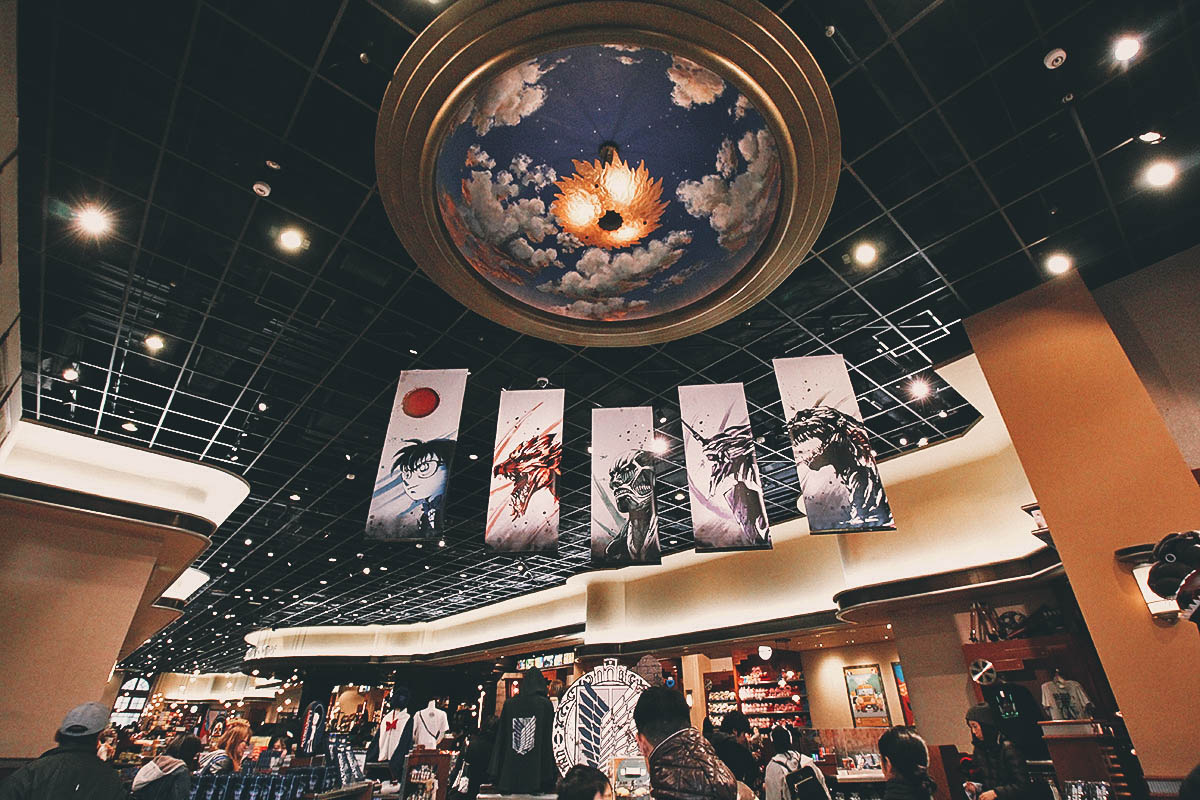 There's our awesome guide showing off their Godzilla merchandise. Each country was assigned a different guide and we were lucky to get Yamashita. She's half Japanese, half Filipina and can speak Tagalog very well. I had never met a Japanese person speak fluent Tagalog before so that was a shock! She did a fantastic job explaining everything to us and keeping us on schedule. What a treasure she was. (Sorry, couldn't help it. Tito joke. 😆 )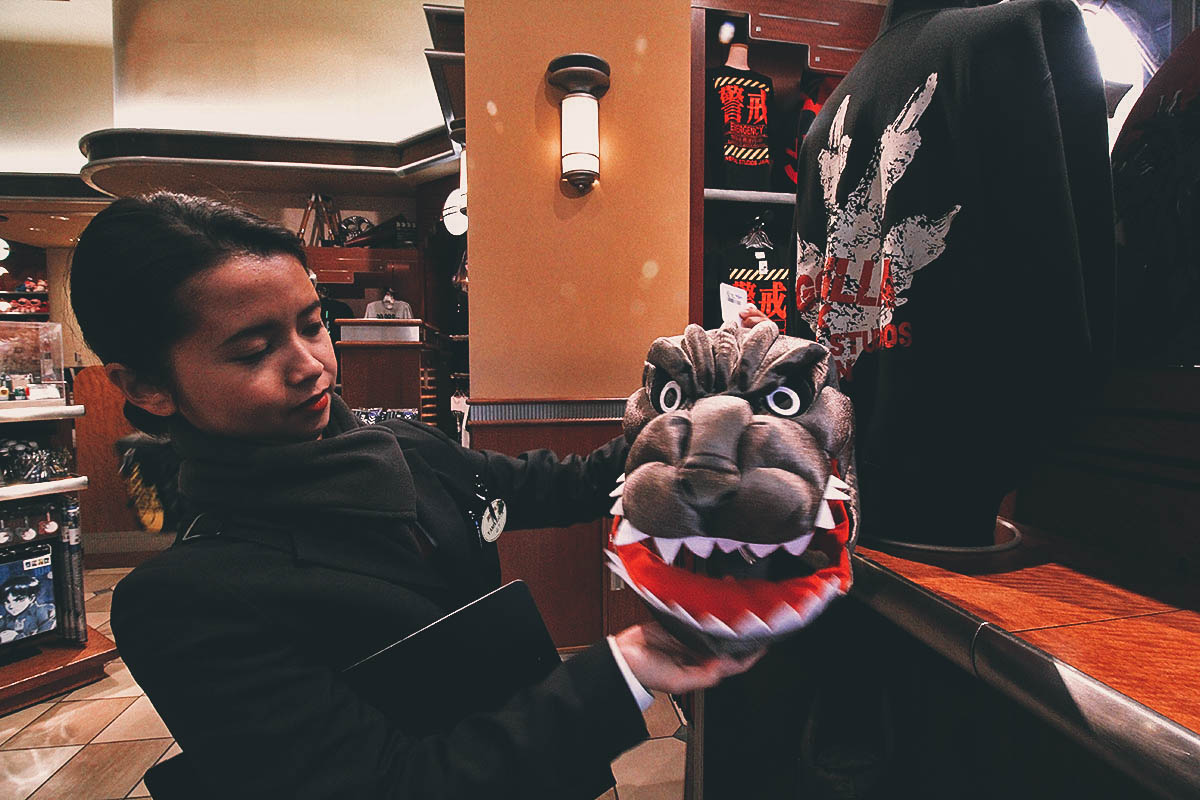 Detective Conan tumblers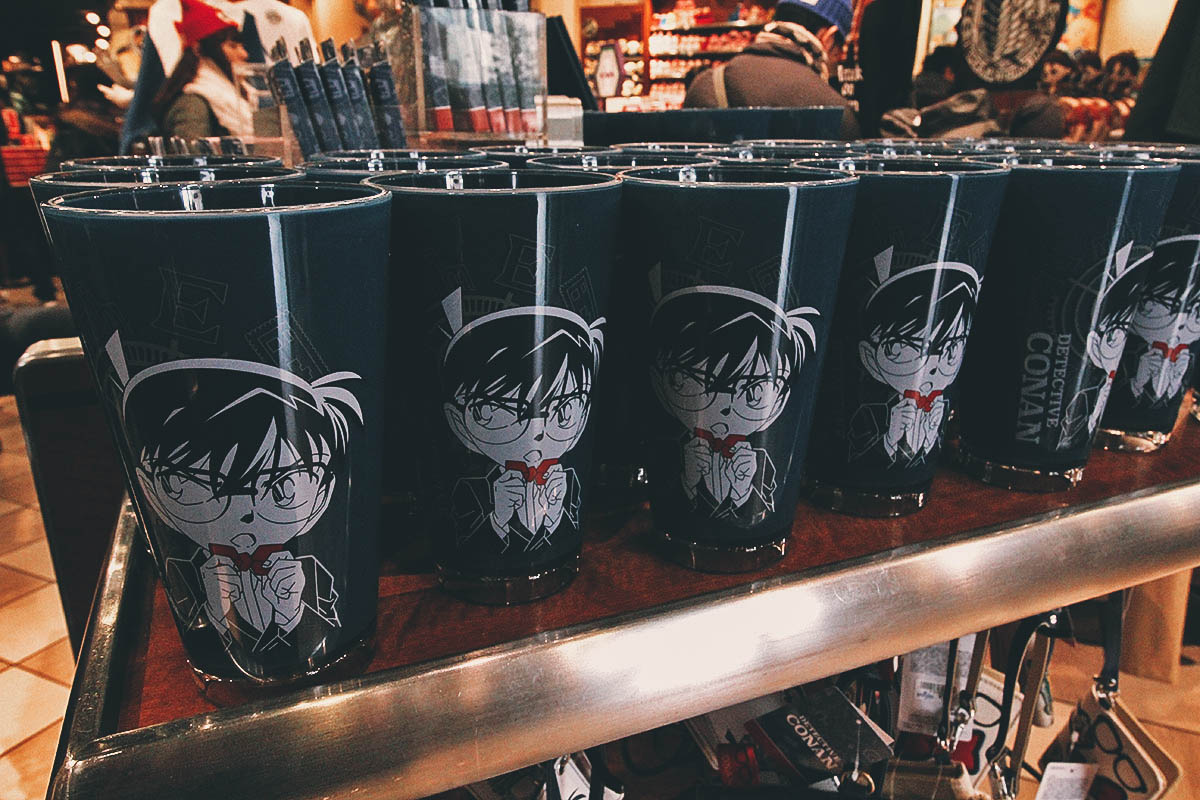 Attack on Titan hoodies, shirts, and jackets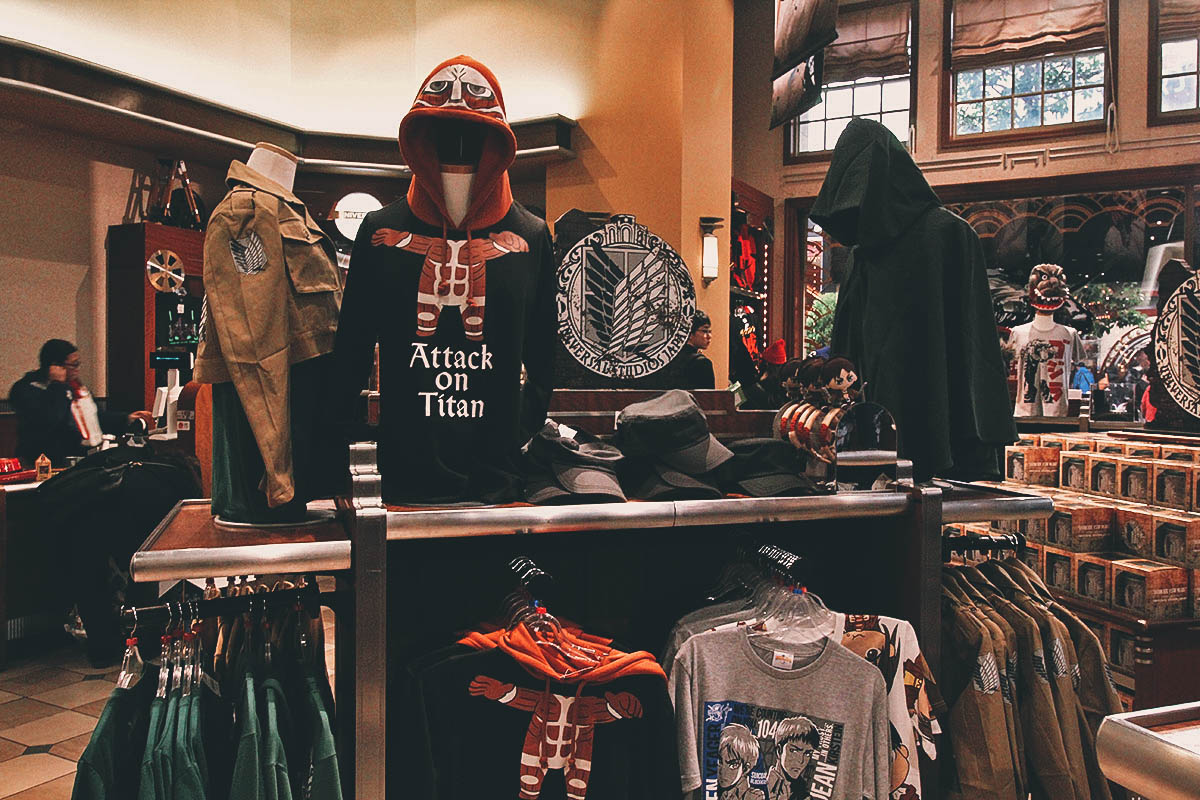 Minion ramen! Isn't this fun? According to Yamashita, the Minions are a massive hit in Japan…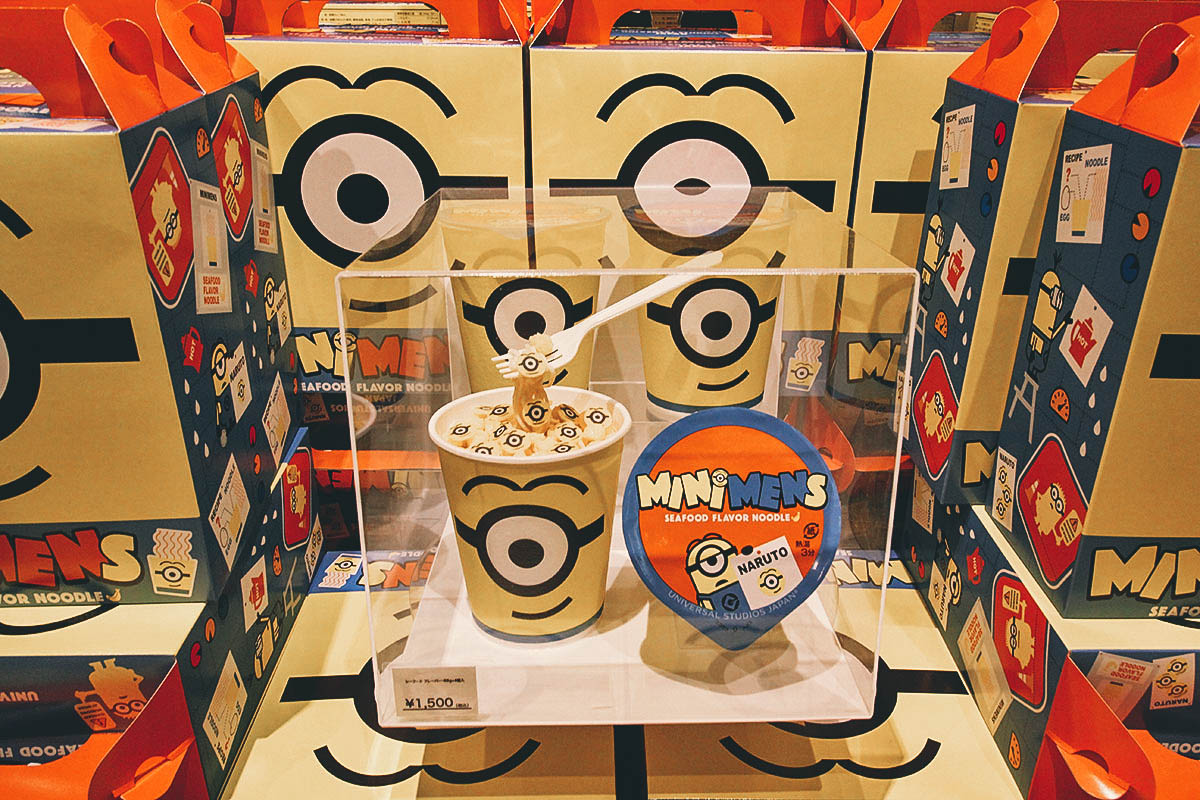 …which brings us to the other popcorn holder I mentioned earlier! Isn't it cute?! It talks too. You push a button to get it to say all these phrases in Japanese. 😆 These Minion popcorn holders come in many different poses.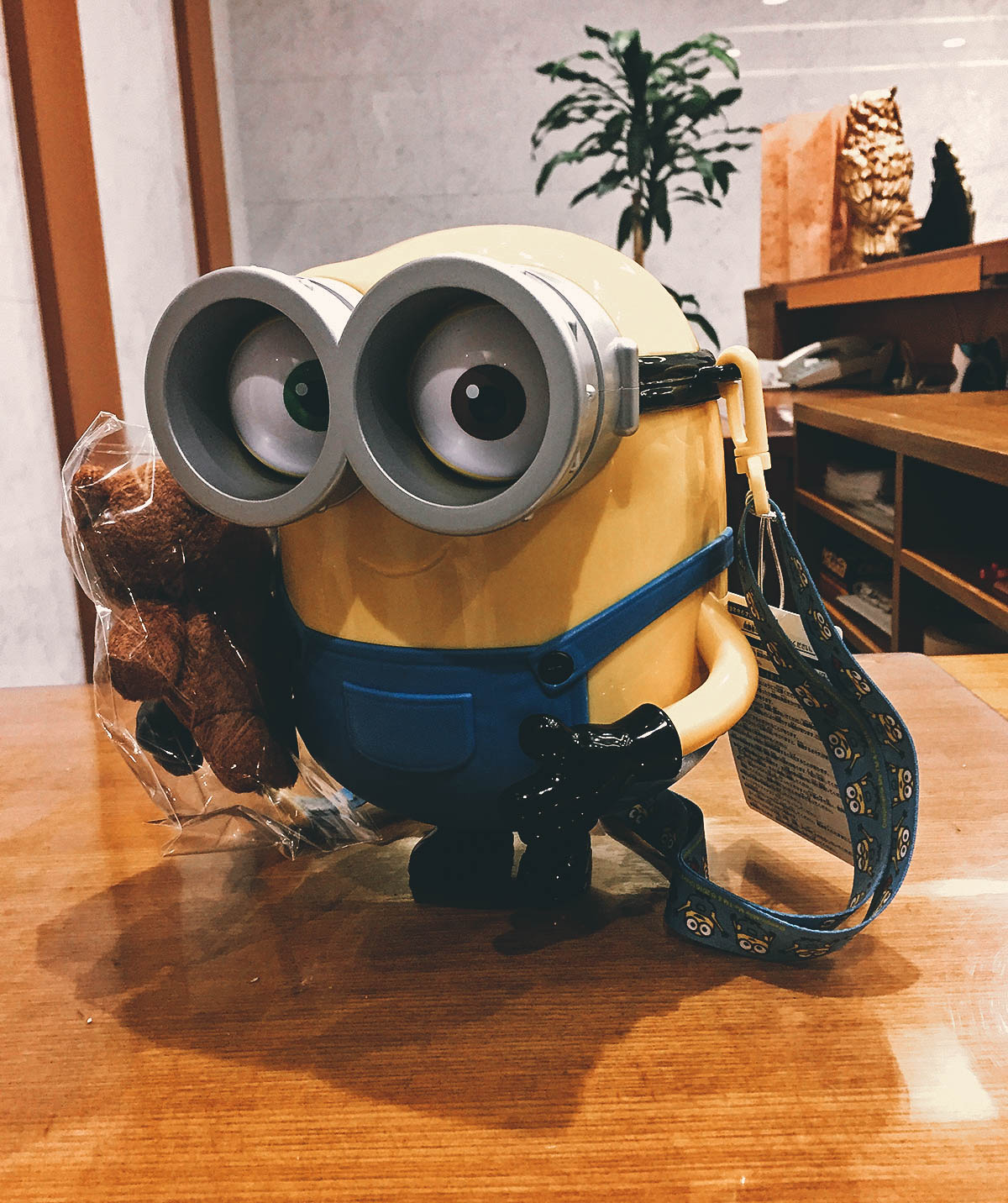 Minions have popcorn for brains. 🙂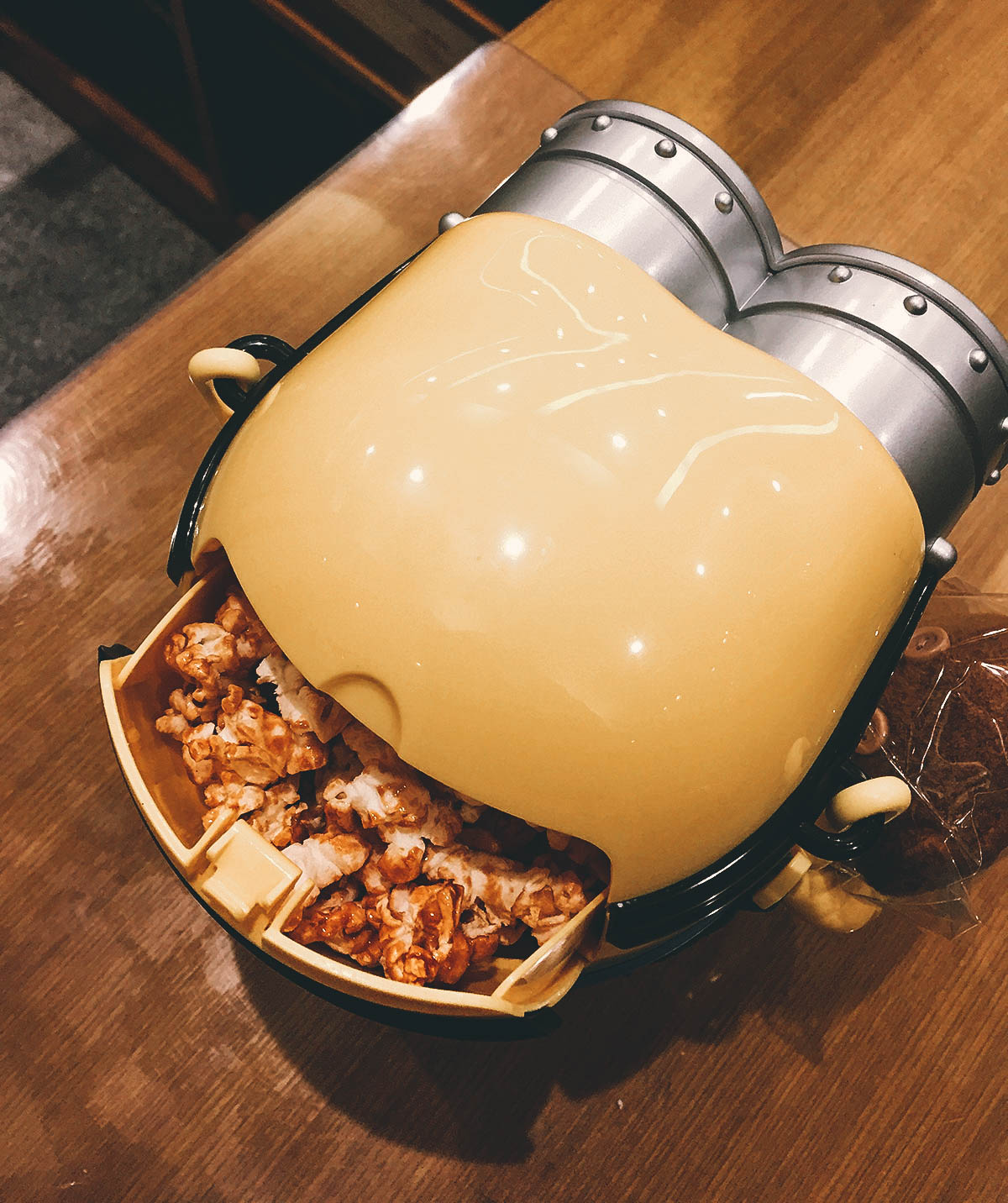 You can purchase USJ tickets at the gate or get advanced tickets online through the USJ website. You can also purchase advanced tickets through Klook or Kkday, both of which are official USJ agents. Follow these links to buy Universal Studios tickets from Klook or Kkday. They have other Universal Studios deals as well so be sure to browse all their listings: Klook | Kkday.
A HUGE thank you to Cebu Pacific Airlines, Universal Studios Japan, New Otani Osaka Hotel (where we stayed for 2 nights), JR West (provided all our transportation), and everyone else responsible for making this trip happen. I'm abundantly grateful for the hospitality you showed us and I hope more people get to experience the things we did thanks to you. All the best in 2017! 😀
Universal Studios Japan
2 Chome-1-33 Sakurajima, Konohana Ward, Osaka, Osaka Prefecture 554-0031, Japan
Tel: +81 570 200 606
Website: usj.co.jp
Facebook: UniversalStudiosJapan
Twitter: USJ_Official
Operating Hours: Mon-Fri, 9AM-7PM Sat-Sun, 9AM-8PM
TICKETS
1-Day Studio Pass: JPY 7,600 — Adult / JPY 5,100 — Child (3-11) / JPY 6,830 – Senior (65+)
2-Day Studio Pass: JPY 12,800 — Adult / JPY 8,620 — Child (3-11)
Follow the link for pricing information on Universal Express Passes.
HOW TO GET THERE:
Take the subway to Universal City station (JR Yumesaki line). Universal Studios Japan is about a 5-minute walk from there.
Disclosure
This trip was made possible by Cebu Pacific Airlines, Universal Studios Japan, New Otani Osaka Hotel, and JR West. We were guests of USJ and given free admission as well as complimentary food and drinks. They invited bloggers/media from different countries to promote Universal Cool Japan 2017. As always, opinions expressed in this post are mine and mine alone.
Some of the links in this post are affiliate links, meaning we'll get a small commission if you make a purchase at NO extra cost to you. We really appreciate your support as it helps us keep this website going. Thank you!