Rucksack Inn @ Mackenzie: A Clean, Conveniently Located Budget Hotel in Singapore
Singapore is expensive. According to a recent article on CNN, it isn't just one of the world's most expensive cities to live in, it's the MOST expensive, topping the list for the third year in a row.
Ren and I don't like spending too much on accommodations so it was a little challenging to find a decent room (no hostels for us) in the city. I'm sure many travelers to Singapore have similar concerns so you'll be pleased to learn about this gem of a hotel Ren found on the outskirts of Little India. Our room was clean with a private bathroom, a safe, a mini-ref, and fast in-room wifi, plus the hotel is just a 2-minute walk from the nearest MRT station and hawker centre. We paid SGD 76.50 a night for our room which is a pretty good deal in Singapore.
Rucksack Inn, Little India
Rucksack Inn is located just a short walk from the Mackenzie Road exit of Little India MRT station. It's right next to the Selera Restaurant.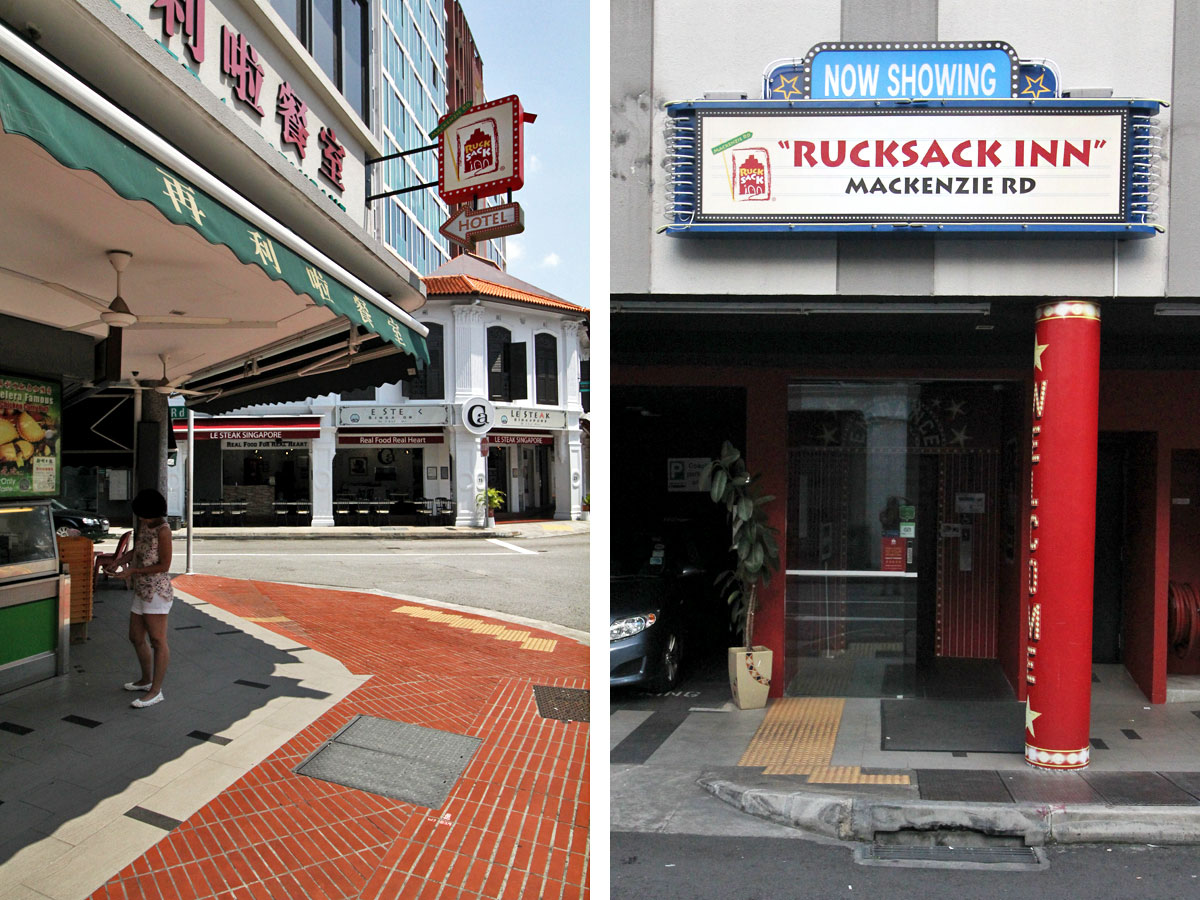 Interestingly, the lobby of the hotel is located on the top floor. You'll be met by this elevator which you can take to the fifth floor to register.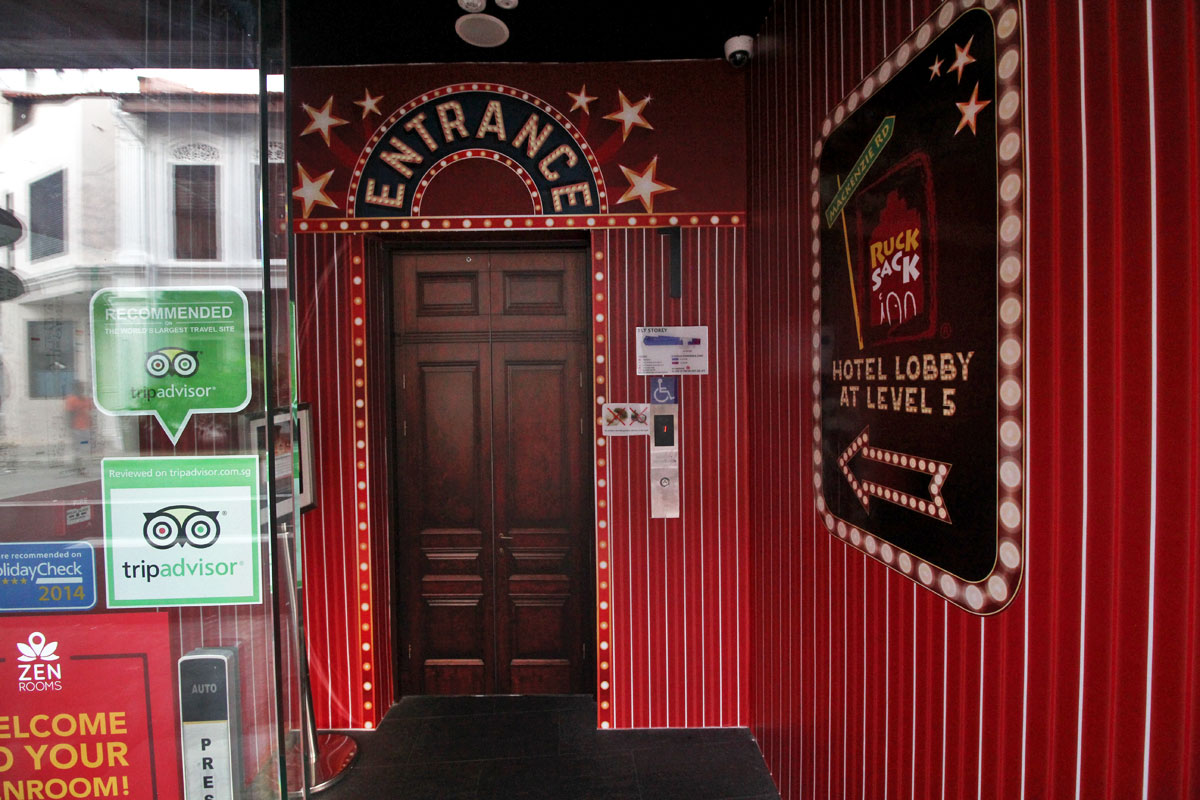 Our room was on the second floor. For security reasons, you'll need your room keycard to access any of the floors other than the fifth.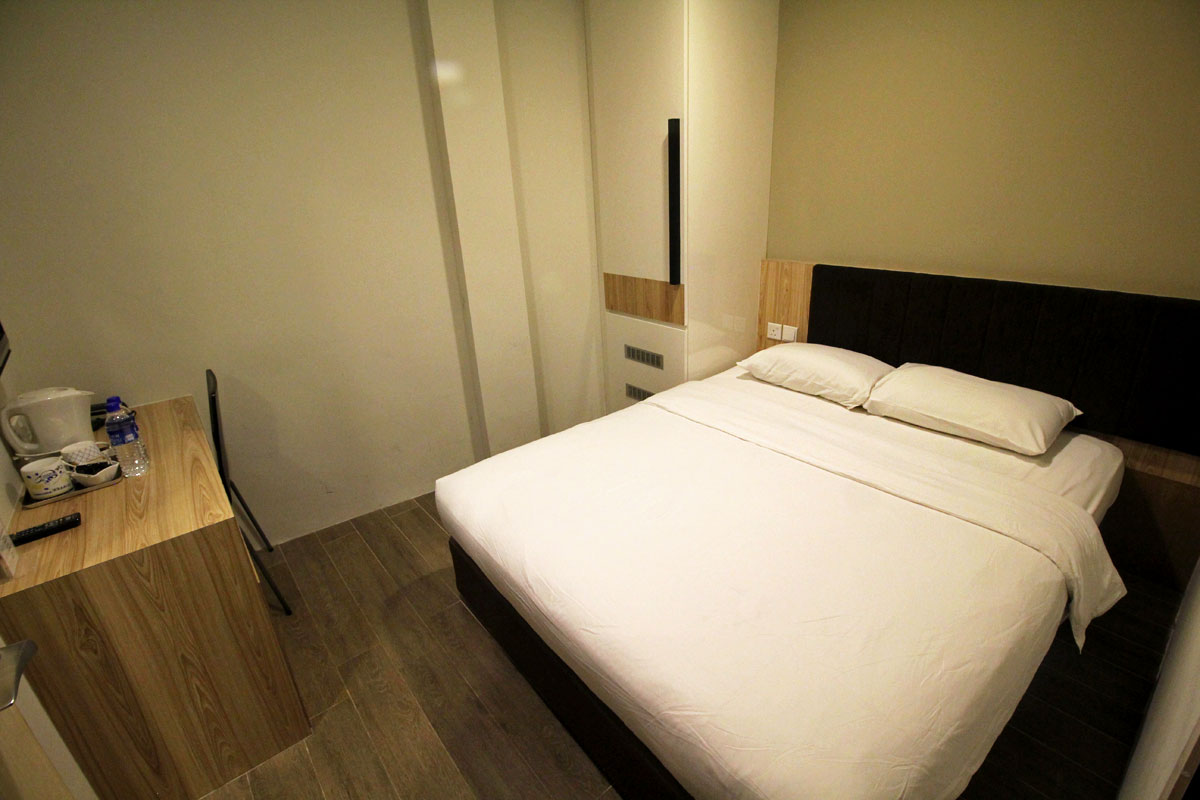 Small desk with a hotpot and flatscreen TV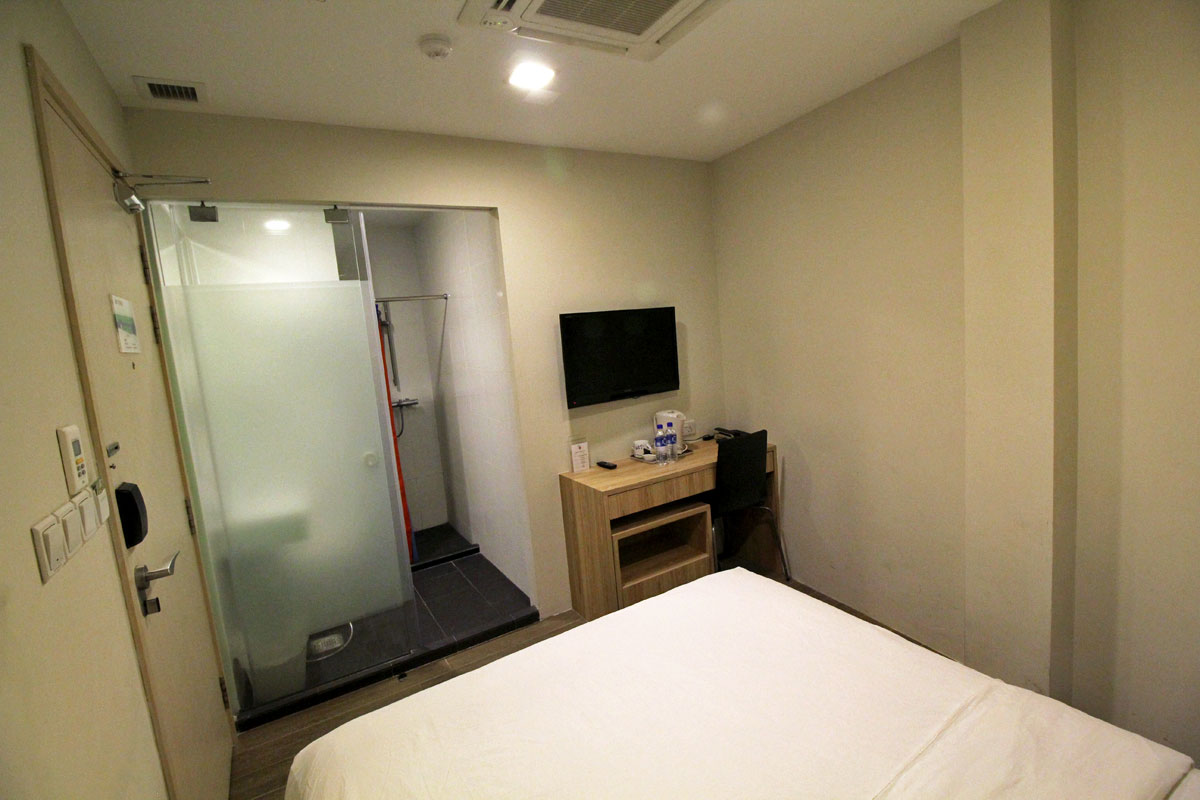 We didn't know the room would have a mini-ref so that was a big bonus. Ren and I love to wind down with beer every night when traveling but the booze in Singapore is ridiculously expensive, about SGD 10 a bottle at the cheapest bars. Thanks to this fridge, we would buy beer at a nearby 7-Eleven for just SGD 3.50 a can. 😉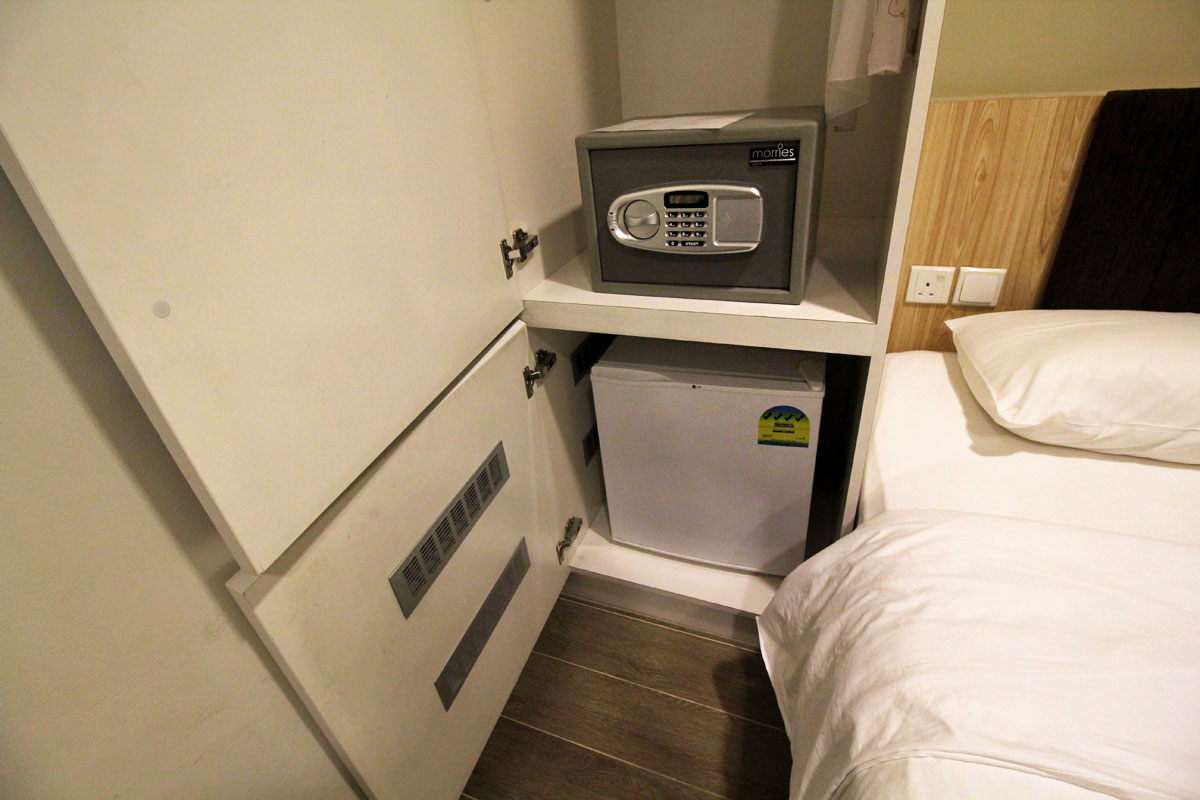 Clean bathroom with a tiny shower. I think this is the smallest stall I've ever showered in. I kept knocking my elbows against the tiles. 😆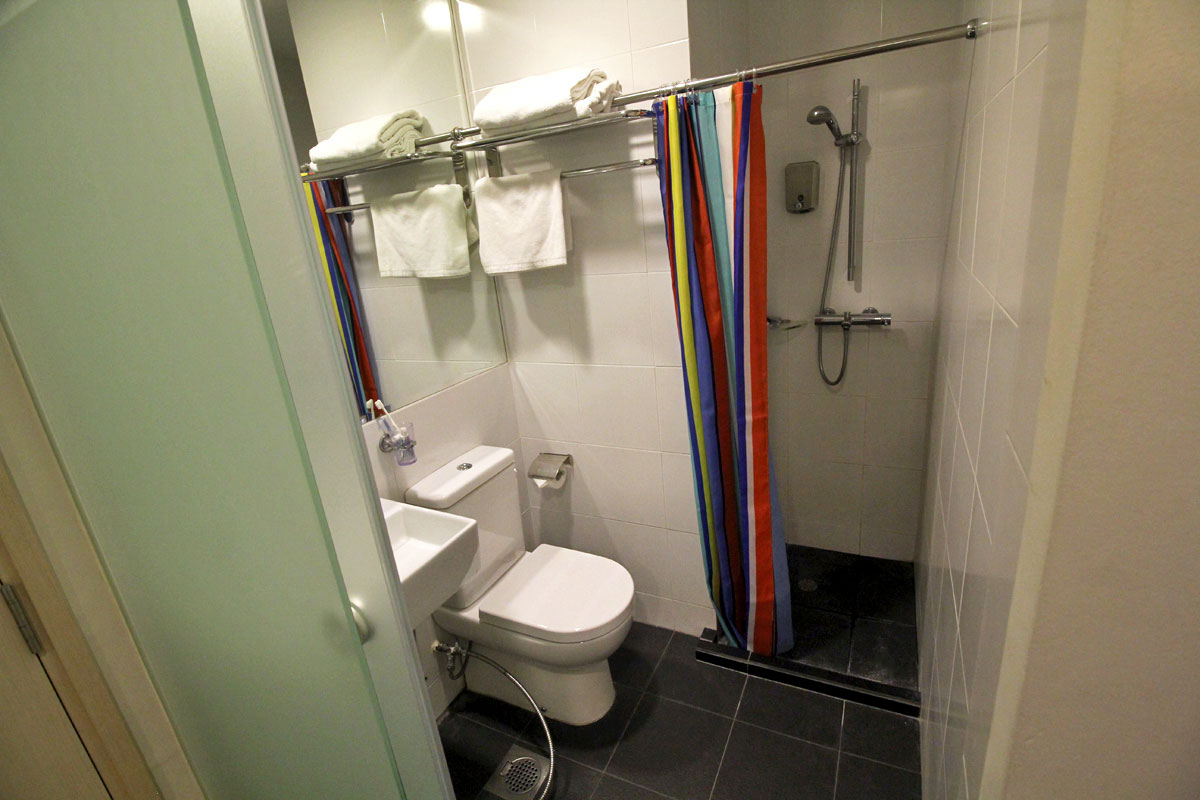 Here's the lobby on the fifth floor. As you can tell from the elevator, the hotel has a cinematic theme to it. Rucksack Inn doesn't serve breakfast but you can help yourself to coffee and tea here.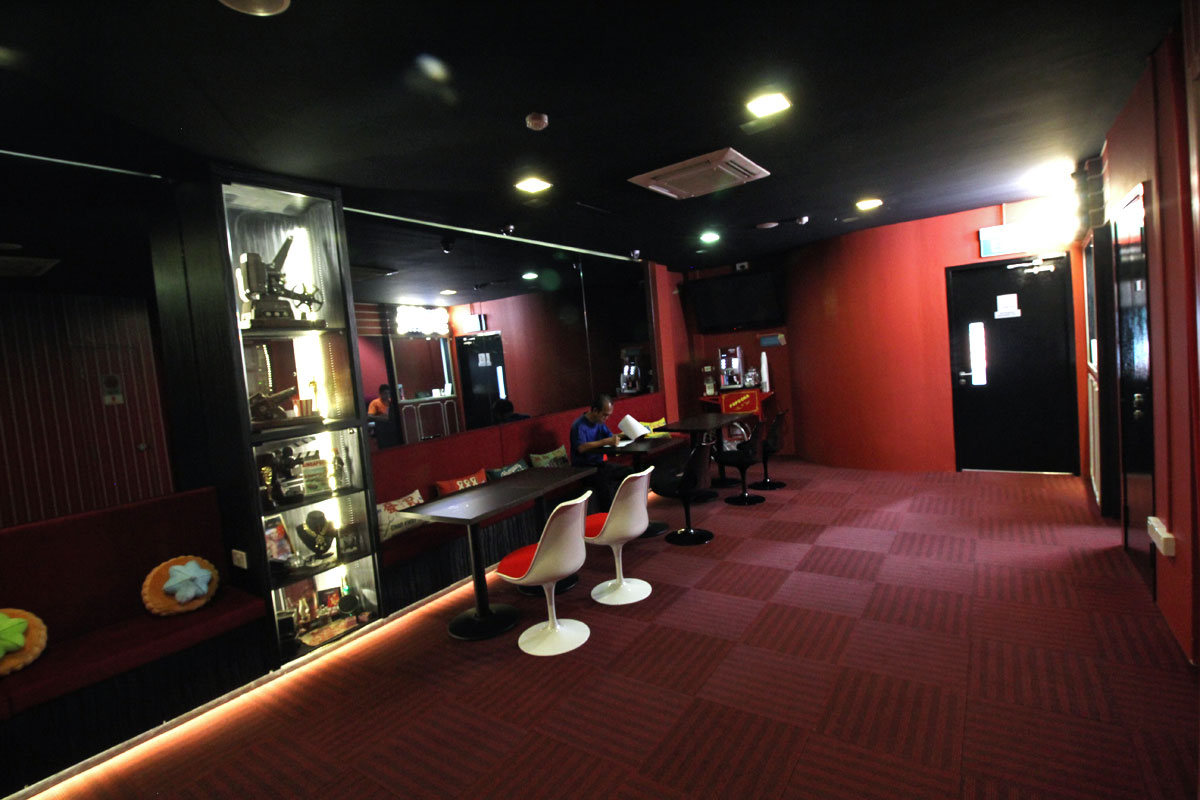 Ren and I usually go for hotel rooms with breakfast included but if you enjoy eating, then you're better off without it in Singapore. This is a serious food city with many hawker centres to choose from and unlike most essentials, food can be very cheap here. About a couple minutes away from the hotel is the Tekka Centre Food Court with several delicious food stalls. Many open at 7AM so early risers won't need to wait too long for breakfast. 😉
You can make a reservation through Booking.com or Agoda. Be sure to check both sites to find the best deal.
Rucksack Inn @ Mackenzie, Singapore
15 Mackenzie Road, Singapore
Tel: +65 6884 8188
Instagram: rucksackinn
Email: mackenzie@rucksackinn.com
Approximate Room Rate: SGD 76.50 per night (as of June 2016)
HOW TO GET THERE:
The hotel is a short walk from the Mackenzie Road exit of Little India MRT station. Once you exit, cross the parking lot towards Mackenzie Road. You'll see the hotel elevator next to Selera Restaurant.
MAKE A RESERVATION: Booking.com | Agoda
Disclosure
The hotel links in this post are affiliate links. If you make a reservation, then we'll get a small commission at NO extra cost to you. We really appreciate your support as this helps us keep this website going. Thank you!