Get a Taste of Peranakan Culture with this "Ahma-kase" Experience at Candlenut in Singapore
You may come across the word "Peranakan" a few times when you're in Singapore. It refers to descendants of Chinese immigrants who settled in the Malay archipelago between the 15th and 17th centuries. They inter-married with local Malays and produced a unique culture and cuisine that blends Chinese, Malay, and other influences.
It's my belief that one of the best ways to understand a different culture is through food, so we made reservations at Candlenut to experience this ahma-kase dinner by Chef Malcolm Lee. A play on the Japanese word omakase, ahma means "grandmother" and it refers to Chef Lee's tasting menu of modern Peranakan dishes served family-style. It mixes Chinese ingredients with local spices and cooking techniques to create Peranakan interpretations of Malay food that are distinctly tangy, aromatic, spicy, and herbal. Presented over three courses — starters, mains, and dessert — he aims to give diners the experience of going to Grandma's house and being served a thoughtful sequence of lovingly cooked food. It's an interesting concept we thought, and one that says a lot about the culture.
To explain Peranakan cuisine in the simplest terms, on our table was the week's ahma-kase menu with this short story:
"She was a beautiful, petite Malay lady who caught the eye of a man coming through Singapore for business. They fell in love, and he stayed for her sake. Her nimble fingers were quick to learn, putting her heart to cooking what she knew while bringing in Chinese flavours he missed from home. And so, this was the humble beginning of Peranakan cuisine."
And that, in a candlenut shell, is what Peranakan food is all about.
* * * * *
Candlenut is located on the ground floor of Dorsett Residences. It's a simple but elegantly decorated space with two separate dining areas. According to this article on The Straits Times, Candlenut was recently awarded a one-star rating in the first-ever Singapore Michelin Guide. Congratulations on this well-deserved recognition!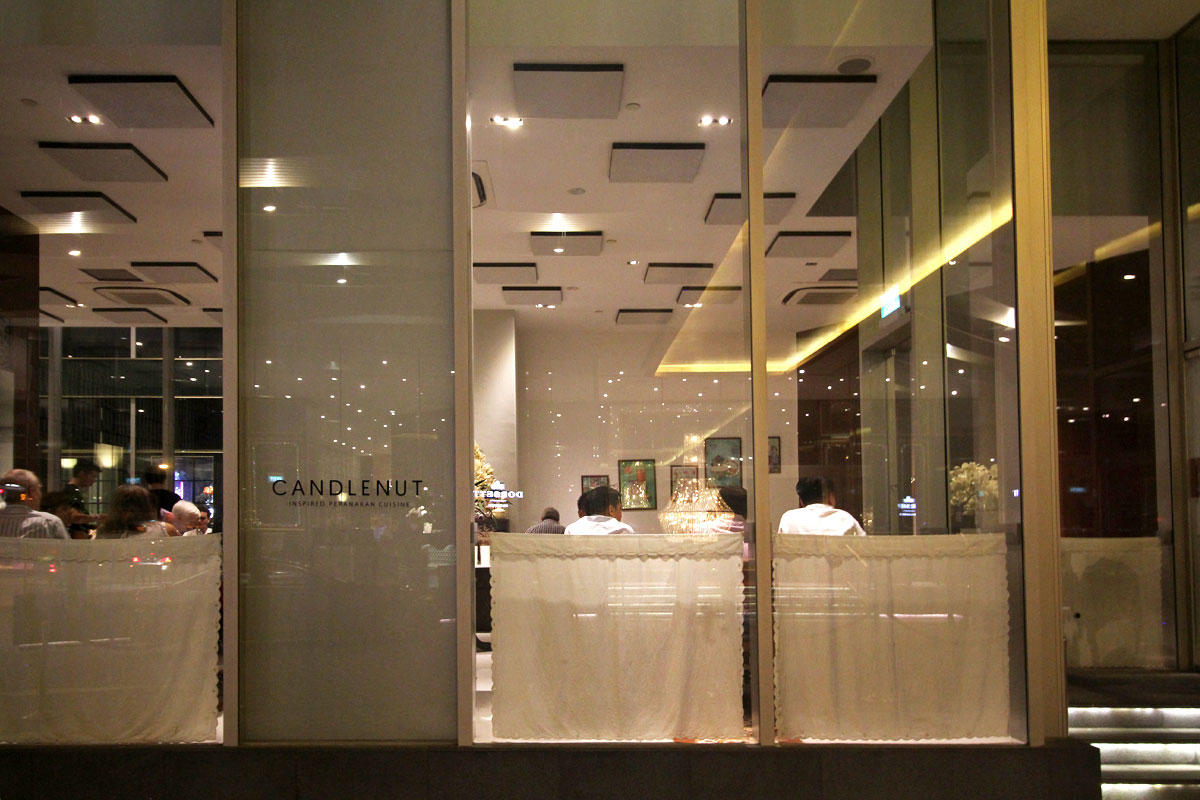 We were at Jurong Bird Park all day before going straight to Candlenut so I looked and smelled like a stinking tourist. They were nice about it and never gave my shorts a second look but I don't recommend coming underdressed. It's a casual place but pants are still a good idea. 😆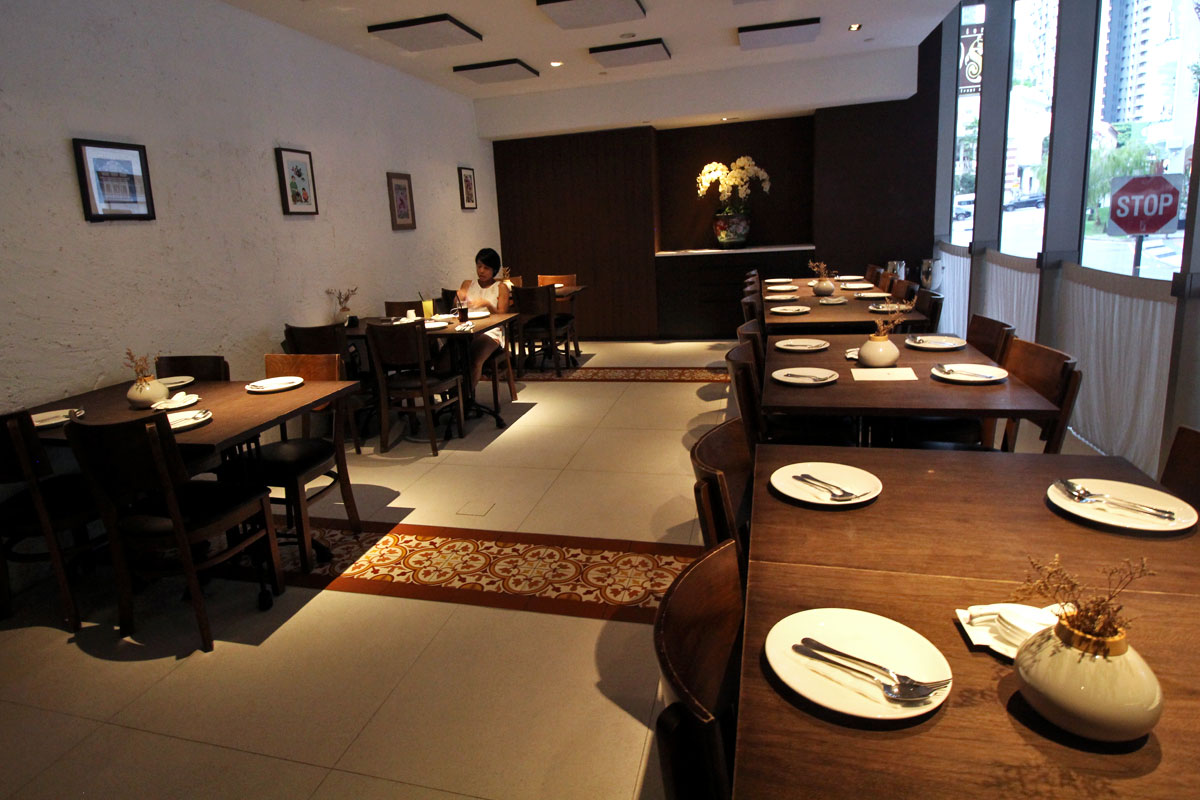 Complimentary fish crackers while waiting for the starters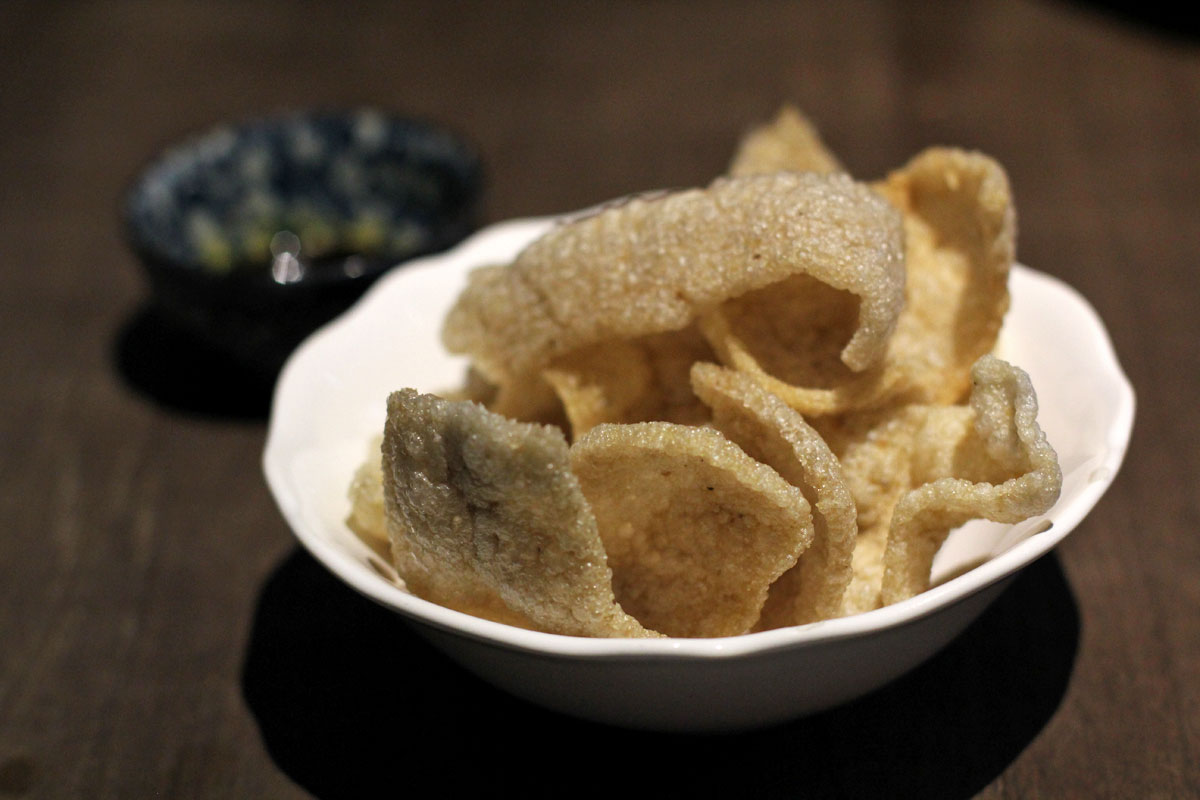 Starters
As described, they serve several dishes together in courses. The serving sizes are dictated by the number of people at your table. At the time, we paid SGD 60++ per person for the entire meal.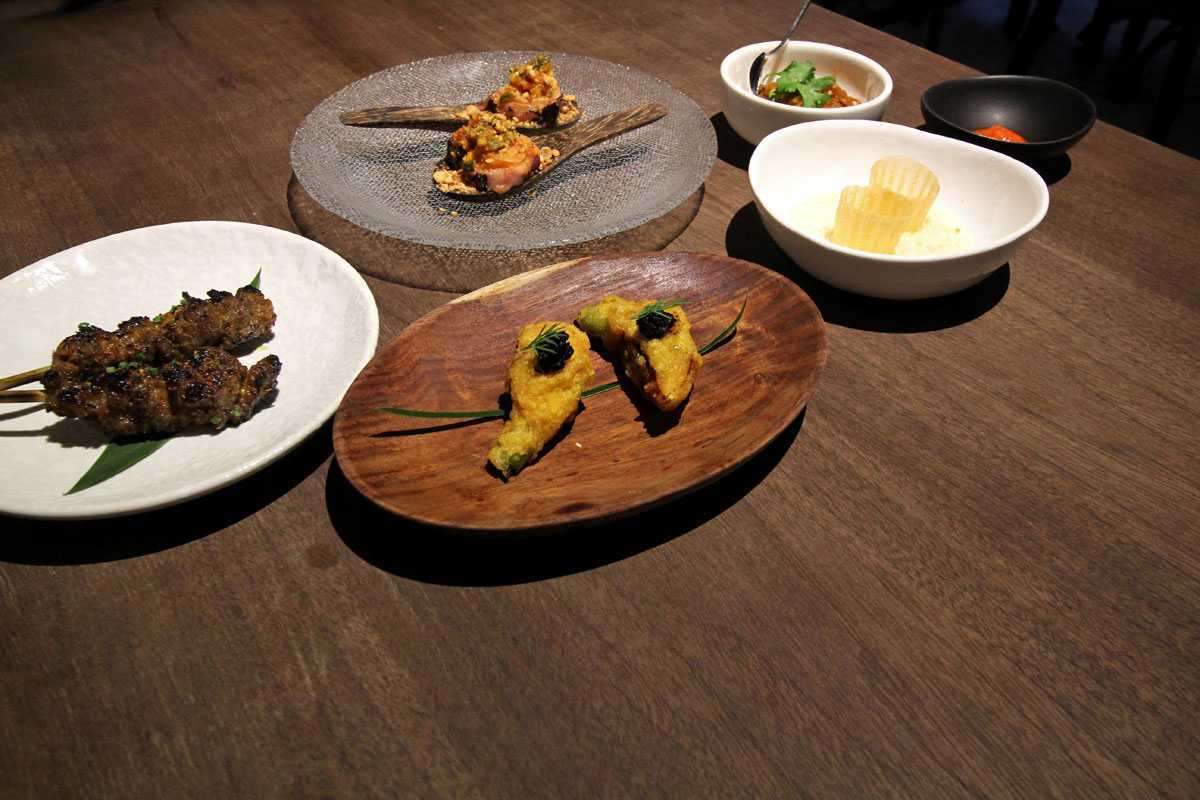 Hummingbird tree flower with minced pork and Peranakan signature buah keluak black nut glaze. I remember seeing buah keluak on the Discovery Channel long ago and wondering what it would taste like. Buah keluak is a black nut from Indonesia that naturally contains cyanide but is made edible through fermentation. As it turns out, it's a quintessential ingredient in Peranakan cuisine but I had no idea I ate it here until I started doing research for this post! If I remember correctly, it had a taste similar to dark chocolate. So cool!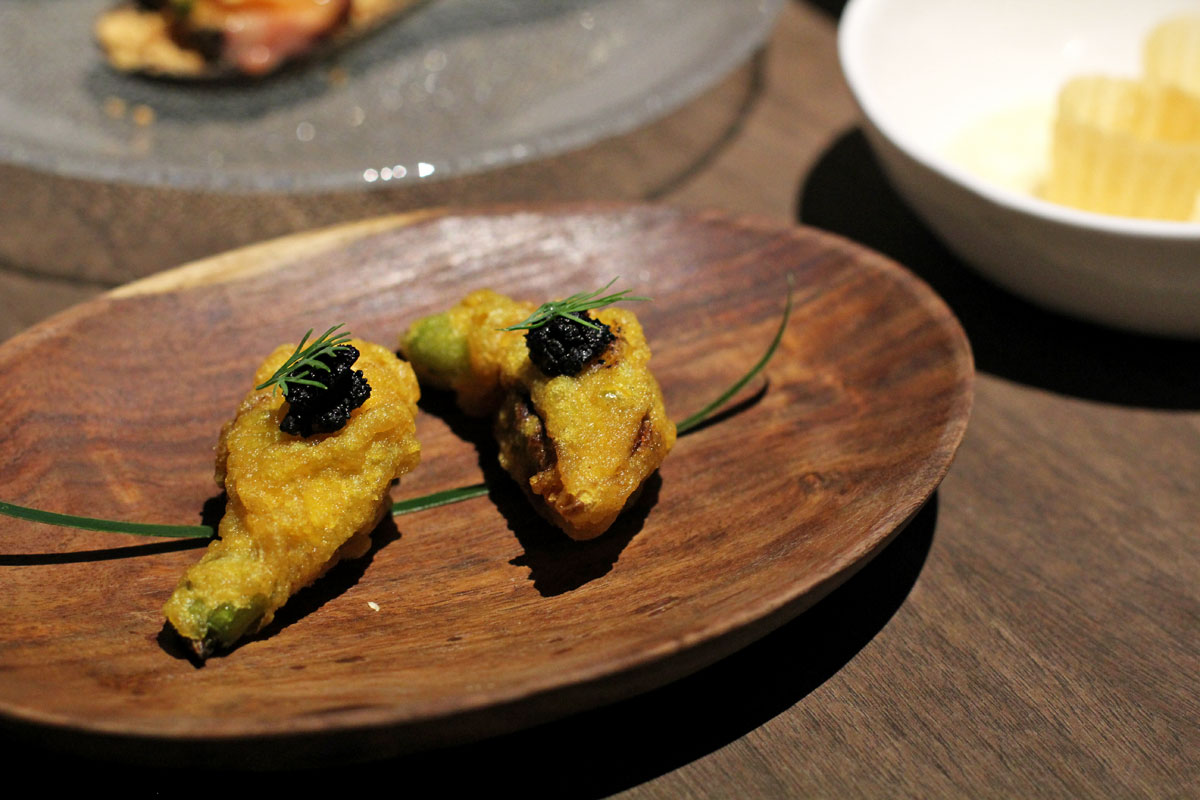 Deconstrcuted kueh pie tee with homemade shells, jiu hu cha dried cuttlefish, braised jicama, and pork belly. According to this blog post by Dr. Leslie Tay, this bite-sized canape called kueh pie tee may be linked to British influence on Peranakan culture. It's served as a snack and considered by many to be the Nonya (Peranakan) version of a British pastry.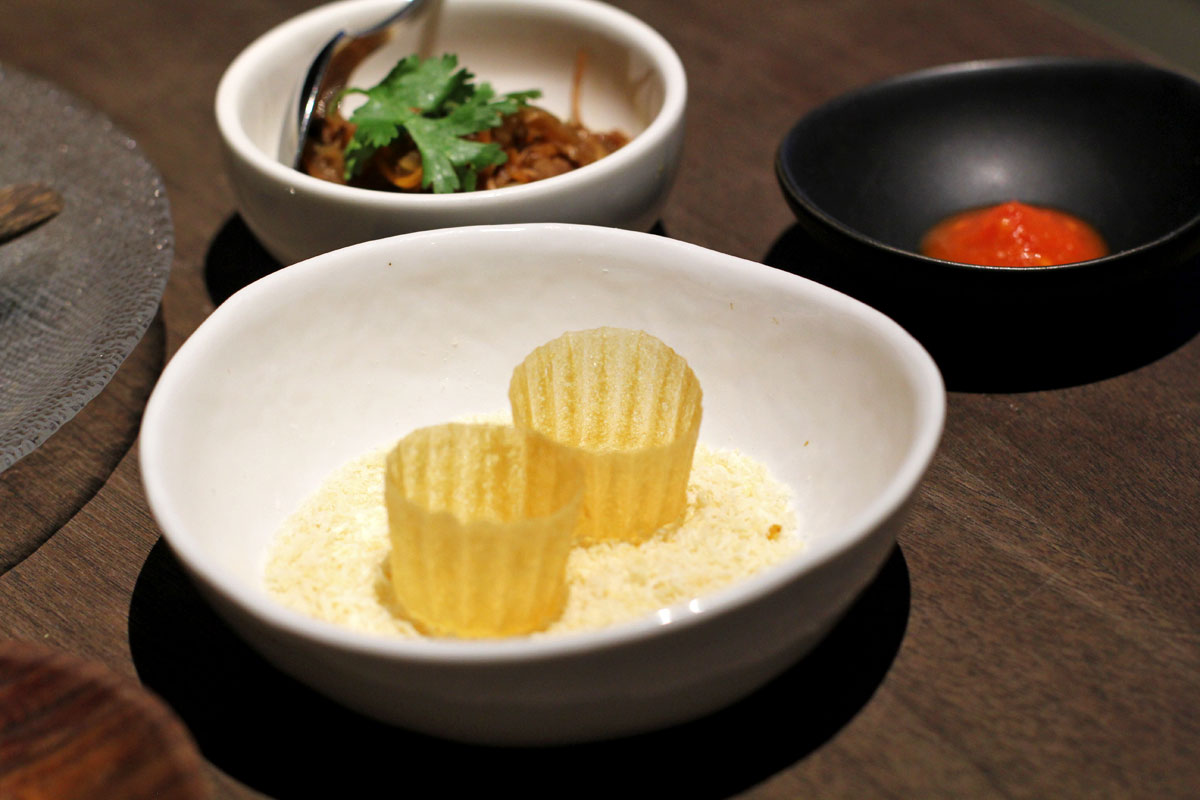 Put it all together and voila! Kueh pie tee is said to be closely linked to Poh Piah or fresh spring rolls. They share the same fillings which traditionally include bamboo shoots to herald the coming of spring. Come to think of it, it really was like eating spring rolls, but in a cup.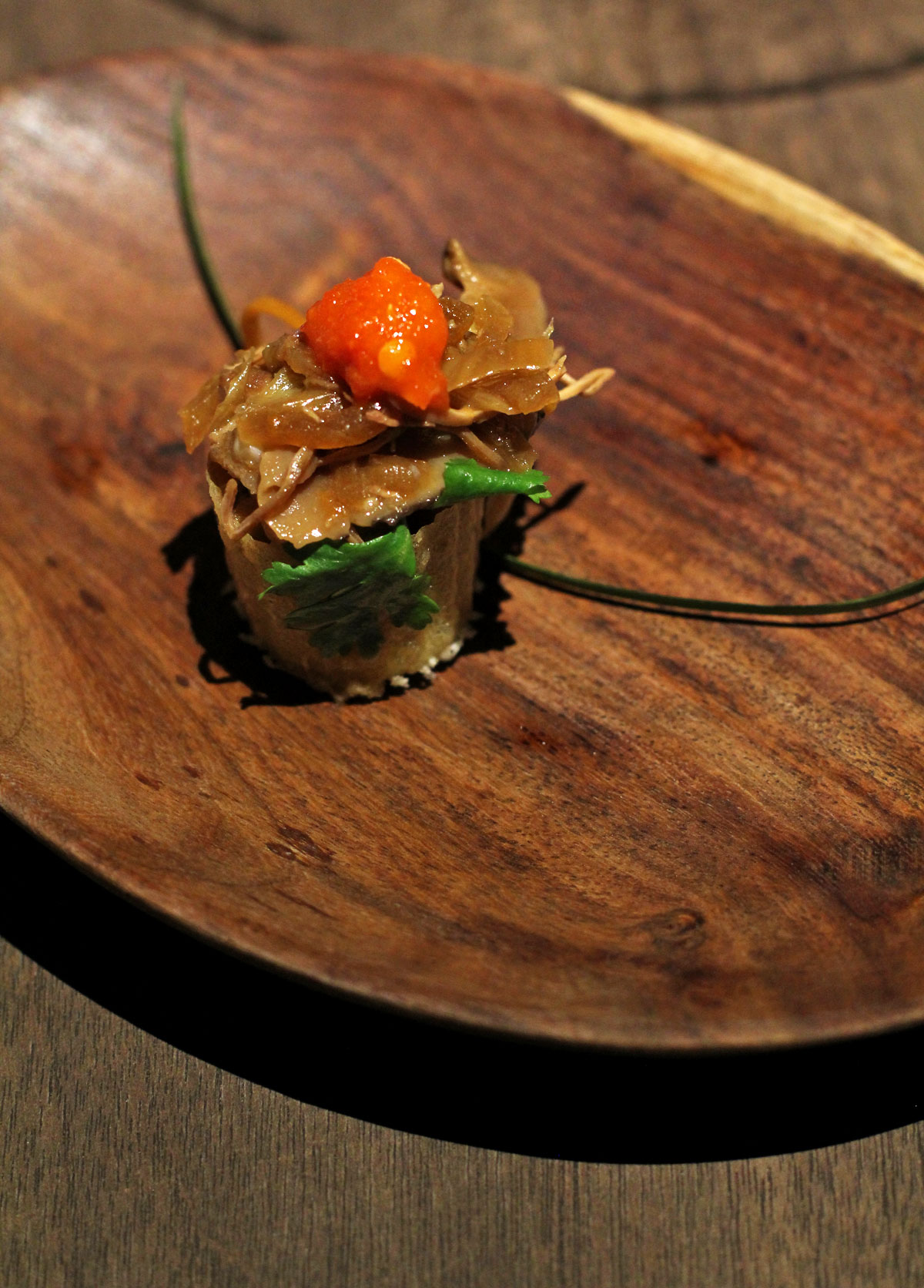 Charred octopus with chincalok, cucumber and pineapple achar, and roasted peanuts. This was really good and probably my favorite starter from the bunch. Chincalok is fermented shrimp paste.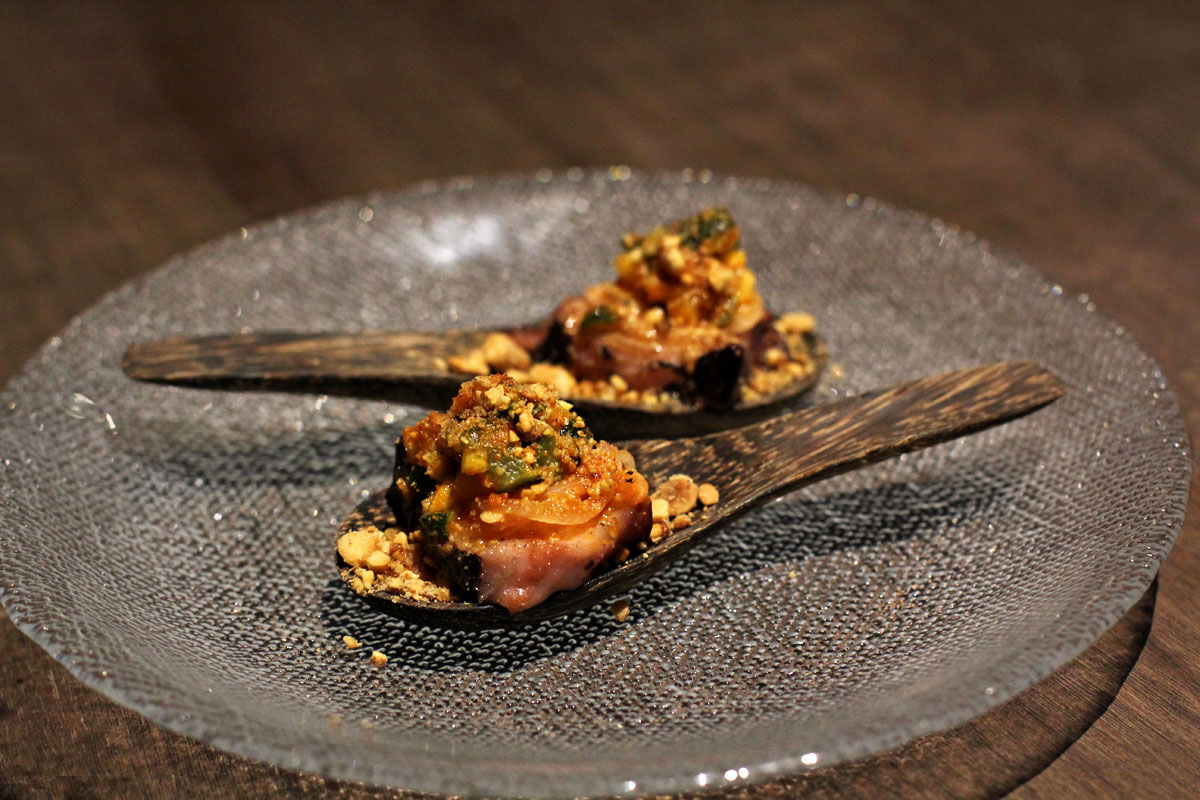 Grilled spice-marinated Blackmore wagyu beef satay. Very tender and delicious!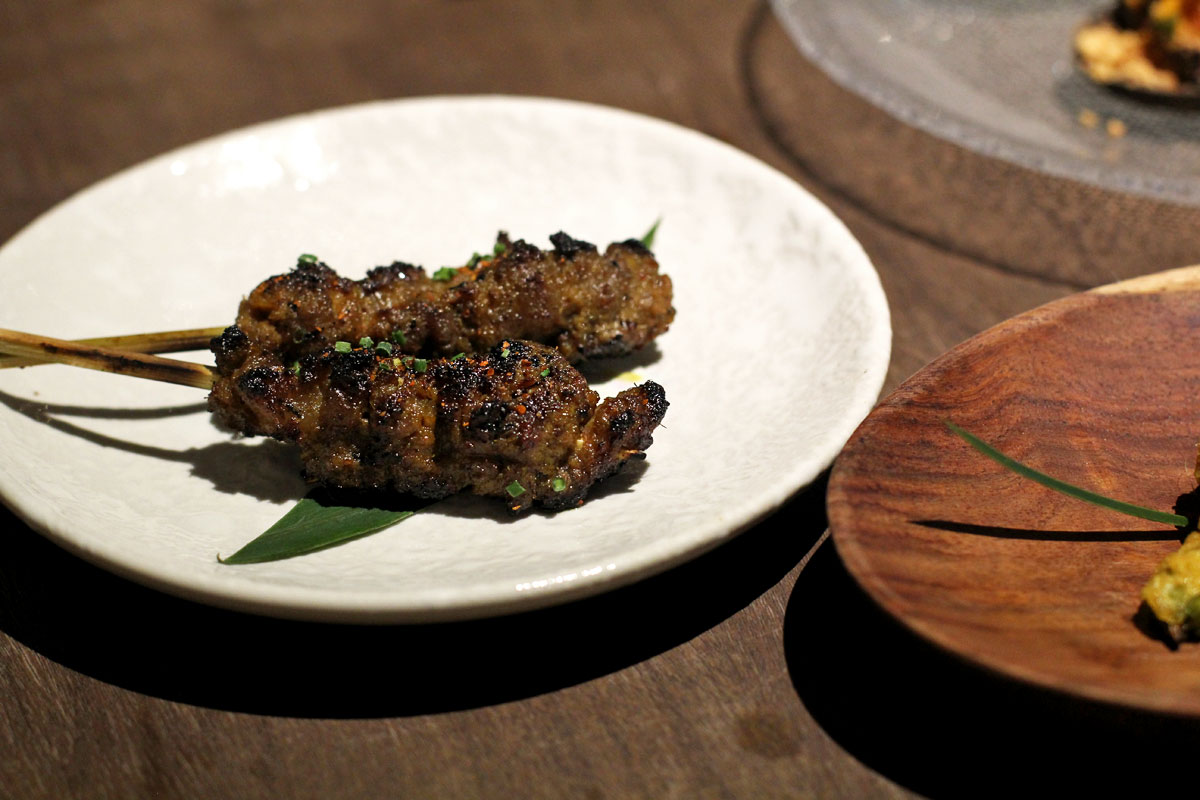 Mains
Next come the mains with a bowl of Thai hom mali rice. They give you lots of food here so remember to bring your appetite.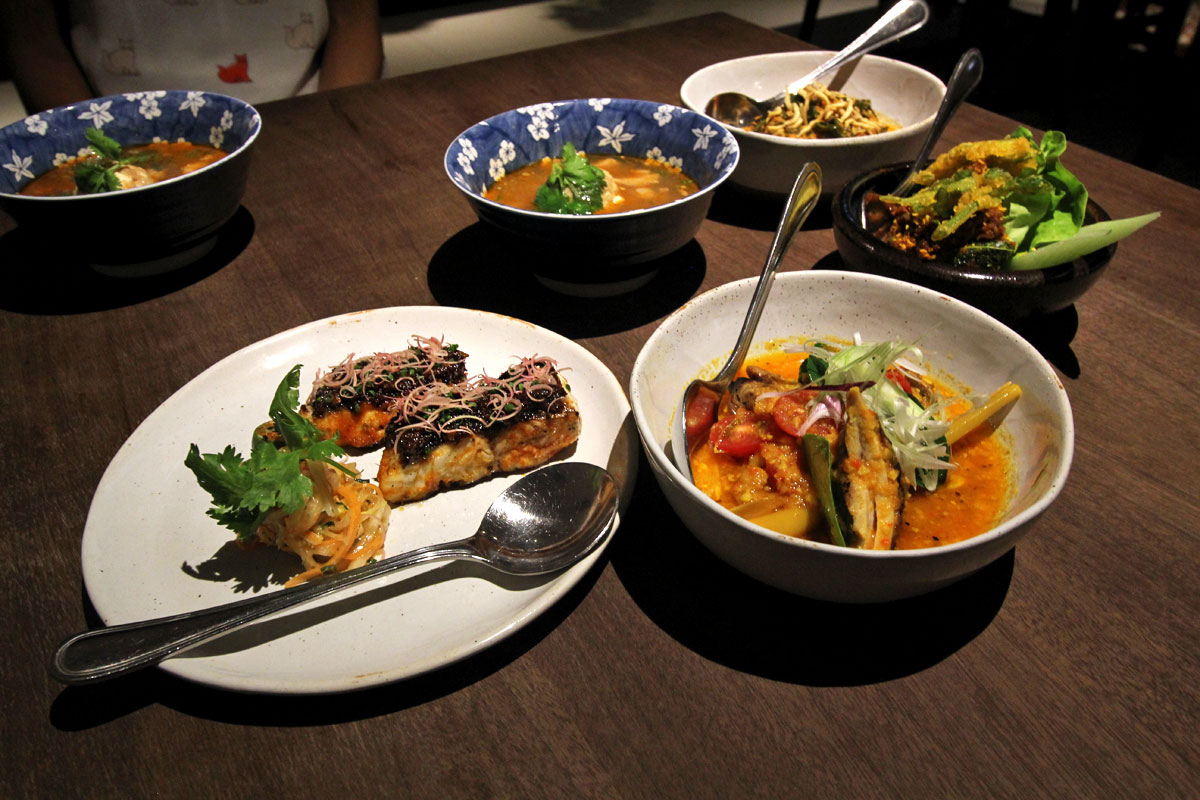 Charcoal-grilled John snapper with black belimbing sambal, ginger flower, and local cabbage kerabu. This was delicious. The fish was perfectly cooked and it was topped with a potent, flavorful sambal. We quickly learned after just a few dishes that Peranakan food is very tasty.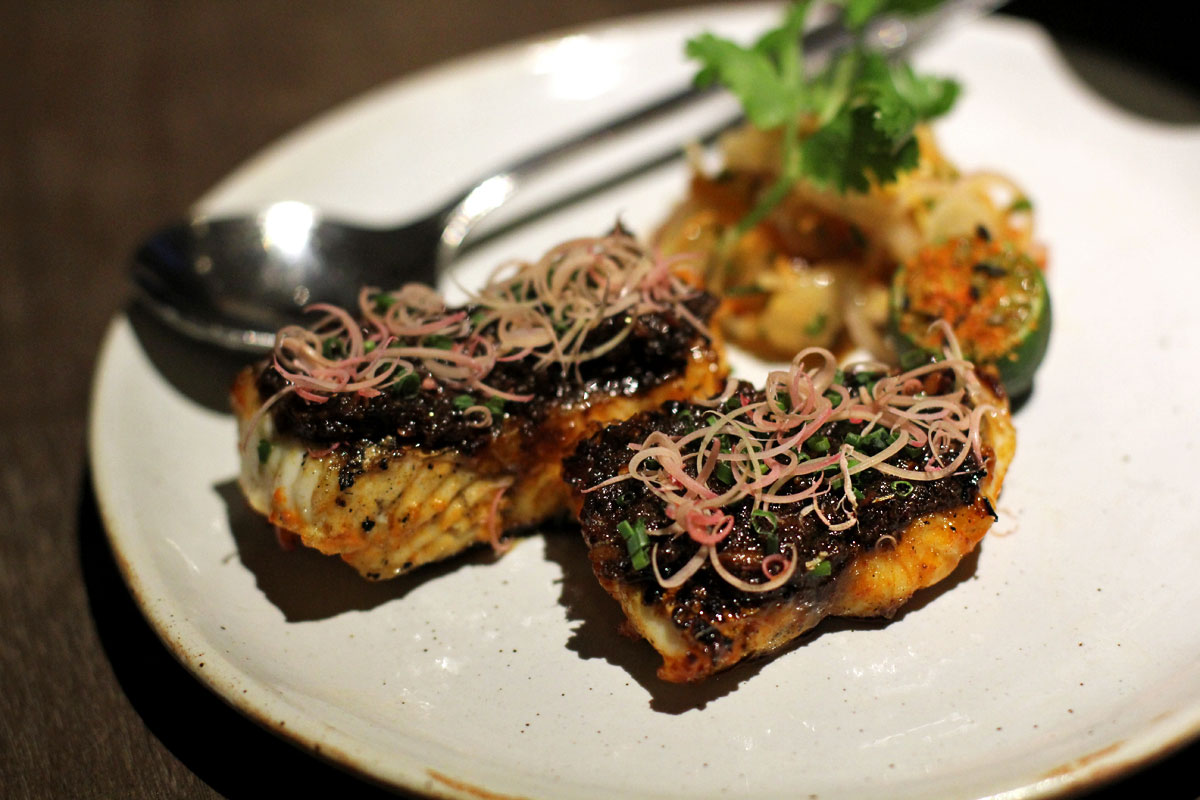 Ayam buah keras with candlenut, lemongrass, and cherry tomato in a yellow turmeric broth. This is a chicken dish made with the nut from which this restaurant gets its name. Candlenuts have a high oil content and are similar to macadamia nuts. They're often pounded and made into a thick sauce like this.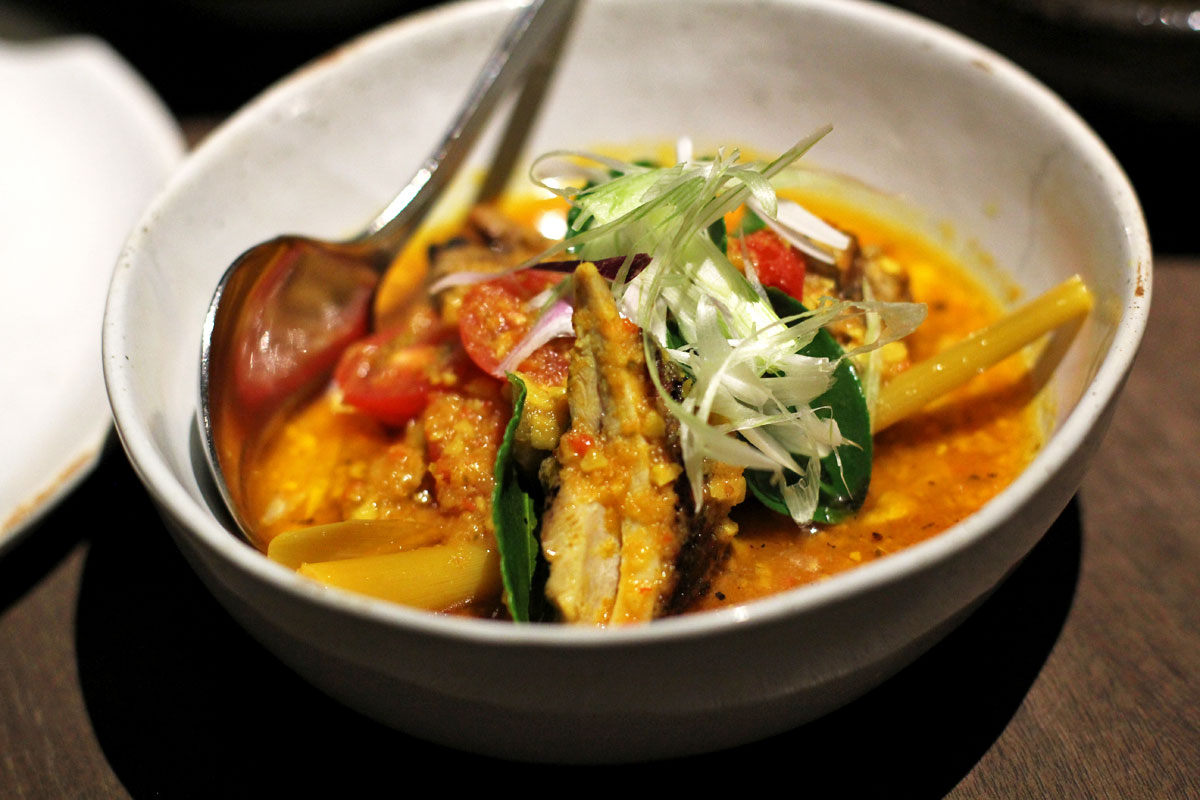 Wok-fried minced lamb rendang with kaffir lime leaf and green peppercorn served with taro stem and tempura kang kong. Again, another dish from tonight that wasn't shy in flavor! Like spreading dip on a cracker, you spoon the rendang onto those green taro stems and take a bite. That rendang is so incredibly tasty so its best to temper it with some rice.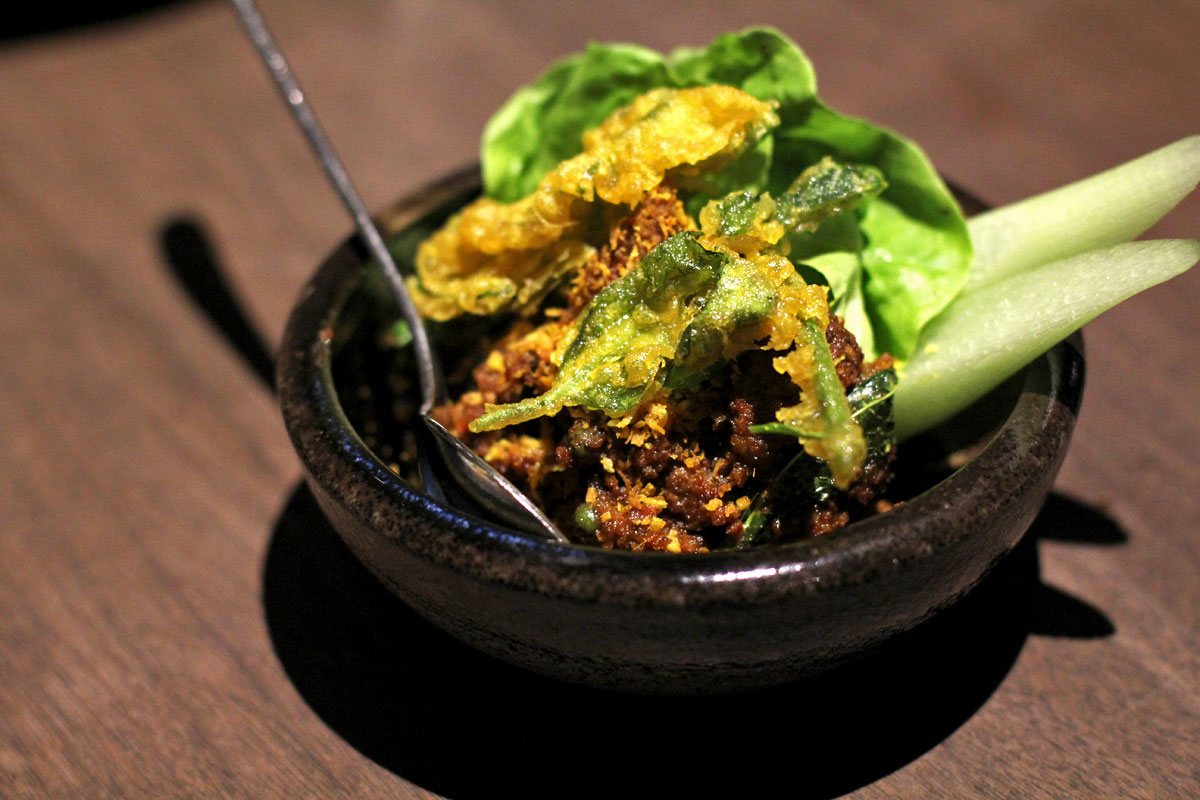 Pong tau hu soup with tofu and crab meatball in a shellfish bisque. I loved this soup. You could really taste the crab in that meatball. Delicious!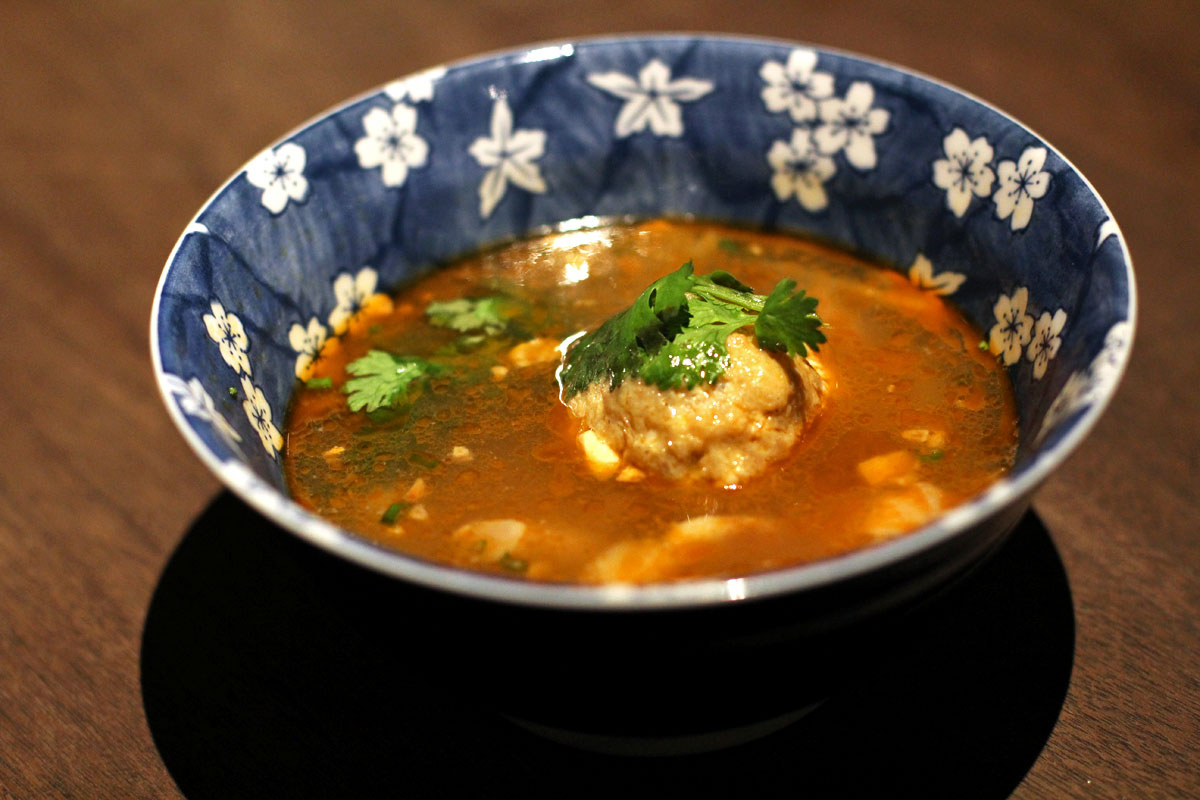 Tapioca leaf lodeh with young jackfruit and crispy whitebait. Bicolanos will surely enjoy this. It's similar to laing except its made with tapioca leaves.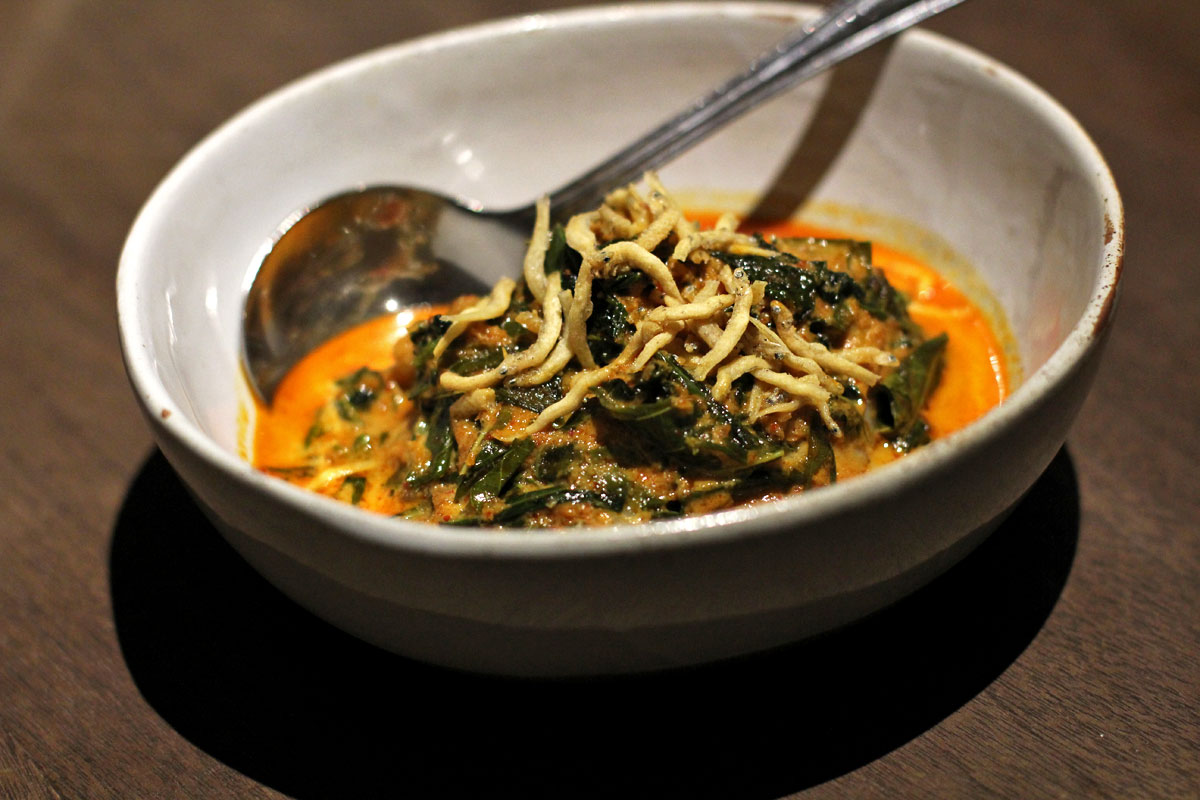 Dessert
Palate cleanser to prepare us for dessert.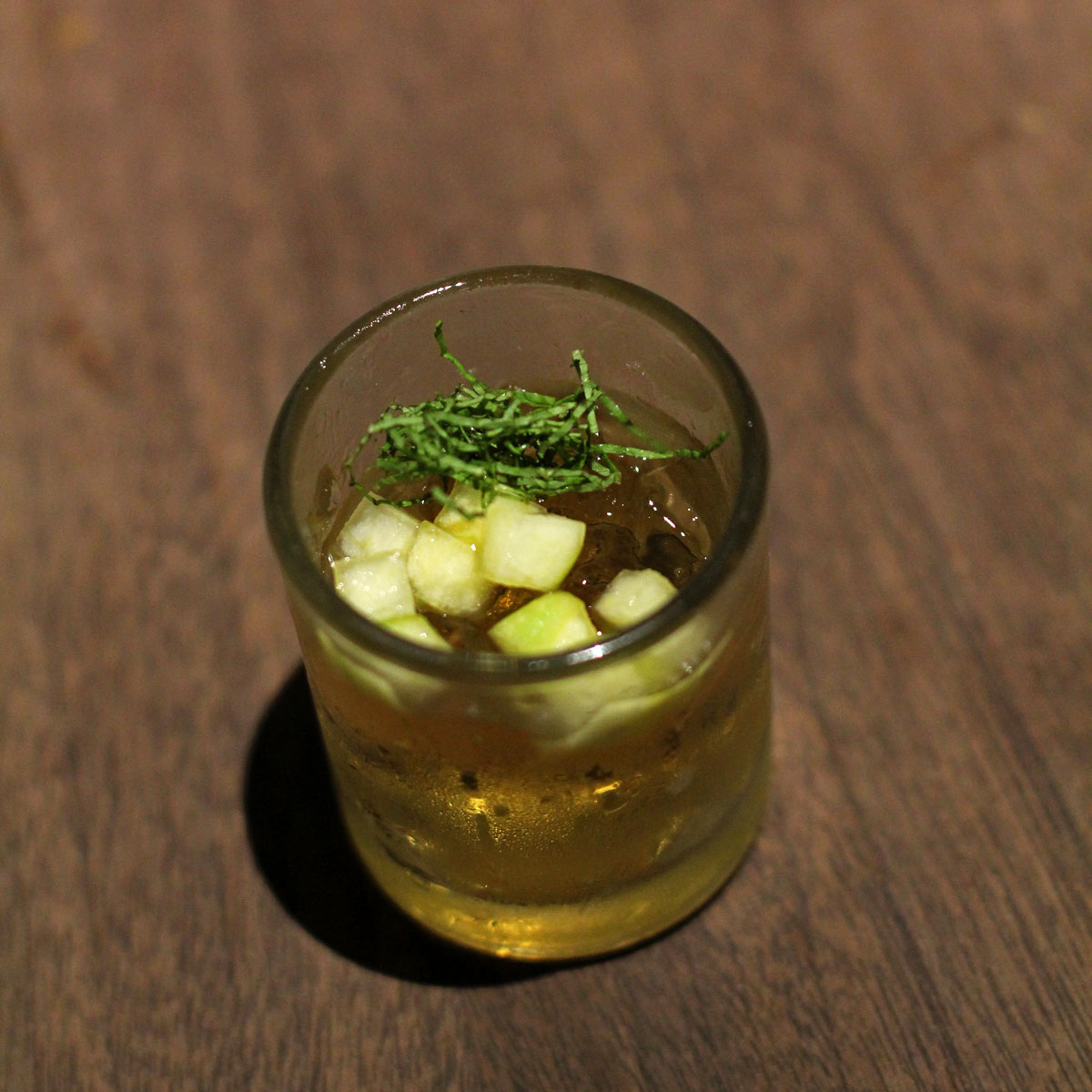 L: Buah keluak ice cream with Valrhona chocolate and warm chocolate espuma
R: Candlenut's classic chendol cream with pandan jelly and gula melaka
We had to choose just one dessert each so Ren went for this boldly flavored ice cream made with buah keluak and Valrhona chocolate. See, I knew that buah keluak tasted familiar. It makes perfect sense with dark chocolate! I fell in love with chendol in Penang so I wanted to try a gourmet version. It was really, really good with a nice caramel flavor. I'm not a dessert person but I could seriously eat chendol everyday.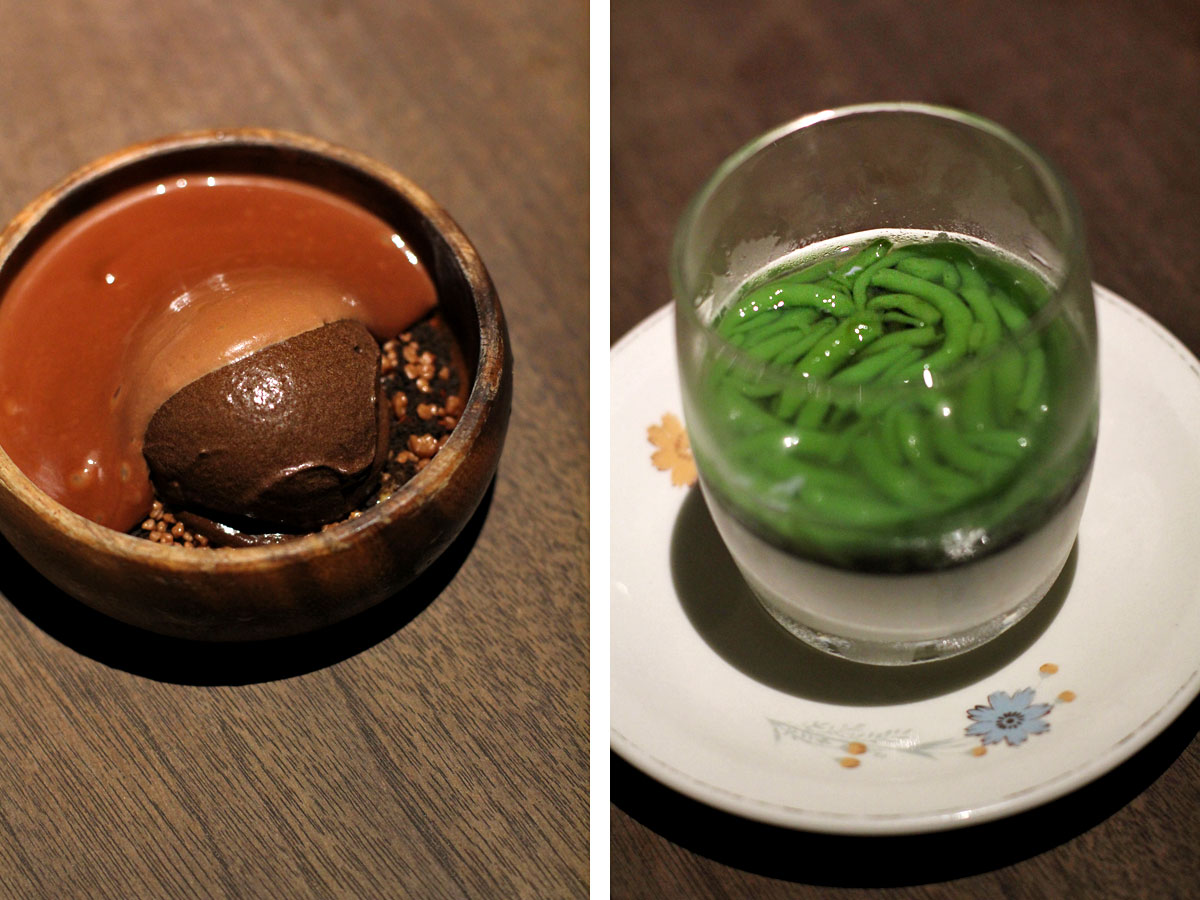 We haven't had enough Peranakan food to really know but if this meal at Candlenut is a fair representation, then their cuisine can best be described as an explosion of flavor. And not just the same flavors over and over again but a whole spectrum of it. I'm talking fireworks. Subtle can never be a word used to describe Peranakan cuisine because the intensity and variety of taste and texture is remarkable.
Come to think of it, I don't believe the word subtle has any place in the Peranakan vocabulary. We spent a few days in Penang before flying to Singapore and reflecting upon this ahma-kase experience brings me back to the Pinang Peranakan Mansion in George Town. Like these dishes, that embodiment of affluent Peranakan living was striking. It was bold and it was nuanced, sometimes to the point of feeling overdone. Though it may not be to everyone's liking, you can never classify it as being boring.
The same can be said about Peranakan food.
Candlenut, Singapore
Dorsett Residences, 331 New Bridge Road #01-03, Singapore
Tel: +65 8121-4107
Website: comodempsey.sg/restaurant/candlenut
Facebook: Candlenut
Instagram: candlenutsg
Twitter: candlenutsg
Operating Hours: Mon-Fri, 12NN-2:30PM, 6-10PM / Sat, 6-10PM (Closed Sun)
HOW TO GET THERE:
Take the subway to Outram Park MRT station. Head southeast on Outram Rd toward Eu Tong Sen St. Turn left onto New Bridge Rd and Candlenut will be on your right. (Ground floor of Dorsett Residences)
JB is one half of Will Fly for Food and its chief itinerary maker.  He's the one to blame for all the crappy photos and verbal diarrhea on this blog.  Don't listen to him.
Latest posts by JB Macatulad (see all)