Kizilkayalar: Where to Try Those Oddly Addictive "Wet Burgers" in Istanbul, Turkey (As Seen on No Reservations with Anthony Bourdain)
Drunk food is the best. It isn't the prettiest but it's always the most satisfying. As Anthony Bourdain has proven time and time again, it doesn't matter who you are or how many Michelin-starred restaurants you've been to. The act of eating is rarely as pleasurable as when you're completely shitfaced at two in the morning.
Take these wet burgers at Kizilkayalar for example. They don't look appetizing, but they're a staple among late night boozers in Taksim Square. Soggy and greasy and mashed together in a radioactive orange mess, it's drunk food at its ugliest. And best.
Kizilkayalar is right on Taksim Square so just look out for their sign. It's as orange as their burgers.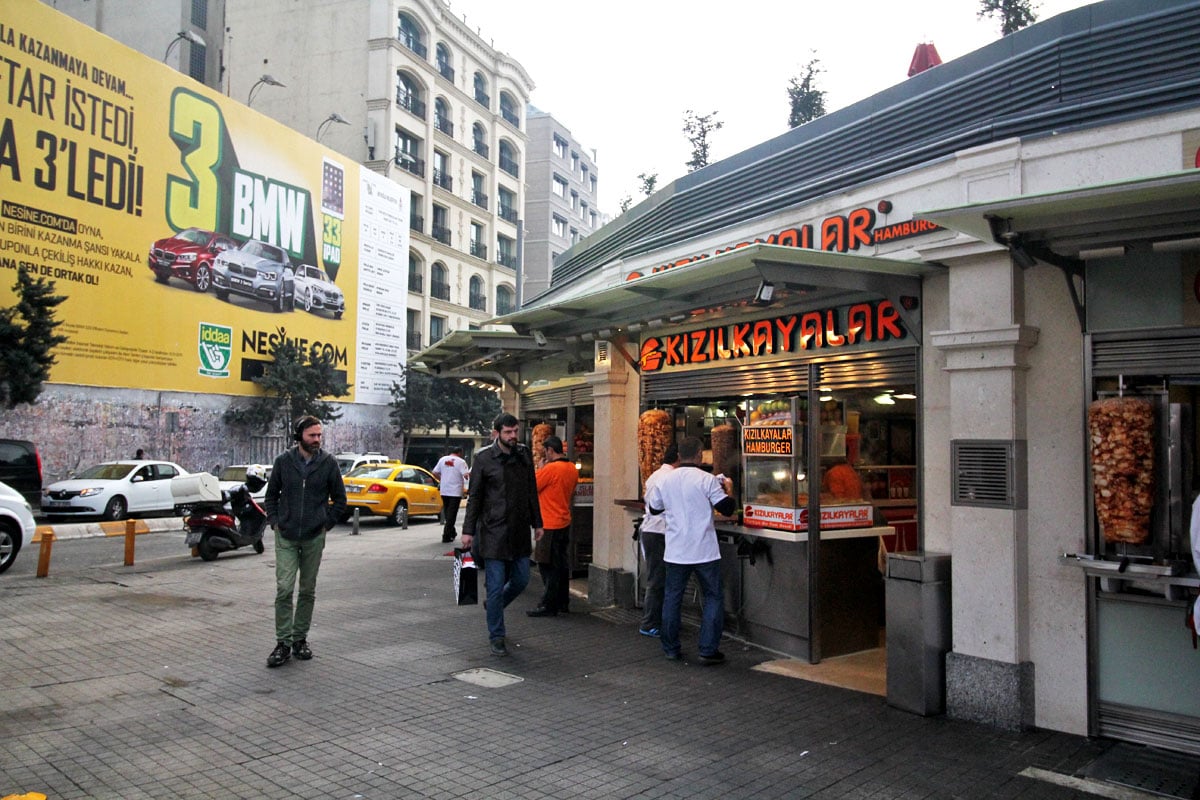 A steam box of wet burgers and döner kebab spits. Clearly, Kizilkayalar caters to the inebriated.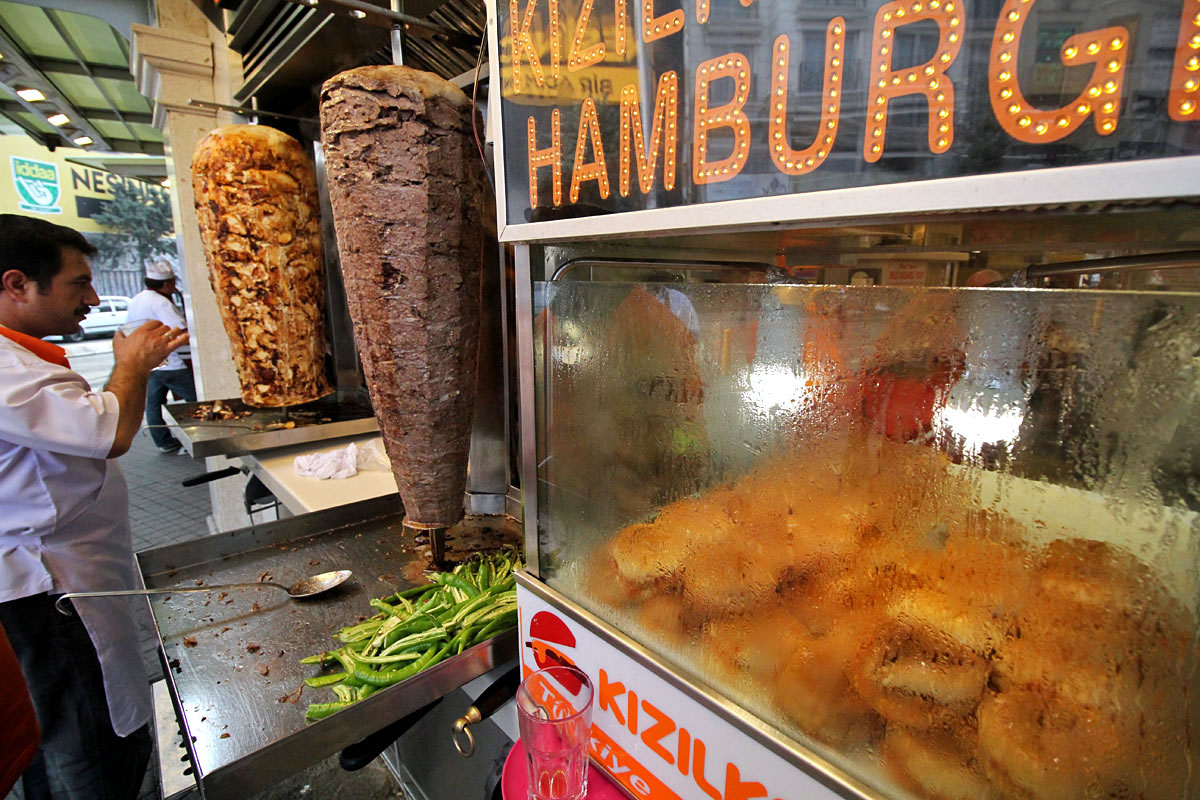 Hamburger — 3TL
The famous "wet" (islak) burger. Wet burgers get their orange color from being dunked in a garlicky tomato sauce and left to steam in a hamam-style glass box. Moist, chewy, and garlicky, they're not much to look at but they're oddly appealing.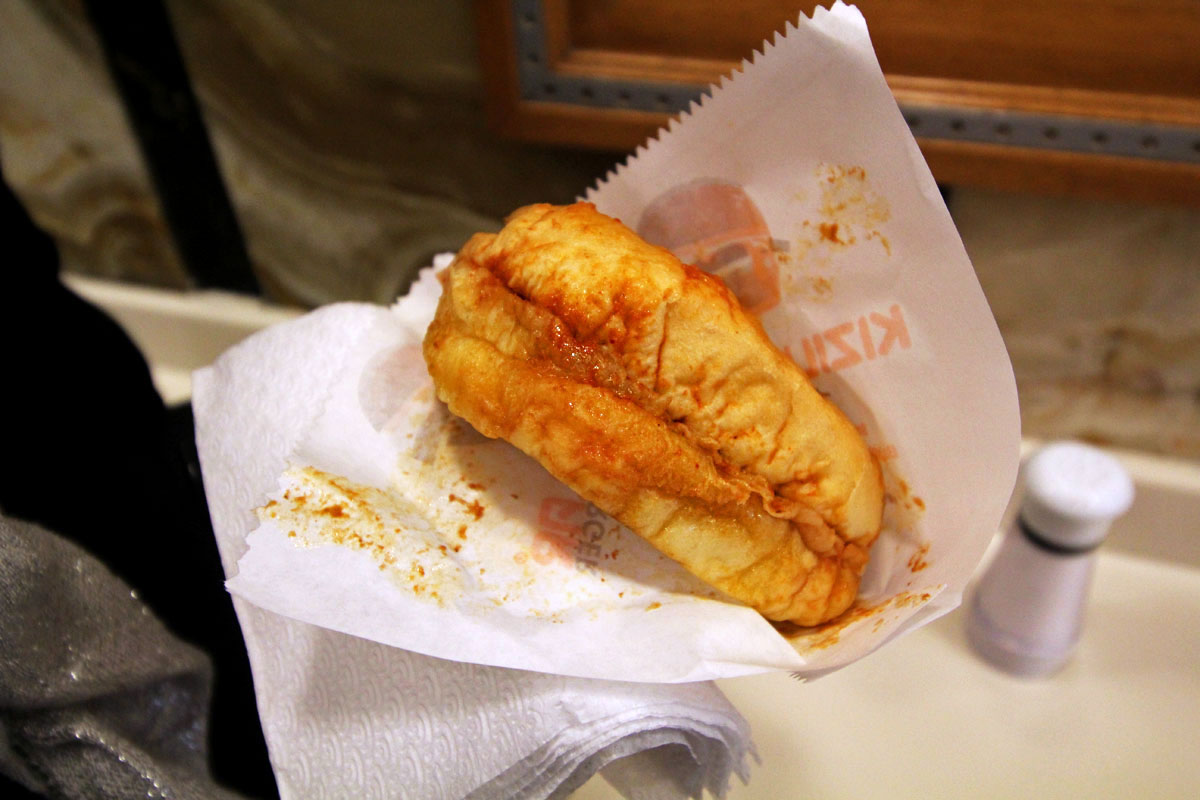 Yes, there's a patty in there somewhere. You can get yours with or without cheese.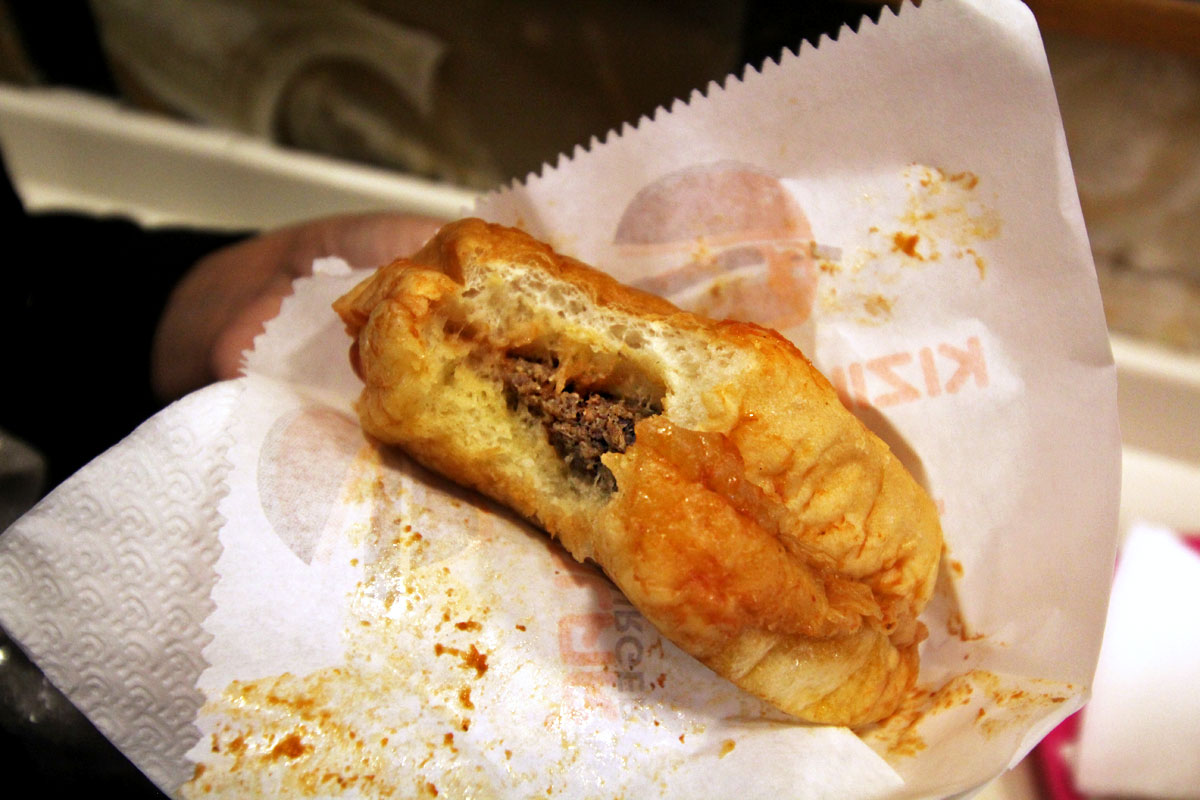 Döner Dürüm — 10TL
Someone recommended their döner on TripAdvisor but I regretted getting it. Not that it was bad or anything. It just wasn't as good as their wet burgers.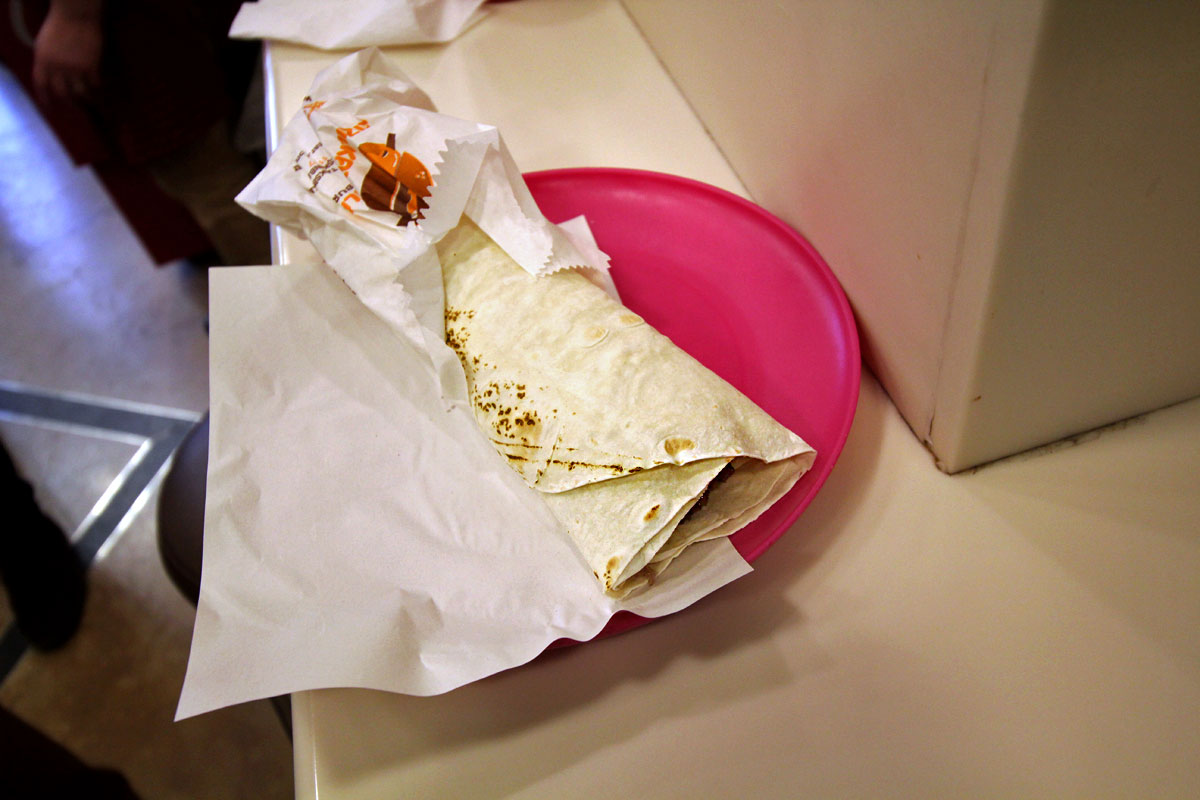 The inside of the döner dürüm. If you're looking for wraps, then I suggest walking over to Dürümzade which isn't too far from here. It was also featured on No Reservations and boasts some of the best wraps in Istanbul.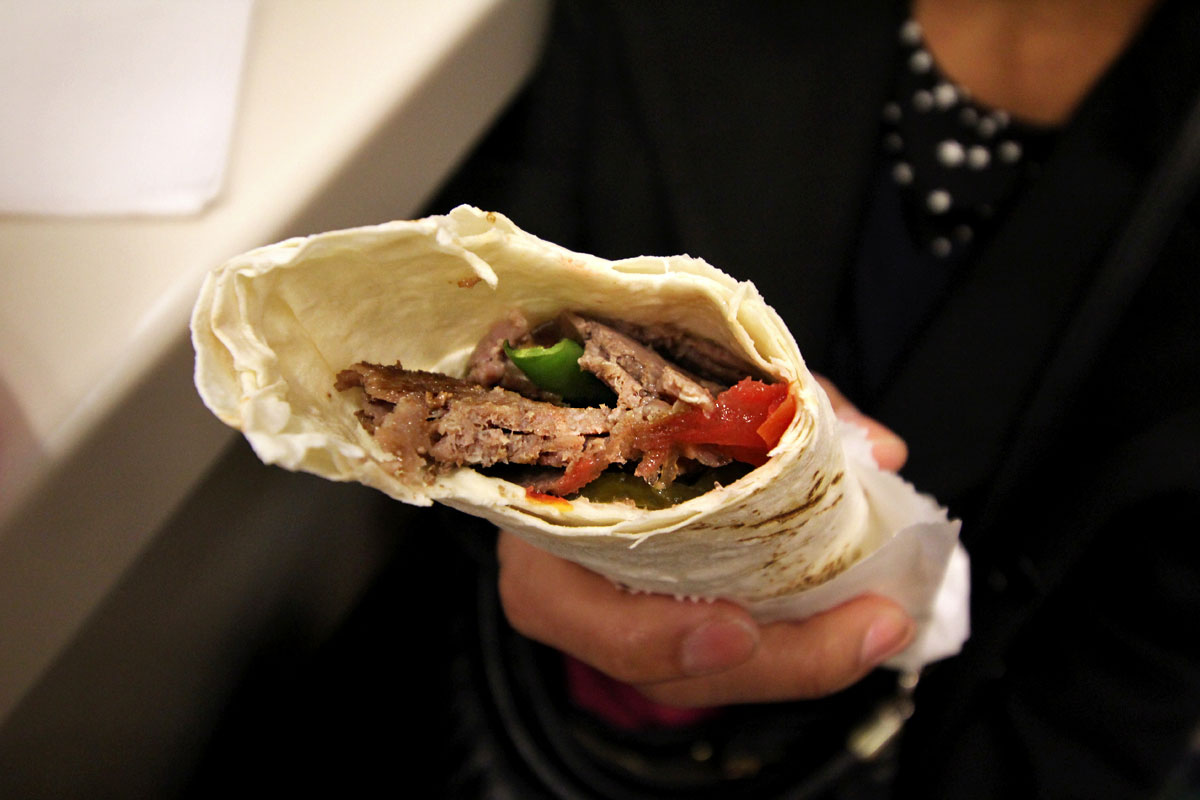 We dedicated a day visiting some of the places Bourdain featured on No Reservations and Kizilkayalar figured prominently on our list. The idea of steamed wet burgers may have been unappealing at first, but it was also mesmerizing and too interesting to pass up.
This was the first of four places we went to that afternoon, though in hindsight, we should have left it for last, preferably late at night after a bar. The wet burger was good at 1PM but it must be downright delicious at 1AM after you've had a few beers. At just 3TL per burger, I can see myself downing two or three of these easy. You should too. 😉
Kizilkayalar, Sultanahmet, Istanbul, Turkey
Sira Selviler Cad. No:2/L | Taksim MeydanI Istiklal Girisi, Istanbul, Turkey
Tel: +90 212 251 1357
Website: kizilkayalar.com.tr
Expect to Spend: About 6TL per person with drinks
Reservations: Not required
HOW TO GET THERE:
Take the M2 metro to Taksim station. Kizilkayalar is just a few minutes' walk from the exit.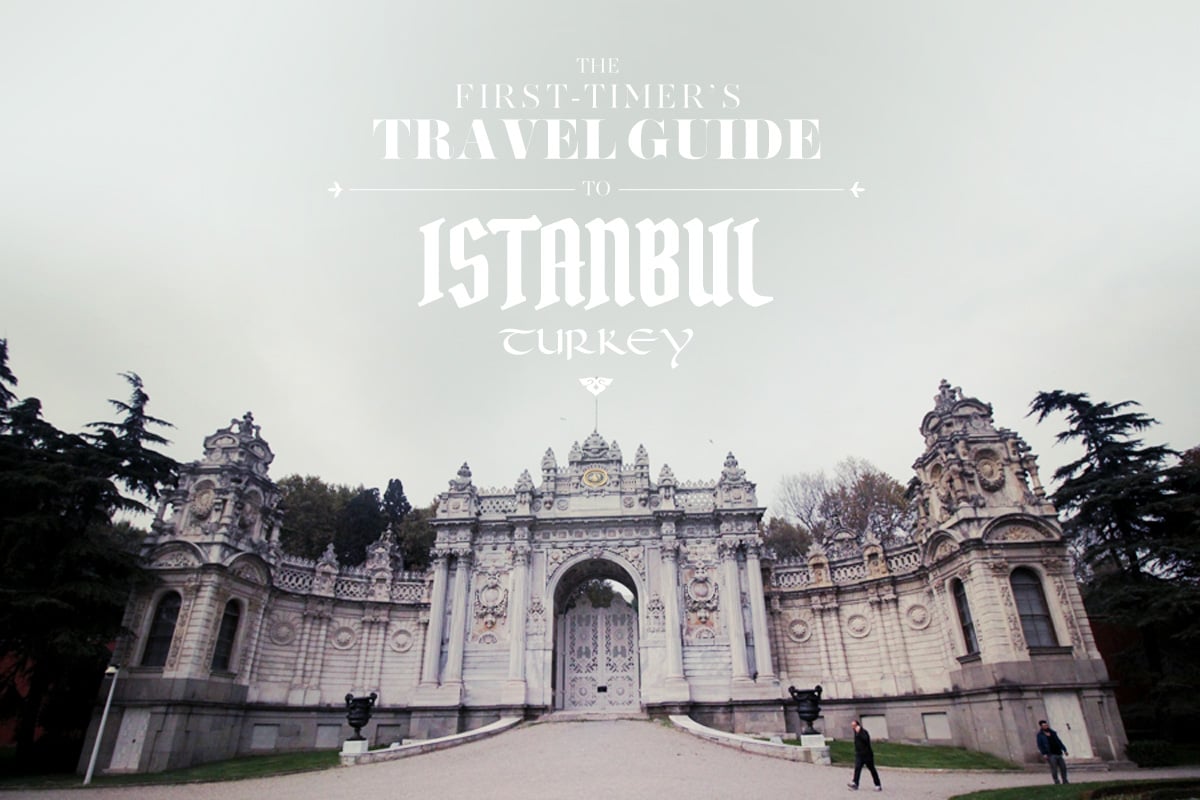 Disclosure
Some of the links in this post are affiliate links, meaning we'll get a small commission if you make a purchase or reservation at NO extra cost to you. We really appreciate your support as this helps us keep this website going. Thank you!
JB is one half of Will Fly for Food and its chief itinerary maker.  He's the one to blame for all the crappy photos and verbal diarrhea on this blog.  Don't listen to him.
Latest posts by JB Macatulad (see all)