Tarihi Sultanahmet Koftecisi Selim Usta: Where to Try Non-Touristy Köfte in Sultanahmet, Istanbul, Turkey
We loved staying in Sultanahmet. There's a lot going on and it's close to many of Istanbul's top tourist attractions like the Blue Mosque, Hagia Sophia, Topkapi Palace, and the Basilica Cistern. Public transportation is easily accessible and there's no shortage of amenities like currency exchange offices and convenience stores.
If there's one thing we didn't like about the area though, it's that most of the restaurants in Sultanahmet appear to be tourist traps. We made the mistake of settling for one near our hotel one night and we instantly regretted it. The food was subpar and uninspired, not to mention overpriced. Most of the restaurants in the area seem to be cut from the same mold.
Unwilling to waste another precious meal, I did a search for "non-touristy restaurants in Sultanahmet" to see if there were any worthwhile restaurants in the area. There don't seem to be many, but this was one of the places I came up with.
Tarihi Sultanahmet Koftecisi Selim Usta (I know, it's a mouthful) is said to serve some of the best kofte (meatballs) in Istanbul. It's located just minutes from the stop so keep an eye out for it the moment you get off the tram in Sultanahmet. Be aware that a few copycats seem to have sprouted around it bearing similar names. The one you want, pictured below, has the words "Selim Usta" in the name. It's not on the red awning, but if you look above, at the brown wooden sign, you'll see it there.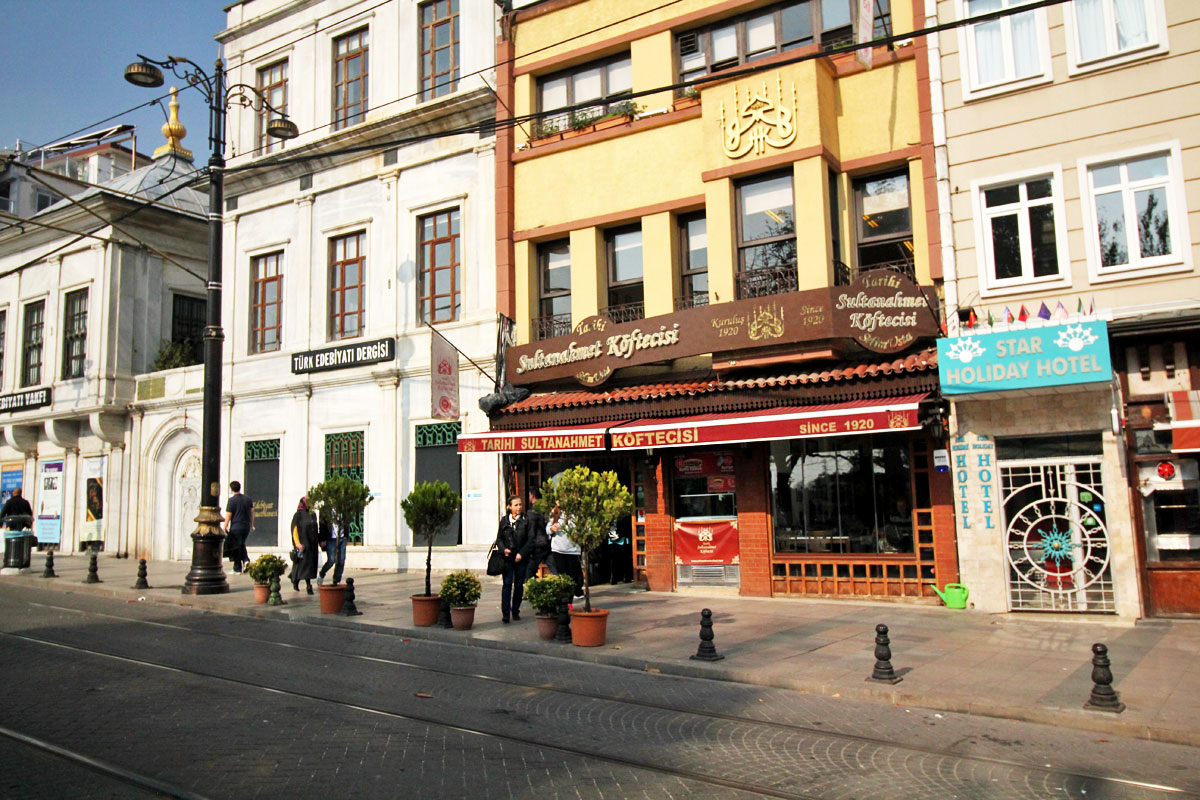 Mevsim Salatasi — 5TL — Seasonal salad
Fresh salad to go with our meatballs.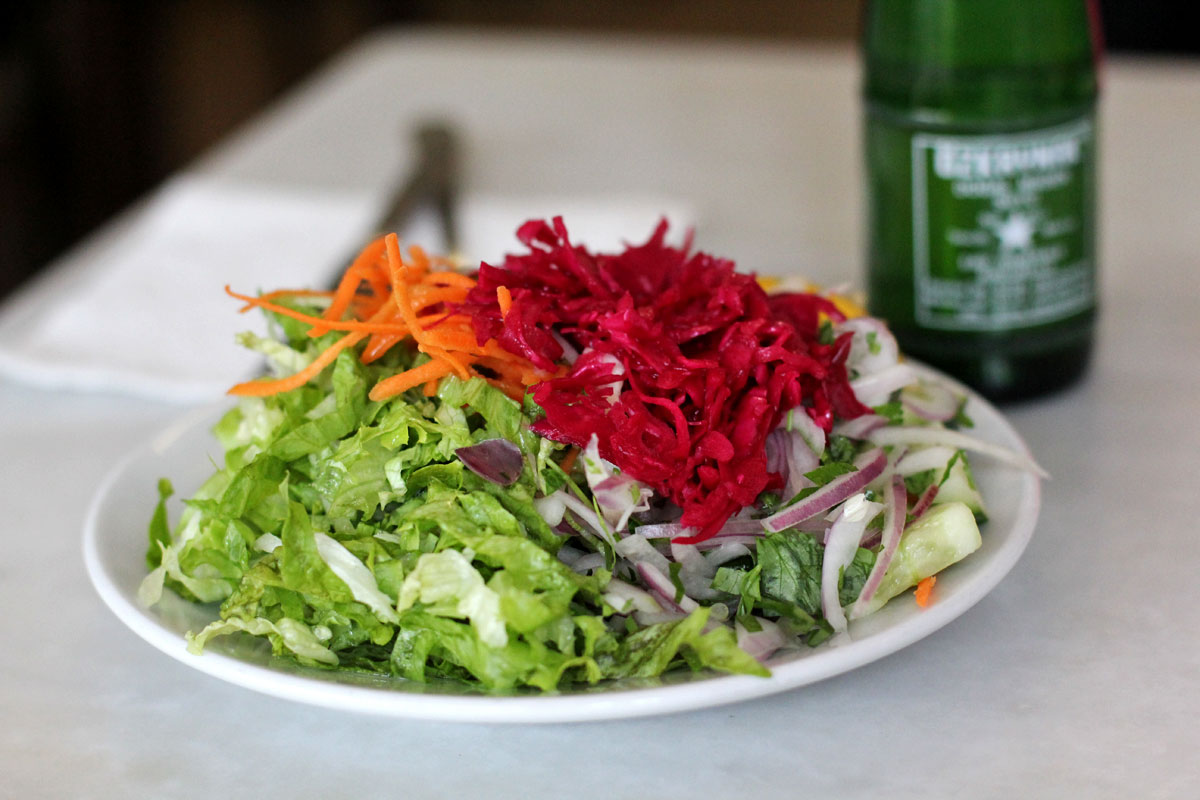 Izgara Köfte — 17TL — Grilled beef meatballs with onion, salt, breadcrumbs, and spices
Delicious grilled meatballs served with a side of green peppers and a basket of bread. We did so much eating in Istanbul that we made it a point to just order one of everything and share. As you can see below, they give you a generous amount per serving. We don't have much experience eating köfte but these tasted really good — moist, smokey, and fork tender. Nice contrast in flavor too with the pickled green peppers.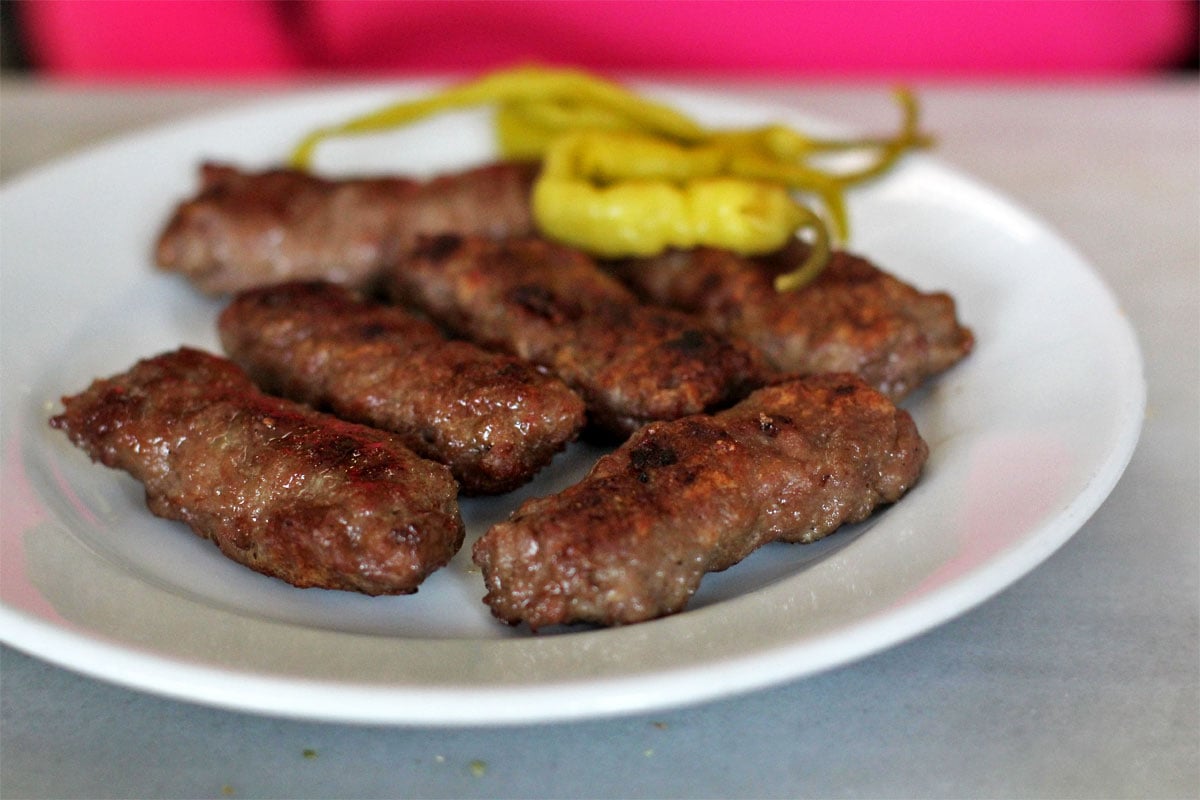 If you're wondering how I figured out this restaurant would be good, it's because TripAdvisor told me. It's a Certificate of Excellence awardee currently sporting a 4.5 star rating. On top of that, a few locals left reviews on their page commending its authenticity, and in the end, that's what really swayed me.
If you aren't staying in Sultanahmet, then you'll at least be making a stop here since this is where all the major tourist attractions are located. With all that ground to cover, you'll probably need to find a place to eat in the area. Serving authentic inexpensive kofte right by the tram stop, this is about as good a place as any.
Tarihi Sultanahmet Koftecisi Selim Usta, Sultanahmet, Istanbul, Turkey
Alemdar Mh., Divanyolu Cad. No:12 34200 Istanbul, Turkey
Tel: +90 212 520 0566
Website: sultanahmetkoftesi.com
Facebook: tarihisultanahmetkoftecisi
Twitter: Sultanahmet1920
Expect to Spend: About 20-25TL per person with drinks
Reservations: Not required, though may be a good idea during peak seasons
HOW TO GET THERE:
The restaurant is located just minutes away from the Sultanahmet tram stop. As advised above, look for the restaurant with the words "Selim Usta" in the sign. That's the one you want.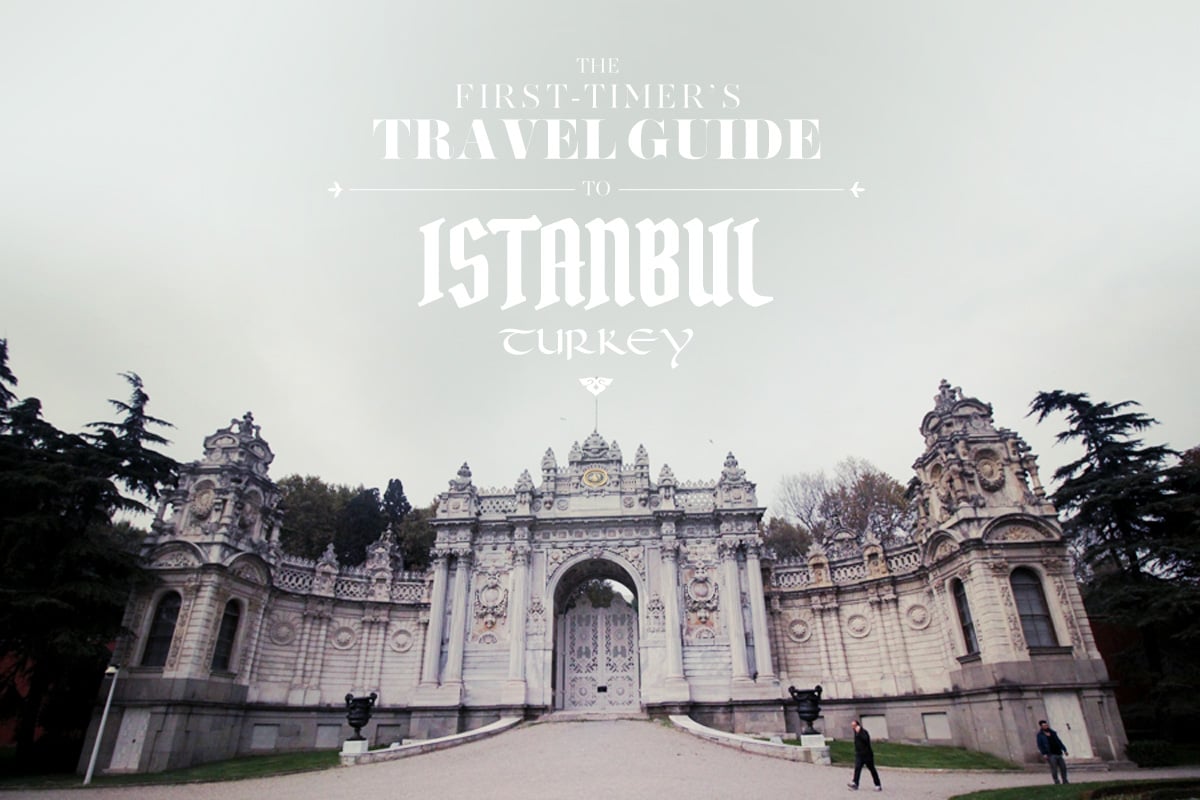 Disclosure
Some of the links in this post are affiliate links, meaning we'll get a small commission if you make a purchase or reservation at NO extra cost to you. We really appreciate your support as this helps us keep this website going. Thank you!
JB is one half of Will Fly for Food and its chief itinerary maker.  He's the one to blame for all the crappy photos and verbal diarrhea on this blog.  Don't listen to him.
Latest posts by JB Macatulad (see all)