Halil Usta: Where to Find Crisp Lahmacun in Istanbul, Turkey
My quads were begging for mercy at this point.
It was a steep incline up Defterdar Yokuşu and my chicken legs were feeling the burn. I was breathing heavily and my lower back was aching from lugging all my camera equipment up that hill. Tired and frustrated but still willing to push forward, we had gone too far to just give up at this point. No matter what, we had to find this place that's said to serve some of the tastiest lahmacun in Istanbul.
I pinned its location to my Sygic Travel map after reading about it on Istanbul Eats. But when we got there after walking all the way from Taksim Square, the restaurant was nowhere to be found. Checking Istanbul Eats again to see if I had the right address, it was only then that I saw the notice — they had moved. Bummed but still optimistic, I pinned the new address to my map hoping that it wouldn't be too far away. Luckily, it wasn't, but that confounded hill was in the way, making us work to get to our precious lahmacun. Ugh. I didn't know this at the time, but Yokuşu in Turkish, apparently means "slope" or "incline".
We eventually found the restaurant but it wasn't easy. Apart from the climb, what made it challenging was that the restaurant didn't just change addresses, it changed its name too! It went from İsmail Kebapçısı to Ismail Usta Kebap ve Pide Salonu to its present name — Halil Usta. Even when we got to the address we still didn't know if we were at the right place! Talk about confusing.
Thankfully, it was worth the effort. I swear, finding this place and having it meet our expectations was like discovering a pot of gold at the end of a rainbow.
For the Love of Lahmacun
Because we had the wrong address at first, the path we took is the long, uphill route that starts at the wrong end. It's actually quite easy to get to from Taksim Square. Just walk down Sira Selviller Caddesi and turn right into Hoca Zade Sokak (pictured below). The restaurant will be on your left.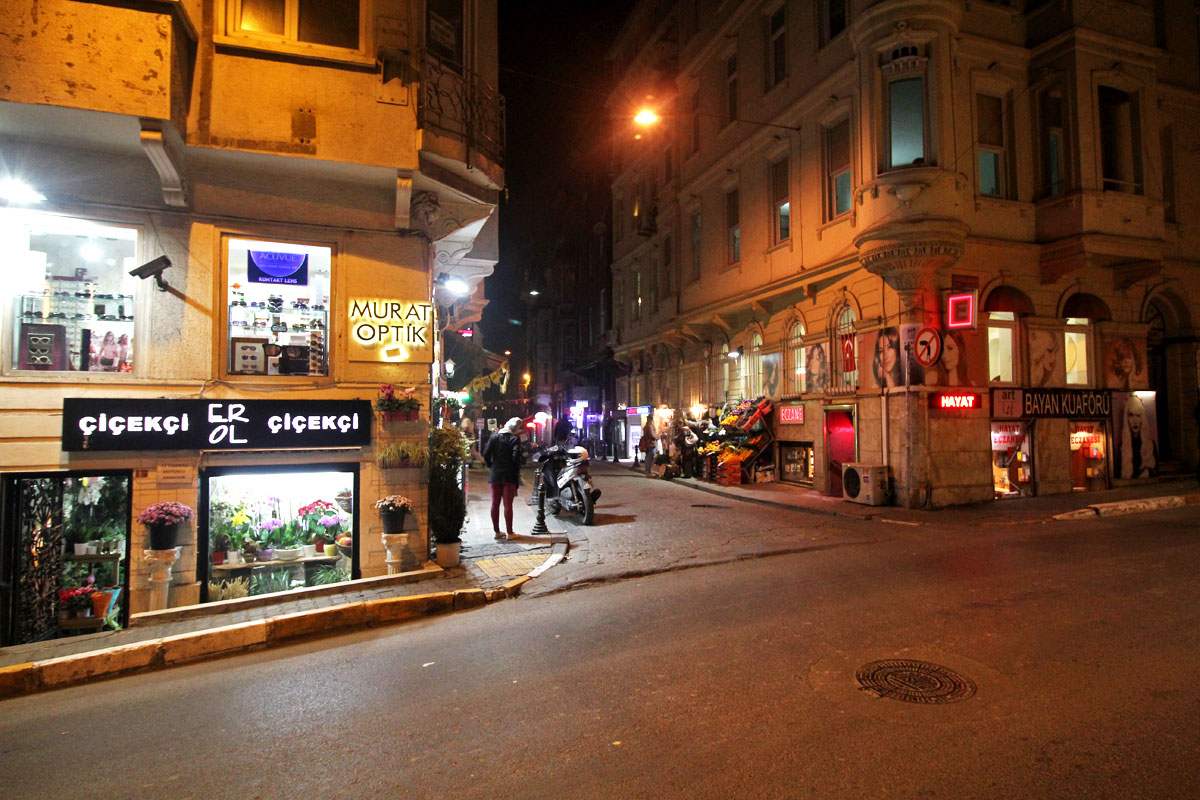 The pot of gold — Halil Usta. Despite the climb, it took us through some interesting neighborhoods with plenty of cafes, restaurants, and shops. So pleasant was this area that we already talked about staying here on our next trip to Istanbul.



Lahmacun — 4TL
The object of our quest. Though it resembles a thin cheese-less pizza, lahmacun is actually a type of wrap topped with minced meat (commonly beef or lamb), vegetables, herbs, onions, tomatoes, and parsley. Wafer-thin, crisp around the edges but chewy towards the center, you roll it up like a burrito to eat. Halil Usta serves their lahmacun with a side of spicy paste, fresh salad, and pickled peppers. Heavenly!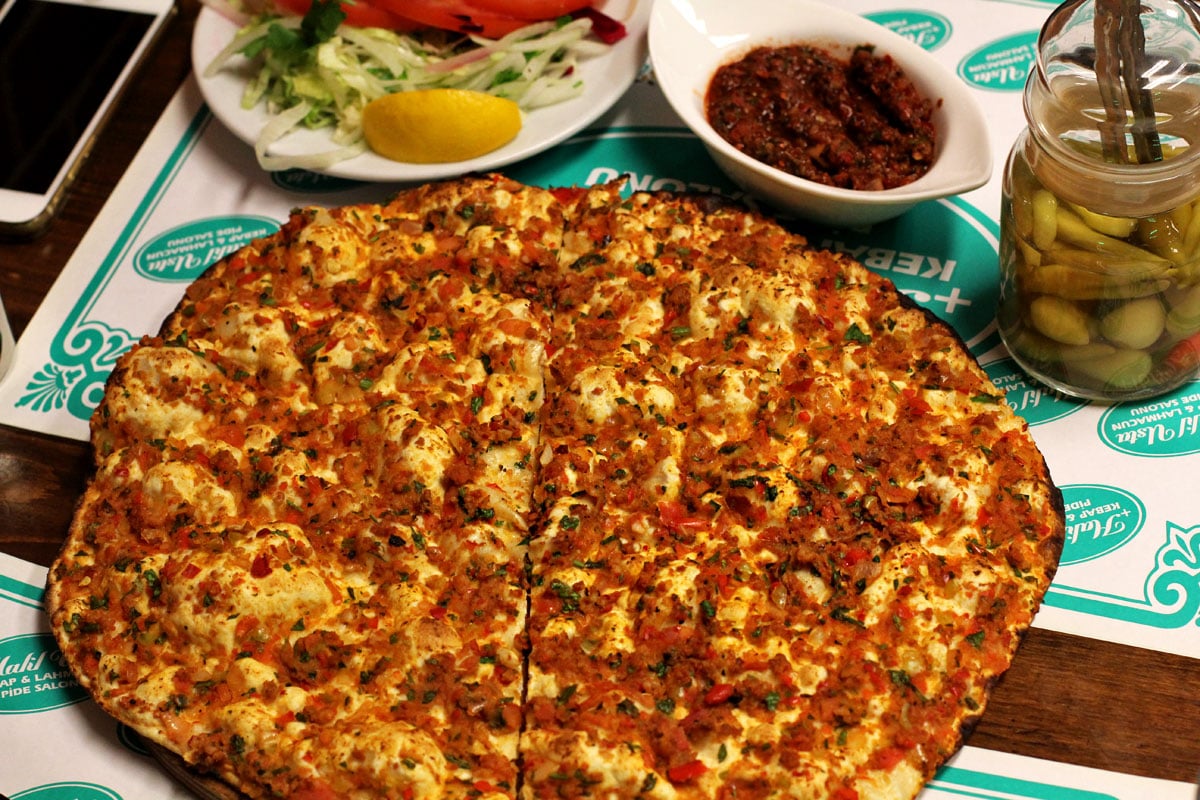 Aren't those charred air pockets beautiful? Before tonight, the only other time we had lahmacun was at the Spice Bazaar a few days before. This was infinitely better than that. It was crisp with just the right amount of toppings and not at all soggy like the other one. No comparison whatsoever.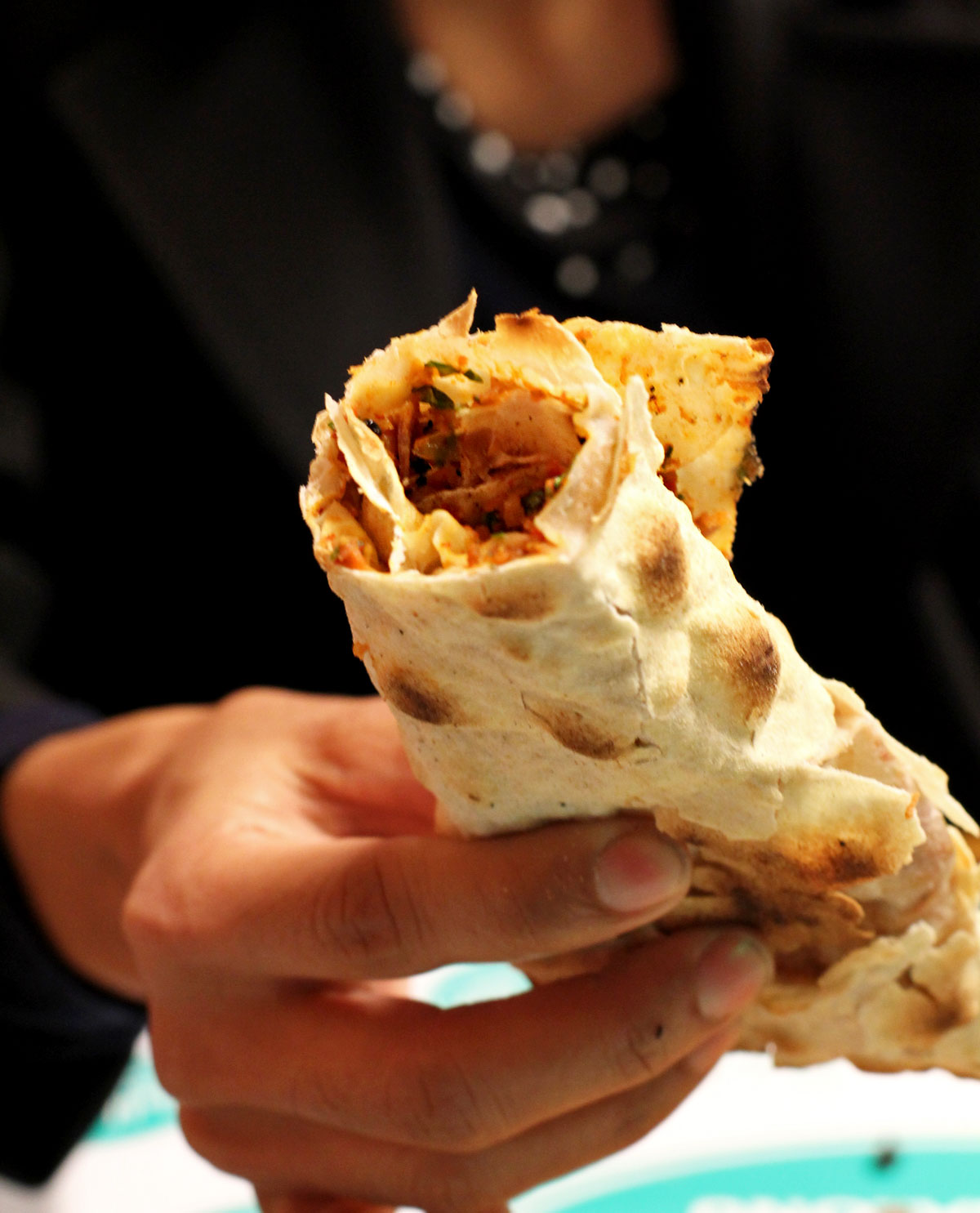 Künefe — 8TL
This dessert was a revelation. It was so damn good that it may have even outshone the lahmacun! Originating from the Southeastern region of Turkey, künefe is a crisp cheese-filled dessert made with shredded kadayıf dough soaked in sweet syrup and topped with clotted cream.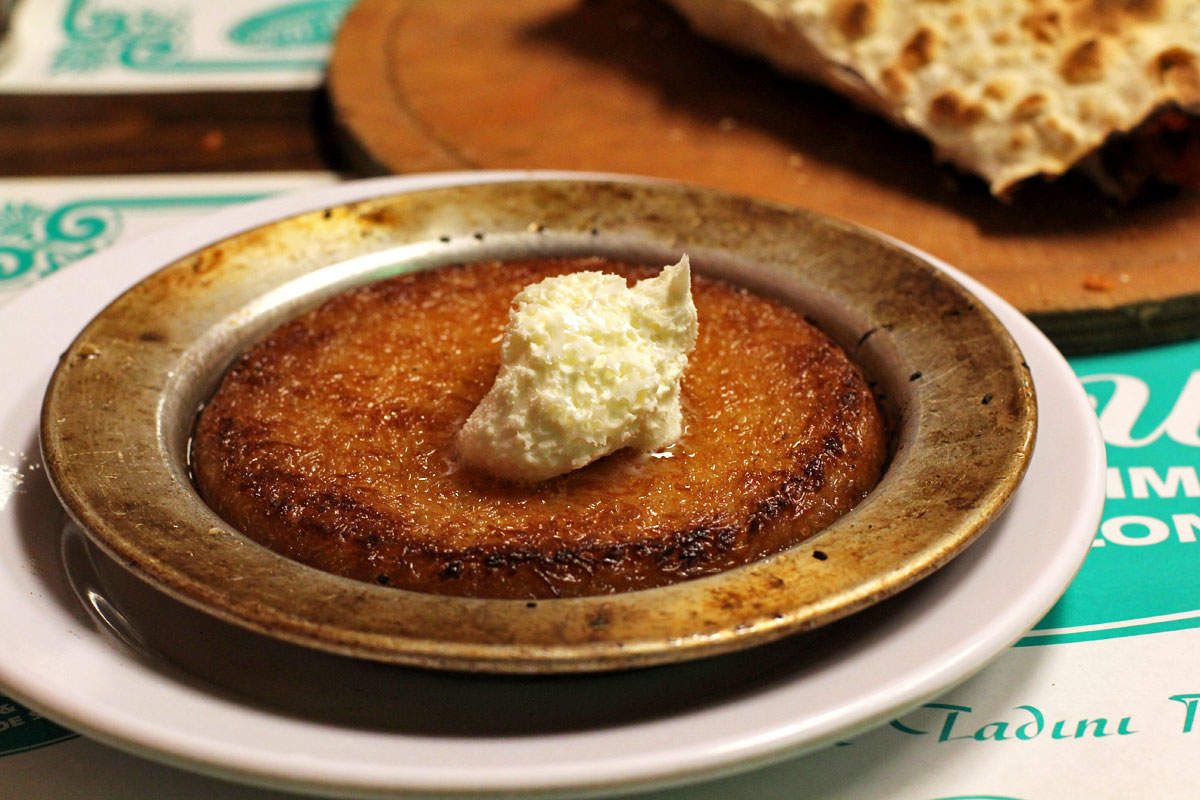 How good does this look?! You have to eat künefe soon as it comes out of the oven so the cheese is soft and stringy like this. Ridiculously good and one of the best things we ate on this trip.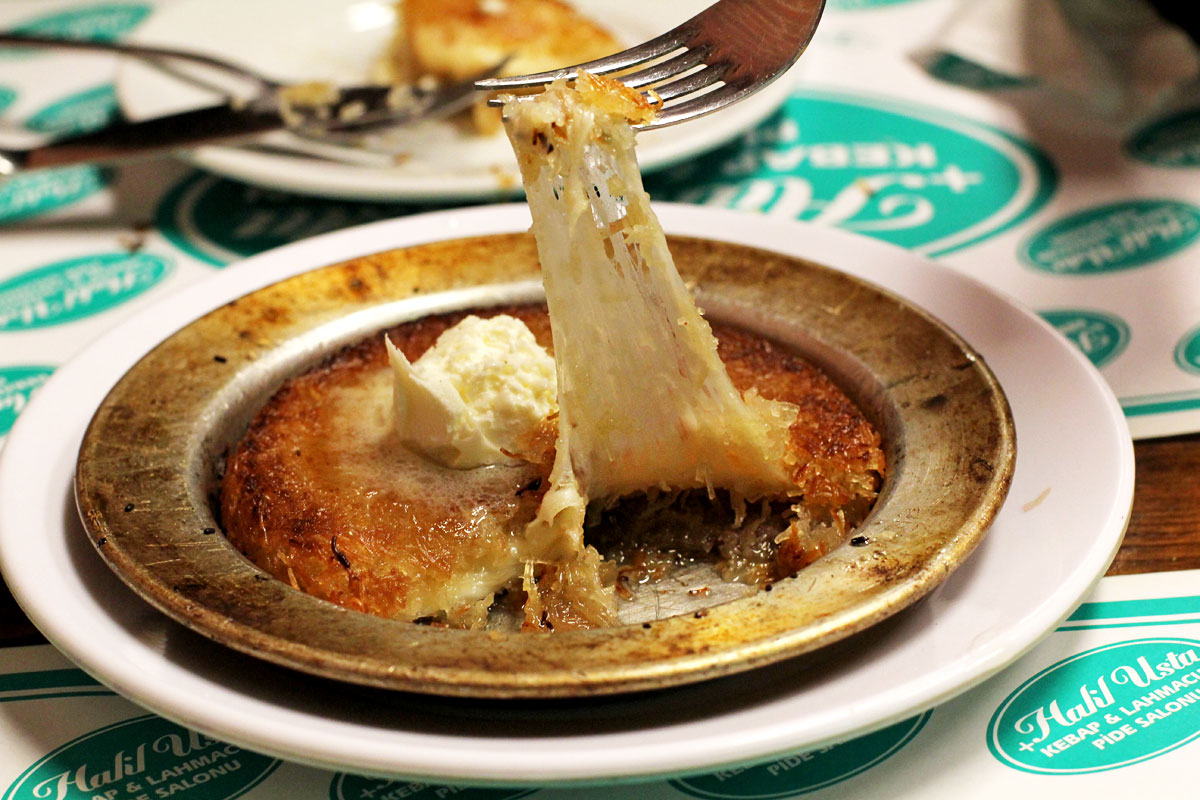 Admittedly, I don't know the story behind this restaurant's name changes. I don't even know if it's still the same lahmacun restaurant that Istanbul Eats was raving about or if it's owned by different people. But you know what? It doesn't matter. We had a fantastic meal here and would happily recommend this place to anyone. The few reviews it has on TripAdvisor reflect the same sentiments. If you're staying in the Taksim area, then I recommend you give this restaurant a try.
Another thing, if this experience doesn't prove to you how useful a travel tool Sygic Travel is, then nothing will. Without it, we would never have found this place. If you haven't already, then I suggest you download this free app and rent a pocket wifi device whenever you travel. You'll never get lost again.
Halil Usta, Beyoğlu, Istanbul, Turkey
Sira Selviller Cd., Hoca Zade Sokak, No: 7, Beyoğlu, İstanbul, Turkey
Tel: +90 212 252 3487 / +90 212 249 7995 / +90 535 887 8936
Expect to Spend: About 10-15TL per person with drinks
Reservations: Not required
HOW TO GET THERE:
Take the M2 metro to Taksim station. Walk down Sira Selviller Caddesi and turn right into Hoca Zade Sokak. The restaurant will be on your left. If you have Sygic Travel and pocket wifi, then you can use GPS to track it down.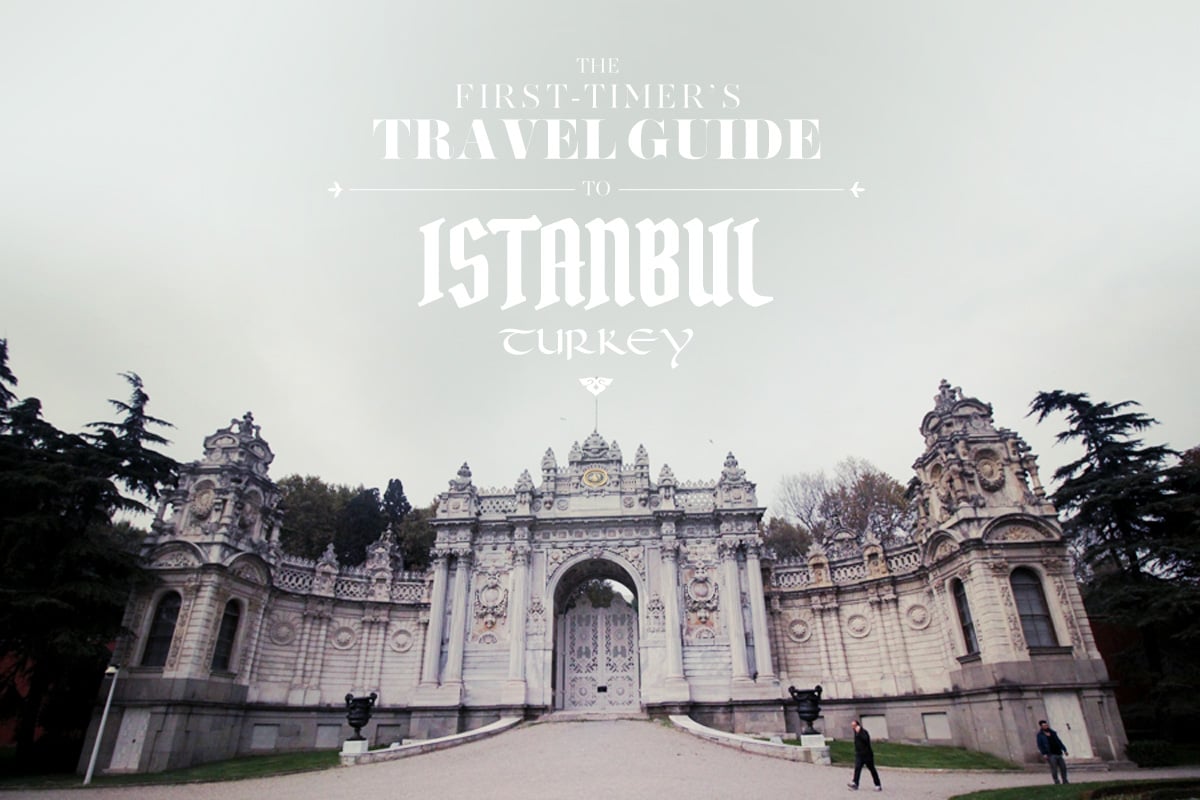 Disclosure
Some of the links in this post are affiliate links, meaning we'll get a small commission if you make a purchase or reservation at NO extra cost to you. We really appreciate your support as this helps us keep this website going. Thank you!