The First-Timer's Travel Guide to Cappadocia, Turkey
Breathless. In more ways than one, Cappadocia will leave you breathless.
Whether from the ground, marveling at these phallic spires called fairy chimneys, or flying 3,000 ft in a hot air balloon over its lava-sculpted topography, Cappadocia will take your breath away. We've been to many beautiful places on our travels but none as remarkable as this. Alien yet strangely familiar, it was like being transported to the desert planet Tatooine in Star Wars, or Middle Earth, depending on which genre you prefer.
Without a doubt one of the most unique landscapes on the planet, if Cappadocia isn't on your bucket list, then it should be.
GUIDE TABLE OF CONTENTS
HOW TO APPLY FOR AN E-VISA TO TURKEY
Applying for an e-visa to Turkey was a cinch. Travelers used to purchase their tourist visas upon arrival in Turkey but the government decided to transition to e-Visas in 2015 to reduce waiting times at border crossings. If you're eligible, approval is instantaneous and you'll be able to print out your e-Visa from the comfort of your own home in minutes. Check out my post on how to apply for an e-Visa to Turkey for a step-by-step process.
WHEN TO GO
Spring (April-June) and Autumn (September-November) are the best times to visit Cappadocia. The weather is moderate with cooler temperatures and thinner crowds. Summer (July-August) can get pretty hot — up to 32°C/90°F — and it's the busiest time of the year with tourists flocking in from the southern coast. Prices are at their peak during this time. Winter (December-February) can become bitingly cold with temperatures dropping down to -6°C/21°F.
We went in early November and it was already starting to get pretty cold, so I can only imagine what it must be like in January or February. If you don't mind cold weather though, then winter may be an interesting time to go. I saw pictures and Cappadocia looks stunning blanketed in snow.
HOW TO GET THERE
There are many ways to get to Cappadocia depending on where you're coming from. But for the purpose of this guide, let's assume you'll be coming from the popular tourist destinations of Istanbul, Selçuk, and Pamukkale, and interested only in the fastest and/or cheapest options.
From Istanbul
Flying, as you'd expect, is the fastest way to get anywhere in Turkey and it may be the cheapest as well. For example, we flew from Cappadocia to Istanbul (1 hr) and paid just 79TL as opposed to 85TL had we gone by bus (10-12 hrs).
Cappadocia has two airports — Nevsehir Kapadokya and Kayseri Erkilet. There are direct flights daily from Istanbul (Ataturk or Sabiha Gocken) to either airport. Turkish Airlines and Pegasus Airlines service both airports while Atlas Global and Onur Air offer flights only to Kayseri. Nevsehir is closer to the main towns of Göreme and Urgup but Kayseri is the larger airport.
If you've already booked a hotel, then you may want to ask them if they offer airport transfers. If not, then there are many agencies that you can make a reservation with, such as Argeus and Heritage. We arranged for transfer from our hotel in Göreme to Nevsehir airport with Bridge of the World for 10 Euros each.
From Selçuk
There are two carriers with direct flights from Izmir to Kayseri — Sun Express and Pegasus Airlines. There are none to Nevsehir. You can prearrange for airport transfers from Kasyeri to your hotel as described above.
From Pamukkale
There are no direct flights from Denizli to Cappadocia so your best bet would be to go by overnight bus. That's what we did. Turkey's buses are some of the nicest we've ever been on and it's the most popular form of travel for locals. Every seat on the bus has a touch screen where you can play games, watch movies, and listen to the radio. You even have a USB port where you can charge your mobile phone!
From Pamukkale, take a minibus to Denizli's otogar (bus station). A direct bus ride from Denizli to Cappadocia is long, around ten hours, so it's best that you take an overnight bus. They usually depart around 8PM and arrive the next day at 6AM. A one-way ticket will cost you around 60TL and like an airplane, refreshments will be served onboard. Several bus lines service Denizli from Cappadocia, like Suha Turizm, Metro Turizm, Kamil Koç, Nevsehir Seyahat, and Öz Elbistan. You can purchase your tickets online or at the station itself. If you'll be traveling during peak season, then I suggest reserving your tickets beforehand.
Here's a short video I took of our overnight bus from Denizli to Cappadocia. It was on Suha Turizm but all long-haul buses in Turkey are pretty much like this.
HOW LONG TO STAY
A minimum of two full days, no less. If you do both the Red and Green Tours, then you'll see pretty much all the major sights in Cappadocia. Each tour takes a full day which is why I'm suggesting a stay of no less than two. If you plan on taking a hot air balloon ride, then you can do it on either of those days. It starts bright and early at around 5:30AM, and they'll have you back at your hotel in time for your tours.
If I were you, I'd throw in an extra day just to take it easy and do some exploring on your own. Cappadocia is captivating and one of the most interesting landscapes I've ever seen. It's fun to just walk around and soak in the atmosphere. Maybe you can go horseback riding, cruise around on ATVs, or do some independent hiking. It's a magical place so you're bound to enjoy every minute of your stay there. We did.
WHICH CURRENCY & HOW MUCH TO BRING
The unit of currency in Turkey is the Turkish Lira (TL), though Euros and US Dollars are widely accepted as well. But just because you can pay for things with Euros or USD doesn't mean that you should. Some things are better off paid in TL because they can turn out to be more expensive when converted to Euros or USD. Basically anything that was quoted in Euros or USD — like hotels and tours — I paid for with USD, and everything else — like meals, souvenirs, transportation, entrance fees, etc. — I paid for with TL.
Naturally, how much money to bring depends on which activities and tours you'd like to do. Assuming you'll be staying for three nights (ie two full days), going on both the Red and Green Tours, riding a hot air balloon, and sharing a hotel room with one other person, then a budget of 300 Euros each for the entire two days will cover everything. This takes into account your hotel room, tour and activity costs, meals, and pocket wifi rental.
I know 300 Euros sounds like a lot for two days, but half of that goes to the hot air balloon ride so if you don't plan on doing it, then you'll be spending much less. If you've never ridden one though, then I strongly urge you to just go for it. There's no better place in the world to do it than here in Cappadocia. It's something to scratch off your bucket list and you may wind up regretting it if you don't. #experiencesnotthings
WHERE TO EXCHANGE CURRENCY
Based on my research, the only true currency exchange offices in Cappadocia are in Nevşehir. There are none in the popular tourist towns of Göreme, Ürgüp, or Uçhisar. The only bank outside of Nevşehir is Denizbank in Göreme. Other than that, I've read that jewelry shops can exchange your currency as well though you'll need to be familiar with the day's exchange rate.
Instead of exchanging currency, a common practice by travelers in Turkey is to withdraw TL from an ATM instead. That's what we did. Not only is it the quickest and most convenient way to get TL, but ATMs are said to give the best rates as well. There are plenty of ATMs in Cappadocia. Depending on which one you use, your bank may impose daily withdrawal limits and charge you a processing fee per withdrawal. You should clarify this with your bank before your trip. You may have to activate your ATM card for overseas use as well. I did.
On top of bringing your ATM card, I suggest bringing some cash and credit cards in the event that your ATM card is rejected. You never know what could happen so it's good to have a backup plan.
WHERE TO STAY: Natureland Cave Hotel
The Cappadocia region is comprised of multiple cities and towns, though the majority of travelers stay in Göreme, Ürgüp, or Uçhisar. Göreme is considered the hub for tourism in Cappadocia with its numerous restaurants, travel agencies, and hotels of varying price ranges. It's also walking distance to Göreme Open Air Museum which is the most visited tourist attraction in Cappadocia. Ürgüp is similar to Göreme in terms of accommodations and services, plus it's considered the region's heart of wine production. Uçhisar provides the best views of Cappadocia and is known for its luxury hotels, inns, and rental villas.
We stayed at a quaint 6-room B&B called Natureland Cave Hotel in Göreme. For just 30 Euros a night, we got to stay in a cave room carved from the area's soft volcanic tufa rock. In my opinion, cave rooms are quintessential to the Cappadocia experience so if it's your first time here, then staying in one is a must.
Check out my post on Natureland Cave Hotel in Göreme, Cappadocia for more pictures and information.

Approximate Room Rate: 30 Euros per night (as of Nov 2015)
WHERE TO GO / WHAT TO DO
1. Ride a Hot Air Balloon
Without a doubt, riding a hot air balloon over this alien landscape is the most epic thing you can do in Cappadocia. It's a once-in-a-lifetime experience and there are few better places in the world to do it than here. Sure, it isn't cheap, but sometimes you just need to forget about the money. This is one of those times.
Check out my post on riding a hot air balloon over Cappadocia with Voyager Balloons for more pictures and information.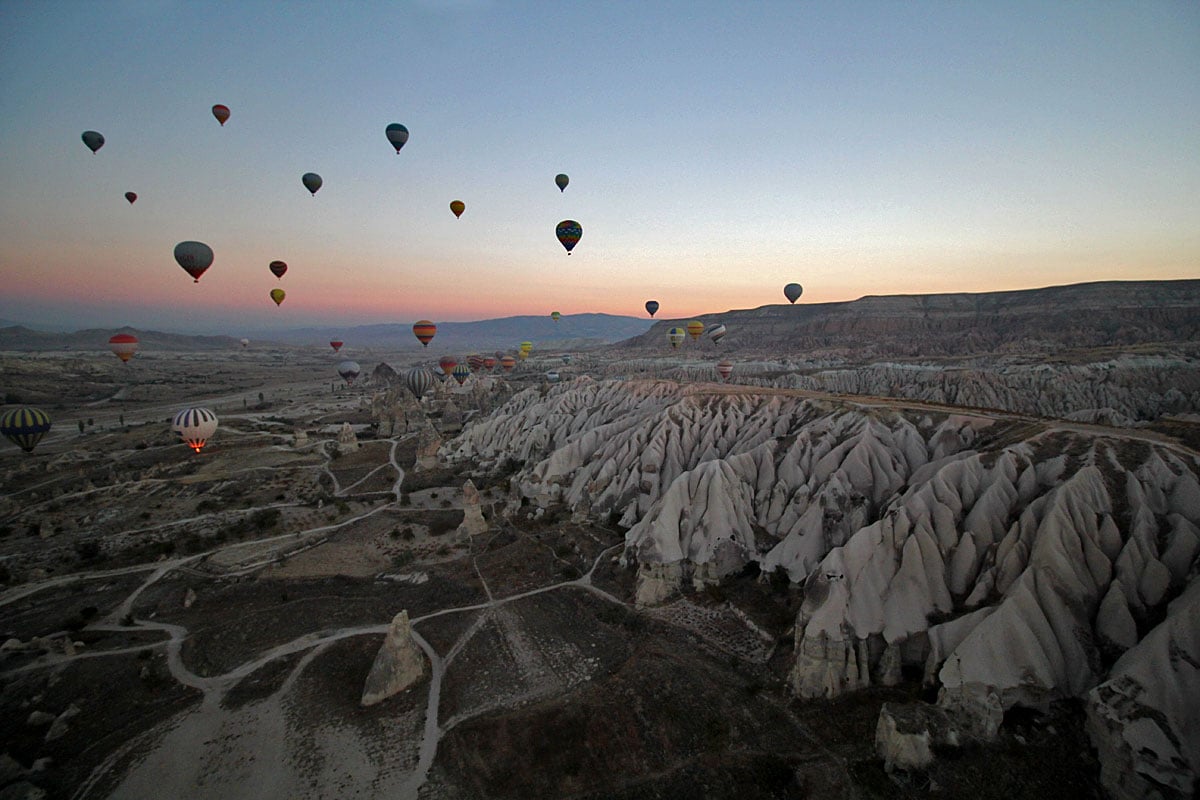 Flight Duration: Over 1 hr / Cost: Starts at 160 Euros
2. Visit Cappadocia's Highlights on the Red Tour
In my opinion, the Red Tour is one of the best things you can do in Cappadocia outside of the hot air balloon ride. It's a great introduction to the area and takes you to the most striking spots in northern Cappadocia. If you were to do just one tour (other than the hot air balloon), then I suggest doing this one.
Check out my post on the Red Tour with Bridge of the World for more pictures and information.

Tour Duration: Around 7-8 hrs / Cost: 35 Euros
3. Discover Cappadocia on the Green Tour
Arguably the second most popular tour in Cappadocua after the Red, the Green Tour will take you to a slew of interesting sites in southern Cappadocia. Highlights include an underground city that goes 300 ft below the surface of the earth and a picturesque hike through a valley honeycombed with rock-cut dwellings and churches.
Check out my post on the Green Tour with Bridge of the World for more pictures and information.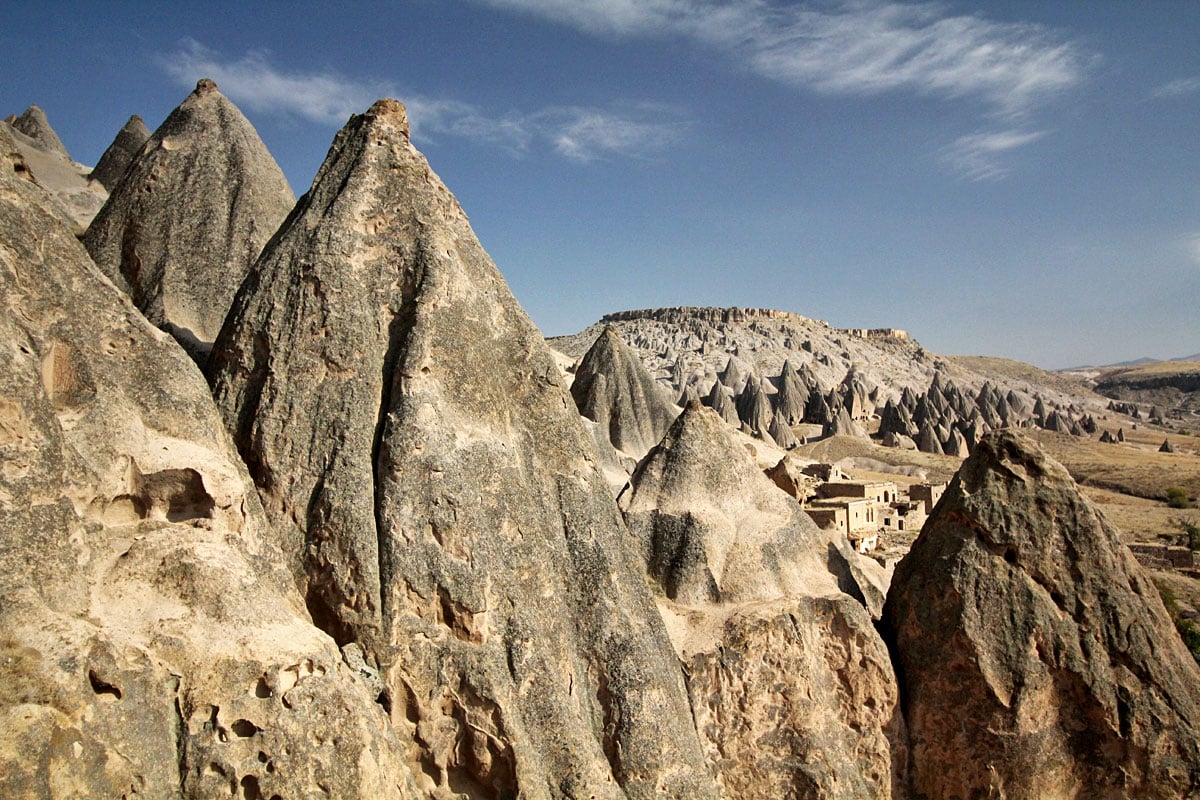 Tour Duration: Around 7-8 hrs / Cost: 45 Euros
4. Explore Cappadocia's Moonscape on Horseback
Cappadocia in Turkish means "land of the beautiful horses", so what better way to explore this alien landscape than on horseback? We did this on a whim the day we arrived in Cappadocia and it turned out to be one of our fondest memories in Turkey.
Check out my post on exploring the landscape of Cappadocia on horseback for more pictures and information.

Activity Duration: Around 2-3 hrs / Cost: 30 Euros
5. Get a Taste of Turkish Culture & Dance during Turkish Night
Accompanied by live music over dinner and free-flowing wine, you'll be treated to folk dances from different parts of Turkey, including a whirling dervish ceremony and a belly dance. Did I mention there's free-flowing wine?
Check out my post on Turkish Night in Cappadocia for more pictures and information.

Activity Duration: Around 2-3 hrs / Cost: 40 Euros
6. Explore Cappadocia on an ATV
If horseback riding isn't your thing, then you may want to go on an ATV ride instead. We didn't do this but cruising around on ATVs is another popular activity in Cappadocia. Many tour operators offer ATV riding but I can personally recommend Bridge of the World travel agency. We booked four tours with them and we were happy with all.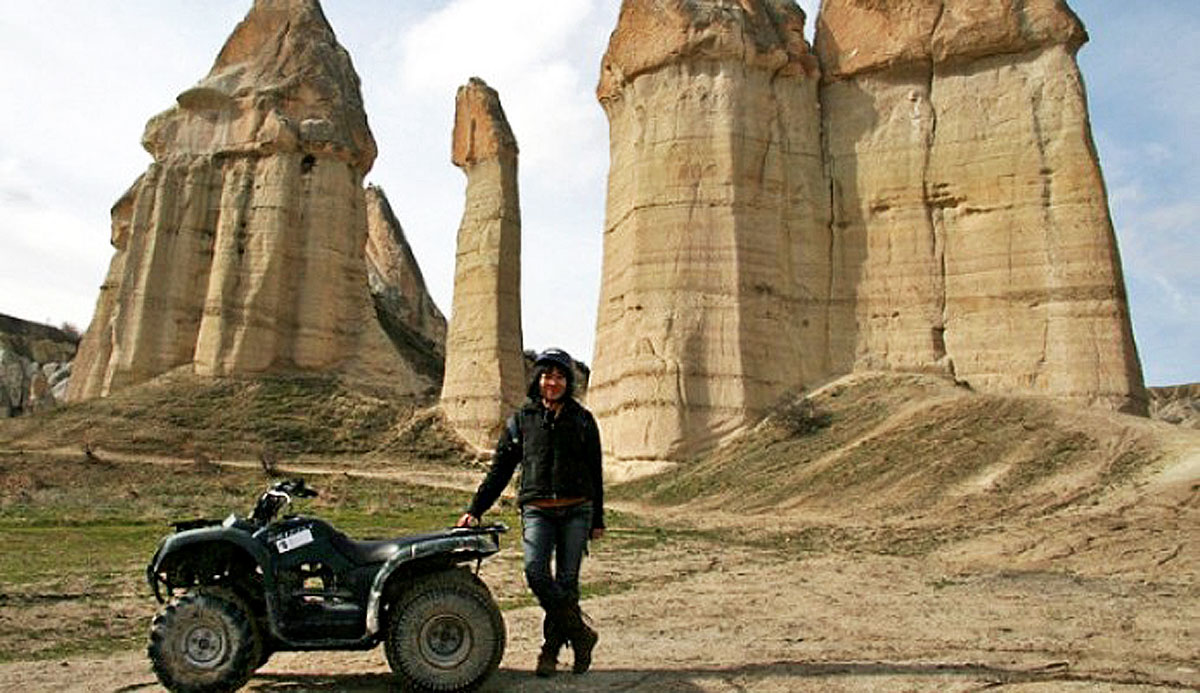 Activity Duration: Around 2-3 hrs / Cost: 30 Euros
27 THINGS TO EAT & DRINK
Considered one of the world's greatest cuisines because of its diversity, long history, and the legacy left behind by an imperial kitchen, it seemed that every region we visited had something interesting to offer. Check out my post for a list of 27 delicious things to eat and drink in Turkey.

Lahmacun, a type of wrap topped with minced meat (commonly beef or lamb), vegetables, herbs, onions, tomatoes, and parsley.
WHERE TO EAT IN GÖREME
1. Nazar Börek Cafe
A TripAdvisor Certificate of Excellence awardee, Nazar Börek Cafe is a gem of a restaurant that serves traditional Turkish dishes like börek, gözleme, and böregi. Börek, from which the restaurant gets its name, refers to a family of filled filo (or yufka) pastries popular in Ottoman cuisine. They're delicious and one of my favorite things to eat on our Turkey trip.
Check out my post on Nazar Börek Cafe in Göreme, Cappadocia for more pictures and information.

Expect to Spend: Around 15TL per person with drinks
2. Omurca Art Cave Cafe
Another TripAdvisor Certificate of Excellence awardee, Omurca Art Cave Cafe is a charming little place that's owned by artist and craftsman Harun. Not only did Harun decorate the place and build all the furniture himself, but he cooks all the food as well. It's a great place to just kick back and relax while enjoying a home-cooked meal with glasses of house-made wine.
Check out my post on Omurca Art Cave Cafe in Göreme, Cappadocia for more pictures and information.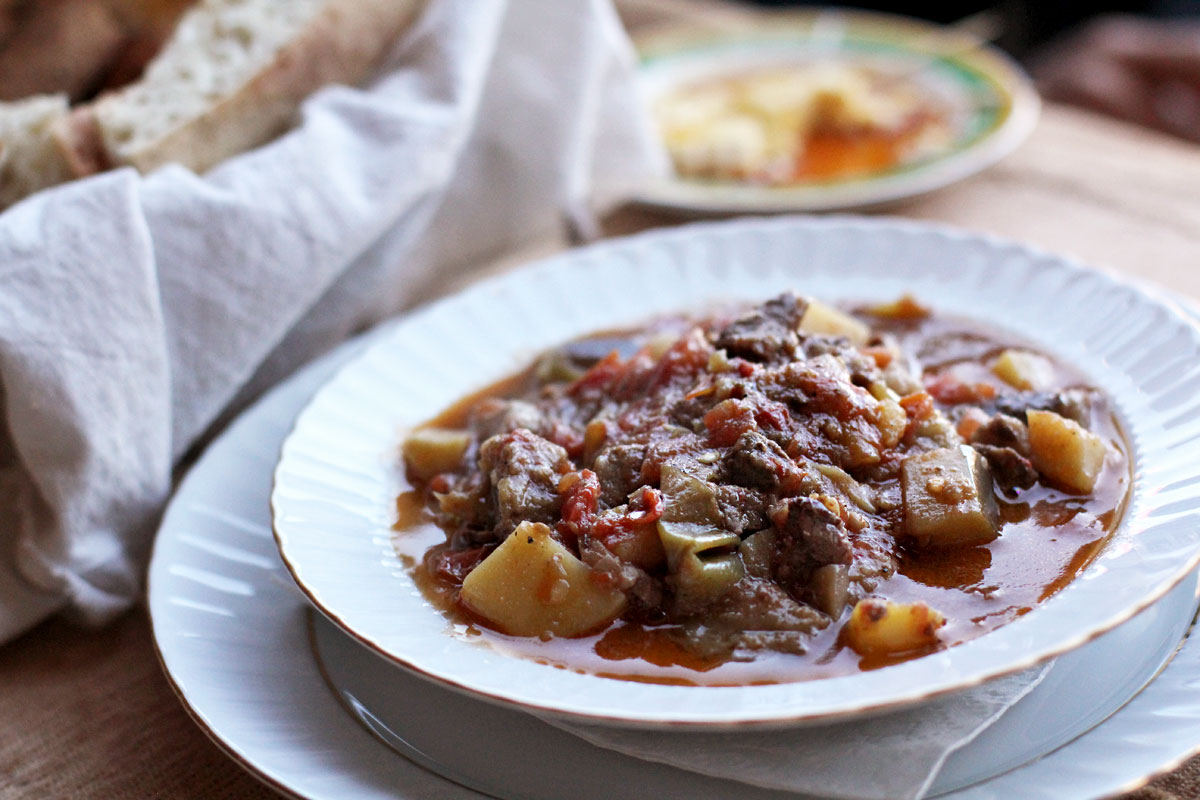 Expect to Spend: Around 25TL per person with drinks
3. Coffeedocia
Coffeedocia is a great place to have breakfast, especially if you're arriving in Göreme by overnight bus. Located just off the otogar, we randomly walked into this place with our luggage in tow when it was still too early to check in at our hotel. Breakfast was wonderful and the Segafredo coffee was good. They have a full menu as well with a wide selection of desserts.
Check out my post on Coffeedocia in Göreme, Cappadocia for more pictures and information.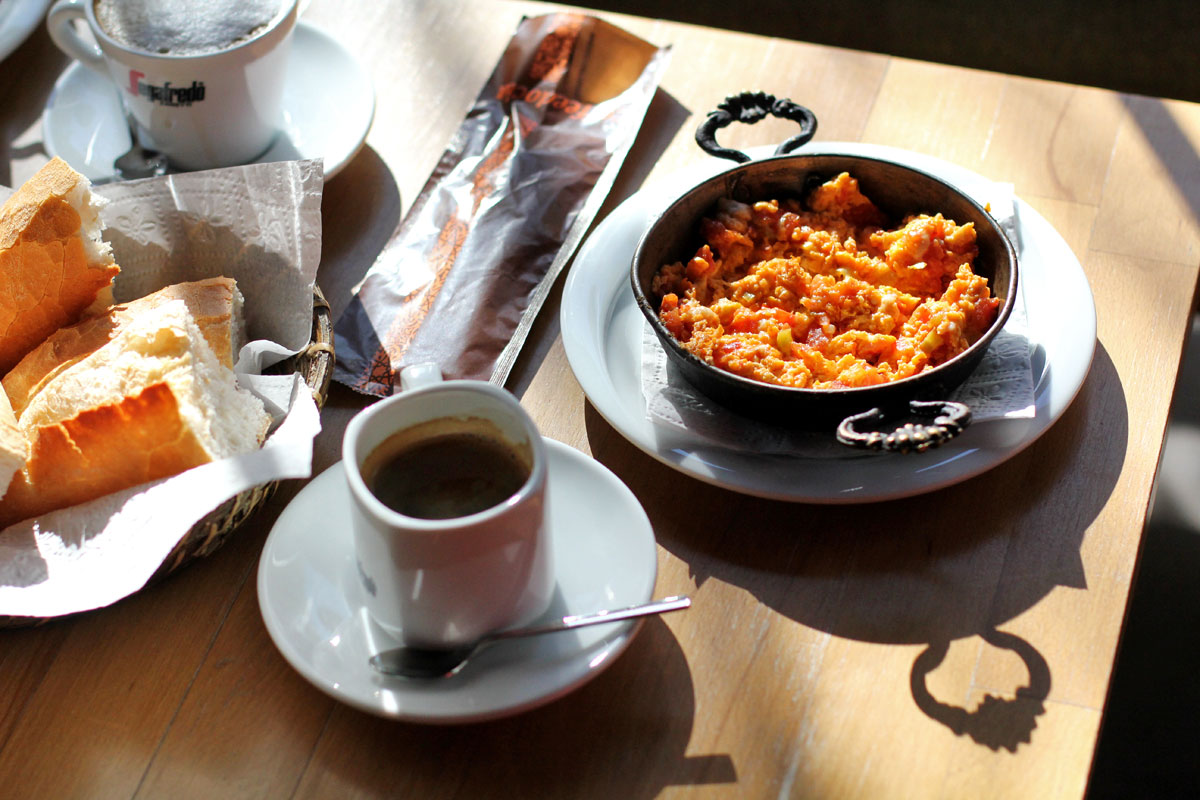 Expect to Spend: Around 15TL per person with coffee
TRAVEL TIPS
1. Plan your Trip with Sygic Travel (formerly Tripomatic)
This is my go-to travel planning app. I use it to plan every trip. With Sygic Travel, you can plot points of interest on a map, including your hotel, so you can see exactly how far you need to travel between points. It enables you to lump attractions together per day based on their location. With pocket wifi, it can turn your mobile phone into a GPS tracking device so people with a terrible sense of direction (like me) never get lost again. Pretty sweet right? Check out my post on the Sygic Travel app for more information.
You can follow the link to check out our Cappadocia itinerary on Sygic Travel. Please be advised that the itinerary only shows places within Göreme and doesn't include any of the sites we visited on our tours. You can also get a download link to our entire 2-week Turkey itinerary in editable Word format by signing up for our FREE newsletter below.
2. Rent a Pocket Wifi Device
A constant wifi connection is a must when traveling these days, especially with Sygic Travel's GPS tool being such a lifesaver. We never go anywhere now without renting a pocket wifi device first.
We rented the device from Alldaywifi for just USD 5 a day with unlimited data. We used it all throughout our Turkey trip — from Istanbul to Selçuk to Pamukkale to Cappadocia — without experiencing any interruptions in service. It also came with a powerbank which proved very handy. After using the device the entire day, the battery would go red around 6-7PM so we'd plug it in to the powerbank for a couple more hours of juice.
You can have it delivered to any hotel in Istanbul or pick it up at Ataturk Airport. Before departing Turkey, you can leave it with your hotel's reception desk as they currently don't offer airport drop-off. Delivery and pickup within Istanbul is free, but anywhere else will incur a shipment cost of USD 10 each way.
Follow the link to rent a pocket wifi device from Alldaywifi. I suggest reserving it at least a week before your trip.


3. Book Early, Pay Cash, and Get Upgraded to the Comfort Flight
Thanks to Turkey Travel Planner, we got a free upgrade from the Standard to the Comfort flight with Cappadocia Voyager Balloons. Standard flights take up to 28 people at a time while Comfort flights take a maximum of just 16. If you make a reservation with them via THIS LINK and select "Standard Flight" under Flight Type, be sure to choose "Turkey Travel Planner" under the How did you find us? dropdown and key in the Promotion Code TTP01. This will get you upgraded to the early morning Comfort flight (the best one) at no extra charge. Standard flights cost 160 Euros per person. If you pay in cash, then Voyager Balloons will give you a 10 Euro discount per person, so you'll wind up paying just 150 Euros for what would normally cost 180 Euros for the Comfort flight. Not bad eh? You can confirm the promo on THIS PAGE of Turkey Travel Planner.
Our pilot told us that about 40% of morning flights get cancelled due to unfavorable weather conditions. If you'll be staying in Cappadocia for several days, then I strongly urge you to book your flight on the very first morning you'll be there. That way you can still move your flight to another day in case it gets cancelled. It would be a shame to go all the way to Cappadocia and not be able to go up in a hot air balloon.
4. Try Pottery Kebab at a Restaurant that Requires Advanced Booking
Testi or pottery kebab is a casserole-type dish that's prepared in a clay pot or jug. It's an Anatolian specialty and a must-try in Cappadocia. For the best experience, go to a restaurant that requires advanced booking. Pottery kebab takes hours to prepare so a good restaurant will require you to make a reservation at least three hours in advance. You can ask your hotel for recommendations. If a restaurant offers pottery kebab on the spot, it's likely because they pre-make a batch earlier in the day and just reheat when you order.
5. Check for Discount Passes
There are many websites that offer discount passes to tours and services. One of the biggest is Viator. They offer tours and activities to many destinations around the world, including Cappadocia. Viator is owned by TripAdvisor so you know they're solid. If you're looking for deals on tours, then you may want to search through this list of Cappadocia attractions on Viator. Alternatively, you can check for attraction deals on Kkday as well.
6. Get Travel Insurance
To be honest, it was only recently when we started buying travel insurance. Back when we traveled just once or twice a year, travel insurance felt more like an added expense, one we didn't need. But now that we travel more, I understand how important it is to have it. Fact is, you never know what can happen on the road. It's one of those things that you hope you never have to use, but if you do wind up needing it, then you'll be thanking the gods that you had it. Or cursing them if you didn't.
Though I do find it more necessary now, it's still up to you if you think you need it. A 3-day food trip to Penang may not really call for insurance but if you plan on doing more active things like bungee jumping, kayaking, or even going on a city bike tour, then I'd say travel insurance is a must. Here in Cappadocia, I think it would definitely be good to have it.
We buy travel insurance from World Nomads because every long-term traveler I know recommends it. From the sound of it, they're the best in the industry by a mile. Not only do they provide a high coverage limit for medical expenses (up to USD 5 million with the Standard package), they also cover things like trip delays, missed flight connections, theft/loss of passport and luggage, etc. Follow the link or use the widget below to learn more and get a free travel insurance quote from World Nomads. It's super quick and easy.
7. Know When and How Much to Tip
Tipping is generally modest in Turkey, around 5% at restaurants and a few lira for porters and other similar services. Try to tip in TL as much as possible and give it directly to your server. At inexpensive restaurants, around 5% is enough. At fine dining establishments, 10-15% is expected. For porters at hotels, airports, or train and bus stations, 2-3TL per bag should suffice. Taxi drivers usually aren't given a tip, but you should round the fare up to a convenient amount (ie 20.30TL to 21TL). Tips to tour guides and drivers are at your discretion. If you were happy with the day's tour, then a group tip of around 20TL for the guide and 15TL for the driver would be appreciated. Keep in mind that this is the total tip from the entire group, not each individual.
8. Bring the Right Power Adapter
Electrical outlets in Turkey are round so plugs are typically Type C or Type F. Be sure to bring the right power adapters for your devices. Electrical voltage is 230V.
A bible for all things Turkey. Tom Brosnahan is an American travel writer who's been visiting Turkey for the greater part of 40 years. He's about as knowledgeable and well-connected as any non-local, and his website — turkeytravelplanner.com — was an invaluable resource when planning our trip. The navigation is a little confusing but the wealth of information is impressive. I suggest referring to it should you need more in-depth knowledge of Turkey.
HOW TO GET AROUND
Personally, I prefer exploring on our own so we never go on guided tours. But in Cappadocia, I felt it was necessary. Attractions are spread out over large distances so it can be tough to get from one place to the next. Derinkuyu underground city and Ihlara Valley, for example, are over an hour away from Göreme. Public transportation in the form of minibuses does exist between towns, but not all attractions are within the towns themselves. On top of that, you'll need to wait around for the minibuses which only adds to the travel time.
For these reasons, I suggest going on a guided tour. The Red and Green Tours will take you to all the major spots in Cappadocia. Entrance fees are already included, as is lunch, and you don't have to worry about missing any attractions. We booked our tours with Bridge of the World and I found their prices to be reasonable.
If there are enough people in your group to split the cost, then an alternative would be to rent a car. Many travelers do. According to Turkey Travel Planner, you'll need to pay a minimum of 100TL per day to rent the cheapest M/T car. Most rental cars in Turkey have M/T so expect to pay a lot more for A/T. I can't drive stick so this wasn't feasible for us, plus I didn't want to deal with the hassle of having to seek out places on our own and potentially getting lost. But if you're comfortable with the prospect of driving, then this would be a good option. It will give you the most freedom.
Have fun!
I'm not an expert on Cappadocia nor Turkey but I do hope that you find this guide useful. I'm only sharing some of the things I learned from our trip. If you have any suggestions or simply want to share your own experiences, then please feel free to do so in the comments section below. You're welcome to join our Facebook Travel Group as well. We'd love to hear from you.
Thanks for stopping by and have an awesome time exploring the moonscape of Cappadocia!
OUR GEAR
These are some of the things we brought with us to Cappadocia. As you can tell, I document a lot of content for this blog so most of the things I bring are photo and video equipment. 😆 If you'd like to see what other gear we use, then you can check out our "What's in Our Backpack?" post. (NOTE: The following links are Amazon affiliate links.)
Disclosure
Some of the links in this guide are affiliate links, meaning we'll get a small commission if you make a purchase at NO extra cost to you. We only recommend products and services that we use ourselves and firmly believe in. We really appreciate your support as this helps us make more of these free travel guides. Thank you!