Mehmet and Ali Baba Kebab House: Where to Eat in Selçuk, Turkey
TripAdvisor is like the bible to me when it comes to vacation planning. It helps me evaluate hotels, tours, and attractions, even restaurants. If a hole-in-the-wall is a TripAdvisor Certificate of Excellence awardee AND lands in the top ten of a city's best restaurant list, then you can be guaranteed that it's going on our itinerary.
Sporting a 4.5 star rating (out of 5) from 918 reviewers to date, Mehmet and Ali Baba Kebab House — one of the highest-rated places in Selçuk — is one of those restaurants.
The Best Kebabs in Selçuk?
Ideally located, Mehmet and Ali Baba Kebab House is just around the corner from Ephesus Archaeological Museum. It's a great place to enjoy a meal before or after viewing the exhibits. There's Ali Baba hanging outside his restaurant. Cool dude.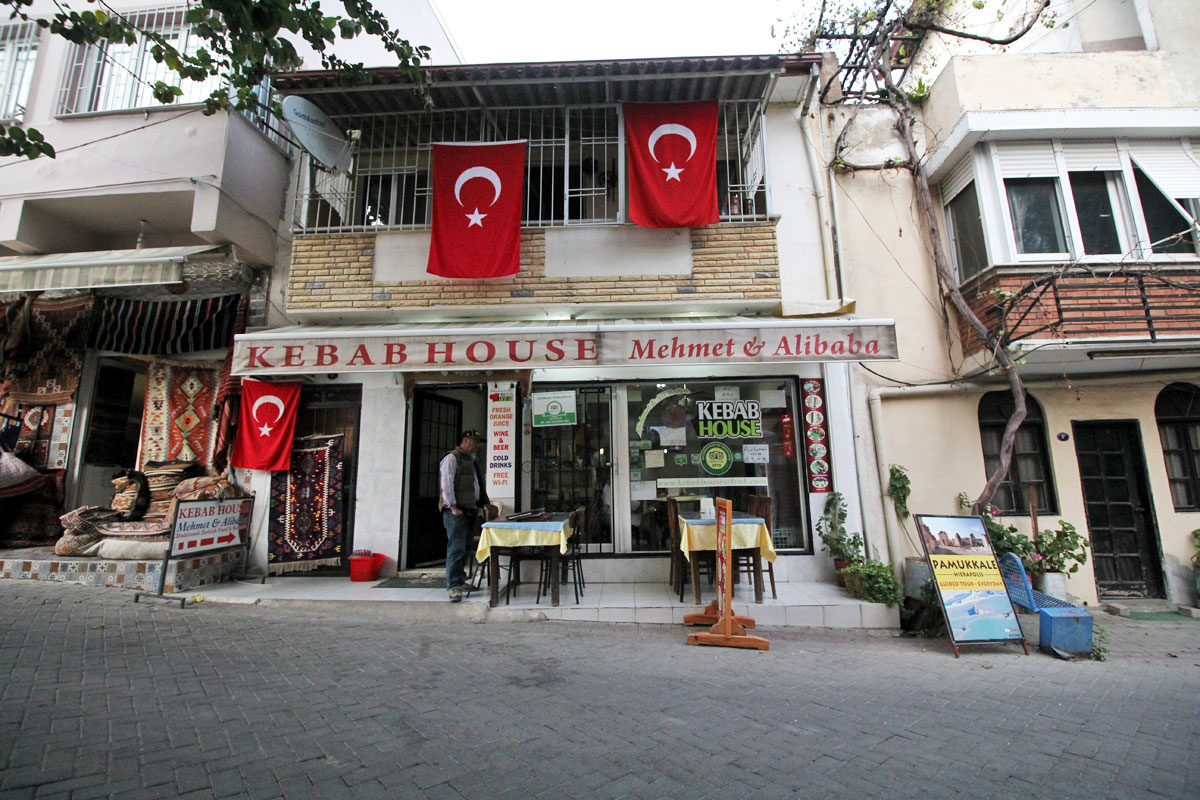 Complimentary bread and dips. Every meal we had in Turkey started off with a basket of delicious crusty bread.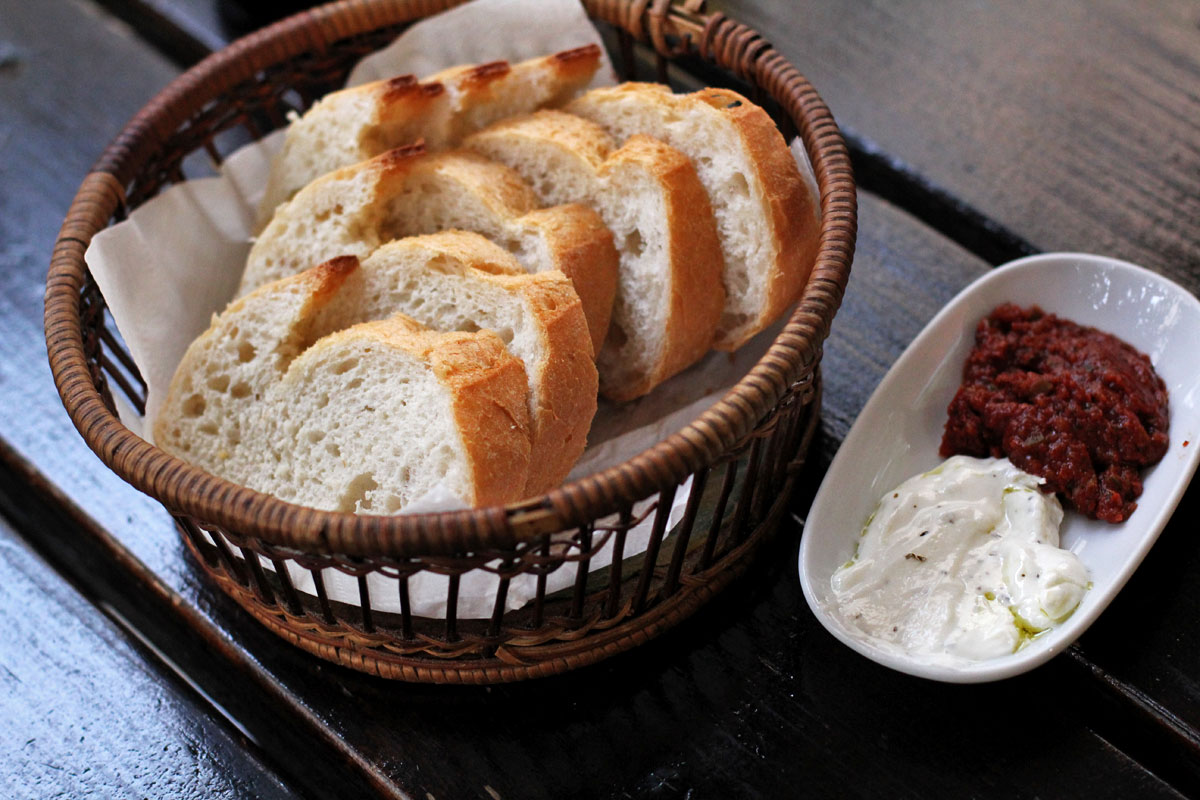 Grilled Lamb Kebabs – 20TL
They do enjoy their carbs in Turkey. On top of the bread they give you at the start, pretty much every main dish you order will come with rice, fries, and a salad. They give you so much food! We wound up overordering at the start of our trip, but we soon learned that sharing an appetizer and an entree was just right. These lamb kebabs were delicious. I suggest ordering the lamb. It's their specialty.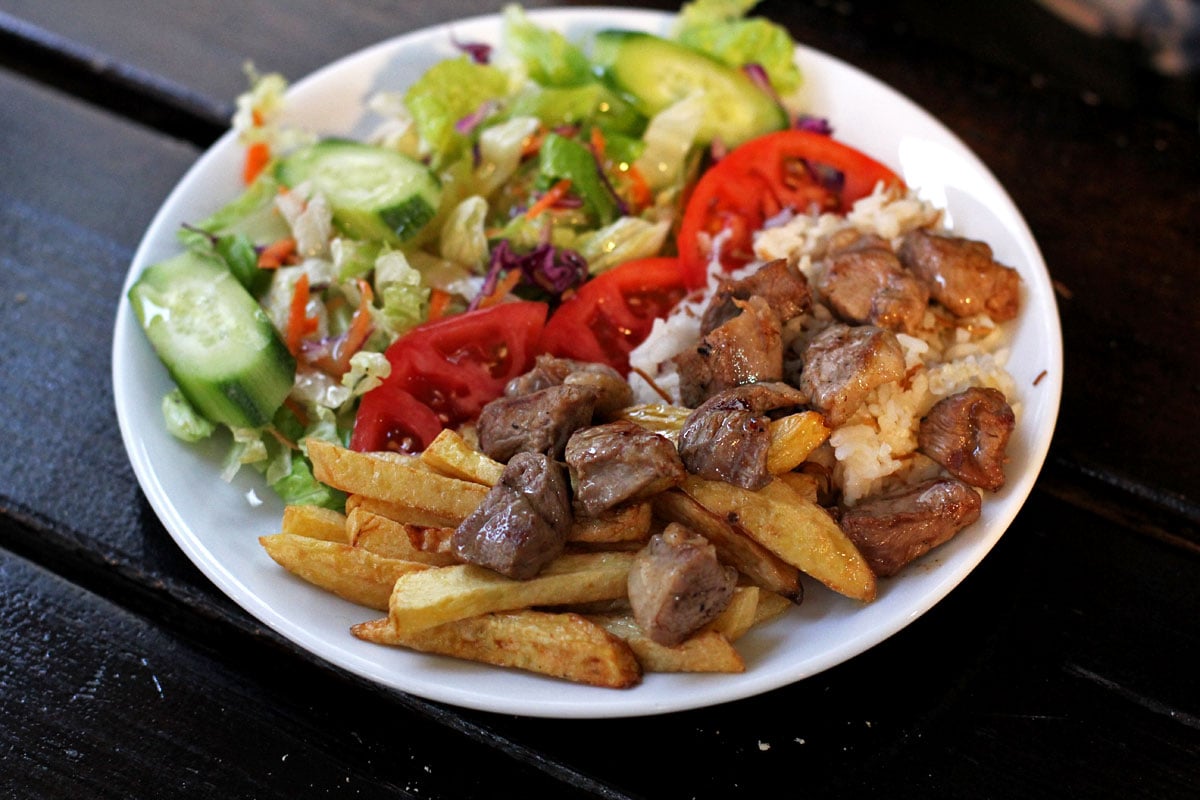 Grilled Fish – 20TL
Tasty grilled fish from the Aegean Sea.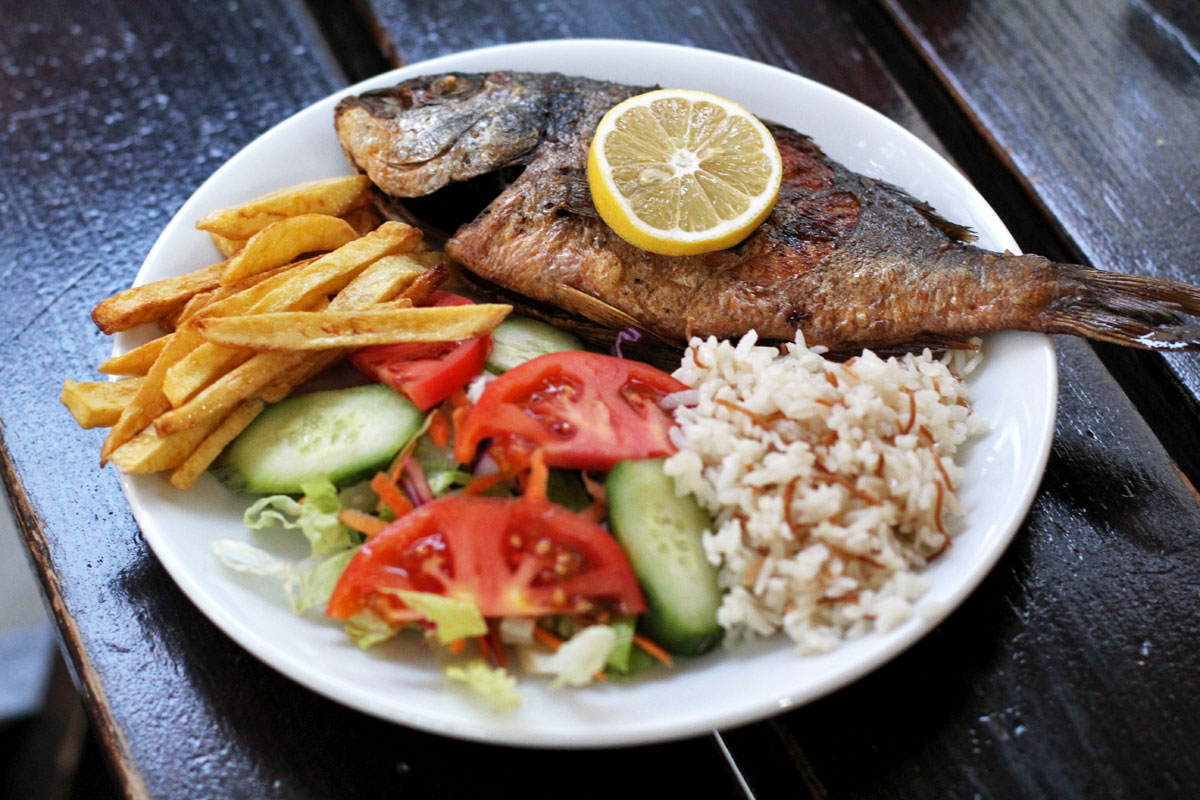 Meze Platter (small) – 10TL
Love Turkish meze. Healthy and flavorful, meze is a selection of small dishes (mostly vegetarian) served to accompany alcoholic drinks or as appetizers before the main dish.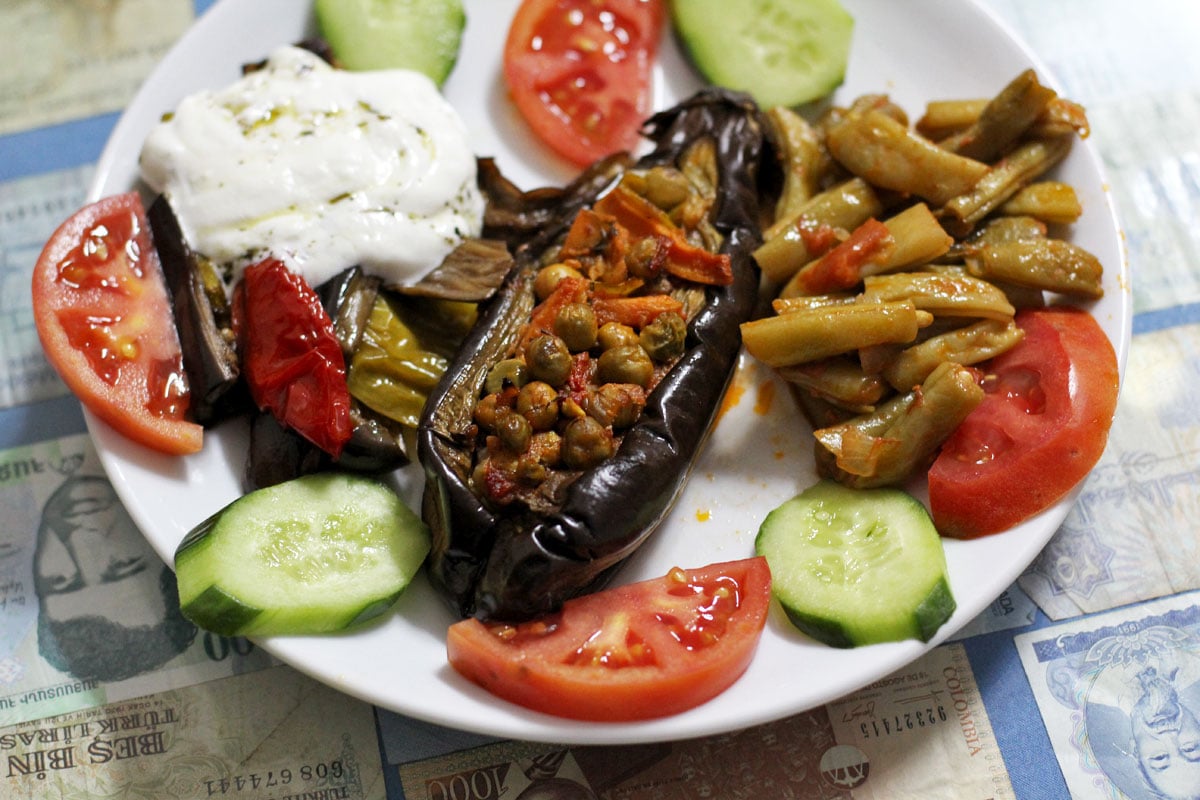 L: Grilled Lamb Durum – 25TL
R: Efes Beer (50cl) – 10TL
This lamb durum is basically the same as the grilled lamb dish up top but in wrap form. I actually preferred this because the pita bread is so good. Of course, we ate every meal in Turkey with Efes Beer, the Turkish Equivalent to San Miguel. 330 ml bottles usually went for 7TL and 50 cl bottles for 10TL. Kinda pricey by Philippine standards so we'd share a 50 cl bottle at restaurants, then pick up a few more from a convenience store to drink at the hotel. 😉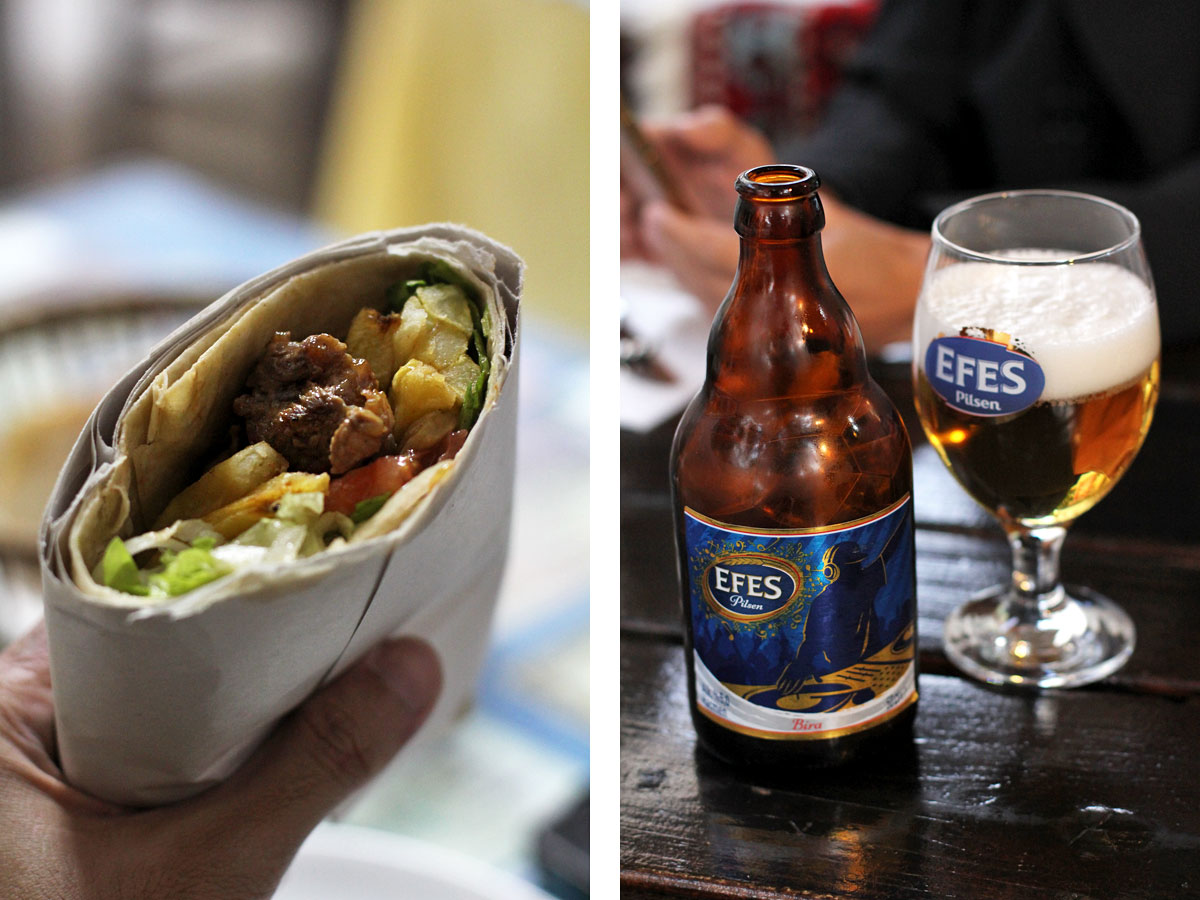 If you're thinking that we ordered way too much food for two people, then you'd be right. Pictured here are dishes from two dinners. Yes, we enjoyed this place so much that we decided to eat here twice. 🙂
As mentioned above, Turkish portions are generous so an appetizer and entree shared between two people of moderate appetites is recommended. I suggest getting any lamb dish and the meze platter. They're delicious.
Mehmet and Ali Baba Kebab House, Selçuk, Turkey
Ataturk mah. 1047 sok. no: 4/A, 35920 Selçuk, İzmir, Turkey (near Ephesus Museum)
Tel: +90 232 892 3872
Mobile: +90 534 621 6166
Website: kebabhouseselcuk.com
Facebook: KebabHouseSelcuk
Google+: Ali Baba & Mehmet Kebab House
Email: mdn_147@hotmail.com / edn.135@hotmail.com / emredn135@gmail.com
Operating Hours: Mon-Sun, 9AM-11:30PM
Expect to Spend: About 25TL per person with drinks
Reservations: Not required
HOW TO GET THERE:
Mehmet and Ali Baba Kebab House is just around the corner from the Ephesus Museum. You can't miss it.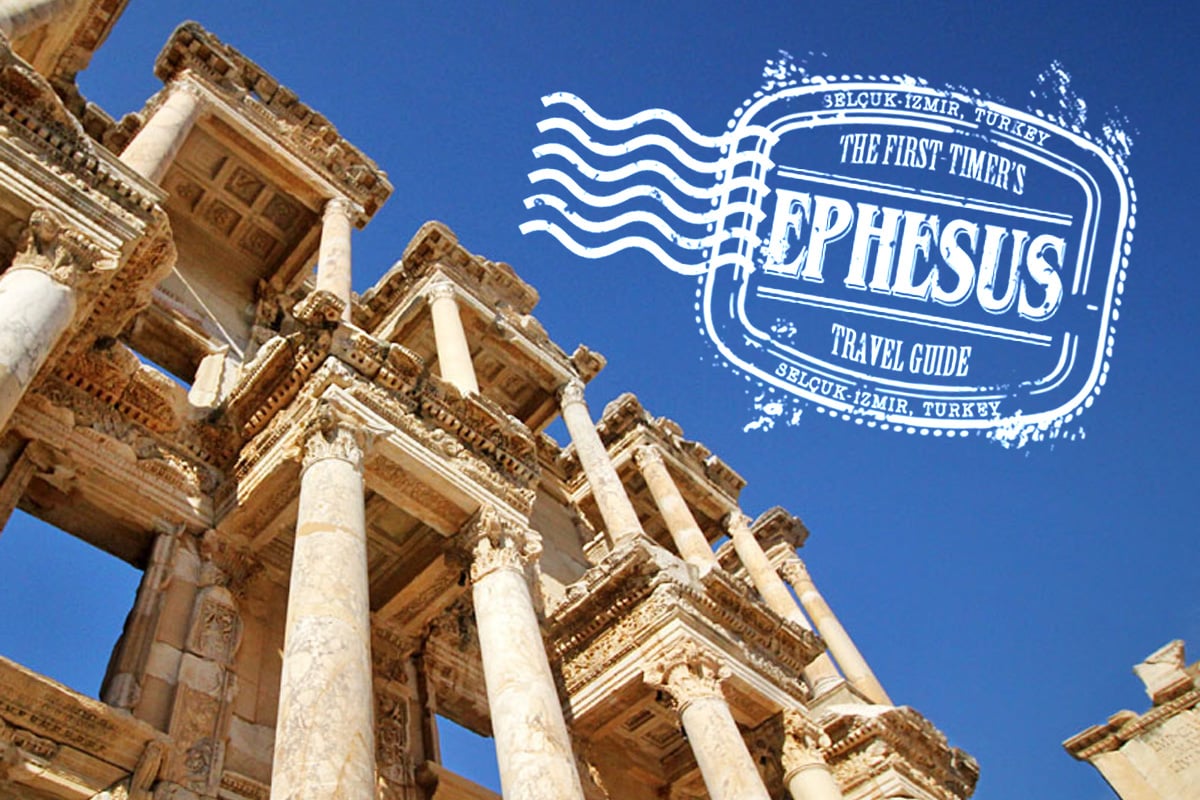 Disclosure
Some of the links in this post are affiliate links, meaning we'll get a small commission if you make a purchase or reservation at NO extra cost to you. We really appreciate your support as this helps us keep this website going. Thank you!