A classic Peruvian dish, I was surprised to learn that lomo saltado is actually a fusion of Chinese and Peruvian flavors.
Originating from the chifa tradition, which is the Chinese cuisine of Peru, it combines marinated strips of sirloin with onions, tomatoes, and other ingredients, most notably cumin. A tasty and hearty dish, what makes lomo saltado interesting is that it's served with both french fries AND rice — a combination that typifies this cultural marriage of Chinese and Peruvian influences.
If you like stir-fried beef, french fries, and that earthy, smokey flavor of cumin, then you're sure to love lomo saltado.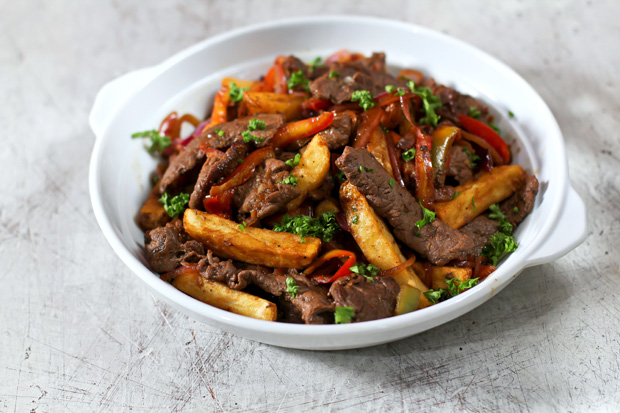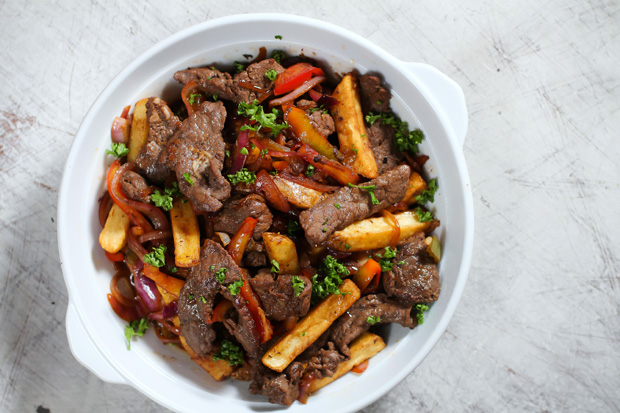 INGREDIENTS
1/2 kilo beef tenderloin / rib eye / flank / sirloin, cut into 1/2 inch strips
500g potatoes (or frozen french fries)
2 red onions, sliced thinly into slivers
1 hot yellow pepper, diced (not available so I used green peppers)
2 red peppers, sliced into thin strips
2 plum tomatoes, sliced into thin strips
2 cloves garlic, crushed
1 tsp ground cumin
2 Tbsps vegetable oil
3 Tbsps soy sauce
2 Tbsps rice wine vinegar
Vegetable oil, for frying potatoes
Salt and pepper, to taste
DIRECTIONS
Peel and cut potatoes into 1/2 inch thick french fries. Place in ice water and set aside.
Heat vegetable oil in skillet and sauté garlic with cumin for 1 minute. Add beef and cook on medium high heat until browned on all sides. Remove beef from heat, season with salt and pepper, and set aside.
Add onions and hot yellow pepper (if available) to same pan and cook for 2-3 minutes until onions are soft. Add more vegetable oil if necessary. Add soy sauce, vinegar, and red / green peppers and cook for 2-3 more minutes. Remove from heat.
In separate pan, fry potatoes in 1-2 inches of oil until golden brown. Drain on paper towels and season with salt and pepper.
Add beef to pan with peppers and onions. Add tomatoes and heat for 2 minutes. Add french fries to stir-fry, then serve with rice.
JB is one half of Will Fly for Food and its chief itinerary maker.  He's the one to blame for all the crappy photos and verbal diarrhea on this blog.  Don't listen to him.
Latest posts by JB Macatulad (see all)