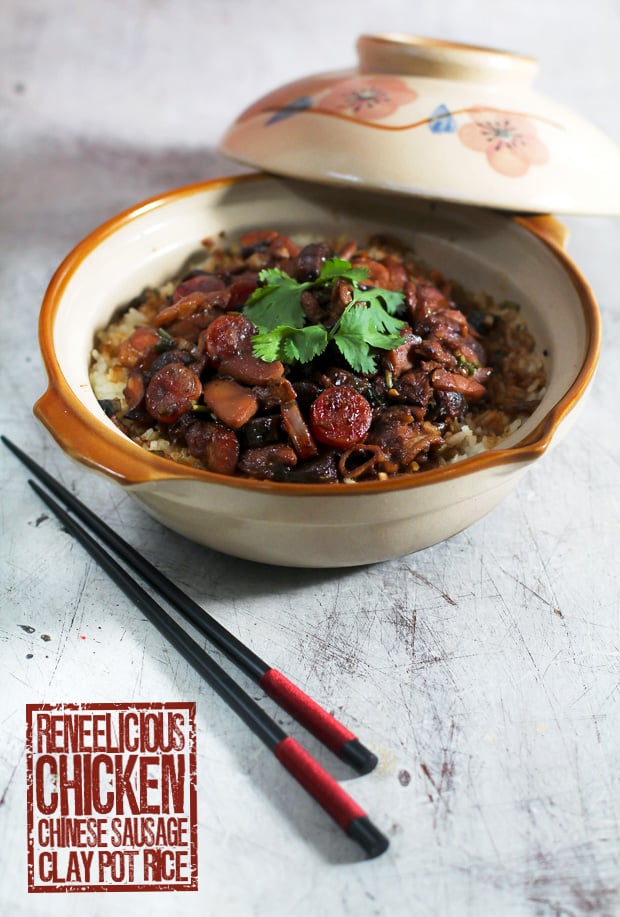 Chicken & Chinese Sausage Clay Pot Rice
NOTICE: Some of our articles contain affiliate links. The ones that do will have a disclosure statement at the bottom. You can refer to our privacy policy and terms of use for more information.
Happy New Year everyone!
Many of you are probably still reeling from last night's festivities (I know we are), so I'm posting this delicious, easy-to-make clay pot rice dish to help you get over that hangover. Meaty and substantial, it's a comforting dish that harkens back to Ren's childhood. Her mother would soak Chinese sausage in a vinegar-sugar-shallot mixture and serve it to them for breakfast.
Many of us only know Chinese sausage as a component of fried rice, so it's nice to see it as the star of a dish. Enjoy and best wishes for 2015!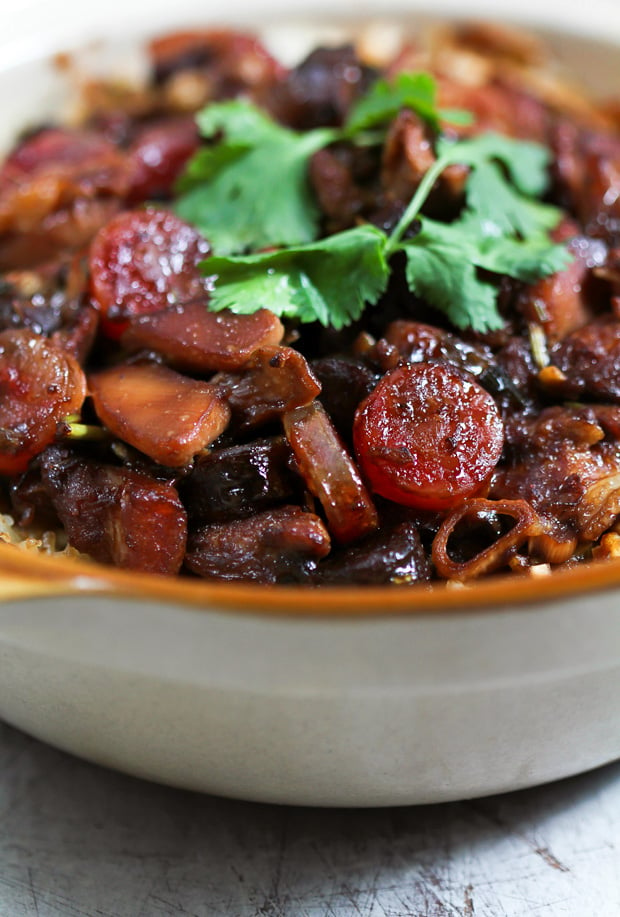 INGREDIENTS
3 boneless chicken thighs
3 dried mushrooms, medium-sized
1/2 Tbsp sugar
1 Tbsp dark soy sauce
2 Tbsps oyster sauce
1 Tbsp light soy sauce
1 Tbsp chinese rice wine
1/2 Tbsp sesame oil
1/2 cup sliced scallions
Stems of coriander, finely chopped
1/2 Tbsp cornstarch
1 Tbsp grated ginger
1/4 tsp white pepper
2 Tbsps vegetable oil
2 cloves garlic, minced
1 lapchang (Chinese sausage), 1/4 inch discs
1 cup jasmine rice, rinsed and drained
1 1/2 cups chicken stock
Coriander, for garnish
DIRECTIONS
In small bowl, soak mushrooms in warm water until soft (about 30 mins). Rinse and pat dry. Remove stems, thinly slice caps, then set aside.
Mix chicken, sugar, dark and light soy sauce, oyster sauce, rice wine, sesame oil, coriander stems, scallions, ginger, cornstarch, and white pepper in medium bowl. Allow to marinate in refrigerator for at least 15 mins.
In wok, add vegetable oil, swirling to coat. Add garlic and stir fry until fragrant. Add marinated chicken and stir fry for 1 minute.
Add sausage and mushroom, then stir fry for 30 seconds. Transfer to plate and set aside.
Place rice and chicken stock in clay pot (or heavy metal pot) and bring to a boil, covered, over medium high heat. Reduce heat and simmer for 15 mins.
Spread chicken stir fry over rice and continue to steam, covered over low heat, until chicken is cooked through (about 15 mins).
Garnish with coriander leaves.
JB and Renée are the Traveleaters behind Will Fly for Food, a travel blog for the gastronomically inclined.  They enjoy experiencing food from different cultures so they've made it their mission to try every country's national dish.  Read more about them and their National Dish Quest here.