My Name is JB and I'm Addicted to Addiction Aquatic Development in Taipei
Hi. I'm JB, and I'm an addict.
It was our first and only time here at Addiction Aquatic Development in Taipei, but as it turns out, once is all it takes to get you hooked. No wonder "Addiction" is in the title. It's THAT good.
A late addition to our itinerary, I first read about this place on fathomaway.com just a few days before our trip. I thought it would be like any other sushi bar but it wasn't. Greeted by gorgeous images of sushi and live seafood, I was blown away by their website. It was so effing beautiful. Being the seafood lover that I am, a visit to AAD instantly became the most anticipated stop on our trip.
Encompassing 1,983 square meters of space, Addiction Aquatic Development is a live seafood market, gourmet grocery, sushi bar, and restaurant all rolled into a clean and contemporary urban package. Think Dean & Deluca meets Pike Place Market. Fresh and fashionable but still affordable, it's the best-looking seafood market that we've ever been to and an absolute MUST-DO for any seafood lover traveling to Taiwan.
Don't believe the hype? Just keep scrolling and see for yourself.
Live Seafood Market
AAD is comprised of ten sections, the first of which houses these tanks filled with live seafood. My eyes lit up when I saw this. It's the first thing you see when you walk in to the space.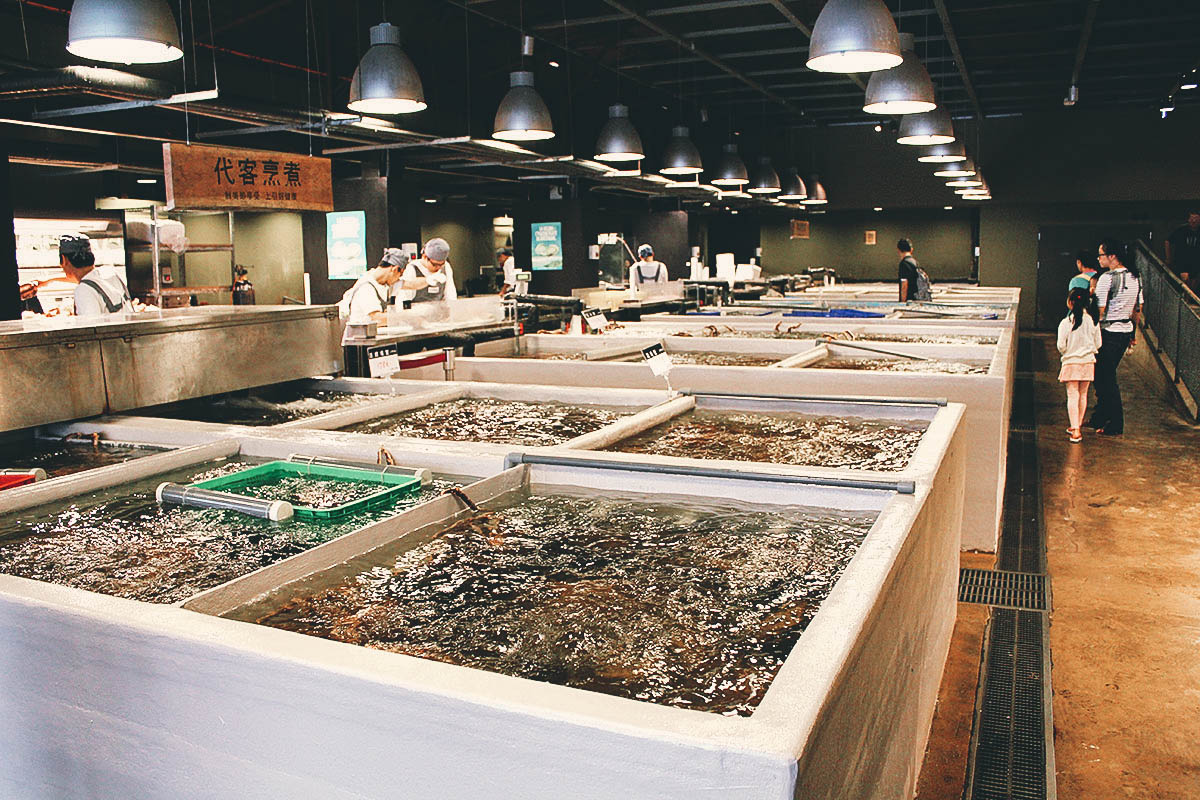 I'm not sure how often the tank contents change, but most today were filled with humungous crabs and scallops.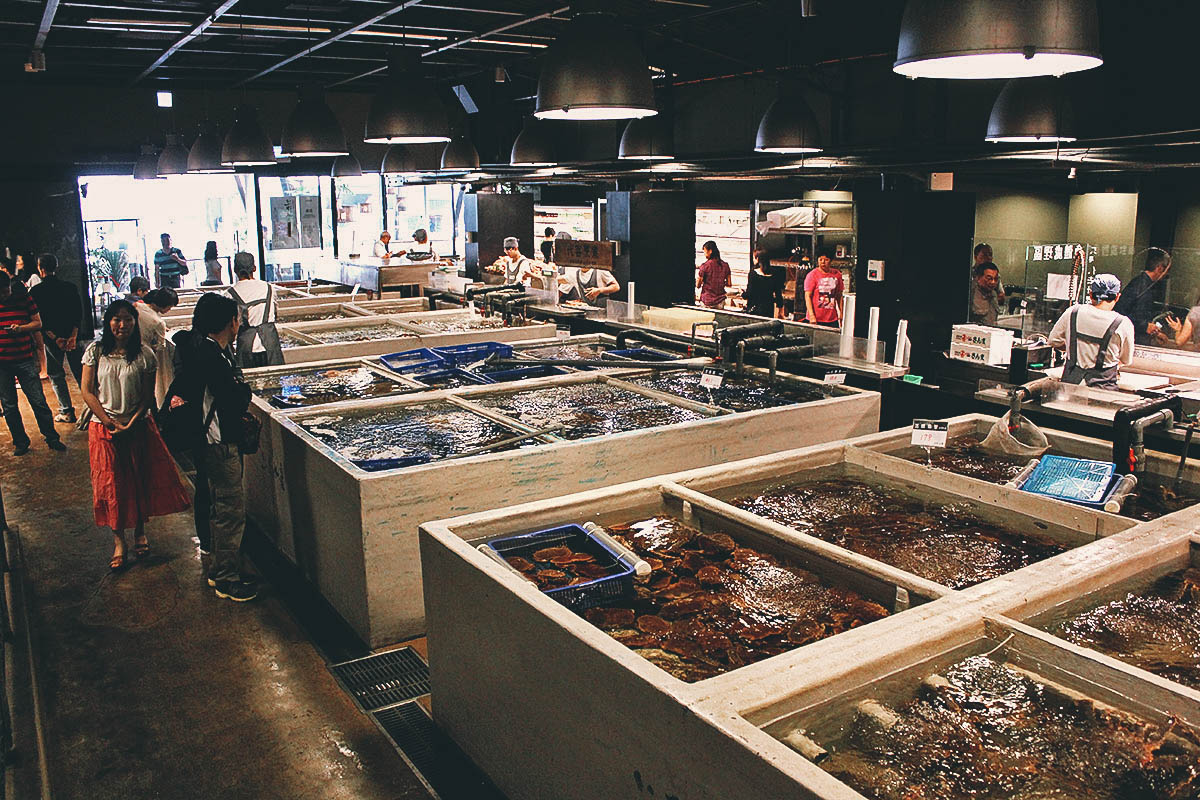 Saucer-sized scallops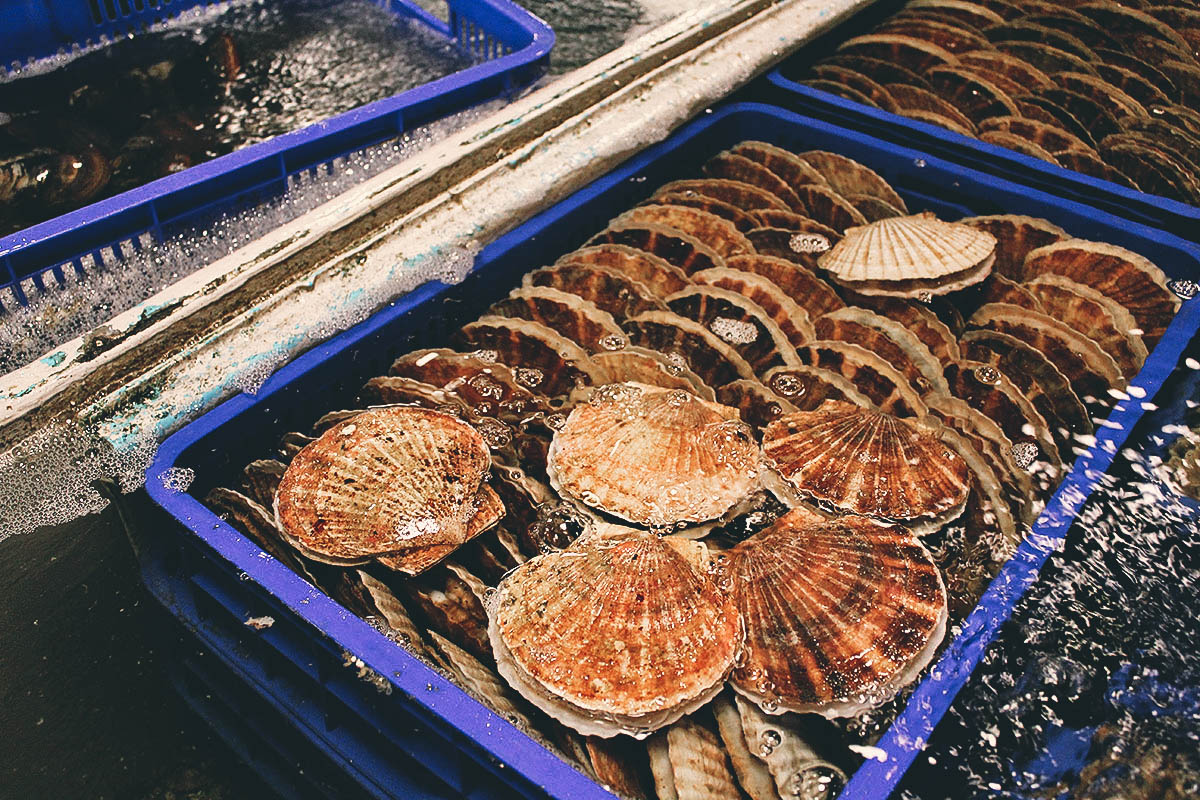 Abalone. I had never seen live abalone before.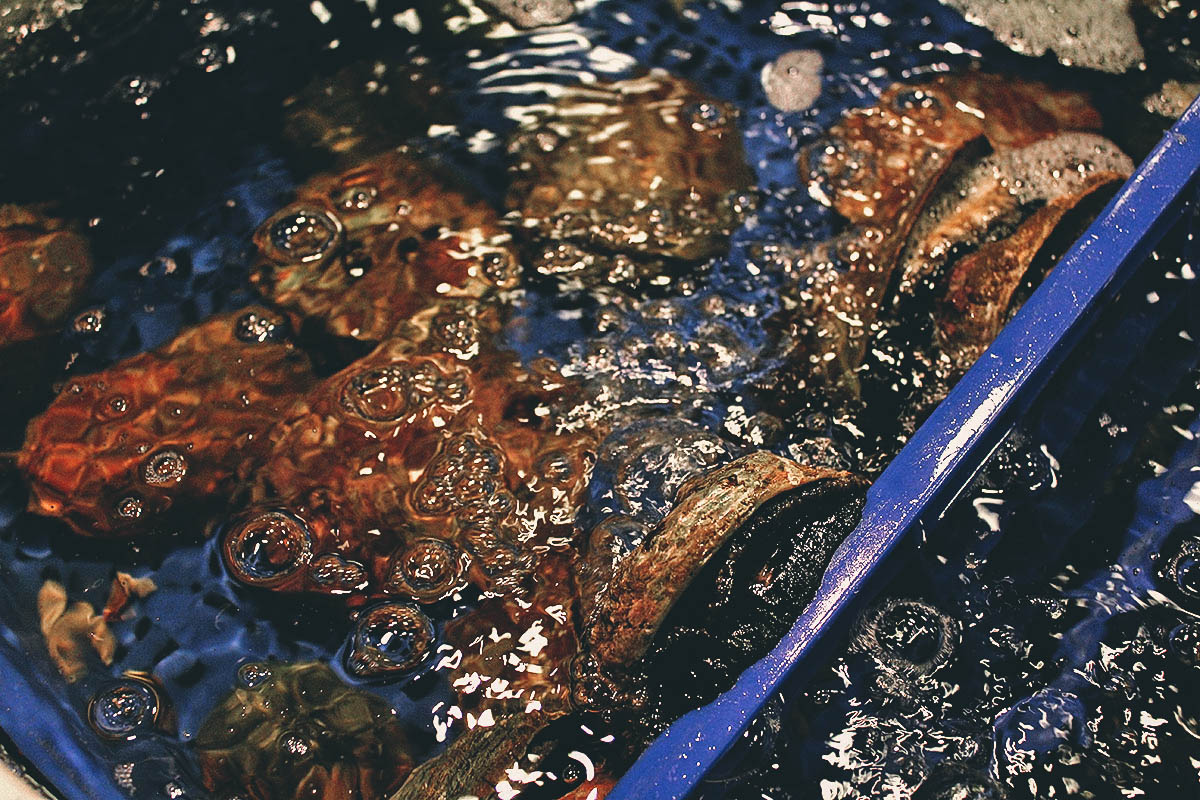 King crab. These things were MASSIVE. About half the tanks were overflowing with these monsters today.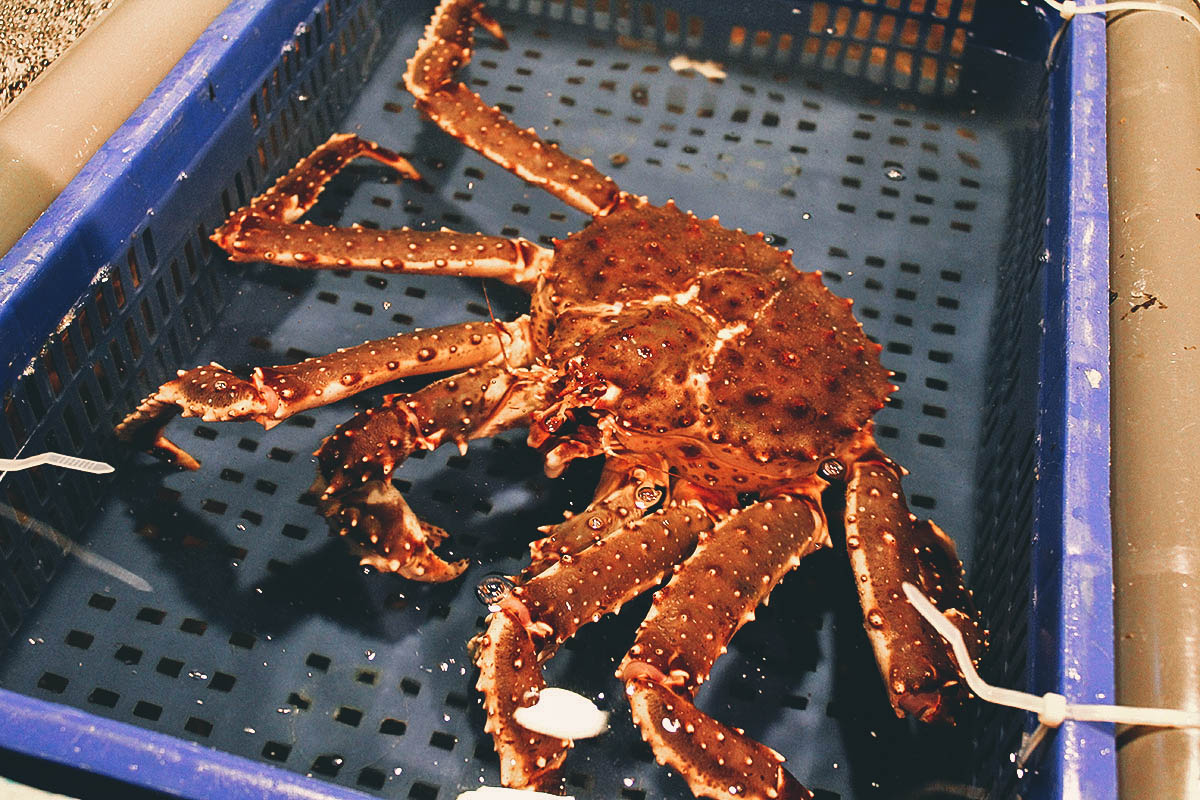 Whuttup kid? Get a sense of how big they are yet? If not, keep scrolling…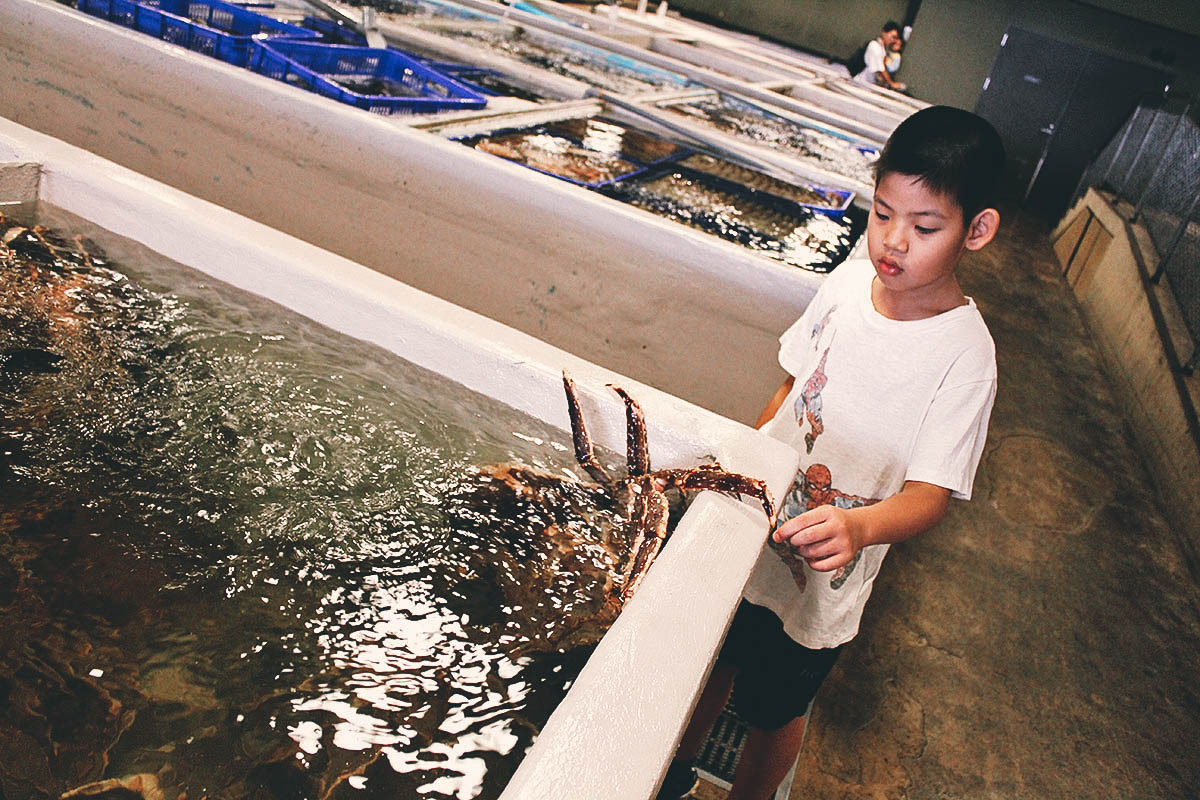 Geoducks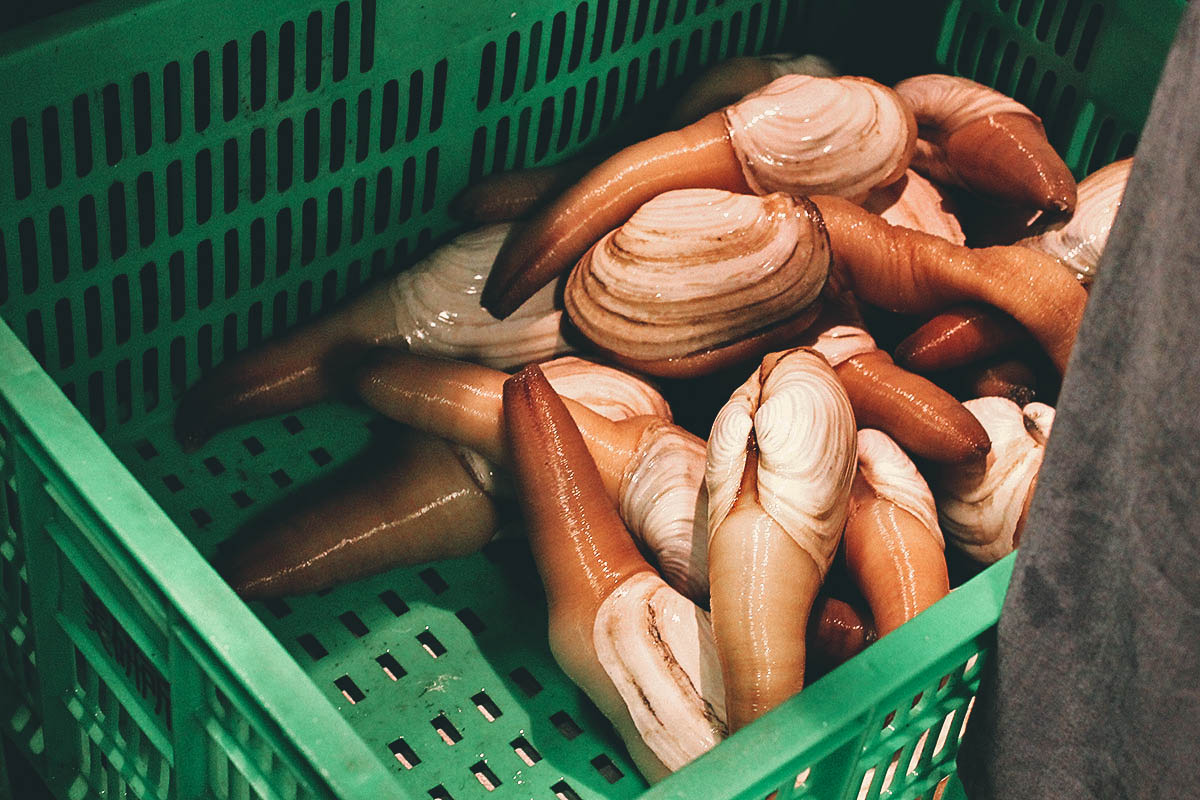 Oysters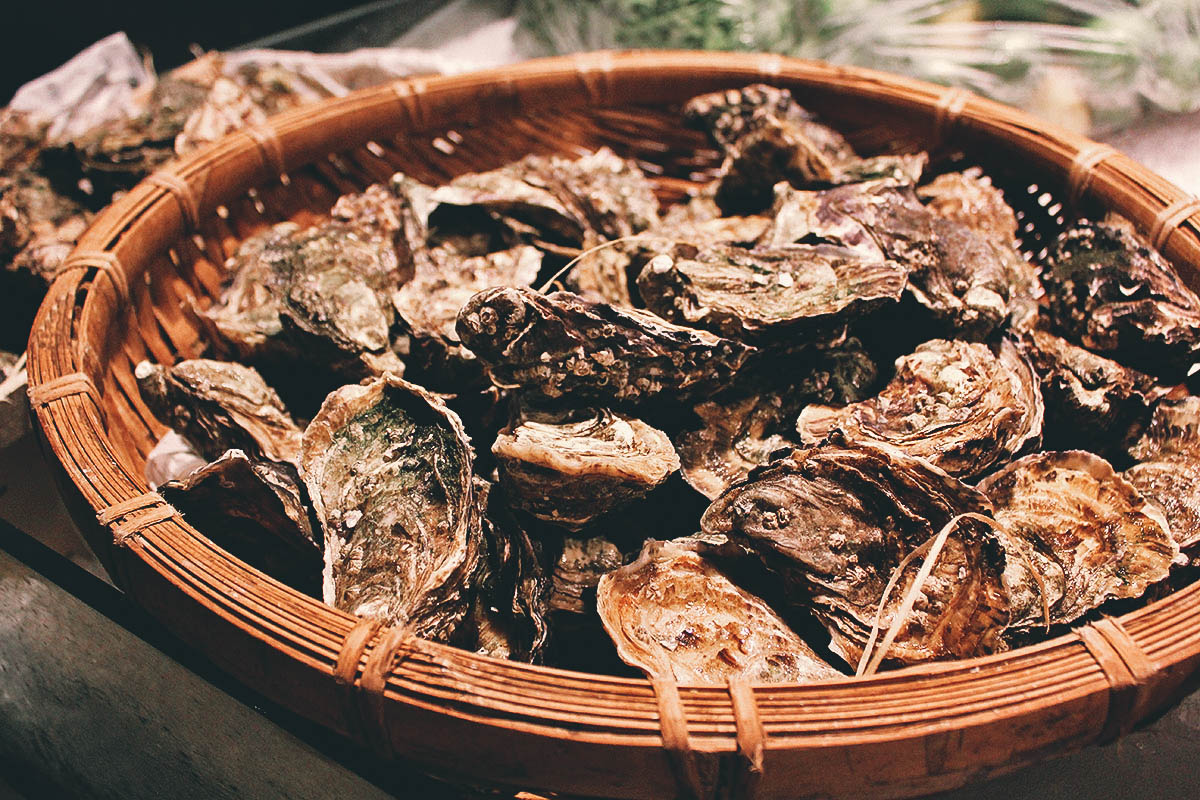 Ready to be served, you can't get abalone any fresher than this.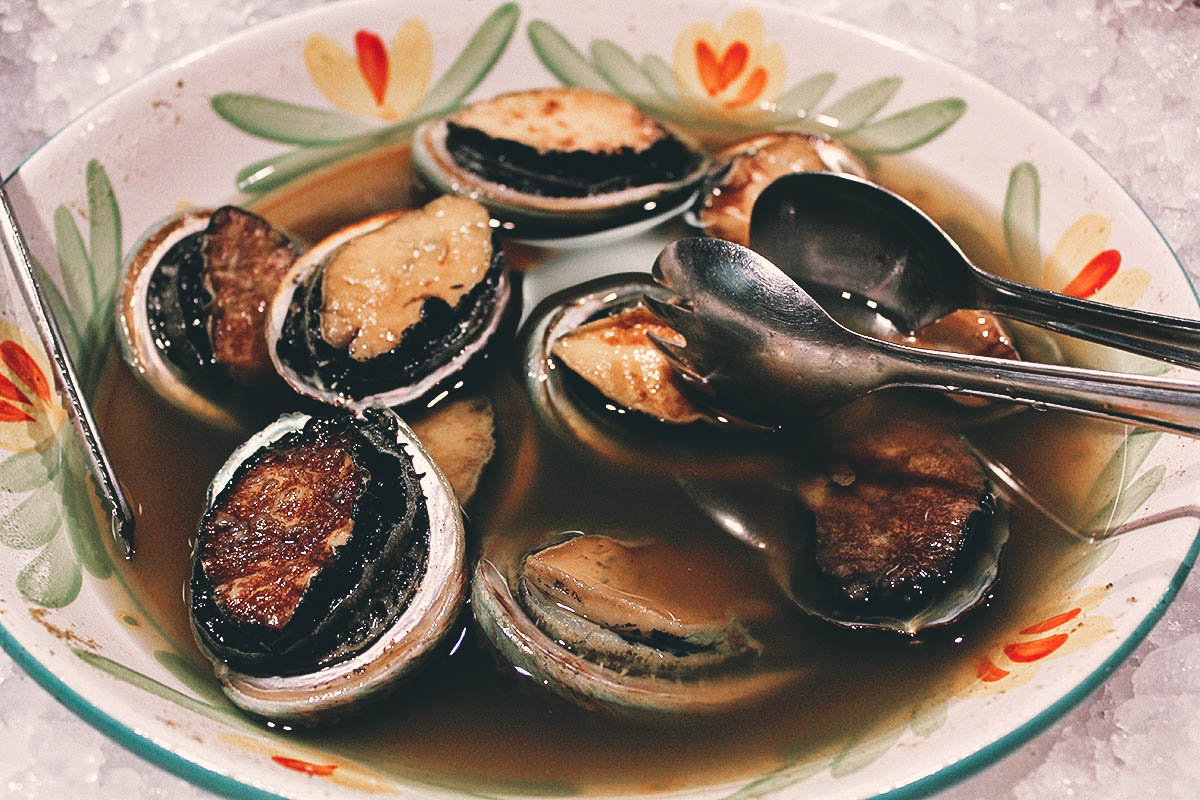 Cooked hairy crabs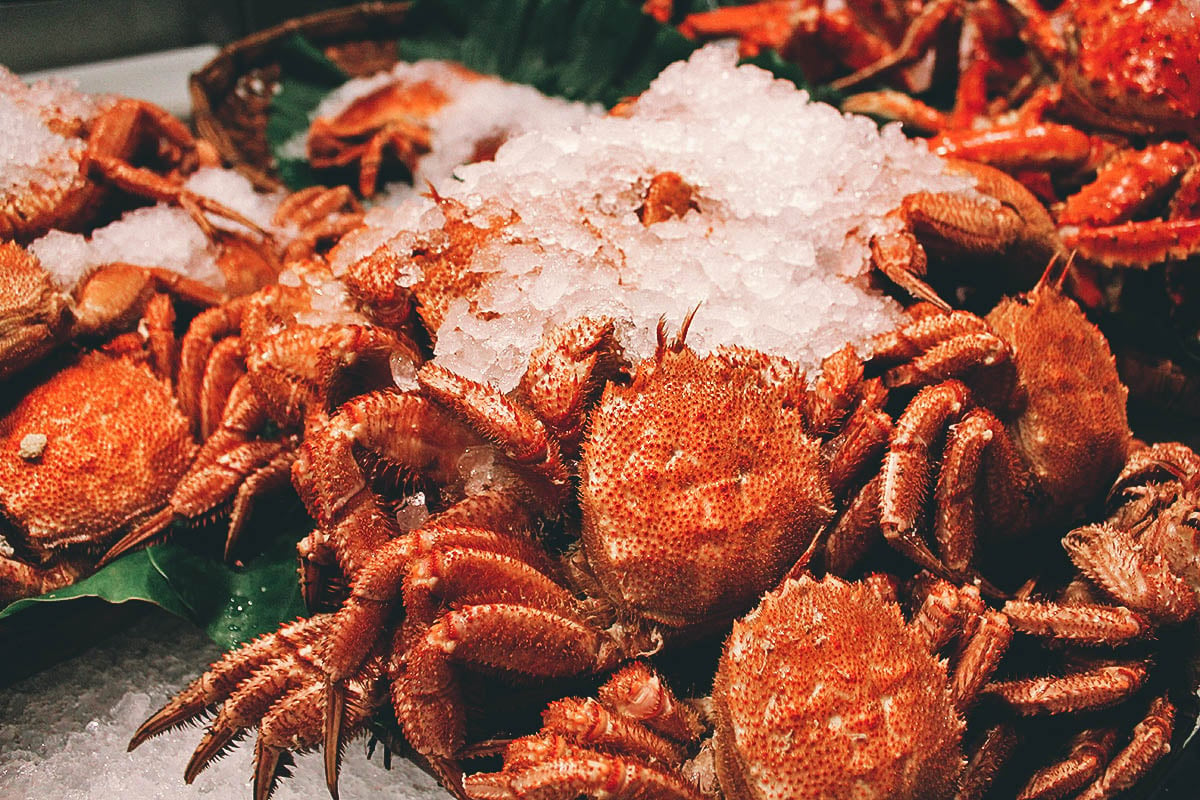 Cooked king crabs. Wait for it…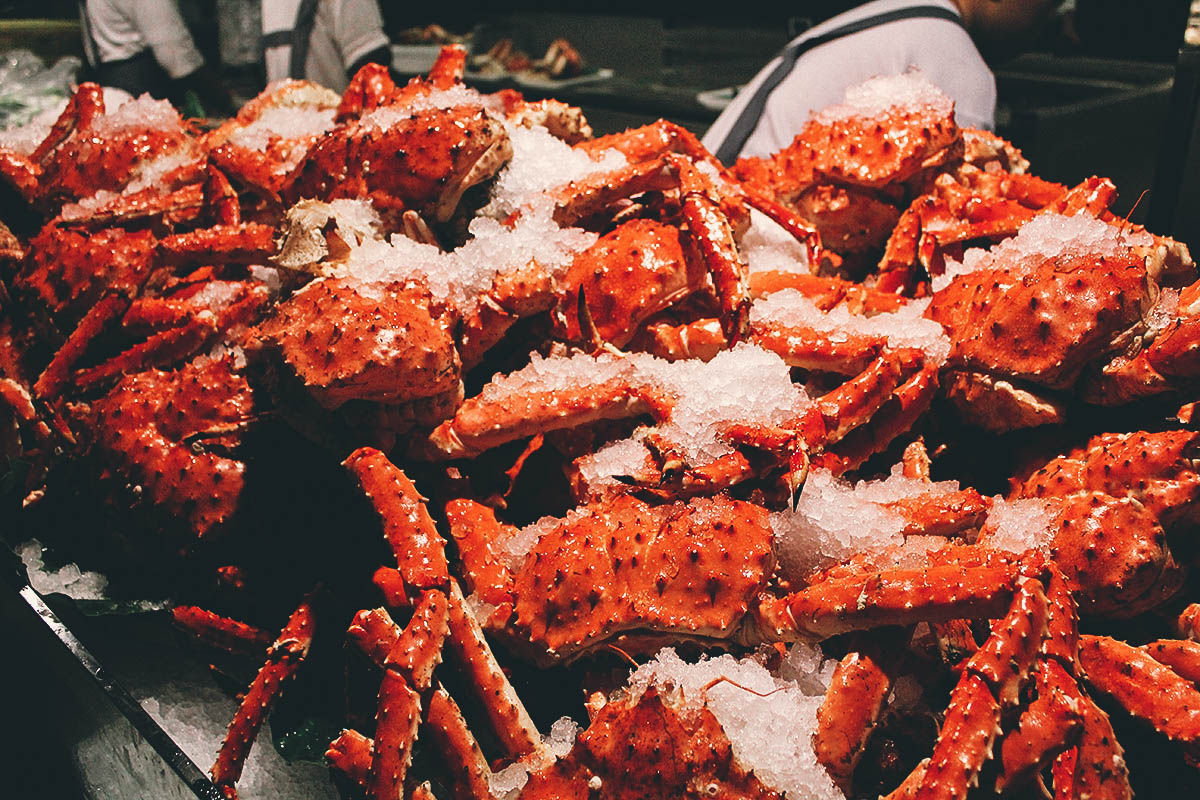 BOOM! I told you they were massive. Most of them were bigger than Ren's head!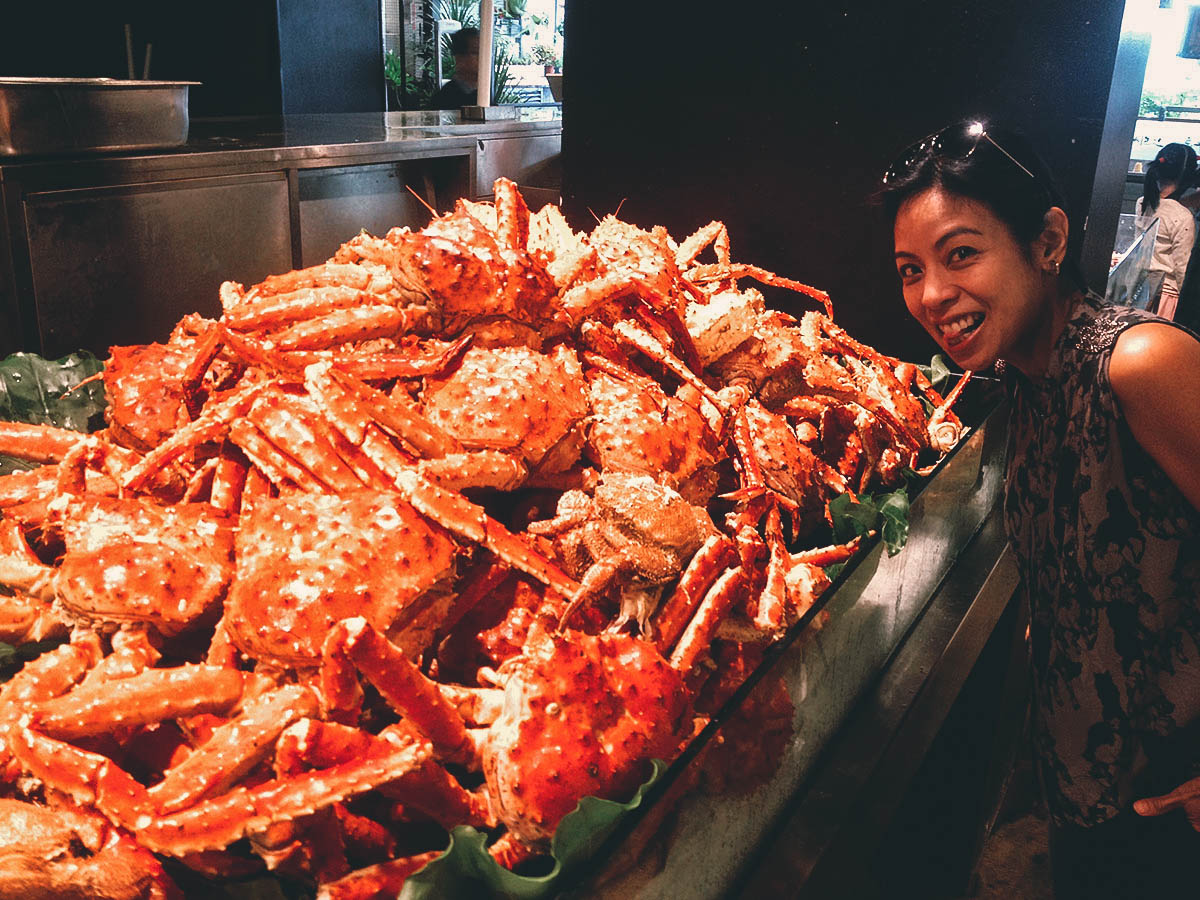 Grocery
Equally impressive was the supermarket which sold not just seafood, but also fruits, vegetables, wines and spirits, and meats of the highest quality. Reneelicious was going nuts looking at all the stuff!
Salmon fillets and heads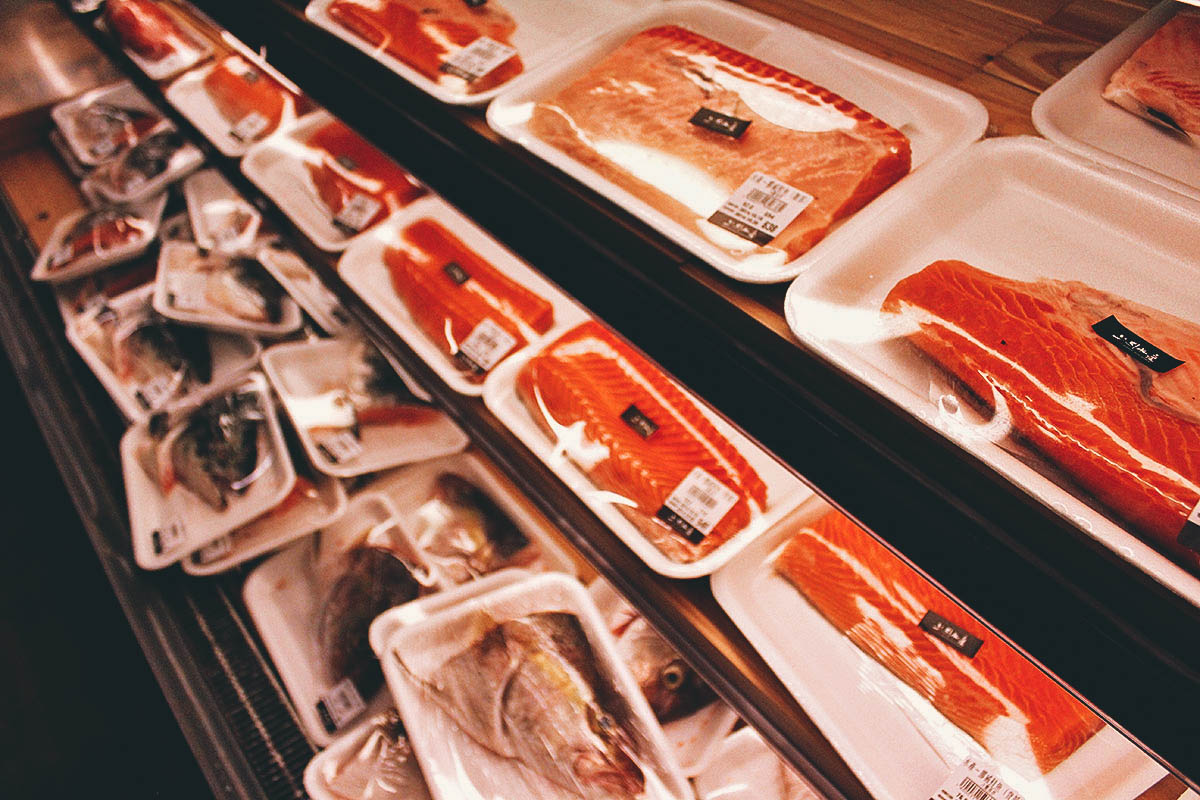 Different cuts of meat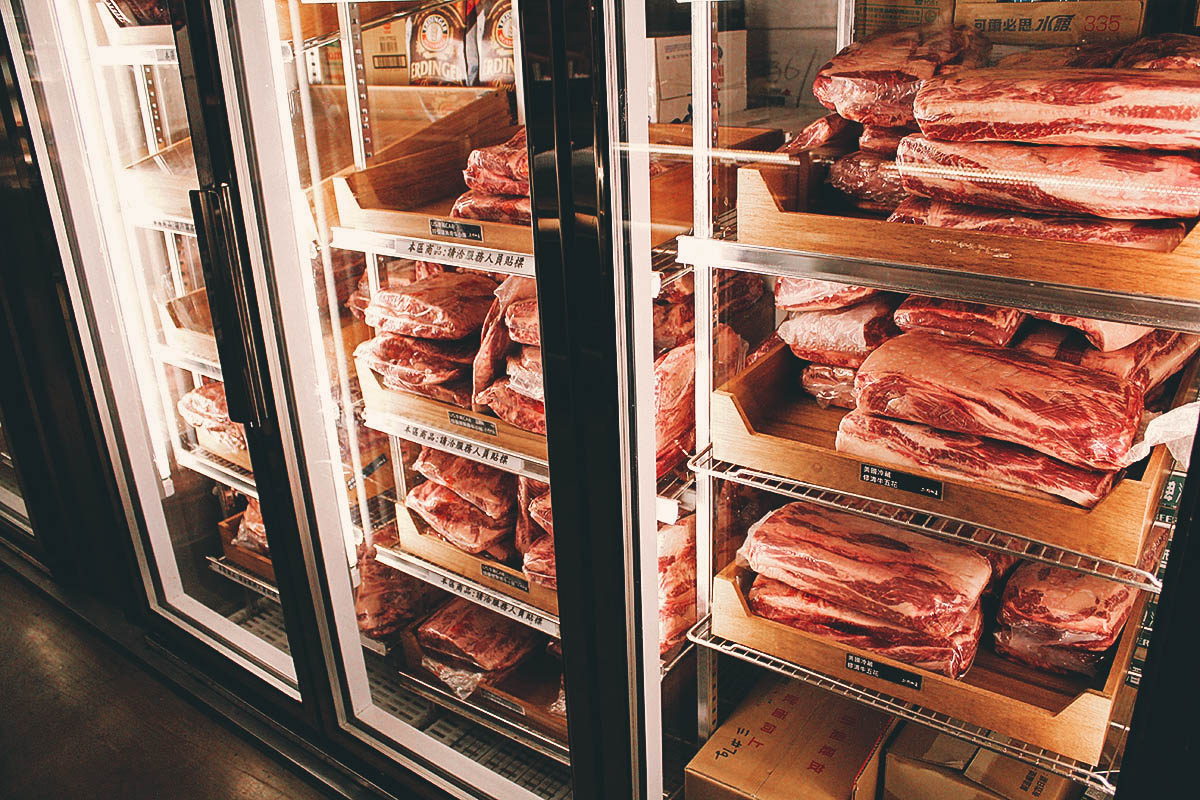 Foie gras! These two chunks went for NT$ 345. Wait until you see the next picture though…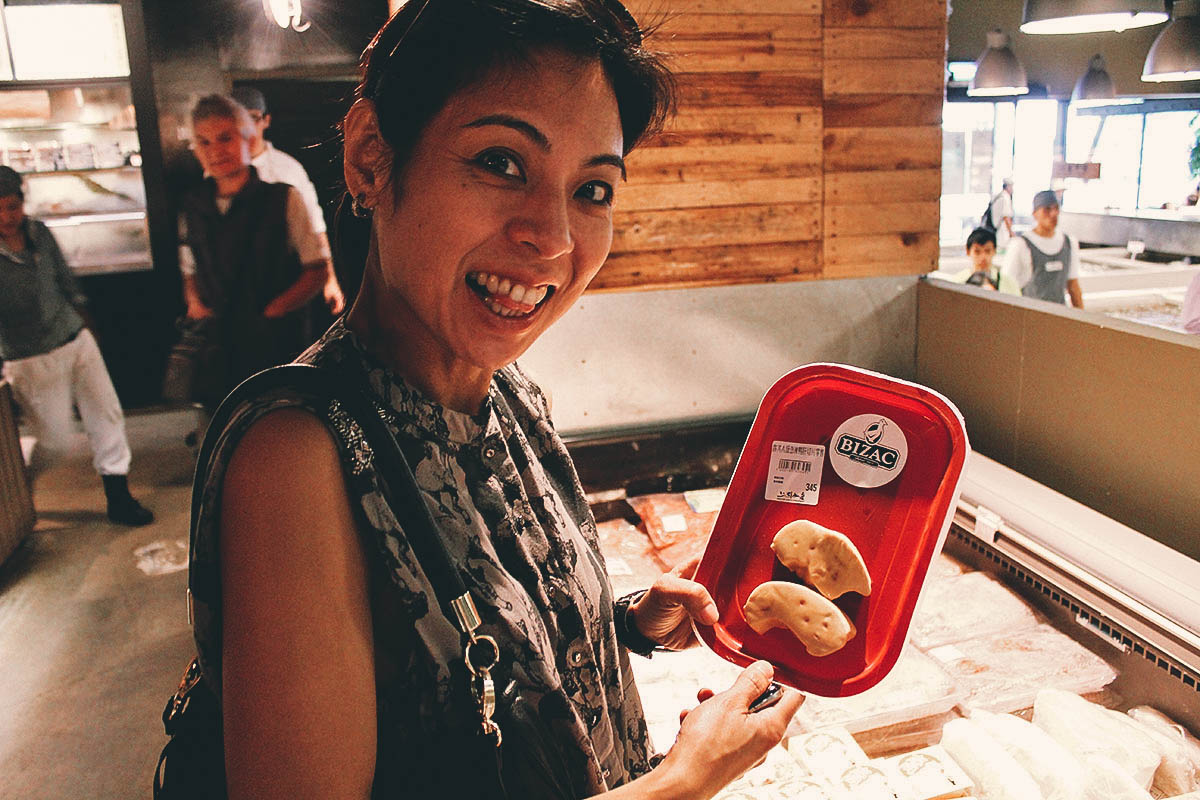 Two measly pieces not enough for ya? How about kilogram bags of frozen duck foie gras? Looking at the label, the 1.09 kg bag was selling for NT$ 2,405.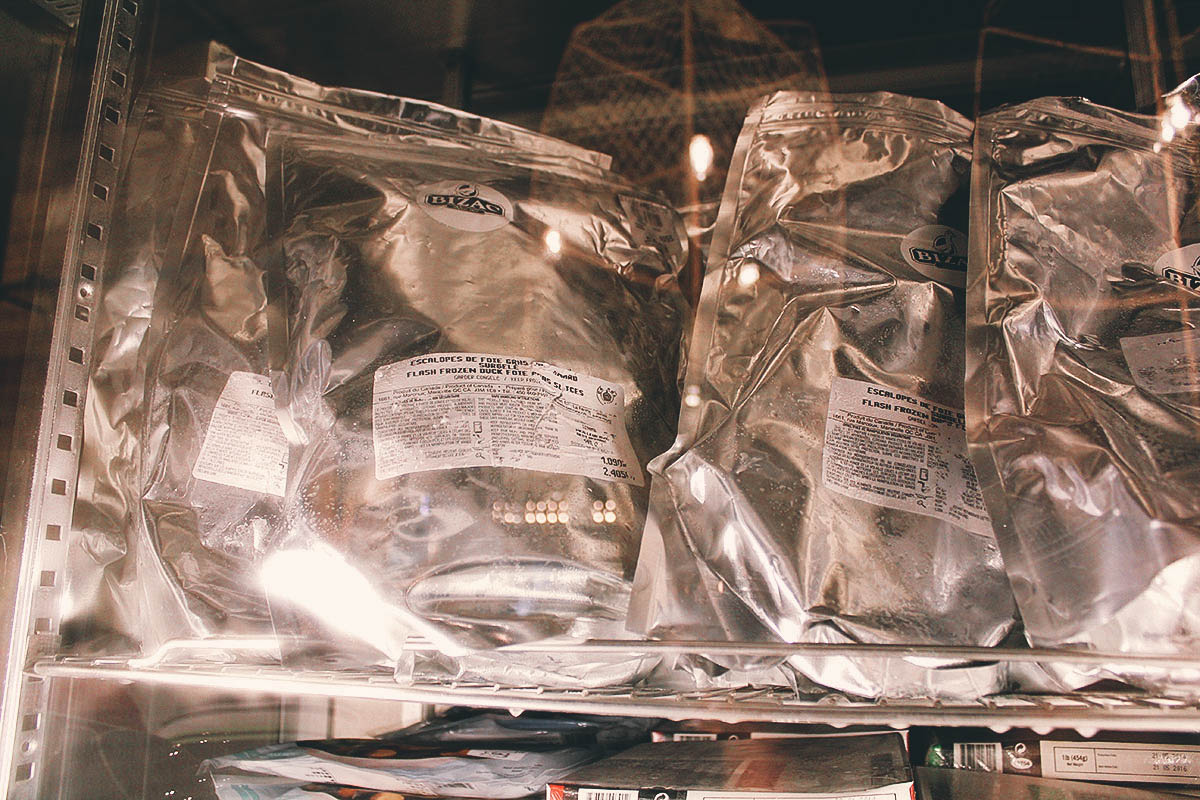 Fresh fruit. Check out the balimbing! (star fruit)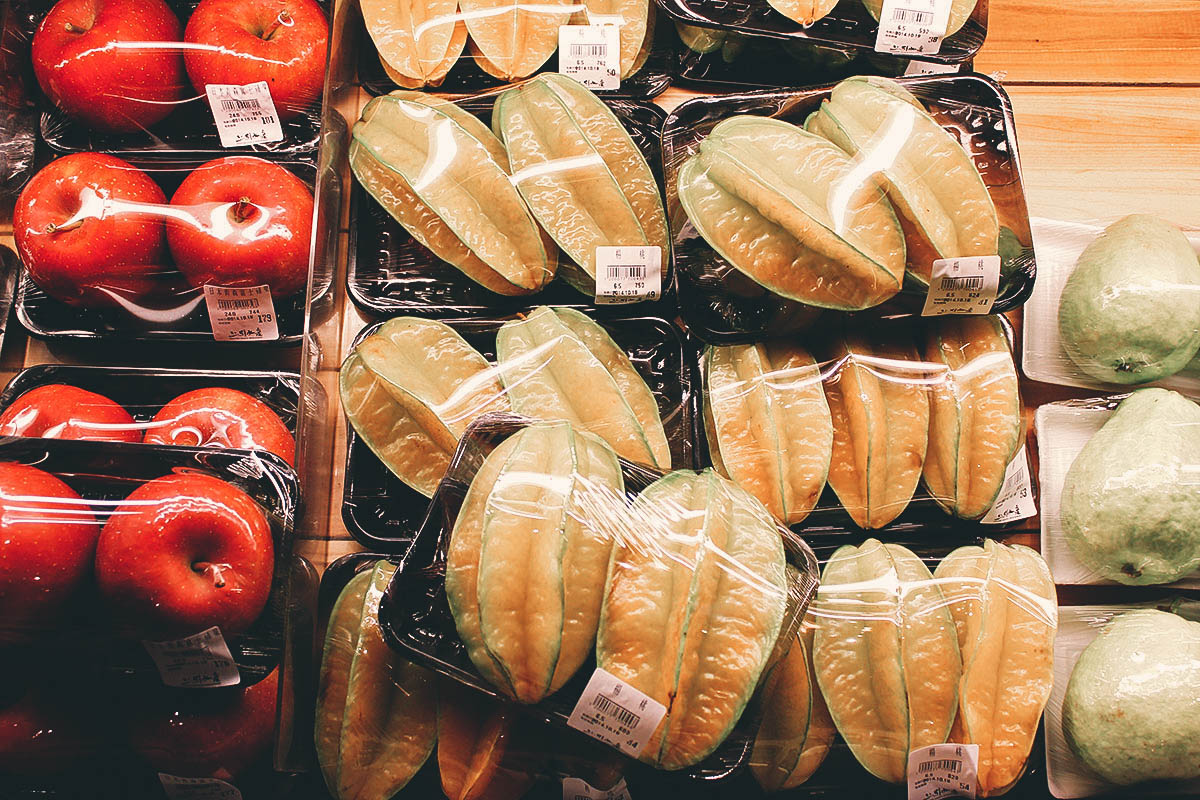 Not sure what those red thingies are but they look good.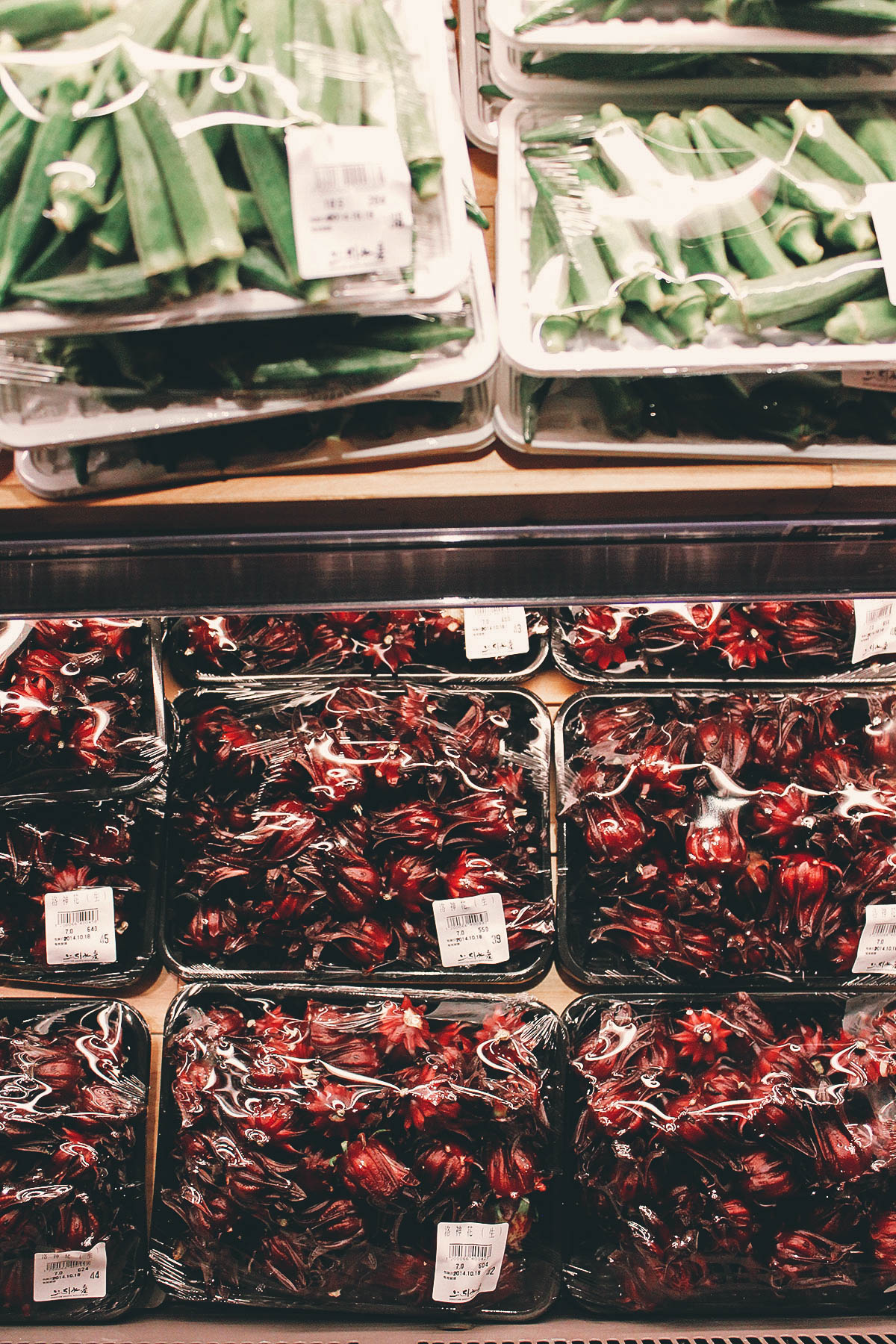 Ren proudly showing off her pillow-sized bag of bonito flakes. Just NT$ 278 for that entire bag (600 g)!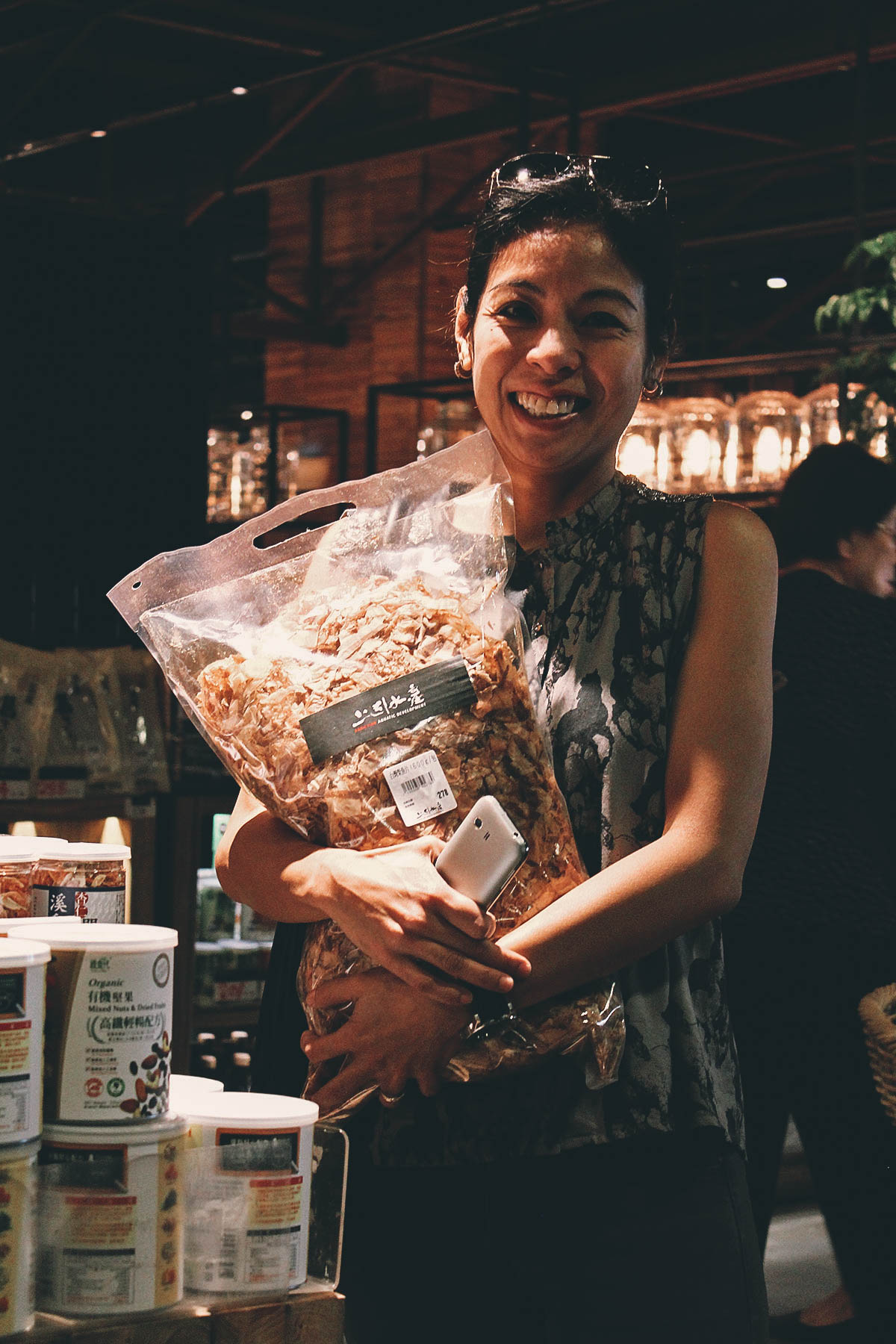 Control yourself Reneelicious! These 72-pc boxes of French macaroons sold for NT$ 2,160.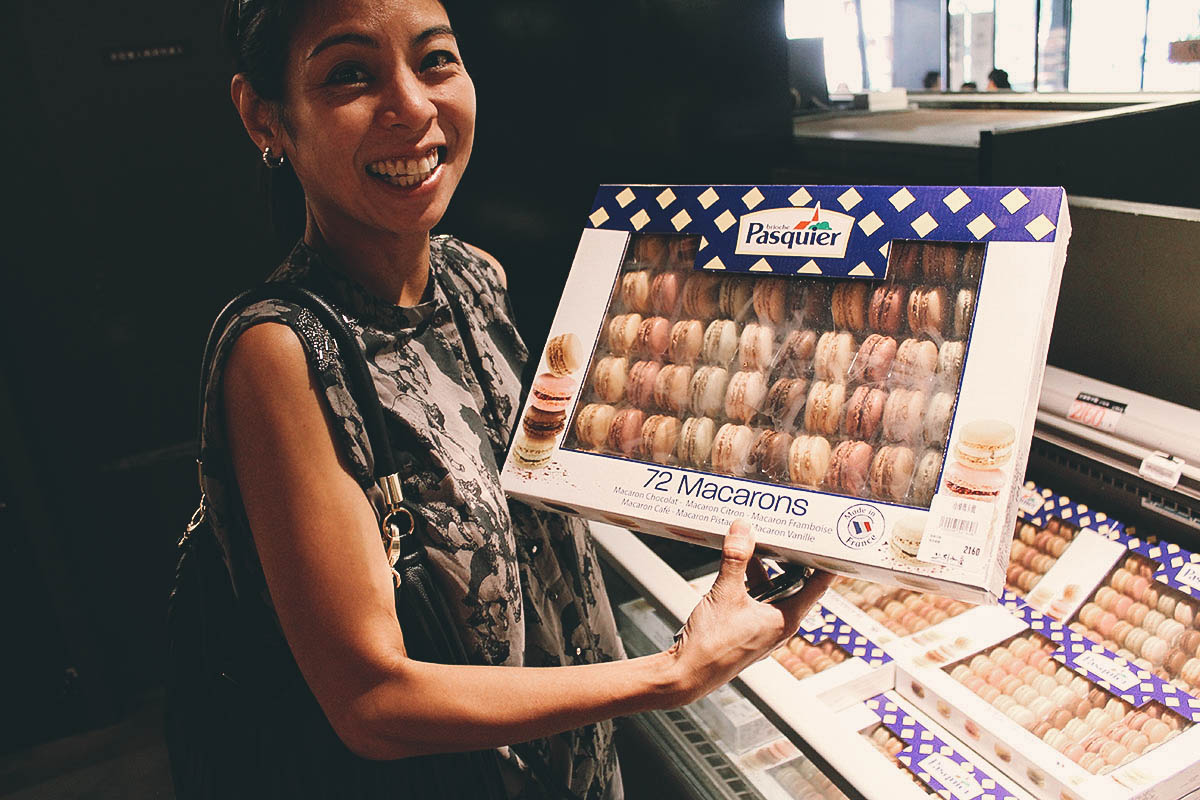 Scallop and sea urchin as far as the eye can see. Well, maybe not that far. But there was a lot.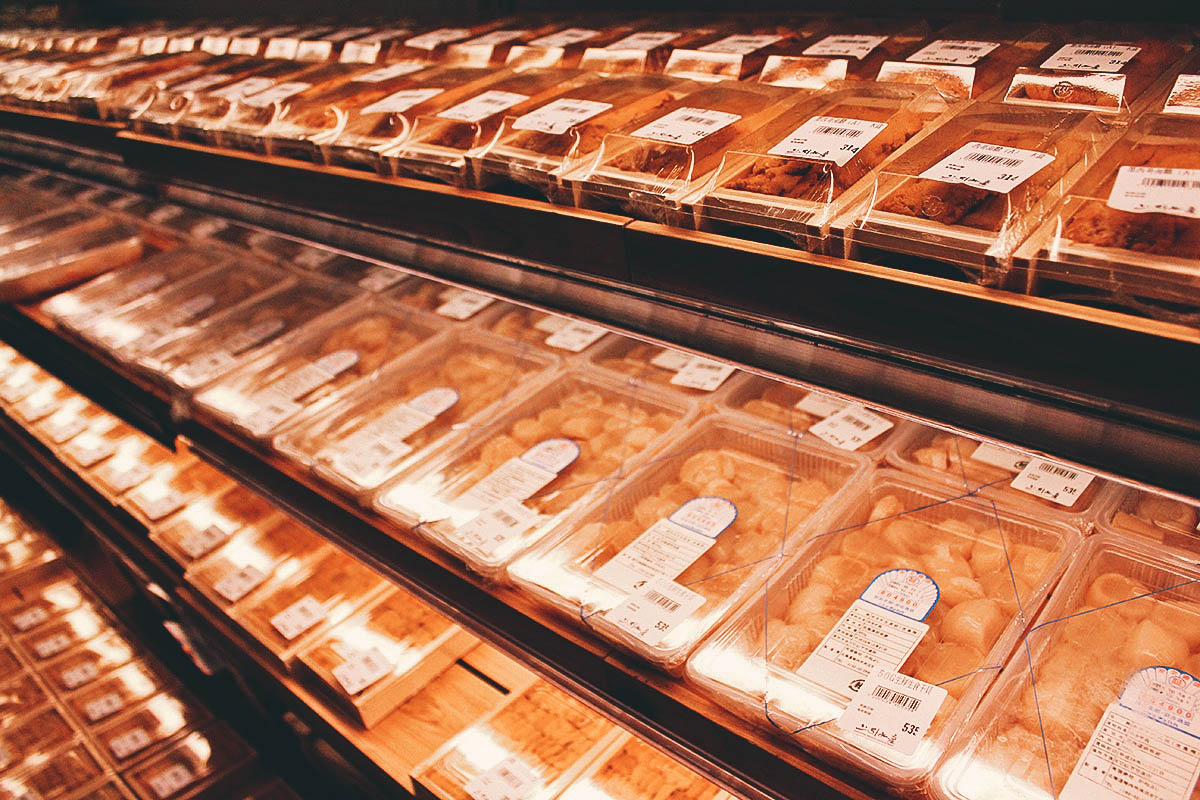 The only thing I didn't like seeing today — shark's fins. I assumed they were shark's fins from the shape and exorbitant price – NT$ 2,604 for 630 grams. 🙁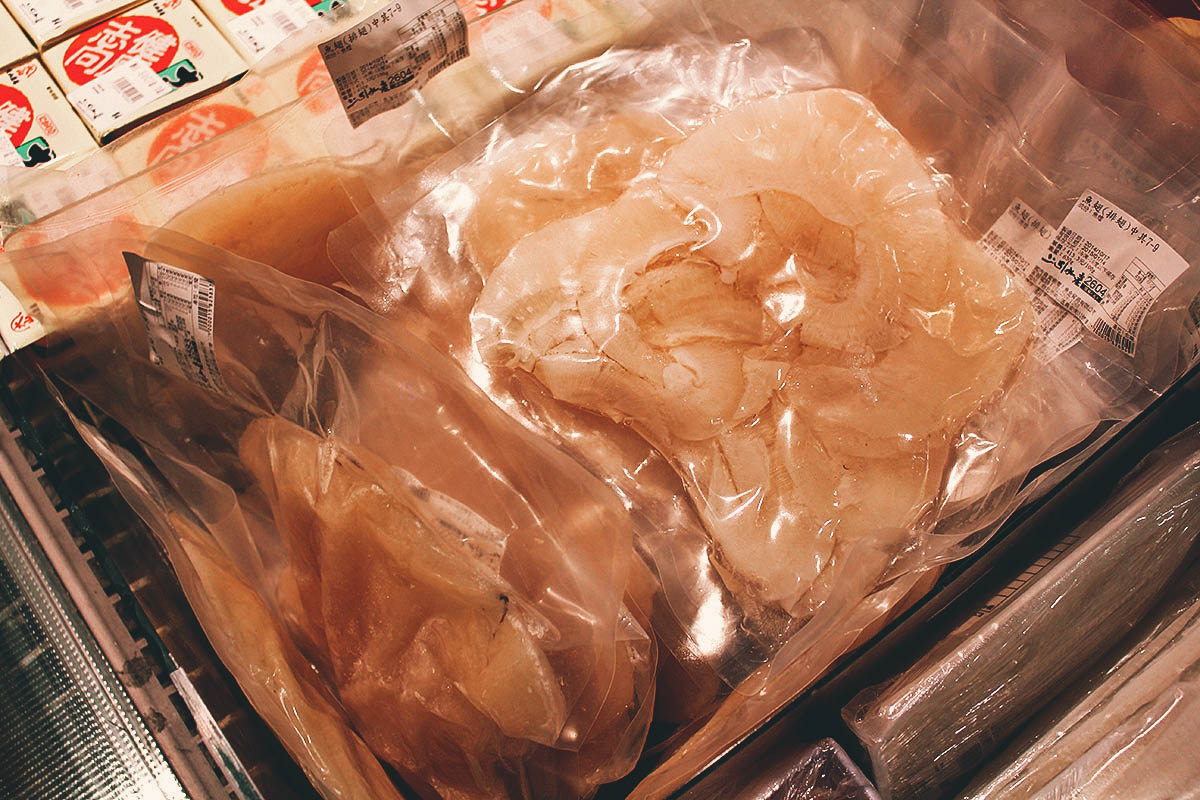 Ready-to-Eat
Though there are many dining stations here, you can also buy these pre-packaged meals and eat them outside. Fresh as can be, most were reasonably priced too.
Amaebi or sweet shrimp. I LOVE these things. Each box contained ten pieces and sold for just NT$ 240.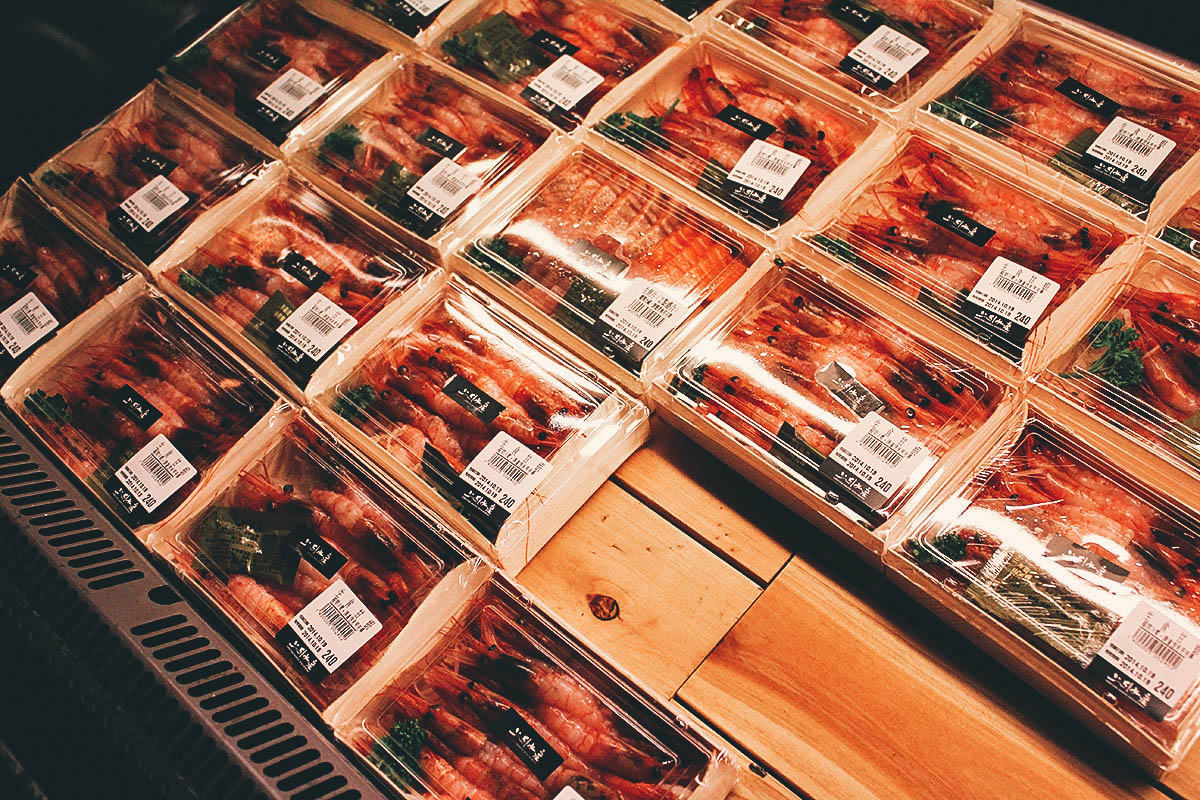 Sushi selection. The ones you see here went for NT$ 460 per box. Not bad at all, especially considering the quality.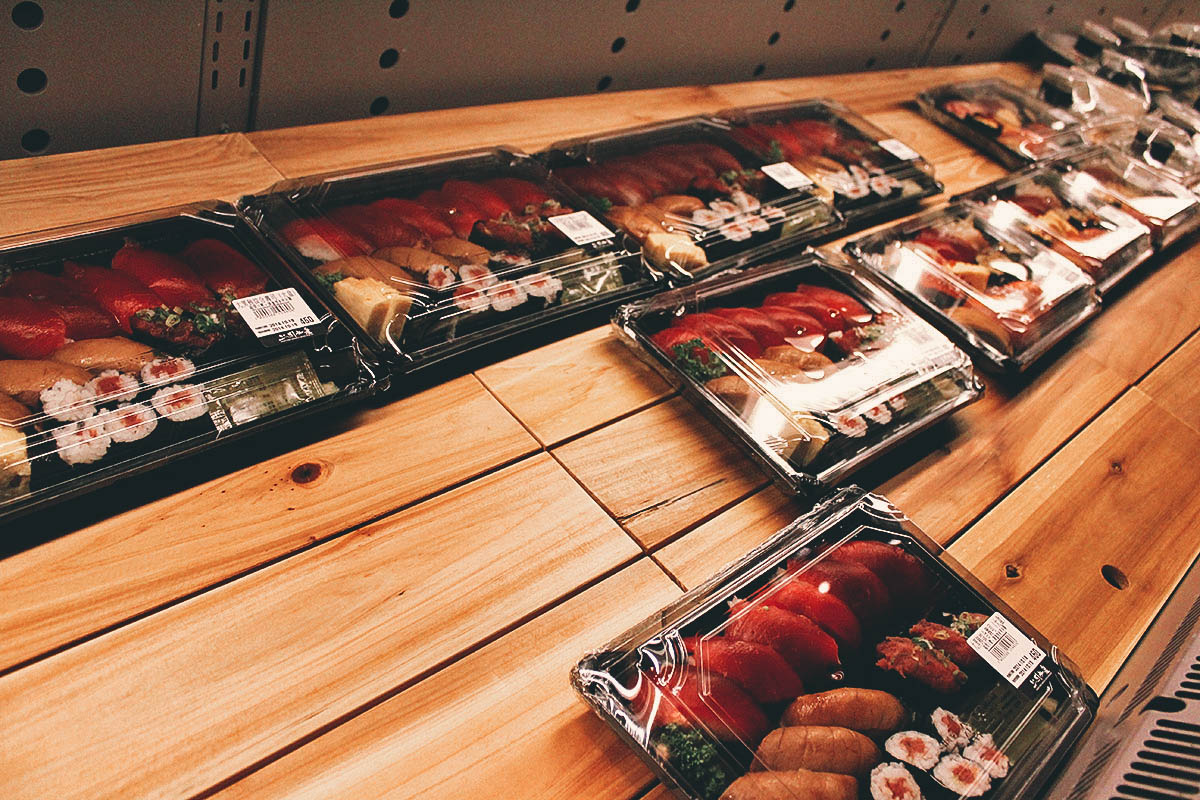 They go fast, but they're replenished just as quickly.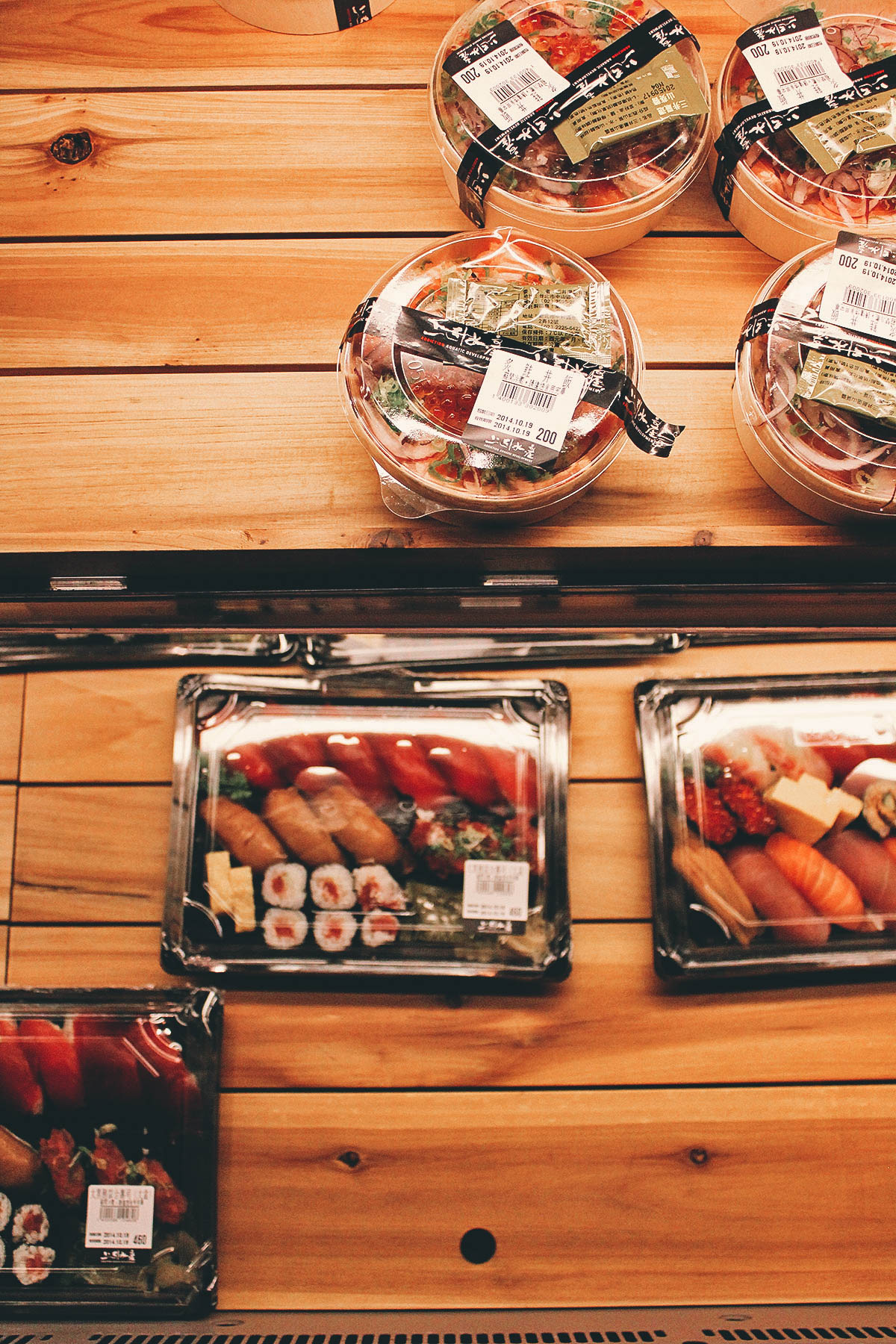 Uni for NT$ 604 per box.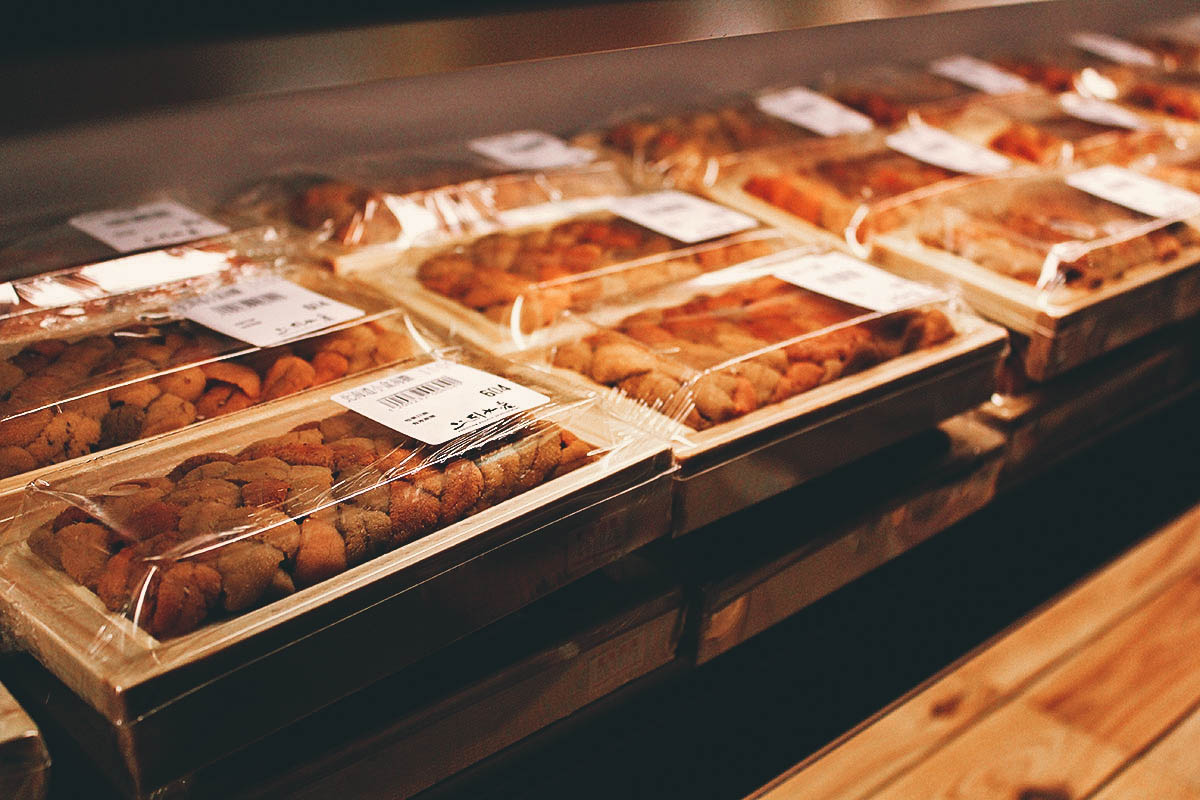 King crab legs for around NT$ 1,450 per pack. I know right? The only place I've ever seen king crab legs in Manila is at S&R.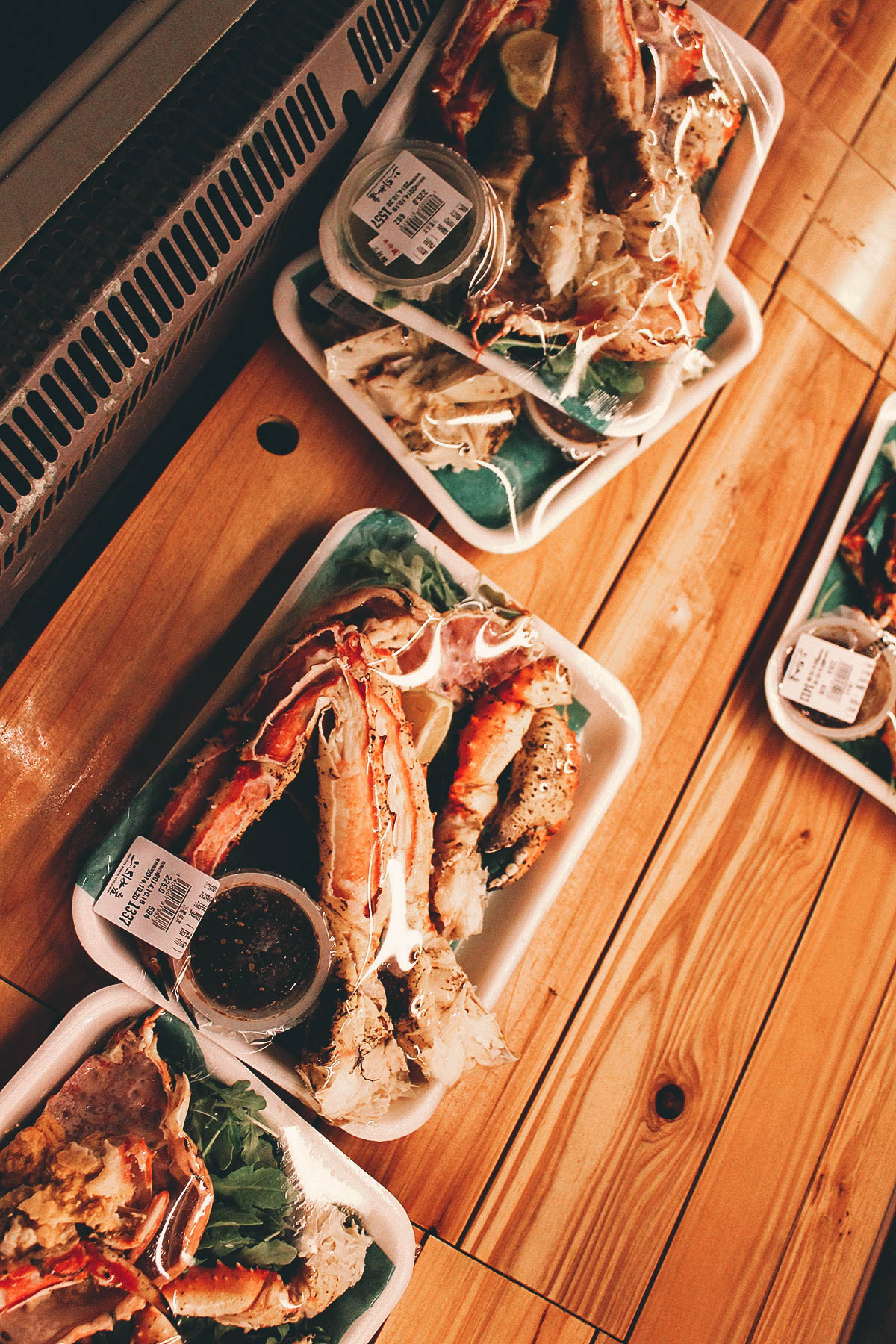 Even the dessert selection was impressive!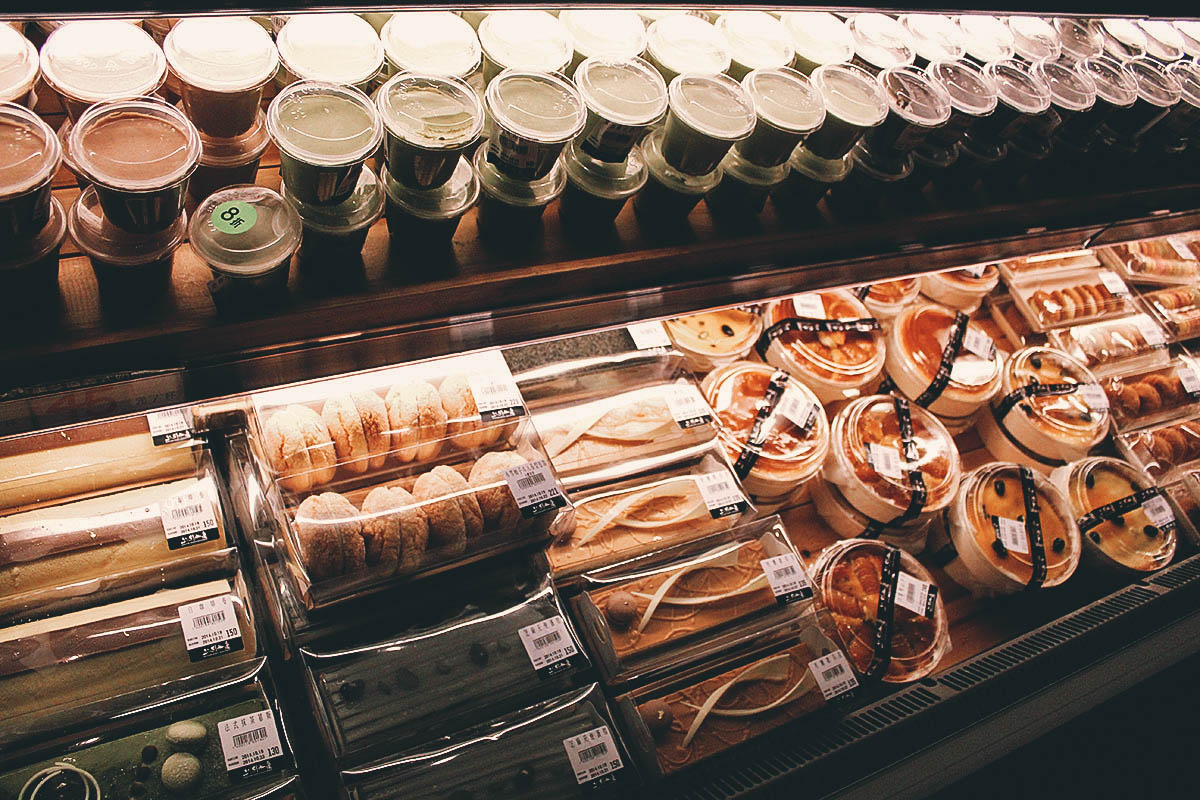 Not many restaurants in Manila serve amaebi so I made sure I got my fill. So sweet and delicious.



For dessert, we had this entire matcha cake with red beans and French macaroons for just NT$ 130!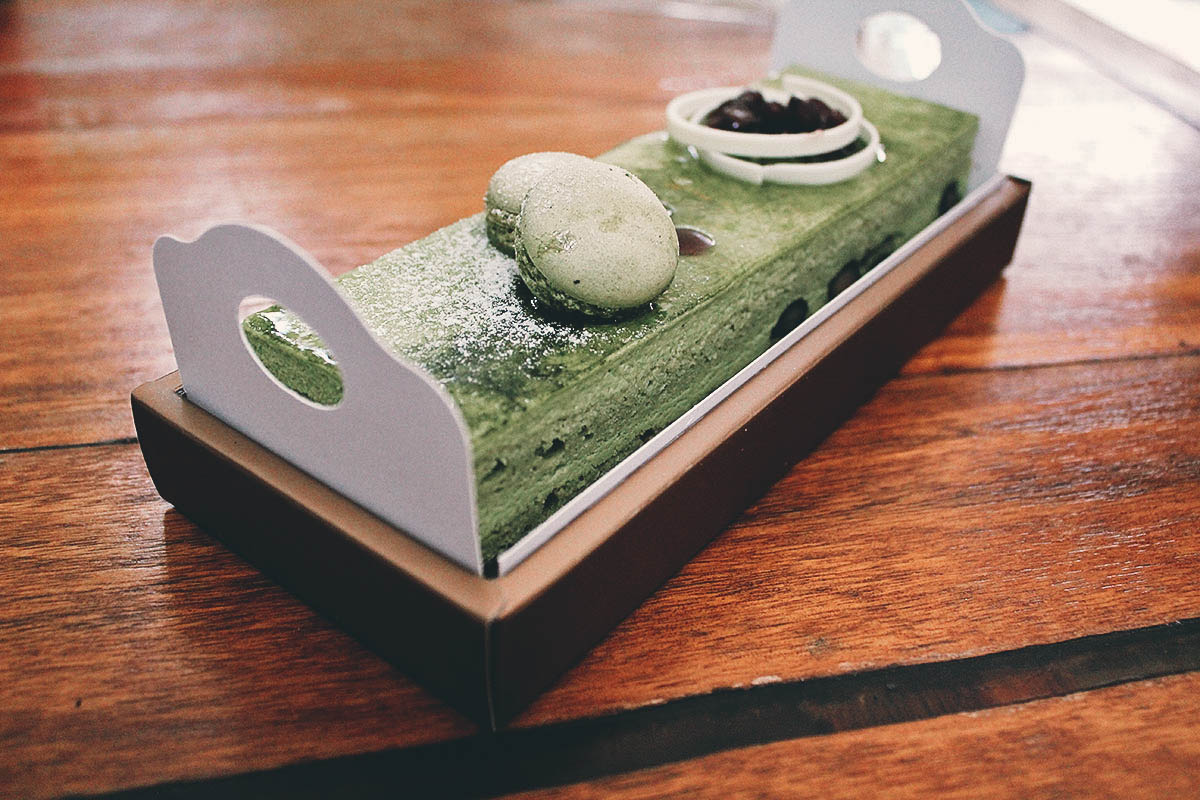 Dining Stations
For diners wanting more than the pre-packaged meals, there are several dining stations here. We only ate at the seafood and sushi bars, but there's also a hot pot station, a charcoal-grilled seafood restaurant, a cooked food section, and a juice bar. Seriosuly, how awesome is this place?!
Seafood Bar
To accommodate the large number of diners, many of the dining stations are standing room only. I love how they're incorporated into the grocery area as well. Opposite the seafood bar in this picture are chillers showcasing different types of frozen food.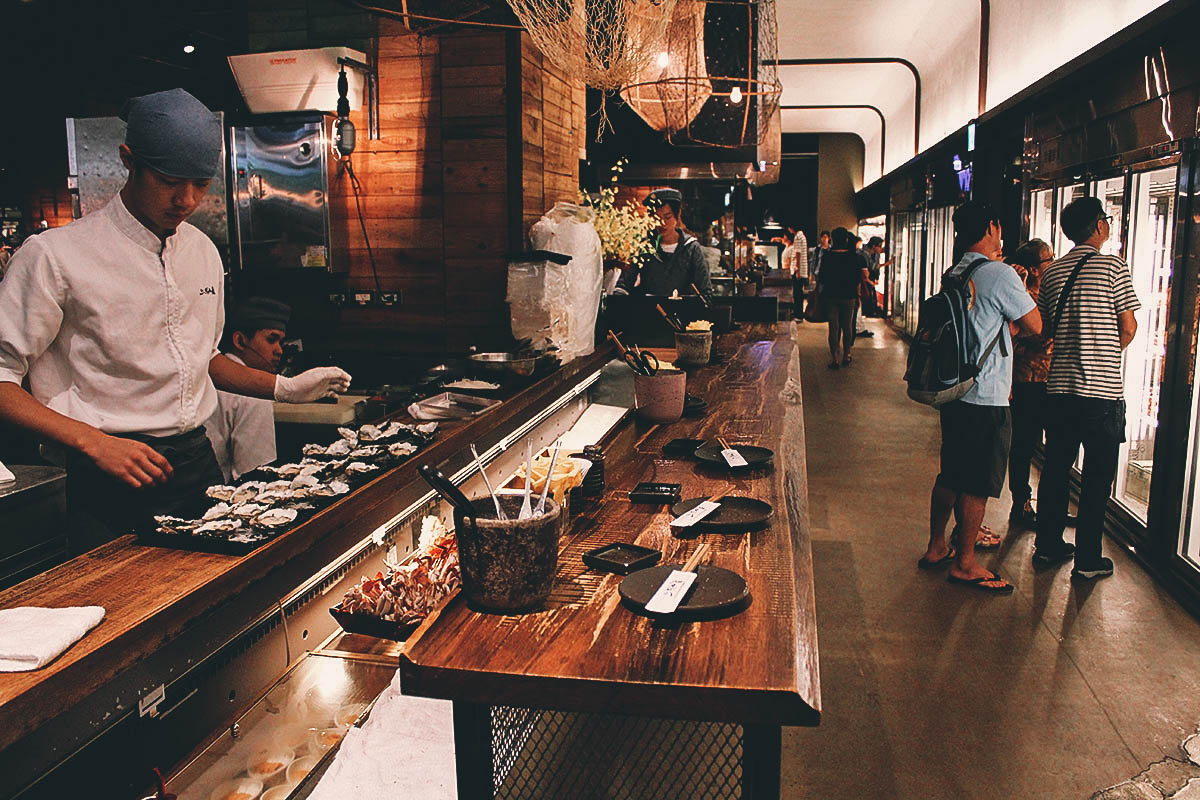 Loved the colors and textures here. Everything just looks and feels so well put together.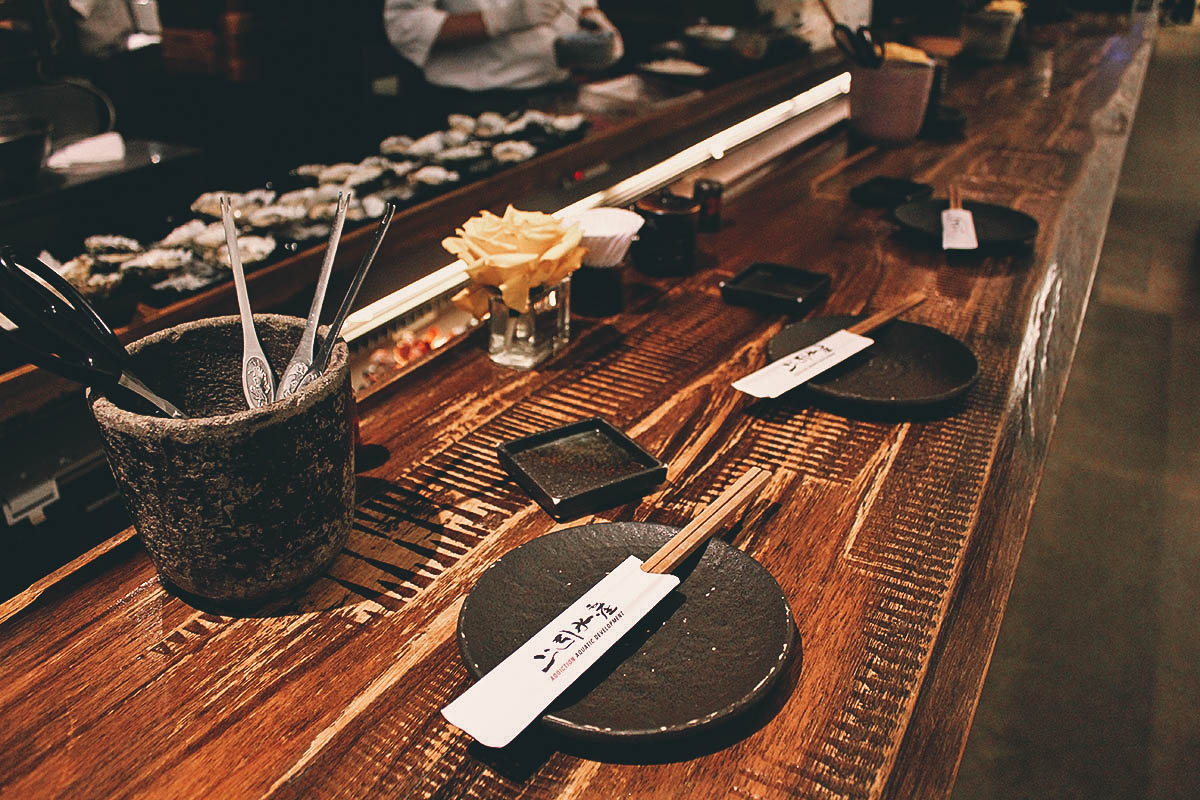 Still can't get over them king crabs!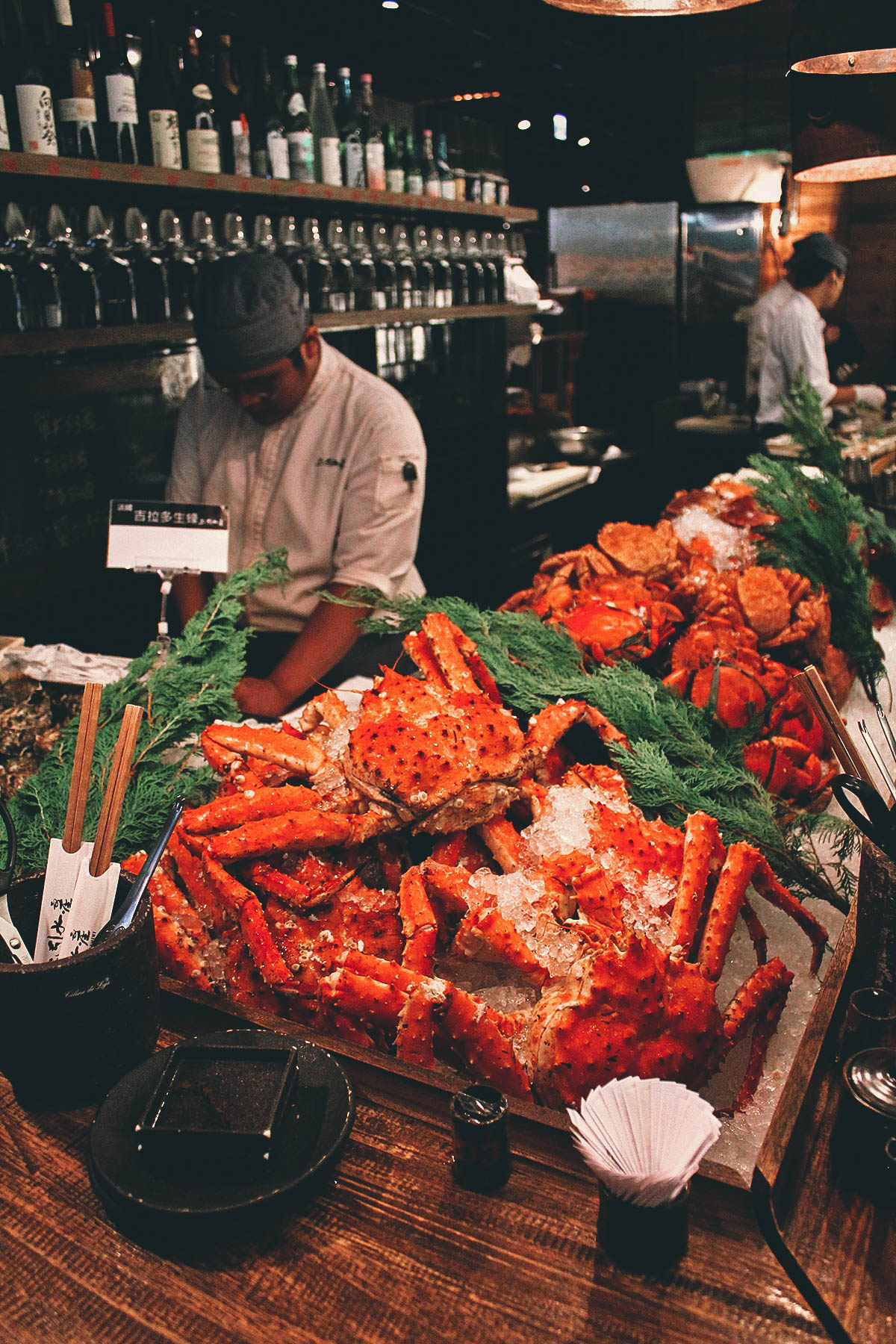 Containing different types of crab, shellfish, and sashimi, these seafood trays were super popular. Not surprising, since they were super delicious too.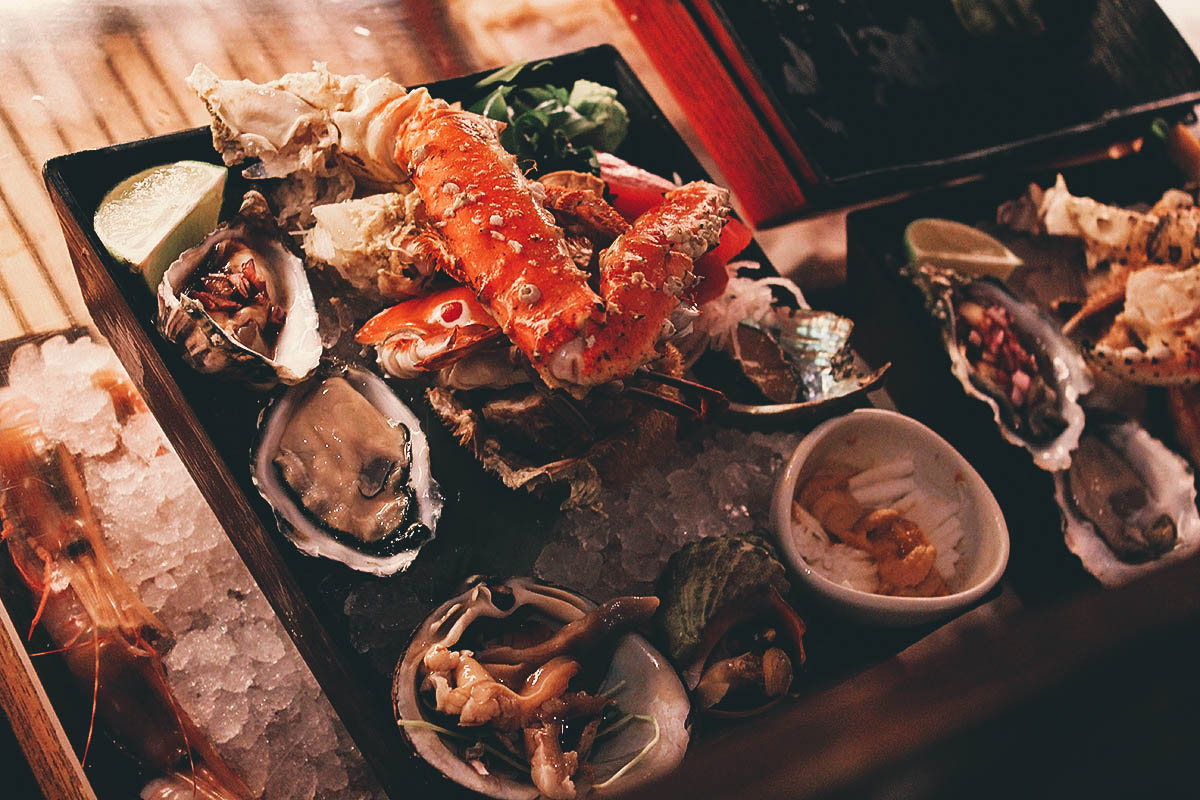 Keep em coming boys! These things were practically flying off the shelves.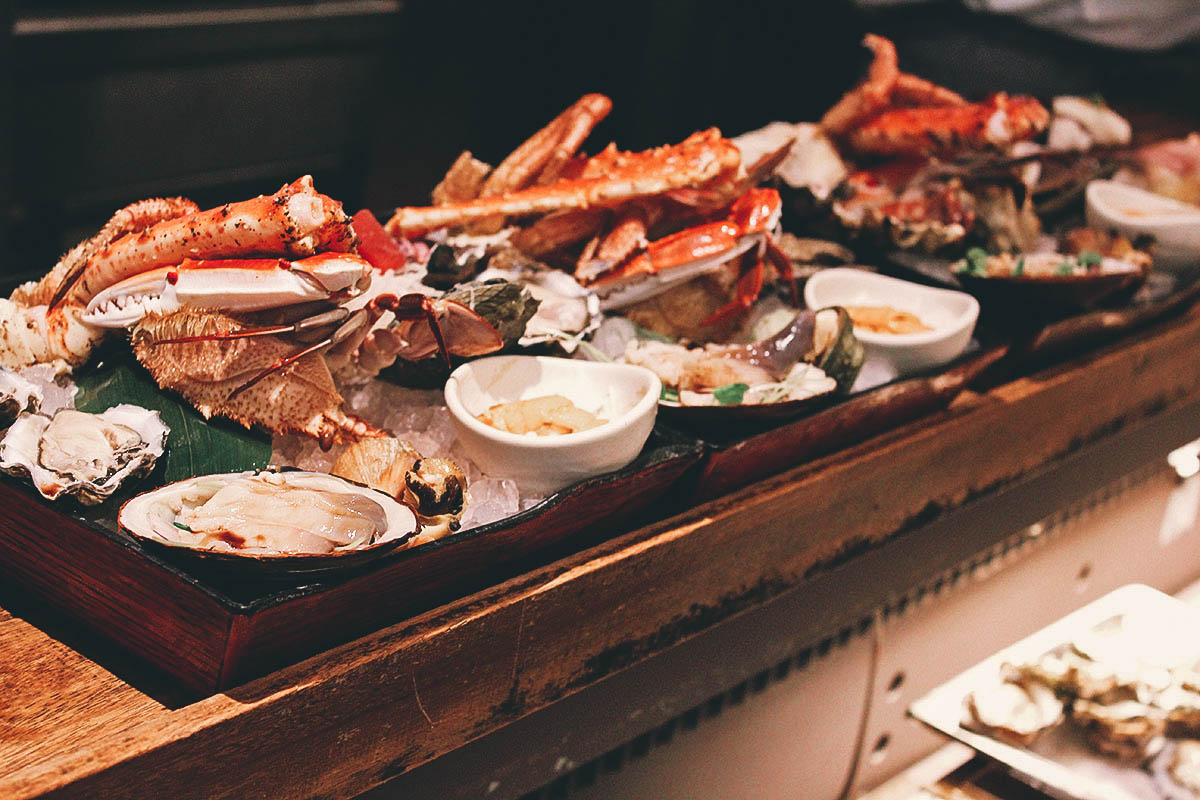 Sushi Bar
At the very center of the space is this standing room only sushi bar.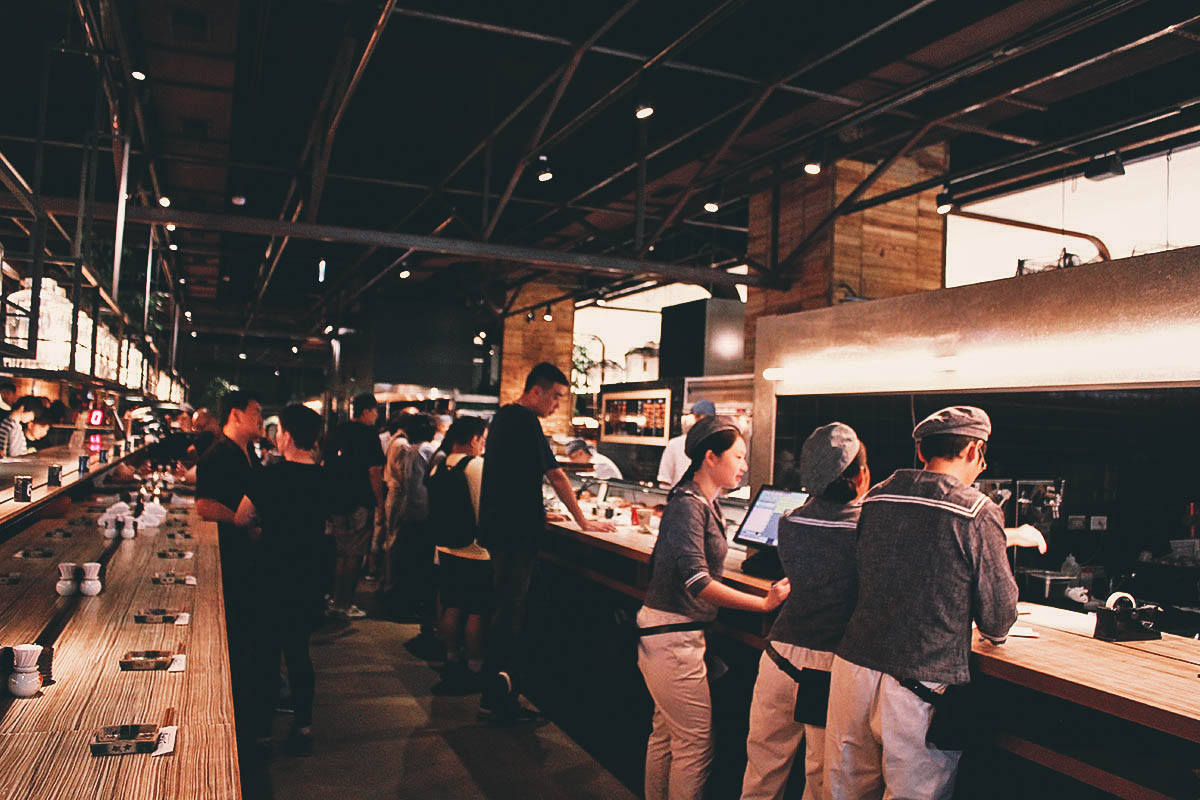 Though very popular, lines moved fairly quickly. There's the LCD display hiding behind the chalkboard. We were number 12.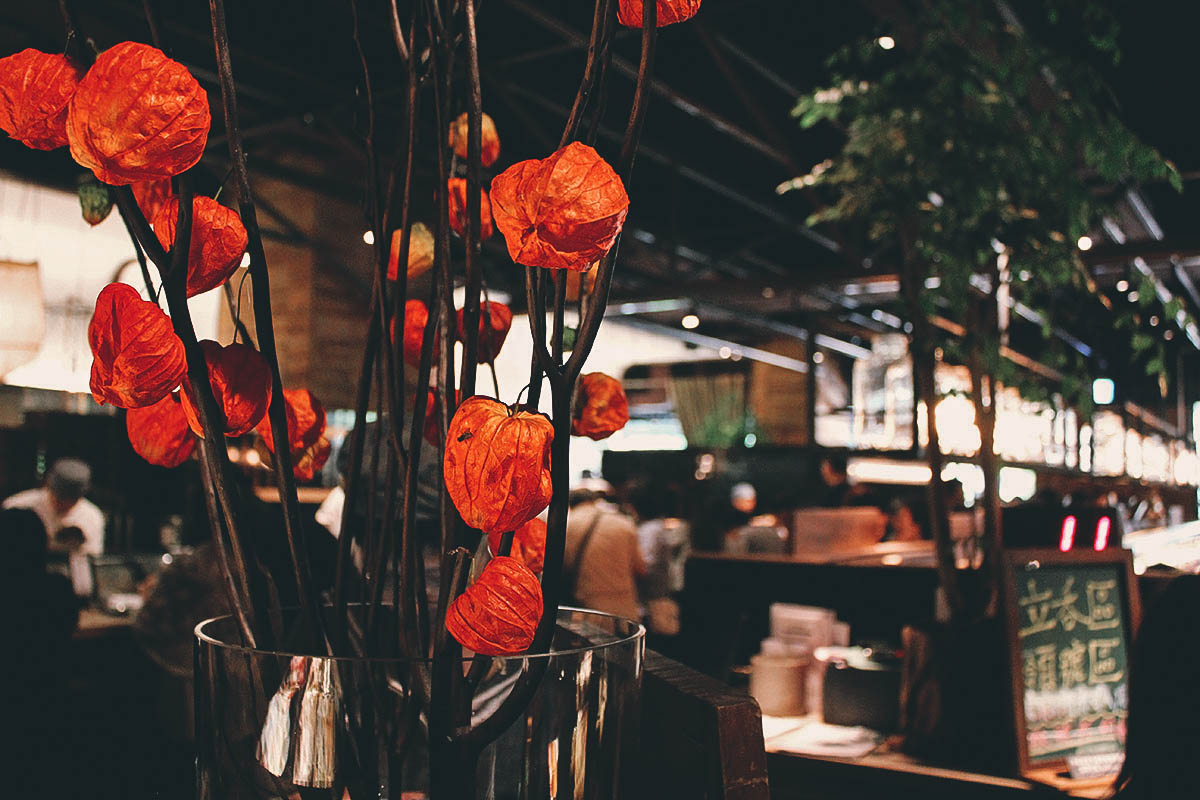 Unfortunately, they don't have any menus in English so we could only order the most basic things. To communicate what we wanted to the waitress, Ren and my sister went around the bar pointing at other people's dishes and saying: "We want that!" 😆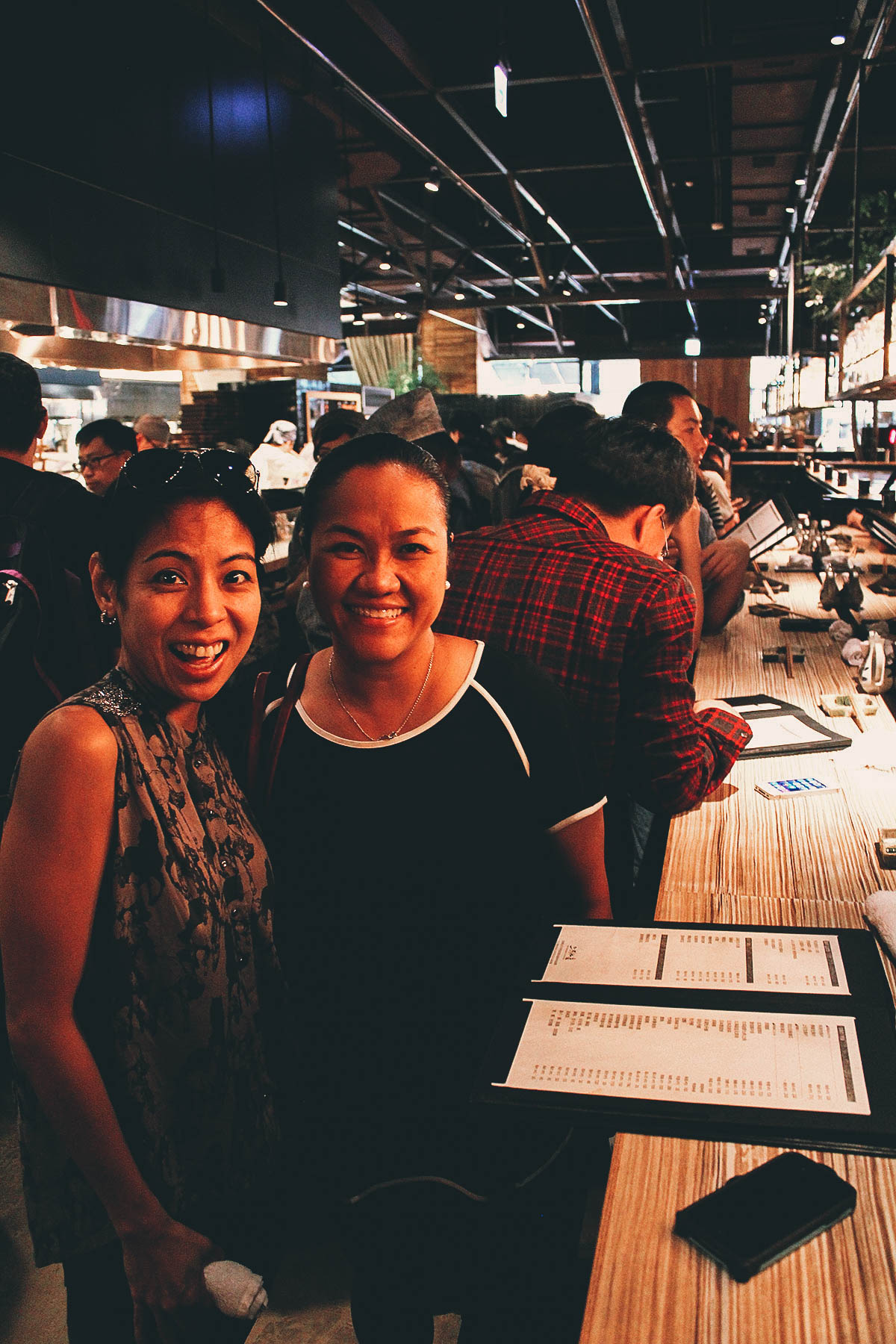 The freshest salmon sashimi. Best we've had since Osaka.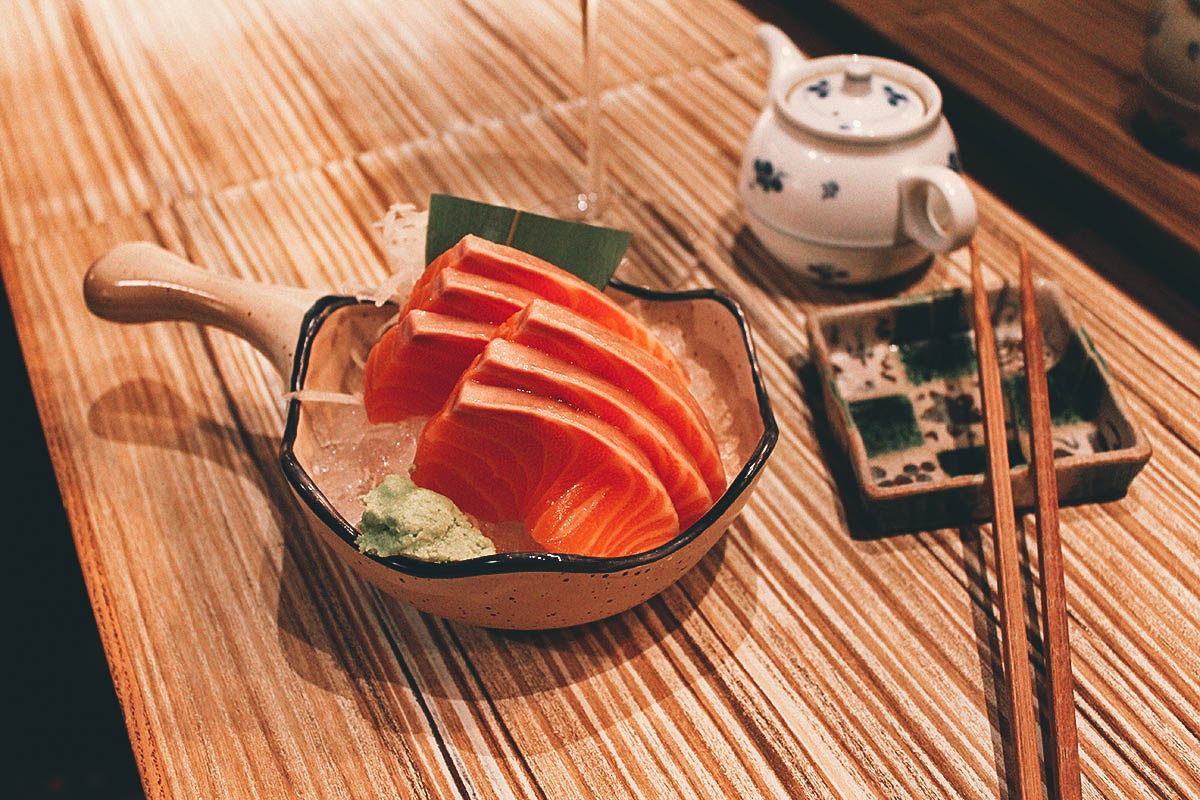 Grilled abalone. Yum-O.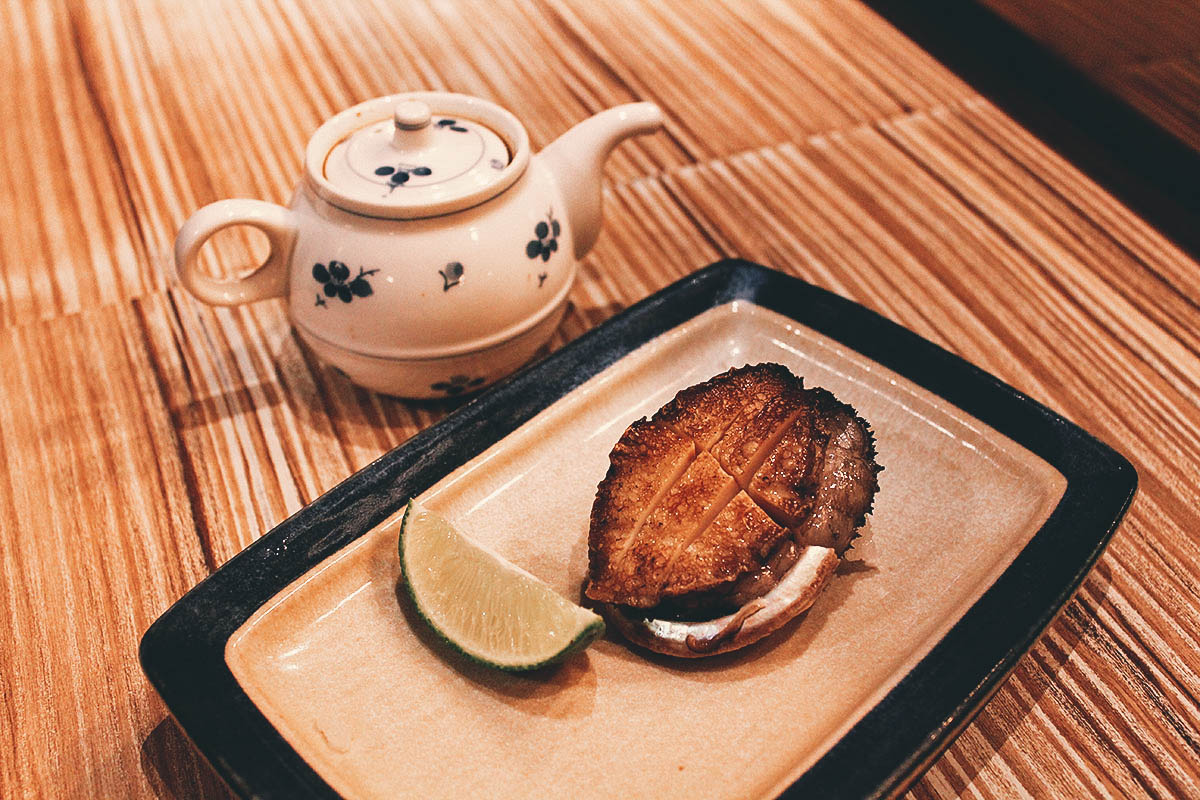 Amaebi sushi. I told you I needed to get my fill. 😉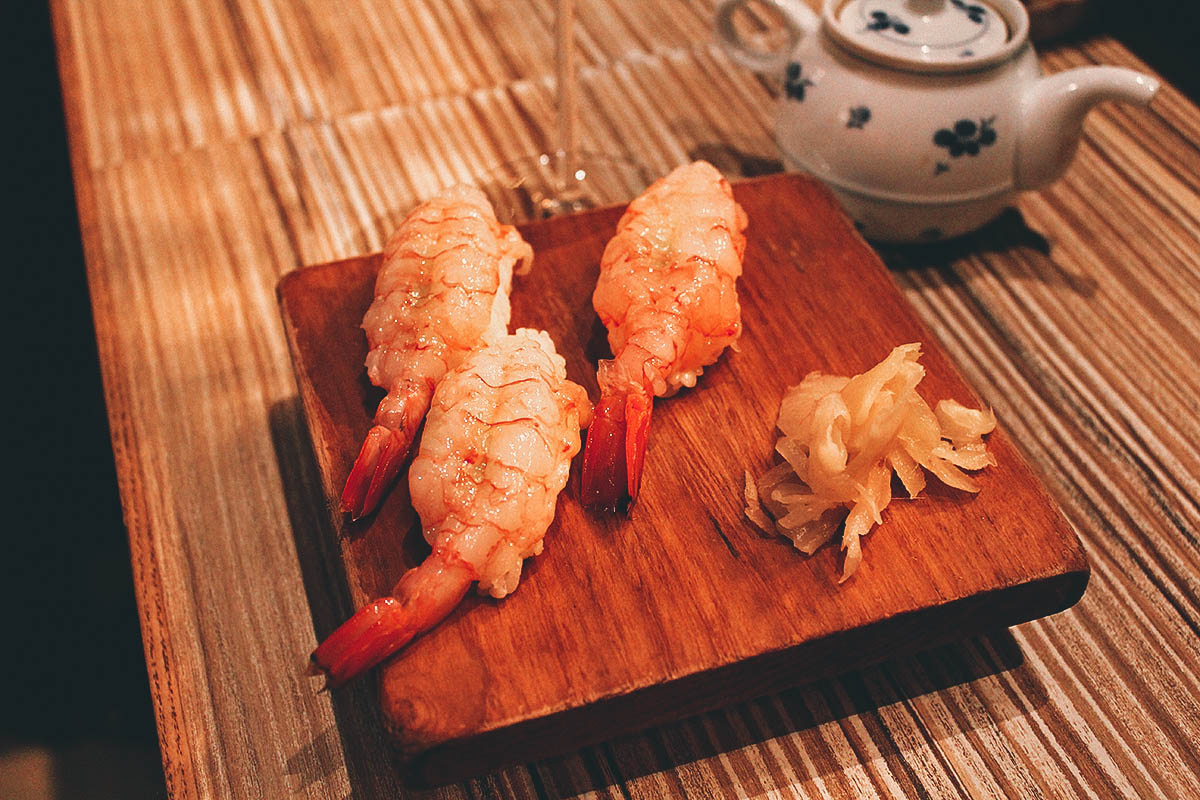 Hamachi collar. If I remember correctly, these four dishes with two beers and a glass of white wine went for around NT$ 1,200.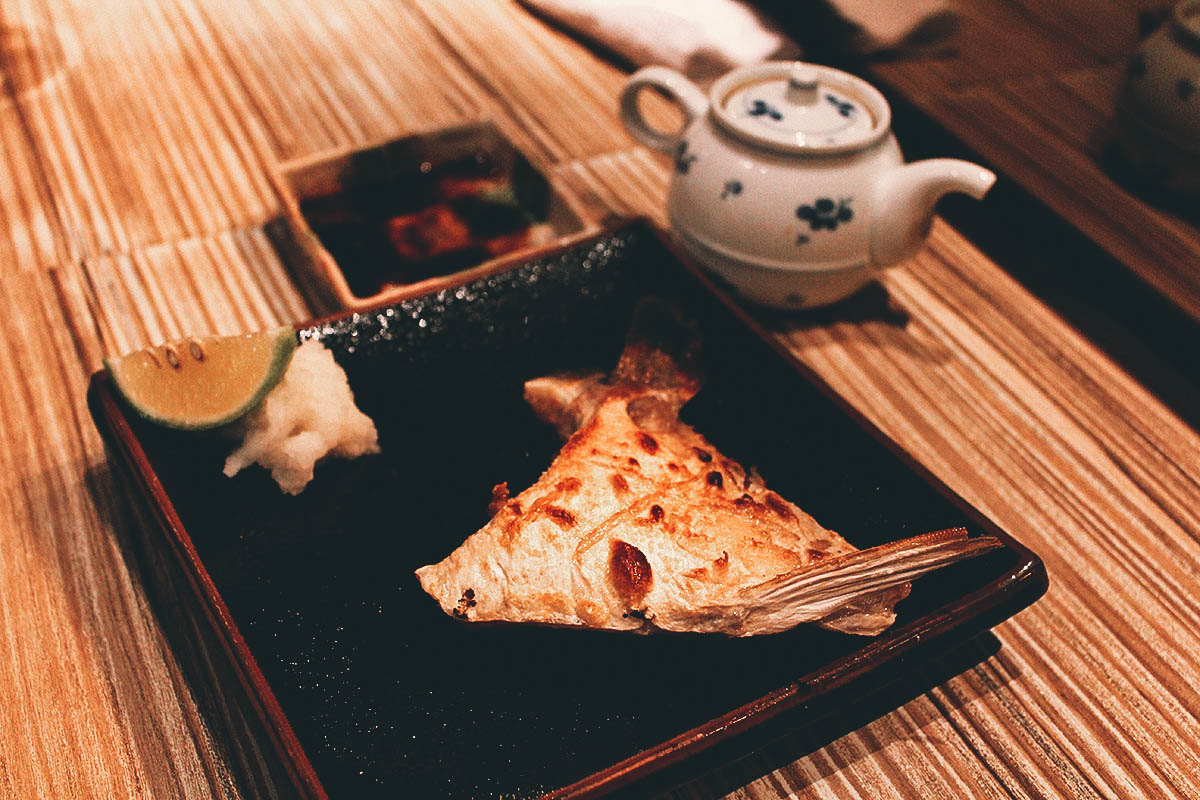 Charcoal-Grilled Seafood Barbecue
We didn't eat here but right outside the grocery is this open air dining area serving grilled seafood.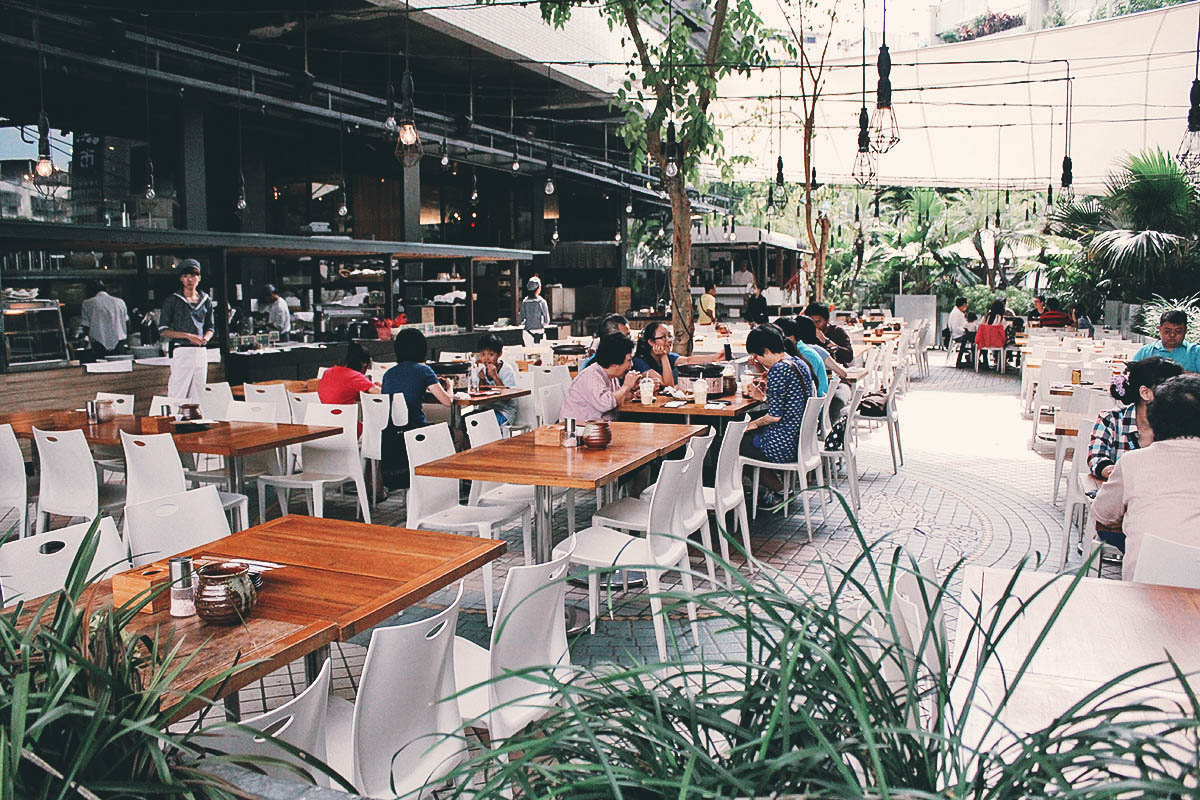 Lifestyle & Flower Market
Apart from all the delicious food, there's also a section here selling cookware, cookbooks, utensils, and flowers. Classy much?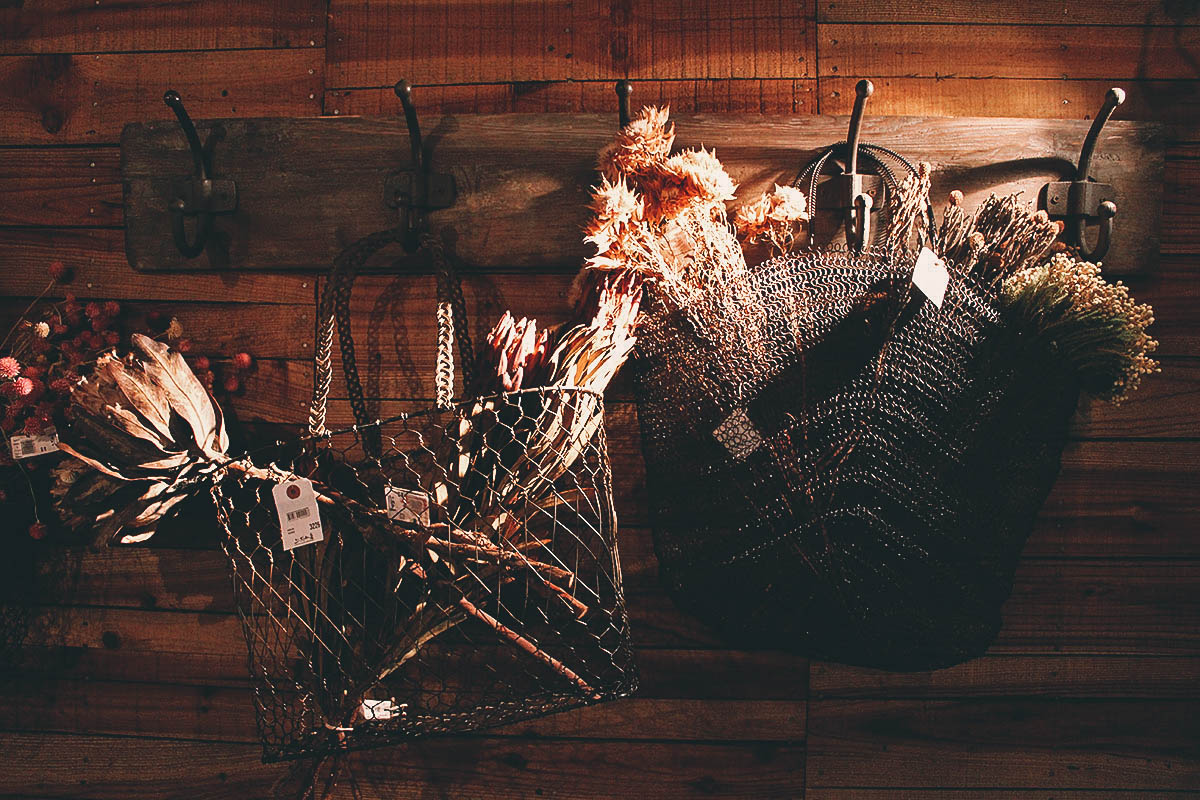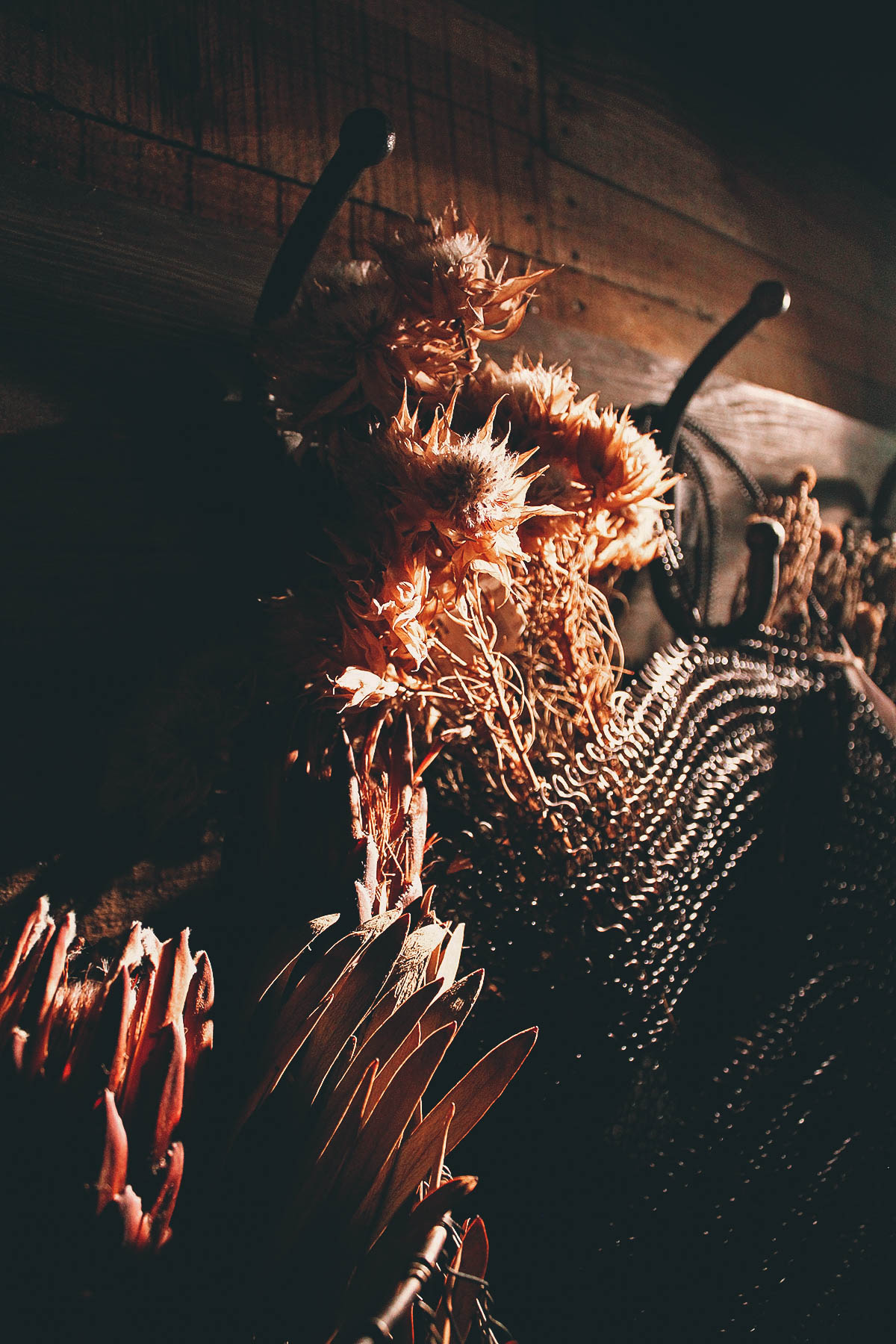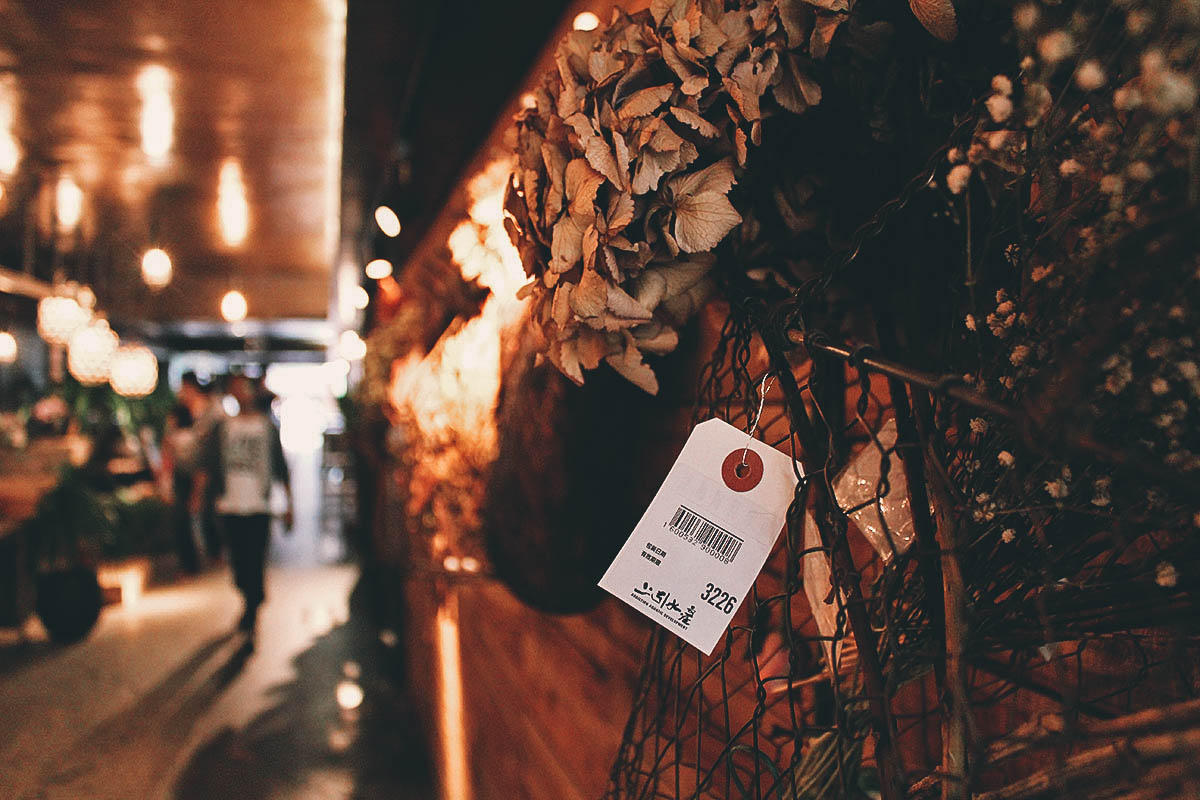 So, are you a believer yet? 😉
It's only been a week since our trip and I'm already jonesing for another taste. Without question, we'll be going back to AAD on every return visit to Taiwan. If you love seafood and are planning a trip to Taipei, then don't even think about not coming here. Just go. Like I said, it's THAT good.
Addiction Aquatic Development
No.18, Aly. 2, Ln. 410, Minzu E. Rd., Zhongshan Dist., Taipei City, Taiwan, ROC
Tel: 02-2508-1268
Fax: 02-2508-0268
Website: addiction.com.tw
Email: service_add@addiction.com.tw
Hours of Operation: Mon-Sun, 6AM-12MN
Expect to spend: NT$ 750 per person with drinks
HOW TO GET THERE:
By subway, get off at XingTian Temple MRT station. Though not far, it's a bit of a walk so it's best that you take a taxi from here. The fare will run you around NT$ 70. Not many taxi drivers speak English, so it's best that you print out the place's Chinese name and address and just show it to him:
上引水產
台北市民族東路410巷2弄18號
JB is one half of Will Fly for Food and its chief itinerary maker.  He's the one to blame for all the crappy photos and verbal diarrhea on this blog.  Don't listen to him.
Latest posts by JB Macatulad (see all)