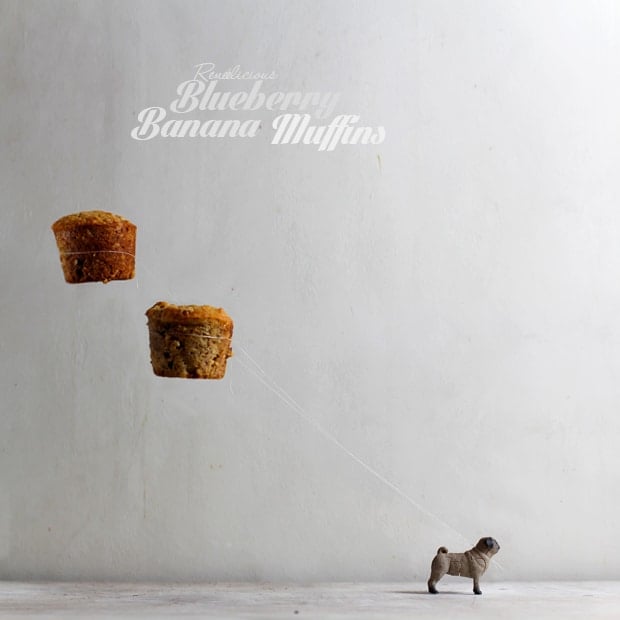 Do you know what I love most about Sundays? Nothing.
It's the only day of the week when you can do absolutely nothing and not feel bad about it. And by "nothing", I don't actually mean nothing, because we're usually doing something. We're just doing something that we actually want to do.
Today, Ren spent her Sunday doing nothing by baking these delicious blueberry banana muffins. Since most muffin recipes call for fresh, she wasn't too sure if these dried blueberries would pan out, but they did. And very well too.
As for me? I played with my dogs, ate some muffins, and imagined what life would be like without roots. Oh, and I slept in the afternoon too. For over an hour.
Just your typical productive Sunday doing absolutely nothing. Have a great Sunday everyone.
INGREDIENTS (makes 6 medium-sized muffins)
1 1/2 cup all-purpose flour
1/2 cup quick-cooking oats
1/2 cup dried blueberries
1/2 tsp baking soda
1/2 tsp baking powder
1/4 tsp salt
1/2 cup white sugar
1 egg
3/4 cup mashed ripe bananas
1 tsp vanilla
1/2 cup vegetable or canola oil
1/4 tsp banana essence (optional)
DIRECTIONS
Preheat oven to 350°F. Grease and flour muffin pan.
In large bowl, sift flour, baking powder, baking soda, and salt. Stir in dried blueberries and oats.
In another bowl, mix rest of ingredients well. Gently incorporate wet mixture into dry ingredients, being careful not to overmix.
Bake for 25 mins or until toothpick inserted in middle comes out clean. Allow to cool on cooling rack for 10 mins before turning it out from pan.
JB and Renée are the Traveleaters behind Will Fly for Food, a travel blog for the gastronomically inclined.  They enjoy experiencing food from different cultures so they've made it their mission to try every country's national dish.  Read more about them and their National Dish Quest here.