Kura Sushi: Delicious Sushi in Japan for just ¥100 a Plate
I frequently tell Ren that one of the things I miss most about the US is conveyor belt sushi (called kaiten-zushi in Japan). It's fun, easy, and frequently inexpensive. Giving you full control over the types of sushi that you eat, you don't ever have to settle for that bum piece in a set. You can grab exactly what you want whenever it rolls by, without having to order from a server or waiting too long.
So when my Japanese friend Tom told me that we were having lunch at his favorite kaiten-zushi place called Kura Sushi during our recent trip to Kyoto, my eyes lit up. When he told me that every single plate of sushi in the restaurant – from maguro, to hamachi, to unagi, to chuotoro, to hotate, to katsuo – went for an even ¥100 ($1), my eyes practically popped out of my head.
$1 for two pieces of delicious, freshly made nigiri sushi. In JAPAN! If you thought that you had to pay an arm and a leg to get good sushi in this country, think again.
One Dollar ($1) Sushi at Kura Sushi
We ate at this Kura Sushi branch in Kyoto en route to the Golden Pavilion. There are presently over 300 Kura Sushi branches all across the country.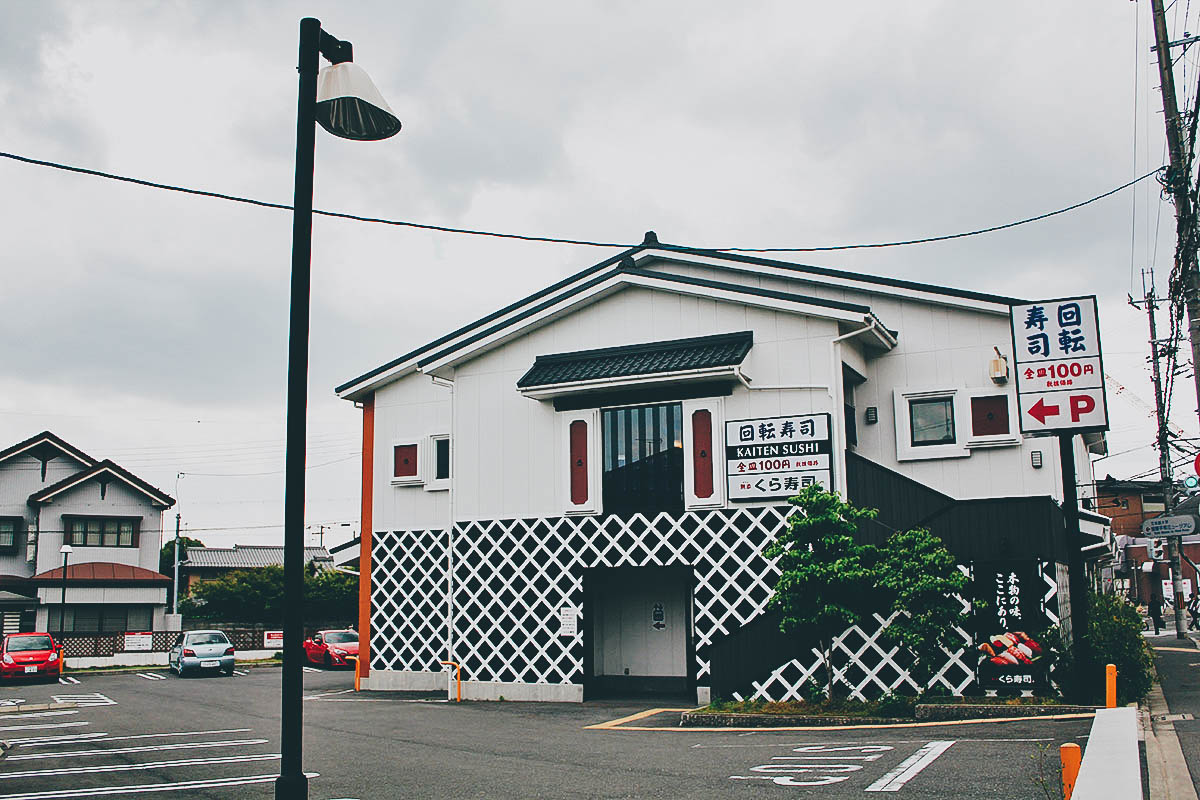 My heart started racing when I walked in and saw this. In the US, most diners just grab whatever rolls (or floats) by. Here in Japan though, most people order from a touch screen found at every table.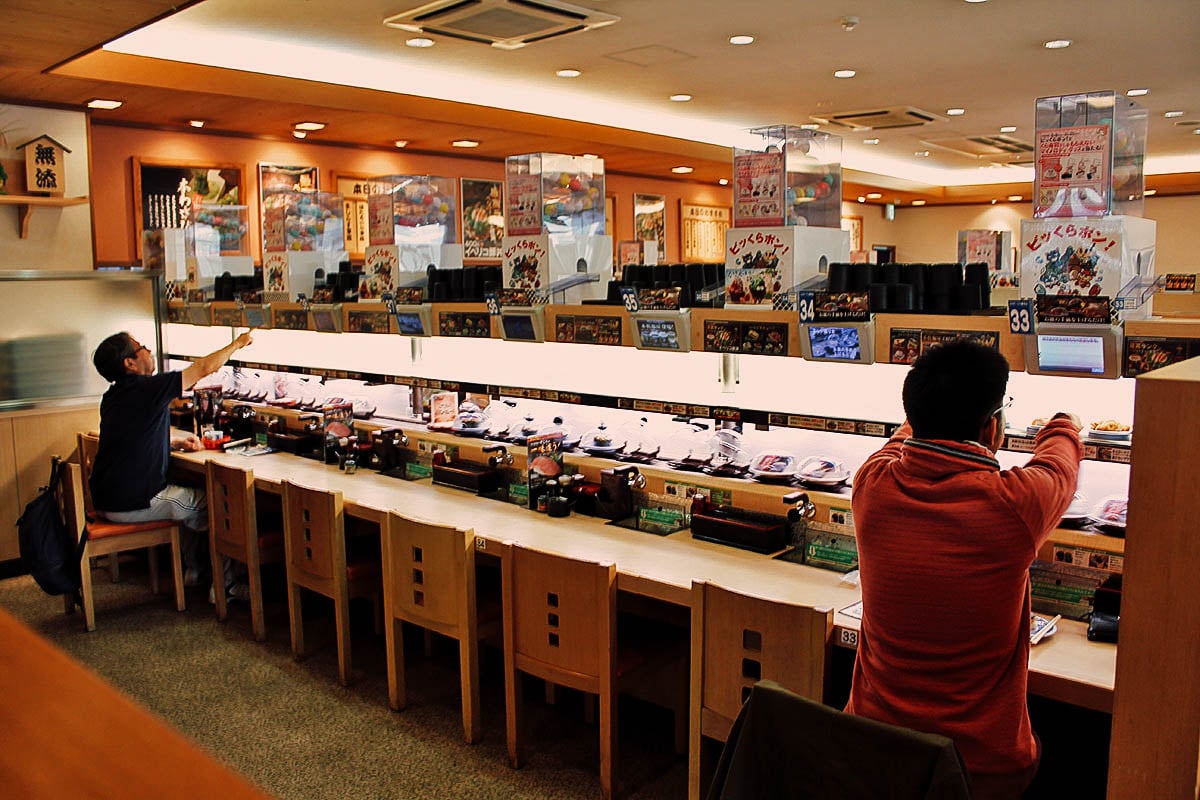 1) Lower conveyor belt with ready-made plates of sushi. Though covered, these may have been going around the restaurant for a while so probably aren't as fresh. 2) Touch screen to order specific plates of sushi and other items. As mentioned above, most customers use this. 3) Your orders are delivered right to your table via this upper conveyor belt. Check out the video below. It's so frikking cool! 4) Disposal chute where you drop in all your used plates. It counts the number of plates you've consumed and calculates your bill. How awesome is that?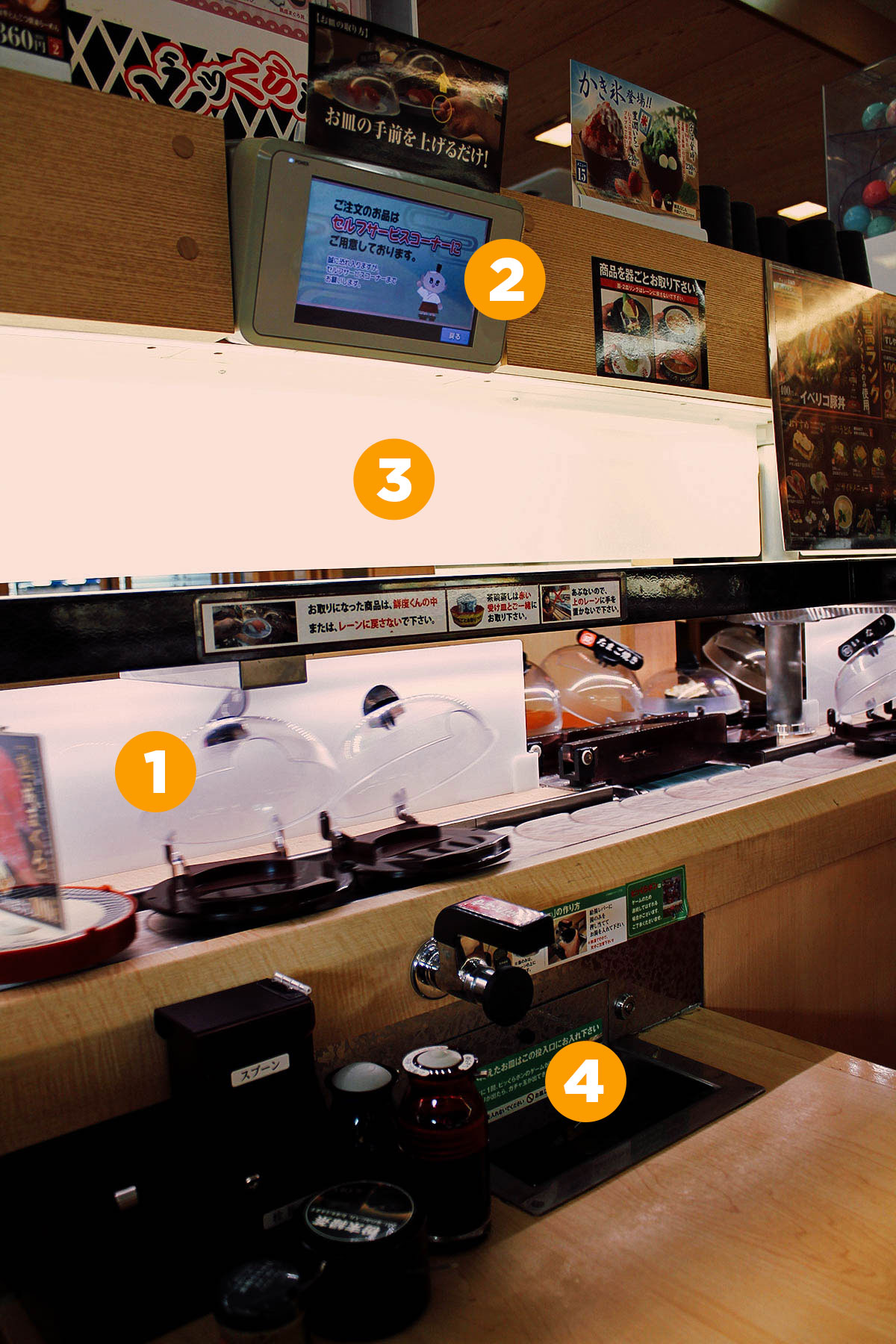 Sushi for the masses. 😆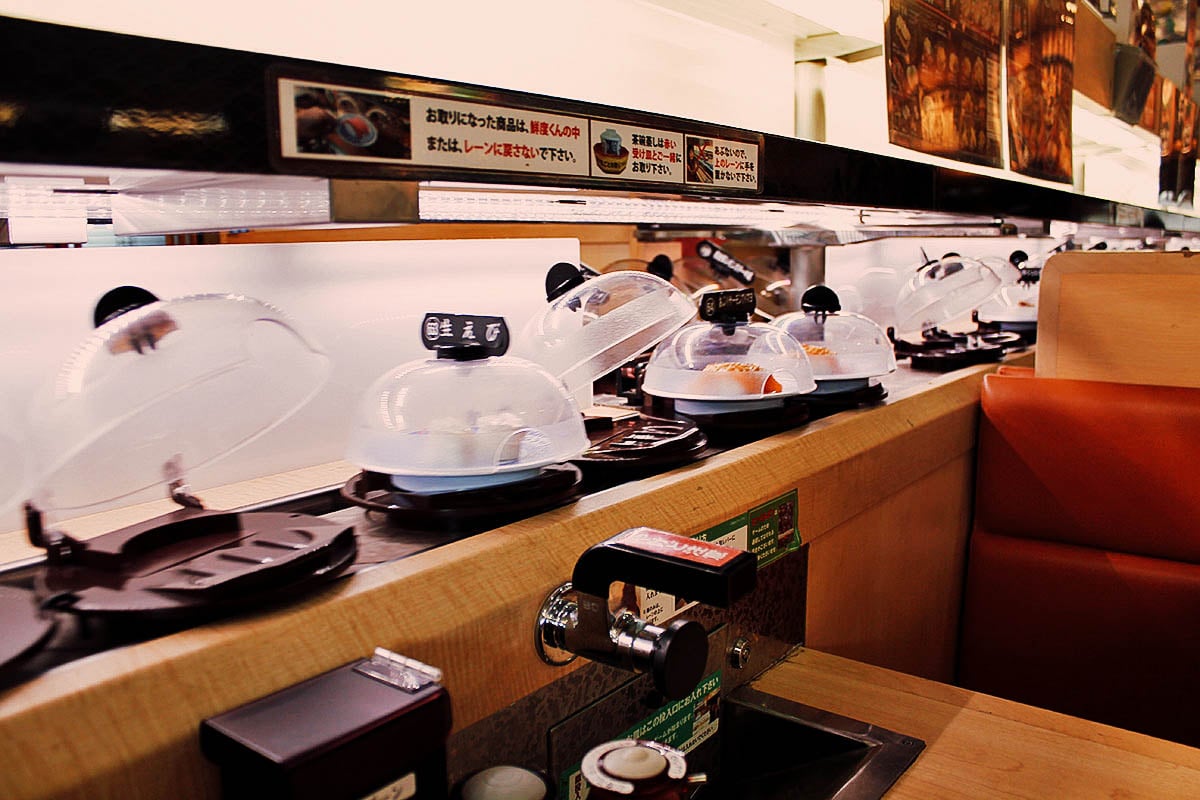 What sorcery is this?!
As mentioned above, only ¥100 for every plate! For more expensive sushi like crab or chuotoro, you only get one piece per plate, but that's still really cheap. Just $1 for a premium piece of fatty tuna? Bring it on conveyor belt! 😀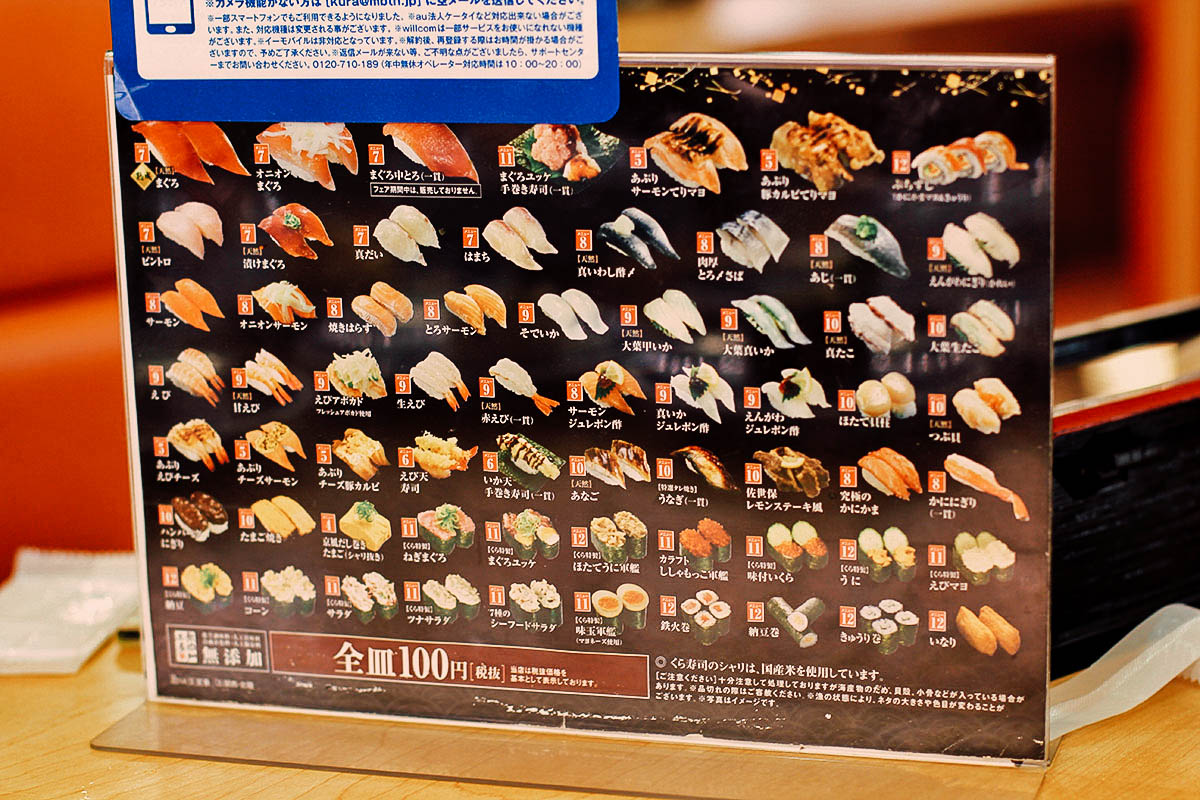 Seriously, how beautiful is that? Though the quality of sushi at these kaiten-zushi places is said to be lower, they're still pretty damn good in my book, much better than many places here in Manila. According to Tom, Kura Sushi is one of the best kaiten-zushi chains in Japan. He loves it so much that he eats here at least twice a week. I would too. 😉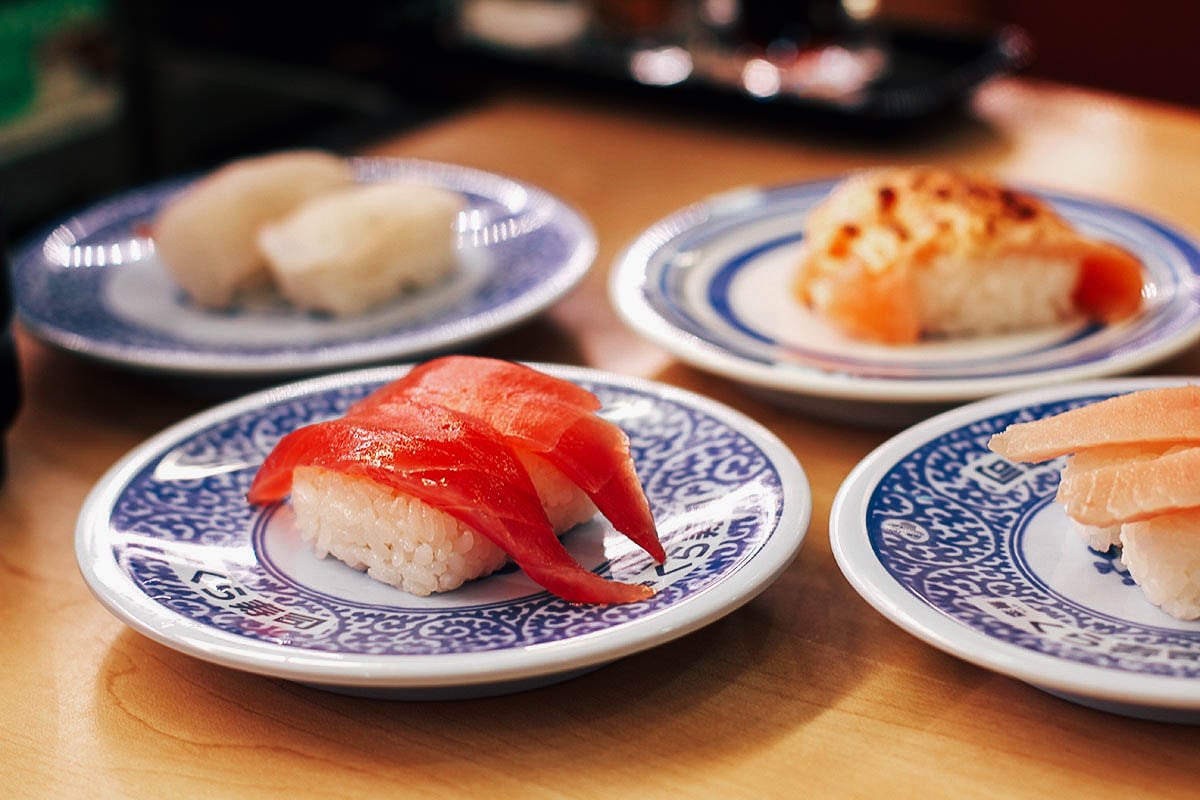 That blurry plate of sushi in the background is blow-torched salmon with Japanese mayo. So delicious. We had the blow-torched ebi as well and that was really good too.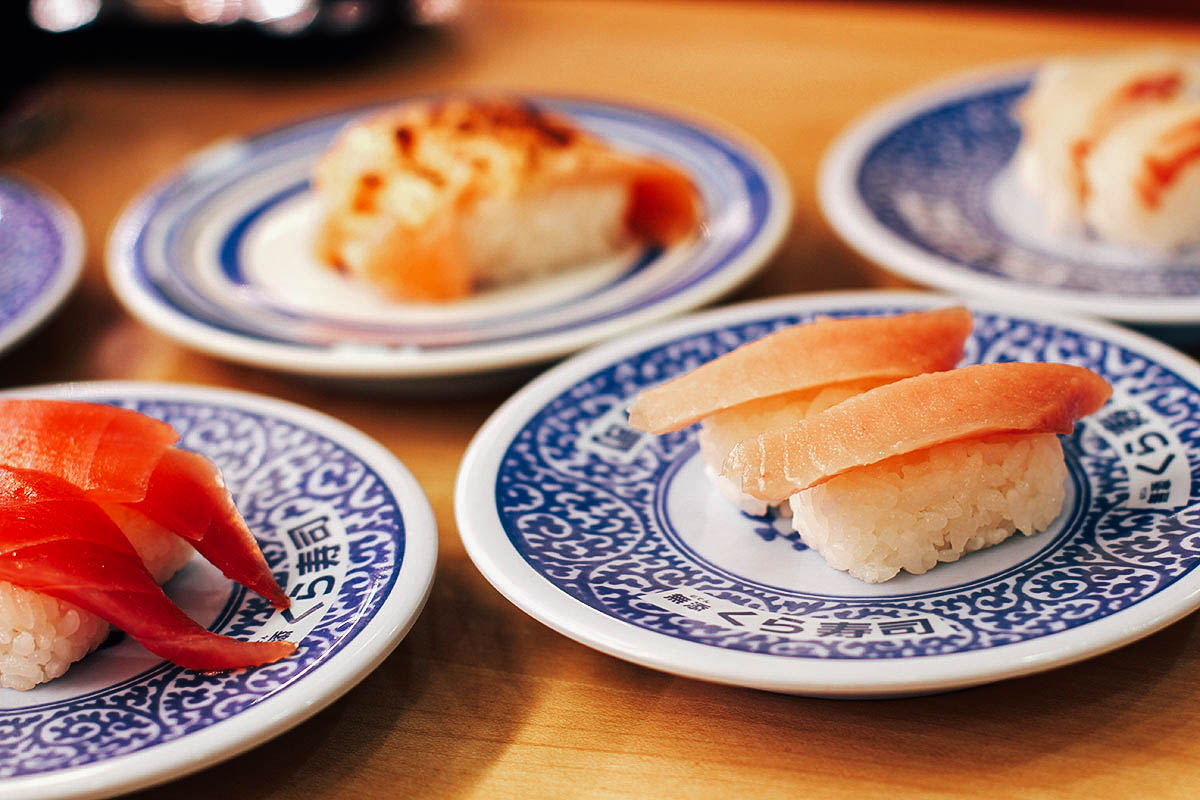 Don't remember what this was. Some type of clam I think?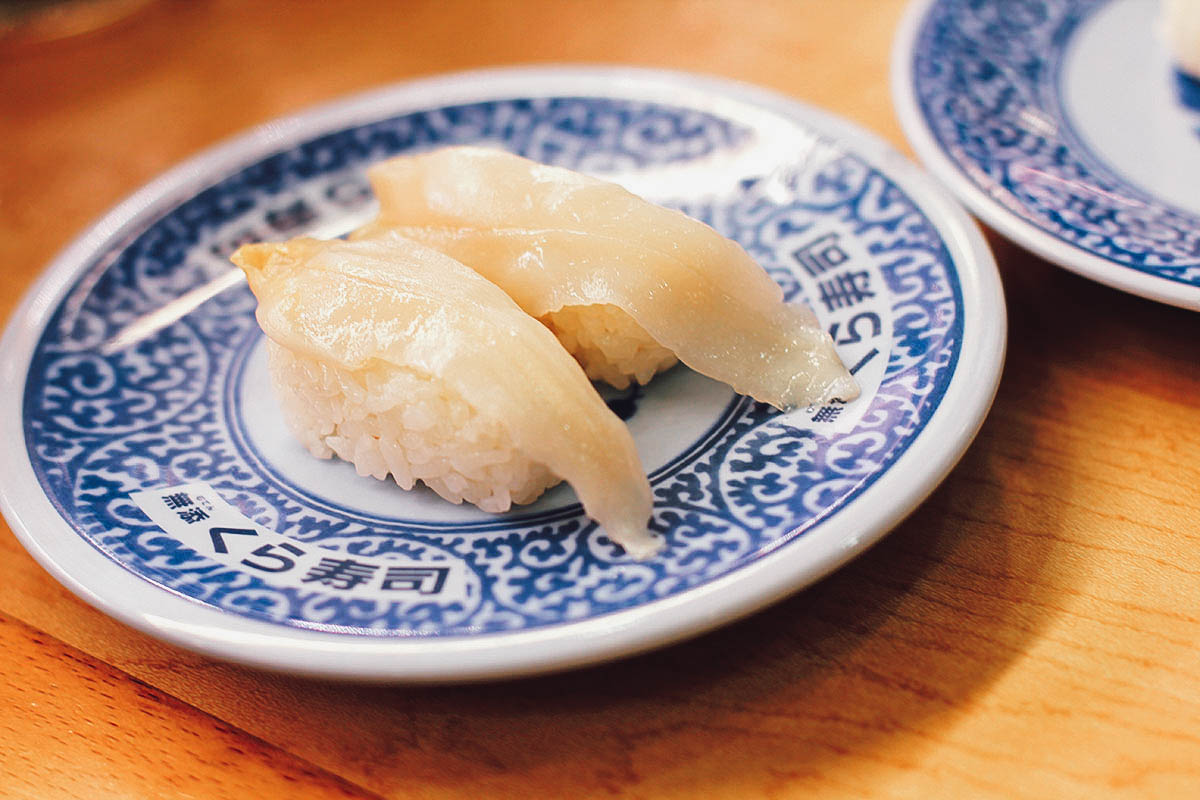 Squid tentacles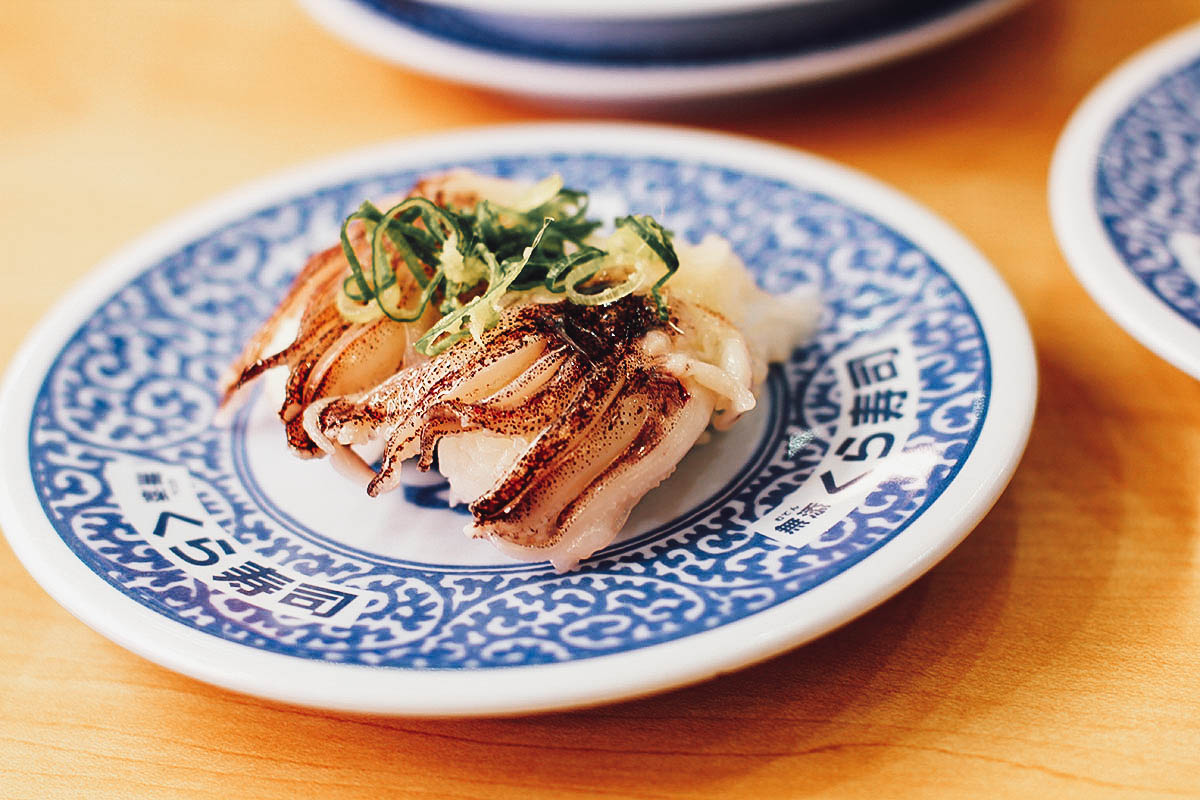 Katsuo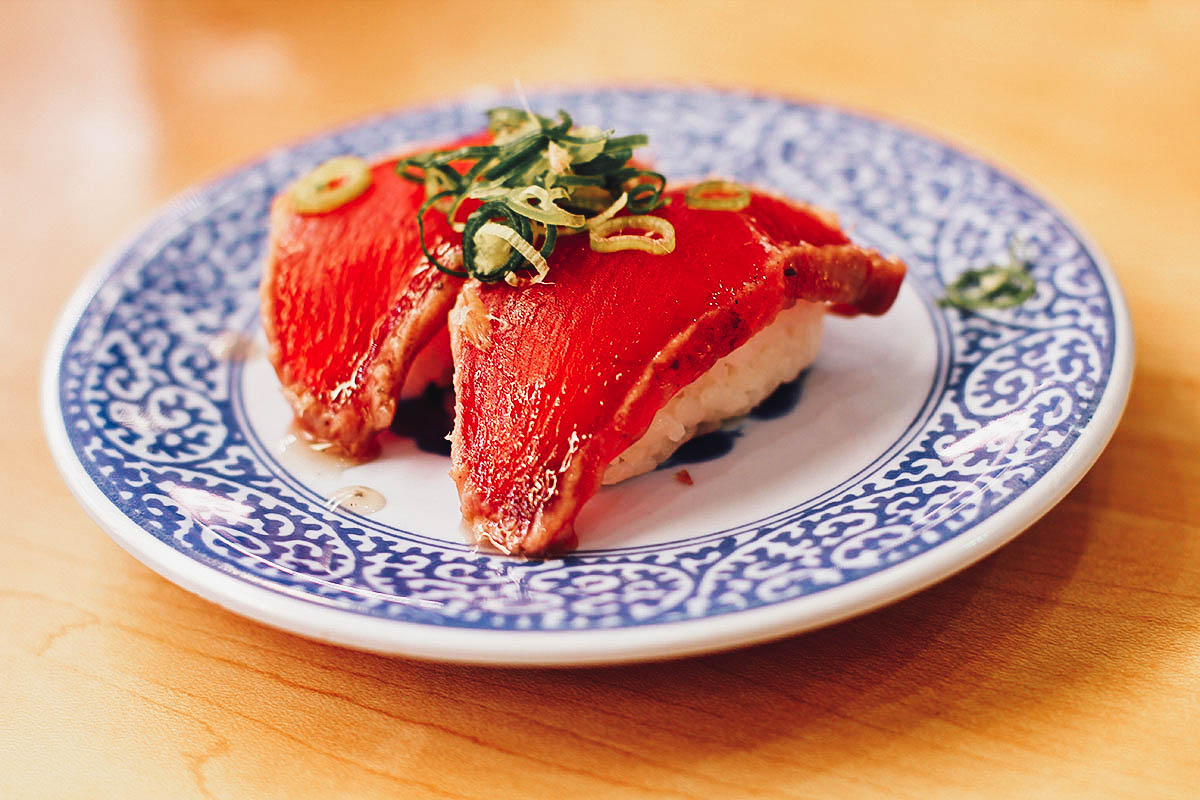 Some type of premium white fish with shiso leaf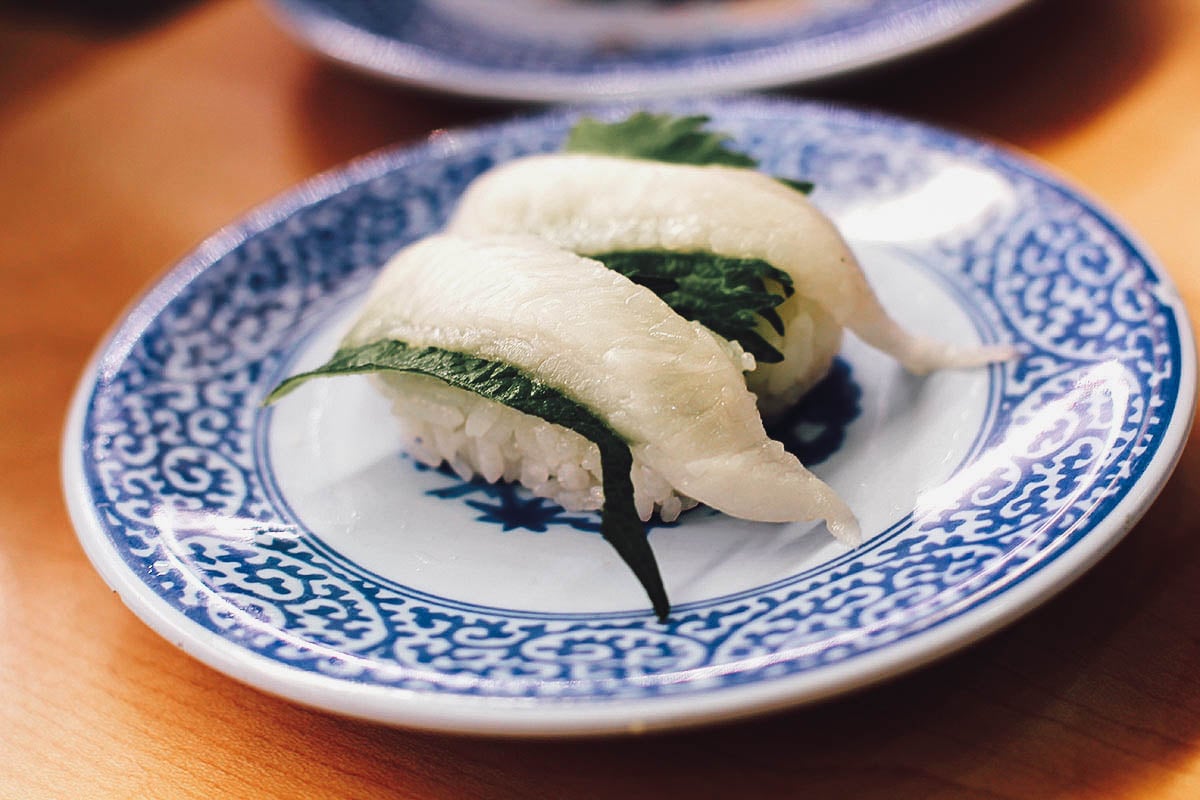 Fingerlings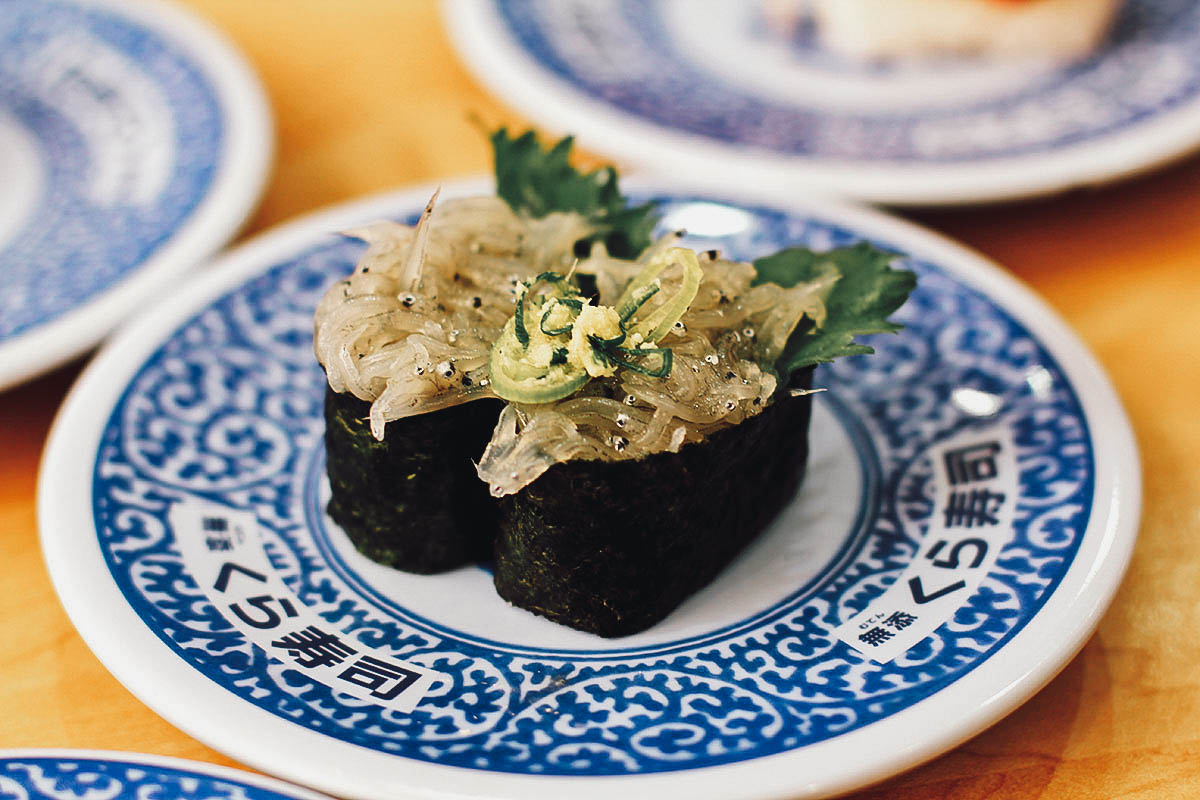 Japanese corn with mayo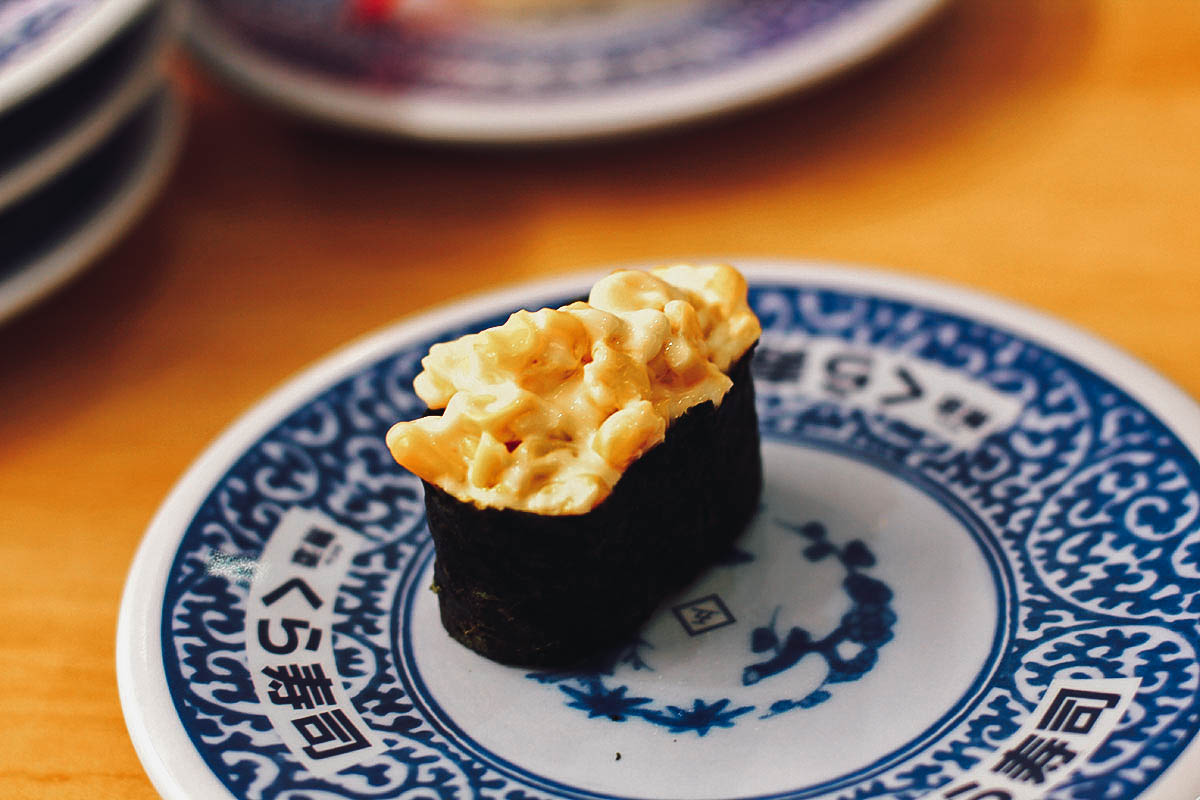 Real kani (crab)



Our favorite of the day – hotate (scallop). So sweet and tender, I could have eaten ten plates of this alone!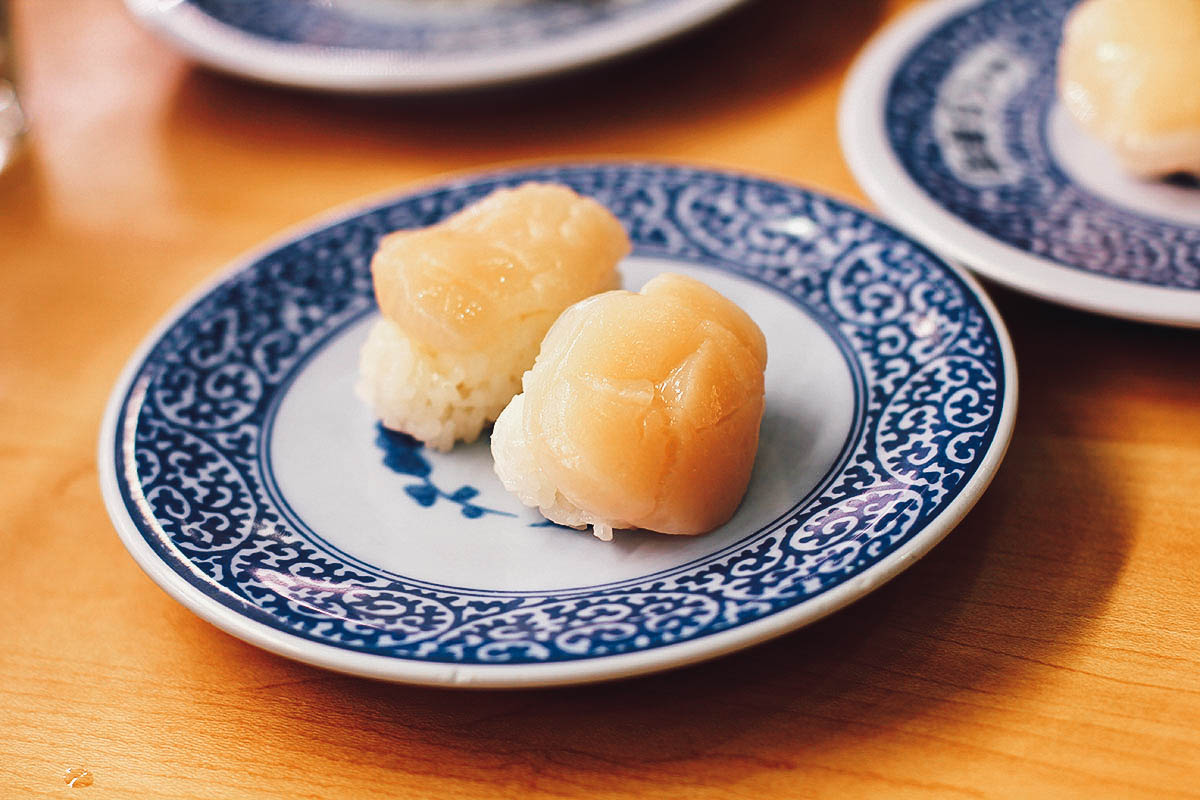 Far and away the best chawan mushi I have ever tasted. More complex in flavor than the ones I've tried here in Manila, it was topped with yuzu zest and had chunks of chicken and a scallop at the bottom!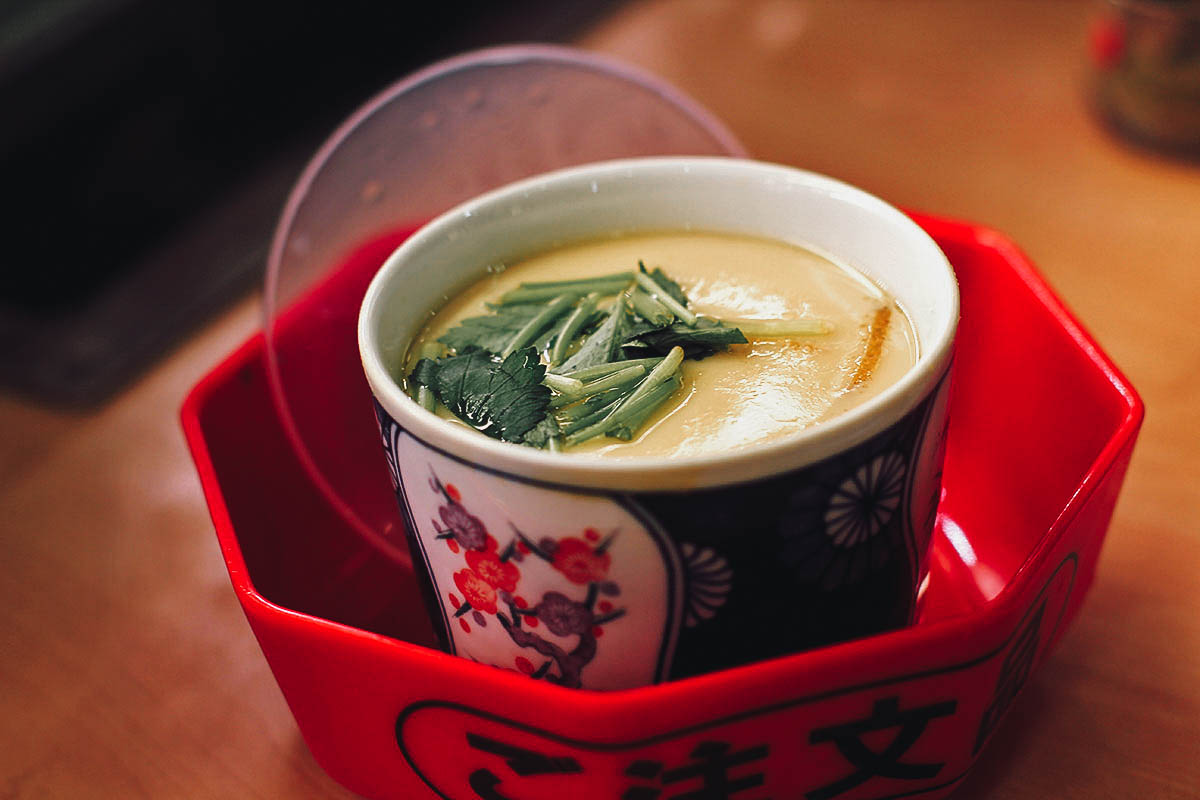 Even drink dispensers are so much cooler in Japan. Check out this video of their coin-operated mechanical beer dispenser. Mugs of Japanese beer go for ¥500 here.
One of the most common misconceptions about Japan is that it is ridiculously expensive. Compared to most other countries in Asia, it is, but it doesn't have to be. Sure, there's a wealth of Michelin star restaurants here that could set you back around USD 300 a meal, but there are also plenty of places like Kura Sushi.
In fact, among all the fantastic restaurants that we dined at during this trip to Osaka and Kyoto, this is the one that we miss the most. To say that we loved it would be an understatement. Thanks for taking us here Tom! 😀
Kura Sushi
There are Kura Sushi branches all over Japan, including a few in California. Visit their website to find one near your hotel.
Website: kura-corpo.co.jp
Expect to spend: ¥1,000-1,500 per person with drinks
Reservations: Not required