Ren's aunts were having a discussion the other day about what constitutes a proper beef stew. It was a spirited exchange, with one aunt criticizing the other for always making hers too thin and brothy, like a soup.
Aunt A: "If you make it with too much liquid, then it's not a stew. It's a soup!"
Aunt B: "But I like it like this! This is how I've always made it."
Aunt A: "But it's not a stew, so don't call it a stew. Call it beef soup!"
Aunt B: "No! It's a stew. Who said that stews have to be thick anyway?!"
It went back and forth like that, with neither aunt wanting to back down. 😆
Intrigued by this conversation, I hopped on Google to find out which aunt was right. Like Aunt A, I was under the impression that stews, by definition, had to be thick. But as it turns out, they don't.
According to Wiki, though stews in general are indeed known to be thicker and less watery than soups, there isn't always a clear distinction between the two. In some instances, stews can in fact be thin and broth-y. The simplest definition describes it as a dish of meat and vegetables cooked slowly in liquid, in a closed dish or pan. With no mention of its viscosity, I guess what differentiates a stew from a soup then, has little to do with its thickness, and everything to do with its length of cooking time.
Sorry Aunt A, as much as Ren and I love thick, hearty beef stews like you, Aunt B is absolutely right. 😉
Instead of thickening the stew with flour, Ren mixed in some processed veggies to give the sauce more body (and flavor!). If you have kids, this is a great way of sneaking greens into their diet. (You sneaky mom!) 😉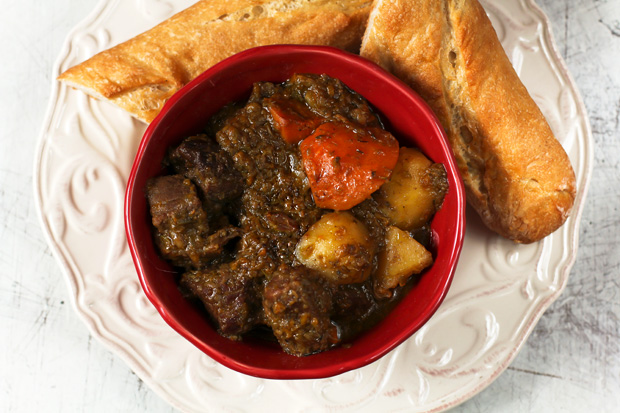 INGREDIENTS
1 kilo stewing beef, cut into 1-inch cubes
1/4 cup flour
4 Tbsps butter
1 Tbsp vegetable oil
3 garlic cloves
2 onions, chopped
3 stalks celery, chopped
2 carrots, peeled and cut into chunks
3 potatoes, peeled and quartered
2 bay leaves
2 Tbsps worcestershire sauce, or to taste
3 cups beef broth
1 tsp dried thyme
Salt and freshly ground pepper, to taste
DIRECTIONS
In food processor, process garlic, onions, celery and few chunks of carrots until fine. Transfer mixture to bowl.
On medium-high heat, add 2 Tbsps butter with vegetable oil to large heavy pot with tight-fitting lid.
In paper bag, combine flour and meat then shake until meat is fully coated. Add beef to pot until well-browned. Season meat with salt and pepper while browning. Once browned, remove beef with slotted spoon and set aside.
Add remaining butter to pot and add in processed vegetables. Sauté mixture for about 5 mins then cover pot. Allow to cook for another 5-10 mins.
Add broth to pan, scraping any brown bits stuck to bottom. Add bay leaves, worcestershire sauce, thyme, and beef.
Bring back to a gentle simmer, cover, and cook on very low heat for about 2 hrs.
Add potatoes and carrots and simmer covered for another 30 mins or until meat and vegetables are tender. Taste and adjust seasoning.
Turn off heat and allow to sit for 15 mins before serving. Garnish with fresh parsley if desired.
JB is one half of Will Fly for Food and its chief itinerary maker.  He's the one to blame for all the crappy photos and verbal diarrhea on this blog.  Don't listen to him.
Latest posts by JB Macatulad (see all)