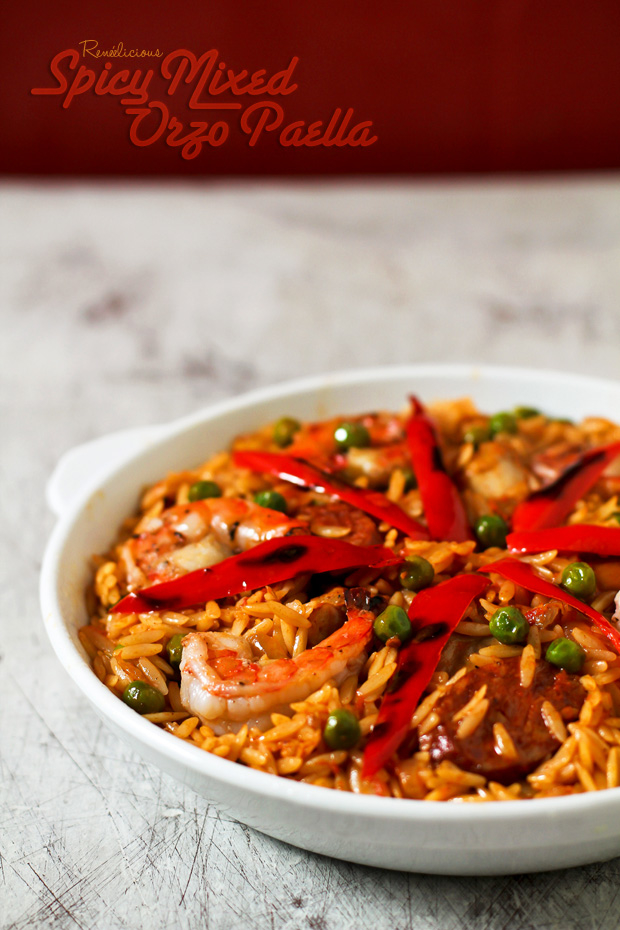 When Ren told me that we were having paella tonight, I thought: "Oh cool, she picked up some Bomba rice."
Orzo I thought.
As it turns out, she used orzo instead, which is a form of short-cut pasta shaped like large grains of rice. You sneaky Reneelicious!
Lighter and less sticky than traditional paella rice, orzo is a great alternative for people who prefer pasta over rice (like Ren). It's less filling and not as heavy in your stomach. I'm a big-time rice eater but I very much enjoyed the orzo in this paella. It presented a different but equally enjoyable take on this traditional Spanish dish.
Try it!
Orzo Paella Recipe
To make this really spicy, I think I'll ask Ren to substitute those red bell peppers with habaneros next time. 😈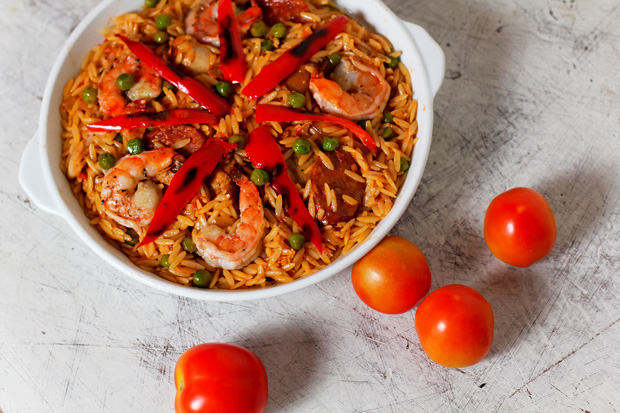 After today, I have a feeling Ren will be using orzo instead of rice in all her paellas. It's lighter and less starchy.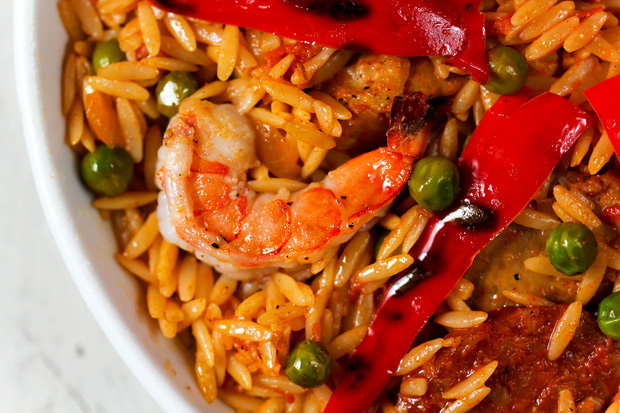 INGREDIENTS (serves 6-8)
250 g orzo
Large pinch of saffron, crushed (about 1/2 tsp)
3 boneless chicken thighs, cut into 2″ pieces
5 large shrimp, peeled and deveined
Kosher salt and freshly ground black pepper, to taste
1/2 cup extra-virgin olive oil
75 g dry-cured Spanish chorizo, cut into 1/4″ thick coins
1/2 cup dry white wine
1/2 Tbsp hot smoked paprika
2 cloves garlic, minced
2 dried bay leaves
1 (400 g) canned whole tomatoes, drained and crushed
1 small onion, minced
1/2 cup fresh or frozen peas
1 roasted red pepper, cut into 1/2″ thick strips
Calamansi or lemon wedges, to serve
DIRECTIONS
Cook orzo in sauce pan according to package instructions. Drain and reserve 1/4 cup pasta cooking water. Set aside.
Put saffron and 1 Tbsp hot water in small bowl and allow to sit for 15 minutes. Season chicken and shrimp with salt and pepper. Heat oil in non-stick skillet over medium-high heat.
Add chicken, shrimp, and chorizo then cook while turning occasionally until browned (about 5 minutes). Transfer shrimp to plate, leaving meats in pan.
Add wine and allow to reduce to half. Add paprika, garlic, bay leaves, tomatoes, and onions to pan and cook while stirring often until onions soften (about 6 minutes). Add reserved saffron mixture and season with salt, then bring to a boil over high heat. Reduce to a simmer for about 20 mins or until tomatoes have broken down and melted into sauce. Stir peas into mixture and cook for another minute.
Add drained orzo with reserved pasta water into skillet with shrimp, chicken, and sausage. Mix everything well until sauce clings to orzo. Adjust seasoning with salt and pepper. Transfer to serving dish and garnish with red pepper strips. Serve with calamansi or lemon wedges.
JB and Renée are the Traveleaters behind Will Fly for Food, a travel blog for the gastronomically inclined.  They enjoy experiencing food from different cultures so they've made it their mission to try every country's national dish.  Read more about them and their National Dish Quest here.