Unfinished Business at The Goose Station
Since reviving Sushi Bytes two years ago, I've been keeping a short, mental list of experiences that I'd like to relive for the sake of this blog. This 8-course degustation menu at The Goose Station is high on that list.
Before tonight, our lone visit here had been in February of 2011. It was for a special occasion, to celebrate Valentine's Day. Having read online that Chefs Rob and Sunshine were proponents of molecular gastronomy, we knew that nothing less than an extraordinary meal awaited us that evening. From foie gras cone to farmer's egg to 24-hour steak to chocolate candy bar, that's exactly what it turned out to be. Extraordinary.
Despite this blog being in the midst of a one year hiatus at the time (aka dead), an experience like that was just too good not to document, so I brought with me my camera, a Lumix point and shoot. Having heard so much about molecular gastronomy, we were elated at the prospect of trying for the first time this culinary discipline that seemed as rooted in wizardry as it was in science. Lumix in hand, I intended to capture every course like I were photographing the Messiah walking on water.
As fate would have it though, I never made it past the first course.
Anyone who's eaten here knows that the place is dark, too dark as it turned out for my Lumix to capture anything but the blurriest of silhouettes. Try as I might, it just wasn't happening, not with that point and shoot. Conceding defeat after the foie gras cone, I contented myself with oohing and aahing over every course like it were performance art, awed by its brilliance but saddened by the fact that I couldn't document any of it.
Two years later, the thought of that missed opportunity continues to taunt me, like an itch that refuses to go away. I've enjoyed many fine meals that aren't on this blog, but none quite as regrettable as that one. A very special experience indeed, I hated the fact that a meal as extraordinary as that was on my list, and not in Sushi Bytes.
Tonight, thanks to Deal Grocer and a DSLR, I finally get to scratch it off.
Barnyard chic, just the way I remember it.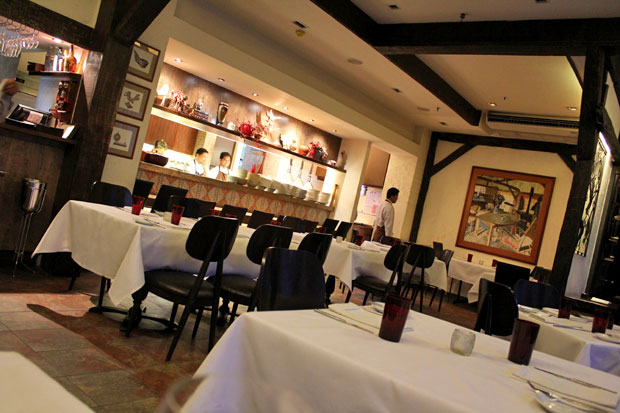 Trio of delicious, in-house baked breads – focaccia, honey whole wheat, and mini baguettes. As you can see, the mini baguettes are shaped like seed pods. They're soft and chewy at the center, and crisp like bread sticks towards the ends. So so good.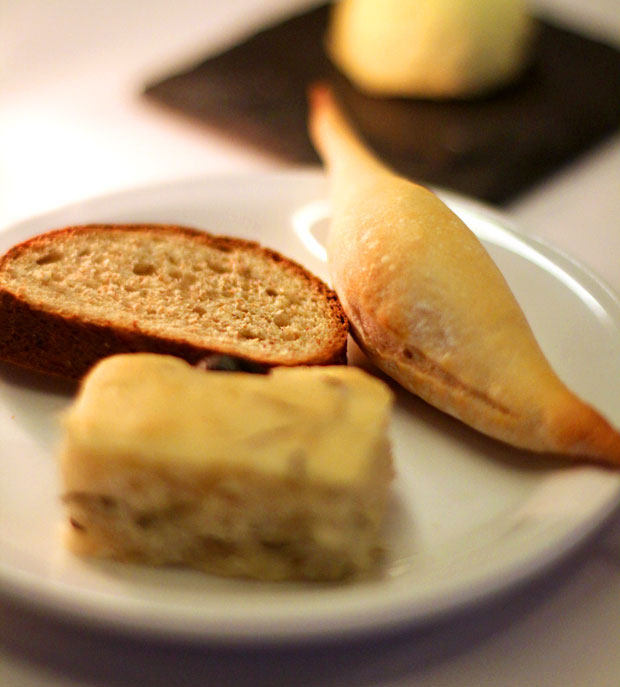 Eight-Course Deal Grocer Degustation Menu
First: Foie Gras Cone – Foie gras mousse, port jelly, fig jam, hazelnut
I became elated and slightly nervous when our server set before me this beautiful, familiar first course. Eager and grateful for the opportunity to pick up where I left off, I peered through my viewfinder and smiled in relief as the foie gras cone slowly, steadily came into focus.
One of The Goose Station's signature dishes, this is the one thing I remember most from that meal two years ago. Apart from being delicious and beautifully presented, it isn't everyday that you see creamy foie gras served in a delicate, filo pastry cone like this. ♥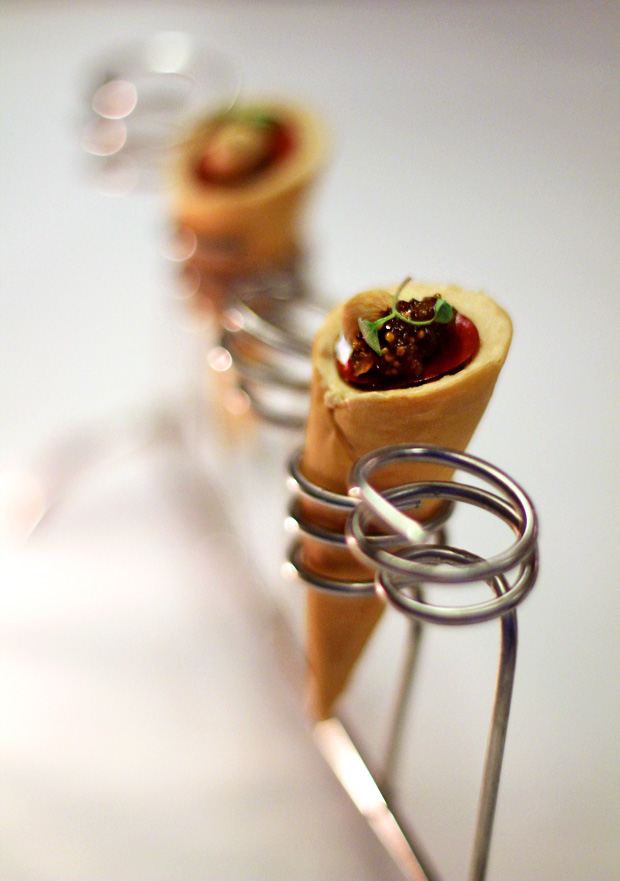 Second: Tuna Crudo – Grapefruit, beet, and raspberry vinaigrette, herbs
This was good, though perhaps one of the more forgettable courses of the evening. The vinaigrette didn't really do much for me, neither did the wasabi nor mustard aioli.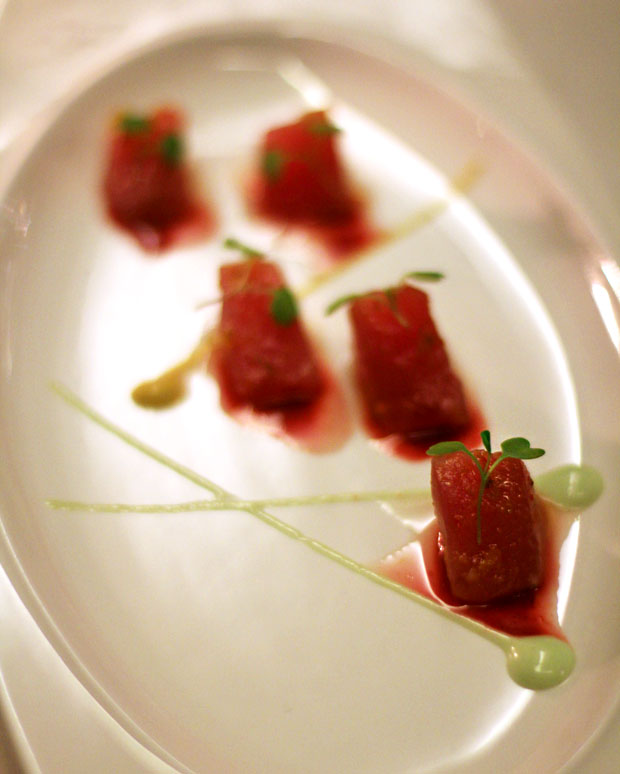 Third: Trio of Bruschette – Chickpea, salmon, chicken liver
All of these were good. The chickpea tasted like garlicky hummus, and the salmon like salmon. Unsurprisingly though, my favorite was the chicken liver topped with bacon. It was smokey, liver-y, and smashingly crisp.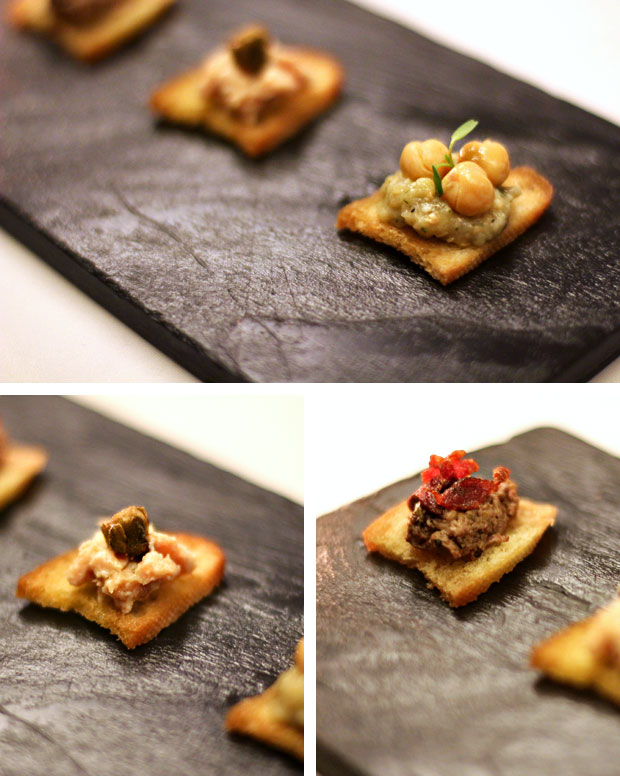 Fourth: Egg and Sweet Potato – Textures of sweet potato, smoked bacon, goat cheese, select produce
Far and away my favorite dish of the evening, and that's saying a lot considering how extraordinary the entire meal was. Not only was it stunningly plated, it was remarkably nuanced in texture and flavor as well.
Encircling the sous vide egg were these bite-sized pieces of sweet potato, lardon, goat cheese, onions, beets, veggies, and micro herbs. Breaking the egg to release the perfectly runny yolk, you then ate around the dish like a minute hand revolving around a clock, pairing the egg with the adjacent ingredients to get surprisingly varied tastes and textures. No two bites exactly the same, I started with smokey and finished with the earthy, woodsy taste of truffle oil, getting sweet, crisp, leafy, soft, cheesy, rich, and crunchy in between. Amazing.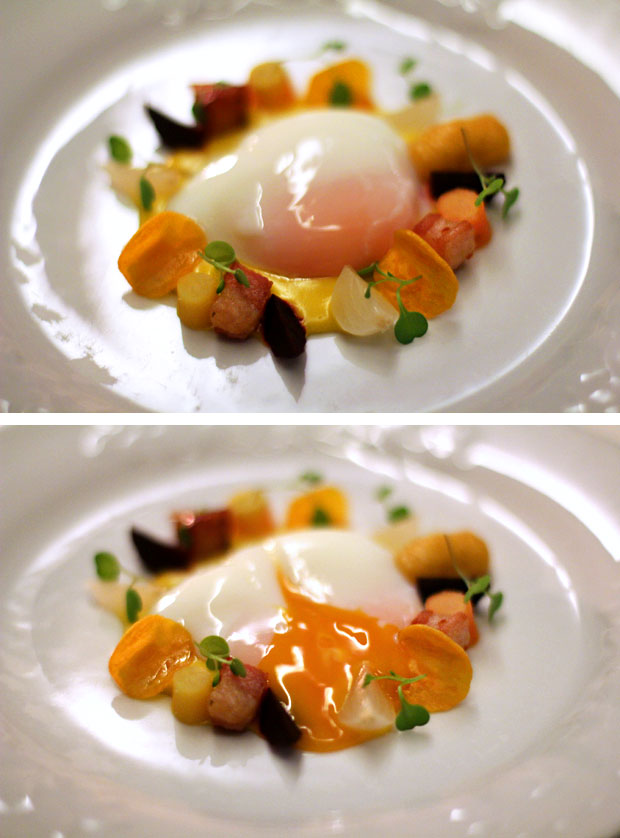 Intermezzo: Strawberry sorbet, lychee granita, strawberry chip, balsamic reduction
Refreshing strawberry and lychee palate cleanser, to help wash away the rich flavor of yolk from the previous dish. Isn't that strawberry chip cool?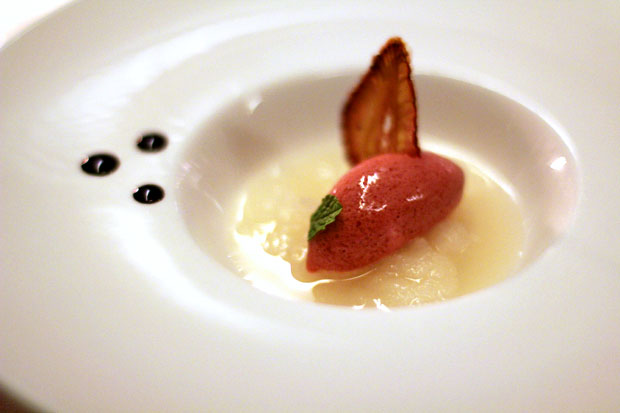 Fifth: Scallops and Carrots – Textures of carrot, potato chips, fennel froth
Scallops have got to be some of the best-tasting things on the planet. When they're perfectly seared and unmuddled by extraneous ingredients, I can't think of anything better. Beautifully presented with carrots prepared in three different ways, the scallops were sweet, succulent, and redolent with ocean flavor. Absolutely delicious.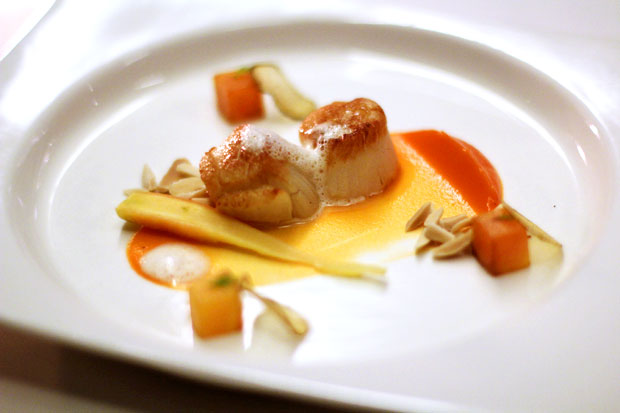 Sixth: Foie Gras Taho – Foie gras chawan mushi with Pedro Ximenez sherry reduction and tapioca
A playful, savory interpretation of classic taho (soya milk dessert), this was one of Ren's favorite courses of the evening. Rich and creamy, the chawan mushi was effusive with foie gras flavor. Like actual taho, its flavors were enhanced by the sweetness of the arnibal (syrup), which in this case was the Pedro Ximenez reduction. So good, and fun to eat too.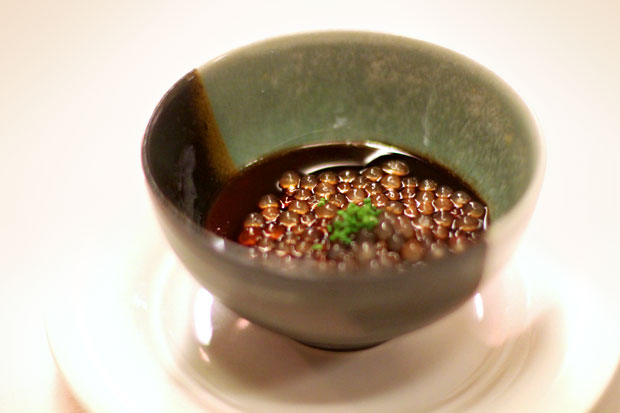 Seventh: TGS Burger – Angus patty, brioche bun, asiago-raclette, fries
Simple, but delicious. As far as I could tell, there weren't any gimmicks to this burger. It was just a well-executed burger made with amazing ingredients. I loved the brioche bun and perfectly cooked, medium-rare patty. The fries were damn good too.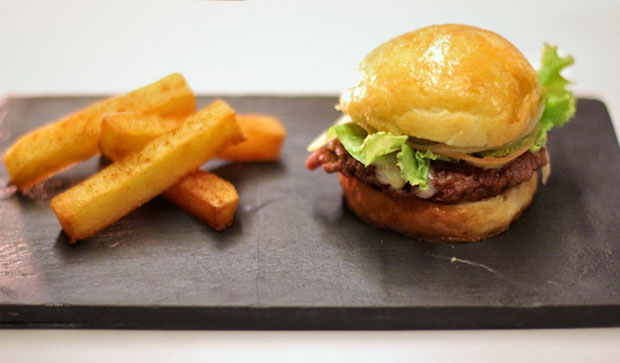 Eigth: Halo-Halo
If you ever wondered what gourmet halo-halo would look like, here it is. That tuft of orange topping the ice cream is made up of desiccated strands of sweet potato.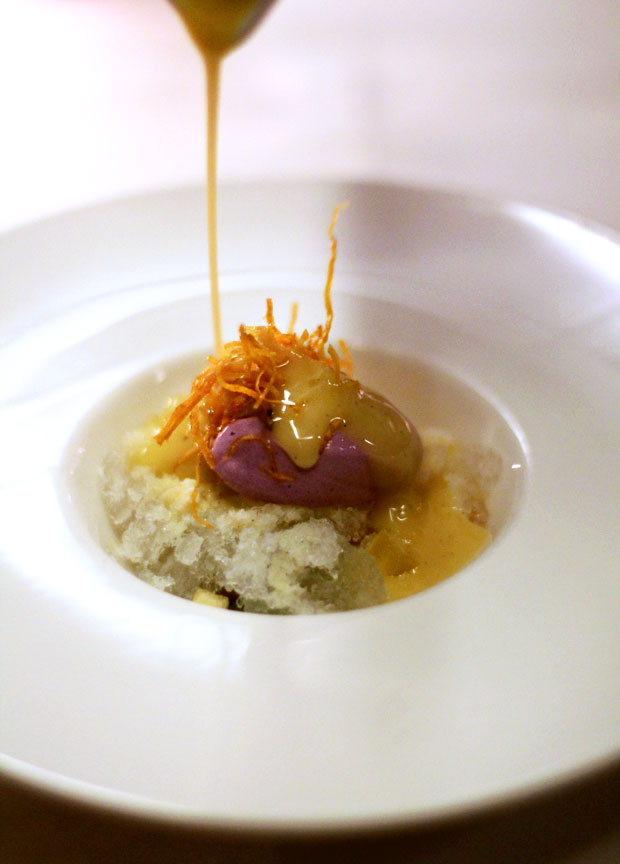 Petit Four
Chocolate petit four to conclude a stellar meal. Thank you Deal Grocer and The Goose Station for yet another extraordinary evening! Like the first, it's one of the most enjoyable meals we've ever had, and one that we won't soon forget, especially now that it's in this blog. 😉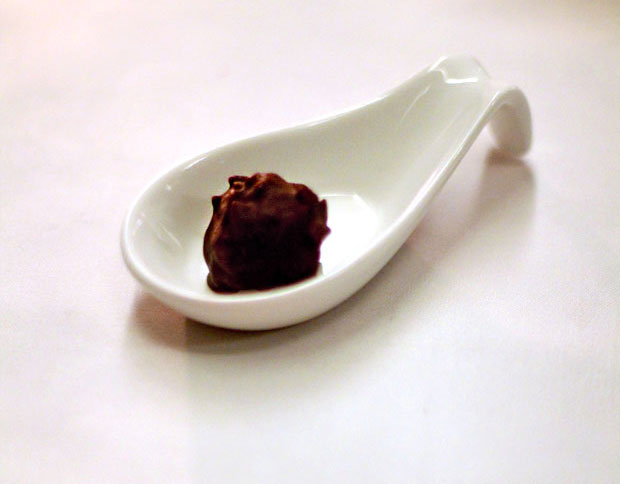 Extra Course: Reneelicious – More on this…never. 😈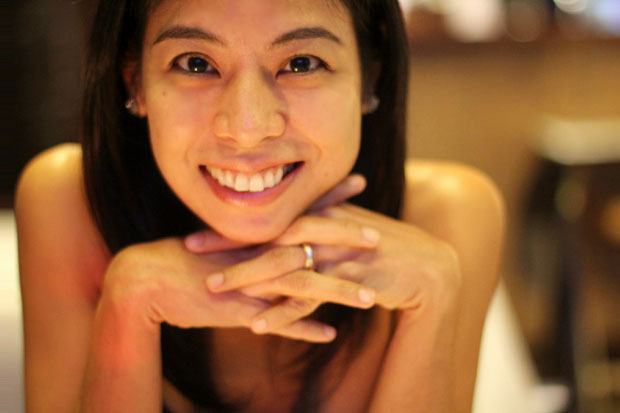 Simply put, unless you have money coming out of your ears, then a place like The Goose Station would a little too expensive to be enjoyed on a regular basis. With that said however, it's absolutely worth coming back to more often than we have (once a year maybe?).
I do believe that they vary their tasting menu every so often, as evidenced by several innovative, ridiculicious-looking dishes I've spotted on other blogs. The Fideua Negra and Foie Gras Terrine spring foremost to mind. The Fideua Negra is made with scallop, angulas, morcilla, peppers, lemon curd, and anchovy aoili, while the Foie Gras Terrine has unagi, foie gras, apple, radish, raspberry coulis, and toasted brioche. Lord help us. 😯
The Goose Station
G/F W Tower, 39th Street, Fort Bonifacio, Taguig
Tel: 556-9068 (Phone calls entertained from 2pm onwards on working days)
Mobile: 0917-85-GOOSE
Website: thegoosestation.ph
Facebook: The-Goose-Station
Email: livetoeat@thegoosestation.ph
Operating Hours: Mon-Sat, 6PM-9:30PM
JB is one half of Will Fly for Food and its chief itinerary maker.  He's the one to blame for all the crappy photos and verbal diarrhea on this blog.  Don't listen to him.
Latest posts by JB Macatulad (see all)