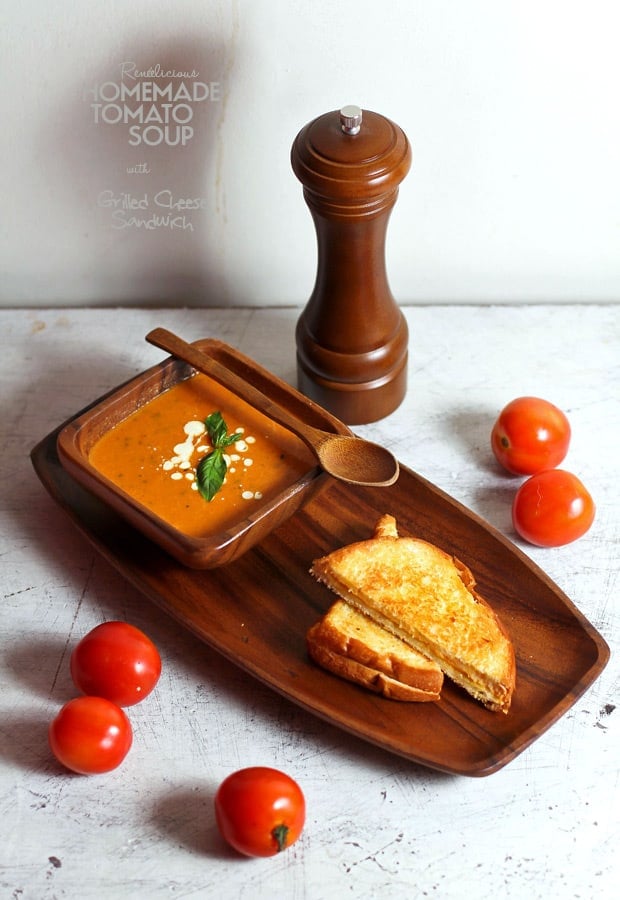 Homemade Tomato Soup with Grilled Cheese Sandwich
NOTICE: Some of our articles contain affiliate links. The ones that do will have a disclosure statement at the bottom. You can refer to our privacy policy and terms of use for more information.
Michael Chiarello makes me eat my words.
Repeatedly put off by his arrogant demeanor on Top Chef, I'd just about decided that I would never like him, when he leads Ren to yet another recipe that blows my mind.
First, there was the bread pudding. That irritatingly delicious recipe for bread pudding which Ren followed to recycle some leftover cronuts. When I found out it was his, I told myself that I wouldn't like it. And I didn't. Turning out to be one of the best damn bread puddings I've ever tasted in my life, I wound up loving it instead. Bastard.
Today, he shuts me up again with this lip-smacking, shockingly easy recipe for tomato soup. Made with just canned tomatoes, you'd think that it wouldn't be anything remarkable, but it is. Layered in flavor with just the right balance of acidity and creaminess, it's absolutely delicious, almost deflatingly so.
In fact, so convinced was I that last week's bread pudding was a fluke, I came down to the dinner table today completely confident that this tomato soup would be average. Walking in on Ren getting a taste, the wide eyed expression on her face told me otherwise.
"Not again", I said.
"Yes", she answered, her eyes beaming with excitement.
"Hell no", I pleaded.
"Oooh YES", she retorted, with finality.
Forced to eat my words yet again by a chef I vowed never to like, all I can say to that is…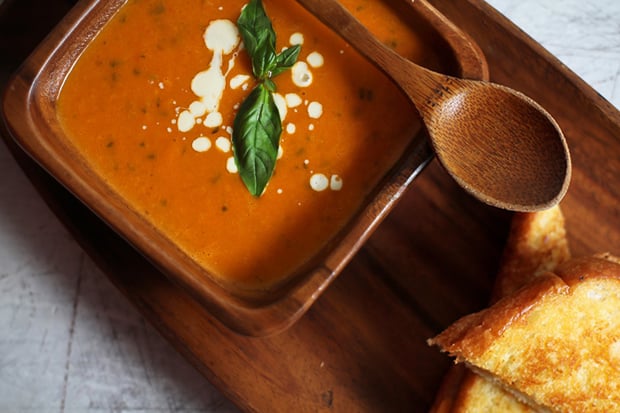 As of this writing, this tomato soup recipe has a rating of five stars, with 279 votes cast on the Food Network website. Still need convincing? 😉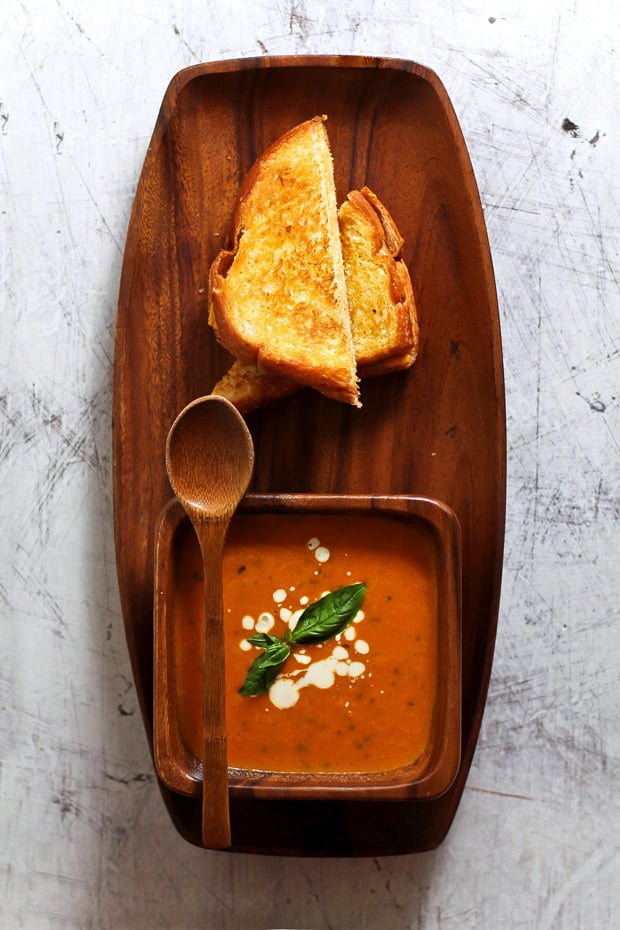 Buttery grilled cheese sandwich with hearty, tomato soup. Can there be a more comforting pairing?

*Original recipe by Michael Chiarello
INGREDIENTS
1 (14-ounce) can chopped tomatoes
3/4 cup extra virgin olive oil
Salt and freshly ground black pepper
1 stalk celery, diced
1 small carrot, diced
1 yellow onion, diced
2 cloves garlic, minced
1 cup chicken broth
1 bay leaf
2 Tbsps butter
1/4 cup fresh basil leaves, chopped
1/2 cup heavy cream, optional
DIRECTIONS
Preheat oven to 450° F.
Strain chopped canned tomatoes while reserving the juices, then spread onto baking sheet. Season with salt and pepper to taste, then drizzle over with 1/4 cup of olive oil and roast until caramelized (around 15 minutes).
Meanwhile, heat remaining olive oil over medium-low heat in saucepan. Add celery, carrot, onion, and garlic, then cook until softened (around 10 minutes).
Add roasted chopped canned tomatoes, reserved tomato juices, chicken broth, bay leaf, and butter. Simmer until vegetables are very tender (around 15-20 minutes).
Add basil and cream (if using). Puree with hand-held immersion blender until smooth.
JB and Renée are the Traveleaters behind Will Fly for Food, a travel blog for the gastronomically inclined.  They enjoy experiencing food from different cultures so they've made it their mission to try every country's national dish.  Read more about them and their National Dish Quest here.