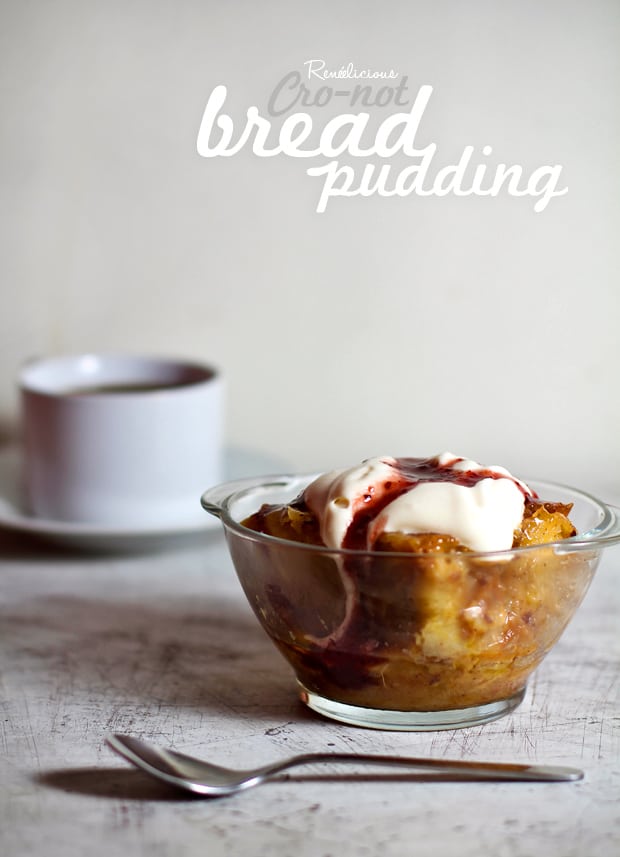 NOTICE: Some of our articles contain affiliate links. The ones that do will have a disclosure statement at the bottom. You can refer to our privacy policy and terms of use for more information.
You can never have too much of a good thing.
In her zeal to replicate Dominique Ansel's pastry of the moment, Ren wound up making one too many cro-nots. They were delicious, but the batch she made was way too big for just two people. Refrigerating them to eat later was pointless, because doing so would have made them hard. We hate wasting food, so Ren had the brilliant idea of recycling and using them instead in this terrific bread pudding recipe, courtesy of Michael Chiarello.
Now I've never met Chef Chiarello, nor have I eaten at his restaurant in Napa Valley, but based on what I've seen on Top Chef, the guy seems to be a real asshole. In fact, Google "Michael Chiarello arrogant", and that's exactly what you'll find. Search result after search result describing him as an arrogant, smarmy little prick.
But the man sure knows how to make bread pudding.
No strangers to this dessert, Ren's made several bread puddings over the years following different recipes, but this one, by far, is the best. Adding her own Reneelicious twist with the leftover cro-nots and almond extract, the ensuing bread pudding is rich, buttery, custardy, and effusive with cinnamon flavor. Fresh from the oven, I actually thought for a moment that Ren made apple pie. Ridiculously good, this bread pudding almost makes me want to like Michael Chiarello.
As delicious as Cronuts are, they're not the easiest pastry to make. In fact, they're downright difficult. Watching Ren slave away with that dough, I honestly wasn't sure if I'd ever see them again. Thanks to the success of this cro-not bread pudding however, I no longer have my doubts. 🙂
Bread Pudding Recipe
Pictured here topped with whipped cream and raspberry sauce. Yum-o!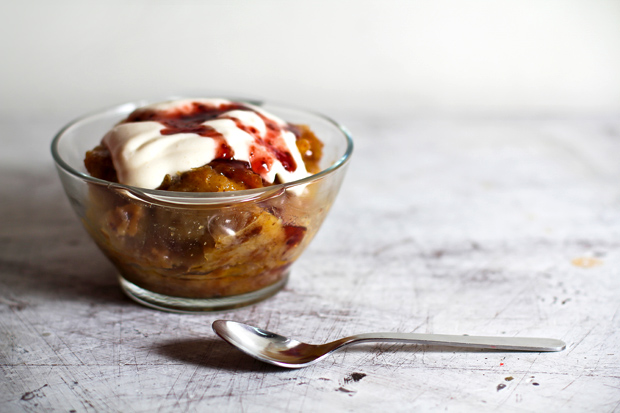 First comes cro-nots, then comes cro-not bread pudding. How lucky am I? 😀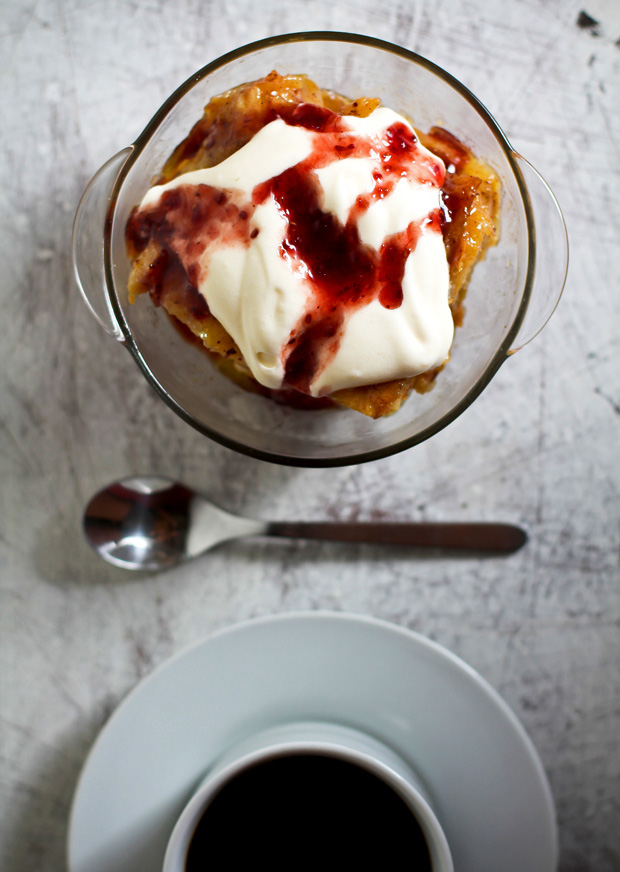 *Original recipe by Michael Chiarello
INGREDIENTS
FOR BREAD PUDDING
1/3 cup unsalted butter
1 cup sugar
6 eggs, lightly beaten
2 cups all-purpose cream
1 1/2 tsps ground cinnamon
1 tsp almond extract
Leftover cro-nots, about 6-8
FOR RUM SAUCE
1/4 cup unsalted butter
1 cup powdered sugar
Dark rum, to taste (I used brandy)
DIRECTIONS
Preheat oven to 350° F.
Briefly combine butter and sugar in food processor (or mixer) until it forms into a ball. Add eggs, cinnamon, heavy cream, and almond extract, then process until blended.
Lightly butter 9″ x 13″ baking dish. Break up cro-nots into 1-inch pieces then layer in pan. Pour egg mixture over cro-nots and soak for 10 minutes. Be sure to push pieces down during soaking period to ensure even coating by egg mixture.
Bake for 50 minutes or until custard is set.
For rum sauce, melt butter over medium heat in saucepan, then remove from heat. Add confectioner's sugar to melted butter and whisk to blend. Add desired amount of rum. Pour sauce over bread pudding and allow to soak in before serving.
JB and Renée are the Traveleaters behind Will Fly for Food, a travel blog for the gastronomically inclined.  They enjoy experiencing food from different cultures so they've made it their mission to try every country's national dish.  Read more about them and their National Dish Quest here.