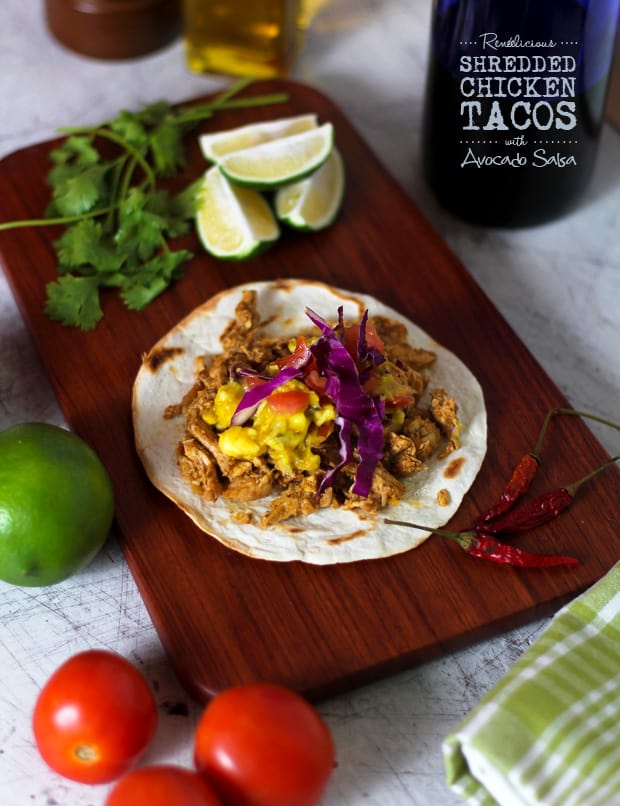 Shredded Chicken Tacos with Avocado Salsa
NOTICE: Some of our articles contain affiliate links. The ones that do will have a disclosure statement at the bottom. You can refer to our privacy policy and terms of use for more information.
"They're too messy", was the reason my father gave me thirty years ago, when he explained why I couldn't order the tacos.
If you think that's an odd childhood memory to hang on to, you'd be right. Often wondering that myself, I guess it's because his reasoning didn't make any sense to me at the time. Why a taco's messiness would bother him, when it was me who was going to eat it, was strange.
*Cuckoo cuckoo* 😆
Joking aside though, I began to understand growing up just how obsessive-compulsive my father can be, so the thought of ground beef, tomatoes, lettuce, and cheese decorating the table like a Pollock painting must have been vexing for him. For any non-Filipinos, tacos here are commonly made with ground beef served in shatteringly crisp, impossible to manage, taco shells. Unkind to trees, they really can be ridiculously messy.
Despite being an adult now myself who inherited many of his father's anxieties, I clearly never forgot about that cruel deprivation, which is probably why Taco Bell has become one of my favorite fast food joints as an adult.
To help me move past this debilitating childhood trauma, my awesome wife Renee has been lovingly making us taco meal after taco meal. She began with these summery fish tacos, followed by these oxtail tacos, then these pork belly tacos, then these lengua tacos. Today, she prepared for us these stunningly beautiful shredded chicken tacos with avocado salsa, made from the freshest avocados harvested from her parents' tree.
Regretfully, she never met my father, who passed away before we started dating. Still, he was clearly in her thoughts, amused as she was by my taco deprivation story. Striking those messy corn shells from each and every one of these taco recipes, she replaced them instead with soft, easy-to-hold, flour tortillas.
I love my wife. I think my dad would have too.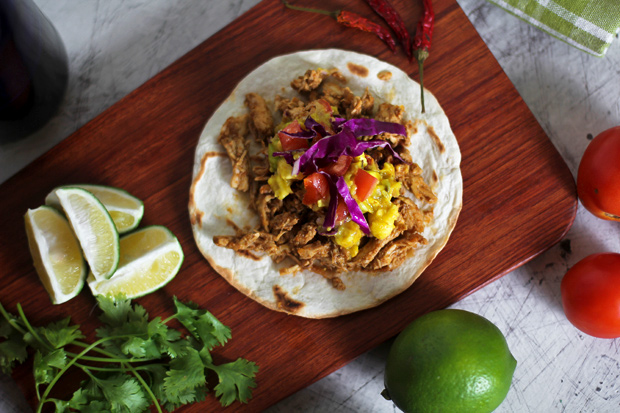 A fiesta in your mouth, minus the fuss.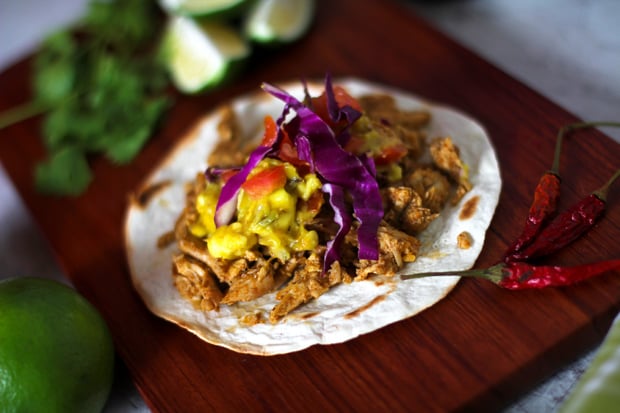 Aren't those colors beautiful?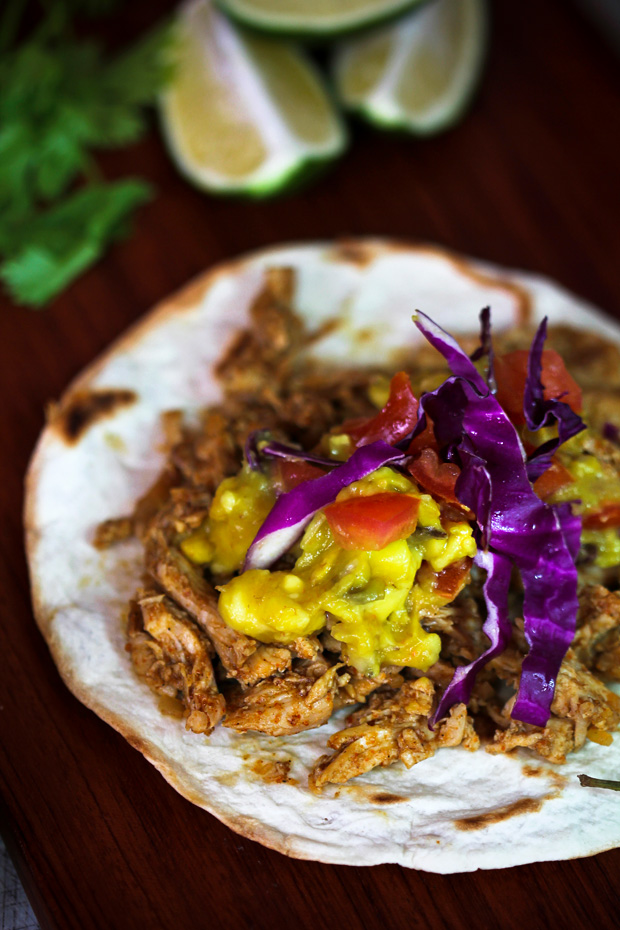 INGREDIENTS
1 kilo boneless chicken breasts
1 spice mix, divided
Spice mix: 1 Tbsp chili powder
1/2 tsp garlic powder
1/2 tsp onion powder
1/2 tsp crushed red pepper flakes
1/2 tsp dried oregano
1 tsp paprika
1 Tbsp ground cumin
1 tsp kosher salt
1/2 tsp black pepper
1 onion, diced
2 garlic cloves, minced
Extra-virgin olive oil
Small tortillas
FOR AVOCADO SALSA
3 avocados
1 small red onion, finely diced
1 jalapeño pepper, (pickled okay too)
3 tomatoes, diced
1 garlic, peeled and grated
Juice of one lime
2 Tbsps chopped cilantro
FOR GARNISH
Chopped cilantro
Lime wedges
DIRECTIONS
Prepare avocado salsa: Halve, pit, peel, and dice avocados then place in bowl. Add remaining ingredients and toss gently. Season to taste with salt and pepper, then cover and refrigerate. Best served at room temperature.
Preheat oven to 400° F.
Rinse chicken breast and pat dry. Place chicken breast on baking sheet. Mix spice mix ingredients and set aside. Pour olive oil over chicken breast to coat on both sides. Sprinkle half of spice mix onto chicken breast, coating both sides.
Roast chicken for 30 minutes. Remove from oven and allow chicken breast to rest for 5 minutes. Shred chicken.
Add a little olive oil to pan and heat over medium heat. Add onion and saute for around 5 minutes, then add garlic and saute for one more minute. Add shredded chicken to pan, seasoning with remaining spice mix. Saute for a few minutes, adding a little water if mixture is drying out.
To serve, place some shredded chicken on tortilla. Top with avocado salsa and chopped cilantro.
JB and Renée are the Traveleaters behind Will Fly for Food, a travel blog for the gastronomically inclined.  They enjoy experiencing food from different cultures so they've made it their mission to try every country's national dish.  Read more about them and their National Dish Quest here.