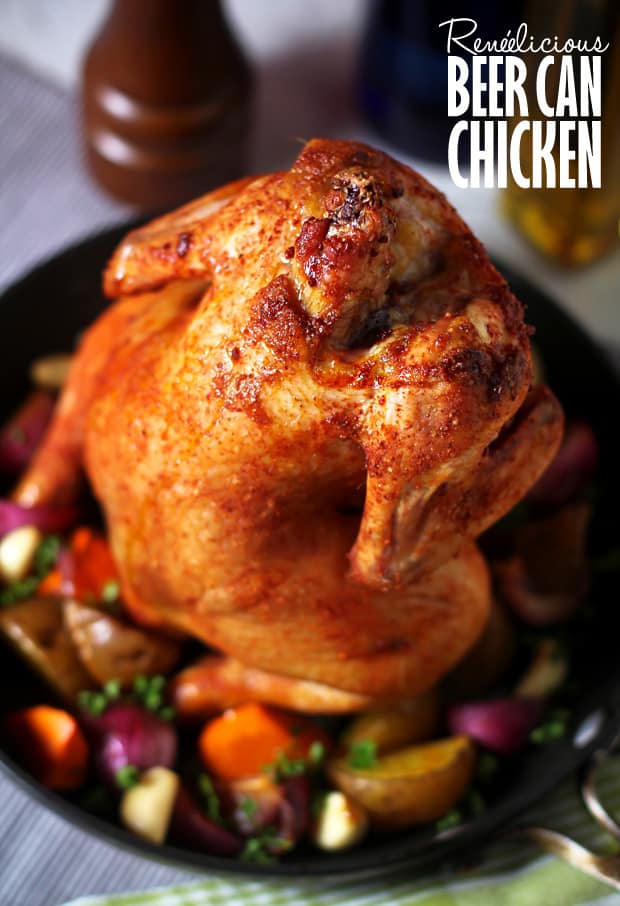 Beer Can Chicken: Mouthwatering or Myth?
NOTICE: Some of our articles contain affiliate links. The ones that do will have a disclosure statement at the bottom. You can refer to our privacy policy and terms of use for more information.
"Make sure you try the happy pizza."
That was the only piece of advice given to us by a friend before our trip to Siem Reap last year. Seeing how my eyes lit up like JLaw in Hawaii, she knew that no further elaboration, nor travel tips, were needed. Oh yeah, you might wanna check out this really old building they got called Angkor Wat too.
I felt a similar twinge of excitement when I first heard about this phenomenon called beer can chicken. Cooked upright with an open can of beer shoved up its rear, the beer allegedly evaporates into the chicken during the cooking process, giving you one of the juiciest, most flavorful birds you've ever tasted.
Hopping online to learn more about this beer butt bird, Ren and I found several reputable articles debunking the method, calling it not just a myth, but a waste of good beer. Through much experimentation, the data for which you can read about HERE, they concluded that apart from getting the skin crackly and evenly browned, having a Bud up the pope's nose is NOT the best way of roasting a chicken. In fact, it does many things wrong and can even be considered dangerous. To summarize their findings, they determined that very little evaporation of beer actually occurs (less than 1%), as evidenced by the immeasurable difference in the can's weight before and after cooking. This means that virtually all of the beer remains in the can and makes no contact with the bird whatsoever. What little vapor that does escape is so miniscule, that it's hardly enough to add any kind of discernible moisture or flavor to the chicken.
On top of that, and this was something that we noticed firsthand, the can essentially acts like a plug, preventing heat from entering and cooking the bird from within. We wound up with a chicken that was beautifully crisped on the outside, but with distressingly undercooked meat, despite being in the oven for over an hour. We had to throw it in the microwave a couple of times during dinner to get rid of the pinkness and small amounts of blood still oozing from its joints. Not cool.
Still, the bird, as you can see in these pictures, looked pretty damn awesome, so I can understand why people do it in spite of the beer not having any proven benefits. It's fun. One of my favorite bloggers – Ben from You Fed a Baby Chili? – even holds annual beer can chicken contests complete with trophy, the results and pictures from which you can view HERE. He's a scientist on top of being a food blogger, so I'm pretty sure that he's well aware of the method's, how do I put it, imbeerfections? 😉
Check out those delicious spice rub flecks on the chicken's back side. Ren got the recipe from Bon Appetit magazine (posted below). It's an easy-to-remember, 4-3-2-1 recipe of kosher salt, light brown sugar, sweet paprika (Ren used pimenton), and cayenne pepper.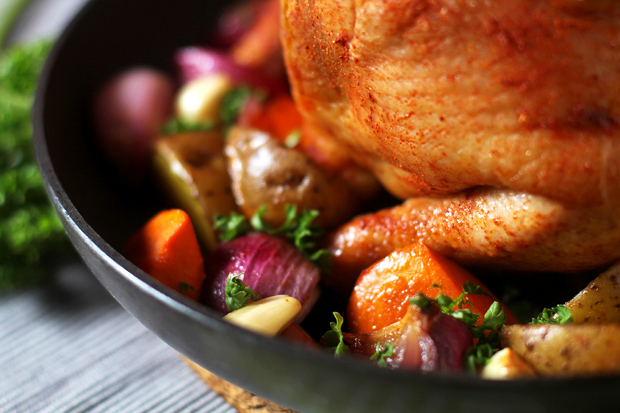 Chicken doing yoga. Beer can chicken may be a myth, but Cambodian happy pizza, I assure you, is not. 🙂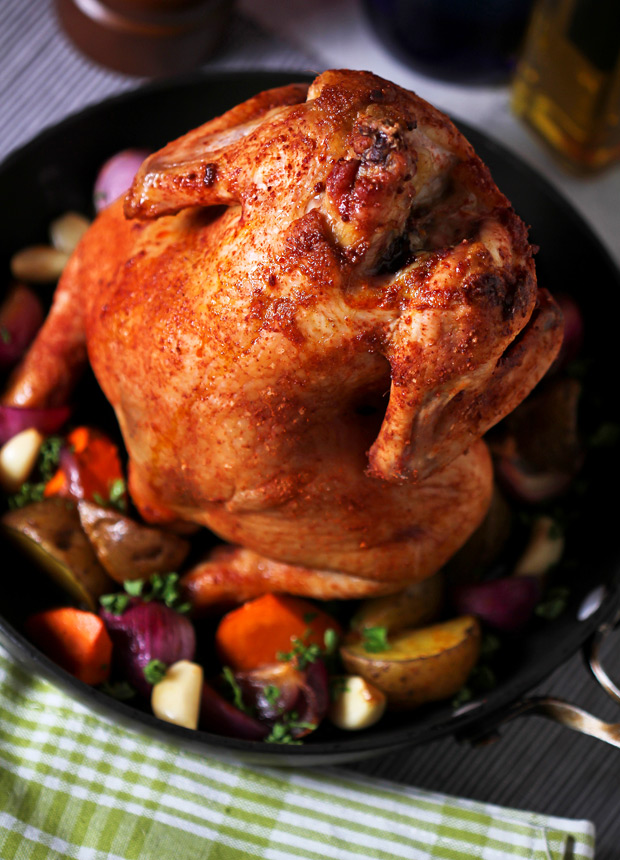 Can you tell what kind of beer beer that is? I'll give you a clue: Whapak!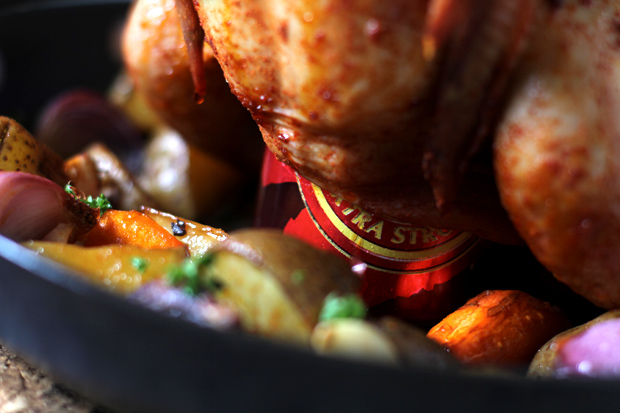 INGREDIENTS
1 (2 to 3-pound) whole chicken
2 cloves garlic, smashed
1 (12-ounce) can beer
FOR SPICE RUB
4 Tbsps kosher salt
3 Tbsps light brown sugar
2 Tbsps sweet paprika (Ren used pimenton)
1 Tbsp cayenne pepper
DIRECTIONS
Preheat oven to 450 degrees F. Wash chicken with cold water, then pat dry with paper towels.
Mix spice rub ingredients in small bowl. Rub 1/2 of ingredients on inside cavity of chicken. Gently peel skin away from chicken, then rub mixture into meat under skin.
Open can of beer and pour out around 1/2 cup. Drop cloves of garlic into beer can. Place chicken, with open end down, over beer can, inserting can into cavity. Place upright chicken in large saute pan.
Place chicken in oven for 10 minutes, then lower temperature to 325 degrees F and cook for another hour, or until internal temperature in thickest part of thigh reaches 165 degrees F on meat thermometer. Serve with roasted vegetables.
JB and Renée are the Traveleaters behind Will Fly for Food, a travel blog for the gastronomically inclined.  They enjoy experiencing food from different cultures so they've made it their mission to try every country's national dish.  Read more about them and their National Dish Quest here.