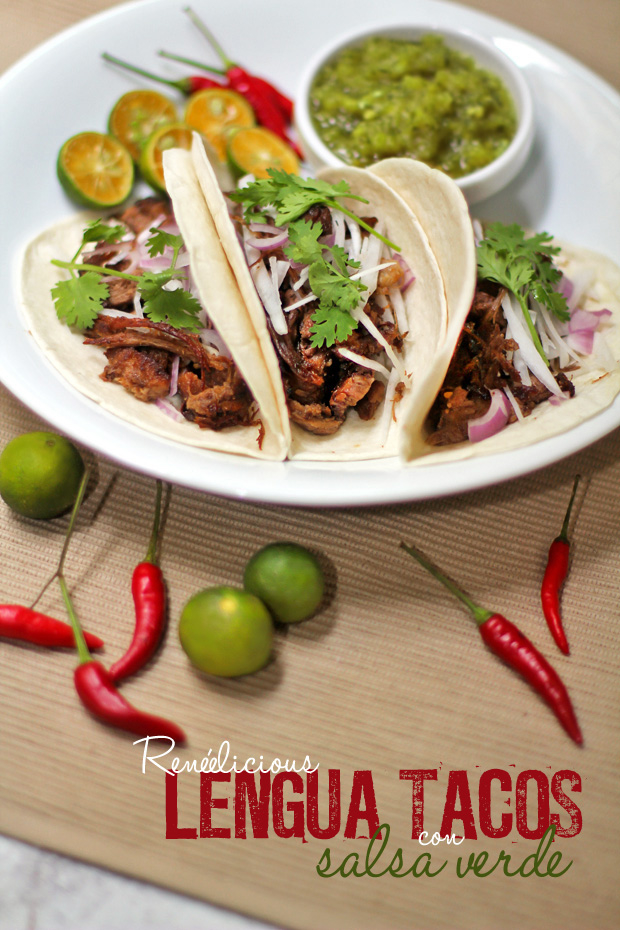 Lengua (Beef Tongue) Tacos con Salsa Verde
NOTICE: Some of our articles contain affiliate links. The ones that do will have a disclosure statement at the bottom. You can refer to our privacy policy and terms of use for more information.
Though I consider this blog to be just two years old, it's technically closer to four, with our first post published in 2009. As with most first-time blogs however, things started off pretty slowly, with just twelve posts written in that first year and none the next. Without much direction nor purpose, the blog was well on its way to dying a natural death, until a serendipitous encounter in 2011 encouraged us to pick it up again.
During that year-long hiatus, Ren made many terrific recipes, the majority of which have steadily trickled their way into this blog. A two-year labor of love and product of our teamwork, there's still a lot more to do, but we're getting there. Anyone who keeps a food blog knows that this is seriously hard work, but as that Argo dude recently said, it's the best kind of work. It's immensely rewarding, and it's something that Ren and I do together as husband and wife. Without any actual kids of our own, this blog is our baby, our third child in fact, after our beloved pugs Henry and Mona. 🙂
Today, I'm proud to watch her grow a little more, with the addition of this fantastic recipe. Just how proud am I? When we picked up this blog again in 2011, there were many recipes from that year-long hiatus that I couldn't wait to add. This recipe, for lengua tacos with salsa verde, was always at the very top of that list. Enjoy.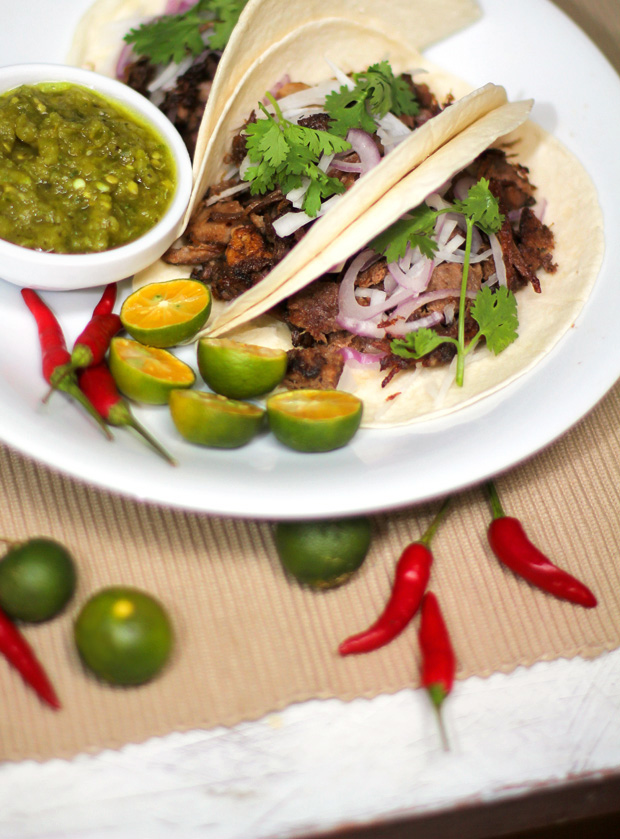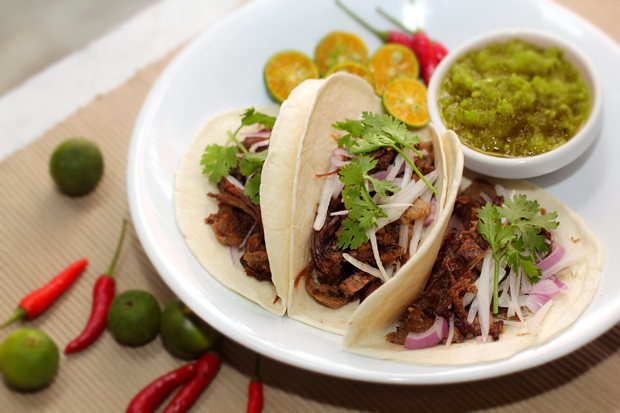 For an added layer of flavor, Ren dhungar-smoked the beef tongue. So so good.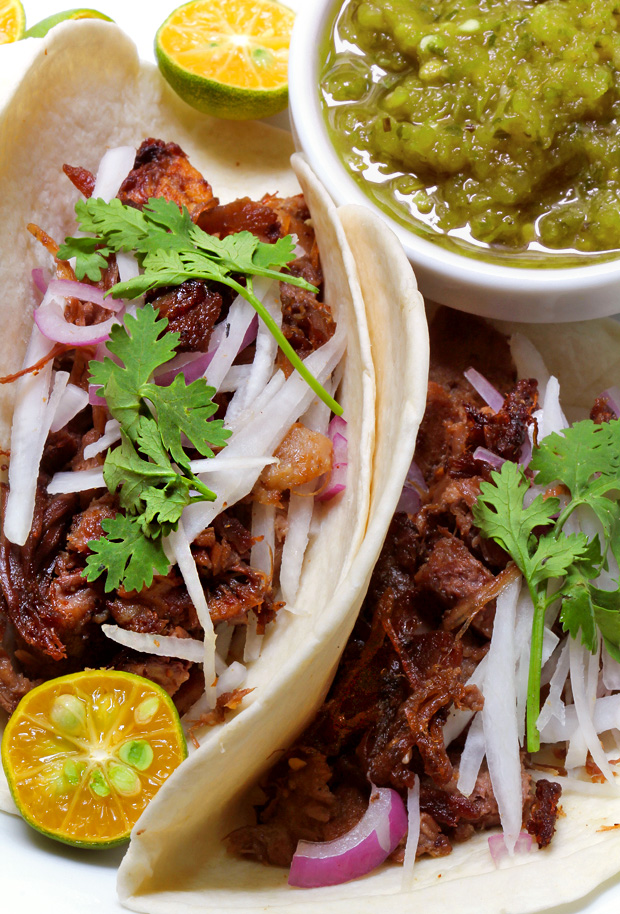 LENGUA TACOS
INGREDIENTS
1 3/4 lb or 1 1/2 kilo beef tongue
2 large onions, peeled
One head of garlic, peeled and crushed
6-7 bay leaves
1 Tbsp peppercorns
2 Tbsps kosher salt
1/2 cup soy sauce
1 Tbsp worcestershire sauce
1 Tbsp cumin
1 tbsp ground oregano
Vegetable oil
Corn or flour tortillas
Salsa verde (recipe follows)
Cilantro
Chopped red onion
Thinly sliced radishes for garnish
DIRECTIONS
Fill large stock pot (12-quart if you have one) two-thirds full with water. Add tongue, onions, crushed garlic cloves, bay leaves, peppercorns, salt, soy sauce, worcestershire sauce, and spices. Bring to a boil, reduce to a simmer, cover, and cook for 3 hours or until tongue is tender and soft to the touch.
Remove tongue from water and allow to cool for two minutes. Using fingers, and/or sharp small knife, remove outer covering of tongue.
Slice tongue into 1/4-inch slices. Prepare slices for dhungar-smoking. (optional)
Heat little oil in frying pan on medium-high, then brown slices on both sides until beginning to crisp. Remove from pan and slice into small cubes.
Soften tortillas either by cooking on stovetop until pockets of air appear in them, or heating in microwave (around 10 seconds per tortilla). Place large spoonful of meat in center of tortilla. Add spoonful of salsa verde, some chopped onion, and chopped fresh cilantro. Garnish with radish slices.
SALSA VERDE
INGREDIENTS
1 1/2 lbs green tomatoes (tomatillos preferred)
12 green chilies
8 green siling labuyo (Not sure of the English translation, but they may be Thai bird's eye chilis)
1 head of garlic
1 medium white onion, chopped
1/2 cup cilantro leaves
1 Tbsp fresh calamansi juice
1/4 tsp sugar
Salt to taste
DIRECTIONS
Cut tomatoes in half and place cut side down on foil-lined baking sheet. Remove stems of chilies and place on sheet with tomatoes. Scatter unpeeled garlic cloves on top. Place under broiler and broil until skins are lightly blackened.
Place tomatoes, chilies, peeled garlic cloves, onions, calamansi juice, cilantro, and sugar in blender or food processor and pulse until all ingredients are finely chopped and mixed. Season to taste with salt. Cool in refrigerator.
JB and Renée are the Traveleaters behind Will Fly for Food, a travel blog for the gastronomically inclined.  They enjoy experiencing food from different cultures so they've made it their mission to try every country's national dish.  Read more about them and their National Dish Quest here.